This post may contain affiliate links. Please see my full
Disclosure Policy
for details.
Delicious Vegan Oatmeal Cookies — with chocolate chips or raisins! Made with oats and Sunflower Seed Butter, these healthy gluten free oatmeal cookies will quickly become a favorite. The recipe instructions include tips to make these chewy or on the crunchy side.
This post is sponsored by SunButter— makers of my favorite Sunflower Seed Butter. As a peanut allergy sufferer, I value companies like SunButter who create healthy products that are not only delicious, but SAFE! Thank you for supporting the brands that help keep Sunkissed Kitchen running at full speed.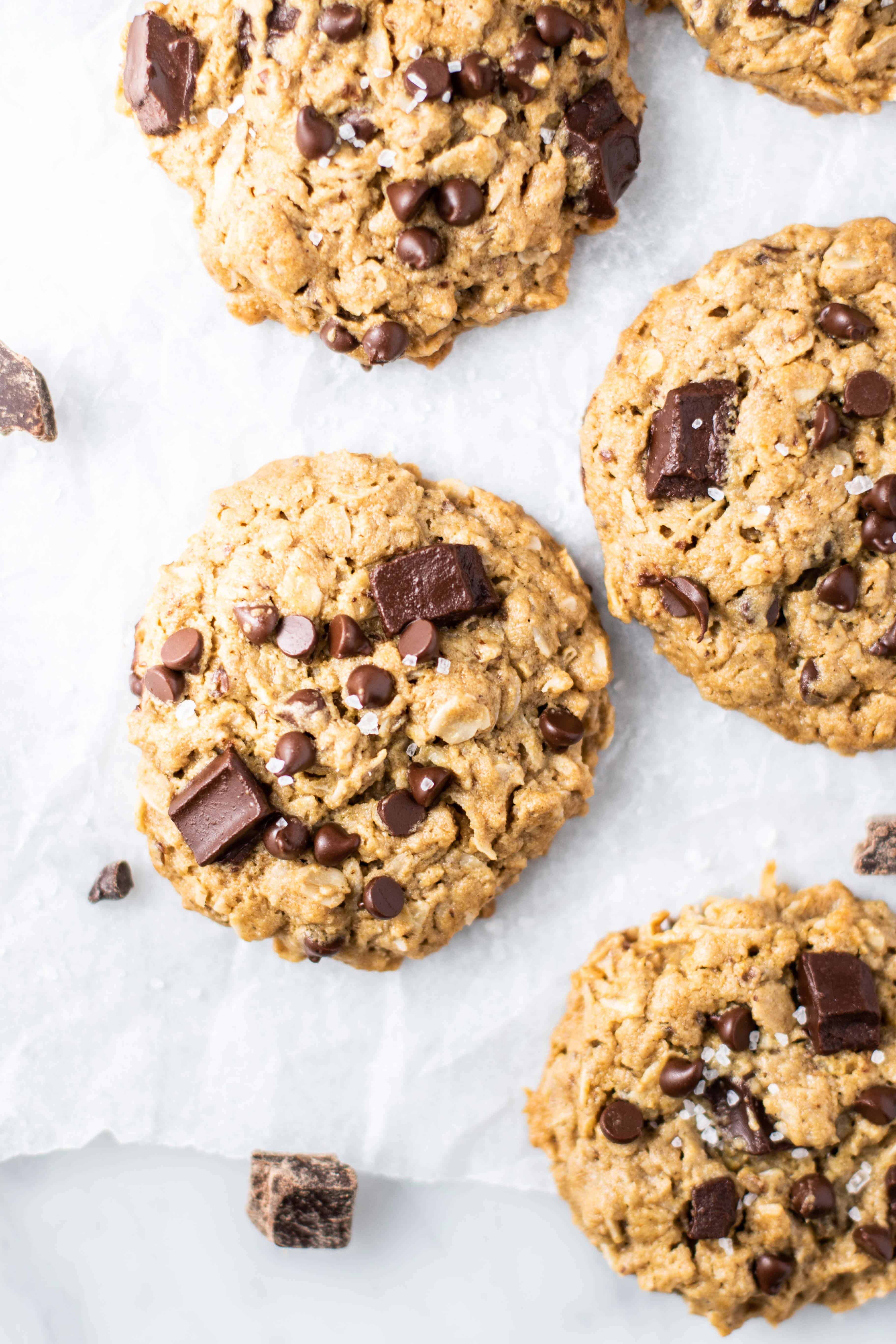 How to Make Vegan Oatmeal Cookies
Homemade cookies are the BEST thing to keep stocked in the freezer. Making cookies at home means you control the ingredients. Replace sugar with lower glycemic and more natural alternatives, like date syrup, coconut nectar, or honey. Swap refined flours for whole oats.
These healthy oatmeal cookies are made with:
SunButter No Sugar Added (nut free alternative to PB!)
Date Syrup or Honey
Coconut oil
Flax seed meal
Salt, baking soda, and cinnamon
Lemon juice (counteracts a reaction between SunButter and baking soda)
Oats & oat flour (certified gluten free, if necessary)
Coconut
Dark Chocolate Chips — or raisins, or nuts, if you don't need nut free!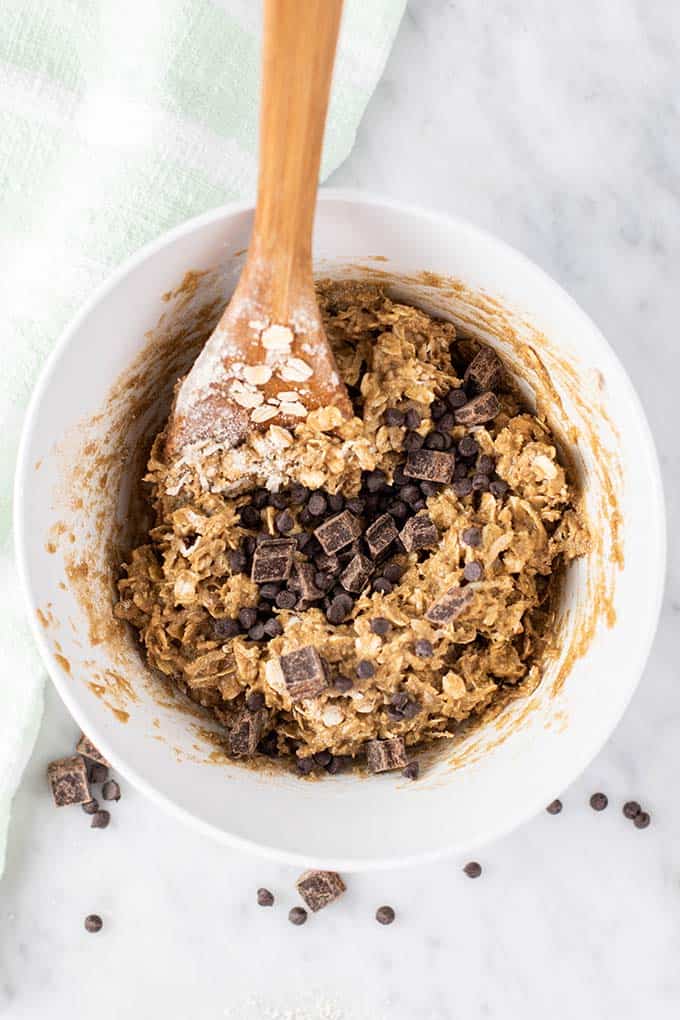 To help keep your freezer stocked, I've stream lined this recipe.
This one bowl cookie recipe is made by:
Mixing together the "wet" ingredients, and then adding the baking soda, salt and cinnamon.
Add the oats, oat flour, coconut and dark chocolate chips, and stirring well to fully mix.
Scoop the dough (which will be sticky!) in 1 1/2 tablespoon mounds – (top with extra chocolate chips if desired!).
Bake for 14 minutes at a lower temp – 325º F, to keep the cookies from over browning.
Enjoy dunked in a glass of almond milk, or as a Vegan Raspberry Ice Cream Sandwich <3
You also don't want to miss this gluten free vegan oatmeal chocolate chip bars recipe.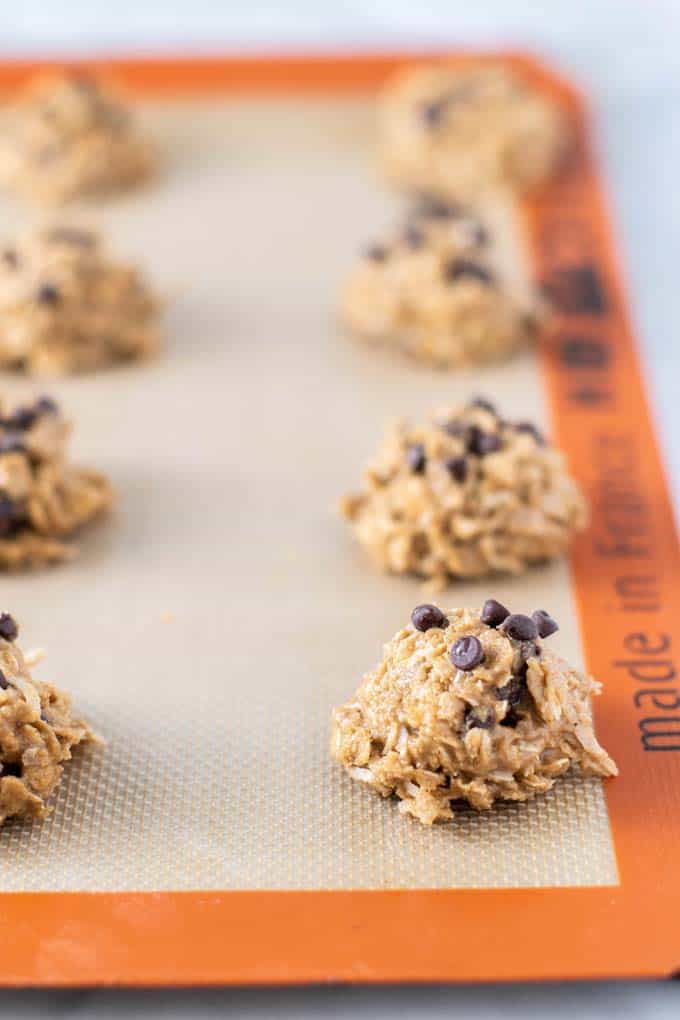 Great for School – Nut Free, Vegan and Gluten Free Oatmeal Cookies
I love the trend of schools going nut free, showing sensitivity and providing a safer environment to the growing number of our kids who have serious allergies.
Growing up with a peanut allergy, this concession wasn't made at the schools I attended.
(If you don't have allergies, and are really wanting a gluten free peanut butter cookie, this recipe is amazing!).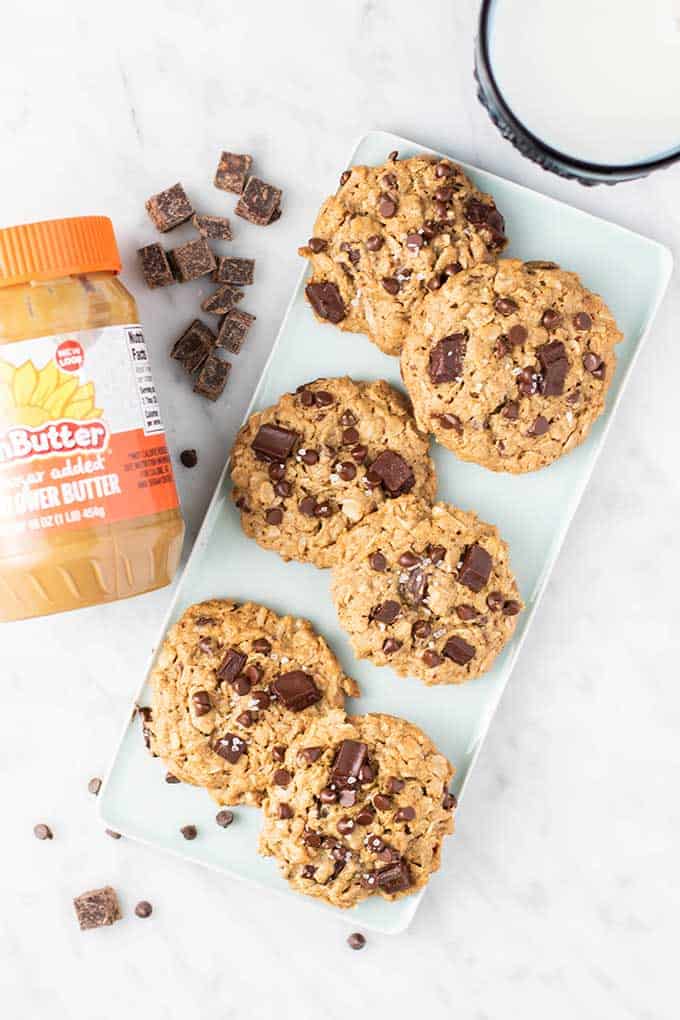 There are lots of nut free alternatives to peanut butter, including my favorite, SunButter. Sunflower seed butter is safe for students with nut allergies, and honestly, I think it's great to expose our children to a variety of nuts and seeds.
Even if your child doesn't have an allergy, I encourage you to pick up SunButter and give it a try!
This recipe uses SunButter No Sugar Added. If you prefer to use the Organic variety, double the amount of salt in the recipe (it doesn't contain salt).
I love vegan baking. It's a great excuse to use alternative ingredients, like flax seeds and chia seeds, and the ingredients are often cleaner than a "standard" recipe.
This particular one is made wholesome with oats, coconut, and of course, dark chocolate.
When you're done making these cookies, definitely check out my recipe for Oatmeal Cookie Ice Cream Sandwiches! The recipe also uses SunButter and is a must-try!
The Best Vegan Oatmeal Cookies
I don't have very many cookie recipes on my site, particularly because it's difficult to make gluten free cookies that are low in sugar.
This one took at least 15 attempts over the past 6 months, but they are perfect!
Crispy on the edges, soft and chewy in the center. They can bake into crispy, flatter cookies if you prefer, or remain softer and more rounded (see notes in recipe).
I added chocolate, because dark chocolate is delicious, healthy, and I have a slight addiction to it.
Use raisins if that's what you love. Add nuts or sunflower seeds for an extra crunch.
If you're looking for an oatmeal cookie that doesn't need to be gluten free, try this healthy oatmeal cookie recipe.
Enjoy!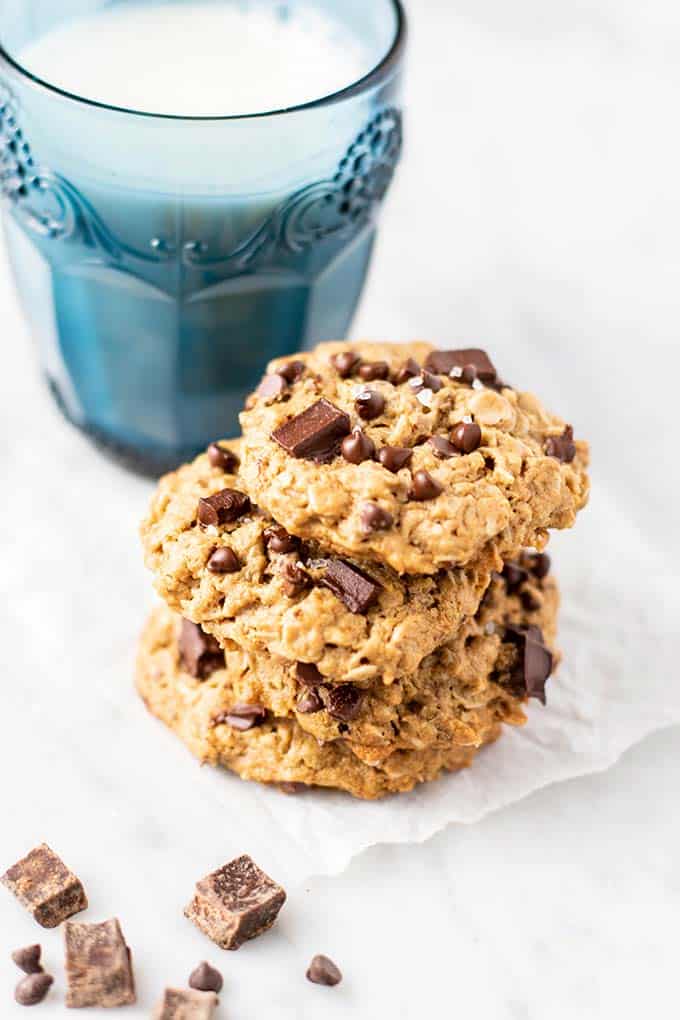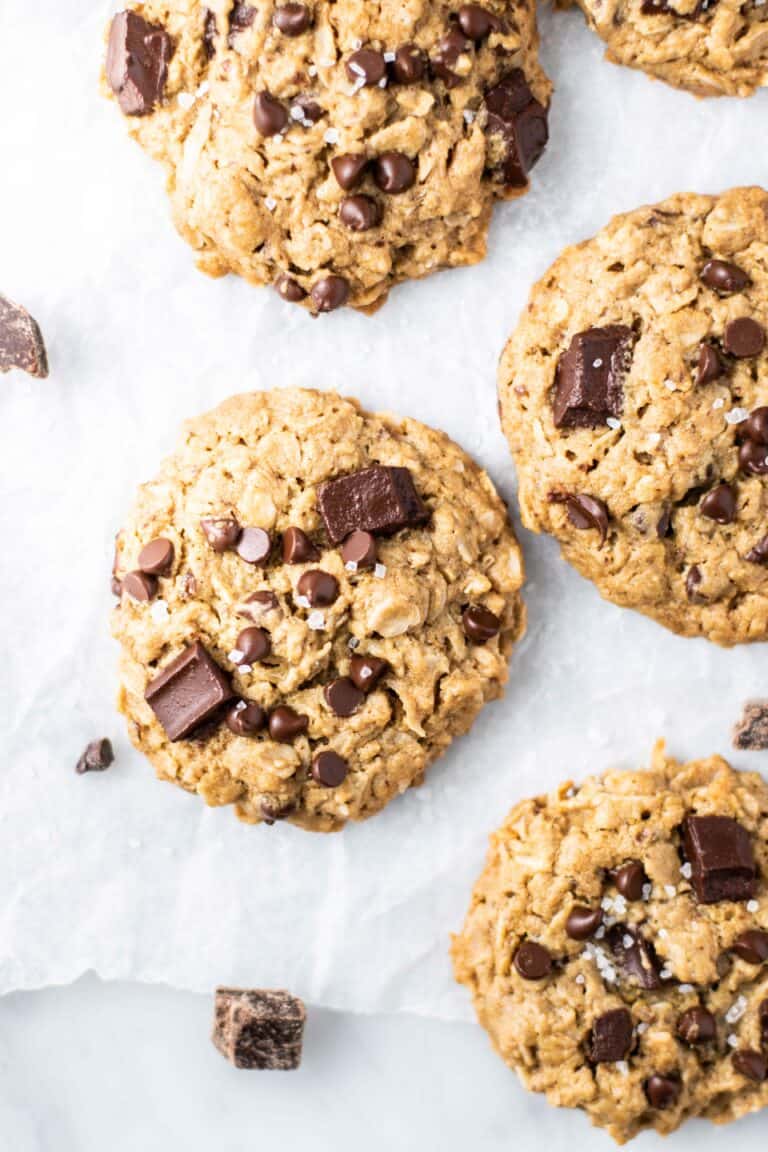 Other Gluten Free & Vegan Cookie Recipes:
I'd love to connect with you on social media! Find me on Facebook or Instagram where I post daily healthy eating and lifestyle inspiration!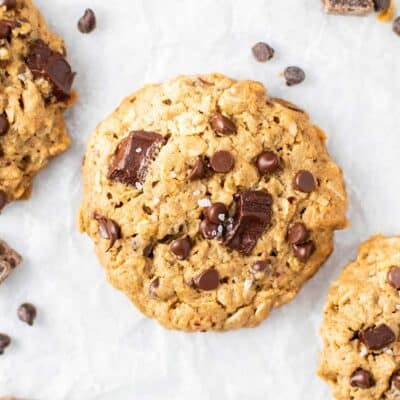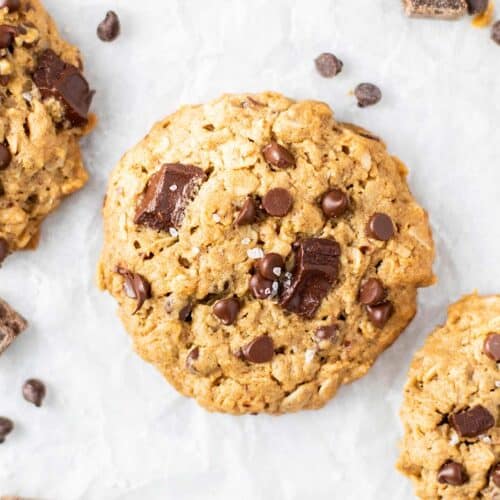 Vegan Oatmeal Cookies
These healthy gluten free oatmeal cookies are crispy on the edges, and soft and chewy in the center. Add dark chocolate chips, raisins, or nuts, if desired. This recipe is vegan, gluten free, and nut free as written.
Print
Pin
Rate
Servings:
12
large cookies
Instructions
In a mixing bowl, add melted coconut oil, date syrup (or honey), and SunButter. Mix well to combine.

Add cinnamon, flax seed meal, baking soda and salt, along with lemon juice, and mix well. SunButter and baking soda have a reaction that turns baked goods green, and the lemon juice counteracts that. The green color isn't harmful and it doesn't change the taste, but the color can be off putting.

Add the oat flour, whole oats, coconut, and chocolate chips (or raisins), and stir to combine.

Add cookie dough to a baking sheet (I like to line the baking tray with parchment or a Silpat) in 1 1/2 tablespoon mounds. The cookies will spread, so leave space.

Bake for 14 minutes. If you prefer the cookies to be more on the crunchy side, open the door and turn off the heat after 14 minutes, and then put the cookies back in the oven with the door cracked open for an additional 5-10 minutes.

These cookies are best stored in the refrigerator or freezer, but are delicious hot out of the oven. Just allow them to cool slightly because they will be delicate until they've started to cool.
Notes
*SunButter and baking soda have a reaction when combined that turns baked goods greens. The lemon juice counteracts this reaction. If you choose not to add the lemon juice, reduce the amount of baking soda to lessen this reaction. The green color does not change the flavor and is not harmful, but it can be off-putting.
**I prefer to grind oats in a blender for cookies to give them a chewier texture. Store bought oat flour will give the cookies a softer texture. This recipe has been tested with both and they are delicious either way.
For a crunchier cookie: Bake the cookies for 15 minutes, remove from the oven and allow some heat to escape, and then put the cookies back in with the door cracked for another 5-10 minutes. It's important to let most of the heat escape to prevent the cookies from turning dark.
For a chewy cookie: Pull cookies out at 14 minutes. 
Nutrition
Calories:
196
kcal
|
Carbohydrates:
21
g
|
Protein:
4
g
|
Fat:
12
g
|
Saturated Fat:
7
g
|
Cholesterol:
1
mg
|
Sodium:
103
mg
|
Potassium:
104
mg
|
Fiber:
2
g
|
Sugar:
9
g
|
Vitamin C:
1
mg
|
Calcium:
33
mg
|
Iron:
1
mg