This post may contain affiliate links. Please see my full
Disclosure Policy
for details.
You'll LOVE this easy low carb Lemon Bars recipe. They are super simple to make and gluten free! This fresh, gluten free dessert is perfect for summer snacking.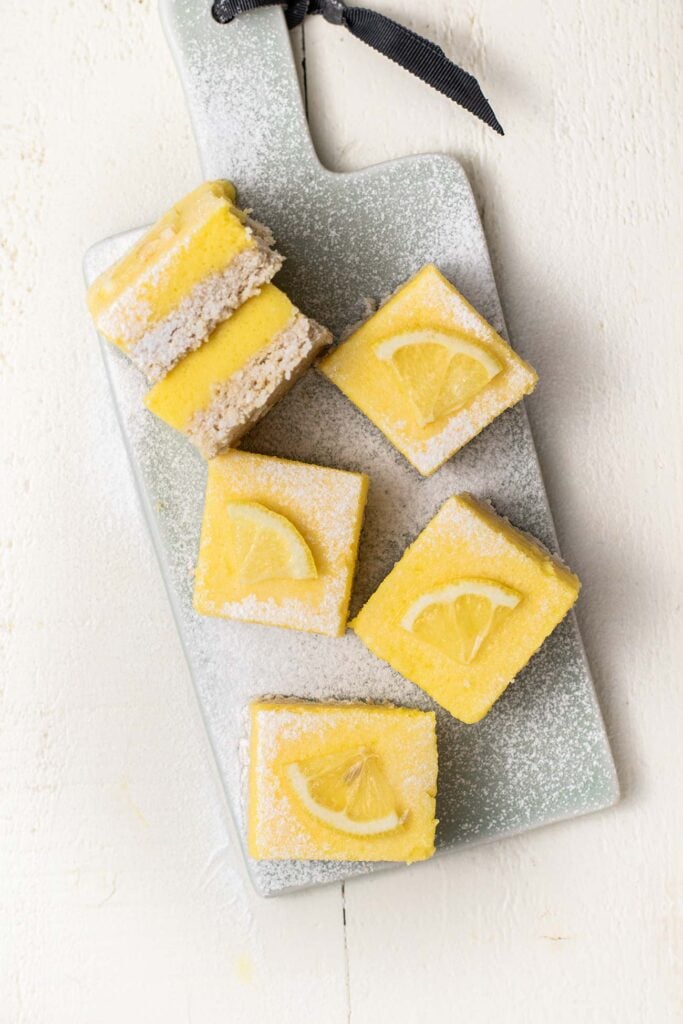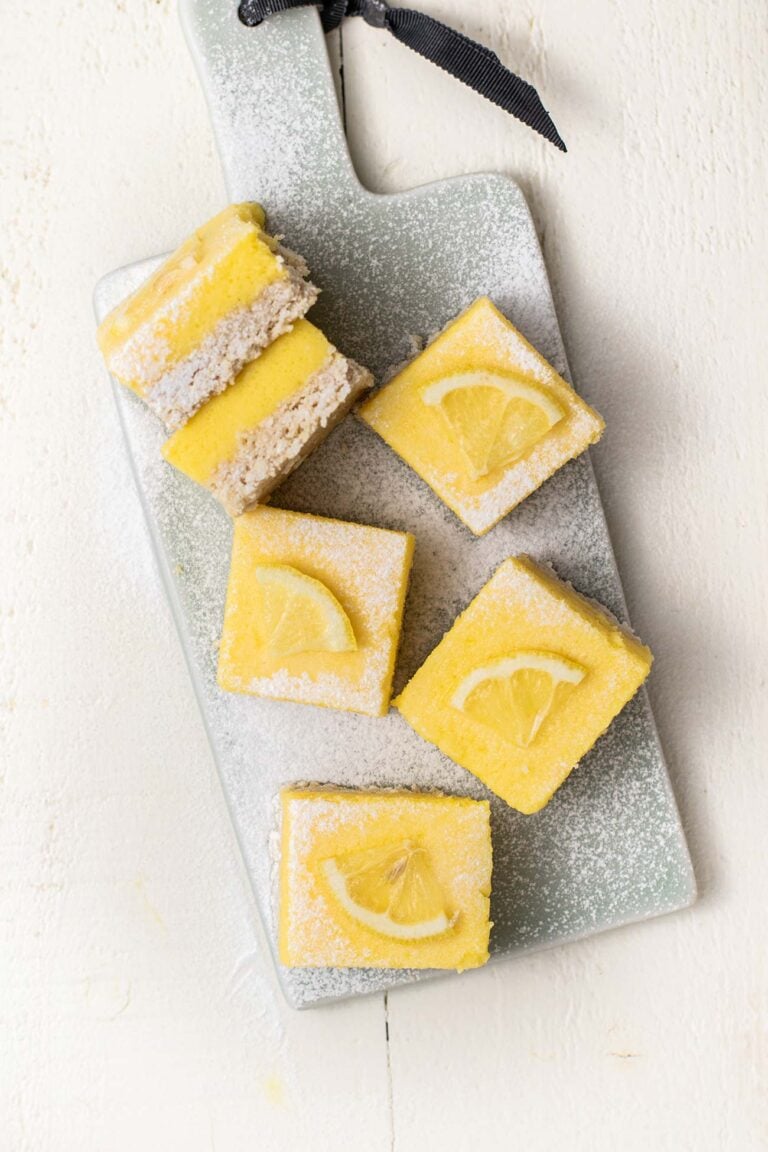 Healthy Gluten Free and Keto Lemon Bars
I have been all about healthier, low carb treats this year. Finding ways to lower my family's sugar intake is difficult, but important for our overall health.
Plus, I have been obsessed with lemon desserts since I made this Lemon Cheesecake. SO GOOD!
To keep this super simple and fun for summer, I made a no bake crust from almond flour and toasted coconut (great texture and flavor!), pressed it into a pan, and then topped it with a zesty lemon curd.
Lemon + coconut = 😍
What are Lemon Bars?
Lemon bars are traditionally made on a shortbread crust, and then the lemon filling is baked along with the crust.
The lemon filling is a lemon curd, which is egg yolks whisked with lemon juice and sugar.
I kept these bars low carb and keto by using my favorite monk fruit sweetener from ZenSweet.
I have been using ZenSweet to make all the desserts for family gatherings this year, and the response I always get is "how do you make healthy desserts taste so good?" This monk fruit sweetener is the real deal – it tastes like sugar, and is made with simple, safe ingredients – not chemicals.
If you'd like a more traditional graham cracker style crust, check out this recipe for No Bake Lemon Cheesecake.
How to Make Lemon Bars
The first step to making lemon bars is to make the no-bake crust. It's a combination of almond flour, toasted coconut, almond butter, sweetner, and cocoa butter.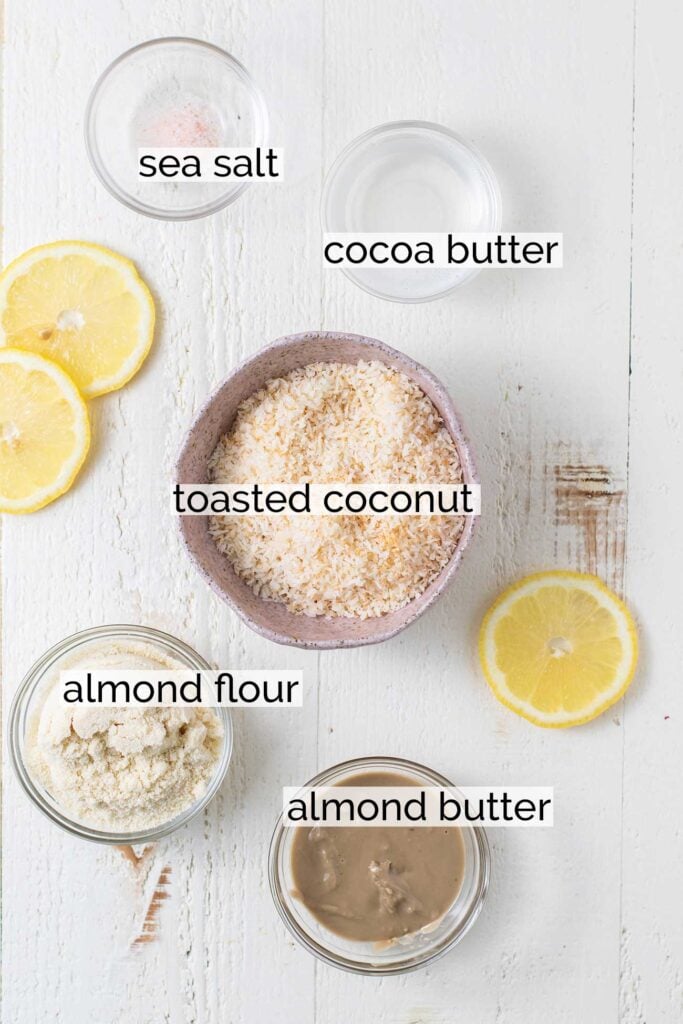 Step 1: Mix all the ingredients together in a bowl. Stir well until the almond flour and toasted coconut are evenly coated in the almond butter and cocoa butter mixture. You can sub coconut oil for the cocoa butter, but the crust will be more crumbly. Cocoa butter stays solid at room temperature, so it's a better option for no bake crusts without sugar.
Step 2: Press the crust mixture into the bottom of an 8×8 baking pan. I like to line the pan with parchment paper so that it comes out cleanly without crumbling.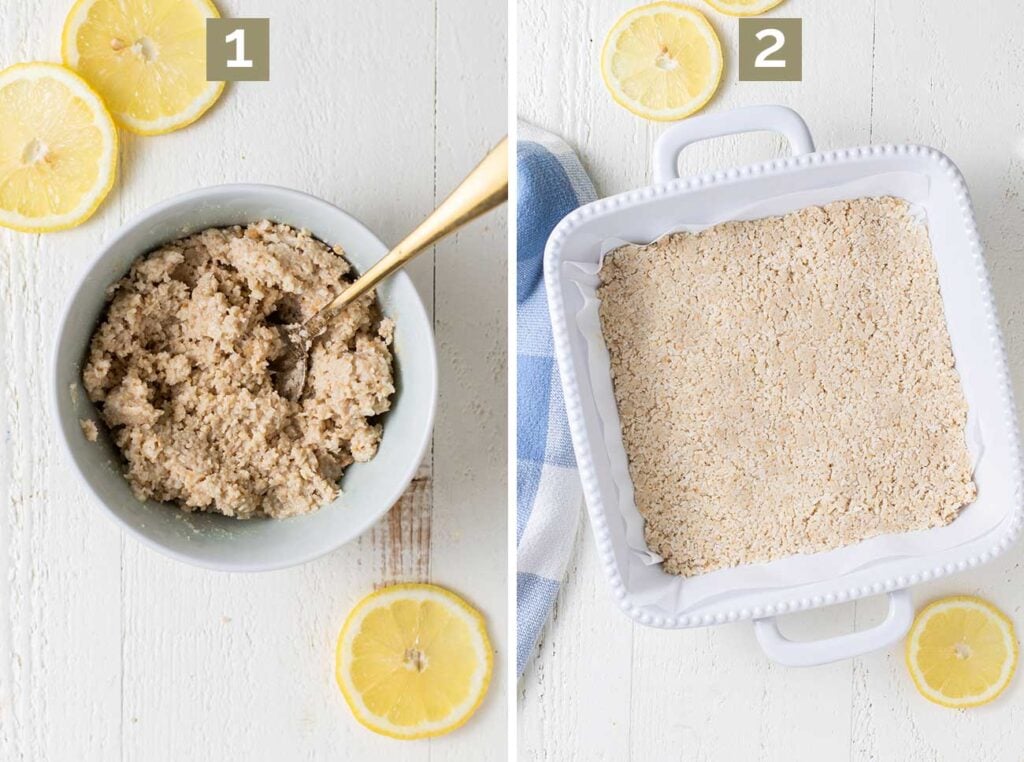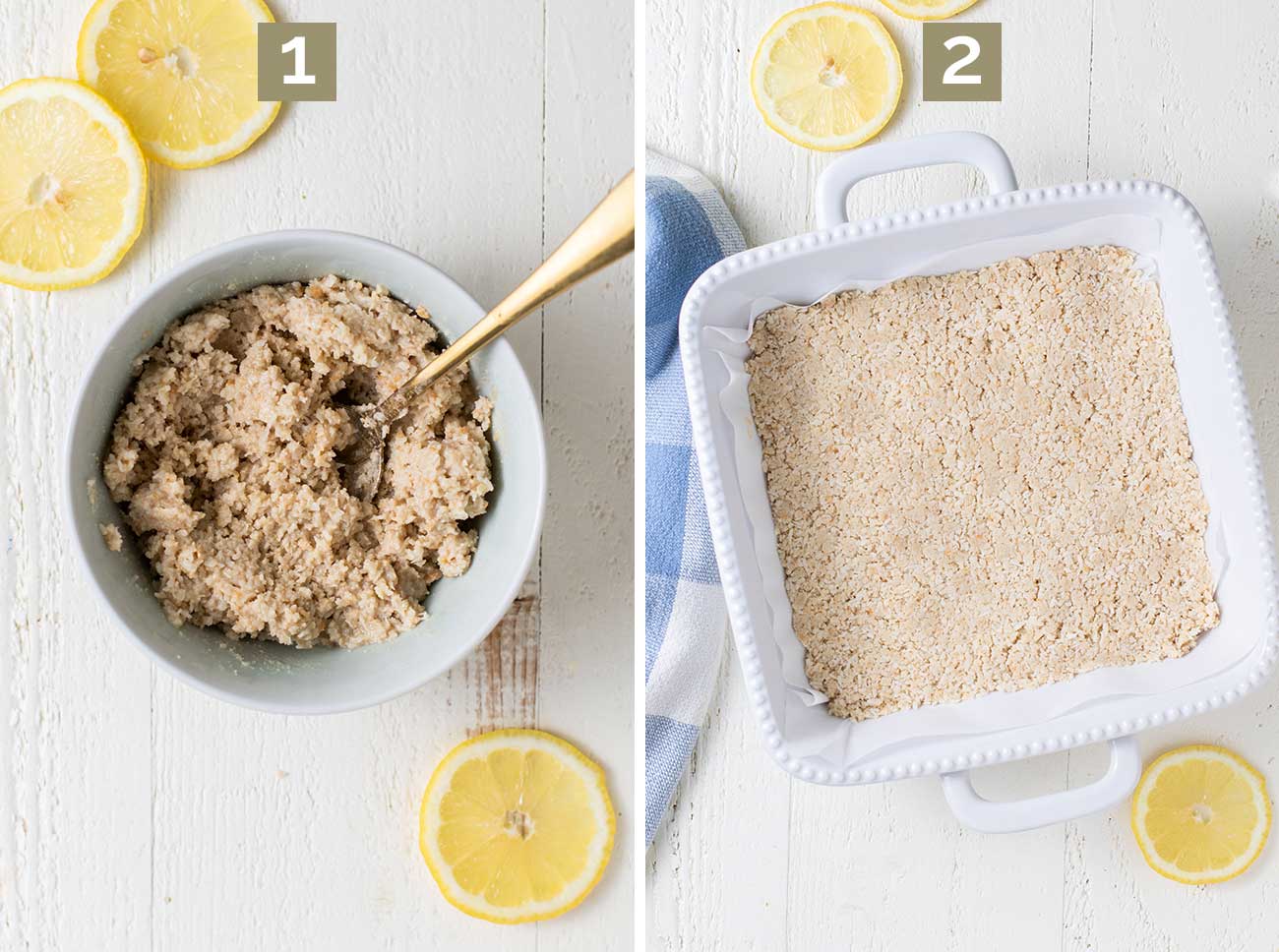 Next, you make the lemon curd filling. Because this is a no bake lemon bar recipe, I add gelatin to the mixture so that it stays solid when refrigerated, rather than being creamy like lemon curd. I based this off of this keto lemon curd recipe.
Step 3: Add the egg yolks, lemon juice, and ZenSweet monk fruit sweetener to a pan and whisk well to combine. Once it's well combined, heat it slowly over medium-low heat (or low heat), whisking, until it reaches 160º F. If you don't have a thermometer, heat it until the back of a spoon is coated when you dip it in the mixture. As you're whisking, you'll be able to tell when the mixture starts to thicken, and that's when it's ready.
Step 4: Pour the lemon curd over the prepared and chilled crust. Spread it into an even layer, and then refrigerate it for at least an hour to allow it to set before cutting the bars.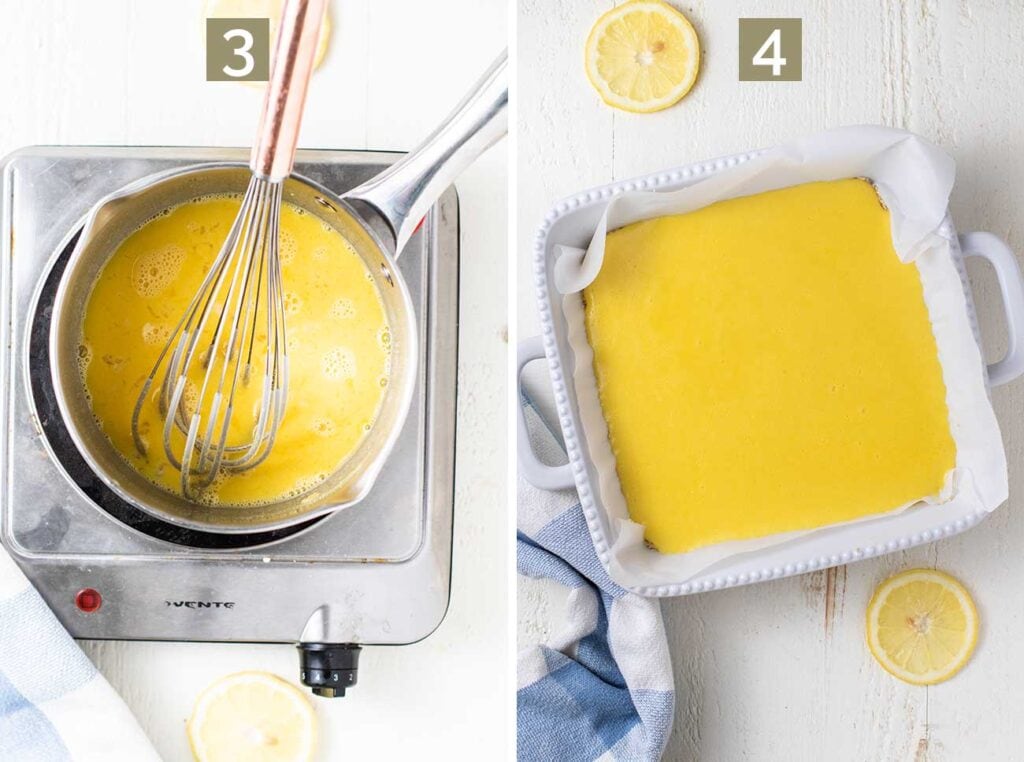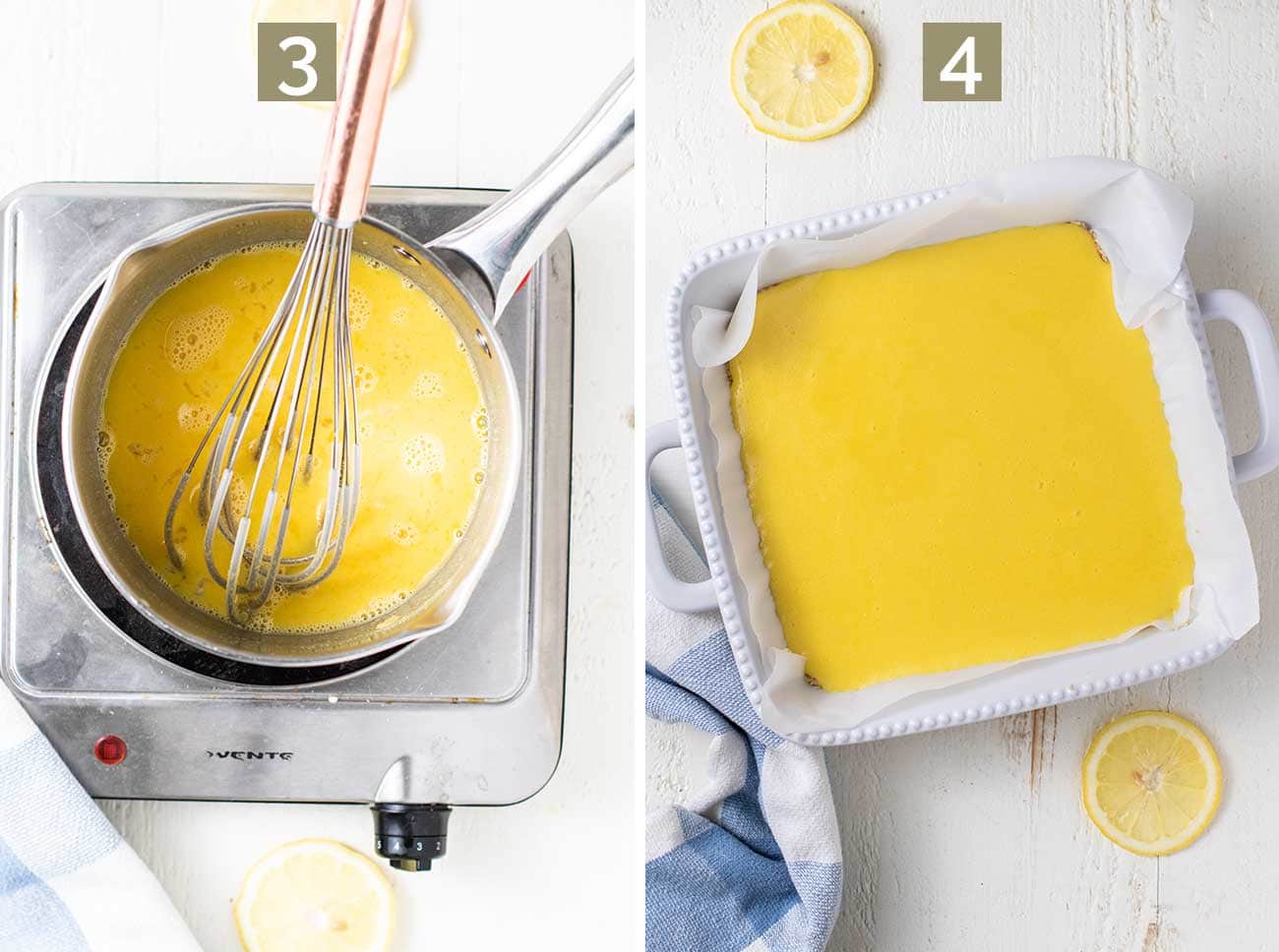 Once the bars are set, cut them into squares, and dust them with powdered monk fruit sweetener, if desired!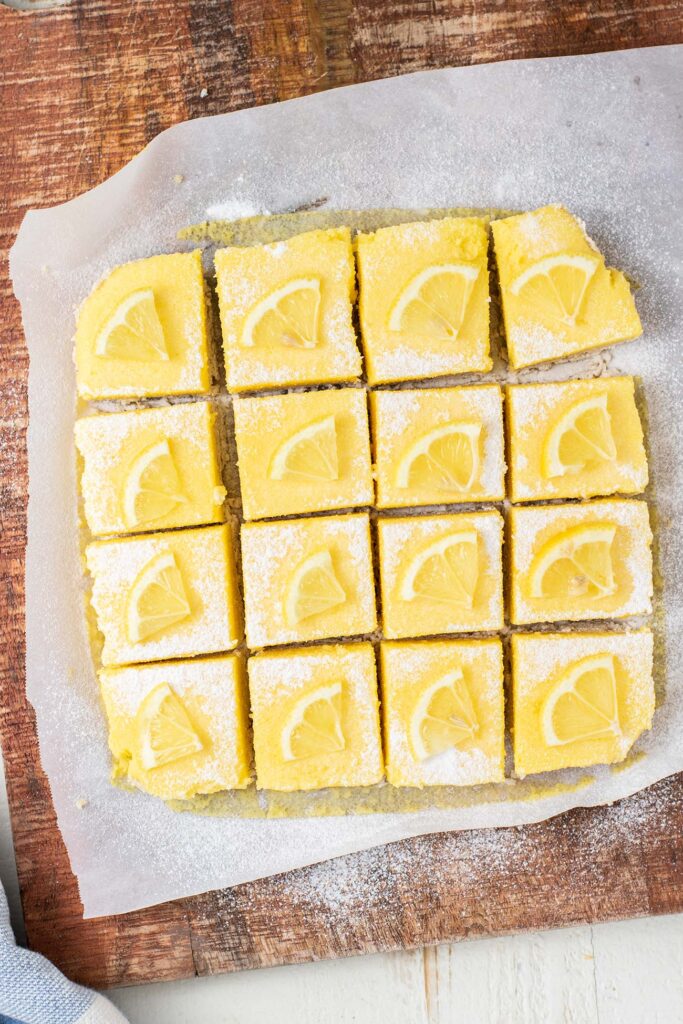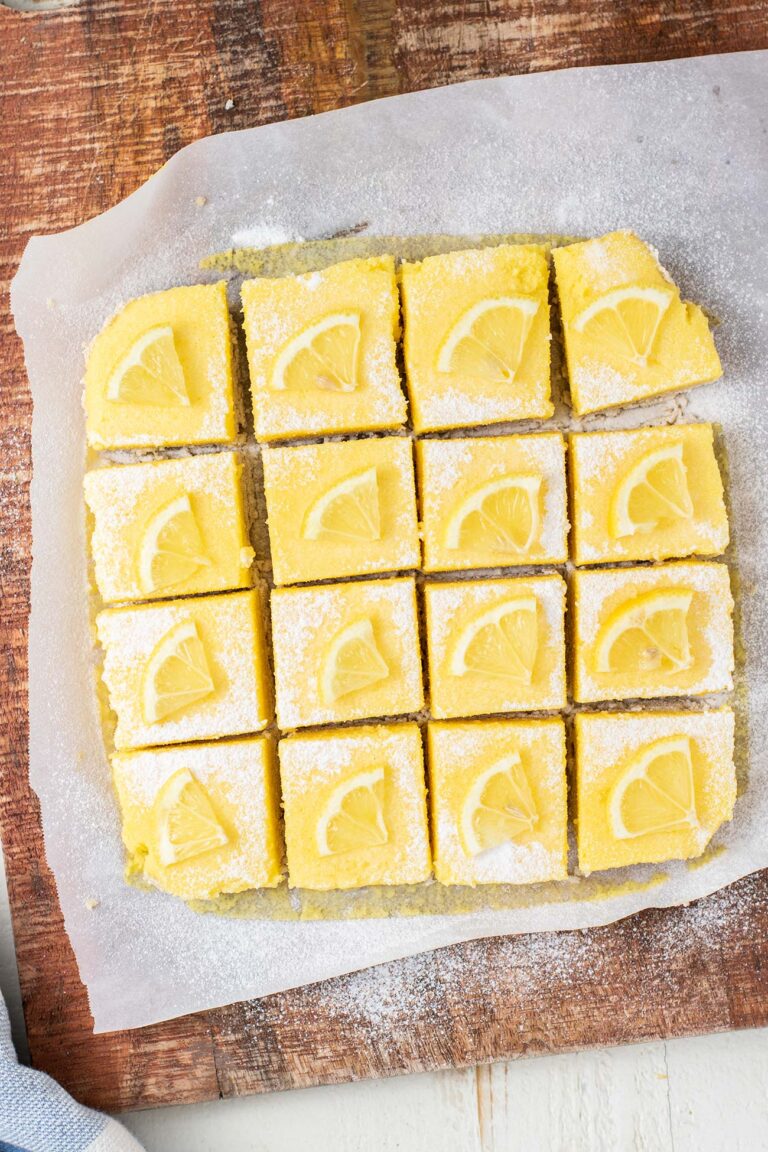 Can you Freeze Lemon Bars?
Yes! These bars freeze beautifully. Once they are set and cut into squares, cover them in parchment paper and then freeze them in a freezer bag or in an air tight freezer container.
Just allow them to come to refrigerator temperature before serving them!
How to Store Lemon Bars
These keto lemon bars need to be store in the fridge. The lemon curd cannot stay at room temperature for more than a couple of hours.
I like to freeze these and pull a couple out at a time when I am serving them. If I leave them in the refrigerator, I am bound to eat one every time I open it up!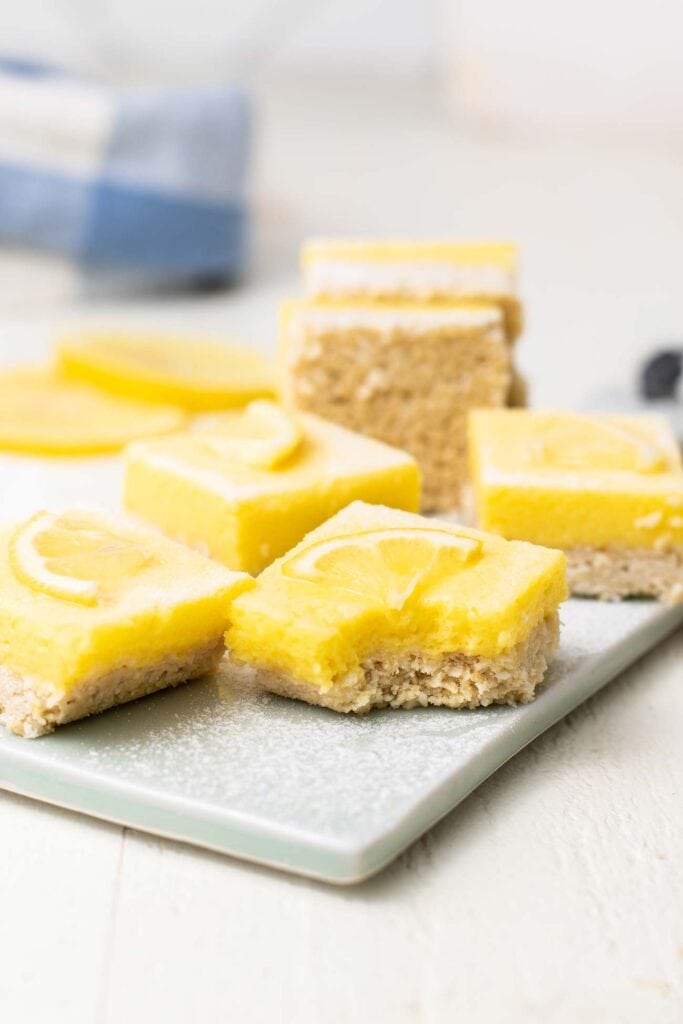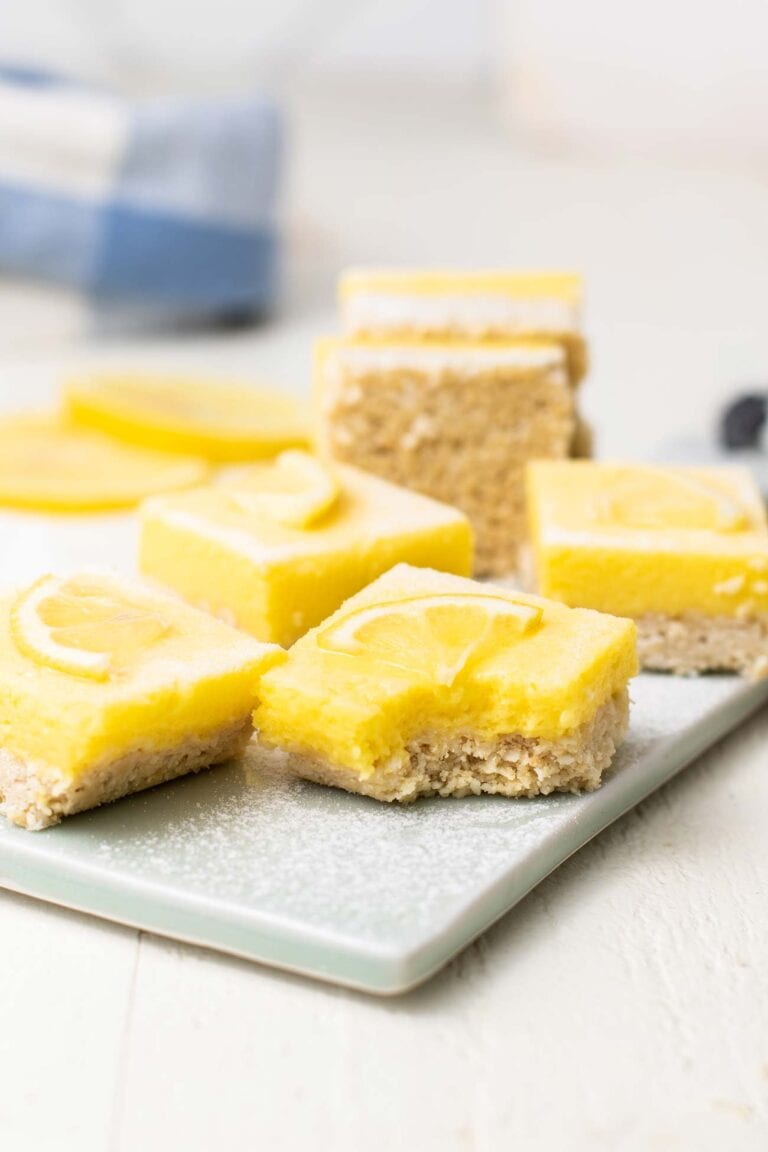 Variations on Keto Lemon Bars
Make a more traditional crust: You can easily swap the no-bake toasted coconut crust for a graham cracker crust by following this recipe. Pre-bake the crust for 12 minutes before filling it with the lemon curd filling. This crust is no keto or low carb.
Love lime? Swap the lemon juice for an equivalent amount of lime juice for a delicious limey treat.
Don't Need a Low Carb Treat? You can swap the monk fruit sweetener for equal amounts of powdered sugar if you don't want to use a low carb options.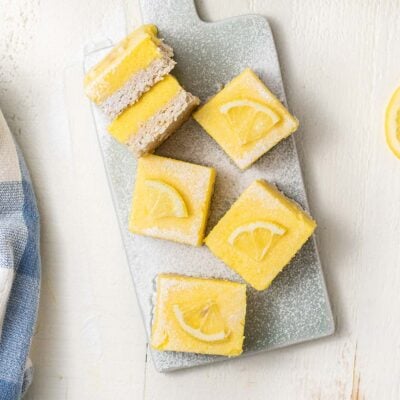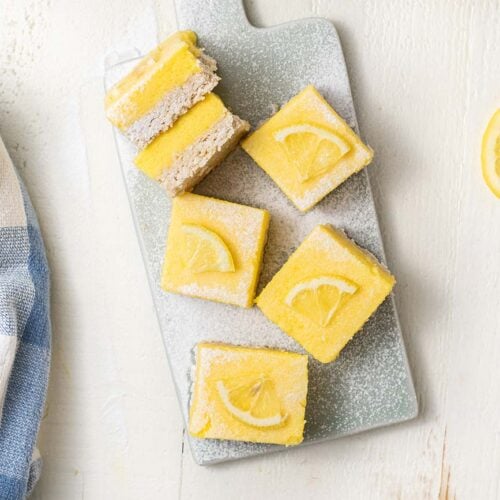 No Bake Lemon Bars
A delicious, sweet tart summer treat! These lemon bars are low carb and keto, and made on a delicious toasted coconut crust. Be sure to read the variations if you'd like a gluten free lemon bar made with real sugar, or would like these to be a keto lime bar instead!
Print
Rate
Instructions
Crust
In a mixing bowl, add the toasted coconut, almond flour, sea salt, almond butter, and melted cocoa butter, and stir to evenly coat the mixture.

Line an 8×8 baking dish with parchment, and then press the crust mixture into the pan. Use wet hands or a pastry roller to press the crust into an even layer.

Refrigerate the crust to allow it to set while making the lemon filling.
Lemon Curd
Into a small saucepan, add egg yolks, monk fruit sweetener (or sugar), lemon juice, and gelatin, and whisk well. Once the mixture is combined, heat the pan over medium low heat, and continue to whisk to prevent the mixture from burning to the pan.

Continue whisking until the mixture reaches 160º F. If you don't have a thermometer, the mixture will be ready when you can visibly see it thicken, or when the mixture coats the back of a spoon.

Pour the lemon curd over the crust, and smooth into an even layer. Refrigerate the bars for at least an hour to allow it to set.

Cut the bars, and dust them with powdered sweetener, if desired. I add the monk fruit sweetener to a blender and process it to form a fine powder.

Store the bars refrigerated or frozen, wrapped tightly.
Notes
Toasted Coconut: Either buy unsweetened toasted coconut, or use coconut shreds and toast them yourself. Add the coconut to a skillet, and toast over medium heat, stirring frequently, until the shreds have turned a light brown in color. Swap Cocoa Butter for Coconut Oil: Cocoa butter is solid at room temperature, and coconut oil can melt, so these bars will have a more crumbly base if you use coconut oil. They will still be delicious! Make Lime Bars: Sub lime juice for the lemon juice.
Nutrition
Calories:
187
kcal
|
Carbohydrates:
4
g
|
Protein:
4
g
|
Fat:
18
g
|
Saturated Fat:
10
g
|
Cholesterol:
108
mg
|
Sodium:
59
mg
|
Potassium:
76
mg
|
Fiber:
2
g
|
Sugar:
1
g
|
Vitamin A:
248
IU
|
Vitamin C:
3
mg
|
Calcium:
36
mg
|
Iron:
1
mg