This post may contain affiliate links. Please see my full
Disclosure Policy
for details.
A delicious, VERY GREEN, lunch! These Asian Chicken Collard Wraps are packed with veggies, protein, and healthy fats from avocado and a creamy Asian dressing. I love prepping these ahead and grabbing a "green burrito" when I need a quick meal.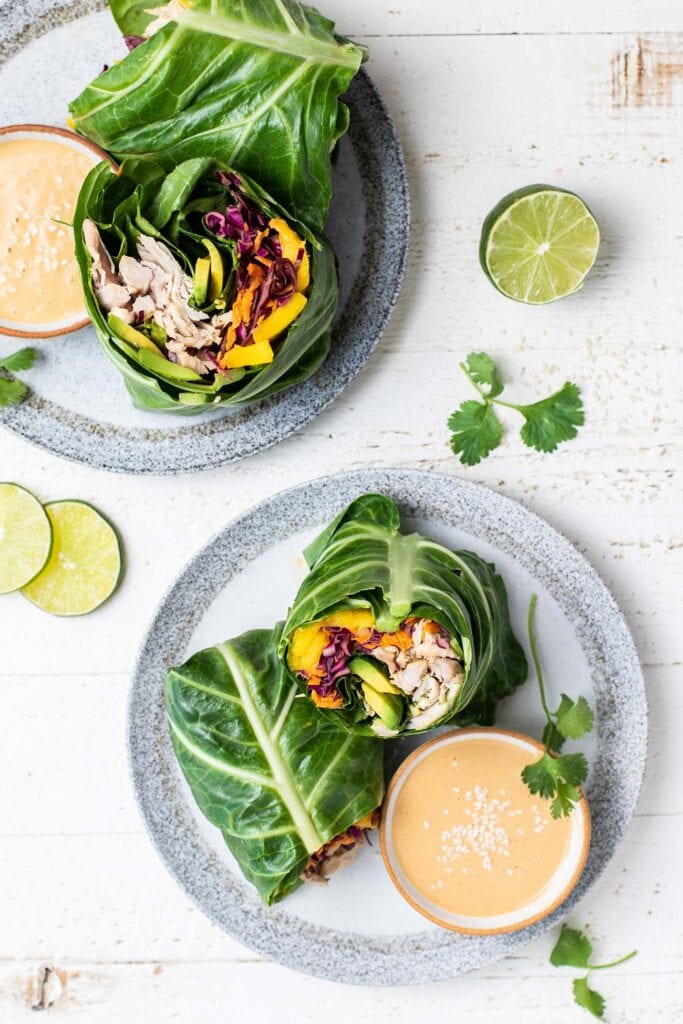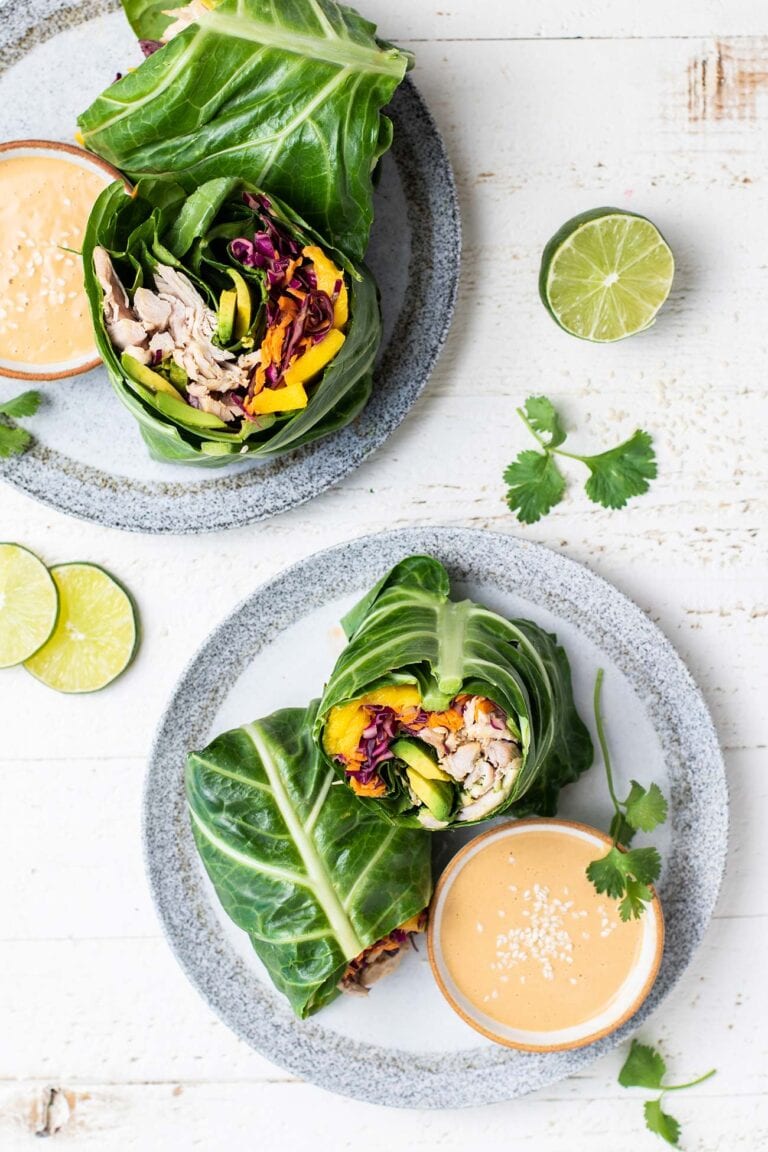 *This post is sponsored by SunButter, a sunflower seed spread perfect for allergy-safe baking and cooking! Thanks for supporting the brands that keep Sunkissed Kitchen running.
A Flavor Explosion – Asian Chicken Salad Wraps
I adore collard green wraps. You can pretty much put anything inside you'd put in a tortilla.
I've made breakfast burritos, vegetarian burritos, leftover turkey "sandwiches," and filled them with Thai Steak Salad.
What do collard wraps taste like? Well, they don't taste like a tortilla. They have a vibrant green flavor and are not as watery as lettuce, so the texture seems more like a regular wrap than other greens do. They are sturdy, and hold up to all your favorite fillings.
You'll LOVE these wraps because:
Besides being a great way to add more greens to your diet, these wraps are LOW CARB, KETO FRIENDLY, GLUTEN FREE and WHOLE30 — meaning suuuper healthy.
A creamy combo of avocado and a "peanut" like dipping sauce (made nut-free with SunButter!) add healthy fats, while mango adds a pop of sweetness.
They are really easy to make if you start with a precooked chicken, and they are also great made ahead — so make 3-4, wrap them up, and keep them for on-the-go meals.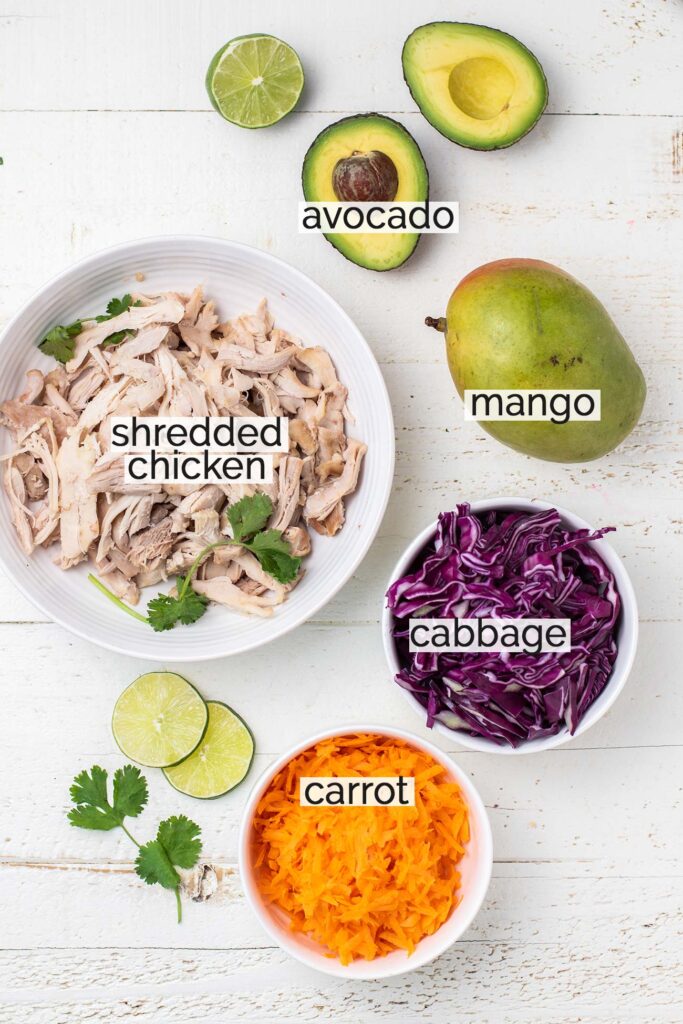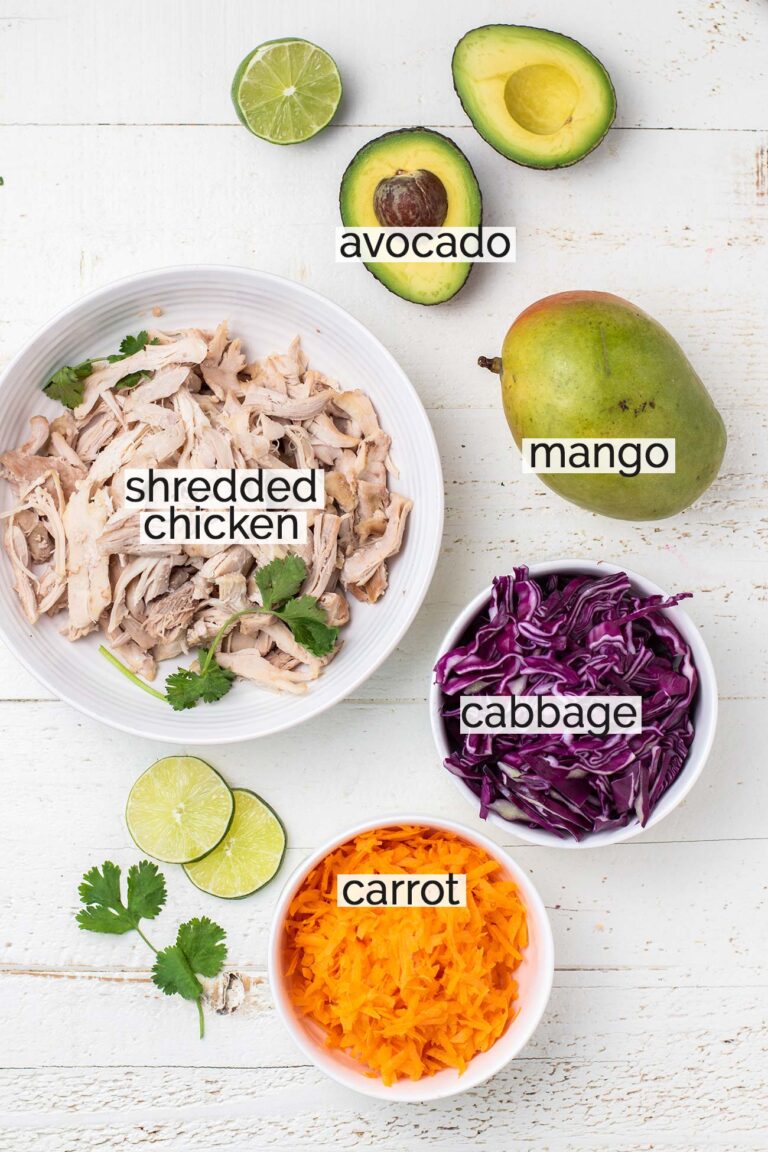 The best part of these wraps is the tangy SunButter dipping sauce! I LOVE using SunButter in dressings. It gives them an ultra-creamy texture and nutty flavor, while also adding tons of nutrients, like vitamin E, fiber, and anti inflammatory healthy fats.
I use SunButter No Sugar Added when cooking or baking, but you could add any kind to this recipe since the dressing is a bit on the sweet side anyway.
If you're new to cooking with nut butters, you need to try my Vegan Oatmeal Cookies and SunButter and Raspberry Jam Stuffed Muffins. There is just so much you can do with it!
Hop on over to SunButter's website to learn more about this incredible seed butter!
How to Make Collard Green Wraps
The first thing I do is prepare the delicious SunButter dressing for this wraps.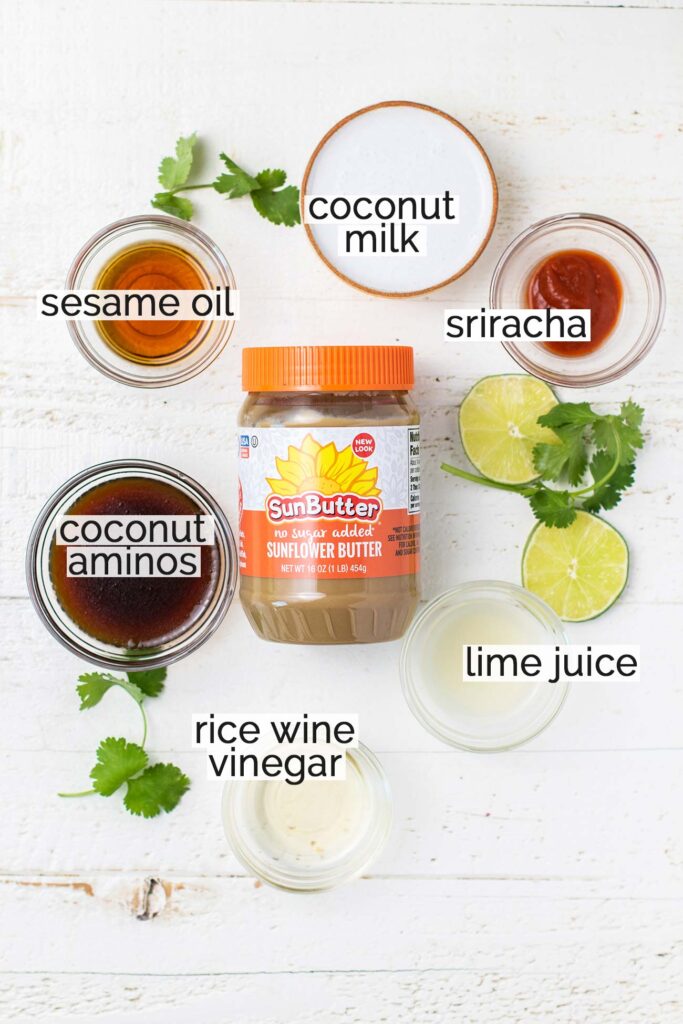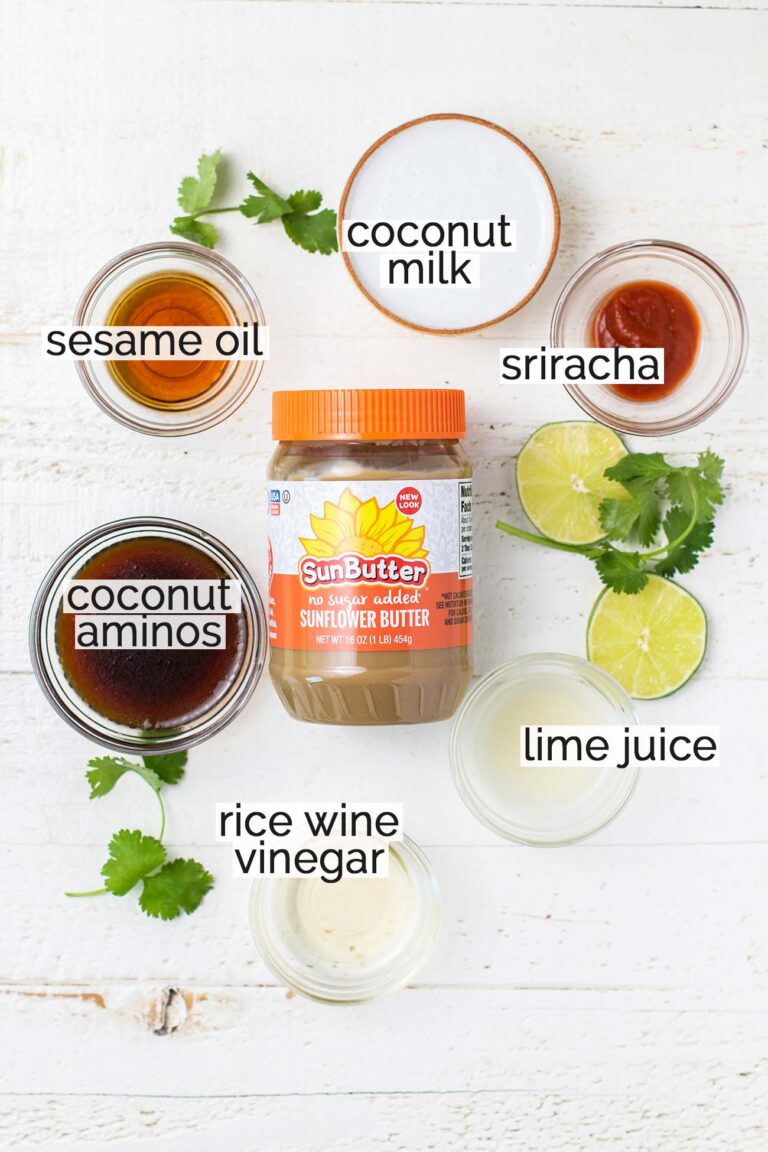 Step 1: Add all dressing ingredients to a blender, and process until smooth and creamy.
Step 2: Add about the shredded cabbage and carrots to a bowl, and combine with half of the dressing. Reserve the other half of the dressing to use as a dipping sauce.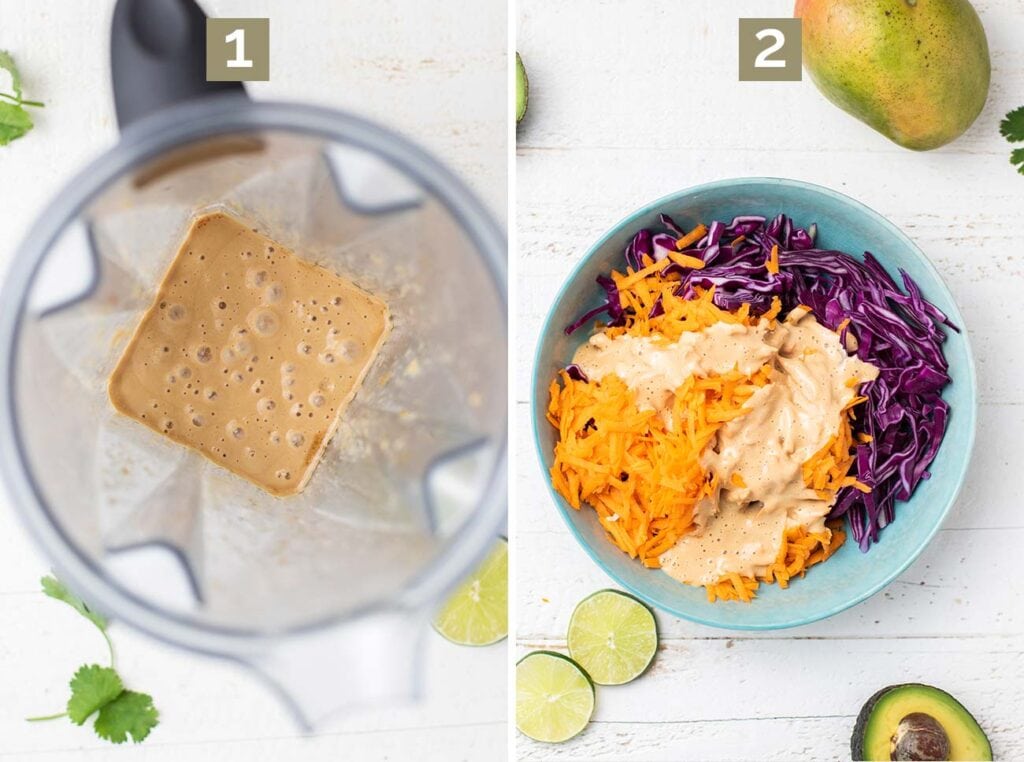 Collard green wraps are made in a very similar way to wrapping up a burrito! The key here is understanding how to prepare collard greens for wraps.
The greens are still and don't fold well if you just wash them and try to wrap them up.
Step 3: Fill a large bowl with warm (not hot) water plus 2 tablespoons of vinegar. White, apple cider, or red or white wine vinegar will all work. If you think about how cabbage and kale soften when they are soaked in salad dressing, this method is similar. The vinegar will begin to soften the greens before you use them.
Step 4: Use 2 greens for a wrap, and place them with the dark green side down, and the tops facing opposite directions, with the stem ends overlapping by about 4-5 inches. If this is confusing, please watch the video, because it's very difficult to describe! I also like to shave the top part of the stem off so that it's easier to work with.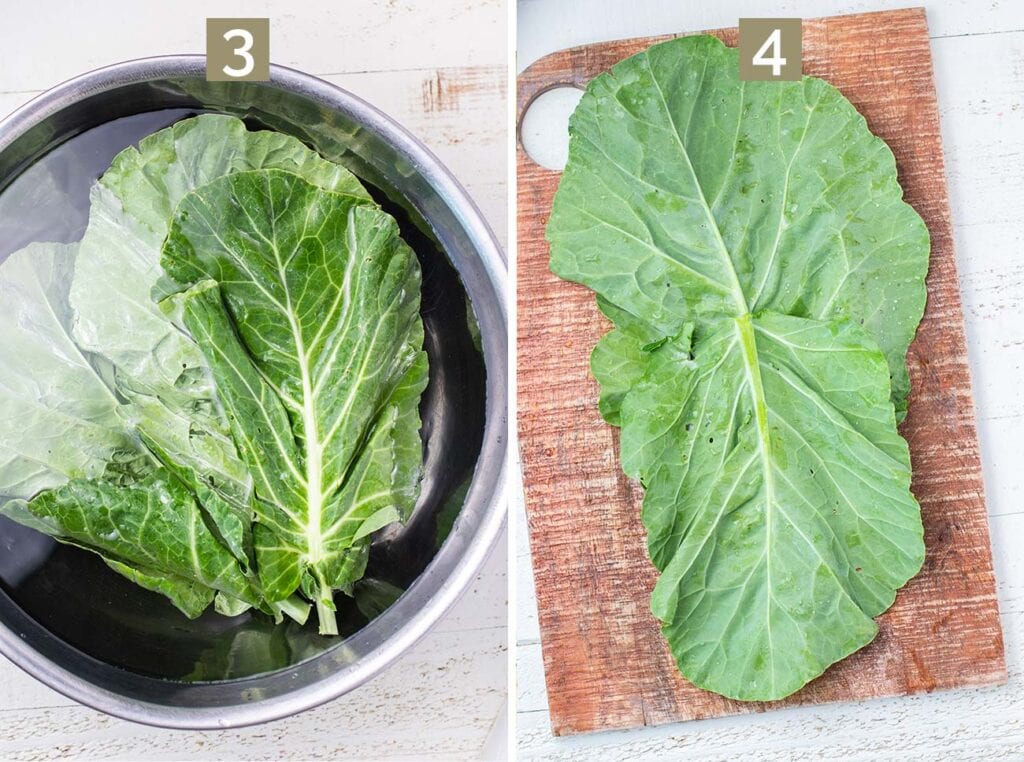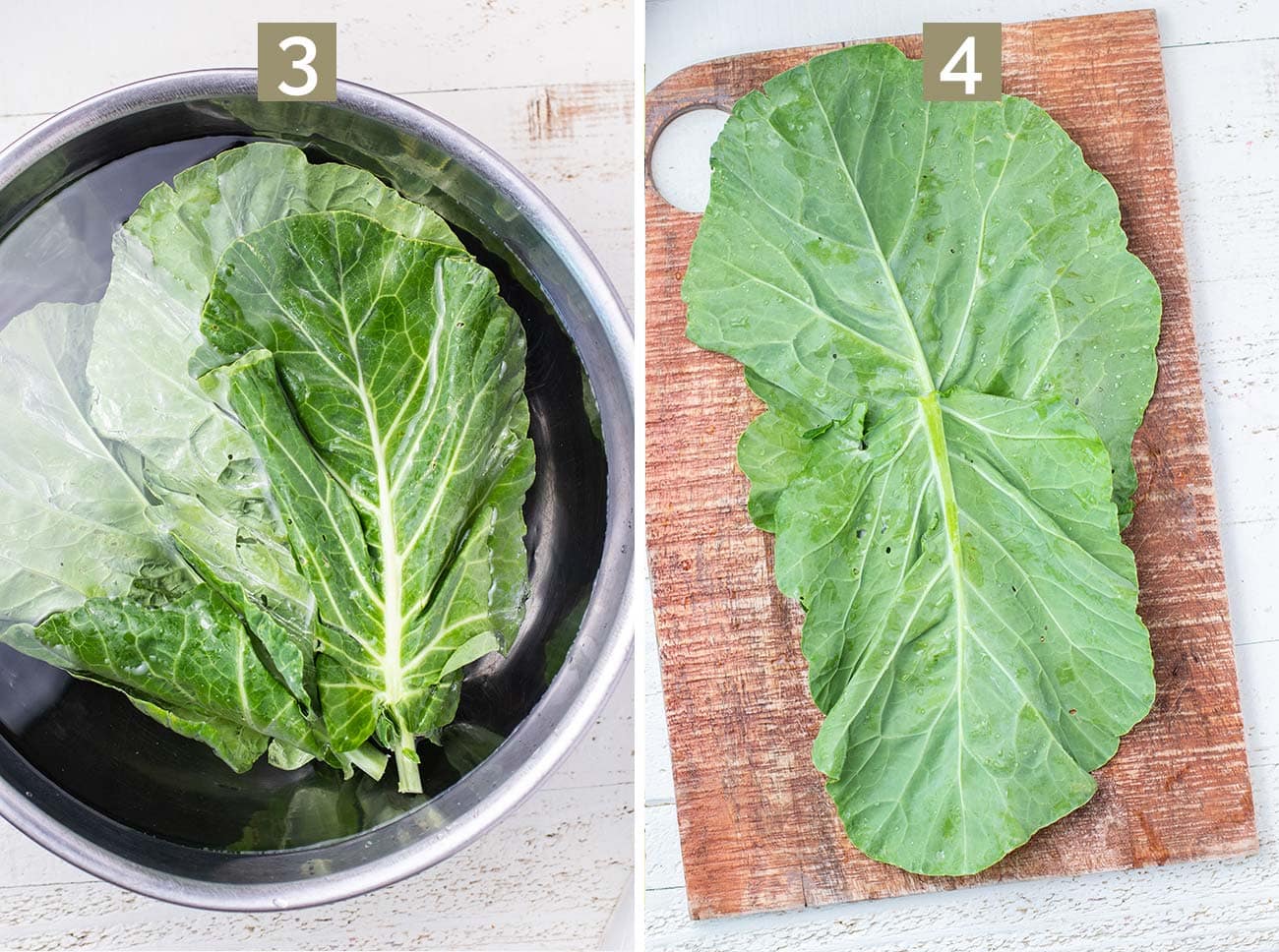 Step 5: First, layer the avocado and the mango onto the wraps. Do this in a rectangle shape in the center of the leaves.
Step 6: Add the chicken and the cabbage and carrot salad on top. You can add a lot of fillings to these wraps, so load 'em up!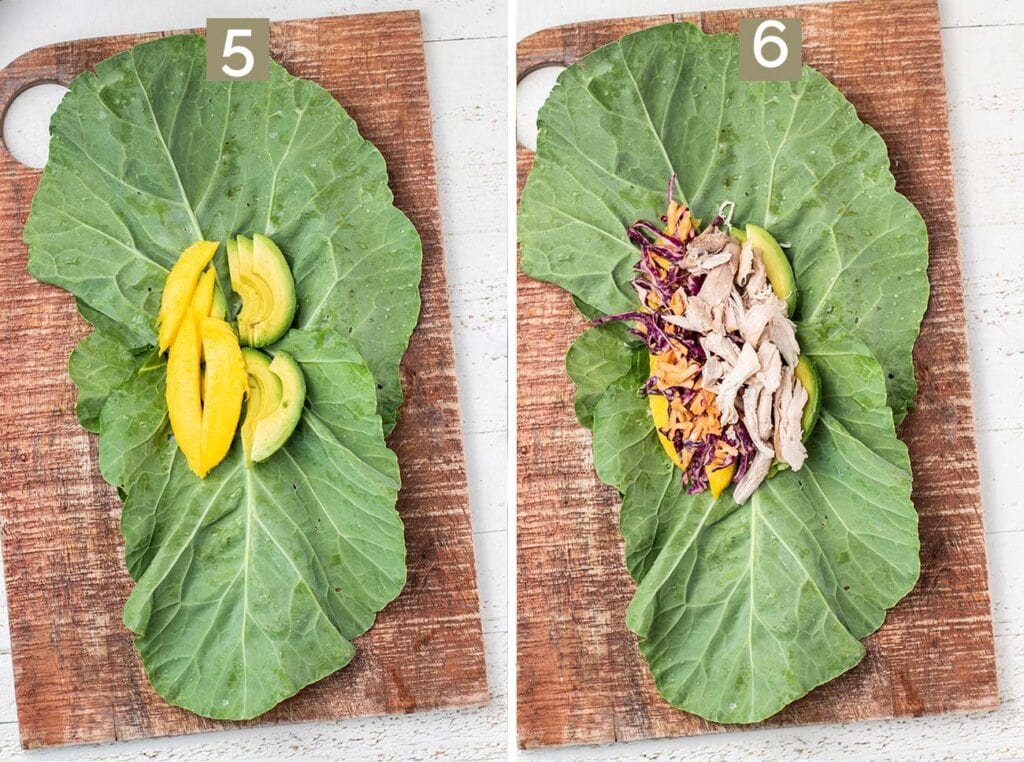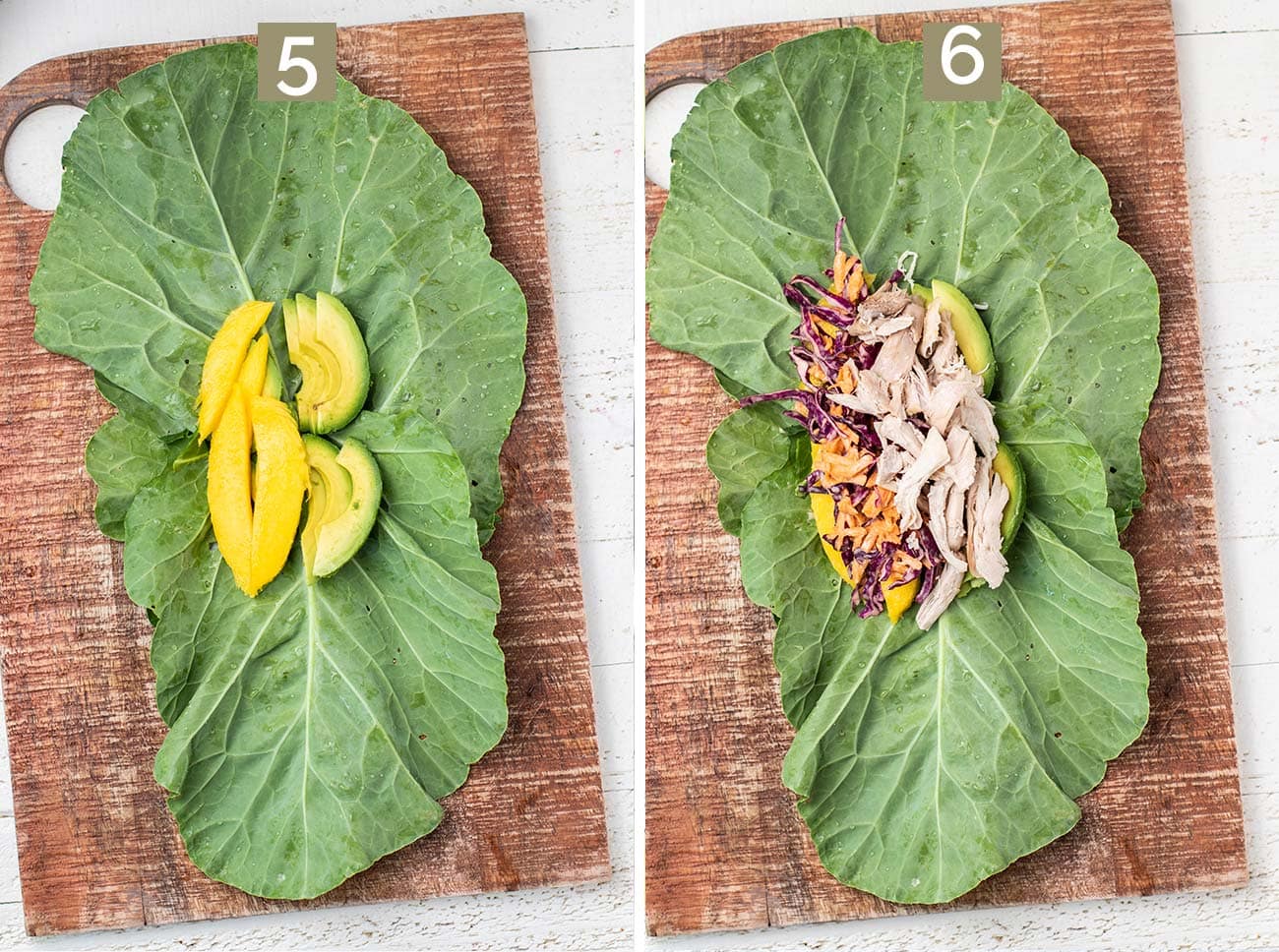 Step 7: Wrap the collard greens up by first taking the tops of the two leaves and folding them into the center, and then taking one side and wrapping it over, into a burrito shape. I like cilantro, so I usually toss a bunch of that in also.
Step 8: Cut these babies in half, and serve them with the sweet, spicy, tangy dressing!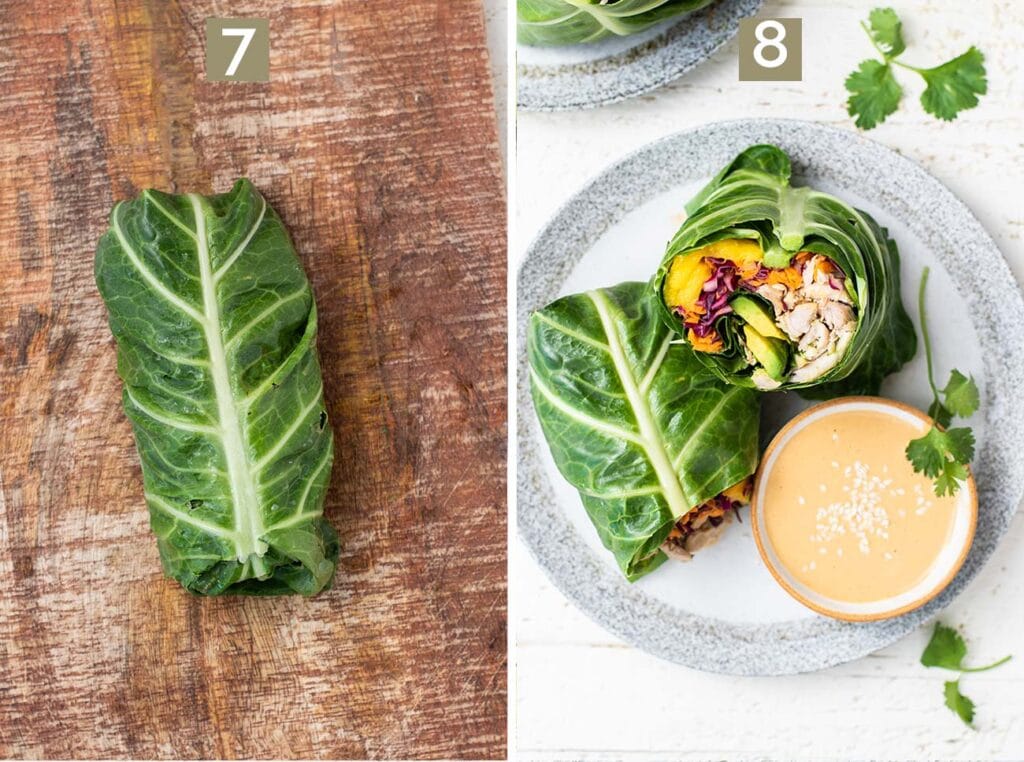 More about Collard Wraps
Are collard green wraps keto?
Collard green wraps are ideal for keto! These are loaded with low carb veggies (full of fiber!), have a moderate amount of protein from the chicken, and lots of healthy fats from the creamy dipping sauce and the avocado. Omit the mango in these wraps to keep them keto.
Can you make Vegan Collard Green Wraps?
You absolutely can! This Asian inspired recipe is easily adapted to a vegan diet. Some ideas to try instead of the chicken are whole chickpeas, or hummus. Grilled tofu or tempeh would also be a great addition to these to add some plant protein!
How do you make Paleo Collard Wraps?
As written, this recipe is paleo. Instead of soy sauce, these are soy free using coconut aminos. Collard greens are a great replacement for a grain-based wrap! This recipe is also suitable for the Whole30.
You Might also enjoy these Paleo & Whole30 Recipes:
If you make this recipe, be sure to share it with me! Find me on Facebook or Instagram and be sure to tag #SunkissedKitchen @SunkissedKitch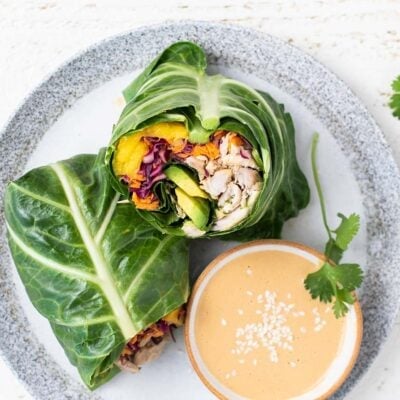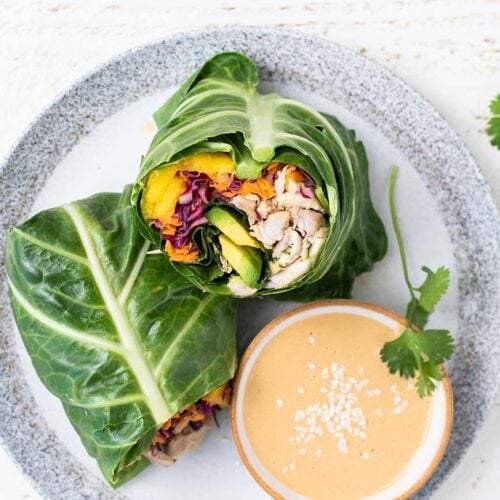 Asian Chicken Collard Green Wraps
A delicious way to wrap up your favorite Asian flavors! These healthy wraps are balanced with protein and healthy fats, and make a great low carb meal. Buy a precooked chicken to save time and these come together in no time. Wrap up any collard wraps and save them for meals on the go — they stay fresh for 2-3 days refrigerated!
Print
Pin
Rate
Ingredients
Wraps
1 1/2

cups

carrot

shredded

1 1/2

cup

cabbage

shredded

8

collard greens

1

avocado

sliced

1

mango

sliced

1

pound

chicken

precooked, shredded

cilantro

optional, to garnish
Instructions
Asian Dipping Sauce
Add all the ingredients to a blender, except the sriracha. Blend until smooth and creamy. If you'd like your wraps and dipping sauce to be spicy, add sriracha. We like a full tablespoon, but add it to your tastes.
Asian Chicken Collard Wraps
In a medium sized bowl, add the carrots and cabbage. Pour half of the sauce over the vegetables, and mix to combine. Set aside.

Fill a very large bowl with warm (not hot) water and 2 tablespoons of vinegar. Add collard leaves, and allow them to soak for 10-15 minutes.

Take 2 leaves out at a time, and use a knife to shave the stem off the back of the leaf, being careful not to pierce through the leave. Trim the stem at the bottom of the leaves.

Place the two leaves bright green sides down, with the tops facing opposite directions and the bottoms overlapping 4-5 inches. See the video or photos if this step is difficult to understand.

Into the center of the leaves, add the sliced mango and avocado.

On top of the mango and avocado, add 1/4 of the chicken and 1/4 of the cabbage and carrot mixture.

Wrap up the collard greens by first taking the two tops and folding them into the center of the warps, covering the fillings. Then, roll them from one side to the next.

Cut the wraps in half and serve them with remaining dipping sauce.
Notes
For Keto or Low Carb option: Omit mango. These wraps have 14 grams of net carbs without the mango. Further reduce the carbs by omitting the carrot or using just 1 collard green to wrap the fillings. Precooked Chicken options: I like to make meals like this with a precooked rotisserie chicken. Otherwise, I put 1 pound of chicken thighs in my instant pot with 1 teaspoon of salt, black pepper, and 1/4 cup of chicken broth, and then set to manual for 8 minutes. When it's done, it's very easy to shred the chicken for these wraps. Make them Vegetarian/Vegan: Easily make these vegan by swapping the chicken for chickpeas, hummus, tofu, or tempeh.
Nutrition
Calories:
564
kcal
|
Carbohydrates:
28
g
|
Protein:
25
g
|
Fat:
41
g
|
Saturated Fat:
10
g
|
Cholesterol:
111
mg
|
Sodium:
501
mg
|
Potassium:
847
mg
|
Fiber:
7
g
|
Sugar:
11
g
|
Vitamin A:
9770
IU
|
Vitamin C:
47
mg
|
Calcium:
116
mg
|
Iron:
3
mg