These Leftover Turkey Sweet Potato Enchiladas are the cure to your turkey burnout. Turkey dries out quickly, so covering it in spicy sauce and cheese revives it.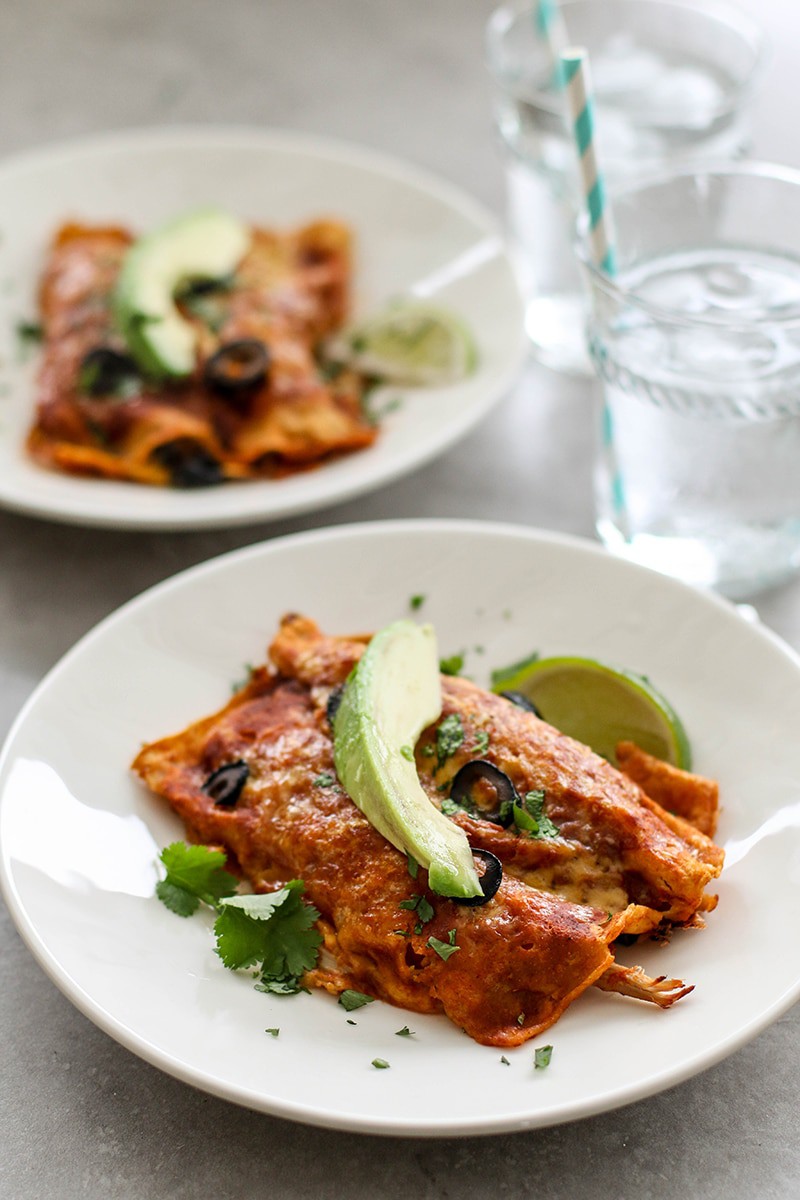 Enchiladas were the first "fancy" dish I made on my own after moving out of my parents' house. I remember being at a boyfriend's house, and thinking I could impress him with my cooking skills. That little cooking sesh ended with a smoke alarm and said boyfriend being impressed I was such a bad cook.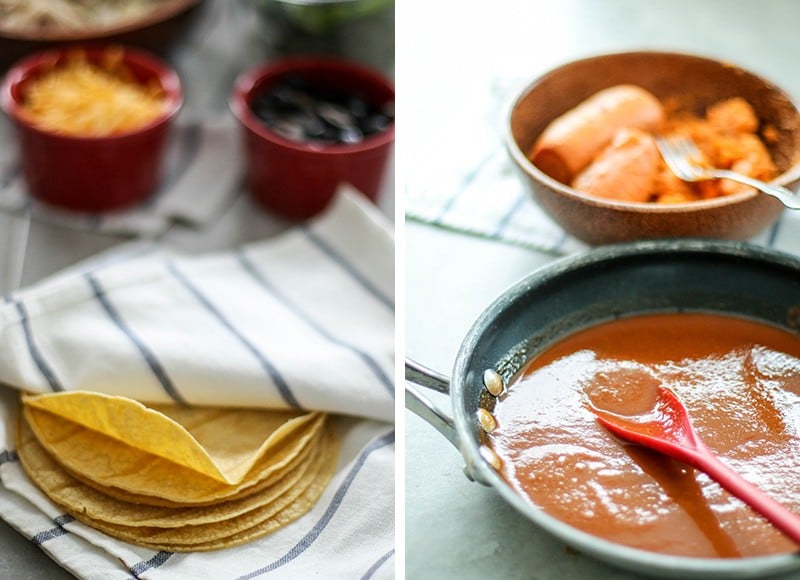 A few years later, he and I were still together– and one day he told me it had been so neat to watch my evolution as a cook. I always had confidence I could cook, but I certainly wasn't an expert from the beginning.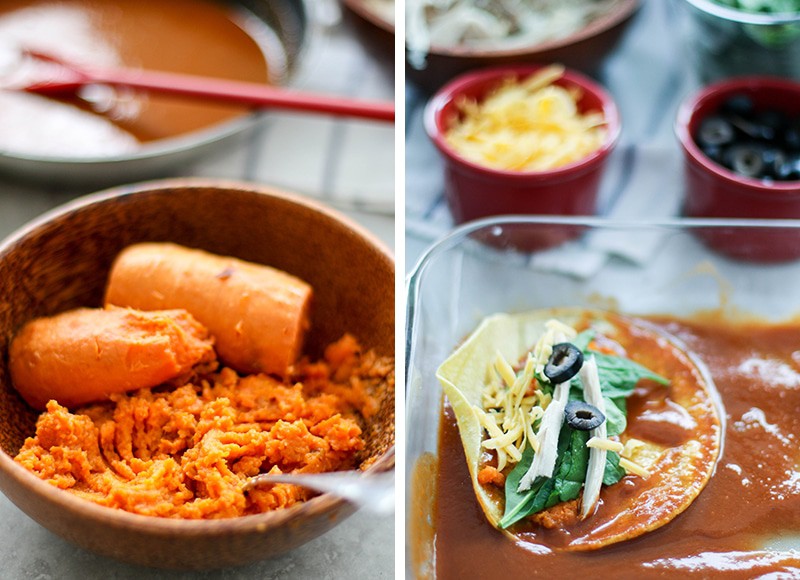 Blogging is actually what has made me a good cook. I love to experiment and make new things– so before, sometimes things turned out, often they did not. And while on average, more of my experiments turn out now than in the past, I still have a lot of "meh" dishes that need improving– and since I want to turn "meh" into "wow" before I post a recipe here, I make it again, and again, and sometimes again and again before it's finalized.
Luckily, I didn't have to make these 6 times (that's a whole lot of roasted turkey). But they weren't as amazing as I'd expected on the first round. Delicious, but there was something missing– what I realized was the sweet potatoes were a bit bland and needed a bit of acid to perk them up. Once mashed with cumin and lime juice, this dish turned into a "wow."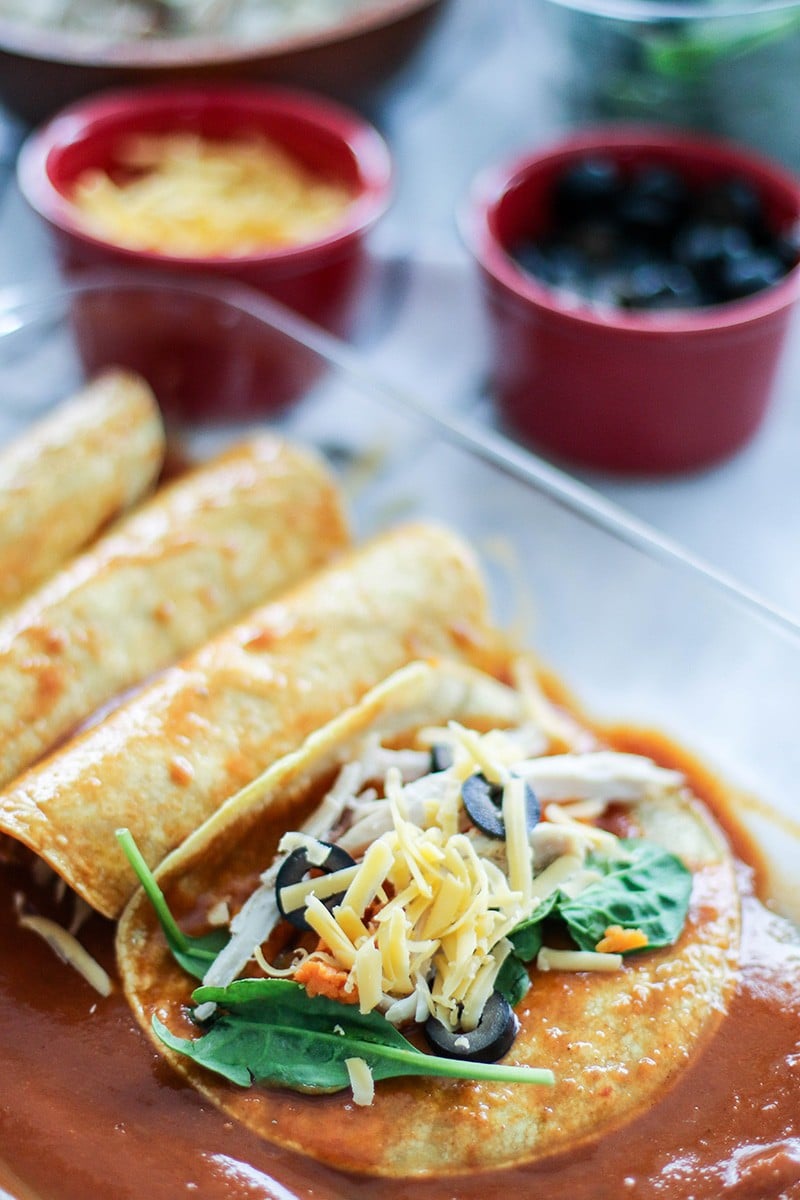 You'll want to save some turkey leftovers for these enchiladas– and if you weren't already planning on roasting sweet potatoes, pick a few up and roast them, and just stash them away to make these enchiladas a few days after Christmas.
There's only so much cranberry sauce one can eat.
But, if you do love turkey and cranberry sauce together, no worries– I've got you covered. I have one more turkey leftover recipe that I'll be posting right after Christmas.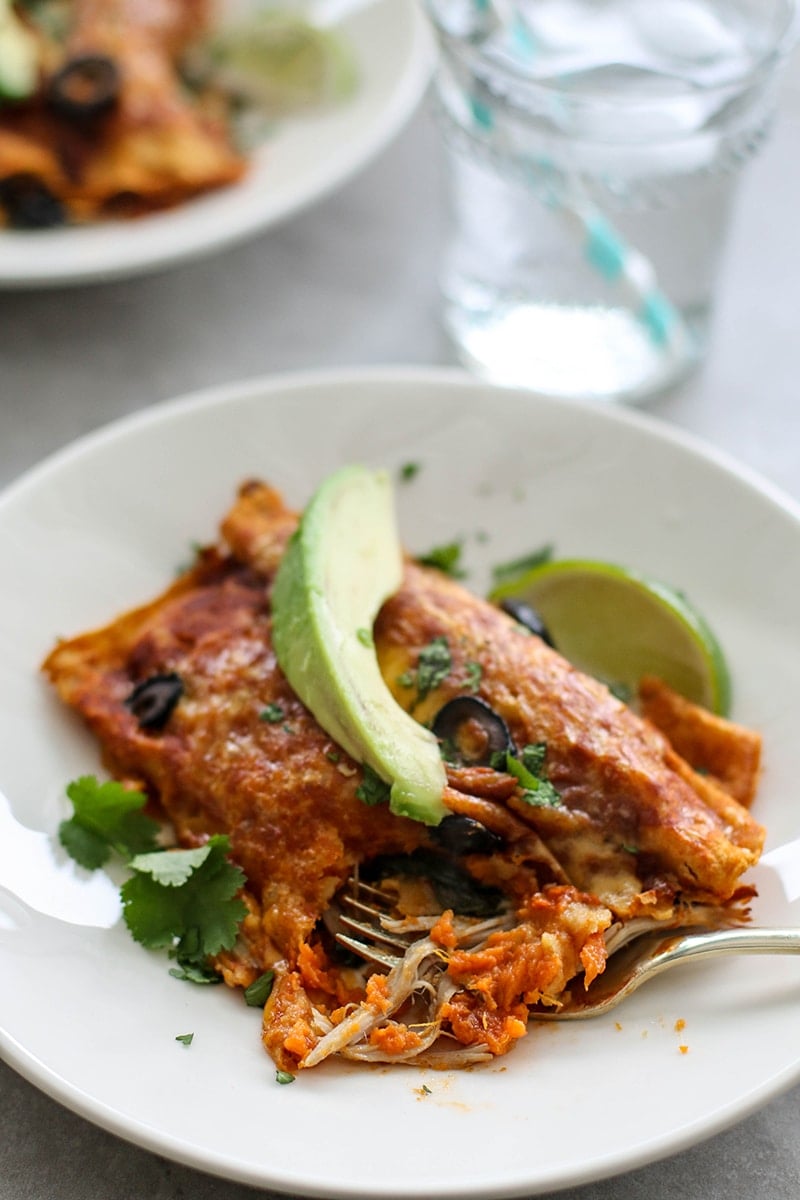 Tips for Leftover Turkey Sweet Potato Enchiladas
Make is Gluten Free: Corn tortillas are naturally gluten free. They also are far fewer calories than white flour tortillas. La Tortilla Factory makes organic non-GMO corn tortillas, and since corn is almost always GMO, that's an important consideration. My homemade enchilada sauce is also gluten free (many store bought varieties aren't).
Make it Ahead: This is a great casserole dish to make a day ahead or in the morning to bake in the evening. Just roll the enchiladas, cover with foil, and place in the fridge until ready to bake.
Make it Vegetarian: If you had a meat free holiday, then use other leftovers in this dish! In place of the turkey, leftover roasted veggies would be wonderful. You could also just use sweet potato, spinach, olives and cheese.
Make it Dairy Free: These don't absolutely need cheese! Use extra sauce, or make a guacamole to spread a little extra love on top after baking.
For the Family: My homemade enchilada sauce is not spicy (depending on the chili powder you use– my chili powder is pretty mild), so it's a family friendly option. I started making it because I can't buy soy free sauce in Malaysia, but it's so delicious, I make it while in America, too.
Michelle @ Vitamin Sunshine
Yields 10 enchiladas
Leftover Turkey Sweet Potato Enchiladas
This enchilada recipe revives holiday leftovers! If you're tired of cranberry sauce and gravy, whip up a quick batch of enchilada sauce and get rolling. This is sure to be a family favorite recipe.
20 minPrep Time
35 minCook Time
55 minTotal Time
Ingredients
Enchilada Sauce (2 15-ounce cans or 1 recipe Homemade Enchilada Sauce )
1 1/2 cups mashed roasted sweet potato*
3 T lime juice
1 teaspoon cumin
1/4 teaspoon sea salt
2 cups shredded turkey (or sub chicken)
2 cups baby spinach
1 1/2 cups cheddar cheese, shredded
20 black olives, sliced
avocado and cilantro, to garnish (optional)
Instructions
Preheat oven to 400 degrees F.
Prepare all ingredients. Mash sweet potatoes, and season with lime juice, cumin and sea salt. Shred cheese and slice olives. Make sure turkey in either shredded or chopped in small pieces.
Use a 9 x 13 baking dish, and begin by adding 1/2 cup enchilada sauce to the bottom of the pan, and spread into a thin, even layer.
Wrap tortillas in a thin kitchen towel, and microwave for 20-30 seconds. The tortilla should be warm enough to be pliable. Most traditional recipes call for the tortillas to be pan fried to soften them, but that's really unnecessary - cooking them in sauce will make them soft and moist after baking.
Dip 1 tortilla into enchilada sauce to fully coat it on both sides, then lay it in the baking dish, and add a spoonful of mashed sweet potatoes, followed by turkey, spinach, olives and a light sprinkling of cheese.
Repeat with the other 9 tortillas.
Top rolled enchiladas with the remaining sauce, and then sprinkle the rest of the cheese and olives on top.
Cover the dish in foil, and bake for 30 minutes, until sauce and cheese are bubbling.
Remove the foil, and continue to bake for another 5 minutes to lightly brown the top.
Let sit for 5-10 minutes before attempting to slice enchiladas and serve.
Top with avocado slices, more sauce, cilantro, jalapeños, or guacamole for a festive meal.
Notes
*If you do not have leftover roasted sweet potatoes, you can make them by preheating oven to 400 degrees F, and placing sweet potatoes in a foil lined baking dish, then baking them for 1 hour. The sweet potatoes are done when the flesh inside is very soft, and the skin sinks in. You can also prepare them much quicker by simply microwaving them for 6-8 minutes, although the result isn't as creamy or sweet as the oven roasted method.
7.8.1.2
46
https://sunkissedkitchen.com/leftover-turkey-sweet-potato-enchiladas/
Michelle @ Vitamin Sunshine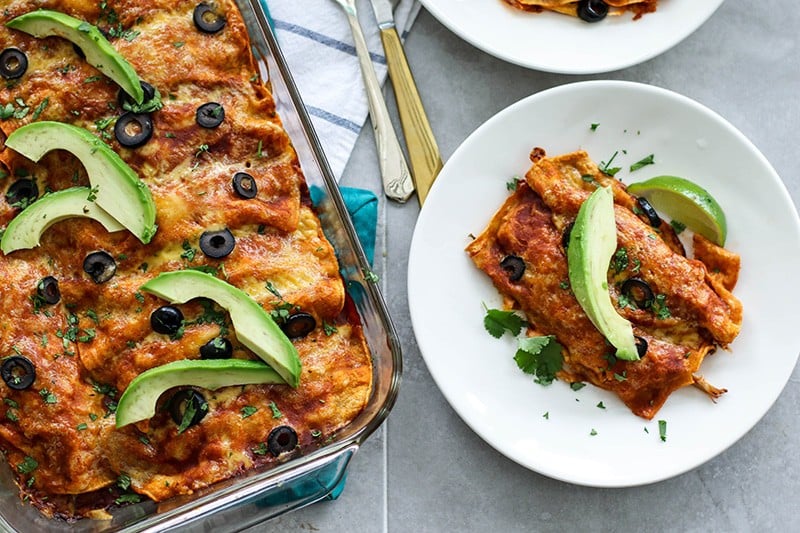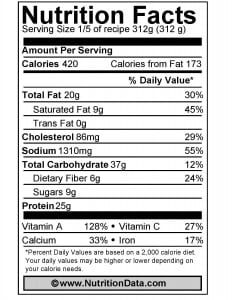 Nutritional data for Leftover Turkey Sweet Potato Enchiladas and images courtesy of www.NutritionData.com.
Other Leftover Turkey Recipes:
I'd love to connect with you on social media! Find me on Facebook or Instagram where I post daily healthy eating and lifestyle inspiration.
This post contains affiliate links, which means that if you click on one of the product links, I'll receive a small percentage of any purchases made.