This post may contain affiliate links. Please see my full
Disclosure Policy
for details.
Learn how to cook a turkey that will result in a moist and flavorful bird every time. For this method, I use a dry turkey brine, and then the turkey is coated in melted butter and herbs before being baked.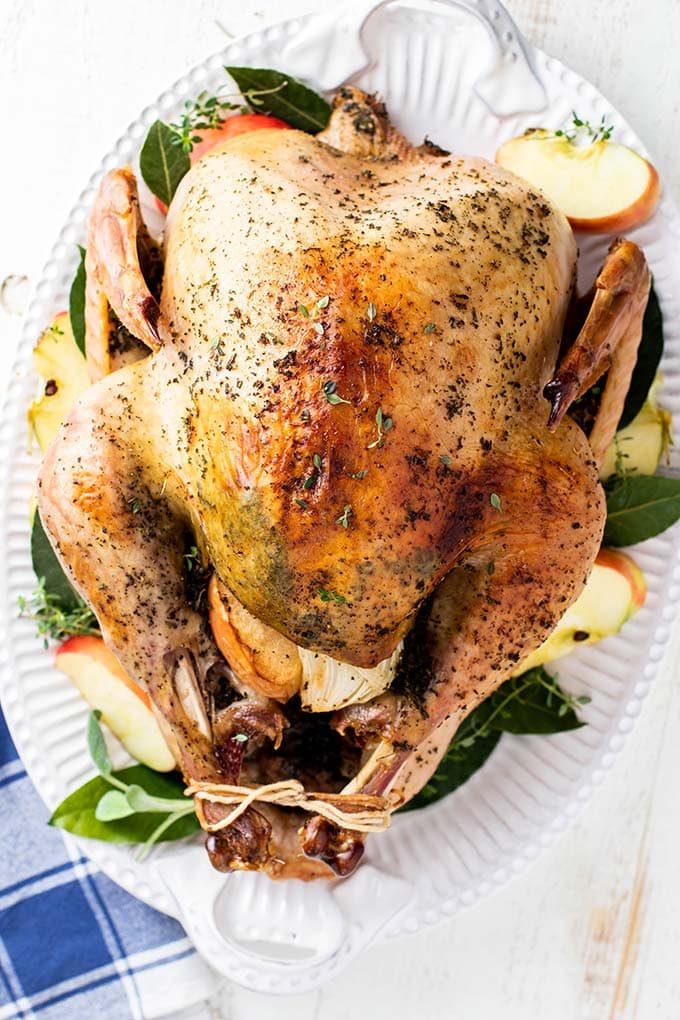 *Today I'm partnering with Sharp Home USA ~ Sharp creates quality home appliances that make life easier! Thanks for supporting me and the brands I work with. I only share this space with the very best.
A Dry Turkey Brine
Turkey is one of my favorite meals, and it's not something I reserve for Thanksgiving and Christmas. I make it for most holiday meals, and sometimes, we have turkey "just because."
It's not as simple to roast a moist and flavorful bird as just seasoning it and popping it in the oven until the little temperature probe pops. Turkey is a very lean meat, meaning it's easy to overcook and dry out. Adding salt and seasonings directly before baking also means it isn't able to penetrate the meat, so while the skin might be flavorful, the thick slices of meat inside will not be.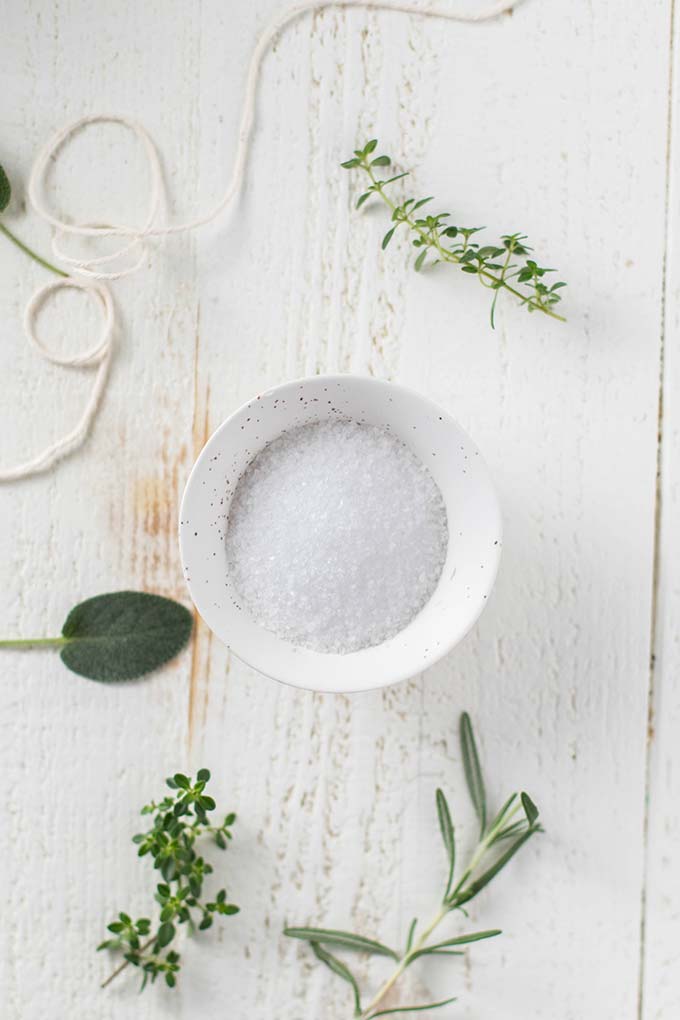 I've also used an herbed water brine in the past. It's great, but when there are tons of things going on in my kitchen, I found it messy and a bit too much to handle.
Now, I start my turkeys off with a dry brine. This is a salt rub that is left on the turkey overnight, allowing time to penetrate the skin and get into the meat. This also helps break down the muscle tissue prior to baking, meaning you'll end up with more tender meat.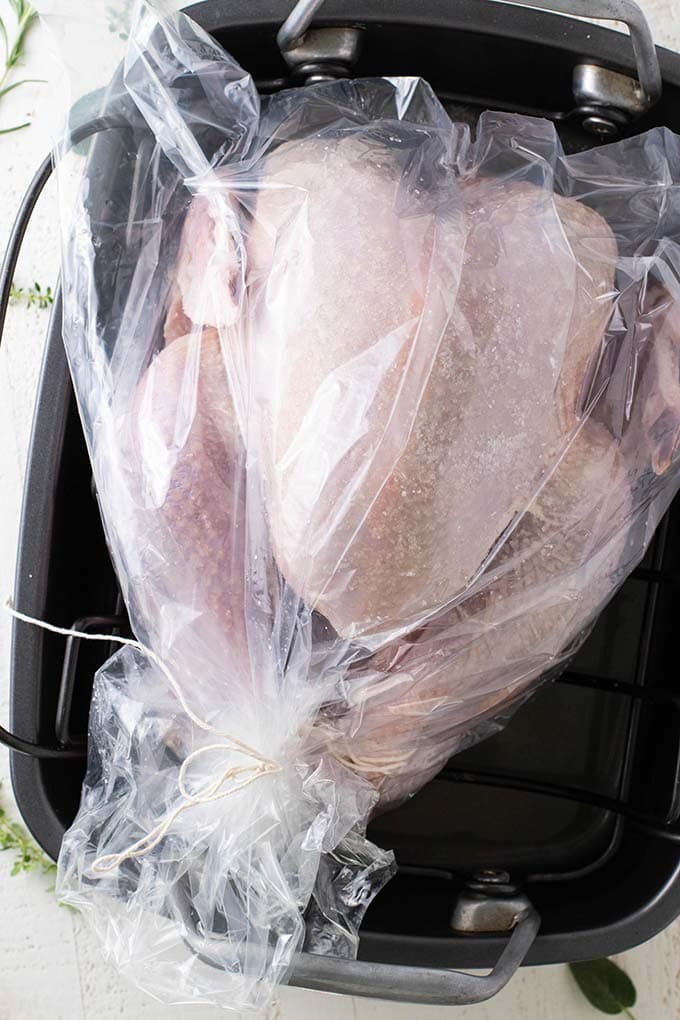 Tips for Dry Brining a Turkey
Use 1 Tablespoon of coarse sea salt per 4 lbs of meat. This means for a 10 pound turkey, you're using 2 1/2 tablespoons. For a 20 pound bird, use 5 tablespoons.
Rub the salt into the skin and the cavity of the bird. I also loosen the skin over the breast and push some salt up onto the breast.
Add dry herbs or poultry seasoning to the salt, if desired. I typically wait and add fresh herbs just prior to baking, but additional herb flavor is never a bad thing!
Wrap the turkey up in plastic. I use the large turkey roasting bags for this because they are the perfect size. Tighten the bag, and then refrigerate until ready to bake, preferably 12 hours or more.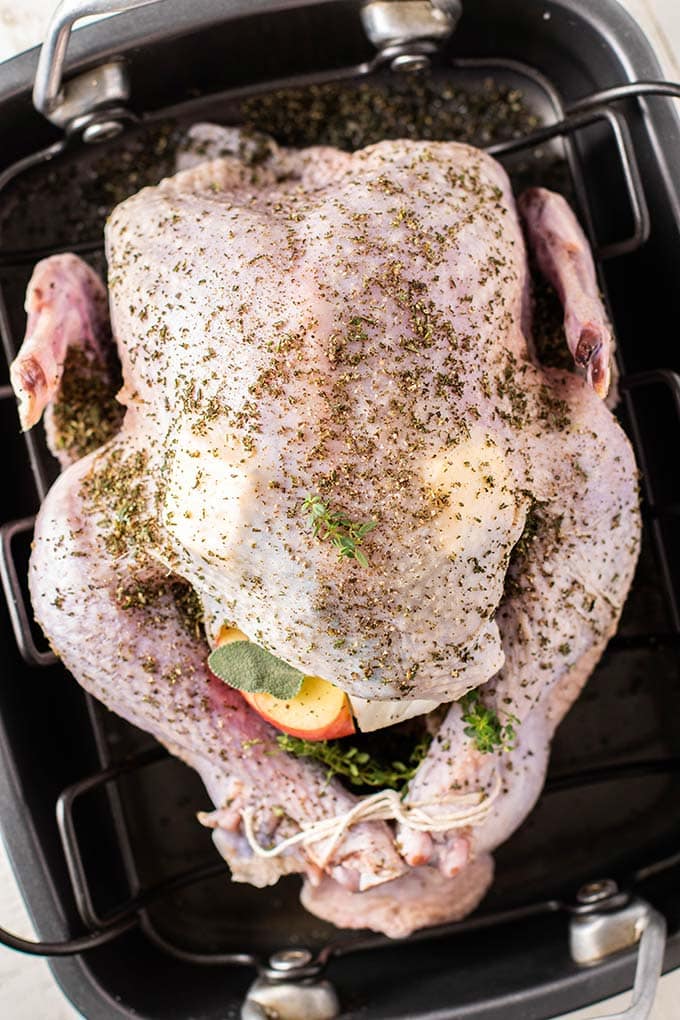 How Long to Cook a Turkey
I have found the ideal temperature for baking a turkey is 325º F. The following times are based on that temperature.
Turkeys should be cooked to an internal temperature of 165º F. I pull my turkey out of the oven when my thermometer probe reaches about 160º F, because it will continue to cook as it's resting. The recommendations below are estimate times for an unstuffed turkey, and are not a replacement for using a thermometer.
4-8 pounds (a breast): 1 1/2 to 3 hours
8-12 pounds: 2 3/4-3 hours
12-14 pounds: 3-3 3/4 hours
18-20 pounds: 4 1/4-4 1/2 hours
20-24 pounds: 4 1/2-5 hours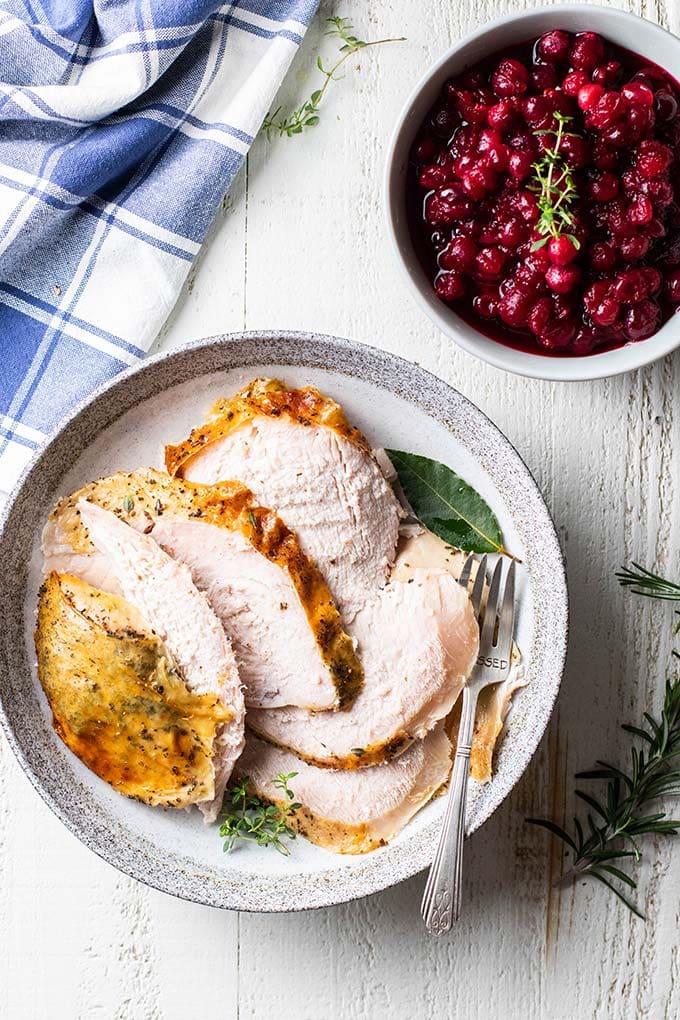 The Perfect Turkey Every Time
This year, I installed the Sharp European Convection Oven in my kitchen. My Sharp appliances are the crowning jewels of my kitchen remodel.
Each one is pure luxury. From the sleek digital controls, to the quick heating and cooling times.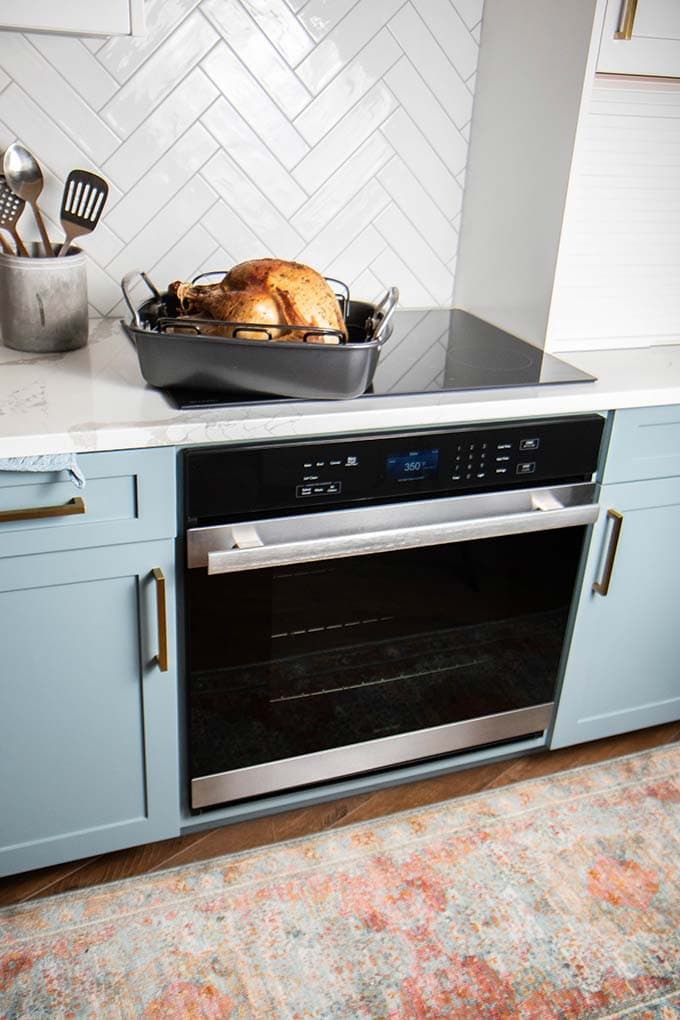 The Sharp European Convection Oven is ideal for roasting turkeys. It has a built in temperature probe — set the temperature, and the oven alerts you when the turkey is done! We've cooked 4 turkeys since having the oven installed, and I can't tell you how this one feature helped me perfect my turkey-baking strategy. It's simply more accurate than any other method I've used.
The oven is roomy inside, so even though I had a 24 pound bird inside for Christmas, we were able to throw in a pan of cauliflower cheese and some stuffing to heat right along with it.
If you're interested in learning more about Sharp and their premium kitchen appliances, hop on over to their website to learn more!
Try this Garlic Butter Prime Rib recipe for holiday meals when you've hit turkey burnout!
What to Serve with Roasted Turkey
Other Healthy Turkey Recipes
If you make this recipe, be sure to share it with me! Find me on Facebook or Instagram and be sure to tag #SunkissedKitchen @SunkissedKitch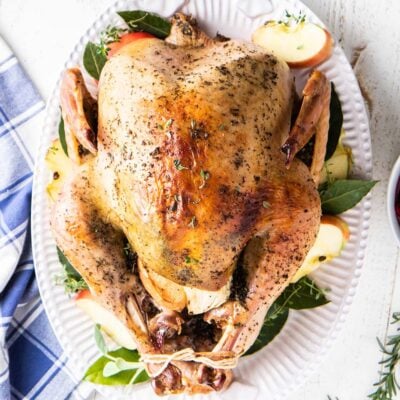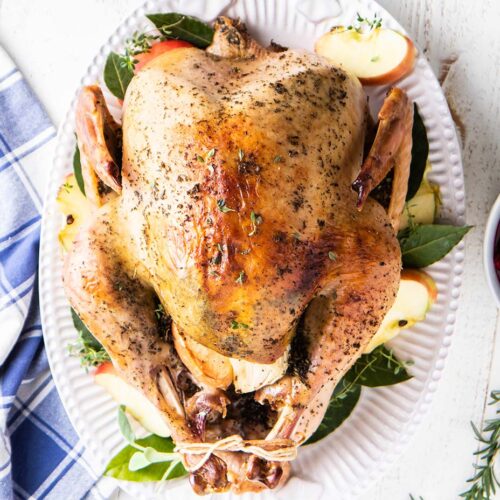 How to Cook a Turkey
Learn my favorite method for how to cook a turkey, including a super easy (and effective) dry bringing technique. This flavorful bird will be the highlight of any holiday table!
Print
Pin
Rate
Ingredients
1

16 pound

turkey

3

tablespoons

kosher salt

coarse, or 1 tablespoon per 4 pounds

1/4

cup

sage

fresh, finely chopped

1/4

cup

rosemary

fresh, finely chopped

2

tablespoons

thyme

fresh, de-stemmed

2

tablespoons

butter

1

onion

quartered

1

apple

quartered
Instructions
Remove organs from thawed turkey, and place it in a roasting pan. Rub the turkey down, including in the cavity and under the skin that covers the breast, with the coarse salt.

Wrap the turkey in a large plastic bag (I use a turkey roasting bag for this), and tie the bag shut. Refrigerate the turkey overnight until ready to bake.

Take the turkey out of the plastic and put it back in the roasting pan about 30 minutes- 1 hour prior to baking.

Preheat the Sharp European Convection Oven to 325º F.

Rub the turkey with the fresh chopped herbs, and push the seasonings, along with the butter, up under the skin that covers the breast. Add the chopped onion and apple into the cavity.

Cover the turkey with a foil tent or roasting pan cover, and place in the oven. A 16 pound turkey takes 4 hours to bake on 325º F. See notes below for turkeys of different sizes.

Use the internal temperature probe in the Sharp European Convection Oven to set the oven to bake until the turkey reaches 165º F.

Baste the turkey every 30 minutes once the juices have started to come out, which should be about half way into baking.

After the turkey has reached 165º F, remove the turkey from the oven and allow to rest about 15 minutes prior to slicing.
Notes
*Nutrition facts are for the whole turkey and include the skin and the fat surrounding the meat.
At 325º, plan to bake the turkey for 15 minutes per pound. Using a temperature probe is the best way to accurately gauge when the turkey is done. See chart above for estimated bake times for different sized birds.
Nutrition
Calories:
639
kcal
|
Carbohydrates:
4
g
|
Protein:
93
g
|
Fat:
26
g
|
Saturated Fat:
8
g
|
Cholesterol:
314
mg
|
Sodium:
2243
mg
|
Potassium:
1010
mg
|
Fiber:
1
g
|
Sugar:
2
g
|
Vitamin A:
417
IU
|
Vitamin C:
4
mg
|
Calcium:
73
mg
|
Iron:
4
mg