This post may contain affiliate links. Please see my full
Disclosure Policy
for details.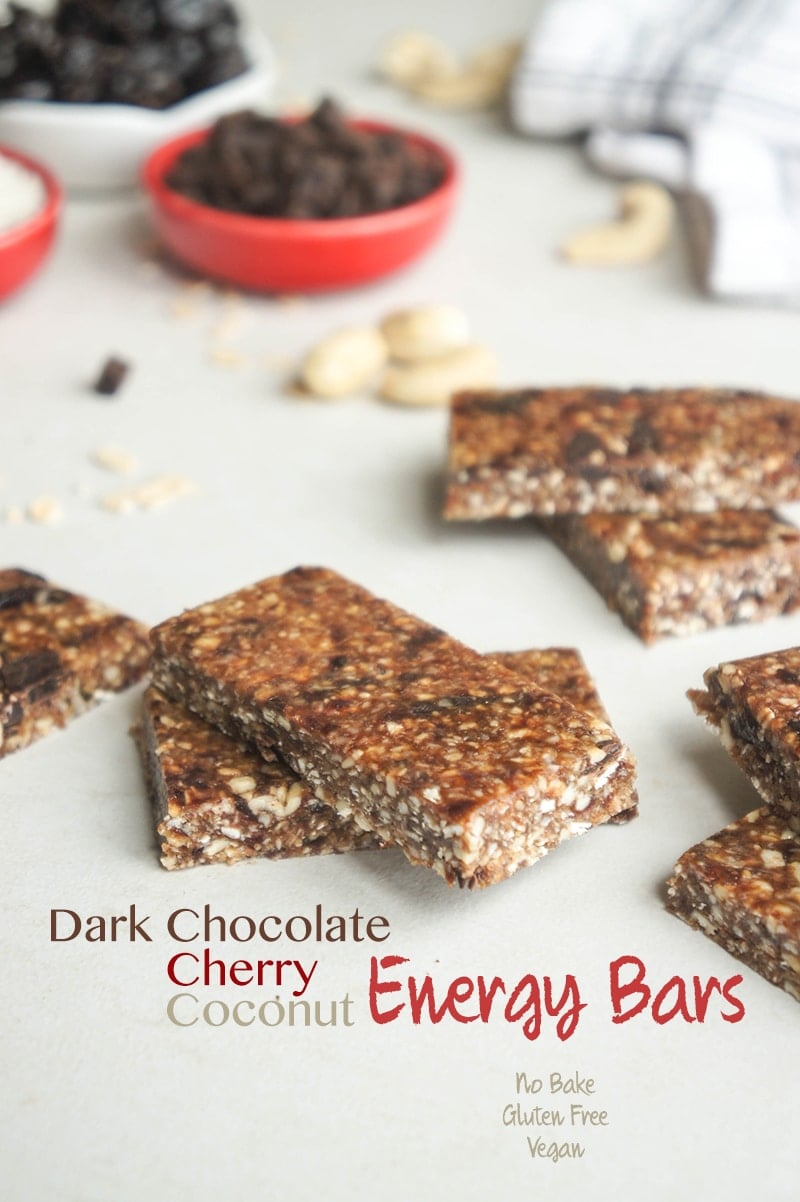 If you're a fan of Larabars, you'll love these Dark Chocolate Cherry Coconut Energy Bars.
But, I must serve you with this warning first: Once you've made these, you'll never be full satisfied with a store bought bar again.
They are that good. I used to buy Larabars, and you can't really beat the simple ingredient list and the convenience. But, I have to tell you– that simple ingredient list, plus being raw, means it's super easy to replicate with fresh ingredients at home. As much as a like what Larabars are, they just taste packaged to me now. Which is exactly what they are, and of course, that lends to convenience.
Do you know what else Larabars are? $2 each. If you can buy cashews and dates in bulk, you can make a batch of these for the cost of two store bought bars.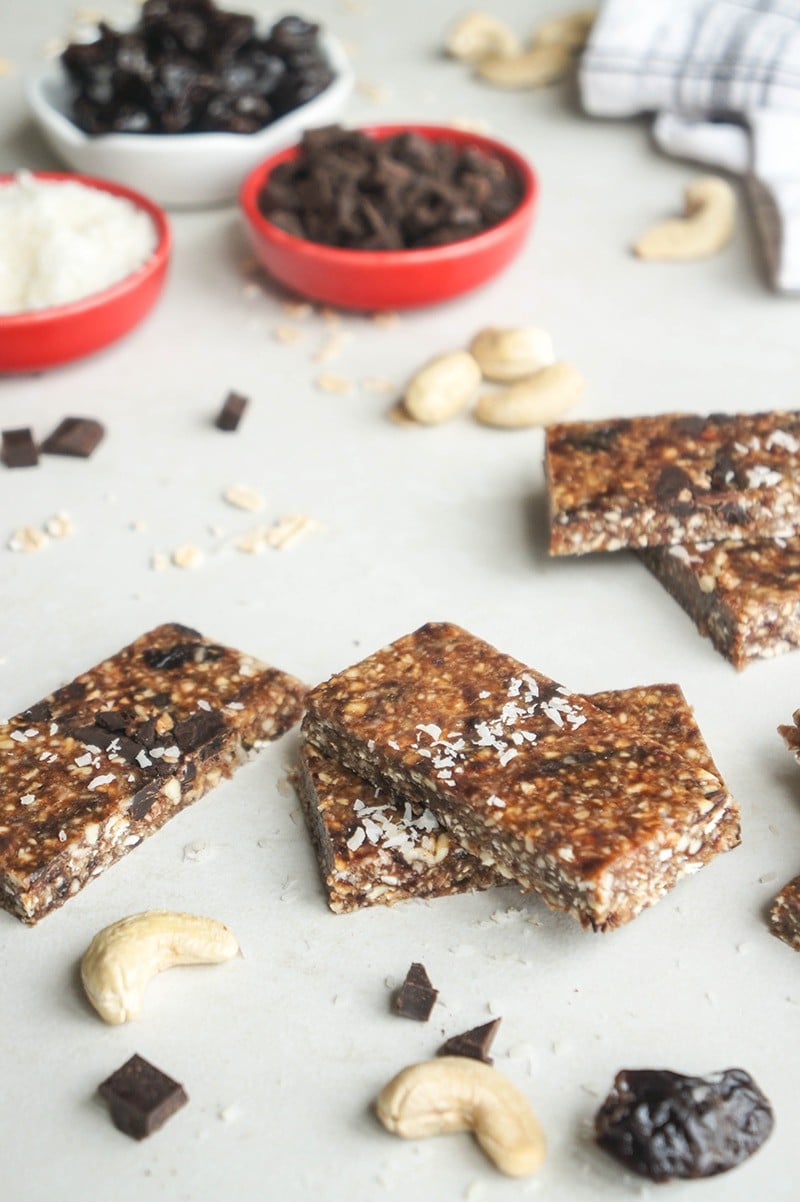 A few years ago, Alex flew to Africa to climb Kilimanjaro. He grew up in Zimbabwe, and had seen the mountain and heard stories of climbers as a child. He had always wanted to climb it, and decided it was time to do it. We upped our runs to get him in shape, and he began coming home at lunch and running the 25 flights of steps up to our apartment TWICE during his break.
Knowing he was physically fit enough for the challenge, he was still worried about altitude sickness. Here I come in, thinking healthy, whole foods are the answer to just about every ailment (aren't they?). I researched nutrients your body needs to fend off altitude sickness, and made him these bars, with pumpkin and sesame seeds added for some additional zinc, iron and vitamin E.
He swears eating one of these a day starting 5 days before the climb, the last the day he summited, is the reason he made it, while he watched people younger and more experienced too sick to leave camp.
These met the ultimate test powering him up the mountain, but they have also powered me through long afternoon meetings, trans-Pacific flights, and many less physically challenging hikes.
I've perfected the procedure of cutting them into nice bars. After making the "dough," (which takes about 5 minutes in a food processor!), add it to a large ziplock bag, and use a rolling pin (or pint glass!), to smooth it out into an even layer. I try to get the edge as straight as possible.
Put it in the freezer, laying flat, for a few hours or overnight. Then, rip open the plastic bag, and use a large knife to cut it into bars.
I make my bars about half the size of a store bought bar. I have never calculated it, but I assume these are about 100 calories each, since a store bought bar is about 200. Perfect to give me a boost of energy, and Alex can easily grab 2 if he is going to be playing squash for hours and needs more energy.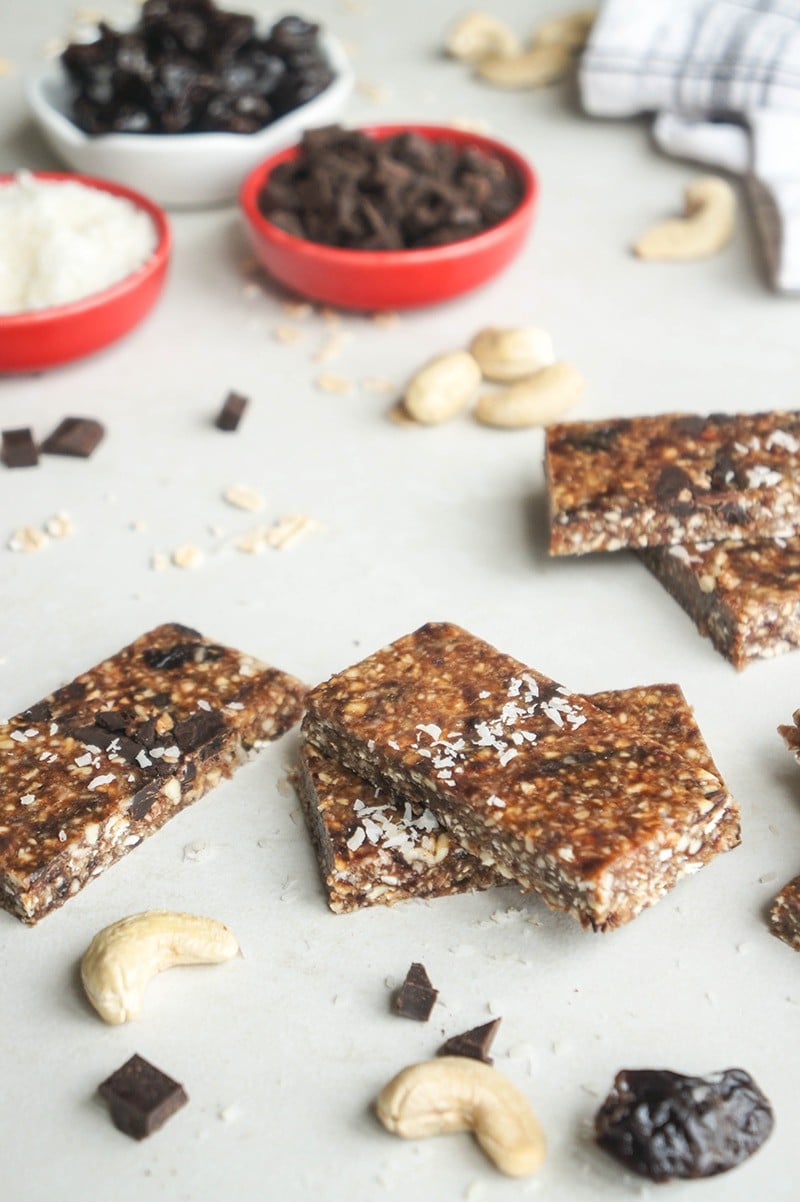 No-Bake Dark Chocolate Cherry Coconut Energy Bars
A homemade fruit and nut energy bar, easily customizable with what fruit and nuts you have on hand. The dates are the only ingredient I wouldn't swap out!
Print
Rate
Ingredients
1

cup

cashews

1

cup

rolled oats

(use gluten free, if necessary)

1/2

cup

shredded unsweetened coconut

10

Medjool dates

(soaked in hot water for 1-2 minutes)

1

cup

tart dried cherries

1/4

cup

chopped 85% dark chocolate

1

tablespoon

unrefined coconut oil

1/2

teaspoon

sea salt
Instructions
Add cashews, oats and coconut to a food processor. Process for 1-2 minutes, until a coarse meal forms.

Add dates, and process until they are mixed in well.

Add cherries, coconut oil, dark chocolate, and sea salt. Pulse until well combined. Do not process for too long, or the chocolate will melt. If the mixture isn't coming together into a dough quickly, add 1 tablespoon of water or almond milk.

Add the dough into a large plastic ziplock bag, and use a rolling pin to flatten into a large rectangle.

Freeze for 2-3 hours, or overnight.

Rip the plastic bag open, and cut into 14 small bars.

To make quicker, the dough can also be rolled into balls.

The bars and balls store best in the freezer, and will last for several months if frozen.
Nutrition
Calories:
196
kcal
|
Carbohydrates:
28
g
|
Protein:
4
g
|
Fat:
9
g
|
Saturated Fat:
4
g
|
Cholesterol:
1
mg
|
Sodium:
91
mg
|
Potassium:
239
mg
|
Fiber:
4
g
|
Sugar:
18
g
|
Vitamin A:
333
IU
|
Calcium:
36
mg
|
Iron:
1
mg