This post may contain affiliate links. Please see my full
Disclosure Policy
for details.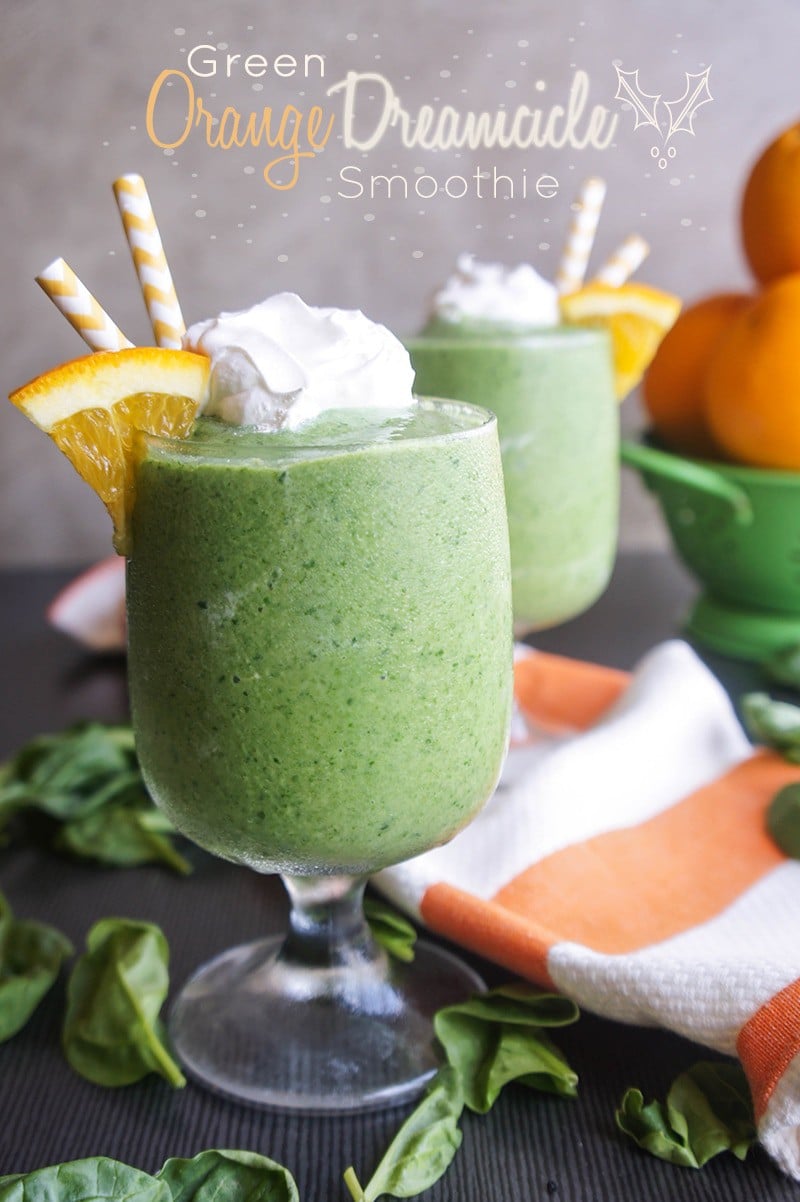 When I find a new food blog that grabs my attention, the first thing I do is look at the Breakfast recipe index. I love seeing people's breakfast creations! Really, breakfast food is my favorite. It's also my favorite meal to eat out.
So, funny that my breakfast page has fewer recipes than any other category on my blog! Maybe this shows that I need inspiration in that area, and that's why I am always looking at other people's ideas?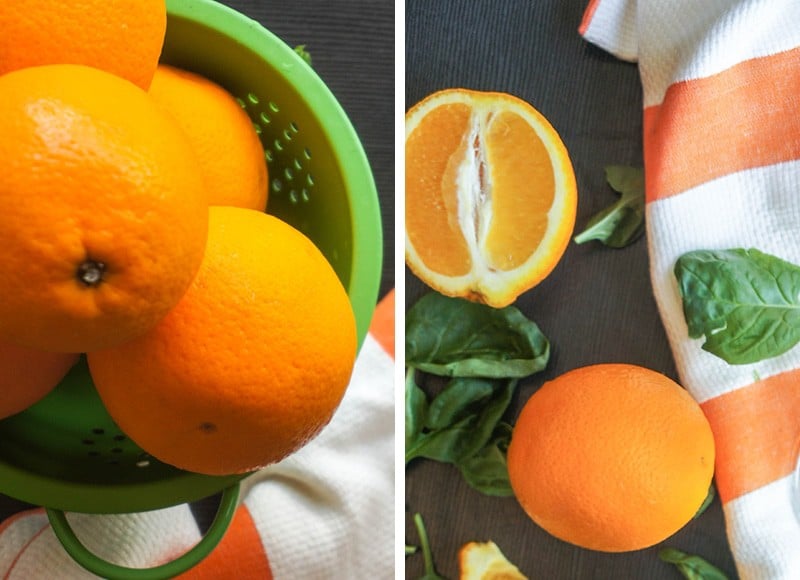 Or maybe it's because I am actually quite boring when it comes to breakfast. To work, I take a greek yogurt and a container for dried fruit, nuts, coconut, or fresh fruit to mix in. Maybe a grapefruit if I'm really getting crazy. If I have breakfast cookies in the freezer, I like to grab a few of those, too. (BAAH! Who am I kidding? Breakfast cookies, or any other cookie of the non-breakfast variety of will do).
When I get "fancy" on the weekends, I put EXTRA toppings in my yogurt. But my very favorite breakfast is a green smoothie. Energizing, and a great way to work those veggies in early.
I am not the only one OBSESSED with green smoothies, am I? (Alert: For all you GREEN smoothie lovers out there, check out my "Green Love" Pinterest board). I know I'm not alone, because the green smoothies on my site are the most popular recipes —  in order of popularity: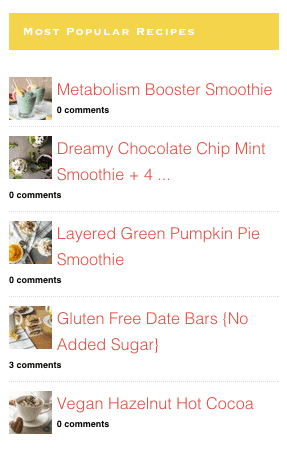 And… honorable mention, because it would be more popular if I had known a thing about food photography back when I posted it– the Chiang Mai Frozen Banana Coffee (<– plus, this is a great "newbie" green smoothie because it's NOT green, but has a green vegetable in it- undetectable!).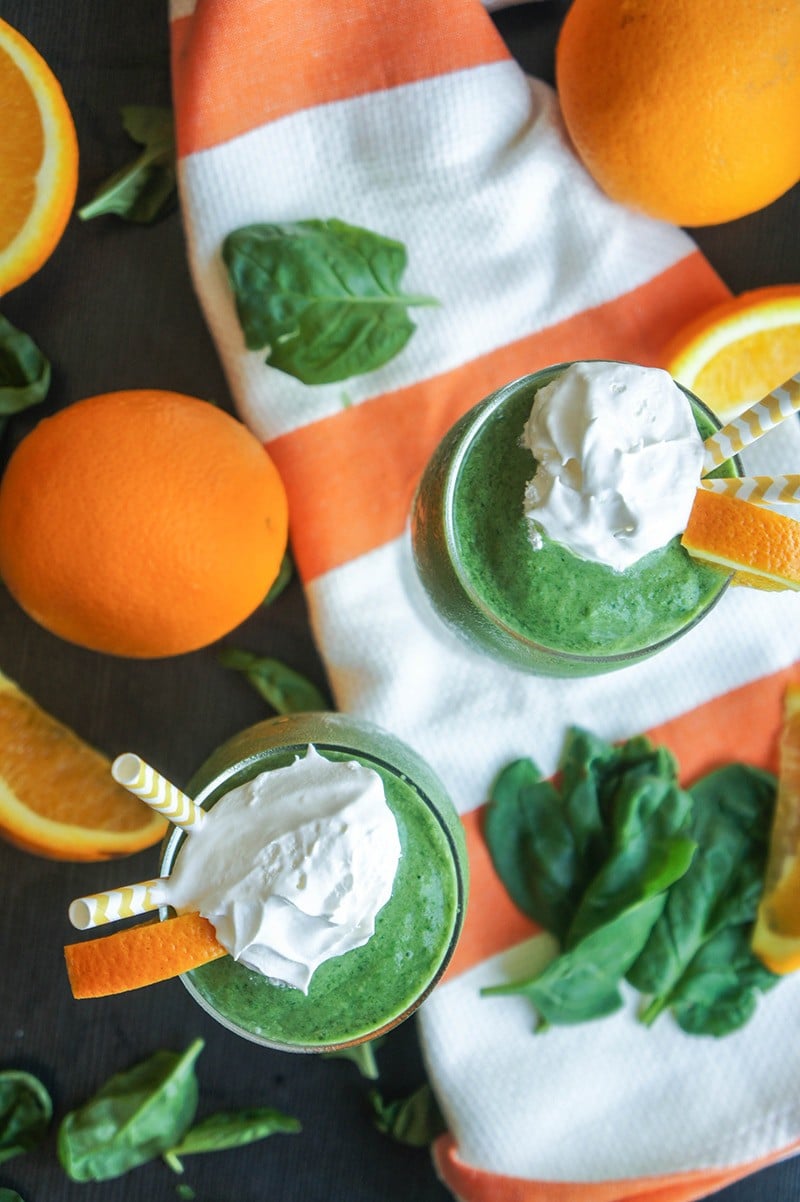 It's fun to come up with smoothie recipes, but I'll tell you– recipes are not what are actually made on a normal basis in my kitchen! I try to keep a variety of fruit and vegetables frozen (my favs are grapefruit, bananas, spinach and zucchini — and pumpkin puree, but I don't freeze that), but let's face it– I live in the tropics, where bugs and humidity ruin food, so half the "dry" goods I buy are stored in my freezer. Freezer space is at a premium! My smoothies are a mix of whatever's on hand– and the ones that turn out really good are the ones that end up on here!
Cheers, green smoothie lovers.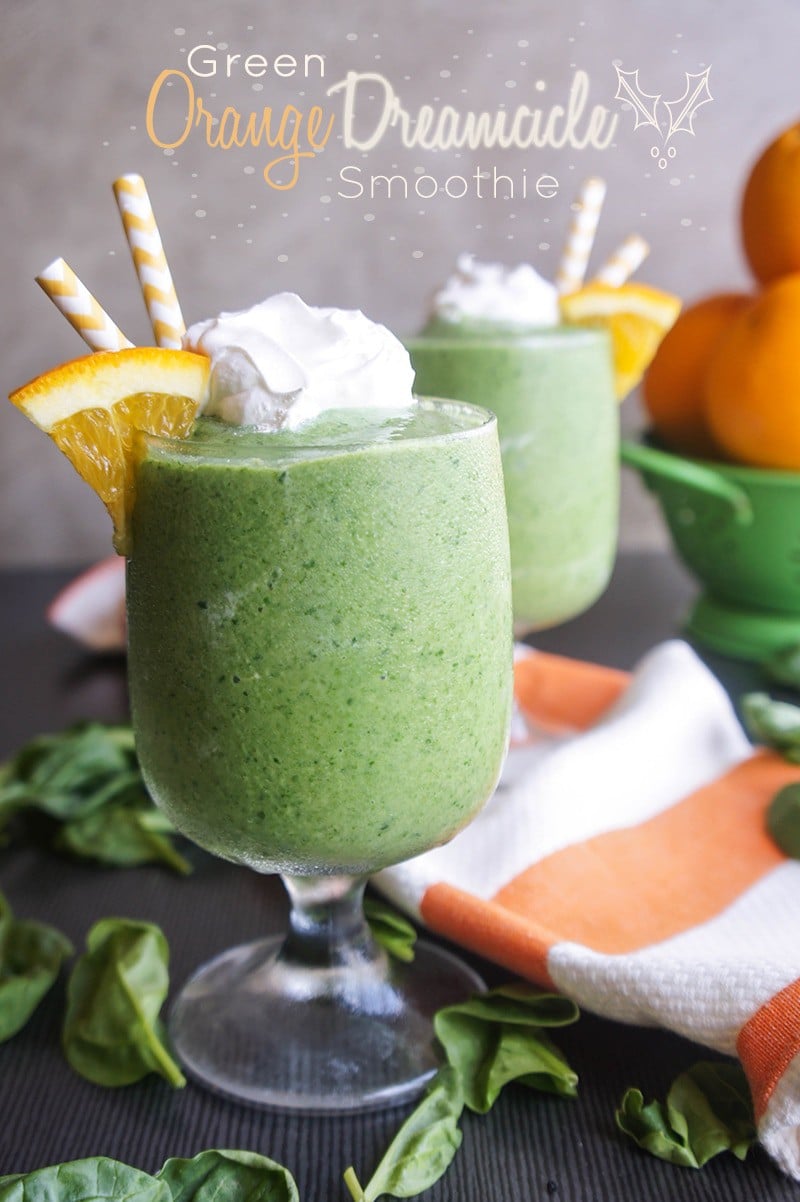 Orange Dreamcicle Green Smoothie
A creamy, dreamy green smoothie, with the flavors of those amazing orange creamcicle pops we all loved as kids. Breakfast is better with greens! My favorite way to make these is with really sweet mandarins. I make them with navel oranges, but find adding ¼ frozen banana helps to sweeten it up when I use those.
Print
Rate
Ingredients
1/4

cup

light coconut milk

(canned)

1/4

cup

green yogurt

1/4

cup

green tea

or almond milk (OJ would be great, too!)

2

large mandarin oranges

peeled, sectioned, and frozen (or 1 1/4 cups peeled & frozen navel oranges)

1

cup

frozen spinach cubes

(about 5 ice cube sized chunks of frozen spinach)

4

ice cubes

5-10

grams

plain whey protein powder

(or vanilla)

1/2

teaspoon

vanilla extract

(don't leave out!)
Instructions
Add the coconut milk, water, and yogurt first, then add the rest of the smoothie ingredients.

Blend very well, until all the greens are fully incorporated.

Garnish with coconut whipped cream and orange slices.
Nutrition
Calories:
260
kcal
|
Carbohydrates:
46
g
|
Protein:
13
g
|
Fat:
5
g
|
Saturated Fat:
4
g
|
Cholesterol:
3
mg
|
Sodium:
183
mg
|
Potassium:
1075
mg
|
Fiber:
11
g
|
Sugar:
27
g
|
Vitamin A:
18984
IU
|
Vitamin C:
174
mg
|
Calcium:
377
mg
|
Iron:
3
mg

I'd love to hear your ideas!