This Paleo Fudge is a dream come true! Fudge was my favorite holiday treat growing up, but I can't stomach all the dairy and sugar anymore- but this version is low in sugar and full of healthy fats.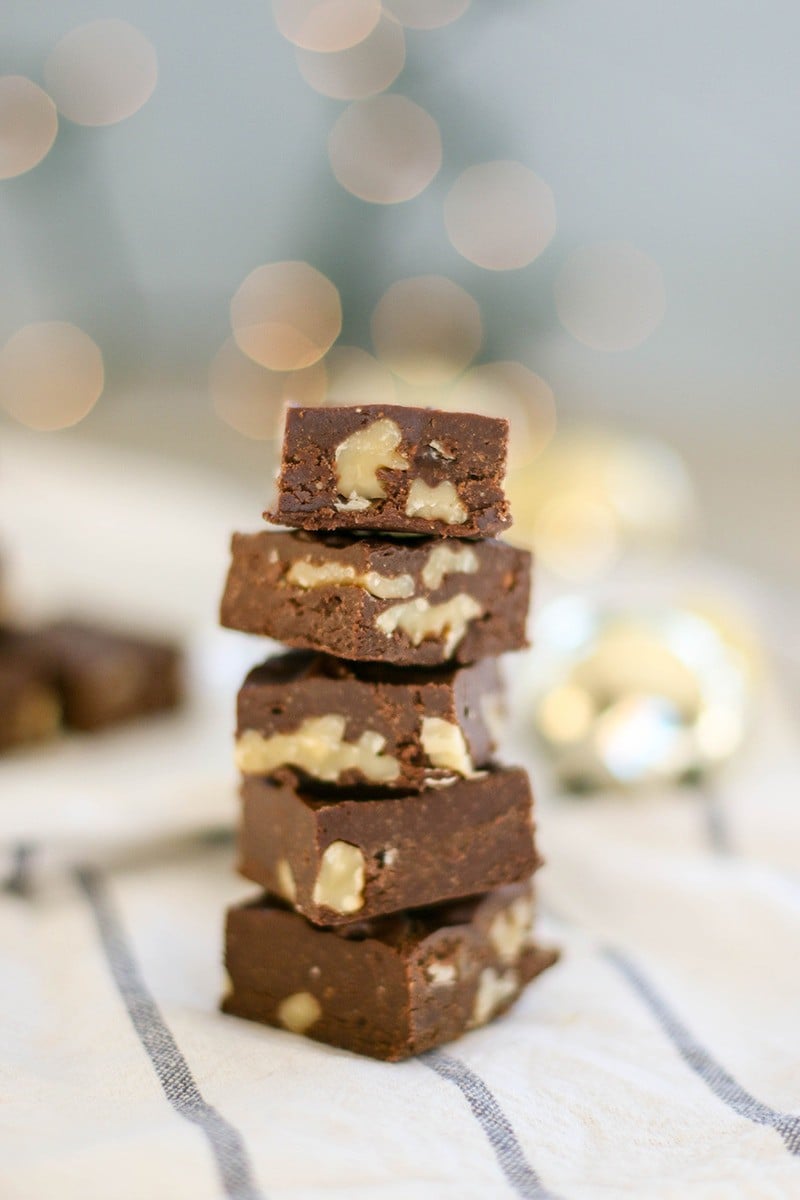 Merry (almost) Christmas! It has been such a wonderful holiday season. This is the first year in 7 years I've been home for the Thanksgiving through Christmas season — usually, we fly in just a few days before Christmas, and it's a mad dash to do holiday shopping and prepare, which makes it a bit stressful.
I was praying for a White Christmas, and Bend delivered this year! In fact, we have had record breaking snow falls.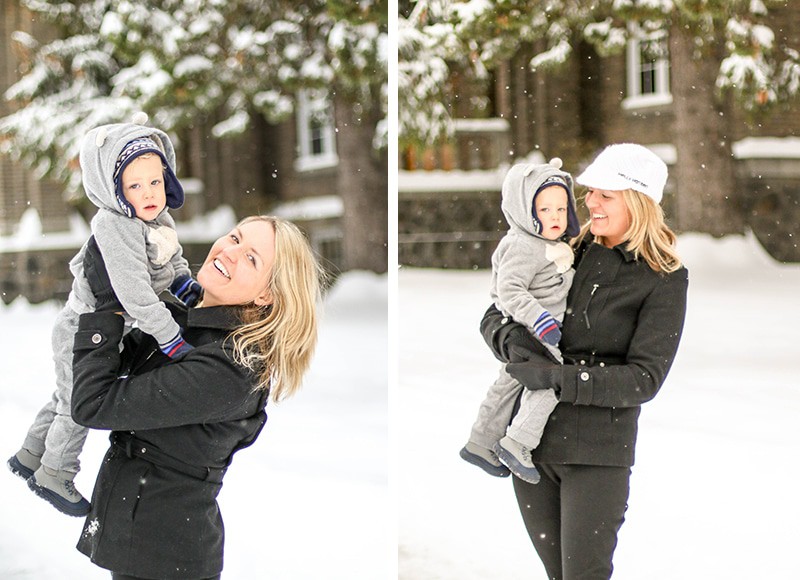 I have really been thinking about traditions I want to start for my family this year. Last year, Xander was 4 months old, and I was too overwhelmed with the new-mama-newborn-baby thing. Plus, we were in Australia with my husband's family– and of course it was nice, but a hot summer Christmas just doesn't feel the same.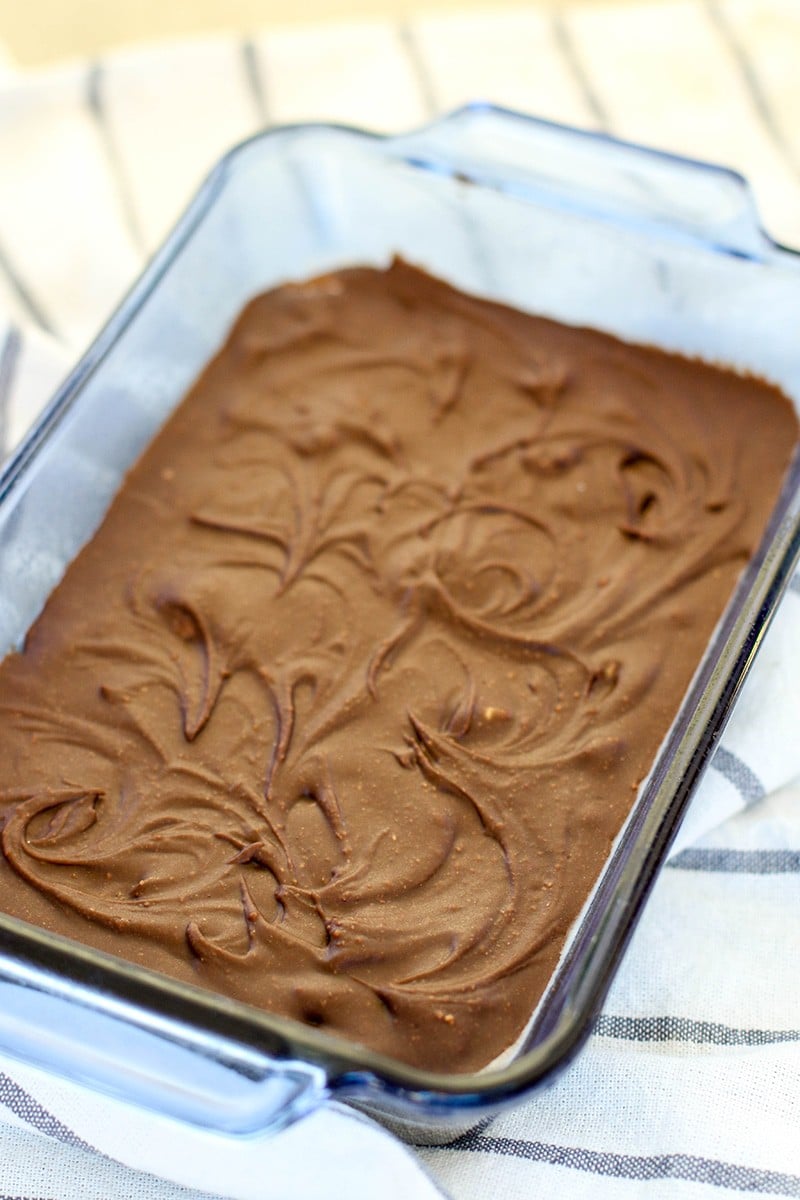 One of the traditions I want to start with Xander is making gingerbread houses. This year, we are keeping it simple. I used a mold to create a basic house, and bought a variety of candy to decorate. We will make one, and I made a 2nd for my niece and nephew, because I know they will want to take one home. I am hoping that Xander gets in to this tradition, and we can more more complex and challenging houses as he gets older– like a train, or a castle. Whatever he feels inspired to do. Maybe we will even find a competition to enter.
What holiday traditions are you starting for your family, or do you look forward to every year?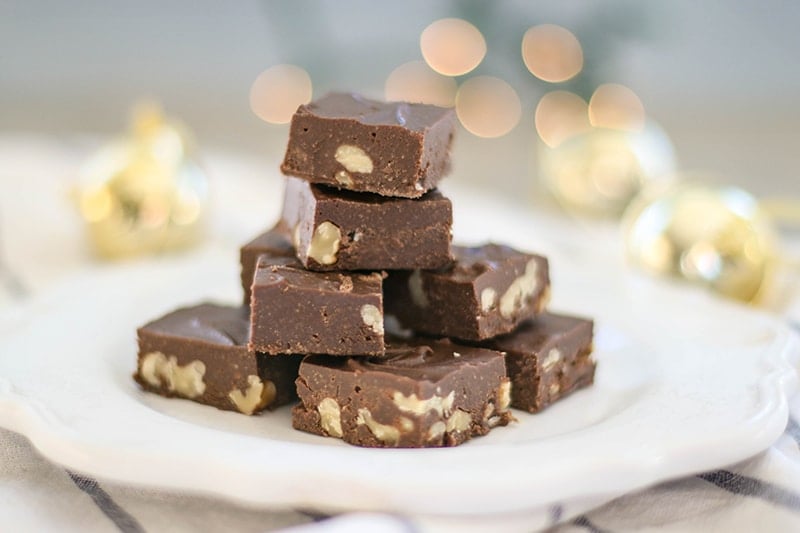 I have always had a sweet tooth, so holiday candy making was something I looked forward to as a kid. I loved my grandma's rocky road, and my other grandma's divinity. I don't make either as an adult. Xander is as much of a chocolate fan as I am, so I know that he will look forward to this healthier version of fudge every year.
I did try to make some paleo marshmallows to turn this fudge into rocky road– but no luck! Turns out it's pretty tricky to make low sugar marshmallows, coconut sugar is not a good option, and honey was even worse! I ended up with a kitchen coated in gelatin and sugar, and finally gave up.
This paleo fudge is amazing all on it's own. And I dare say even healthy. Healthy fats, antioxidants. . .lightly sweetened using honey. This fudge is kind of like taking a vitamin. Okay, maybe not. But it certainly is a healthier alternative to dairy and refined sugar versions!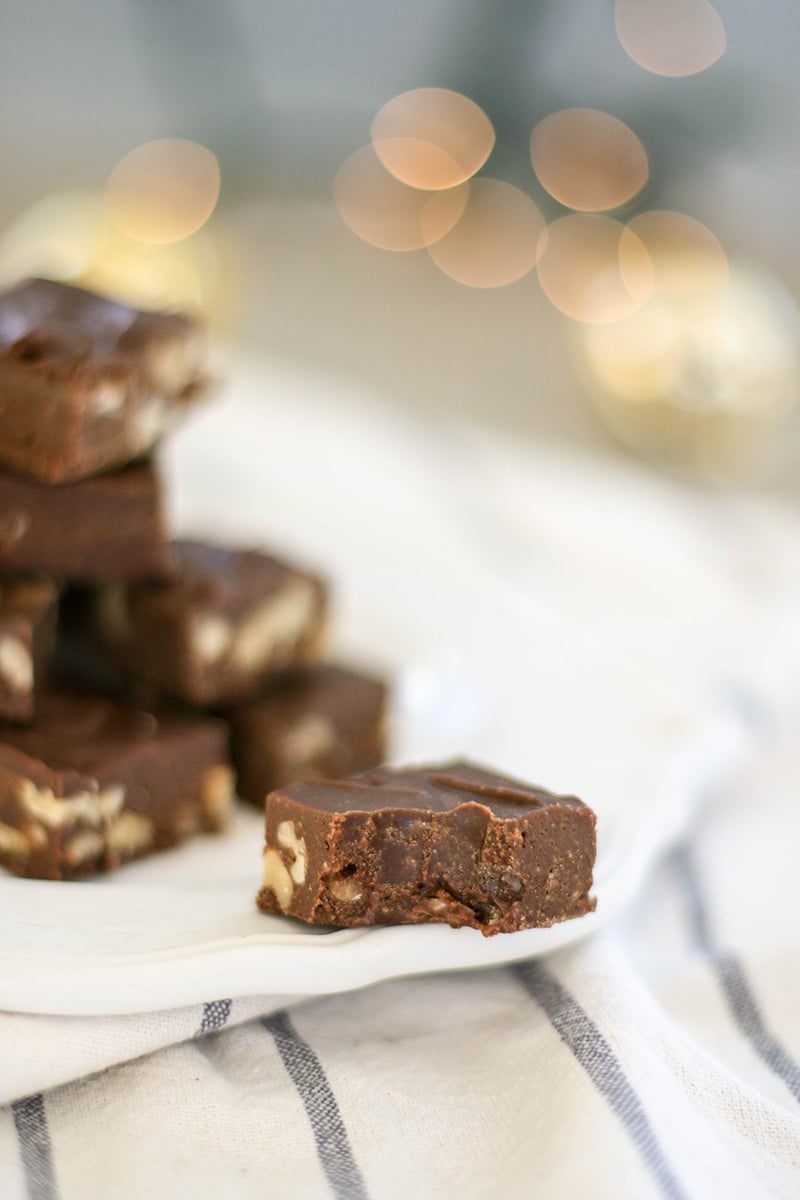 Tips for Paleo Fudge
There are lots of variations that could be made with this Paleo Fudge recipe! If you don't have cashew butter, try almond butter for a slightly more nutty version. You could also sub the walnuts for pecans or almonds, or add cranberries for a tangy sweet pop of flavor. You could even add mini marshmallows if you don't need the recipe to stay paleo.
No cocoa butter? You can use coconut oil as a sub. Coconut oil has a lower melting point, so if left out at room temperature for too long, the fudge will get sticky.
Make it Ahead: This recipe freezes great! I have a batch ready in my freezer, along with some truffles (recipe will be posted soon!), ginger sugar cookies, and snickerdoodles.
Michelle @ Vitamin Sunshine
Yields 20 pieces
Paleo Fudge
This paleo fudge is actually good for you! Full of healthy fats and antioxidants. A small portion is very satisfying and is a good alternative to dairy and sugar filled holiday treats.
5 minPrep Time
5 minCook Time
10 minTotal Time
Ingredients
1 cup cashew butter
60 grams cocoa butter (Can sub coconut oil- read notes above in post.)
1/4 cup + 2 tablespoons natural cocoa powder
1/4 cup honey
1/2 teaspoon vanilla
pinch of sea salt (omit is cashew butter is salted)
1/2 cup walnuts, roughly chopped (optional)
Instructions
In a small saucepan, add cocoa butter, and melt over medium heat.
When melted, add cashew butter, cocoa powder, and honey. Once mixed, remove from heat.
Use a fork to mix well until no lumps remain.
Add sea salt, vanilla, and optional nuts or other add-ins.
Pour into a 6x9 or similarly small pan. Refrigerate until set before cutting.
Store in the refrigerator or freezer. If made with cocoa butter, the fudge will stay set when left out at room temperature.
7.8.1.2
47
https://sunkissedkitchen.com/paleo-fudge-dairy-and-refined-sugar-free/
Michelle @ Vitamin Sunshine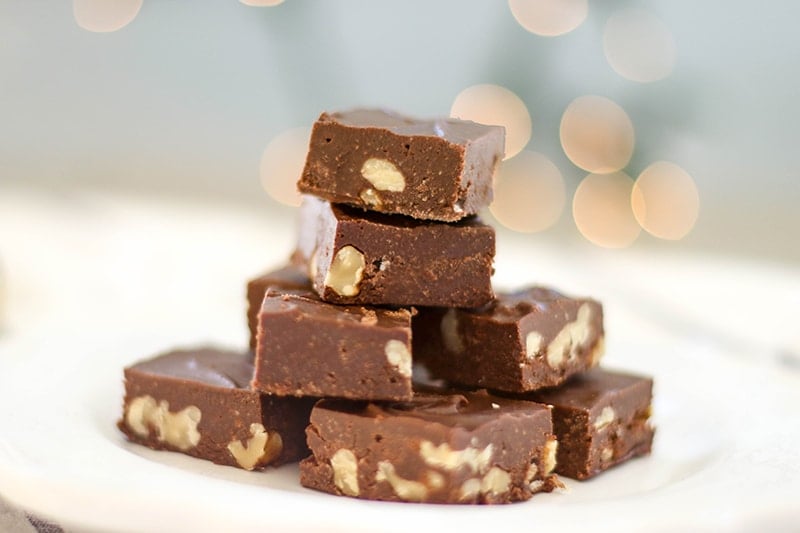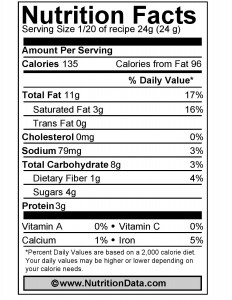 Nutritional data for Paleo Fudge and images courtesy of www.NutritionData.com.
Other Healthy Fudge Recipes:
I'd love to connect with you on social media! Find me on Facebook or Instagram where I post daily healthy eating and lifestyle inspiration.
This post contains affiliate links, which means that if you click on one of the product links, I'll receive a small percentage of any purchases made.