This post may contain affiliate links. Please see my full
Disclosure Policy
for details.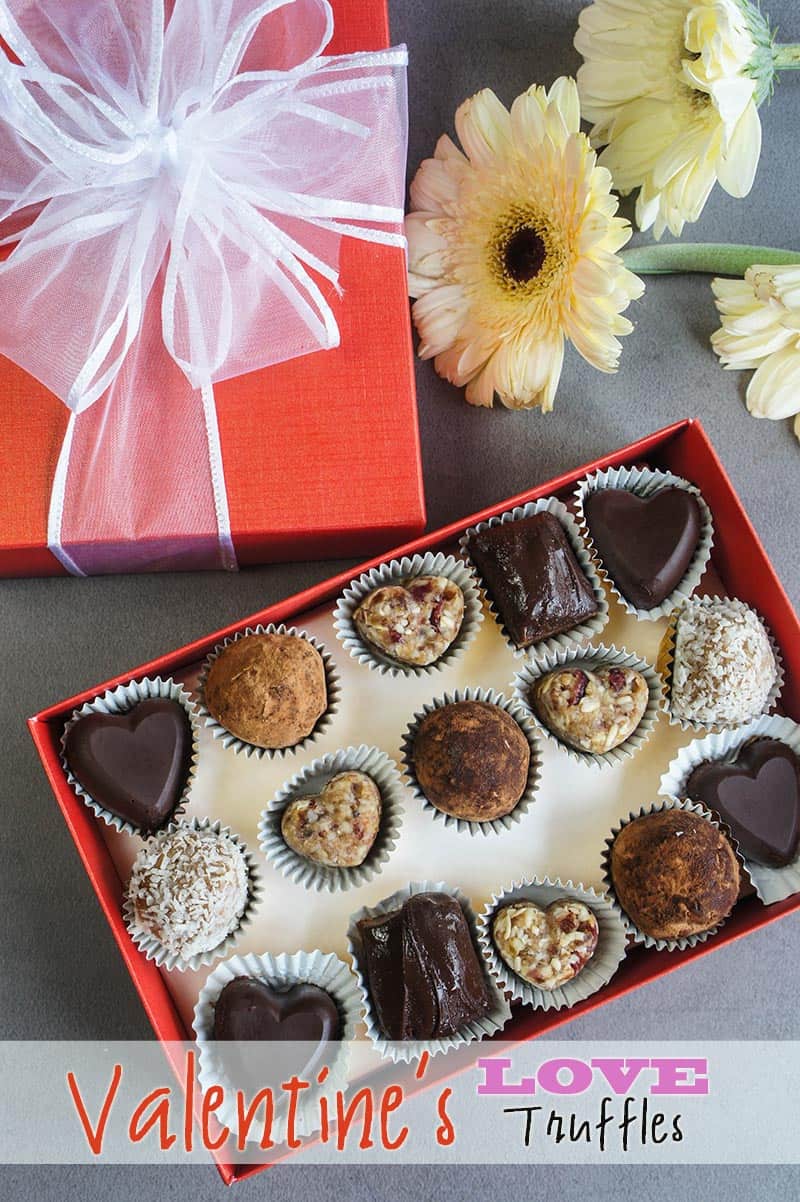 Happy Valentine's Day! These Valentine's Love Truffles have become a tradition in my house. They aren't much of a surprise to Alex anymore, but he really looks forward to getting his box each year. In fact, he was even trying to convince me to make boxes to share with his friends while we were in America at Christmas.
It's been about 4 years since I overhauled my diet. I actually have been a healthy eater my whole life. My mom always included salad and vegetables with dinner, and fed us plenty of chicken and fish, along with some vegetarian meals. I was the weird kid who would eat a whole head of lettuce (literally) without dressing. As I got older, I became more interested in health, fitness, and nutrition, and started cooking my own healthy meals, always featuring a lot of produce.
And this continued as I moved out of the house, through college, and to this day, you'll always find a jammed packed produce drawer at my house.
So, eating lots of fruits and vegetables, while that is a challenge for a lot of people looking to clean up their diet, was never an issue for me. My issue? I was a sugar junkie. I have a sweet tooth that was pretty much insatiable. In fact, I would eat green salads sans dressing for lunch, just so I could justify the calories of the bag of gummy bears I wanted to eat that afternoon. Occasionally, I would forgo dinner for a frozen yogurt, and justify it by topping it with fruit and nut butter. Okay, maybe  more than occasionally.
But then I started reading blogs, and discovered this trend of making cookie dough, candy, and other "treats," using fruit and nuts. These seemed like a great alternative to me.
I'm not in denial about the high sugar content of bananas and dates, my two favorite dessert sweeteners, I just prefer to get my sugar-kick from natural sources that also provide fiber and an array of other vitamins.
I started experimenting with cookies made without sugar (these are awesome!), ice cream made without milk or sugar,  and candy made only from fruit, nuts, oats, and dark chocolate (because chocolate is a health food, after all).
I also started making these things for Alex. He used to buy boxes of Quaker oatmeal cookies to take for an afternoon coffee break. Even when I started making all of these new treats, he was a bit resistant, and wanted his old standbys. That didn't last long. A while back, I was at a cookie exchange with some work colleagues, and I told him I was taking a few cookies to share, but wasn't planning on bringing anything home. He asked if I would just grab a few for him. I did- and after taking a bite of a couple different options, he was in the kitchen searching for the ones I had made.
Our tastes have adjusted. These alternatives aren't as sweet as their counterparts– and now the "real deal" simply seems over the top and unnecessary. I even have traded in my old favorite — frozen yogurt– for plain yogurt at home, sweetened up with frozen fruit, coconut, and nut butter.
There isn't anything wrong with indulging in treats– but we all have the option of choosing what those treats are. These "truffles" are packed with nutritious ingredients, yet are sweet, chewy, chocolately, and nutty. Why not choose the option that nourishes us and our loved ones? You may be surprised when they begin to prefer healthier options!
Brownie Bliss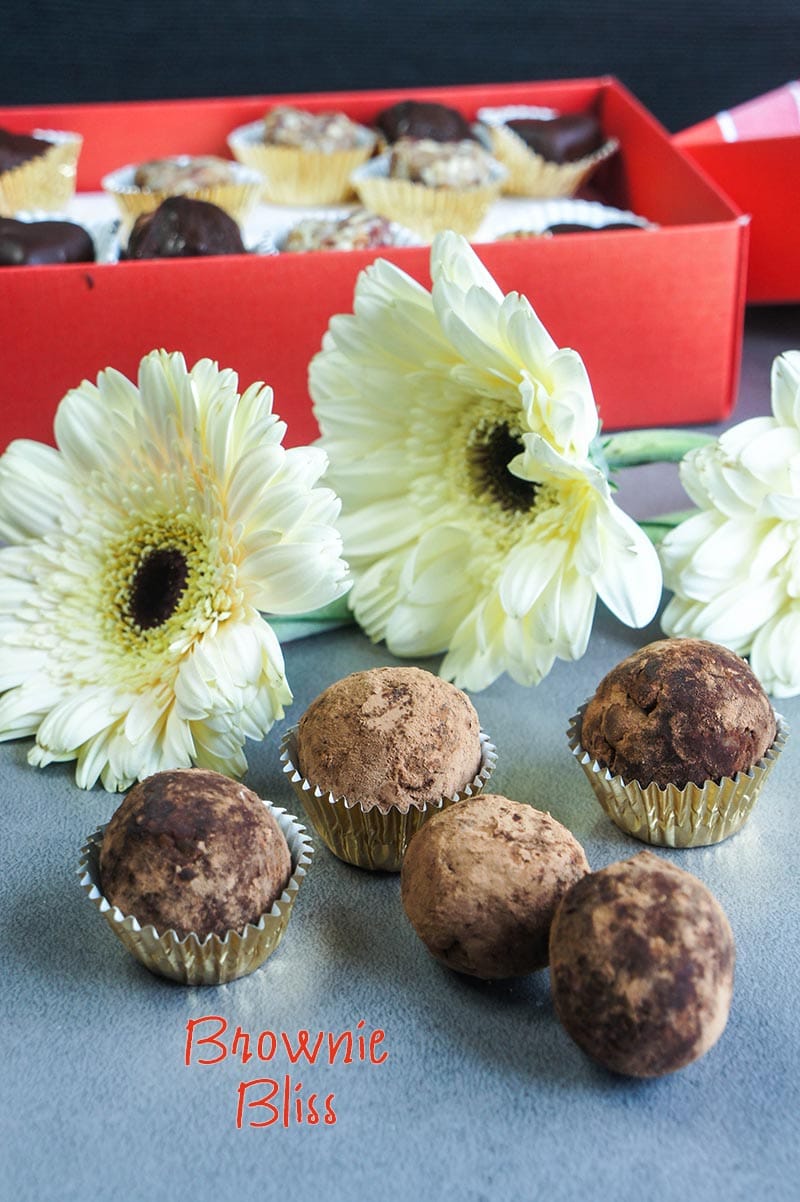 For the real chocoholics out there, this fits the bill perfectly.
Lemon Meringue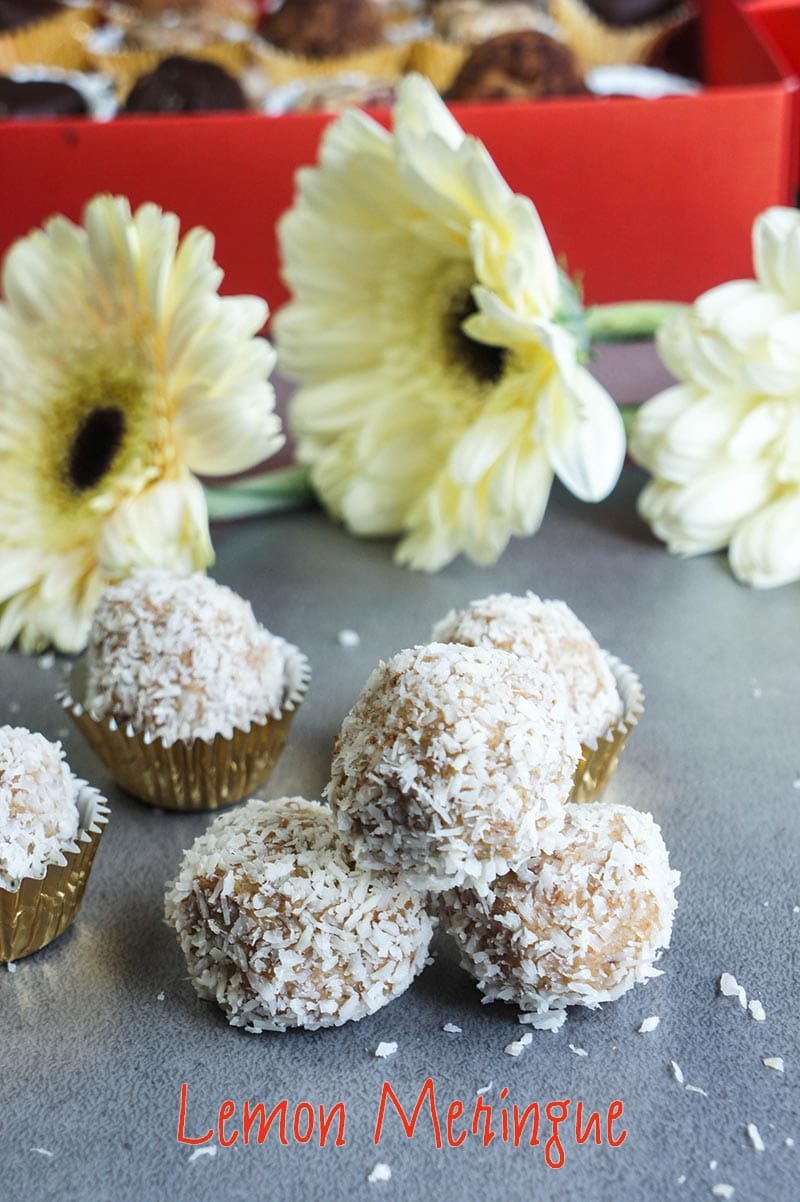 This fruity option turned out really good! It's nice to have a non-chocolate option, and coconut makes it taste just as luxurious.
Pecan "Caramel" Turtle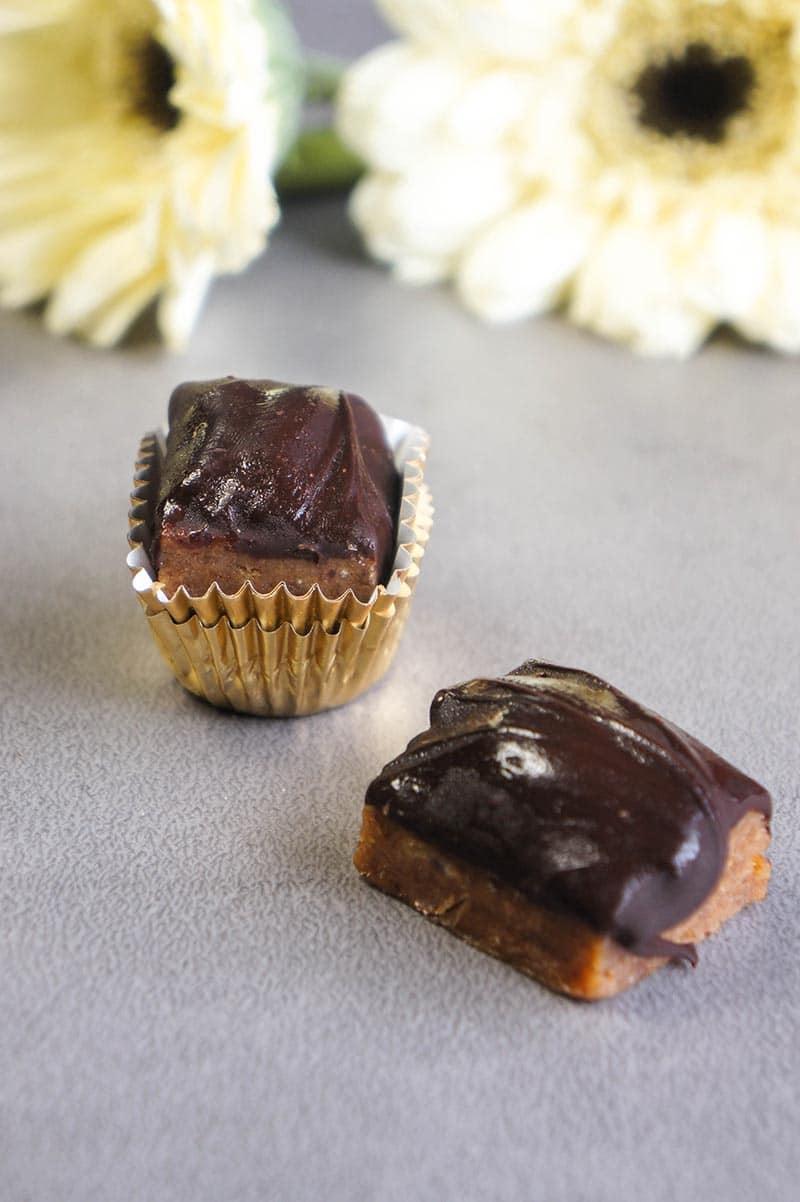 When I first started experimenting with dates, I was blown away by the caramel flavor. When frozen, the date "caramel" even gets really chewy just like real caramel. I always keep these in the freezer.
Dark Chocolate Cherry Coconut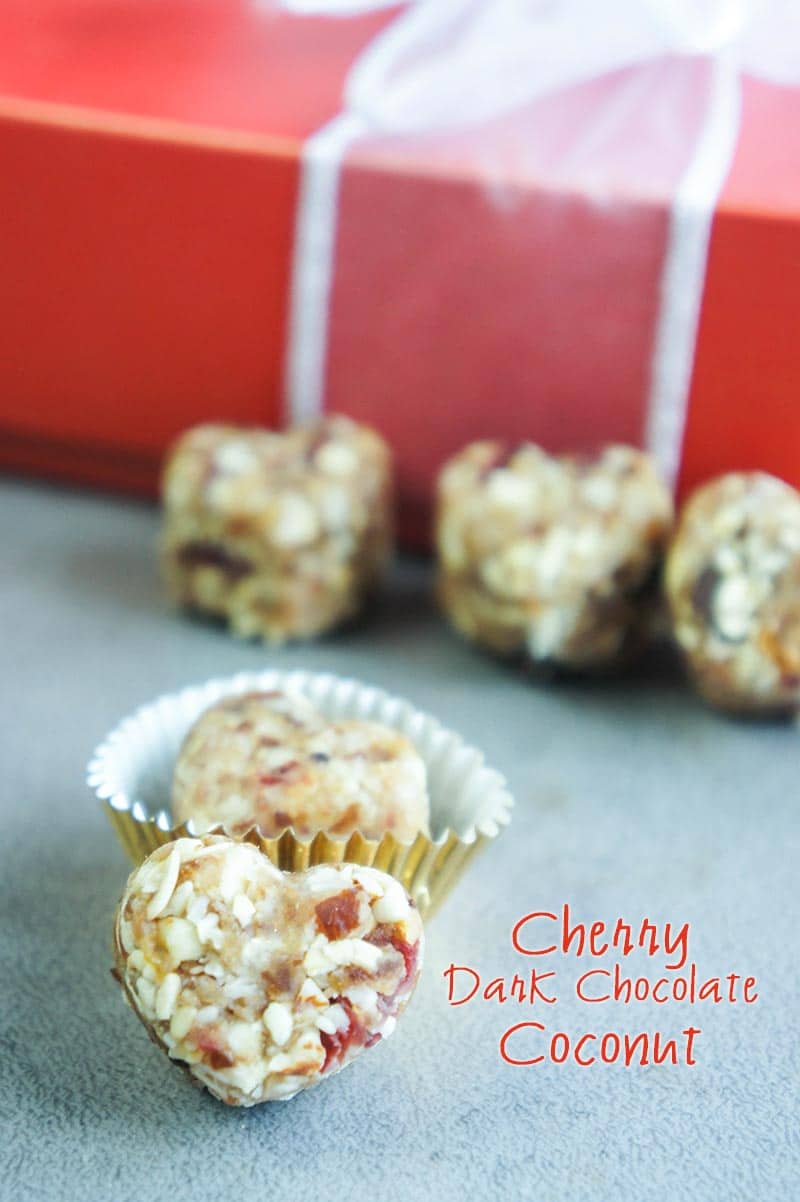 These truffles are actually Alex's favorite energy bar, pressed into a heart shaped mold. They are inspired by Cherry Ripe candy, an Australian candy bar similar to an Almond Joy, but with candied cherries instead of almonds. I haven't seen him buy one of those since I first started making him these energy bars.
Dark Chocolate Almond Butter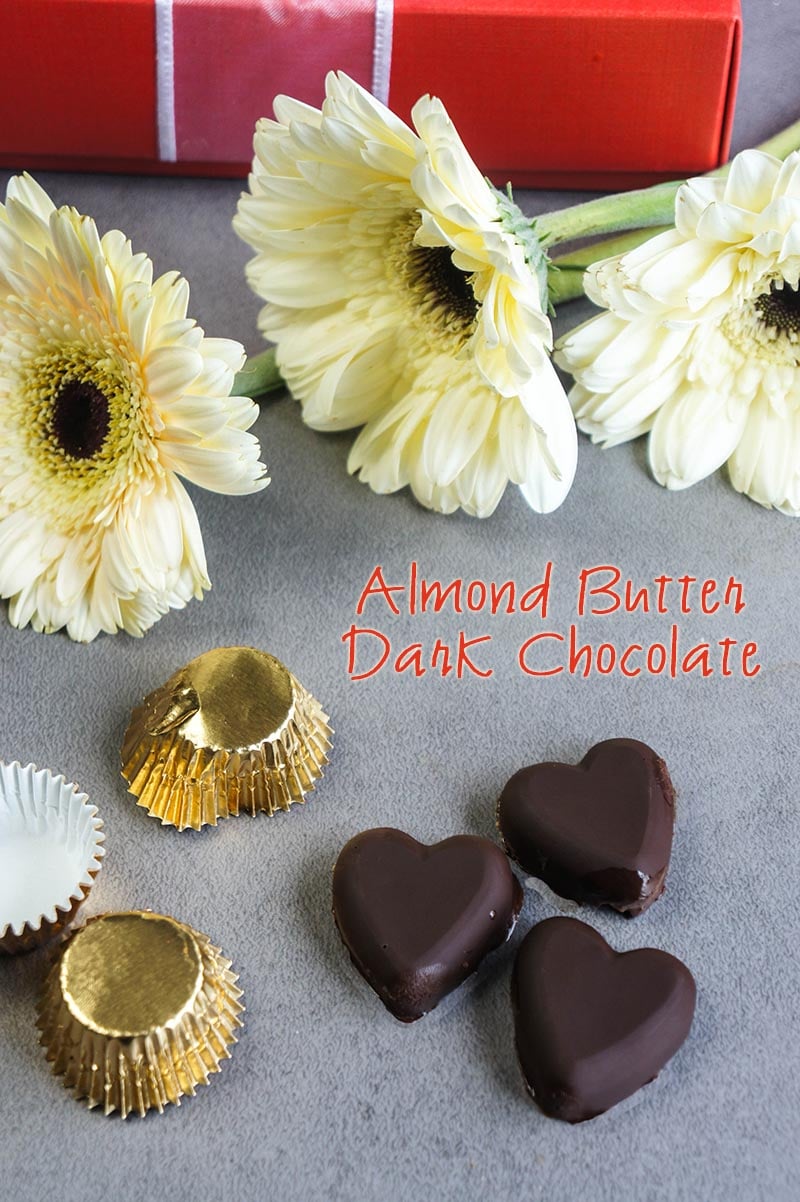 These adorable little chocolate hearts are actually pretty healthy as well! Just melted dark chocolate, a bit of coconut oil, and then swirled with almond butter.
And, I complete the box with a map, just like in the Whitman's Samplers my dad always bought my brother and I for Valentine's Day growing up. I used to love looking at the "map" and picking one out!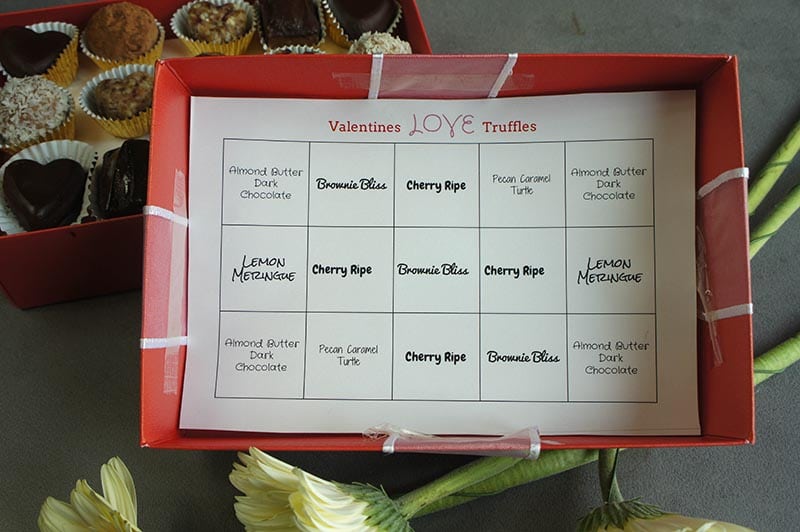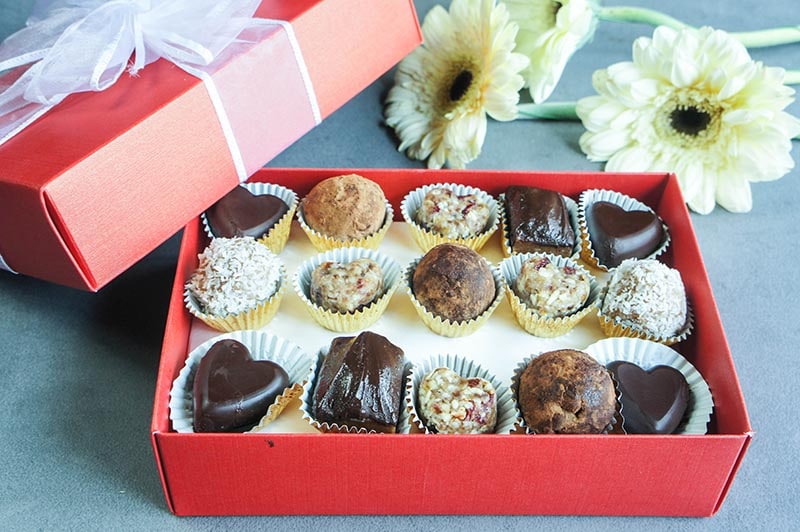 Valentine's LOVE Truffles
These beautiful homemade candies are actually a very healthy snack-- made only with fruit, nuts, coconut oatmeal, dark chocolate, and coconut oil, so let your loved ones indulge!
Print
Pin
Rate
Ingredients
Brownie Bliss
1

cup

Medjool dates

pitted

1/2

cup

oatmeal

1/2

cup

almonds

1/4

cup

cocoa powder

1

tablespoon

coconut oil

1/4

teaspoon

sea salt

1/2

teaspoon

vanilla

1/3

cup

walnuts

1/4

cup

70% dark chocolate

chopped, or mini chocolate chips

cocoa powder

for dusting (about 1/3 cup)
Lemon Meringue
1

cup

Medjool dates

pitted

1/2

cup

cashews

1

cup

unsweetened coconut

reserve 1/2 cup for rolling

3

tablespoons

lemon juice

1/4

teaspoon

sea salt
Pecan Caramel Turtles
1

cup

Medjool dates

pitted

1/2

tablespoon

coconut oil

1/2

teaspoon

lemon juice

1/4

teaspoon

sea salt

1/2

cup

pecans

1/4

cup

70% dark chocolate
Instructions
Brownie Bliss
Add the almonds and oatmeal to a food processor, and process until a coarse flour forms. Add the dates, cocoa powder, coconut oil, sea salt, and vanilla, and continue to process until mixture forms a dough.

Add chopped dark chocolate and walnuts, and pulse 10-12 times, until the mixture is combined, but chocolate and walnuts remain chunky.

Roll dough into balls, and dust in cocoa powder.
Lemon Meringue
Add dates, ½ cup coconut and cashews to a food process, and process until a dough forms. Add lemon juice and sea salt, and process to mix well.

Roll the dough into balls, and roll in coconut.
Pecan Caramel Turtles
Process dates, coconut oil, lemon juice and salt in a food processor. Process for 5-7 minutes, until mixture is very caramelly and starts to turn opaque.

On a piece of parchment paper, press dates into a square about ¾ inch thick. Press 16 pecans into the top of the square. Freeze date caramel overnight.

When date caramel is frozen, cut it into 16 pieces.

Melt chocolate, and dip each caramel piece into chocolate. I only coated the top of my turtles to keep the chocolate from overwhelming the caramel layer.
Notes
*The recipe for the Cherry Dark Chocolate Coconut bites is linked near the picture above.
*The Dark Chocolate Almond Butter Bites are a simple mixture of dark chocolate, a bit of coconut oil, and a swirl of plain almond butter.
**Medjool dates are larger and softer than most other date varieties. If subbing a different type of date, it might be necessary to soak the dates in hot water prior to mixing with other ingredients. If dates feel dry or are old, a bit of hot water will help them soften and blend into the mixtures.