This post may contain affiliate links. Please see my full
Disclosure Policy
for details.
This Paleo Pad Thai recipe is the perfect low carb meal! Get your veggies in with this fun Thai zoodle stir fry, with a creamy and nutty sunflower butter sauce. A healthy gluten free noodle skillet packed with veggies the whole family will enjoy!
This post is sponsored by SunButter— makers of my favorite Sunflower Seed Butter. I suffer from peanut allergies, so I value companies like SunButter who create healthy products that are not only delicious, but SAFE!  Thank you for supporting the brands that help keep Sunkissed Kitchen running at full speed.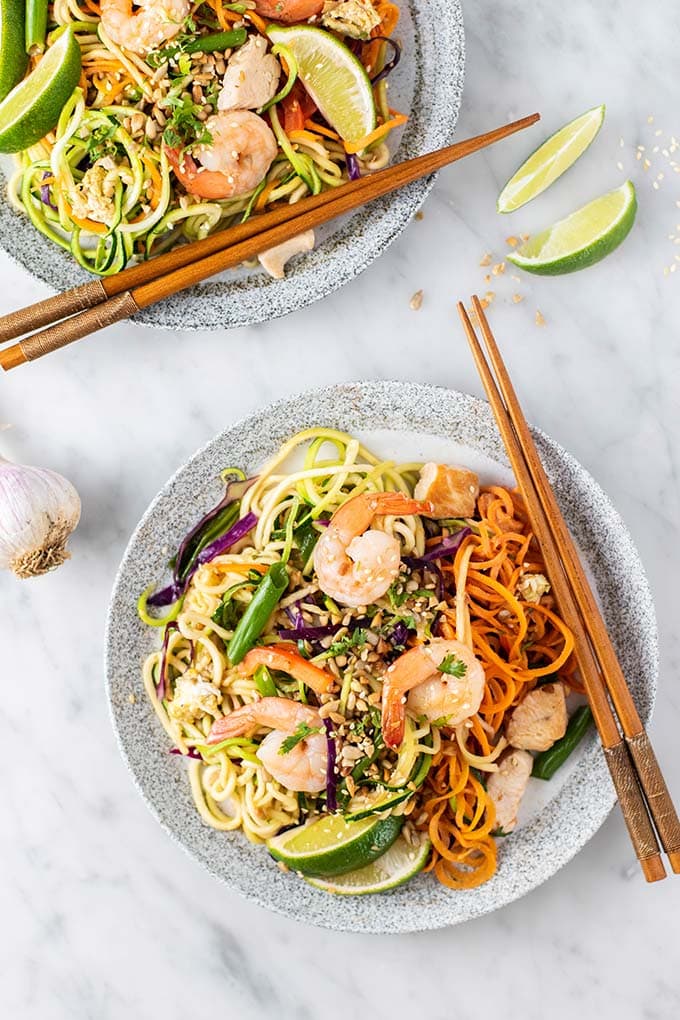 How to Make Paleo Pad Thai
We've been eating a lot of lower carb meals lately. With a little creativity, a family favorite meal is lightened up and loaded up with veggies.
This Paleo Pad Thai is a new one this summer. Noodles (especially Asian noodle recipes) are what I miss most when I drop the carbs. Thanks to my spiralizer, I can enjoy my favorite noodle recipes in a healthier way.
These noodles are fun to slurp, and are tossed in a creamy, nutty, and spicy sauce that is slightly addictive. Toss in your favorite proteins — chicken, shrimp, eggs, or all 3 like I did, and you have yourself a delicious and fun meal. Try adding tofu to make this vegetarian or omitting the egg to keep it vegan. However you adapt this, you're sure to love it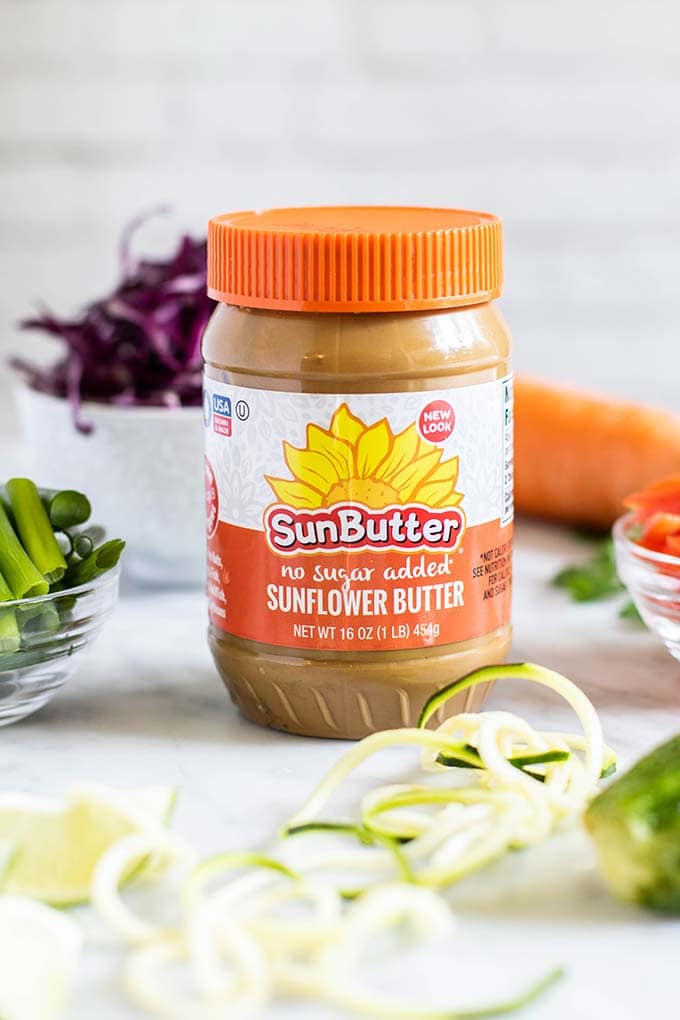 Ingredients for Paleo Pad Thai
Zucchini and carrots (for the "noodles")
Purple cabbage, red bell pepper, and green onions, because YAY for more colorful veggies!
Chicken, shrimp and egg (great proteins – use your favorites here!)
Cilantro, lime wedges and sunflower seeds — great garnishes that add a pop of Thai flavor. Peanuts are typically used, but they are not Paleo.
The incredible Thai flavor of this dish comes from the sauce! Pad thai sauce typically is made with tamarind, to give it a sour bite, but since that isn't paleo, we are using lime here. The nutty flavor of the dish is boosted by my favorite PB substutite – SunButter, which is made from sunflower seeds.
Ingredients for Homemade Pad Thai Sauce:
No Sugar Added SunButter (a great base for nutty sauces – but a healthier alternative to peanut butter!)
Coconut Aminos (adds a salty-sweet flavor – but feel free to swap for your favorite fish sauce!)
Lime juice (to add a kick of sour)
Sriracha sauce (or chopped spicy red chilis)
Rice Wine Vinegar (buy unsweetened!)
Honey (date syrup alsoworks great)
Pinch of salt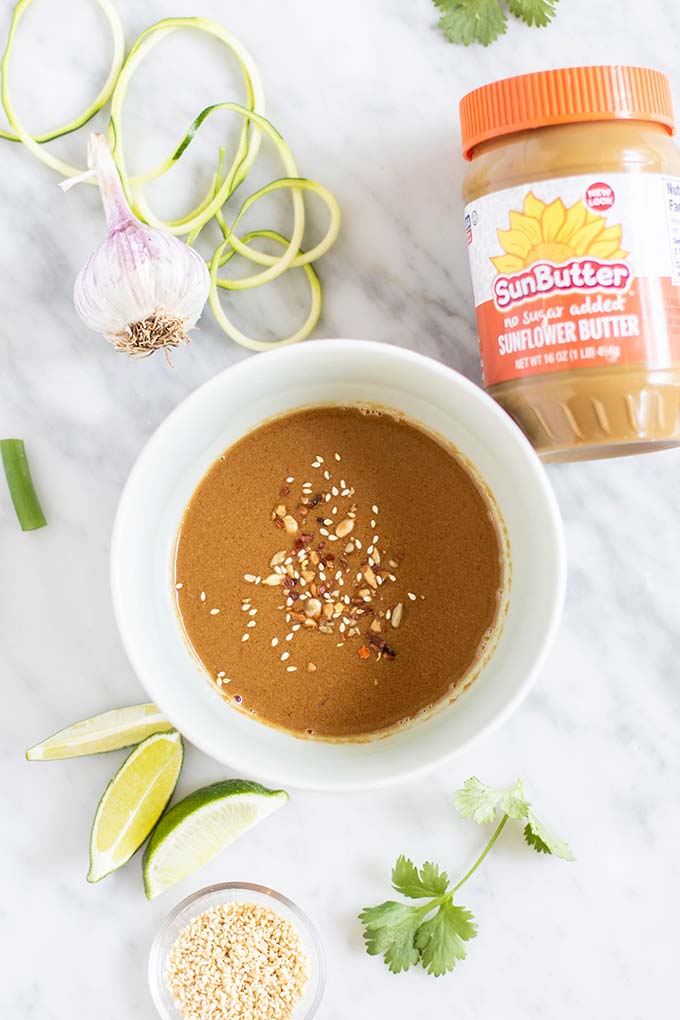 SunButter is my favorite trick to making delicious and healthy sauces. It's a great way to add a little protein, along with plenty of nutrients. Sunflower seeds are rich in B vitamins, magnesium, iron, and Vitamin E, and are much underused in modern cooking!
Plus, it has an amazing creamy and nutty flavor. I use the No Sugar Added variety to make sauces and dressings, and keep a jar of the Crunchy variety in my fridge to eat off a spoon! If you haven't tried it, it's a must!
It's perfect for nut allergy sufferers (peanut & nut free facilities!), and also great for nut-free school lunch policies. If you haven't tried it, I highly recommend picking up a jar!
How to Make Zoodles
The low carb noodles in this recipe are made by spiralizing zucchini and carrots. This forms the base of this Thai noodle stir fry.
I use my spiralizer to make the noodles. This is the fastest way to make them, and even though I try to limit my kitchen appliances, I knew it would open me up to trying vegetables in a variety of new ways, so I jumped in and bought one, and I honestly use it several times a week.
You can also make sweet potato noodles to try with this recipe, if you'd like to add some healthy carbs!
If you're not ready to take the plunge, try cutting your vegetables in thin sheets, and then slicing them into long thin noodle shapes. This will take a bit of time, but you'll enjoy this Paleo Pad Thai recipe all the same!
Paleo Pad Thai with Chicken and Shrimp
Pad Thai is traditionally made with chicken, shrimp or tofu, and also has an egg, similar to fried rice recipes.
I opted for shrimp and chicken, but simplify the recipe by using what you have on hand! You can even make this recipe with precooked chicken or shrimp, and just toss it in to warm at the end.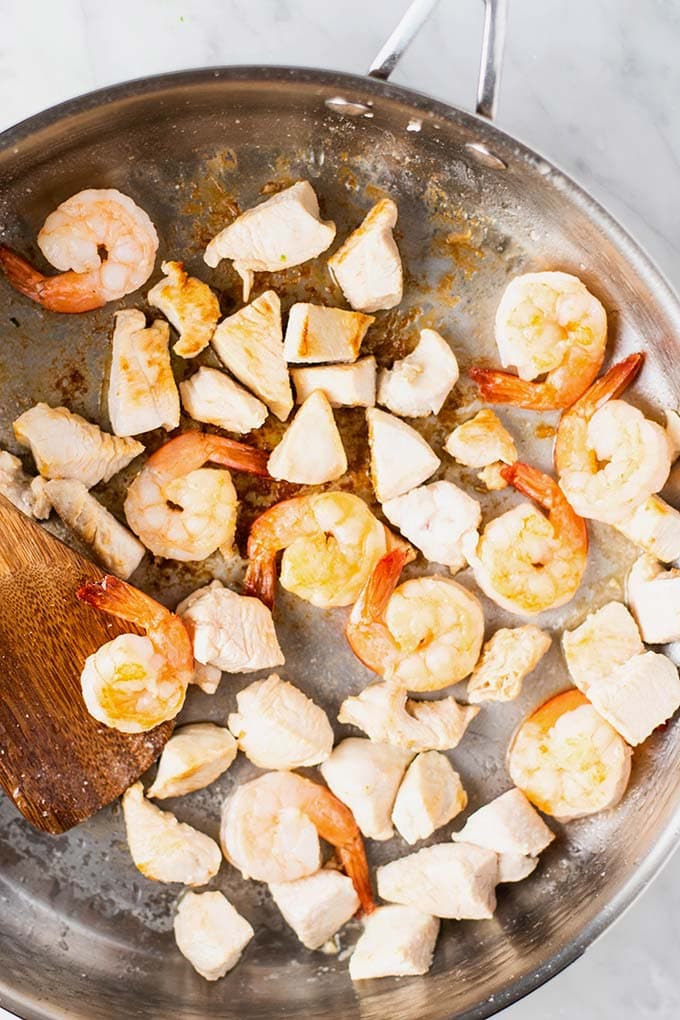 To Make this Paleo Pad Thai in 1 Pan:
Step 1: Prepare your Pad Thai Sauce.
Mix all ingredients together in a small bowl and whisk, or simply add to your blender to whiz up quickly.
Step 2: Spiralize your Veggie Noodles and chop other veggies.
Prepare all veggies prior to starting to cook this recipe. Once you begin, the process is very fast, so you'll want to have everything ready to go,
Step 3: Scramble the egg.
I start by scrambling an egg pretty soft. The egg will cook more later on, so to prevent an overdone egg, keep is slightly soft. Remove from the pan when done.
Step 4: Brown the proteins.
Brown your sliced chicken breasts, shrimp, or tofu in the same pan. This takes only a couple of minutes, because the chicken is thinly sliced and shrimp cooks so fast. Set aside.
Step 5: Stir Fry Veggies & "Noodles"
I use high heat to cook veggies noodles so they quickly heat without overcooking. Once the proteins are ready to go and set aside, stir fry the veggies in the same pan. I stir fry the cabbage, green onions and peppers for 4-5 minutes, and then add the noodles in. The noodles only need to be heated until warm. I stir them up with the veggies for about 5 minutes.
Step 6: Mix it all up!
Add the proteins and eggs, and continue mixing the dish up to warm everything together. Be careful not to cook too long, or the zucchini will become mushy and release a lot of water. The excess water will water down your sauce and make it less tasty.
Once the dish is warmed, remove the pan from heat, and drizzle the sauce over everything, tossing to combine.
Serve garnished with lime wedges, crunchy toasted sunflower seeds, and cilantro!
A Low Carb Thai Zoodle Recipe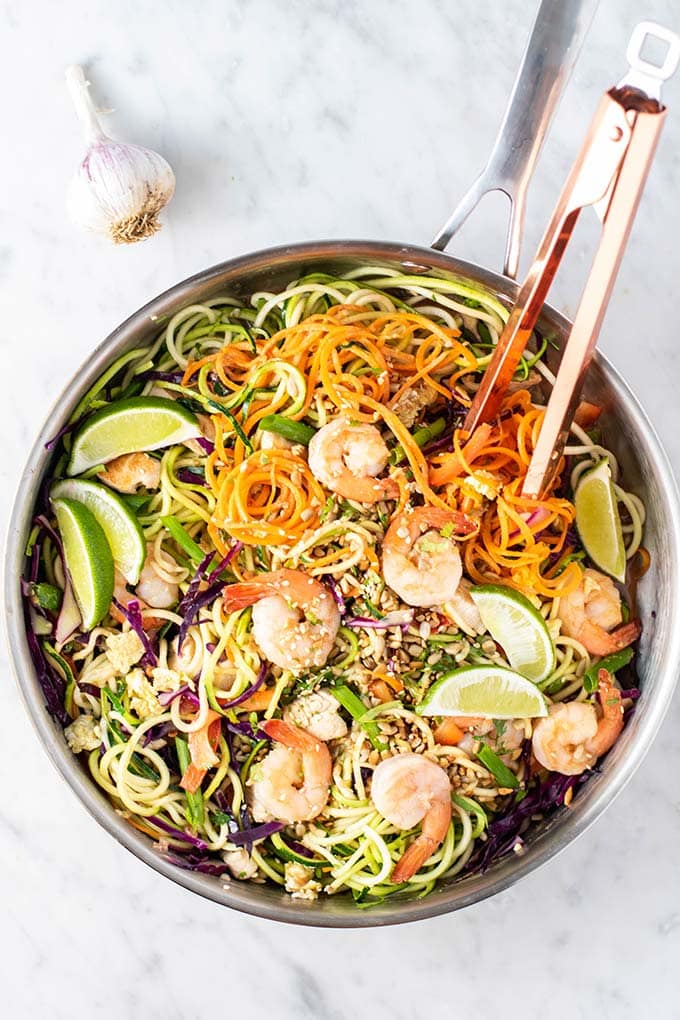 If you're a fan of Thai food, you'll love this healthy Pad Thai recipe! Zucchini noodles are low in carbs, and high in nutrients, making this a fun way to eat more veggies!
Tips for Paleo Pad Thai:
Family doesn't eat Paleo along with you? Add some rice noodles, or try this Thai Noodle dish instead.
Can I make this Keto? This recipe is easily adapted to the Keto diet. Omit the carrots and just use lower carb zucchini noodles. Also, substutite your favorite Keto sweetener in place of the honey in the sauce.
How can I meal prep this recipe? This recipe is full of flavor and great for meal prep! Undercook the vegetables so they don't become watery. I recommend only sautéing the red peppers, onions, and cabbage, and leaving the veggie noodles raw. Pack the dish in individual serving containers. When you're ready, reheat in the microwave or a skillet, which will finish cooking the vegetables.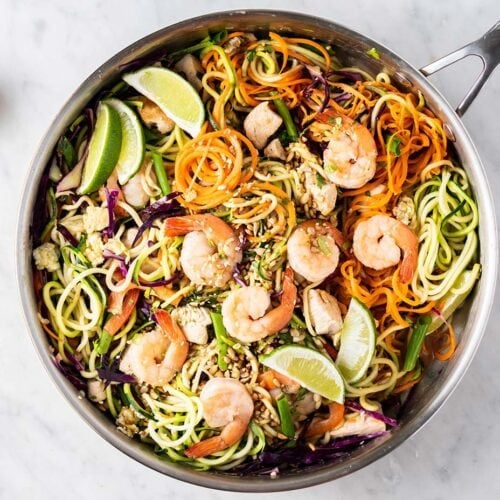 Paleo Pad Thai
A Thai zoodle dish made with a paleo "peanut" sauce. This low carb pad thai dish is bursting with Thai flavor, and makes a delicious light and filling meal. Use chicken and shrimp, or even try with tofu to make this dish vegetarian. This recipe cooks quickly, so prepare all ingredients prior to starting to cook.
Print
Pin
Rate
Ingredients
1

tablespoon

sesame oil

or olive oil

1

egg

beaten

1/2

pound

shrimp

1/2

pound

chicken breasts

cut into small cubes

1

clove

garlic

minced

2

zucchini

large, spiralized

1

carrot

large, spiralized

1

cup

purple cabbage

sliced thinly

3

green onions

sliced in 1-inch pieces

1/3

cup

sunflower seeds

toasted

cilantro & lime wedges

to garnish, optional
Pad Thai Sauce
3

tablespoons

No Sugar Added SunButter

3

tablespoons

rice wine vinegar

unsweetened

3

tablespoon

coconut aminos

or fish sauce

3

tablespoons

honey

1 1/2

tablespoon

lime juice

1

tablespoon

sriracha

or more, to taste

1/4

teaspoon

salt

or more, to taste
Instructions
Prepare the sauce by adding all ingredients to a medium sized mixing bowl, and whisking until well combined. Set aside.

Heat a large skillet over high heat. Add sesame oil, and then add in chicken. Brown chicken for about 7 minutes, and then add shrimp. Continue to cook until both shrimp and chicken are cooked through, about another 4-5 minutes. Remove from skillet and set aside in a bowl.

In the same skillet, add egg. Stir fry to scramble, and then remove from pan and set aside.

In the same skillet, add garlic. Saute for 5-7 minutes until softened and fragrant.

Into the skillet, add zucchini noodles, carrot noodles, red bell pepper and purple cabbage. Stir fry over high heat for about 4-5 minutes, until heated through. Overcooking the vegetable noodles will result in a watery dish.

Remove pan from heat, and add chicken, shrimp, and egg. Drizzle sauce, and then toss to coat the vegetables.

Garnish with sunflower seeds, cilantro, and lime wedges.
Nutrition
Calories:
400
kcal
|
Carbohydrates:
28
g
|
Protein:
32
g
|
Fat:
19
g
|
Saturated Fat:
2
g
|
Cholesterol:
220
mg
|
Sodium:
1036
mg
|
Potassium:
726
mg
|
Fiber:
3
g
|
Sugar:
18
g
|
Vitamin A:
3158
IU
|
Vitamin C:
41
mg
|
Calcium:
152
mg
|
Iron:
4
mg
Other Zoodle Recipes:
I'd love to connect with you on social media! Find me on Facebook or Instagram where I post daily healthy eating and lifestyle inspiration.
This Paleo Pad Thai post may contain affiliate links, meaning if you make a purchase, I will receive part of the sale as a commission. This helps me continue to bring you lots of fresh and inspired recipes!