This post may contain affiliate links. Please see my full
Disclosure Policy
for details.
This Italian Pesto Zoodle Salad makes a perfect cooling summer meal. Topped with a 3 ingredient pesto vinaigrette, this salad comes together in 10 minutes. This recipe can easily be adapted to make warm pesto zoodles.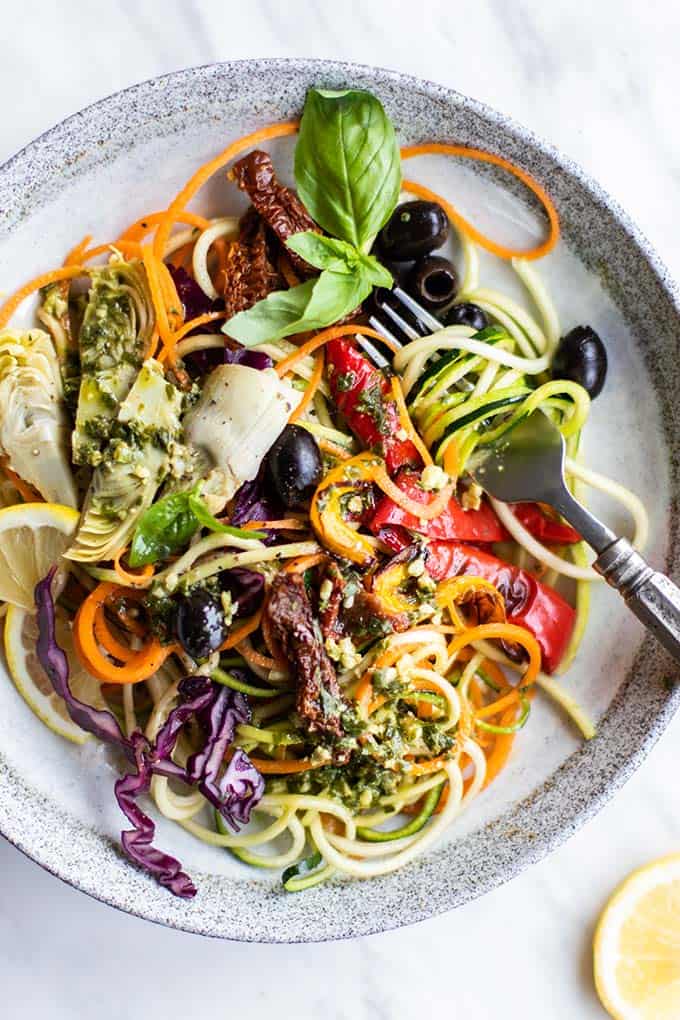 How to Make Zoodles
Come summer, and my zucchini is all going in my spiralizer. For months, I've been eating zoodle salads for lunch nearly every day.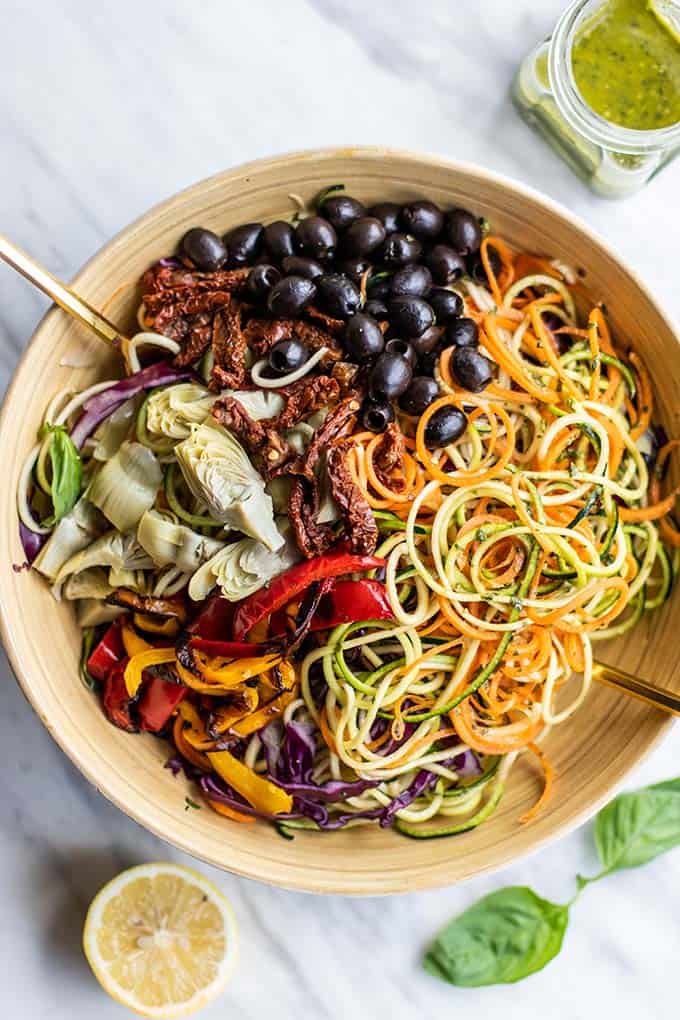 Zoodles are zucchini noodles, and can be made in these ways:
The easiest/fastest (and best) way to make zoodles is by using a spiralizer – AKA, the best zoodle maker! I have, and highly recommend, the OXO Spiralizer. See the video below to understand just how easy and effective this method is!
Use a julienne peeler. I have used this method in the past, but it takes a long time and I feel it wastes a lot of the zucchini.
Try a veggie peeler for more "fettucine" type strands. I do this often, and while it's a different texture, it makes a beautiful salad. Look at the salad in this Artichoke Millet Power Salad.
I also spiralize carrots for this salad. So many veggies work well spiralized. The a zucchini is the ideal shape, but large (fat) carrots work, and so do cucumbers. I use English cucumbers because they are crisp and the least soggy. I also love to spiralize beets for salads, and even butternut squash to roast.
What you Need for the Pesto Zoodle Salad
After spiralizing your zucchini and carrots, it's time for the fun toppings!
I love using pesto as a salad dressing. It's very easy to do — just take your favorite pesto (homemade, or store bought), and mix it with equal parts lemon juice and white wine vinegar.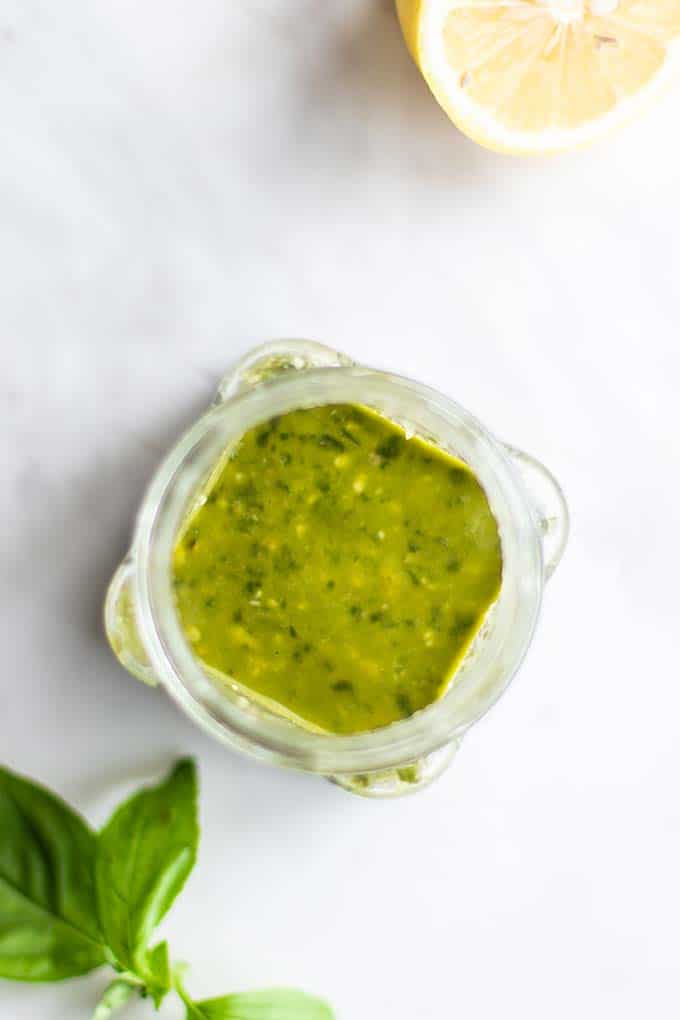 Roasted red peppers make an amazing addition to this salad. If you buy them, then the zucchini and carrots are the only vegetables you'll have to prepare. If you make my simple roasted peppers, it will take a few extra steps, but they will taste better and be a lot cheaper. If you want to avoid turning on your oven in the summer, just use raw peppers.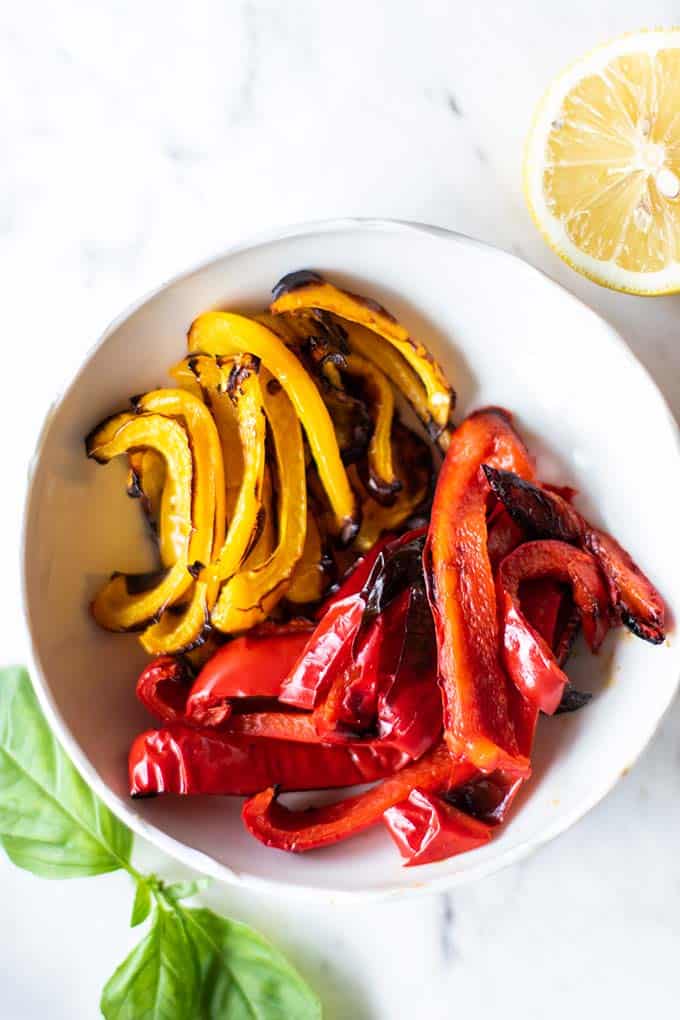 I also tossed in marinated artichoke hearts, black olives, and sun dried tomatoes. None of those ingredients needed any preparation, so this salad is really so quick to make.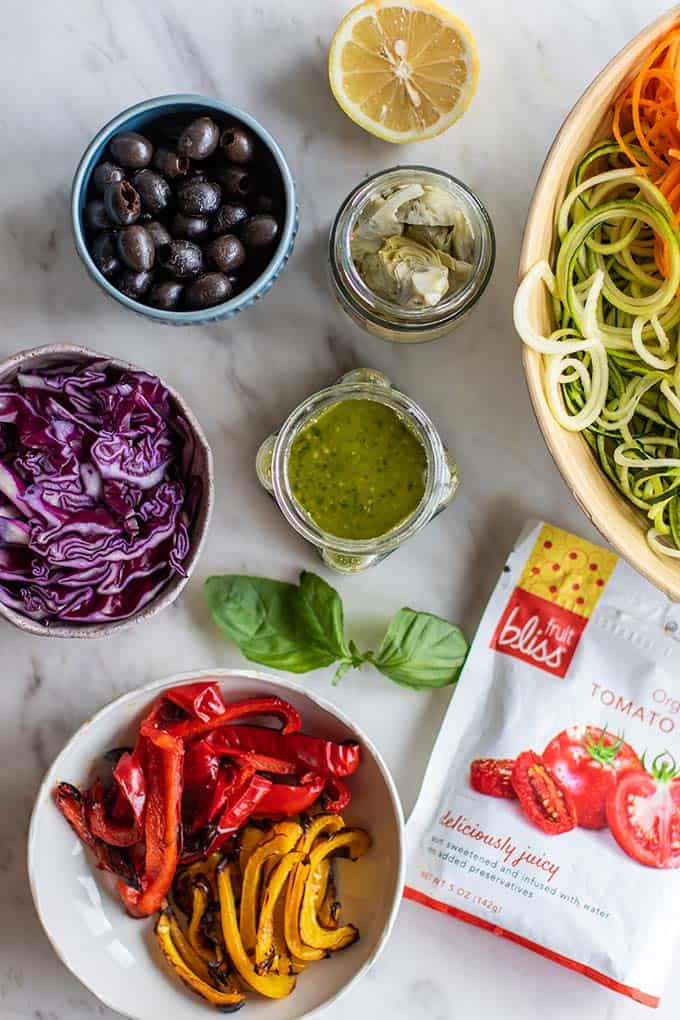 Pesto Zoodles
My favorite way to enjoy zoodles is raw, as in this salad. However, if you'd like pesto zoodles warm, that is also a great side dish.
To transform this into a hot dish, skip the pesto vinaigrette, and just use straight pesto. Zoodles do not stay hot long after they are cooked, so it's best to prepare them right when you're ready to eat. If you'd like, you can toss the artichoke hearts and olives on the roasting pan with the peppers in this dish, and when they are about ready to come out of the oven, prepare your cooked zoodles. When everything is cooked, toss in pesto and serve.
To keep zoodles from getting soggy while you're cooking them, use very high heat. I use a large wok over high heat, and spray the pan with a little olive oil. Throw the zoodles in, and only cook about 4-5 minutes, until heated through but not actually cooked. You'll want them to retain a firm texture and not begin to lose water.
Tips for the Making this Pesto Zoodle Salad your Own
Make it Vegetarian/Vegan: I used a vegan pesto in this recipe. I used this Lightened up Basil Walnut Pesto, but omitted the cheese.
Make it Paleo/Whole30: This recipe is Whole30 compliant if a vegan pesto is used.
Increase the Protein: This is a great side to grilled meats, but hard boiled eggs or chickapeas would also make great vegetarian options.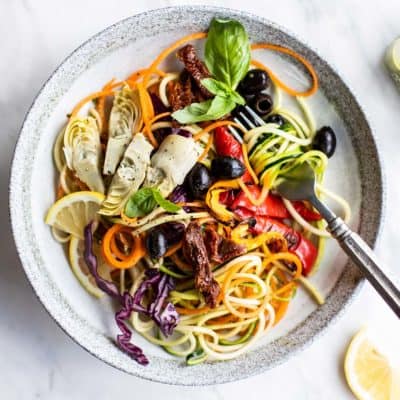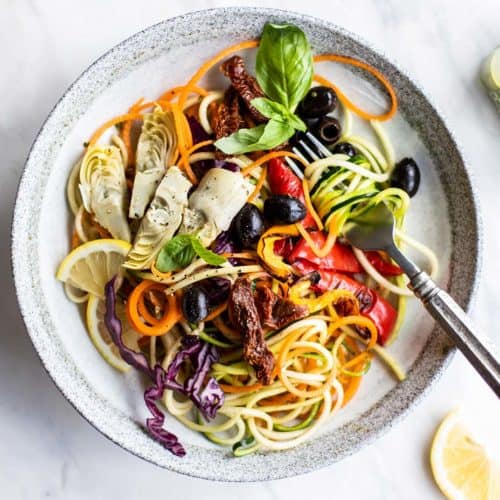 Pesto Zoodle Salad
This refreshing and unique summer salad is made on a base of zoodles, and topped off with an easy 3 ingredient pesto vinaigrette. Mix up the toppings, or add protein to make it a complete meal.
Print
Rate
Ingredients
2

zucchinis

large

1

carrot

large

1

cup

red cabbage

shredded

2

bell peppers

I used red & yellow

olive oil

1

cup

marinated artichoke hearts

1

cup

black olives

1/4

cup

sun dried tomatoes
Pesto Vinaigrette
1/4

cup

pesto

leave out parmesan for Whole30 or Vegan

1/4

cup

lemon juice

1/4

cup

white wine vinegar
Instructions
Prepare pesto vinaigrette by adding the ingredients to a jar and shaking, then set aside.

Preheat oven to broil on high, if making roasted peppers. Slice peppers, and then add to a baking tray. Lightly spray with olive oil. Roast for 10-14 minutes, until the peppers start to char.

Use a spiralizer (or other method described above) to spiralize zucchini and carrots. Add to a large salad bowl, and then add purple cabbage.

Top with the rest of the salad ingredients, including the roasted peppers.

Serve with the pesto vinaigrette.

If making this for a meal prep option, do not add dressing until ready to serve.
Nutrition
Calories:
157
kcal
|
Carbohydrates:
13
g
|
Protein:
3
g
|
Fat:
10
g
|
Saturated Fat:
1
g
|
Sodium:
603
mg
|
Potassium:
499
mg
|
Fiber:
4
g
|
Sugar:
7
g
|
Vitamin A:
3905
IU
|
Vitamin C:
84.2
mg
|
Calcium:
63
mg
|
Iron:
1.4
mg

How to Meal Prep Pesto Zoodles
This salad is a great make-ahead option to have ready to go for lunch or dinner. It's important to keep the dressing off the salad until ready to serve. Adding any salt to the zucchini noodles will draw out moisture, and you'll end up with a watery salad.
Pack the zoodles and carrot noodles first, and then add the toppings off to the side of your meal prep container. I like to top these salads with a fried or hard boiled egg. Leftover chicken or seafood would work well also. For a vegan option, try chickpeas.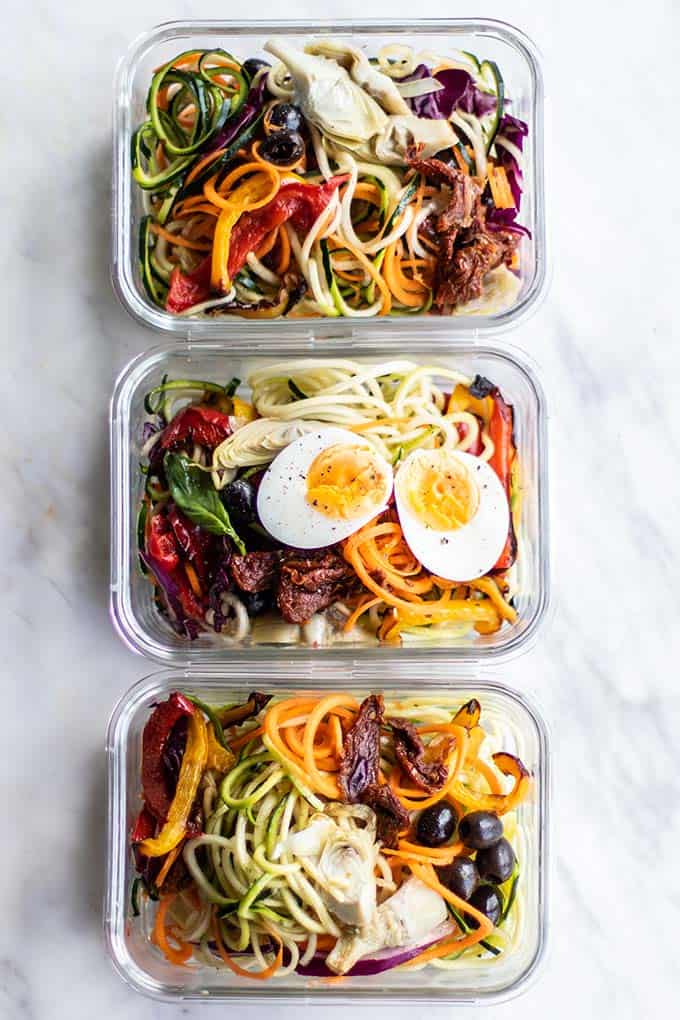 I'd love to connect with you on social media! Find me on Facebook or Instagram where I post daily healthy eating and lifestyle inspiration.
This post may contain affiliate links, meaning if you make a purchase, I will receive part of the sale as a comission. This helps me continue to bring you lots of fresh and inspired recipes!