This post may contain affiliate links. Please see my full
Disclosure Policy
for details.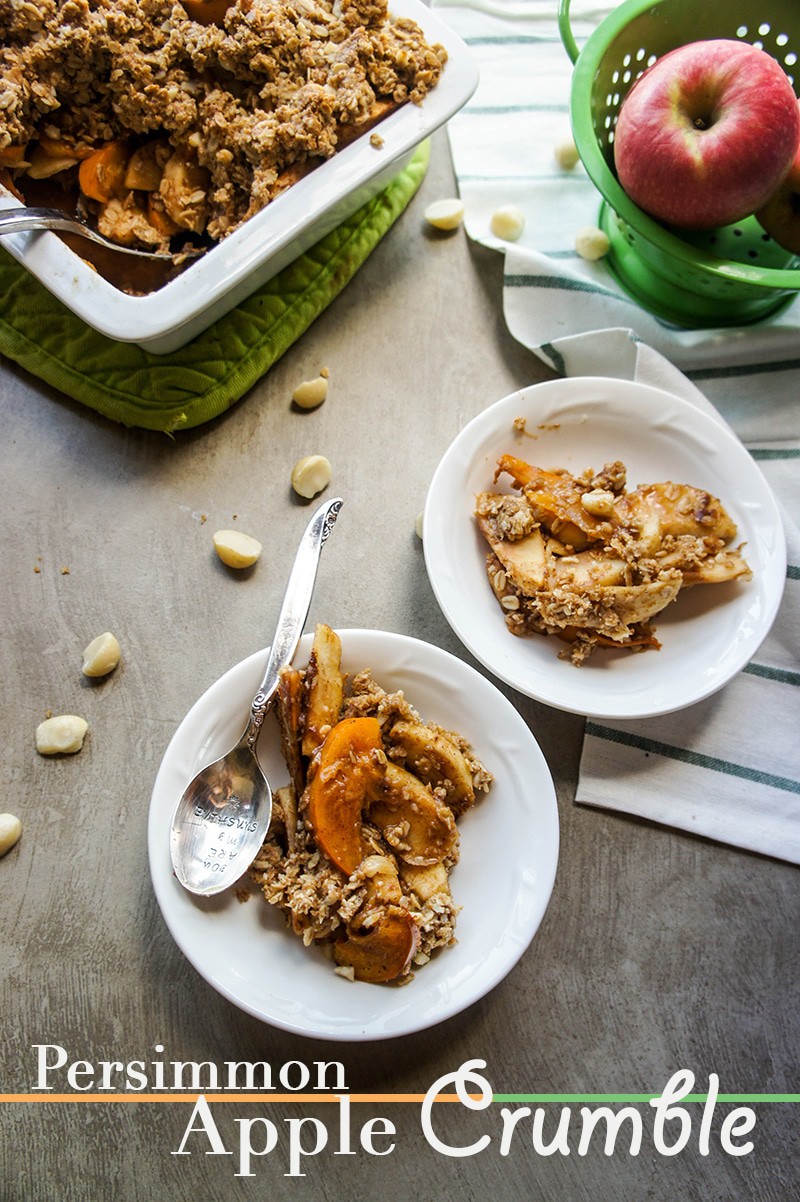 Crumble or crisp? Honestly, I don't know. What I do know is this Persimmon Apple Crumble (or crisp!) is one of the best desserts that's been made in this house recently. Warming, sweet, spicy, and crunchy.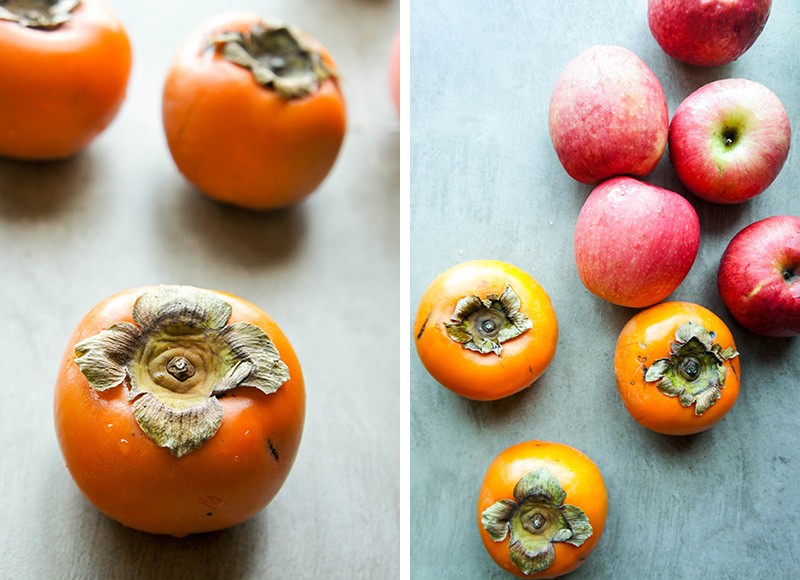 This dessert is inspired by the apple-rhubarb crumble my brother-in-law made while we were in Australia over Christmas. It was a strange Christmas for this North American– hot, in the 80's and 90's– but getting a taste of a temperate climate summer was nice. The best part was getting all the summer fruit I missed when I wasn't able to go home last summer. Cherries. Cantaloupe (which is called rock melon in Aus.). Peaches. Nectarines. Strawberries. Raspberries. All the best, in my book.
And farmer's market produce. Boy, do I miss that.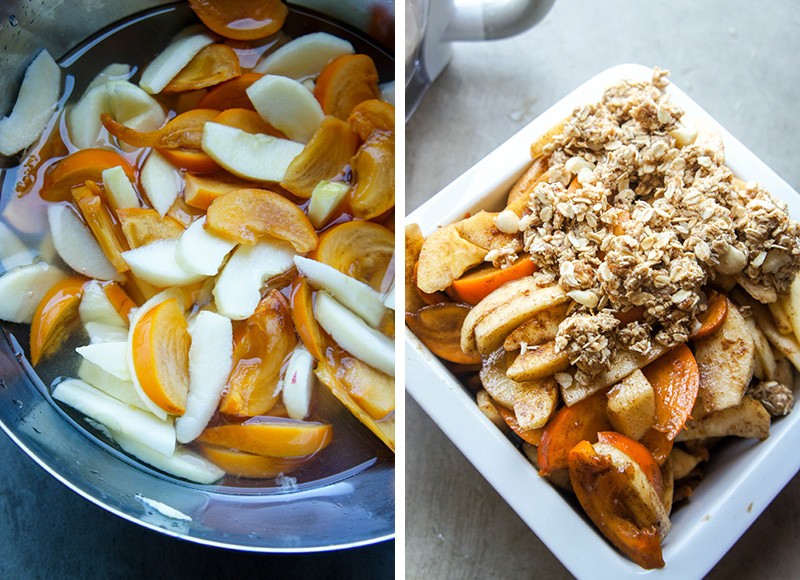 Macadamia nuts are used often in Australian cooking. My in-laws have fruit and yogurt for dessert every night. We would finish dinner, wash up, and then dive in to a giant platter of cut up fruit, and put a scoop of yogurt on top. Delicious.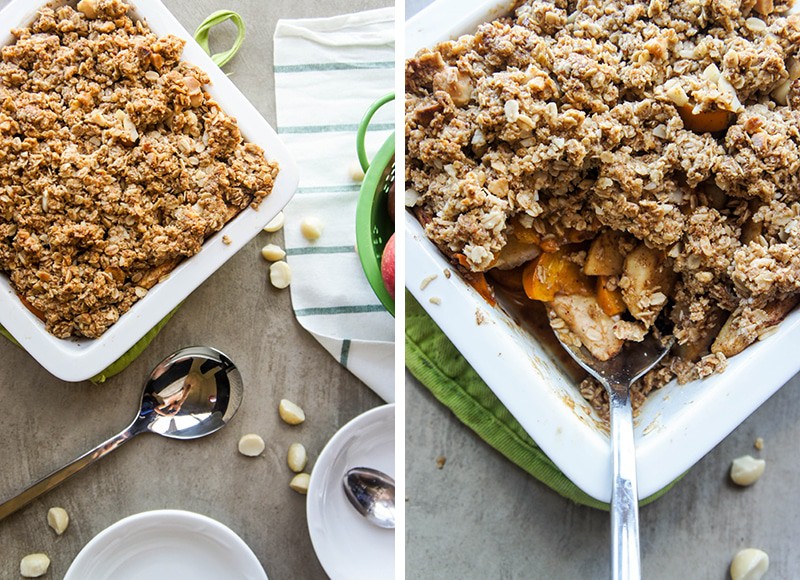 But as a treat for my husband, they made a crumble that he loves. The best part was the perfectly crunchy topping with big chunks of macadamia nuts.
Coming home, I knew I would need to recreate it with my own combo. Persimmons. I love those little orange guys, and never am quite sure how to cook with them. They were delicious.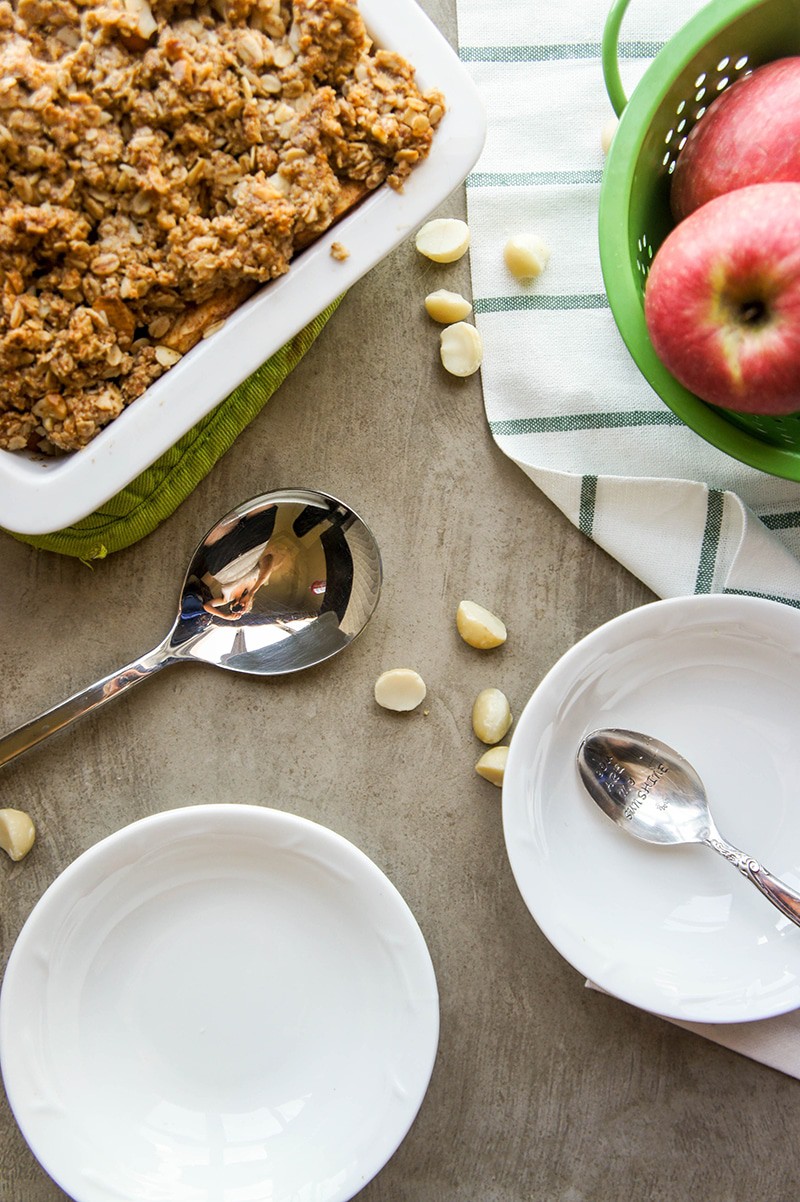 Other fruit-filled desserts we love around here?
Make this crumble with persimmons, or add your own substitution based on what's in season in your part of the world. Strawberries? Peaches? Both would be wonderful.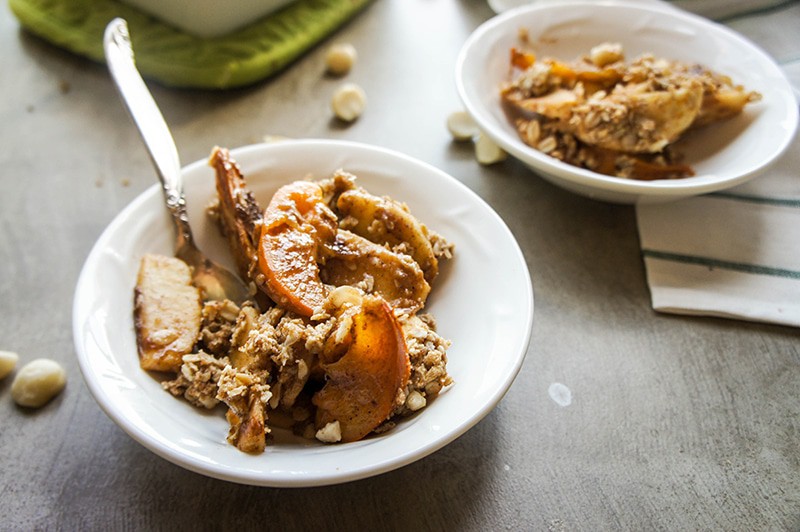 Persimmon Apple Crumble (Low Sugar, Gluten Free)
A low sugar, gluten free, but comforting dessert. Crunchy, sweet, saucy, and nutty. A favorite around here.
Print
Pin
Rate
Ingredients
1

pound

persimmons

cut in slices and seeds removed

1

pound

apples

peeled, cored and cut into thin slices

1/3

cup

apple juice

2

tablespoons

lemon juice

1

tablespoon

lemon juice

for sauce pan

2

tablespoons

coconut sugar

2

teaspoons

cinnamon

1

teaspoon

arrowroot powder

sea salt

pinch

1

tablespoon

butter
Instructions
Cut and peel fruit, keeping apples and persimmons separate. Add to a large bowl of cold water with 2 tablespoons lemon juice.

In a saucepan, add apple slices, apple juice, lemon juice, and coconut sugar. Heat pan over medium high heat. Once brought to a simmer, lower heat to medium low, and cook for 10 minutes, until apple slices are soft. Remove about ¼ of the apple slices and some of the liquid, and blend on high until smooth. Add pureed apples back into the pan.

Add cooked apple mixture to the bowl with the persimmon slices, and add the cinnamon, arrowroot, and sea salt.

Grease the bottom of an 8x8 pan with 1 tablespoon of butter, then add the fruit mixture.

Preheat over to 350 degrees fahrenheit.

In a food processor, add all ingredients for the crumble topping. Process until the macadamia nuts are chopped up but still in chunks.

I use my hand to mix any chunks of butter still left into the crumble mix.

Crumble the topping over the fruit mixture.

Bake for 25-35 minutes uncovered, until the fruit mixture is bubbling and the crust is golden brown.

Remove from oven. Serve warm with yogurt or ice cream.

We also love it cold served with yogurt.
Nutrition
Calories:
178
kcal
|
Carbohydrates:
43
g
|
Protein:
1
g
|
Fat:
2
g
|
Saturated Fat:
1
g
|
Cholesterol:
5
mg
|
Sodium:
27
mg
|
Potassium:
329
mg
|
Fiber:
2
g
|
Sugar:
12
g
|
Vitamin A:
99
IU
|
Vitamin C:
56
mg
|
Calcium:
32
mg
|
Iron:
2
mg