This post may contain affiliate links. Please see my full
Disclosure Policy
for details.
A gluten free Apple Pie recipe, with all the seasonal flavor but a lot less sugar! This healthy apple pie is perfect for the holiday season. Made on a delicate and buttery almond flour crust, and topped with a cinnamon spiked streusel topping – sure to be a hit with the whole family!
*Today I'm partnering with Sharp Home USA ~ Sharp creates quality home appliances that make life easier! I've been using the Superheated Steam Countertop Oven for the past few months, and can't wait to share how it makes cooking healthy meals easier. Thanks for supporting me and the brands I work with. I only share this space with the very best ~ and that's a promise.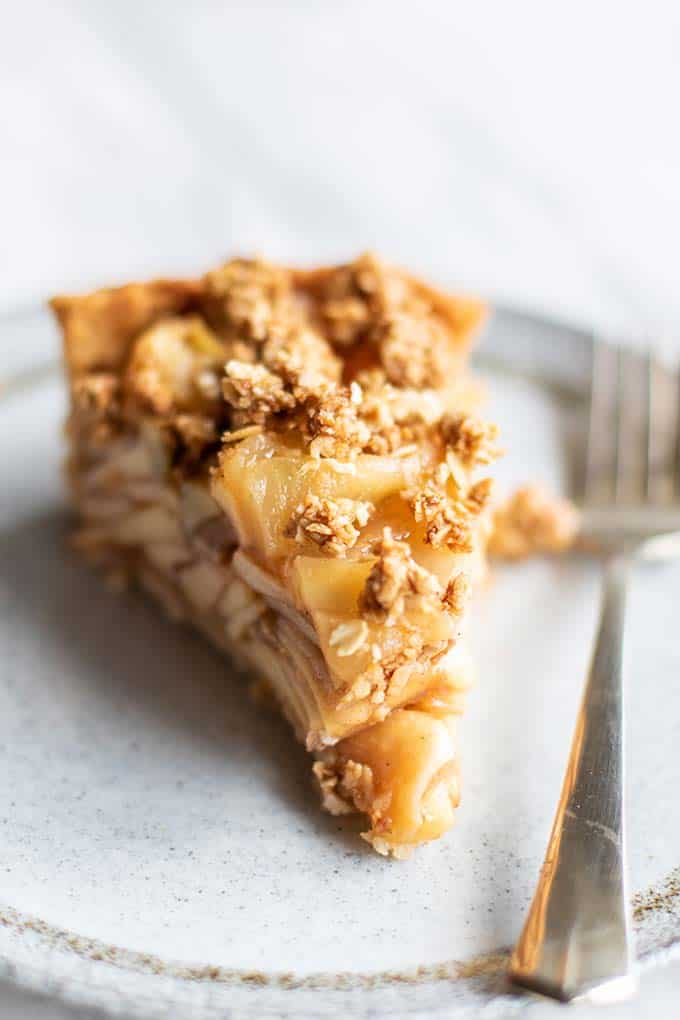 A Buttery Gluten Free Almond Flour Pie Crust
I have made gluten free pie crusts in previous years with oats and nuts and dates, and found them to detract too much from the main event – the fruity center! While delicious on their own, they were too much of a cookie.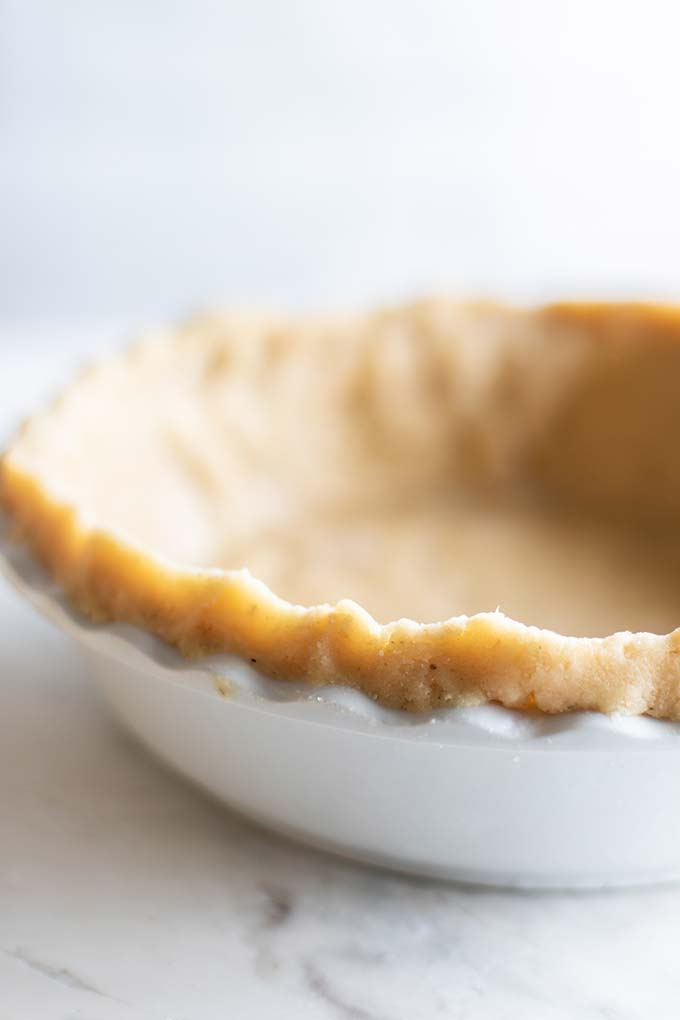 This year, I wanted a gluten free pie crust that was more like eating the real deal. However, I didn't want one made with a gluten free flour blend filled with starches and gums.
After a bit of experimentation, I found the perfect option — a gluten free pie crust made very similarly to a classic crust, but with almond flour. The crust bakes up flakey and buttery and absolutely perfect!
Fair warning: It is not quite as sturdy as a traditional crust! Gluten free baked foods never are. It took patience and finesse to pull out the perfect slices from my pie plate.
Ingredients for a Gluten Free Apple Pie
Apples – something tart and crunchy, like pink lady or gravenstein.
Moscavado sugar or brown sugar
Arrowroot, cinnamon and lemon juice – or if you'd like, be fancy and make some Apple Pie Spice.
Oatmeal, walnuts and butter for the best crumbly topping!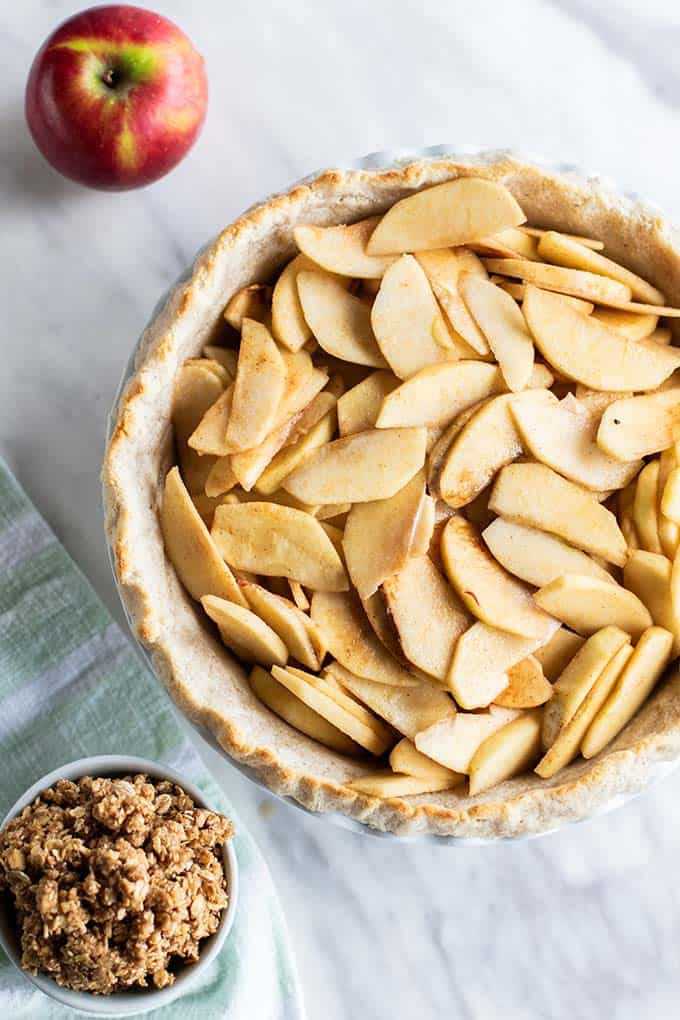 Tips for Making the Perfect Gluten Free Pie Crust:
Take your time! The crust really needs to be chilled well to hold together.
Be sure to parbake the crust, even if it's for a fruit filling like this apple pie. This ensures the crust doesn't get mushy underneath the apples.
Almond flour browns/burns a lot faster than wheat flour, so this pie bakes longers at a lower temperature than a traditional pie.
For best results, I recommend using a pie shield. If you don't have a pie shield, you can use foil around the edges of the pie plate to cover the crust but not the center. If doing this in your Sharp Superheated Steam Countertop Oven, do not use foil. Use a silicone pie shield.
Make your pie the day ahead, and fully chill it before cutting it! If you try to serve this pie warm, it will taste wonderful, but the crust will not hold up in slices. The first time I baked this pie I served it still warm and I just told people it was apple crumble!
The Perfect Companion for Holiday Cooking & Baking
I have been heavily relying on my Sharp Superheated Steam Countertop Oven for holiday baking this year! It's so handy to have a second oven to help prepare multiple dishes at once.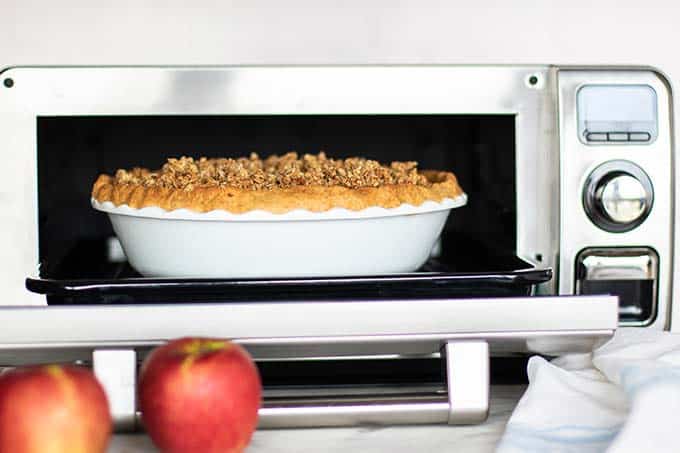 It's the perfect tool for this healthy apple pie recipe. The oven cooks with a combination of steam and convection, so it keeps food moist but also browns it. Because this almond flour crust browns faster than a traditional pie crust, the steam really helps keep the crust from drying out too much while baking.
I am like most of you — while I do work at home, I am WORKING at home, not taking days to prepare my holiday dinners. A few weeks ago, I had a "practice" Thanksgiving with friends to test out some new holiday recipes, and this little oven was the perfect sidekick to my traditional oven. While the turkey was roasting, my countertop oven was baking and reheating all my side dishes.
How to Make a Healthy Apple Pie Filling
When I make fruit based desserts, I really want the sweetness and flavor of the fruit to shine through. If you've ever had a really good homemade apple sauce, you know that on their own, cooked apples can taste pretty similar to apple pie filling.
To keep this apple pie filling gluten free, I used a little bit of arrowroot starch to thicken the juices. I also used some light moscavado sugar (this is an unrefined brown sugar that still has the molasses), and some cinnamon. Super simple!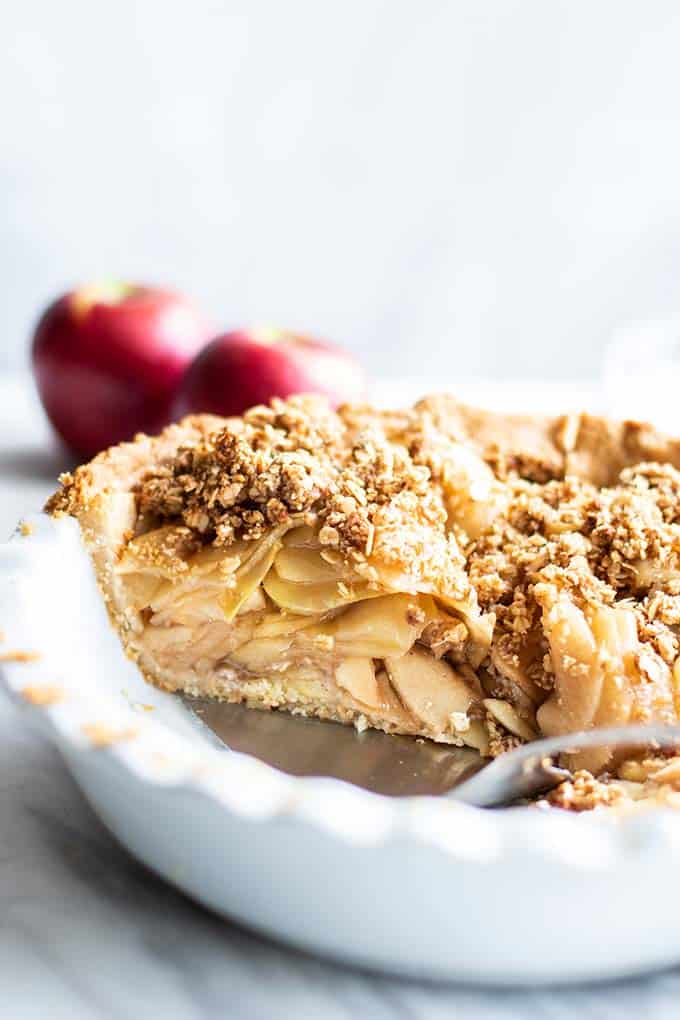 Because the almond flour pie crust is both a little difficult to work with, and a bit richer than a regular pie crust, I opted for a crumble topping here, like a dutch apple pie. This topping is made quickly by blending up some oats, walnuts, moscavado, cinnamon and butter. Five ingredients, and so quick to make, and then sprinkle it over the pie filling before baking.
To keep this pie Paleo: Use honey instead of moscavado. I have done this in the past and it works great! Instead of using the crumble topping, simply sprinkle chopped walnuts over the top of the pie for the last 20 minutes of baking.
Other Gluten Free Apple Dessert Recipes:
I'd love to connect with you on social media! Find me on Facebook or Instagram where I post daily healthy eating and lifestyle inspiration.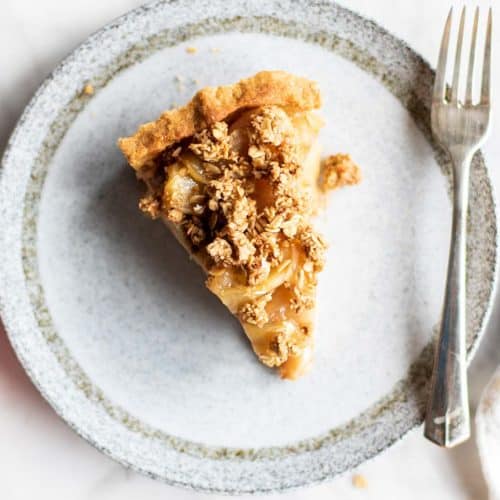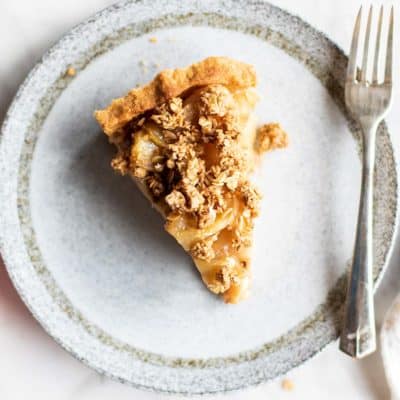 Gluten Free Apple Pie
A healthy apple pie recipe made on a gluten free almond flour crust. This lightly sweetened apple filling allows the sweetness and flavor of the fruit to shine through!
Print
Pin
Rate
Ingredients
1

almond flour crust

1 1/2

pounds

apples*

tart baking

3

tablespoons

moscavado sugar

(or honey for paleo)

3

tablespoons

arrowroot powder

1

tablespoon

lemon juice

1

teaspoon

cinnamon
Crumble Topping
3/4

cup

oats

1/3

cup

walnuts

2

tablespoons

butter

chilled, cut into chunks

2

tablespoons

moscavado sugar

1/2

teaspoon

cinnamon
Instructions
To use the almond flour pie crust for an apple pie, the crust needs to be pre baked on 350 degrees F for 10 minutes.

Prepare the apples by peeling and very thinly slicing the apples. Put apples in a bowl of water with some lemon juice to prevent browning during this process.


Drain the apples. and then mix in the arrowroot, moscavado, cinnamon and additional tablespoon of lemon juice. Stir well to coat apples.

To make the crumble topping, add all ingredients to a blender or food processor, and pulse until the mixture comes together in large crumbs. You want to retain some of the texture of the oats and walnuts, so don't over process.

Fill the pre baked crust with the apples (heap the apples above your crust - they bake down a lot!), and the top with the crumble topping.

Use a silicone pie shield to cover the crust and prevent over browning. If baking this in a conventional oven, it's okay to cover the crust with a strip of foil.

Bake the pie in the Sharp Superheated Steam Countertop Oven for 50 minutes on 350 degrees. If baking in a conventional oven, preheat the oven to 350 degrees, and bake for 1 hour and 20 minutes.

Notes
Nutrition facts are for filling and crumble topping only. Find the nutrition facts for the crust on the recipe page for the Almond Flour Pie Crust.
*I used a deep dish pie plate for these photos. I made a double batch of the pie crust, and used about 2/3 of the crust to fill my deep dish pan. I also used 2 pounds of apples with the same measurements of sugar/arrowroot to fill the deep dish pie plate. The measurements in this recipe are for a standard pie plate.
Nutrition
Calories:
136
kcal
|
Carbohydrates:
22
g
|
Protein:
1
g
|
Fat:
5
g
|
Saturated Fat:
1
g
|
Cholesterol:
6
mg
|
Sodium:
22
mg
|
Potassium:
116
mg
|
Fiber:
2
g
|
Sugar:
13
g
|
Vitamin A:
105
IU
|
Vitamin C:
3.7
mg
|
Calcium:
18
mg
|
Iron:
0.5
mg