This post may contain affiliate links. Please see my full
Disclosure Policy
for details.
A fun way to prep breakfast and snacks for the week, these Sous Vide Egg Bites are delicious (and nutritious)! Low carb, keto, and even Whole30 friendly, make these suit whatever your dietary needs are.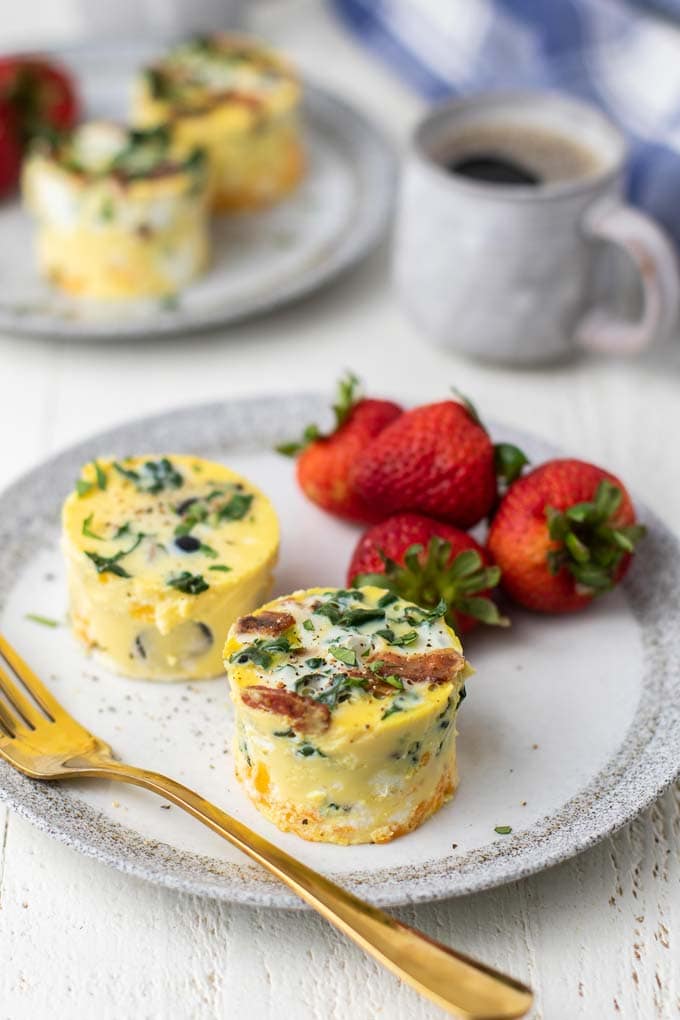 This post is sponsored by Jones Dairy Farm — a company committed to bringing high quality breakfast meat options. I love that this company has healthier options, such as sugar free and nitrate free bacon, and turkey and chicken options. I only work with brands whose products I genuinely love. Thank you for supporting the brands that help keep Sunkissed Kitchen running!
Perfect for Meal Prep
I know you'll love these Sous Vide Egg Bites as much as we do. Made famous by Starbucks, they really are so easy to prepare and have in your fridge for quick and easy meals or snacks.
Making them at home also means you get to choose all your favorite add ins. We've made these with countless combinations, but I am sharing my favorites with you here.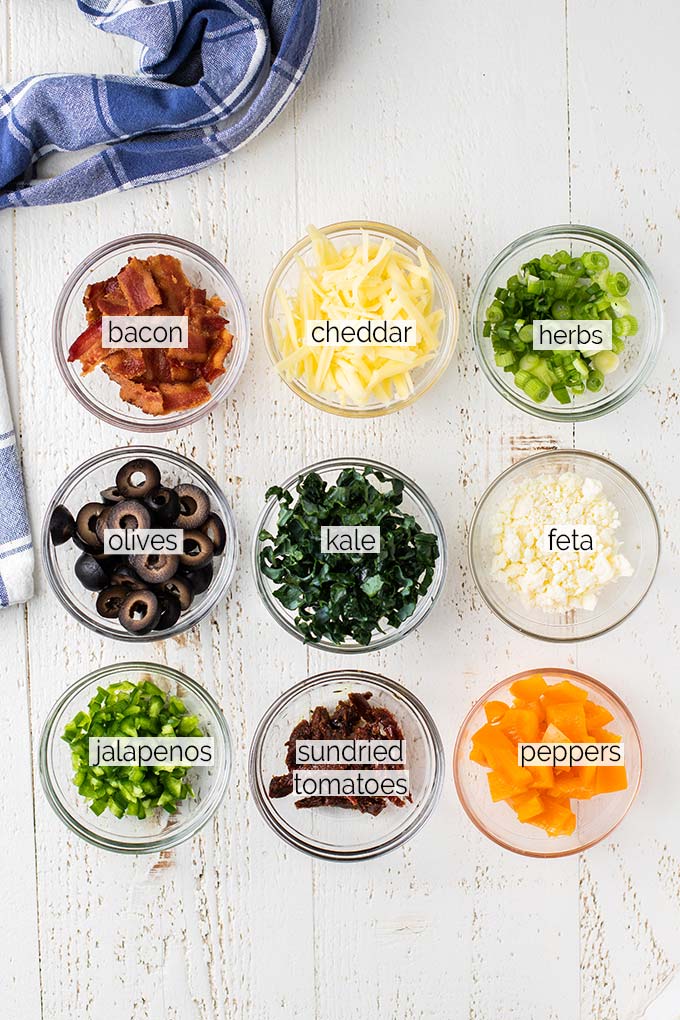 You'll love these bites because:
Each "bite" is about 1 egg, making them a perfect snack. Put 2 or 3 together to make them a meal.
The slow cooking process ensures the eggs are ultra creamy every time.
They are fully customizable — need them to be dairy free? Easy. Whole30? So easy. They are also Keto and Low Carb.
After making them, they will last 5 days in the fridge — meaning high protein breakfasts or snacks are ready in an instant. Eat them out of the jar, or serve them with fruit or a salad for a quick meal.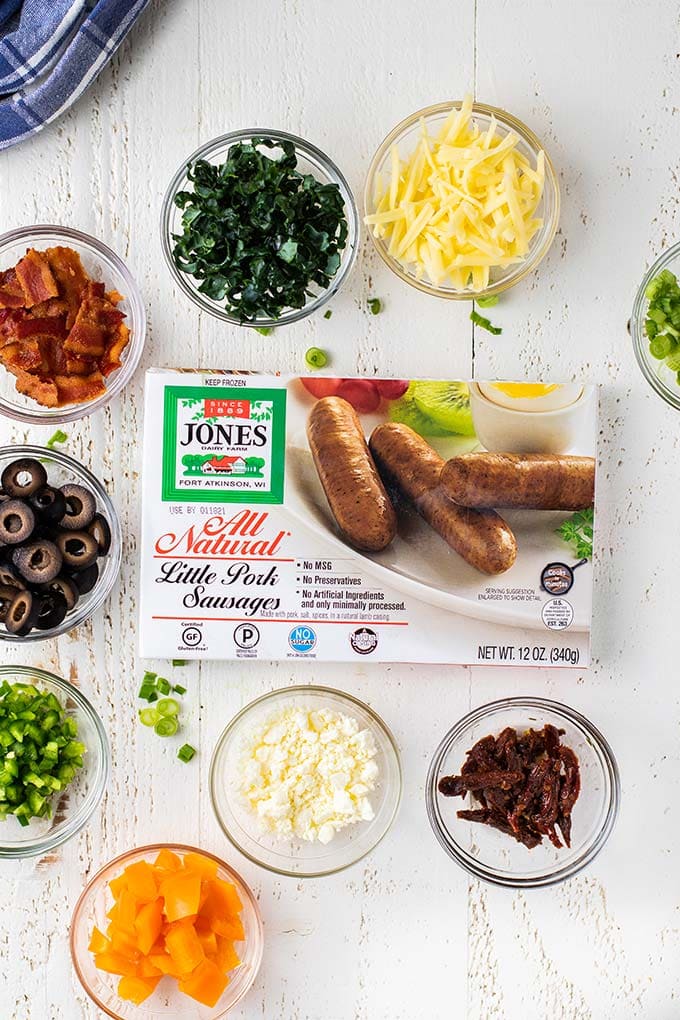 What is Sous Vide?
The Sous Vide method of cooking is having a moment. Previously a method used in high end restaurants, more and more home cooks are experimenting with the fun contraption.
A Sous Vide heats water to a set temperature, and then food is cooked long and slow at an even temperature — think if you want your steak cooked medium, you set the Sous Video to 155º F, and your steak will be evenly cooked medium throughout.
The food cooks from the center to the edge at the same temperature, so it isn't overdone on the outside and underdone on the inside.
Cooking eggs this way means they are smooth and creamy and not overcooked or rubbery. It's actually a much easier process than trying to bake eggs to the correct consistency.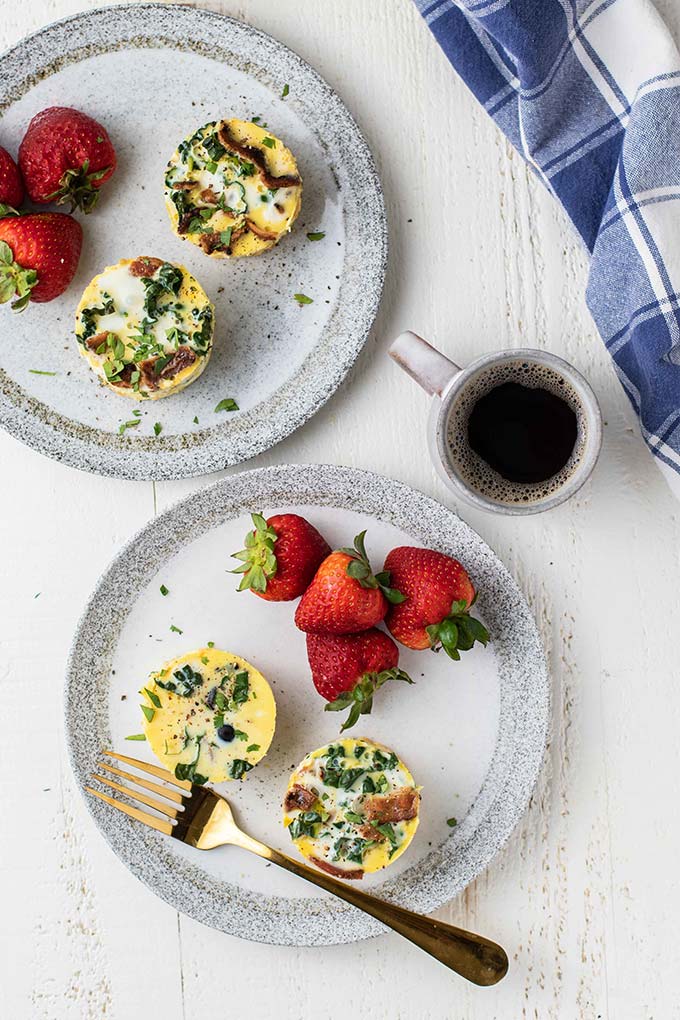 1 ingredient you shouldn't leave out? Jones Dairy Farm No Sugar Pork Sausage Links.
I love this company because they provide certified gluten free breakfast meats with minimal ingredients — meat and spices, and that's it. You'll find having your freezer stocked with these healthy sausage, bacon and ham products makes adding protein to meals so simple – and you can feel good about giving your family these options.
How to Make Sous Vide Egg Bites
I'm including how to make these delicious bites with OR without a sous vide machine. They actually work just as well with a regular old pot, a rack, and a meat thermometer, as they do with the machine. Using a Sous Vide just makes finding the perfect temperature a little more fool proof.
1). Choose & pre your toppings! Chop the toppings small, and then add them to 4 ounce jelly jars. The combos I really enjoy are: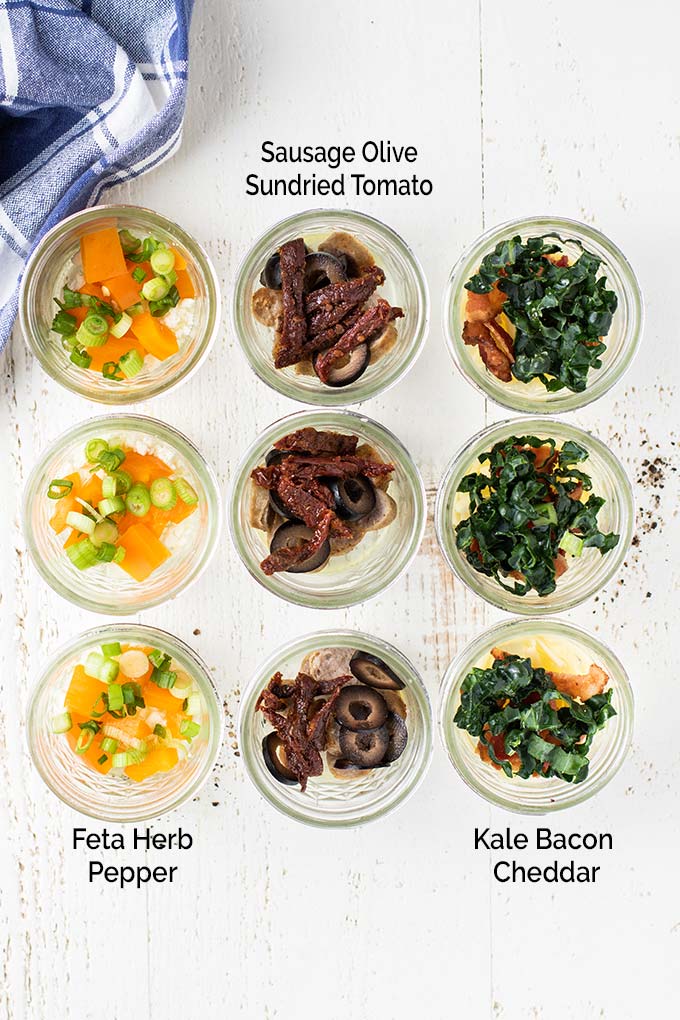 2). Make an egg base with whole eggs, almond milk (or dairy milk is fine!), salt and pepper. Just add the ingredients together and whisk.
3). Pour the egg base over the toppings in the jars.
4). Secure each jar with a lid, tightening well.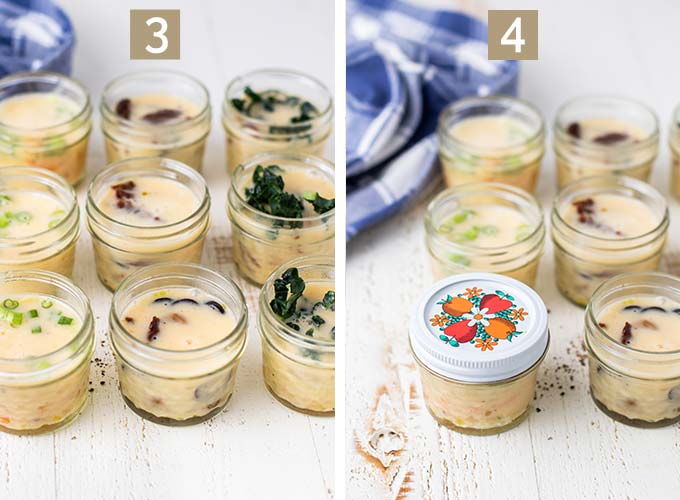 5). Add a Sous Vide to a large pot, and set the temperature to 172º F. You'll need enough water for the sous vide to function (it will beep to let you know if you don't have enough!), and it needs to be deep enough to fully submerge the jars.
6). Once the water is 172º F, add the jars, and then set a timer for 1 hour. I once left for a run and these ended up cooking for 2 hours, and there was pretty much no difference in texture. So just make sure you cook them at least an hour but don't worry if they are in there longer.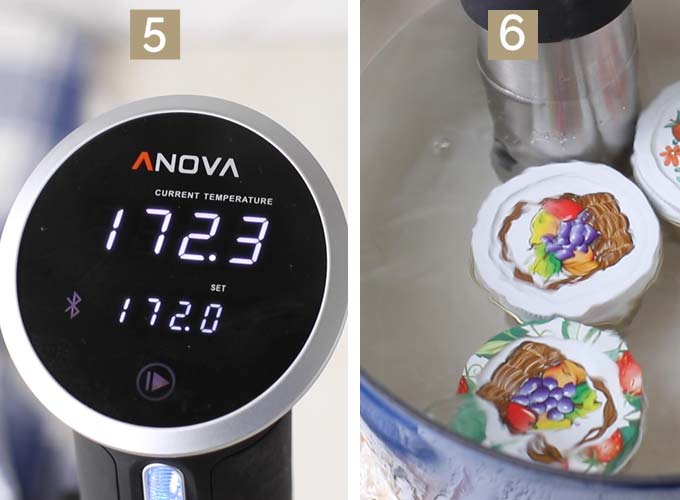 7). No Sous Vide? NO PROBLEM! Add a rack to the bottom of a large pot, and heat it just under boiling. I found on my stovetop, this was at medium. I played with temperatures for a while until I found the exact setting to keep my water around 172ºF. Use a meat thermometer and adjust the temperature until it stays steady +/- 5 degrees from that goal temperature.
8). Add the jars to the rack, and cook the egg bites for 1 hour.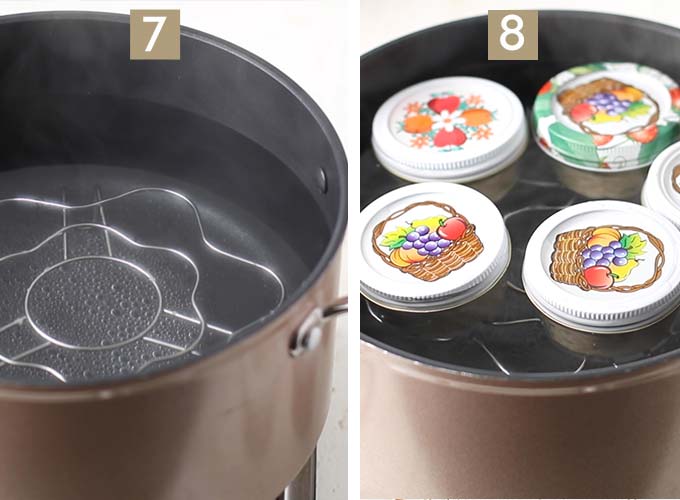 Enjoy These Egg Bites Any Time!
These egg bites are such a great thing to have on hand! We love them hot or cold, in the morning or for an afternoon snack.
Make these Whole30 Approved: The egg base is already Whole30 compliant, so just be sure to use Jones Dairy Farm No Sugar sausages or bacon, plus veggies and herbs, and omit any cheese.
Make these Dairy Free: Make these without cheese. The base is already dairy free!
Serve these for Breakfast: These are ideal for busy mornings. Pop out 1-2 bites, and serve them with fruit or a small salad of greens and nuts.
Make this a High Protein Snack: Need something to tide you over to dinner? Skip the carbs and go for the good stuff. These are full of healthy fats and protein.
If you make this recipe, be sure to share it with me! Find me on Facebook or Instagram and be sure to tag #SunkissedKitchen @SunkissedKitch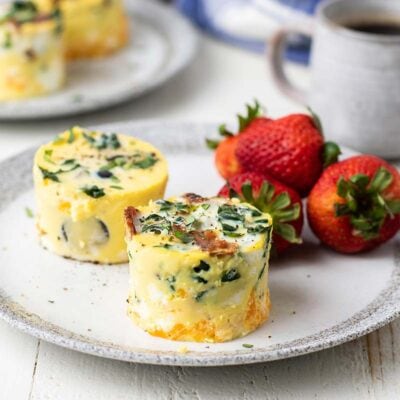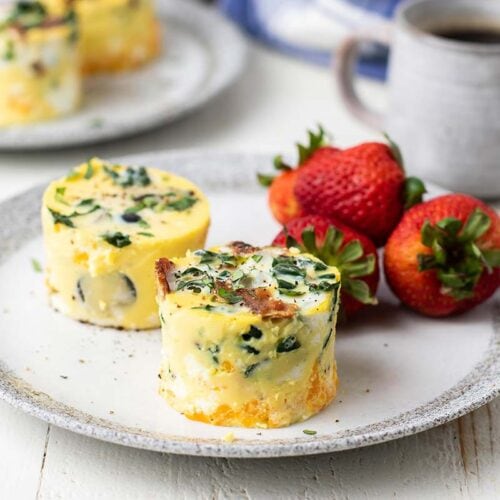 Sous Vide Egg Bites
Delicious, customizable egg bites, cooked in hot water rather than being baked, meaning they are perfectly creamy and never dried out. Use whatever toppings you love! The instructions here include an option to cook using a Sous Vide, but also a regular pot on a stovetop, if you don't have one.
Print
Pin
Rate
Ingredients
Egg Base
8

eggs

1/4

cup

unsweetened almond milk

plain, not vanilla

1

teaspoon

sea salt

1/2

teaspoon

black pepper
Instructions
Put a Sous Vide in a large pot, and fill it with water at least 7 inches deep. Set the Sous Vide to heat the water to 172º F.

If you do not have a Sous Vide, add a rack to the bottom of a pot and heat the water over medium heat. Use a thermometer to find a setting that will hold the water +/- 5º F from 172ºF. The water won't be boiling, but will have some air bubbles forming on the bottom of the pot.

Add all of the ingredients for the egg base into a large measuring cup, and whisk. I use a measuring cup so that it's easy to pour into the jars.

Prepare toppings and add 2-3 tablespoons of toppings to each of the jars. Top each jar off with the egg mixture.

Screw a lid onto each jar, tightening well, and then add to the water once it's at temperature. Cook the egg bites for 1 hour. Once the time is up, check 1 of the jars to make sure the egg is fully set. If not, leave them in the water an additional 10-15 minutes.
Notes
*The nutrition facts are just for the egg base. The toppings you choose will add to the nutrition of each egg bite.
Almond milk makes these creamy like the custard used in a quiche. You can also opt to make these with dairy milk by using milk or half and half in place of the almond milk.
Nutrition
Calories:
70
kcal
|
Carbohydrates:
1
g
|
Protein:
5
g
|
Fat:
5
g
|
Saturated Fat:
2
g
|
Cholesterol:
145
mg
|
Sodium:
324
mg
|
Potassium:
68
mg
|
Fiber:
1
g
|
Sugar:
1
g
|
Vitamin A:
211
IU
|
Calcium:
31
mg
|
Iron:
1
mg