This post may contain affiliate links. Please see my full
Disclosure Policy
for details.
This beautifully presented Ratatouille will be a hit for summer dinners. Layers of eggplant, summer squash, and tomatoes highlight the best of the season's produce. We love this with extra garlic and basil!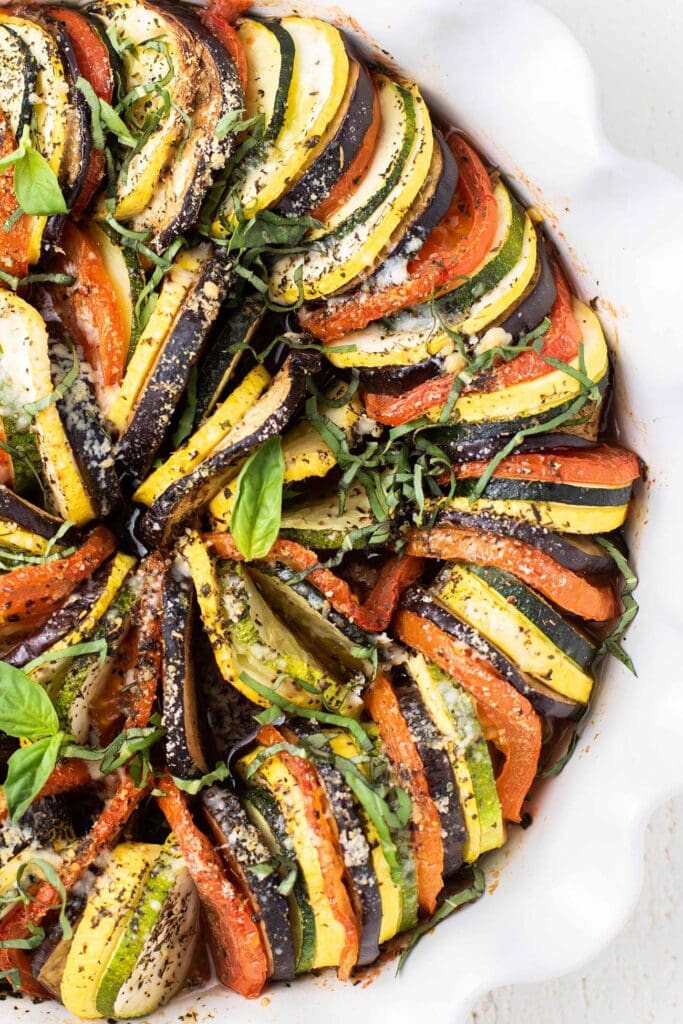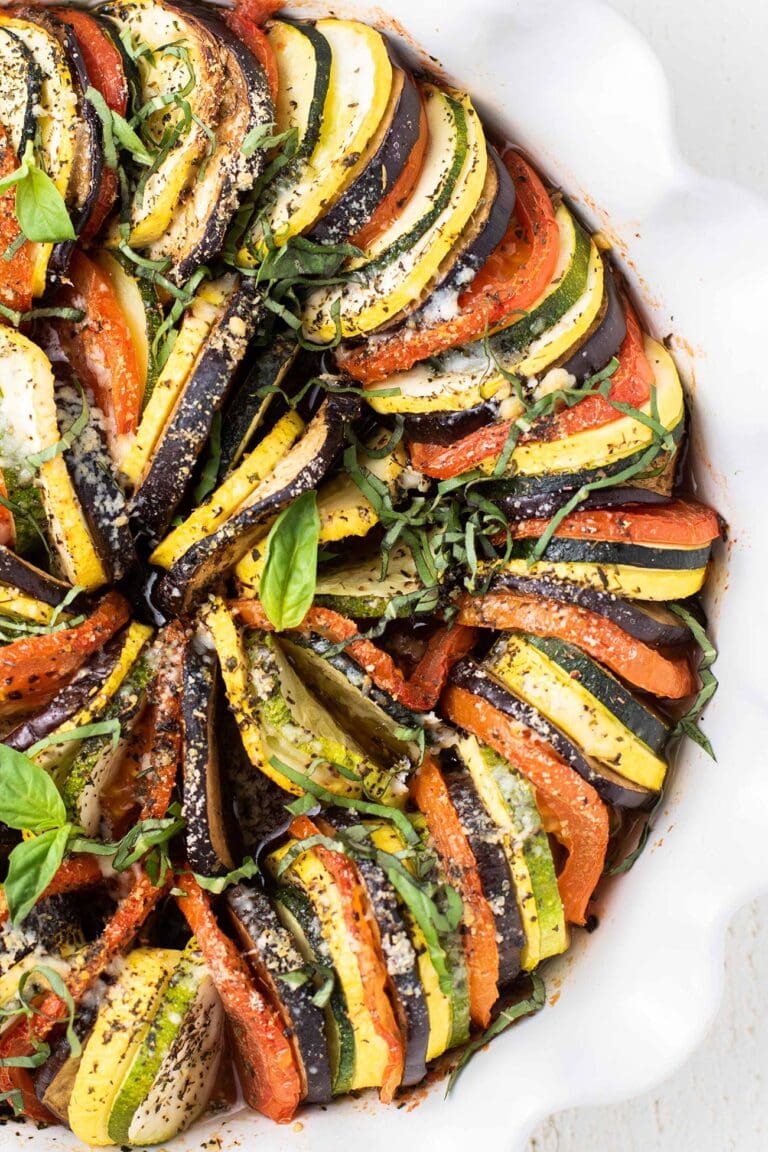 *Today I'm partnering with Sharp Home USA ~ Sharp creates quality home appliances that make life easier!
The Perfect Summer Dish
There's nothing quite like summer produce. It's a time to celebrate all the fresh flavors coming out of our gardens and the Farmer's Markets.
As a kid, my parents had a huge garden, and the biggest crop every year was zucchini. My mom had to get creative to keep up with our garden's output. I absolutely loved it when she prepared it with cheese.
This baked ratatouille dish is a dressed up version of that. Layers of summer squash, eggplant, and vine-ripe tomatoes, baked until soft and creamy, and then sprinkled with parmesan cheese and basil. It will be a huge hit with your family!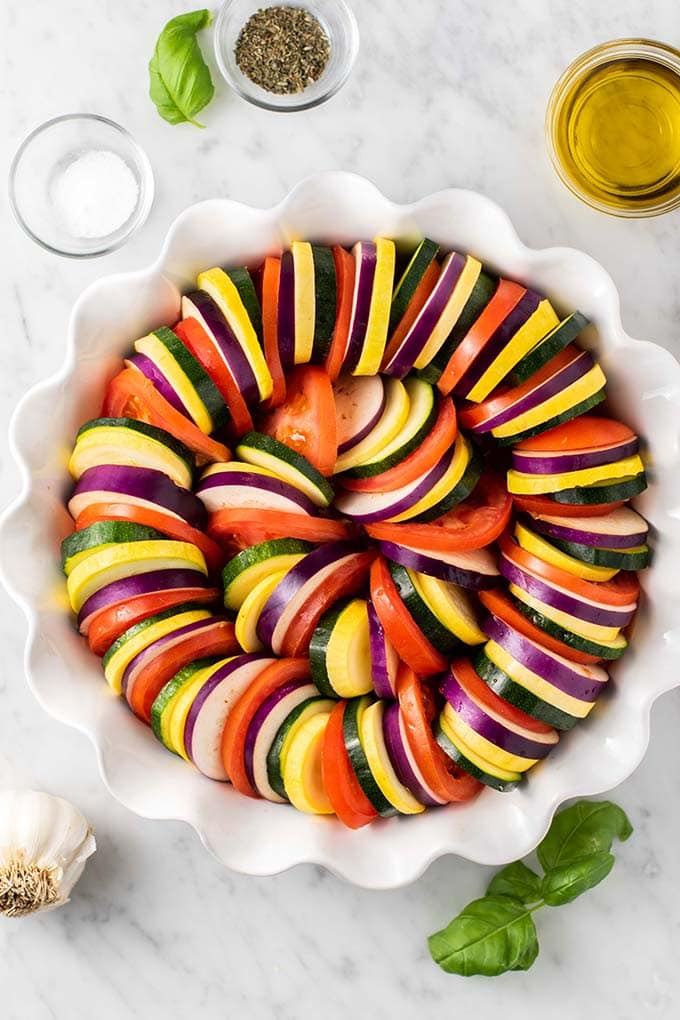 Why this Baked Ratatouille is a Must- Make
Zucchini, summer squash, tomatoes, and eggplant are the season's freshest produce, and this is a great way to combine them all.
GARLIC, BASIL, and PARMESAN CHEESE <– oh yum.
It's low carb, nutrient dense, and perfect for most diets. Plus, it's just a delicious way to add more veggies to your family's diet.
While the traditional method of making ratatouille in a skillet is delicious, it doesn't compare with this beautiful presentation!
How to Make a Baked Ratatouille
Step 1: First, find vegetables that have a similar diameter- small vine-ripe tomatoes, zucchini and summer squash. To find eggplant that will layer well in this dish, buy Chinese eggplant (it's lighter in color and the same shape as zucchini) or buy baby eggplant.
Cut the vegetables into 1/3 inch rounds.
Step 2: Into a baking dish, add a prepared marinara sauce, along with smashed garlic.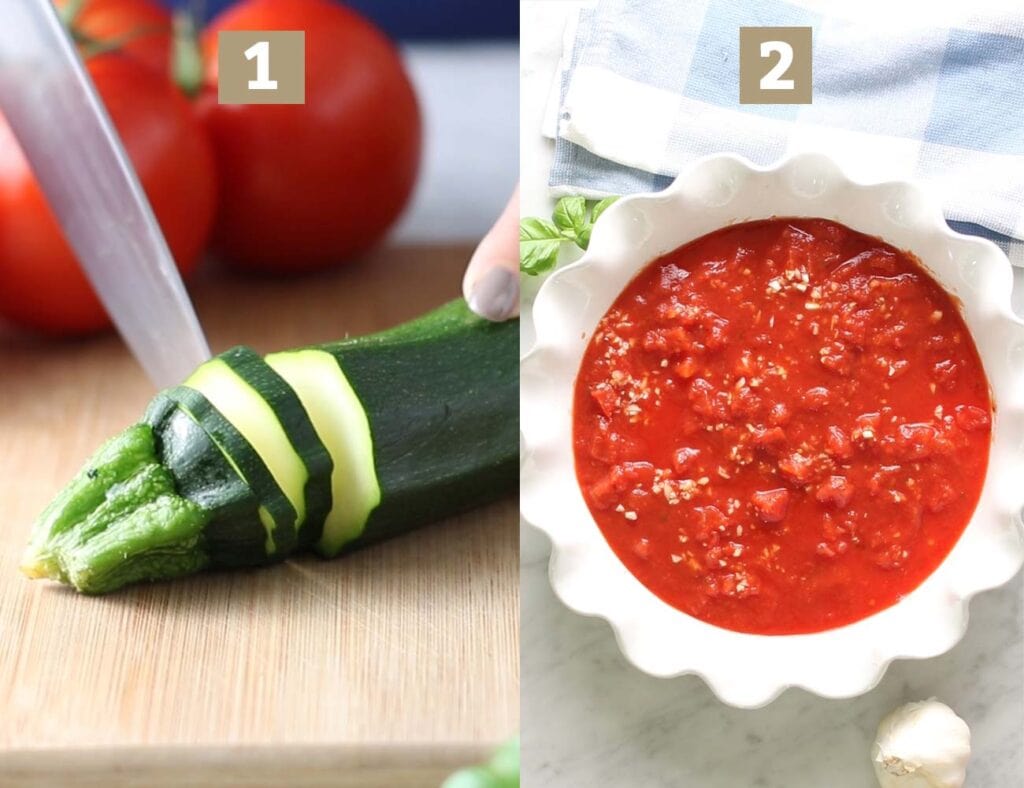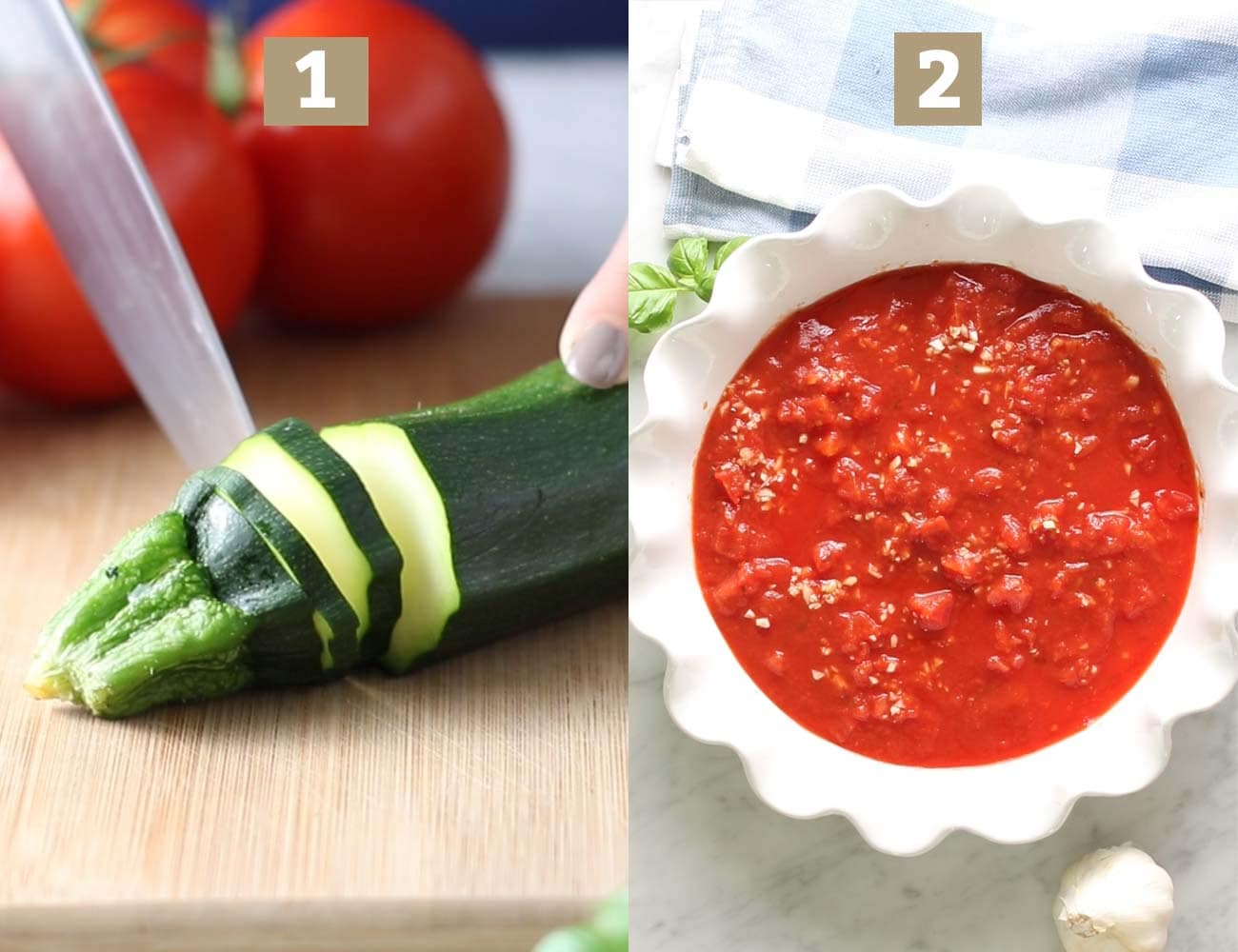 Step 3: Layer the veggies in a pattern. I like this dish to stand up high, so I start by layering them around the outside edge of the dish, and then continue to add more and more rounds of veggies until they stand vertically.
Step 4: Drizzle the vegetables with olive oil, salt, and Herbs de Provence. If you don't have Herbs de Provence, use a combination of dried basil, oregano, and thyme.


Step 5: Bake the Ratatouille until the vegetables have softened. I baked this dish in the Sharp SuperSteam+ Built-in Wall Oven.
Step 6: Pull the dish out of the oven, and sprinkle the dish with parmesan cheese. Continue baking the dish for another 10 minutes to melt the cheese into the veggies.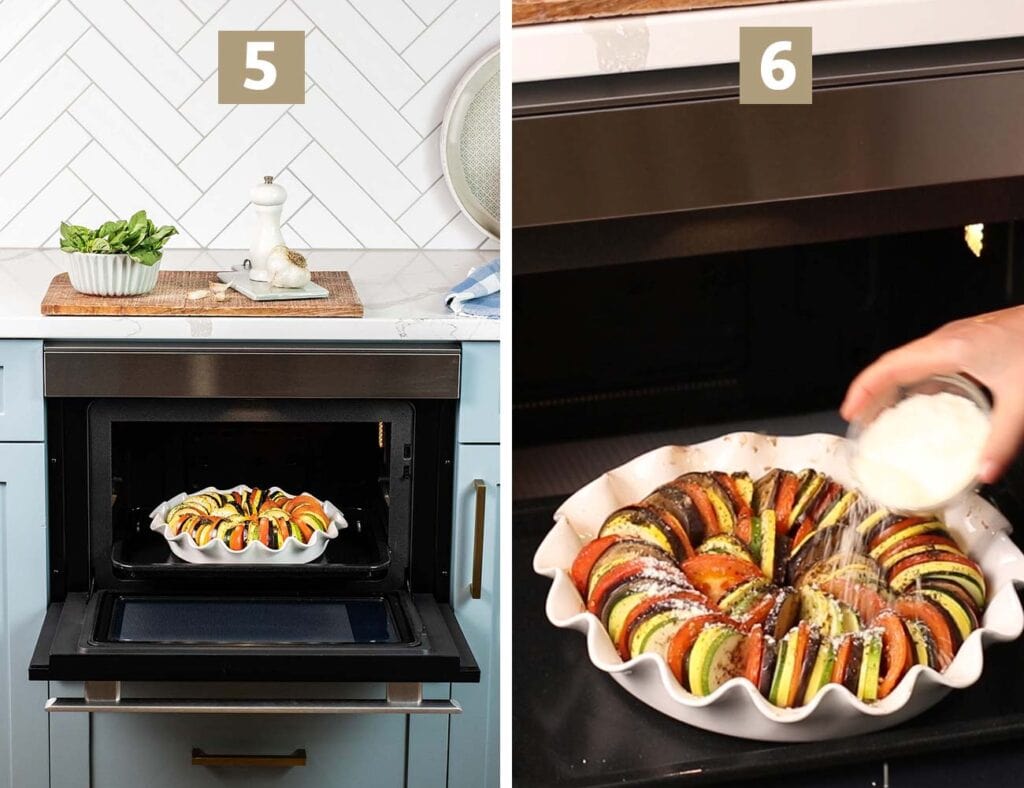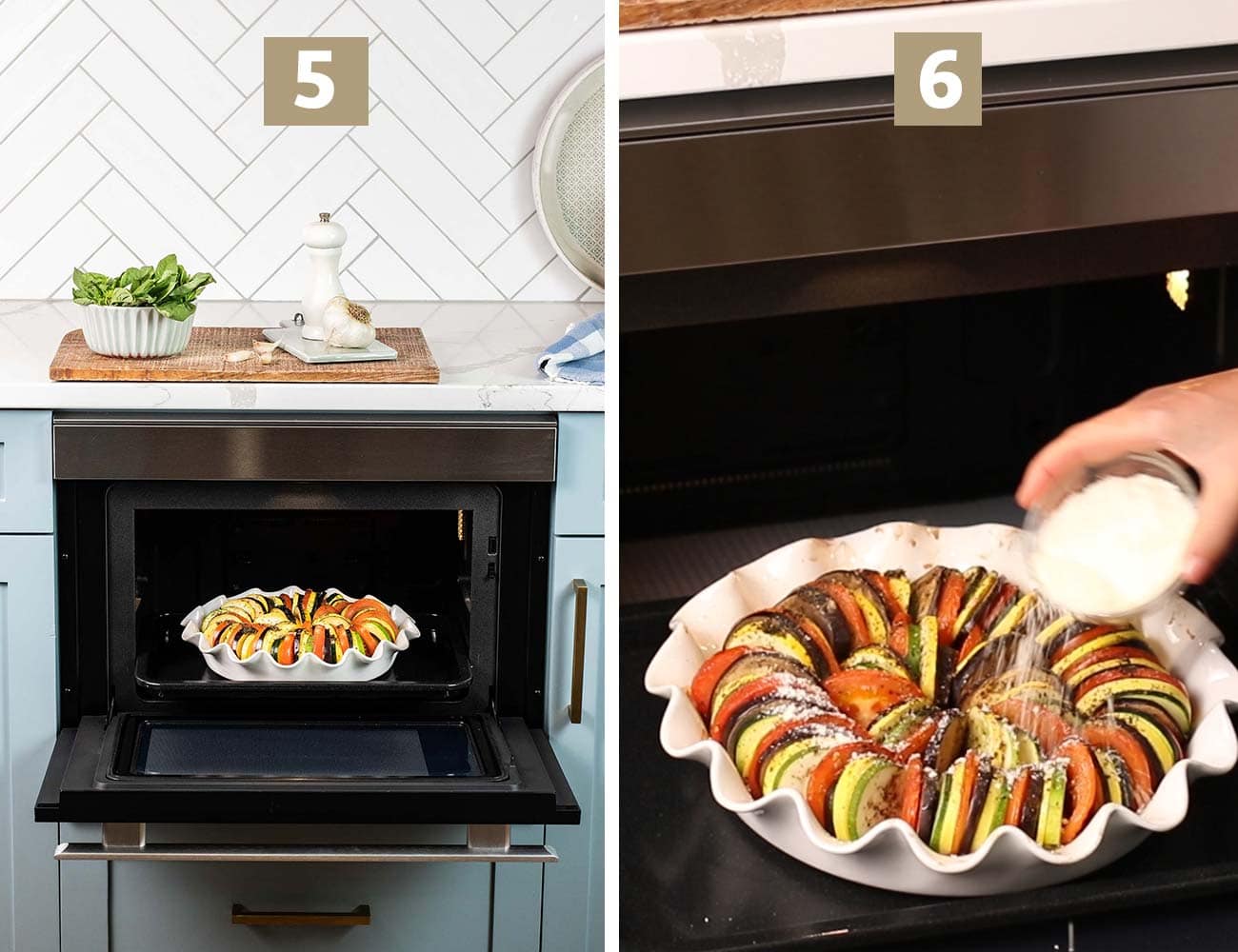 Tips for Making the Perfect Dish
I baked this dish in my Sharp SuperSteam+ Built-in Wall Oven. I can't wait to share all the things I've been baking in this incredible oven this year!
The oven has a multitude of settings for perfect baking, steaming, grilling, and even proofing doughs and baking breads. It's the smartest appliance in my kitchen.
It's perfect for keeping meats perfectly juicy, but I use it just as often for casseroles and vegetables.
The combination of steam and convection means it can be used for any dish, but with more precision than a standard oven.
Head on over to the Sharp website to find out more about this luxurious kitchen appliance!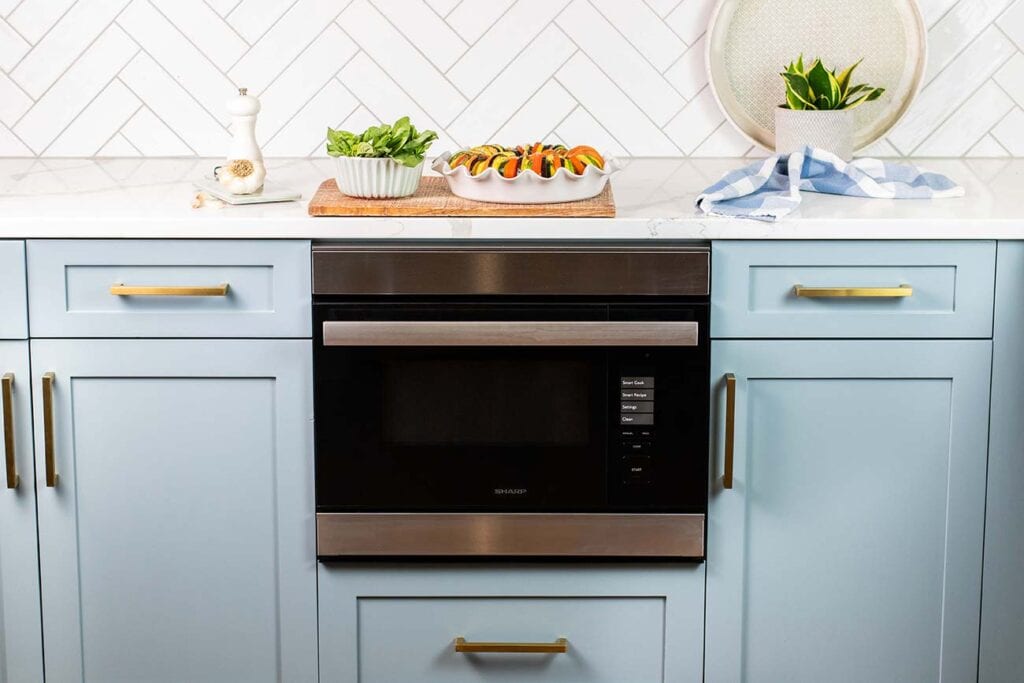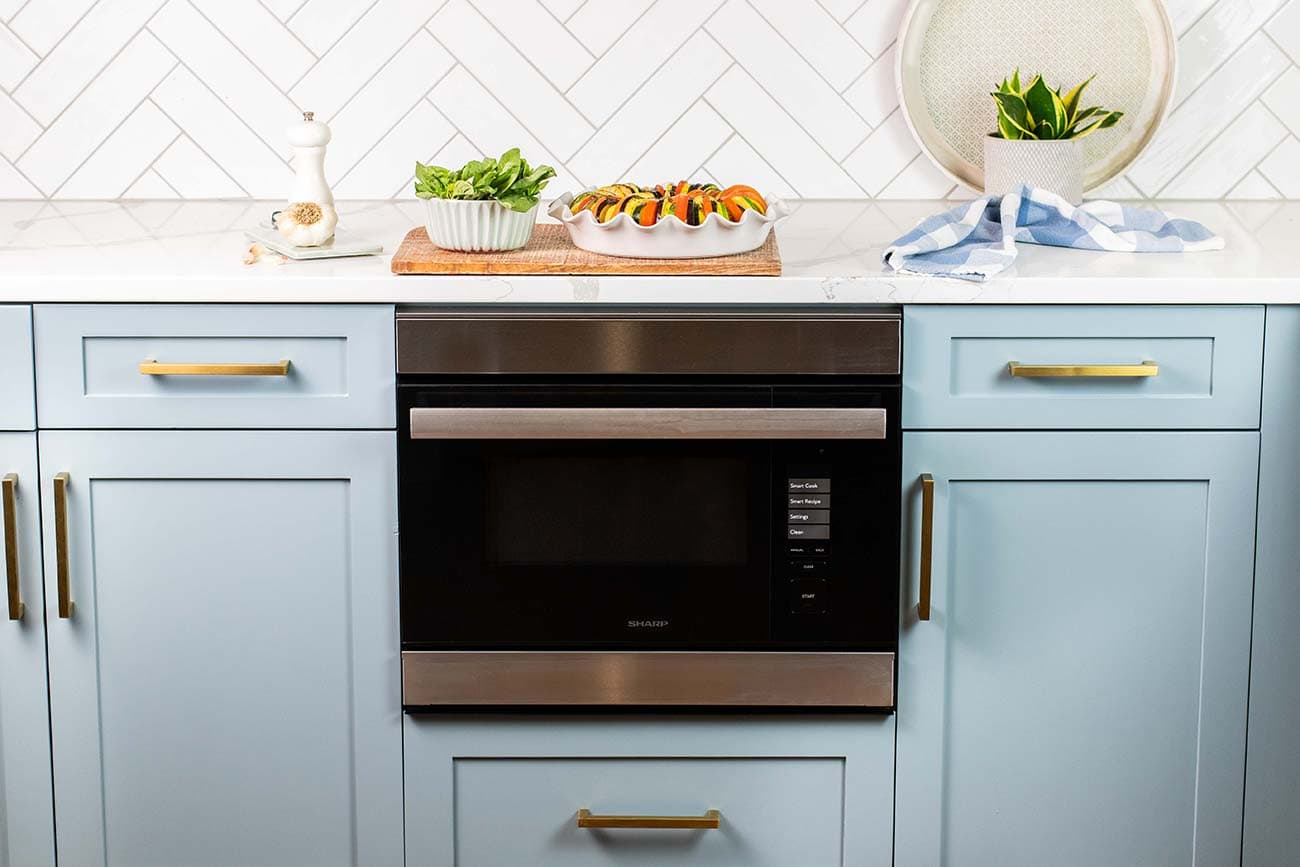 Plan ahead: While this dish is easy to make, it takes about an hour to bake to get the veggies soft and stew-like. If you're making this for guests, it's a great option for preparing ahead. Prepare the vegetables and layer them into the dish in the morning, and throw it in the oven an hour before you'd like to serve dinner.
Add other Veggies: The classic Ratatouille has eggplant, tomatoes, onions, squash, olive oil, and basil. I prefer not to add onions to the baked dish because they cook slower than the other vegetables.
If you'd like to mix this dish up, popular additions are thinly sliced bell peppers, and some modern versions include potatoes. If you add potatoes, boil them first, and then thinly slice and add them into the dish with the other vegetables.
Make this Whole30 or Vegan: Simply omit the parmesan cheese if you need this to be dairy free! You can also use a cashew parmesan cheese or add a balsamic glaze to the top to add a boost of flavor.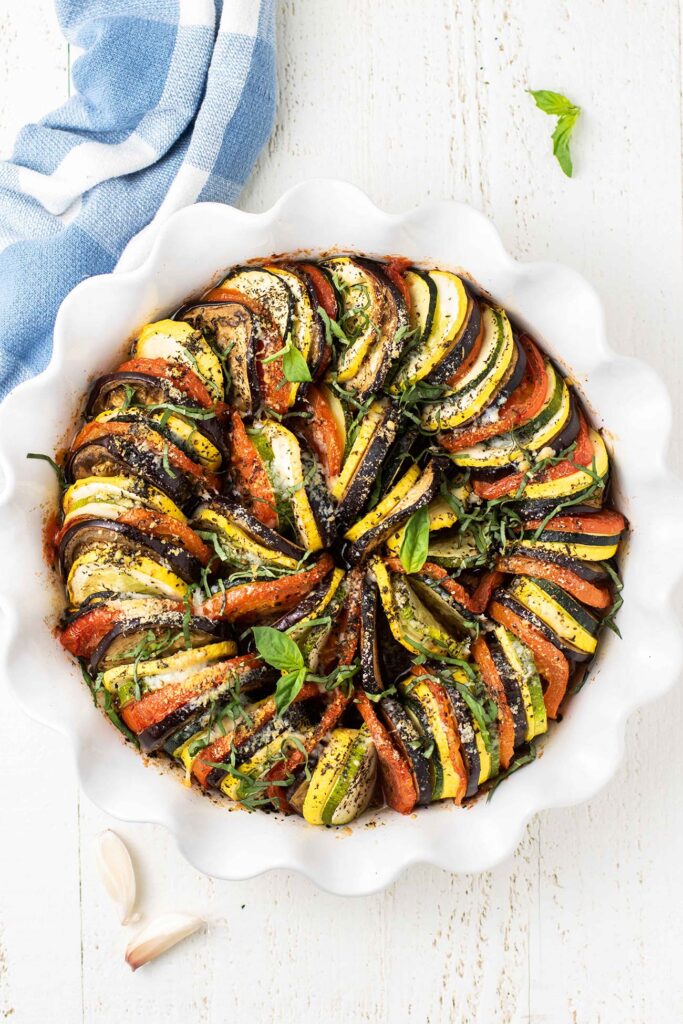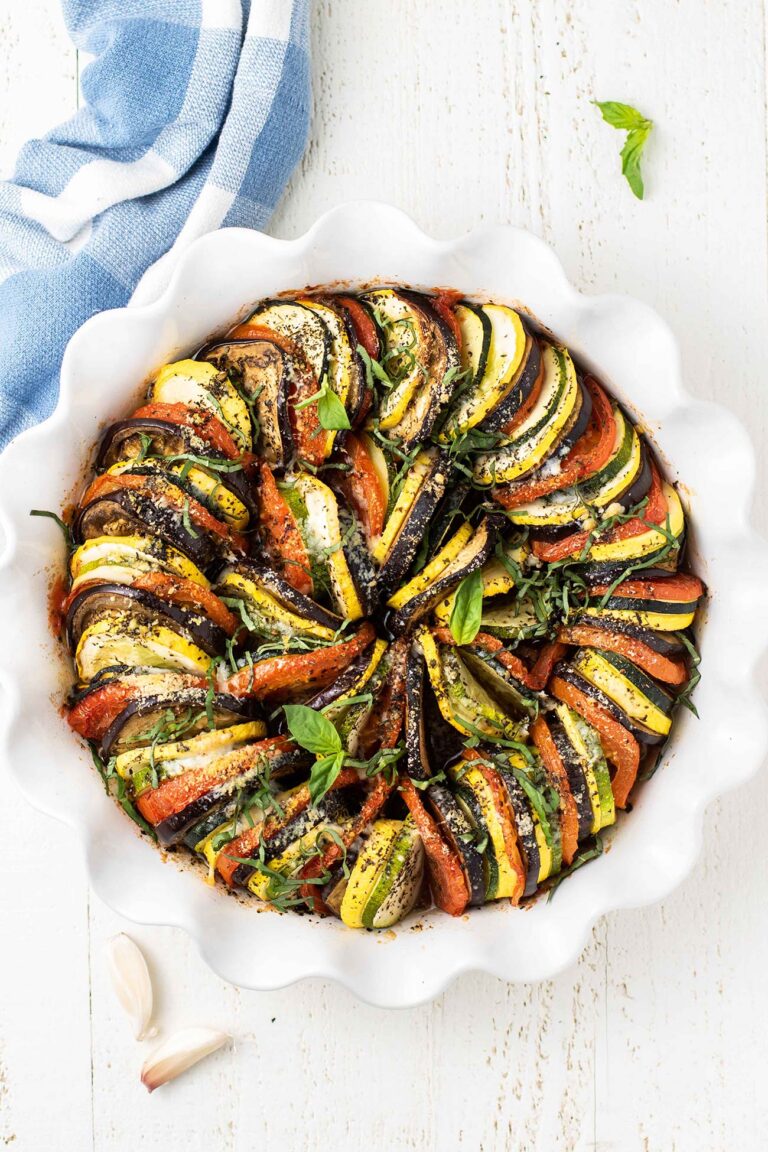 If you make this recipe, be sure to share it with me! Find me on Facebook or Instagram and be sure to tag #SunkissedKitchen @SunkissedKitch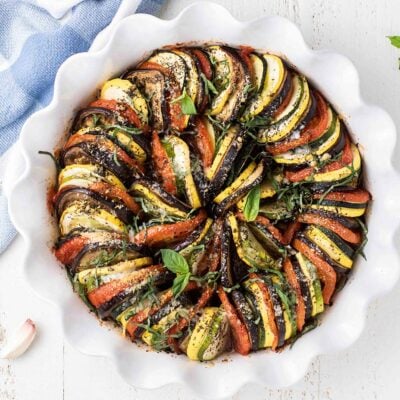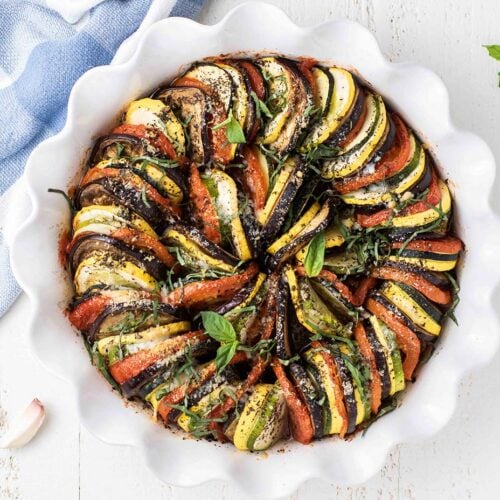 Ratatouille
Make the best of summer produce with this healthy and beautiful side dish. Layers of zucchini, summer squash, eggplant and tomatoes are baked in a rich tomato sauce and sprinkled with parmesan and herbs.
The simple preparation of this dish allows the fresh vegetables to really shine. Serve with grilled or poached meats, or even as a breakfast or brunch side dish.
Print
Pin
Rate
Ingredients
3/4

cups

crushed tomatoes with basil

2

cloves

garlic

finely minced

2

zucchini

medium sized, sliced into 1/4 inch thick rounds

2

yellow squash

medium sized, sliced into 1/4 inch thick rounds

3-4

tomatoes

sliced into 1/4 inch thick rounds

1

Chinese eggplant

sliced into 1/4 inch thick rounds

2

tablespoons

olive oil

1

teaspoon

herbs de Provence

1/2

teaspoon

sea salt

or to taste

black pepper

to taste

1/4

cup

parmesan

shredded or grated

fresh basil

to garnish, optional
Instructions
In an 11 inch pie plate, or a 9×9 square baking dish, add crushed tomatoes and garlic. Stir until the garlic is evenly distributed in the tomato sauce.

Layer the thinly sliced vegetables in a pattern around the outside of the baking dish. Repeat with another row, until the baking dish is full.

Drizzle the vegetables with olive oil, and then evenly sprinkle the vegetables with salt and herbs de Provence. Season with black pepper to taste.

Preheat the oven to 375º F on the Convection Bake mode. Once the oven is preheated, bake the dish for 40 minutes.

Remove the dish from the oven, and sprinkle the top with parmesan cheese.

Return the Ratatouille to the oven for an additional 10 minutes.

Sprinkle with fresh basil or parsley, if desired, before serving hot.
Notes
Chinese eggplant is the same shape as a zucchini (long and evenly round), making it perfect for layering with the squash and tomatoes in this dish.
Pro Tip: Buy tomatoes, zucchini, and squash that is about the same diameter as the Chinese eggplant for the nicest presentation.
If using a square baking dish, create 3 tightly packed rows of vegetables rather than circling the pan.
Make this Vegan: Omit the parmesan cheese
Dietary: Gluten Free, Low Carb, Vegetarian
Ratatouille is a French dish originating in Nice. This dish features Mediterranean produce, including zucchini, summer squash, tomatoes, eggplant, and sometimes bell peppers, along with garlic and herbs. Modern versions often have thinly sliced parboiled potatoes in addition.
Nutrition
Calories:
121
kcal
|
Carbohydrates:
14
g
|
Protein:
5
g
|
Fat:
6
g
|
Saturated Fat:
1
g
|
Cholesterol:
3
mg
|
Sodium:
312
mg
|
Potassium:
751
mg
|
Fiber:
5
g
|
Sugar:
9
g
|
Vitamin A:
889
IU
|
Vitamin C:
36
mg
|
Calcium:
98
mg
|
Iron:
1
mg