This post may contain affiliate links. Please see my full
Disclosure Policy
for details.
My first official day of summer vacation. My last summer without a small child following me around. At least for a long, long time.
Bring married to someone from a different culture comes with it's share of misunderstandings. Alex always has a difficult time explaining to people where he's from. He was born in London, lived there only as a small child, and was raised in Zimbabwe. His family has now all immigrated to Australia, not wanting to return to the dreary weather of England, but needing to move out of Africa because of the declining political stability.
When we met, it honestly didn't feel like we were from different cultures. He has lived in America, and has actually traveled through more of it than I have. I had lived abroad before, and had many friends from England, Australia, South Africa.
But little things come up once in a while. One of those things is a misunderstanding of what certain things are. This shortcake was one of those things.
A couple weekends ago, I gave him a list of recipes I wanted to make over the summer. I told him he could pick 2-3 that I would start developing recipes for that weekend. Strawberry shortcake was on his "shortlist."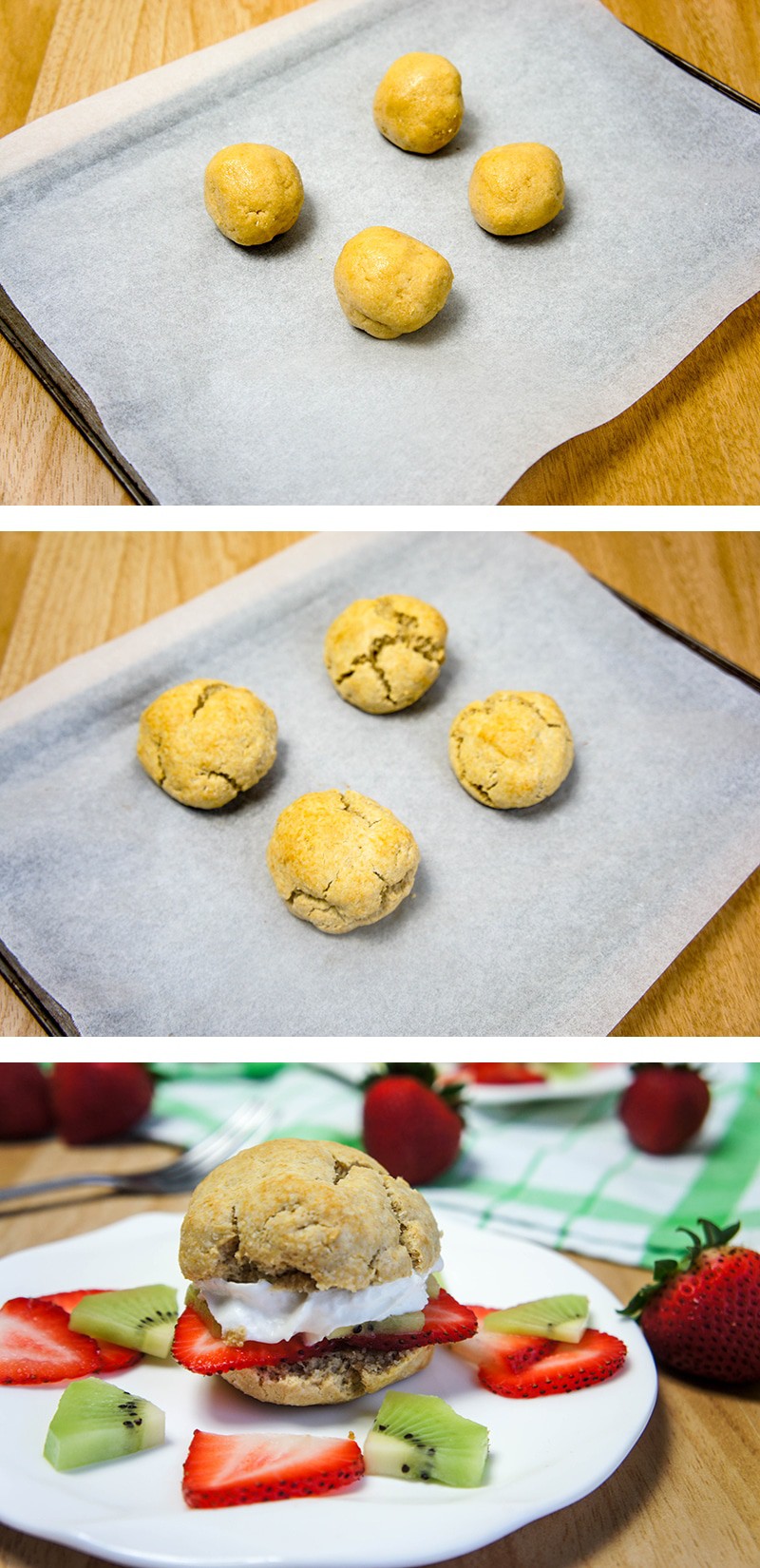 I tried to make shortcakes first out of almond and coconut flours. A yummy cakey lump came out, but it was not shortcake, he assured me. I agreed.
A few trials later, I had switched to oat flour to give them more of a biscuity texture. And this final recipe, that I am sharing with you today, came out perfectly. A flakey, dense, slightly sweet biscuit, the perfect item to layer sweet whipped cream and juicy strawberries on.
"This is not shortcake," he pressed. This resulted in both of us whipping out our smartphones and putting "shortcake" into Google images. He scrolled through all of them– nope, he was convinced Google Images had it all wrong. He found an image of a shortbread cookie, and declared that was what it was.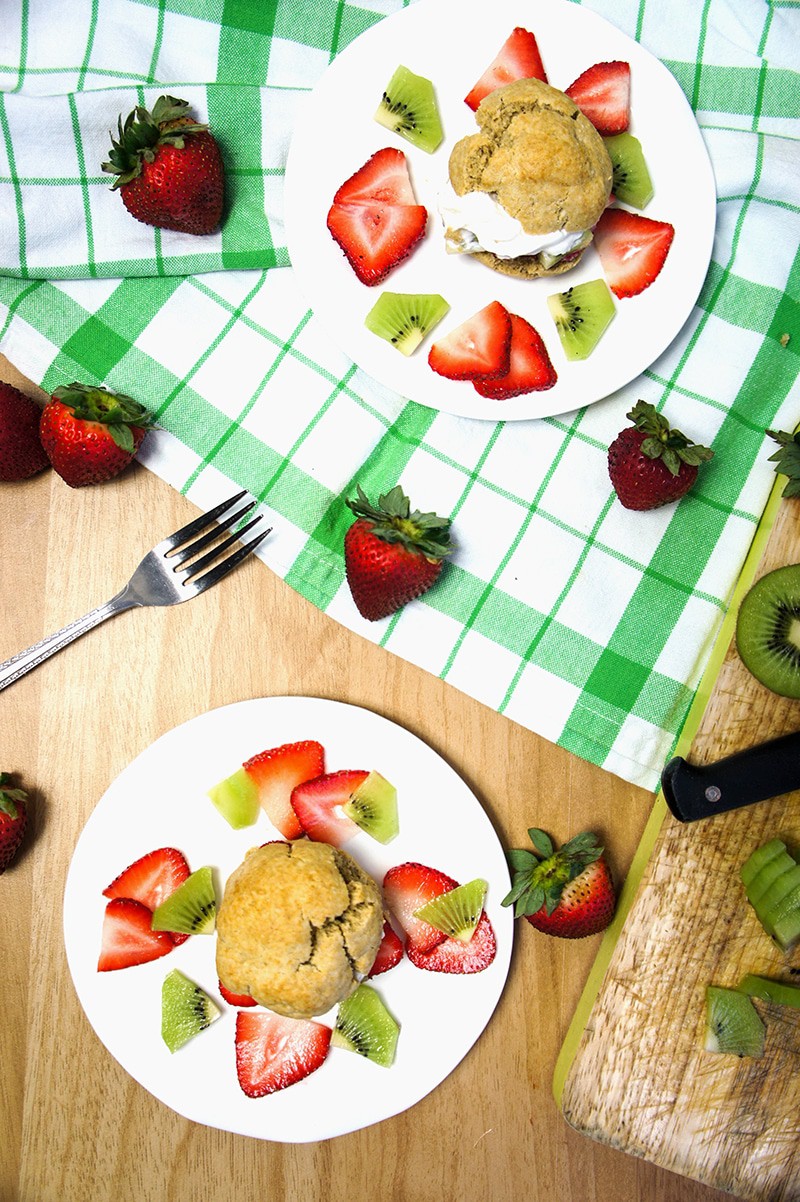 "Sweetie, I am pretty sure strawberry shortcake is an American thing. Are you thinking of a British dessert?" Wanting to show him I was right, I went to Wikipedia and read about the history of Strawberry Shortcake— which revealed a few things:
Shortcakes were actually developed in England, before Columbus sailed the ocean blue.
Shortcakes are sometimes referred to as shortbread in England.
Strawberry shortcake became popular in America, and was often served to celebrate the summer fruit harvest.
June 14th is Strawberry Shortcake Day in America. <– and this would have been posted on the 14th had the tracking pad on my Mac not been acting up.
So, as it turns out, Alex still knows a lot more about the world than I do, even when it comes to baked goods.
Strawberry Kiwi Shortcakes, Gluten-Free
A gluten free, slightly sweet and crumbly shortcake, perfect for topping with sweet strawberries and whipped cream.
Print
Rate
Ingredients
Topping
2

cups

strawberries

sliced

2

kiwis

sliced

whipped cream

or coconut whipped cream
Instructions
In a mixing bowl, add all the dry shortcake ingredients, and stir together well.

In a small bowl, add the egg, coconut oil, honey and vanilla. Beat together quickly, not letting the coconut oil solidify.

Add the wet ingredients to the dry, and stir until all the dry ingredients have been mixed in.

Place the dough in the fridge for 10-20 minutes to allow the dough to stiffen.

Preheat the oven to 350 degrees f.

Once the dough is chilled, it will be easier to work with. Separate the dough into 4 pieces, and roll each piece into a ball.

Bake the shortcakes for 15-18 minutes, until golden brown.

Allow to cool, then split, and fill with sliced strawberries, kiwi, or whatever fruit you desire. I think this would be great with cherries or peaches, too!

Top with whipped cream or coconut whipped cream, and serve immediately.
Nutrition
Calories:
283
kcal
|
Carbohydrates:
29
g
|
Protein:
8
g
|
Fat:
17
g
|
Saturated Fat:
7
g
|
Cholesterol:
41
mg
|
Sodium:
162
mg
|
Potassium:
323
mg
|
Fiber:
5
g
|
Sugar:
10
g
|
Vitamin A:
99
IU
|
Vitamin C:
85
mg
|
Calcium:
71
mg
|
Iron:
2
mg