This post may contain affiliate links. Please see my full
Disclosure Policy
for details.
Make your holidays a little bit merrier with this Trio of Healthy Holiday Drinks. These delicious drinks are all dairy free — made with homemade nut milks, and all naturally sweetened with dates instead of processed sugars.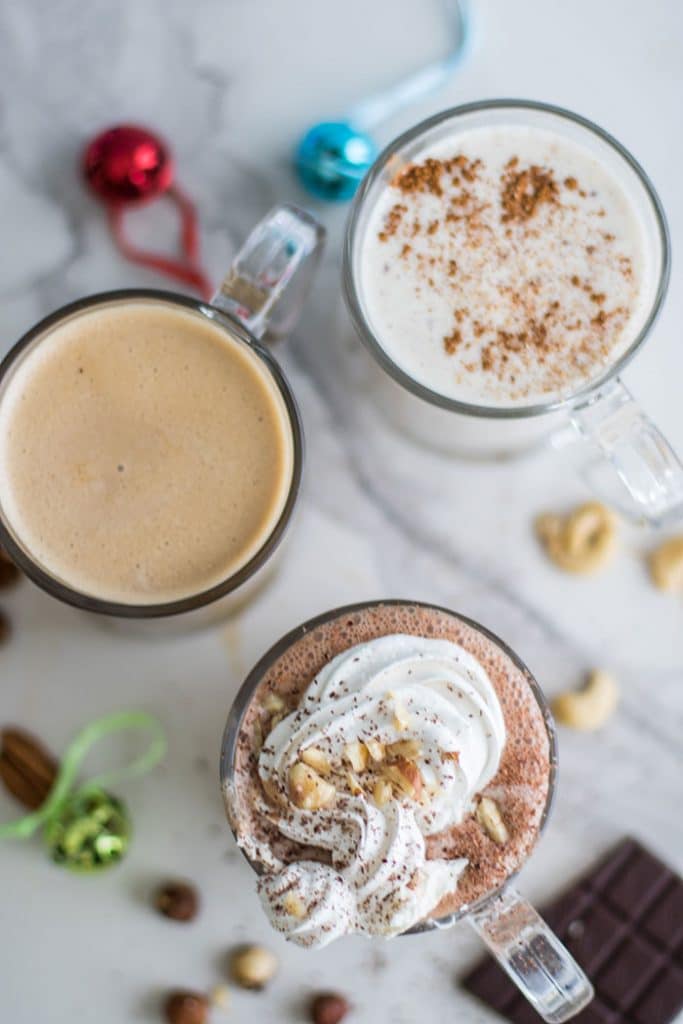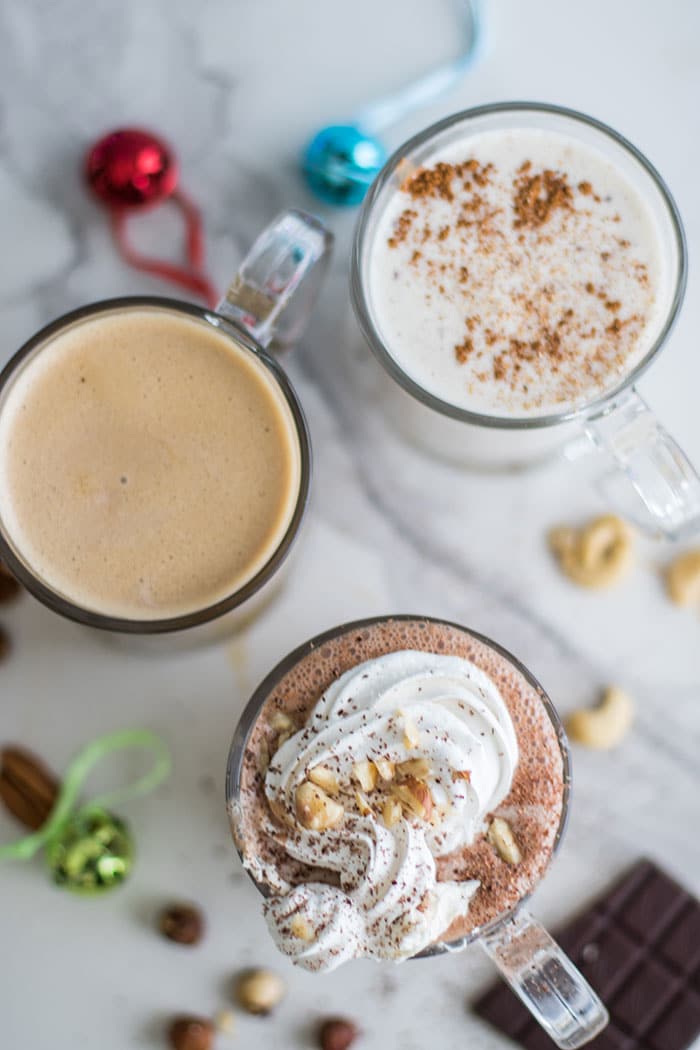 This post is part of a social shopper marketing insight campaign with Pollinate Media Group® and NutraMilk, but all my opinions are my own. #pmedia #TheNutraMilk http://my-disclosur.es/OBsstV
I love using nut milks to create healthier versions of holiday classics. Homemade nut milks just make them even better! If you've ever made a homemade almond milk, you know the difference between it and a store bought version–> It actually tastes like almonds (which is a very, very good thing, if you ask me!).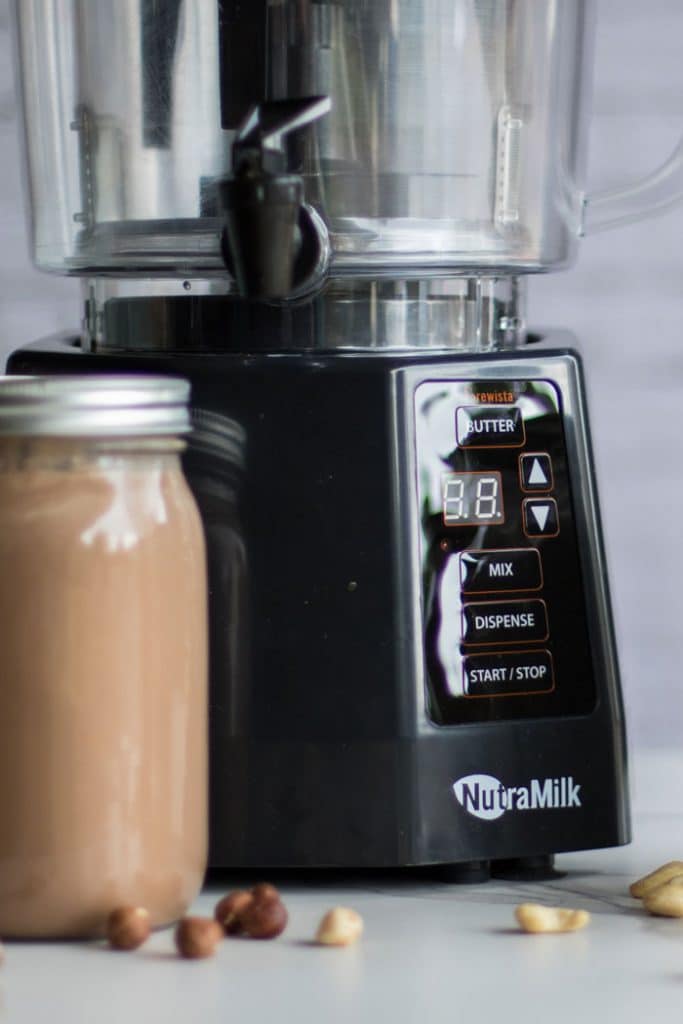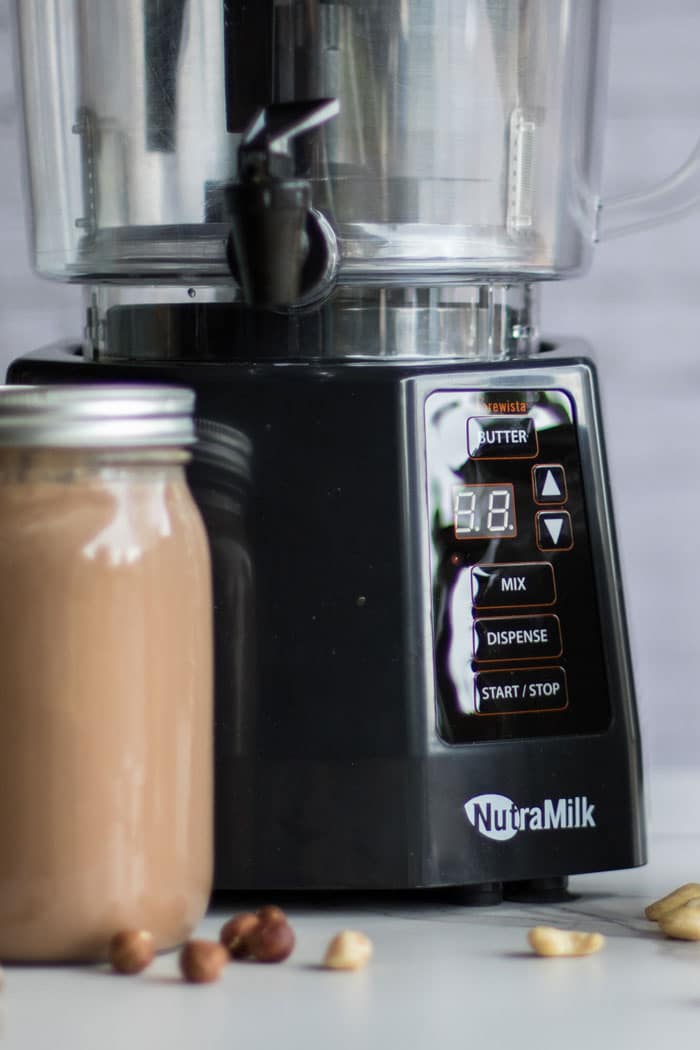 Plus, if you've ever used a store bought nut milk in your coffee, you're probably not a fan of the combo. They are mostly water, so the result is.. watery!
This year, I used The NutraMilk to make these beverages a breeze to whip up. It is certainly a one of a kind appliance. It's purpose built for creating homemade nut milks and nut butters, but I've also learned it works for tons of other things as well — from smoothies and juices, to creamy dips. I am sure it will work perfect for whipping up a big batch of my Thai Almond Dipping Sauce — which I love to make for parties!
The first drink that I made in The NutraMilk was an old recipe from my blog, but made much easier with this machine — Hazelnut Hot Cocoa. I love sweetening drinks with dates because it adds a light sweetness without being overly sweet, and there's no need to use any processed sugars. I was able to throw the dates into the machine with the nuts, no problem.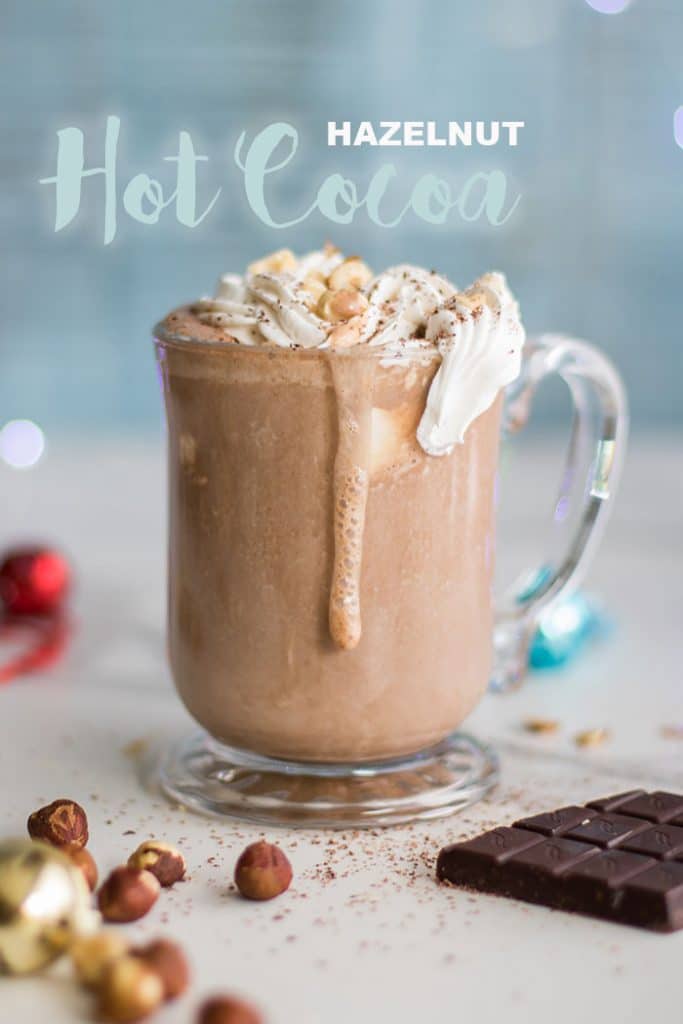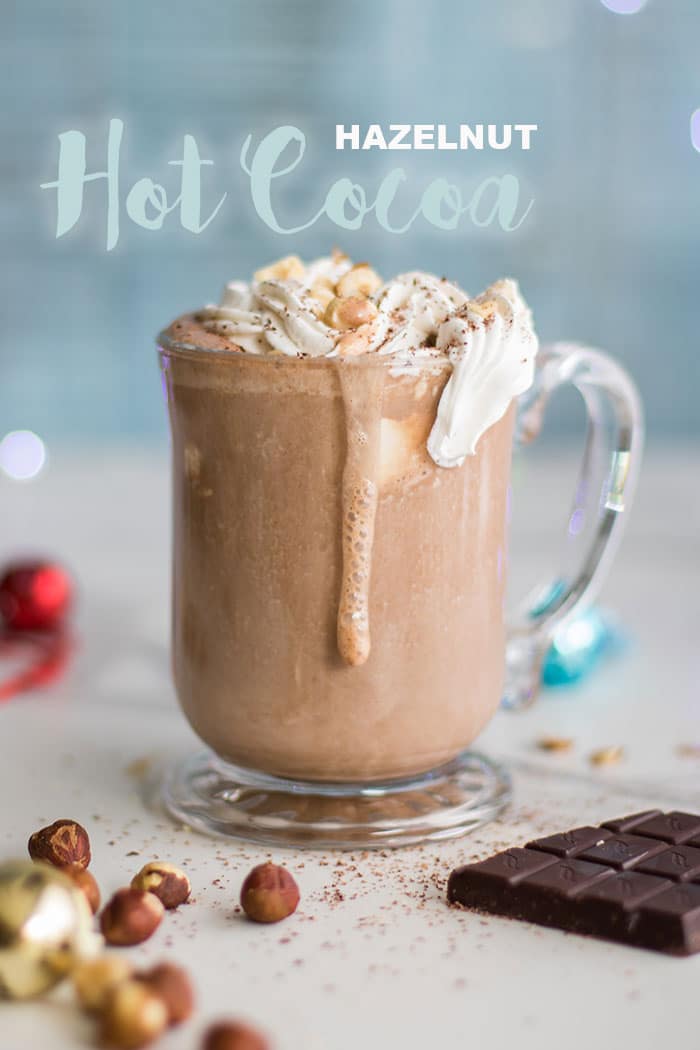 The next thing I wanted to try out was a Vegan Eggnog. I am not a huge fan of eggnog, and my lactose-intollerant tummy is definitely not — but I do love the idea of it.
This version is made with cashews and coconut milk, and again, lightly sweetened with dates, then spiced with cinnamon and freshly ground nutmeg. It was a winner — my family loves this drink. We skipped the alcohol, but some spiced rum or brandy would be delicious – and we will certainly be trying that for holiday parties this year.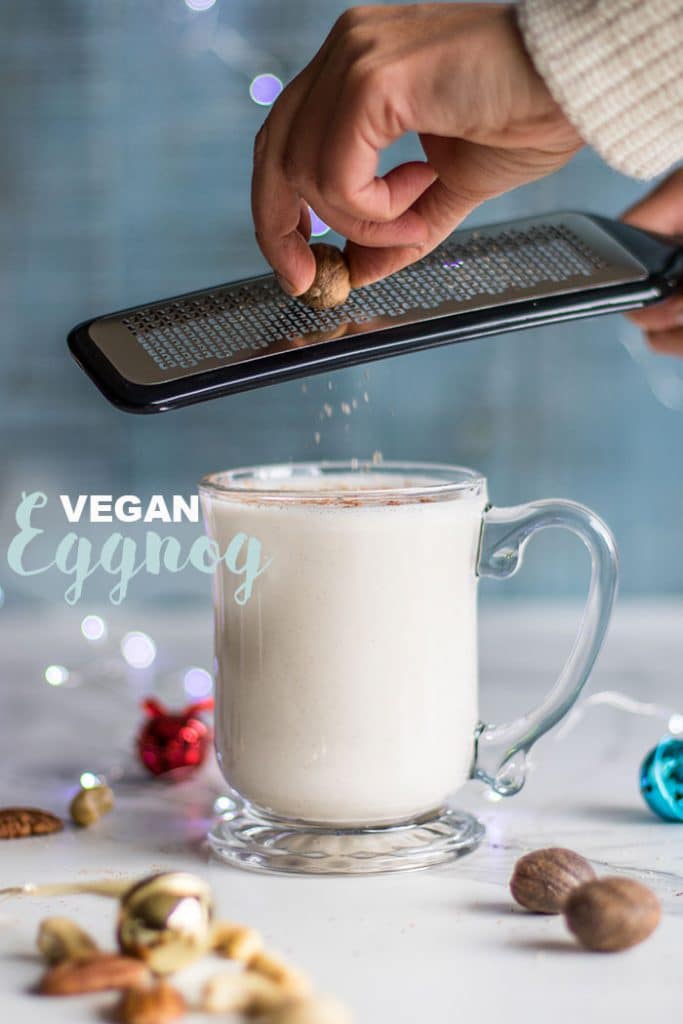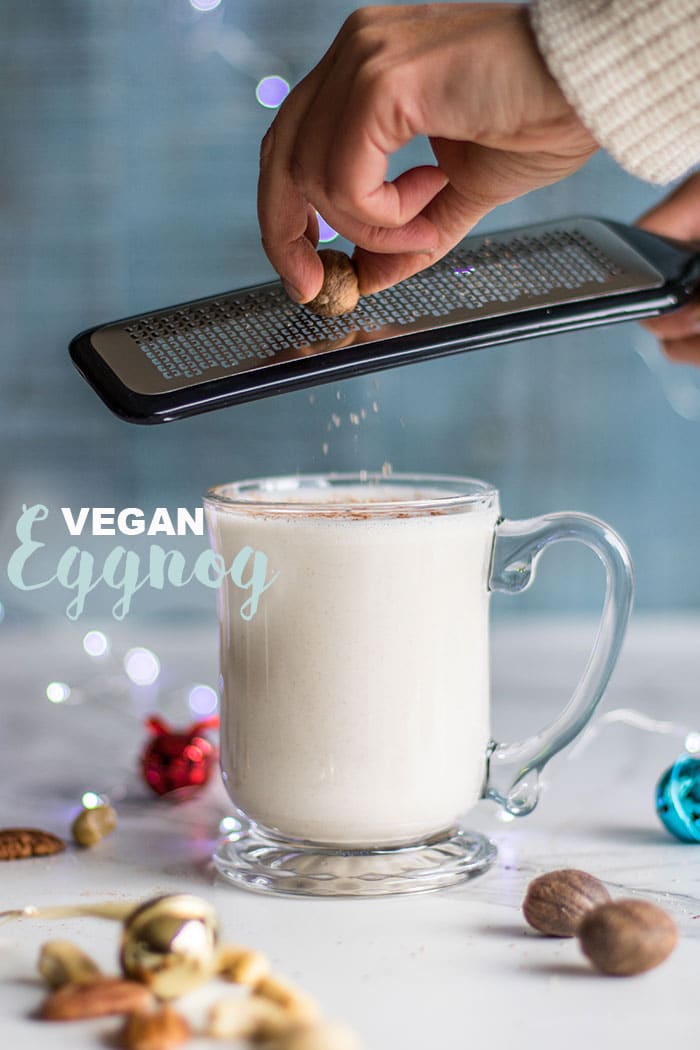 Of course, I had to make a coffee drink (because of my total and complete addiction to coffee!). Last year, I posted a recipe for a Vanilla Almond Latte – something we drank on so many snowy afternoons last winter. I wanted to try a different nut this time, so I decided on a Pecan Toffee Latte. This is a combination of almonds and pecans, with dates and a big pinch of sea salt for a toffee-twist.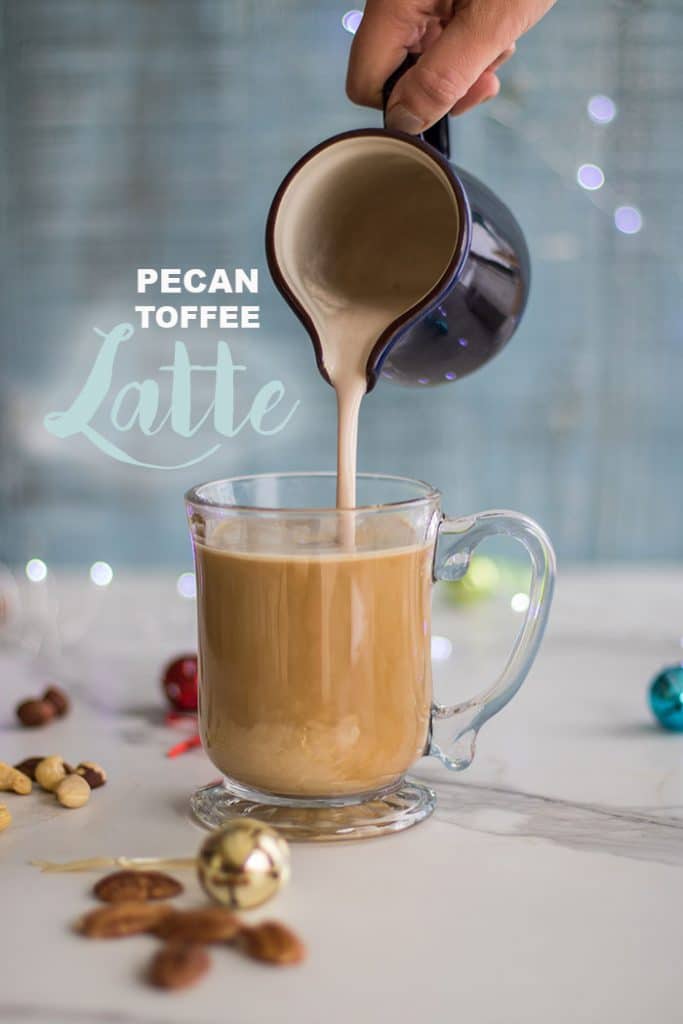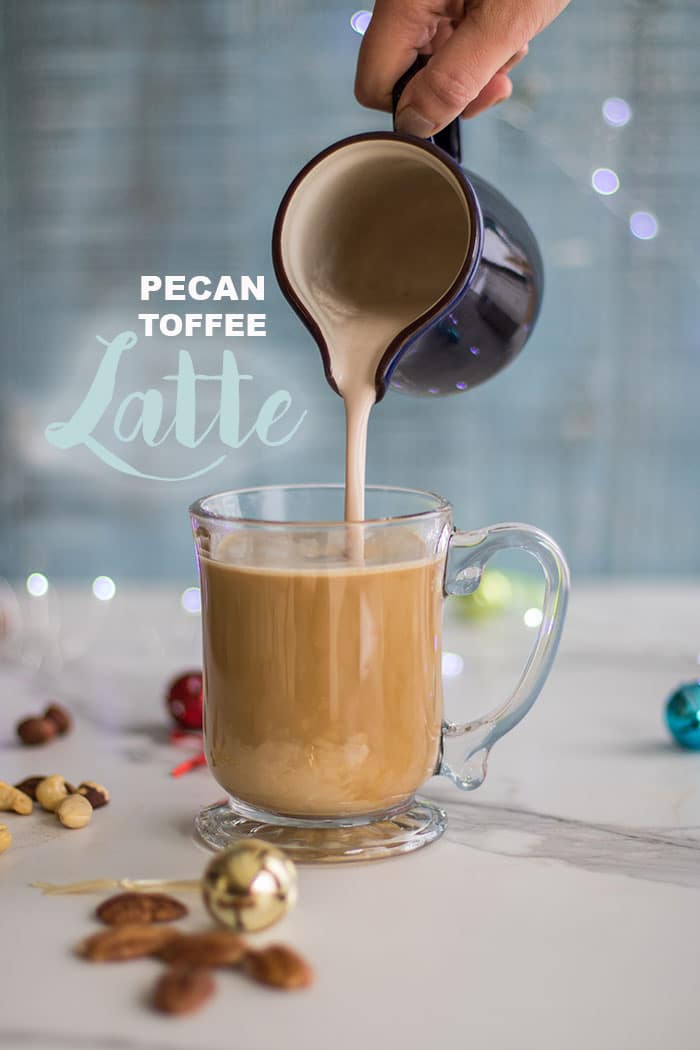 What I love about The NutraMilk is it's so easy to make large batches of nut milks. If your family drinks nut milks often, The NutraMilk makes them very economical, and once you've added your ingredients, you just push a button to grind the nuts, add some water, and then the machine easily dispenses the milk – no straining or nut milk bag required.
I also love that there is almost no pulp left in the machine after making nut milks. I've always felt almond milk is a bit wasteful because you end up throwing away half the nut — this machine actually incorporates almost the whole nut into the milk, making it richer and more nutritious. It also makes cleaning the machine that much easier — after the milk is dispensed, the machine just needs to be rinsed and washed, no messing with pulling out the pulp to throw away.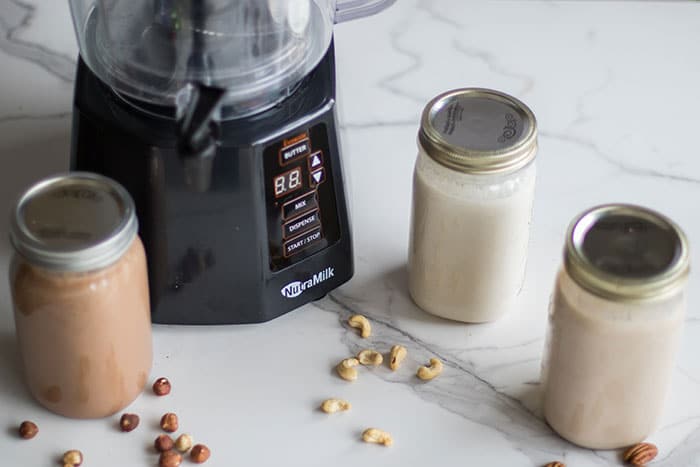 Which holiday drink will you try first this year?
If you're curious about this amazing little machine, definitely check out The NutraMilk website. They are offering a discount to my readers! You can Pre-order now through 12/8 and use NUTRAMILK50 for $50 off MSRP and receive a free bonus storage container! Units will ship at the end of November (while supplies last).
Watch this machine in action!
Tips for Making Healthy Holiday Drinks
Nut milks (and these drinks) can be made a day or two ahead. It's best to consume homemade nut milks in 3 days. After that, they will start to sour. If you're having a holiday party, make these and store them in jars until you're ready to serve them, and then gently heat over medium while whisking when ready to serve.
Make it Paleo/Whole30: Using dates to sweeten nut milk drinks is perfect for Paleo recipes, but not allowed on the Whole30. However, homemade nut milks and using nut milk and coconut milk is recommended on the Whole30 – so just leave out the dates and make nut milk or cream!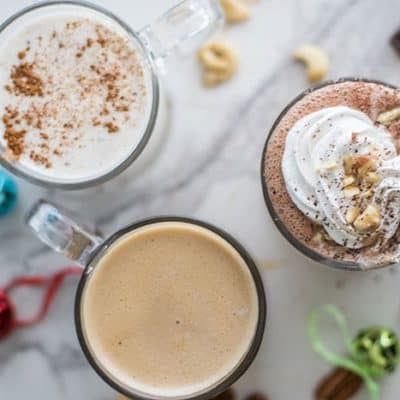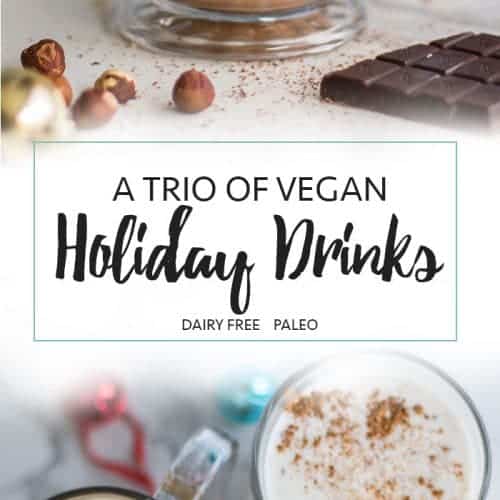 Healthy Holiday Drinks
Make delicious dairy free holiday drinks from scratch- Hazelnut Hot Cocoa, Vegan Eggnog, or Pecan Toffee Coffee Creamer! These recipes are developed for The NutraMilk.
Print
Rate
Ingredients
Hazelnut Hot Cocoa
1 1/2

cups

hazelnuts

1/4

cup

natural cocoa powder

4

medjool dates

pinch

sea salt

3 1/2

cups

water

1

teaspoon

vanilla
Vegan Eggnog
1

cup

cashews

raw

3

medjool dates

1/2

teaspoon

cinnamon

fresh grated nutmeg

to taste

2 1/2

cups

water

1/2

cup

coconut milk

full fat, canned

1

teaspoon

vanilla

rum or brandy

optional
Pecan Toffee Latte
1

cup

almonds

1

cup

pecans

3

medjool dates

1/2

teaspoon

sea salt

3

cups

water

1

teaspoon

vanilla
Instructions
Hazelnut Hot Cocoa
Add the hazelnuts, dates, cocoa powder, and sea salt into The NutraMilk. Press "butter," and set to 7 minutes.

Once the hazelnuts have formed a paste, add the water and vanilla. Set to "mix" for 3 minutes.
Vegan Eggnog
Add the cashews, dates, cinnamon, and nutmeg into The NutraMilk. Press "butter," and set to 4 minutes.

Once the cashews have formed a paste, add the coconut milk, water and vanilla. Set to "mix" for 3 minutes.

Dispense. Heat to serve. Optionally, add rum or brandy.
Pecan Toffee Latte
Add the pecans, almonds, sea salt and dates into The NutraMilk. Press "butter," and set to 4 minutes.

Once the nuts have formed a paste, add the water and vanilla. Set to "mix" for 3 minutes.

Dispense. Heat and whisk to froth, and combine with 2 shots of espresso or 1/2 cup very strong coffee with 1/2-3/4 cup of nut milk creamer.

I'd love to connect with you on social media! Find me on Facebook or Instagram where I post daily healthy eating and lifestyle inspiration.


This post is part of a social shopper marketing insight campaign with Pollinate Media Group® and NutraMilk, but all my opinions are my own. #pmedia #TheNutraMilk http://my-disclosur.es/OBsstV