This post may contain affiliate links. Please see my full
Disclosure Policy
for details.
A clean eating coffee house remake – this healthy Almond Milk Latte is made with homemade vanilla almond milk creamer, and is naturally sweetened with dates! This paleo and vegan almond milk coffee can be enjoyed hot or over ice. The almonds need to soak overnight, so plan ahead!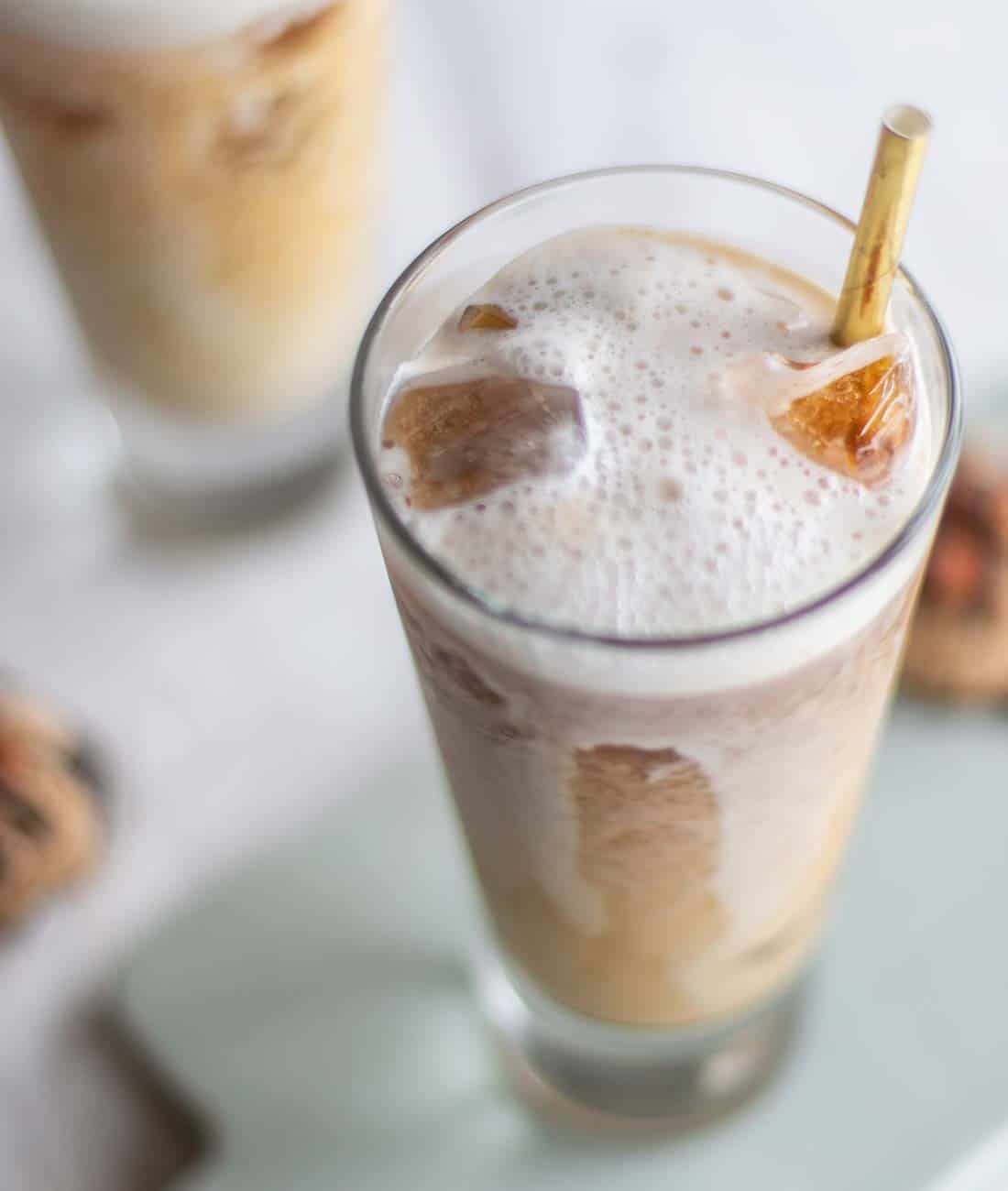 Homemade Vanilla Almond Milk Creamer
I was so excited when I found out Starbucks was going to start carrying almond milk — and then sorely disappointed to try it only to find it was way too sweet, and not very creamy.
A store bought carton of almond milk doesn't make a good latte. Almond milk is mostly water, so mixed with coffee, the almond flavor is totally overpowered by strong coffee.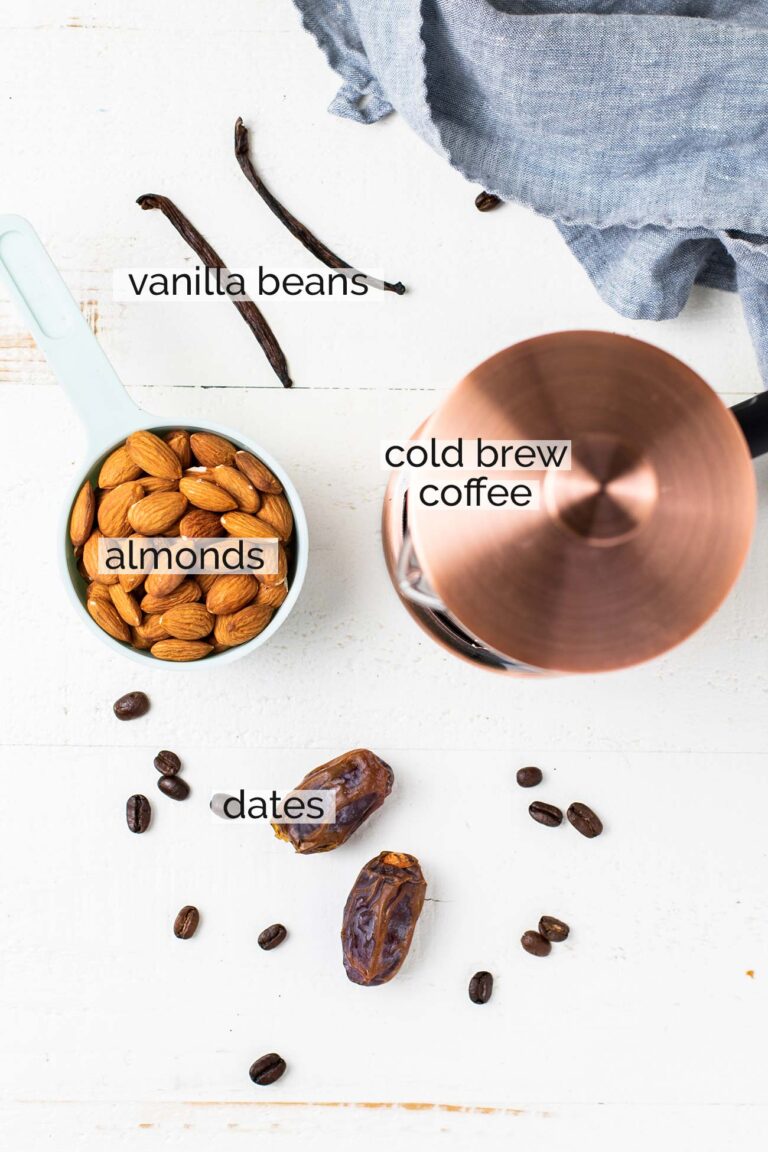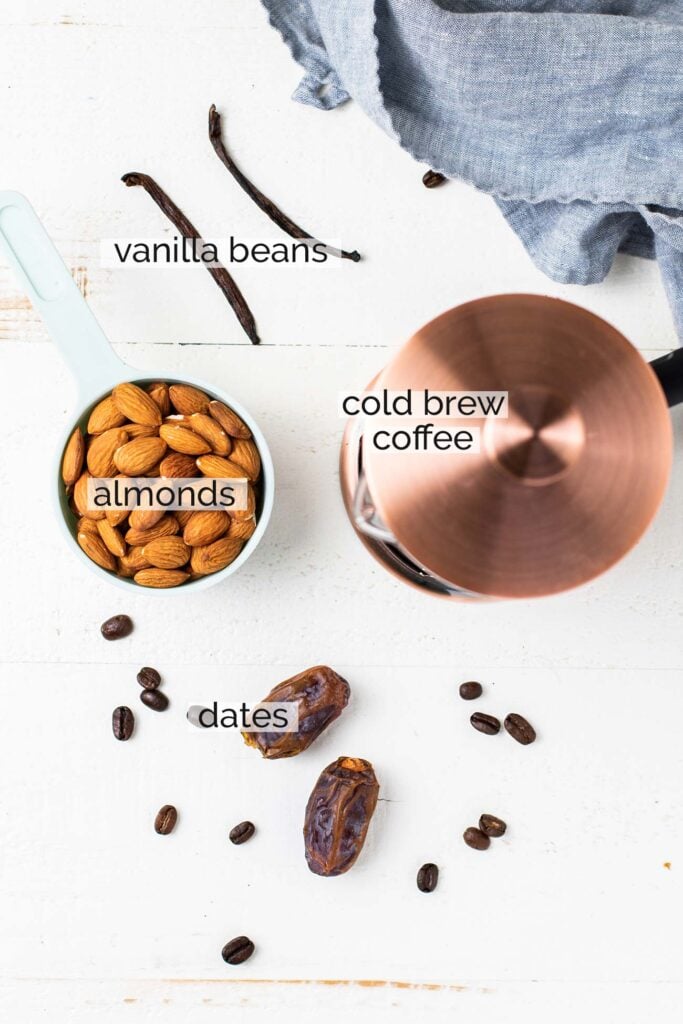 A good almond latte needs to be made with a thick homemade vanilla almond milk creamer.
You'll LOVE this Healthy Almond Milk Coffee Because:
Homemade almond milk is richer and creamier than store bought, meaning this coffee is satisfying and full of almond flavor!
It takes minutes to make – just add soaked almonds, water, a date, and a vanilla bean to a blender, process it, and then strain it through a nut milk bag. Keep the creamer on hand and enjoy these for days!
Using homemade cold brew coffee or French press coffee is a great way to save money (and time in lines!) on your favorite coffee drinks all year round.
It can be served over ice, or heated up and served hot.
How to Make an Almond Milk Latte
Step 1: Place almonds in a jar or bowl, and cover with water. Allow almonds to soak overnight (cool room temperature or refrigerated is fine).
Step 2: Drain the soaked almonds, and then put them in a blender along with fresh water, a date (1 or more, depending on desired sweetness), and vanilla bean. Process the almonds until they are broken down, which takes 2-3 minutes.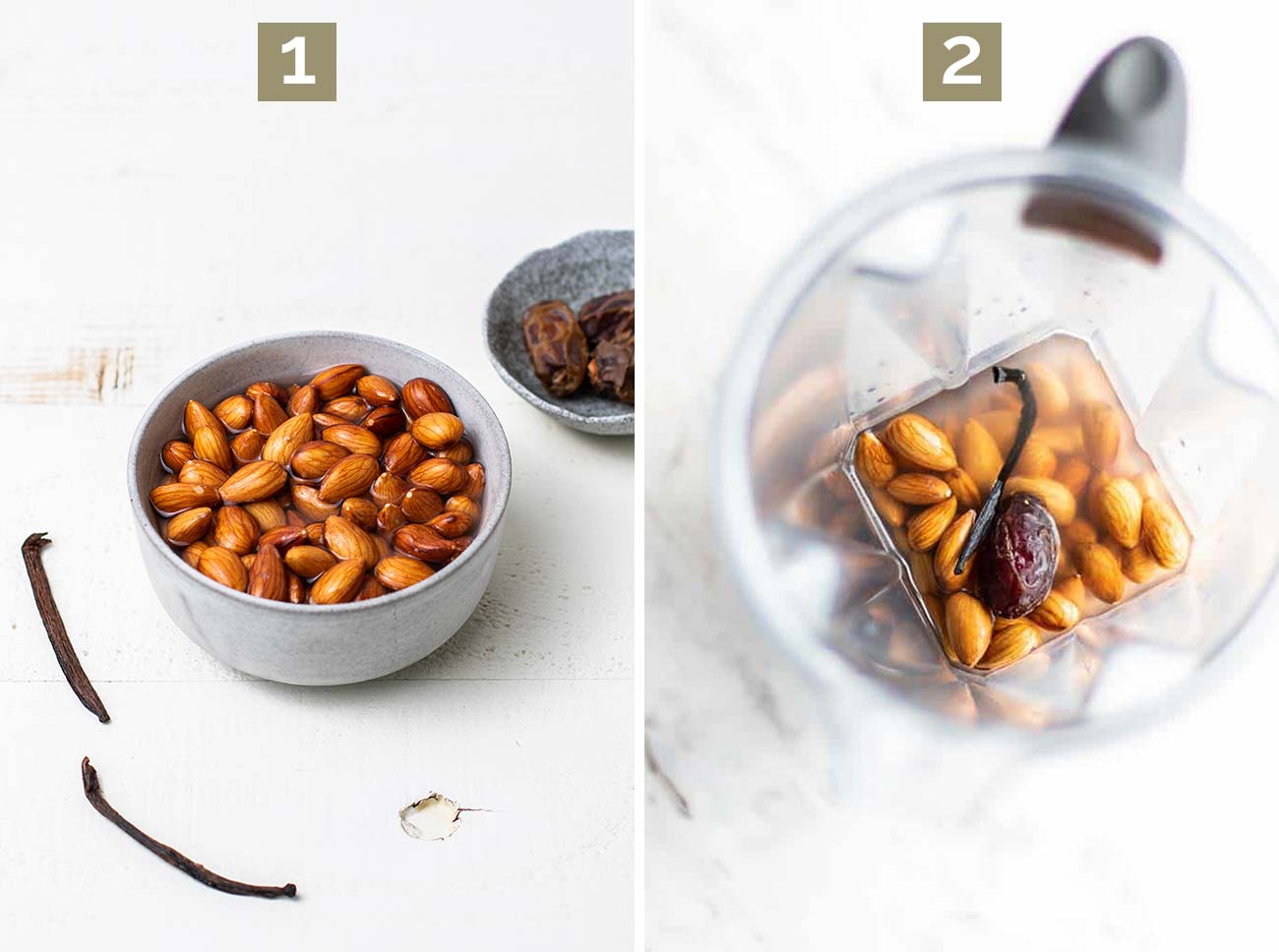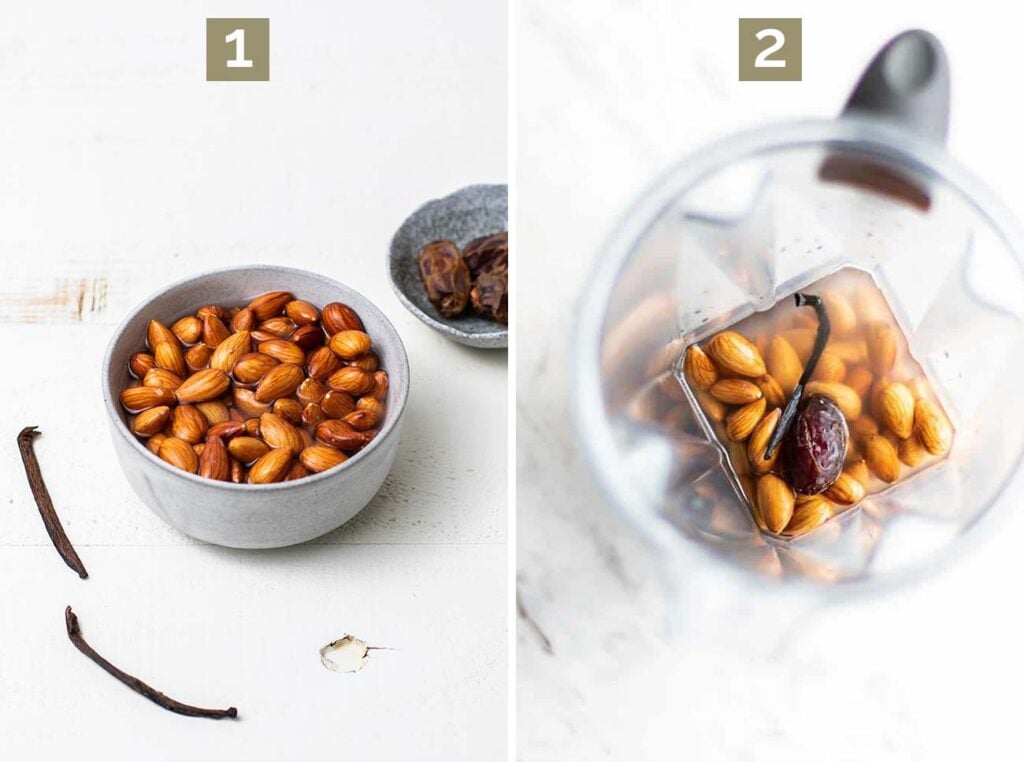 Step 3: Pour the almond mixture over a nut milk bag or cheesecloth to strain out the almond pulp.
Step 4: Combine cold brew coffee and almond milk creamer over ice. You can also use espresso, or even instant coffee made extra strong.
Optionally: Reheat both the cold brew and the almond milk creamer and enjoy a hot almond milk latte. This is easier if you just start with French Press Coffee and gently reheat the almond milk creamer to add to it.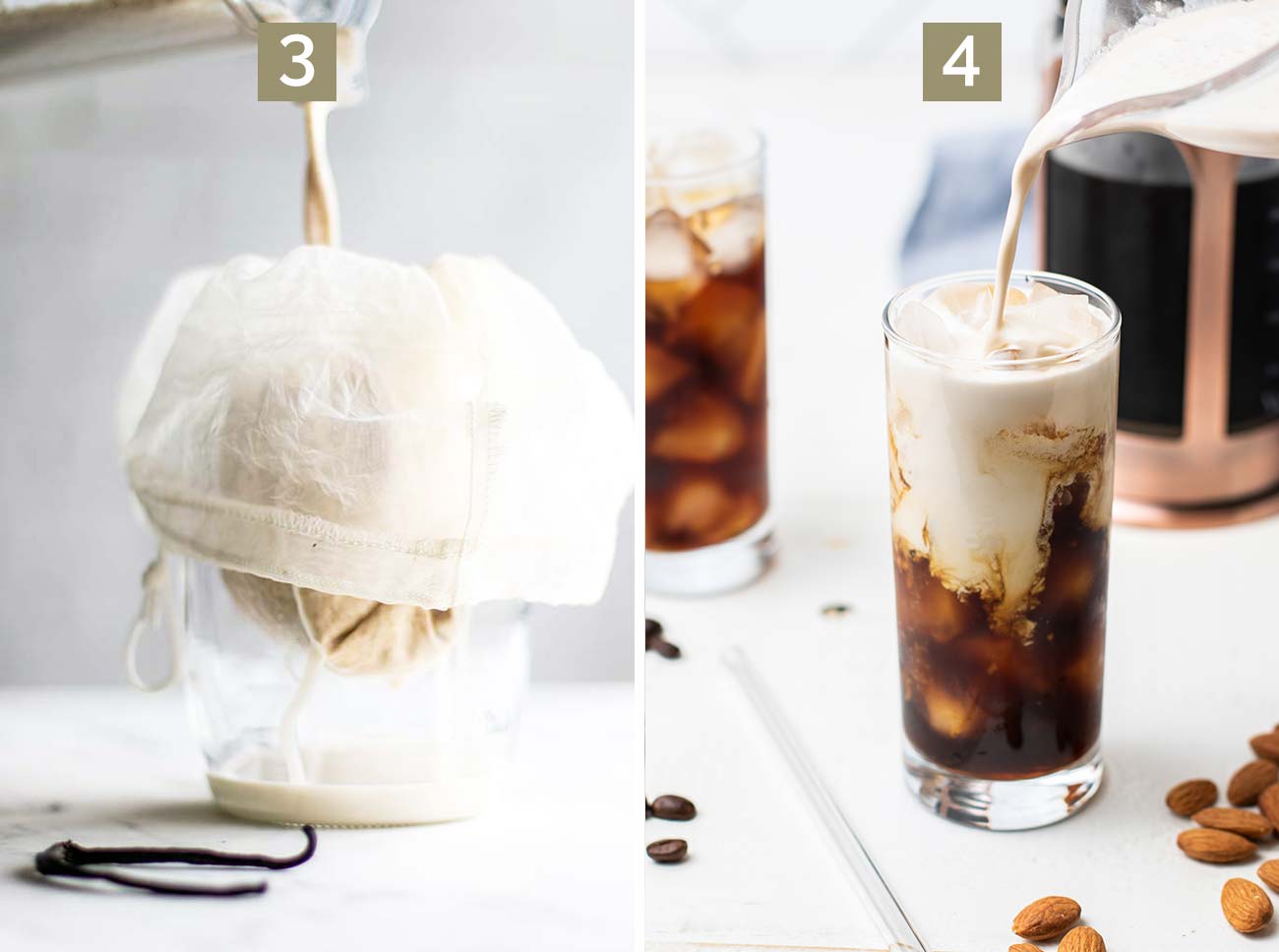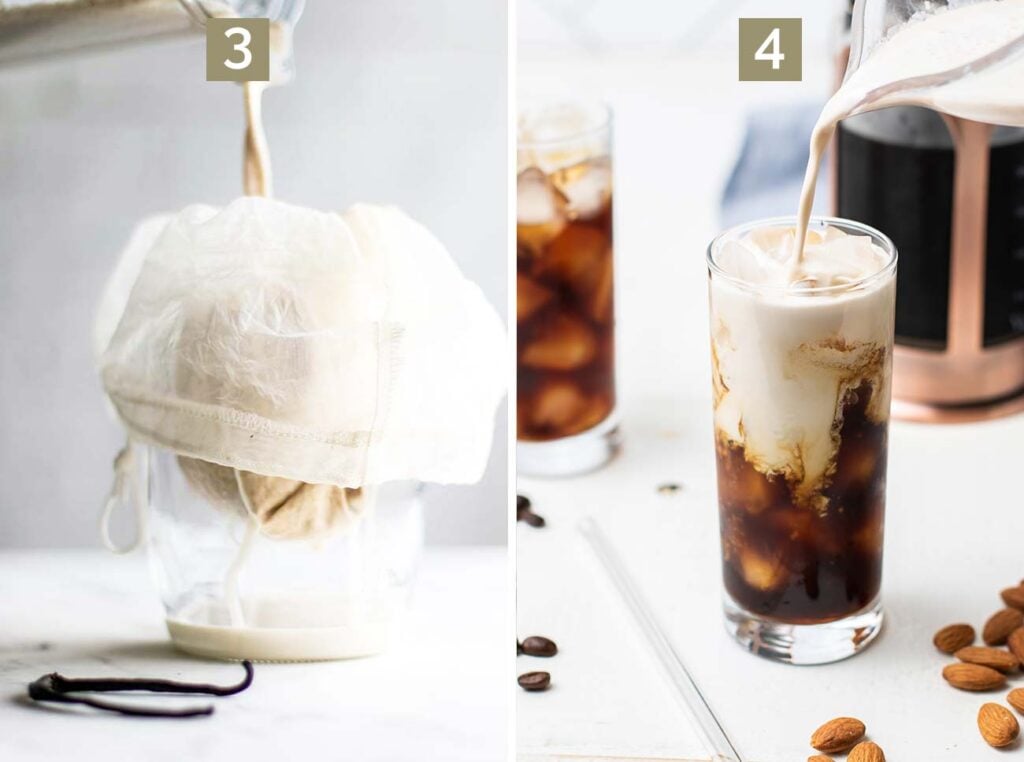 Make this a Perfect Vegan Iced Latte
Make it Frothy: This vanilla almond milk creamer gets frothy in a blender, with a whisk in a saucepan, or using my favorite technique- with a milk frother. Since you most likely already have your blender dirty, just let it run a few extra minutes, and you'll have enough foam to make cappuccino-like treats. Even if I am making them iced, I froth the almond creamer well so I have a frothy top to my drink.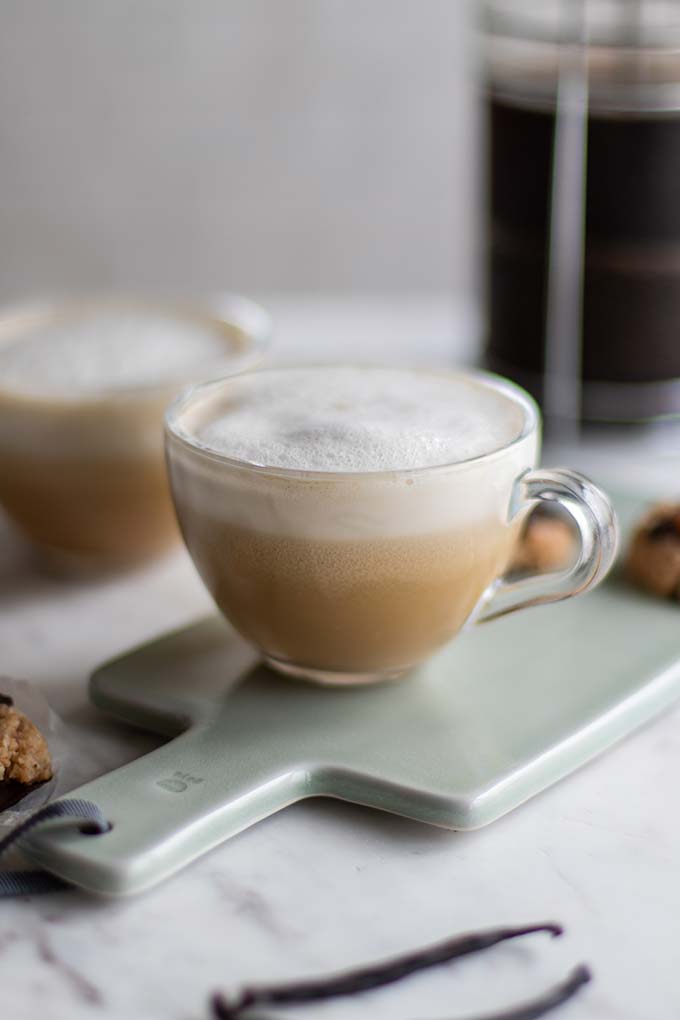 Naturally Sweeten Your Latte: Dates are a great sweetener for drinks, especially when you're already blending up nuts for a vegan or paleo option. If you love the idea of a healthier coffee or tea beverage, check out my Hazelnut Hot Cocoa, Hazelnut Iced Chai Latte, or my Caramel Mocha Iced Coffee Concentrate.
Tips for the Best Almond Latte
If you don't have dates on hand, use 1-3 teaspoons of date syrup or maple syrup instead.
I use a nutmilk bag to make homemade almond milk. I've used coffee filters and cheesecloth also, but it's so much faster and easier using the purpose made bag, it's worth the small investment.
I use my Vitamix to make nutmilks, but soaking nuts ahead of time makes them easy to blend in any blender.
You can make the vanilla almond milk creamer frothy using a blender, a whisk in a saucepan (the hard way!), or my favorite method, using a handy milk frother ( <– really fun buy if you love homemade coffee drinks, or want a fun stocking stuffer idea.)
If you make almond milk lattes at home often, invest in a Nescafe Aeroccino, which makes the perfect frothy milk for all your coffee needs. It also allows you to chill or heat the milk, so you can use this for a hot latte or an iced latte easiliy.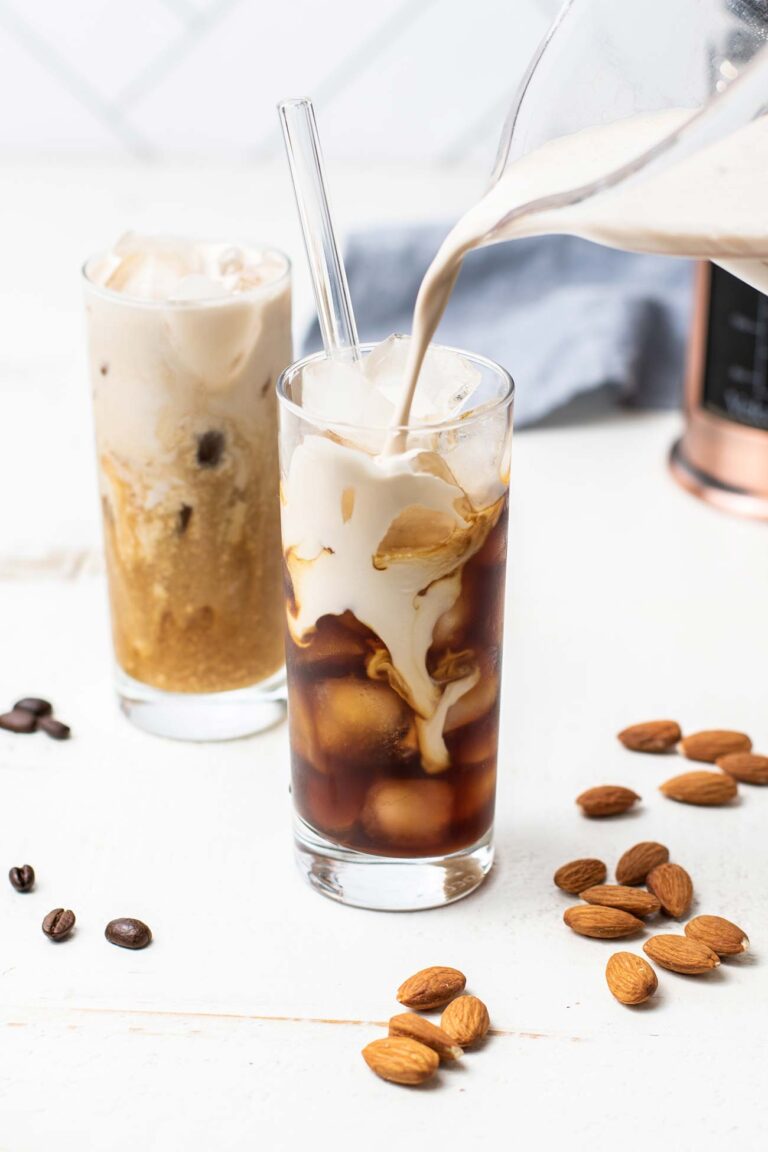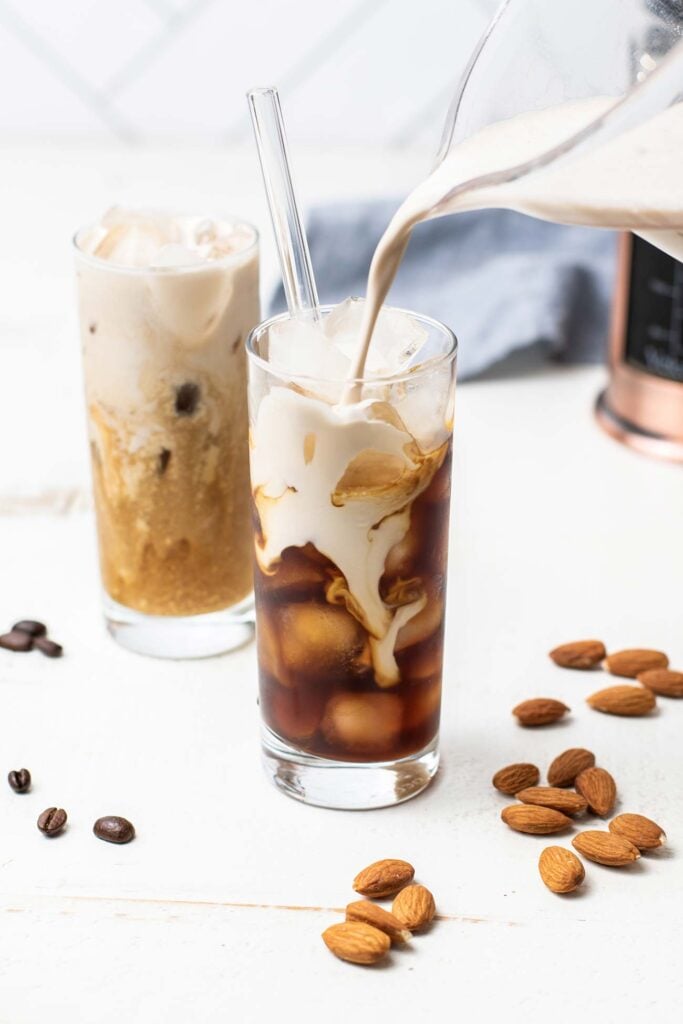 If you make this recipe, be sure to share it with me! Find me on Facebook or Instagram and be sure to tag #SunkissedKitchen @SunkissedKitch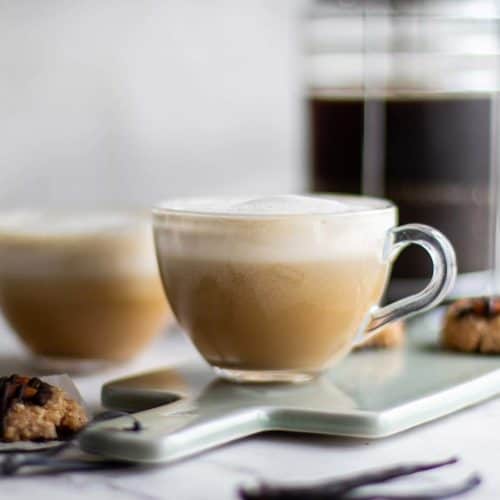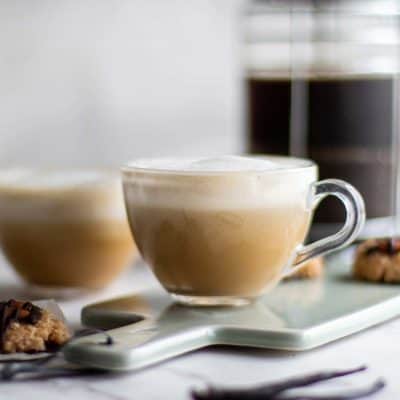 Vanilla Almond Latte
A homemade vanilla almond milk creamer makes a luxuriously creamy almond latte that's both vegan and paleo friendly. Serve these healthier lattes on ice or hot. Plan on soaking the almonds overnight prior to making these drinks, and if you'd like, use Cold Brew Coffee, which also needs to be made the day ahead.
Print
Pin
Rate
Ingredients
1

cup

almonds

soaked overnight

1 1/2

cups

water

+ 1/2 cup more

1-3

medjool dates

1

vanilla bean

or 1 teaspoon vanilla extract

cold brew coffee

or espresso*
Instructions
Add soaked and drained almonds to a blender with pitted dates and vanilla. Choose 1-3 dates depending on desired sweetness.

Start by adding 1 1/2 cups of water, and blending into a fine puree, about 2-3 minutes in a high speed blender.

Add 1/2 cup more water, and pulse to combine well.

Strain almond pulp out of the cream by pouring into a jar with a nut milk bag or with cheesecloth. After the creamer has stopped dripping through, be sure to squeeze as much creamer out of the pulp first before discarding. Quite a bit of liquid will still in in the pulp.

If making hot lattes, heat cold brew coffee or make espresso or strong French press coffee. I like these with slightly more than half being almond creamer.

If making iced lattes, fill glassed with ice, and pour them about 1/2 way full with either cold brew coffee or espresso. Fill the rest of the glasses with vanilla almond milk creamer.
Notes
*Smaller dates can be substituted for medjools. Use 3-4 small dates in place of 1 medjool.
**French press coffee or strong instant coffee also works well in these lattes.
Nutrition
Calories:
225
kcal
|
Carbohydrates:
12
g
|
Protein:
7
g
|
Fat:
17
g
|
Saturated Fat:
1
g
|
Sodium:
5
mg
|
Potassium:
293
mg
|
Fiber:
4
g
|
Sugar:
5
g
|
Calcium:
101
mg
|
Iron:
1.4
mg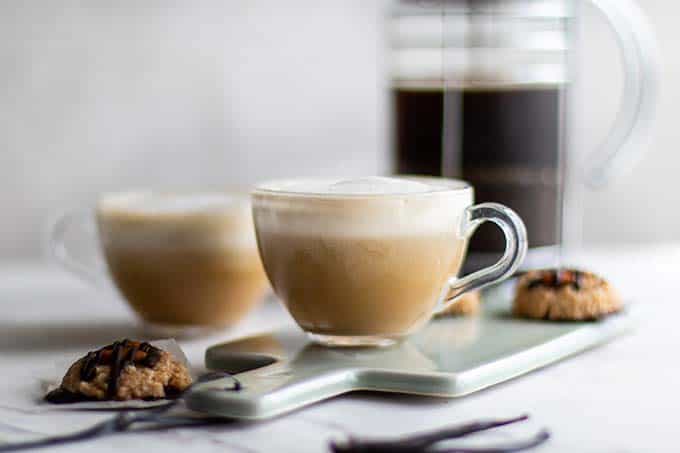 Other Healthy Make-at-Home Coffeehouse Treats: