This Winter Kale Brussels Sprouts Salad will brighten up any cold day. Filled with sweet fruit, warm roasted veggies, and crunchy nuts, the salad bowl will be empty after dinner.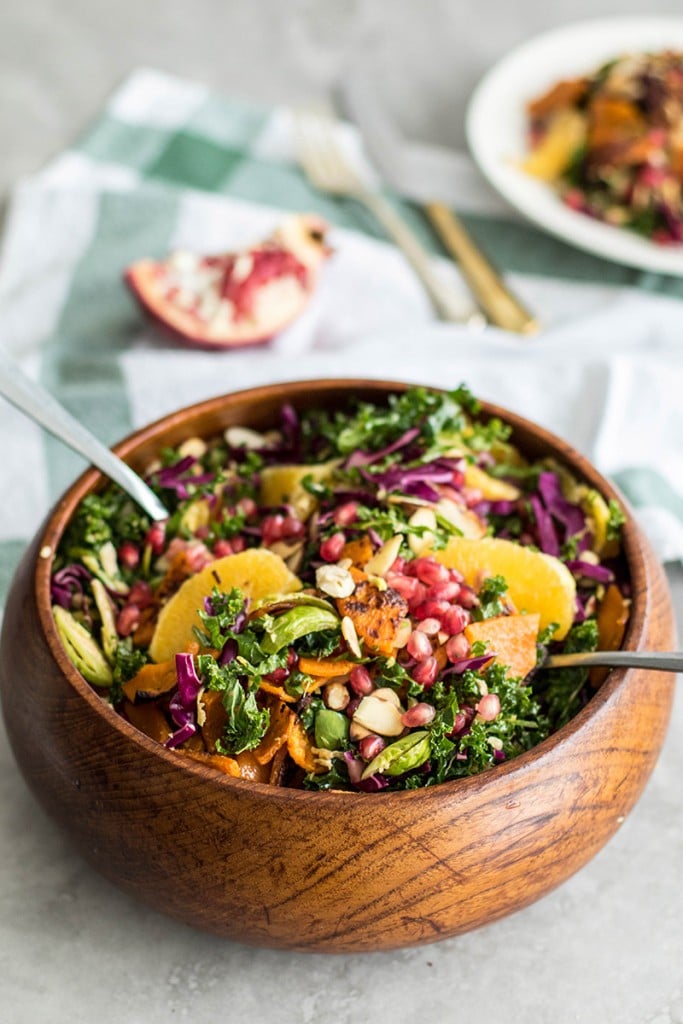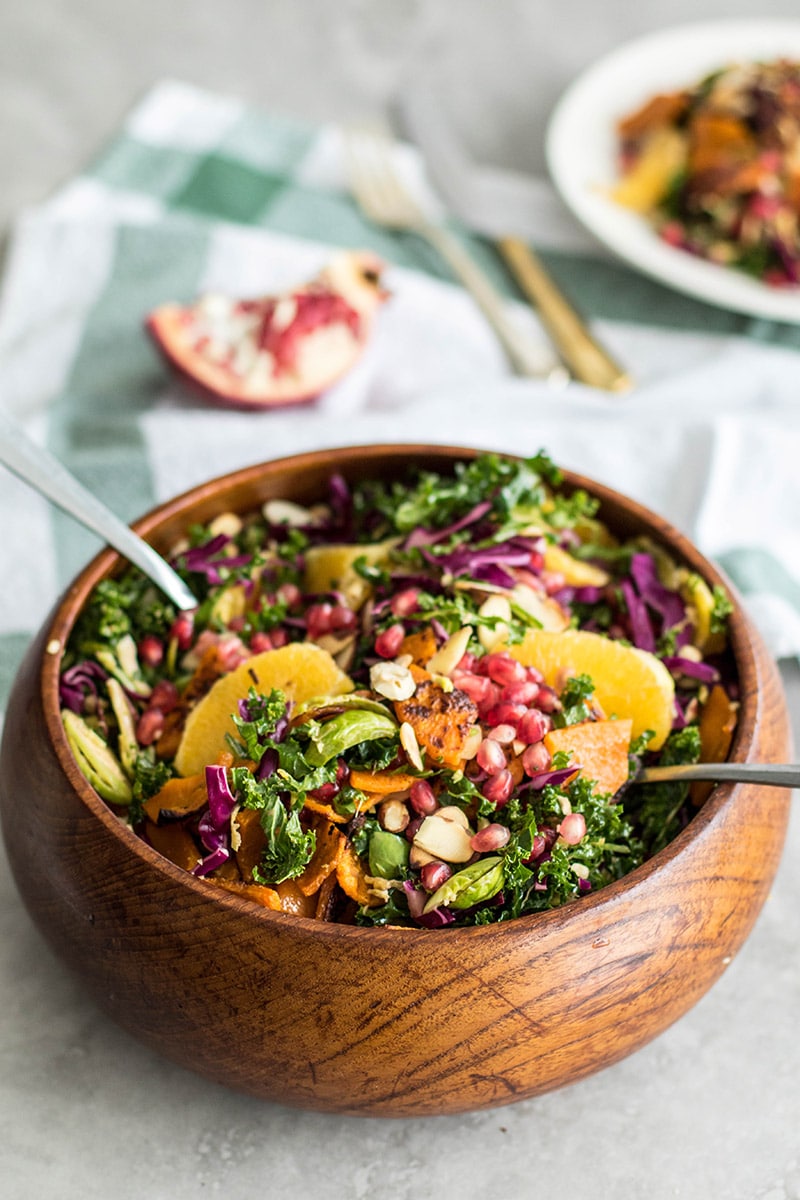 We are currently waiting for the snow to clear so we can fly out of Bend. I must have prayed a little too hard for snow this Christmas, because we have been blasted. If the snow hadn't also been accompanied by single digit temperatures, I would have more photos of the glistening white snow covering the town, but it's difficult to dress a toddler in 4 layers and drag him out!
We are headed to the flip side of the planet (Australia) where temperatures have been reaching into the 100s. Talk about a shock! Hopefully it doesn't take long to acclimatize.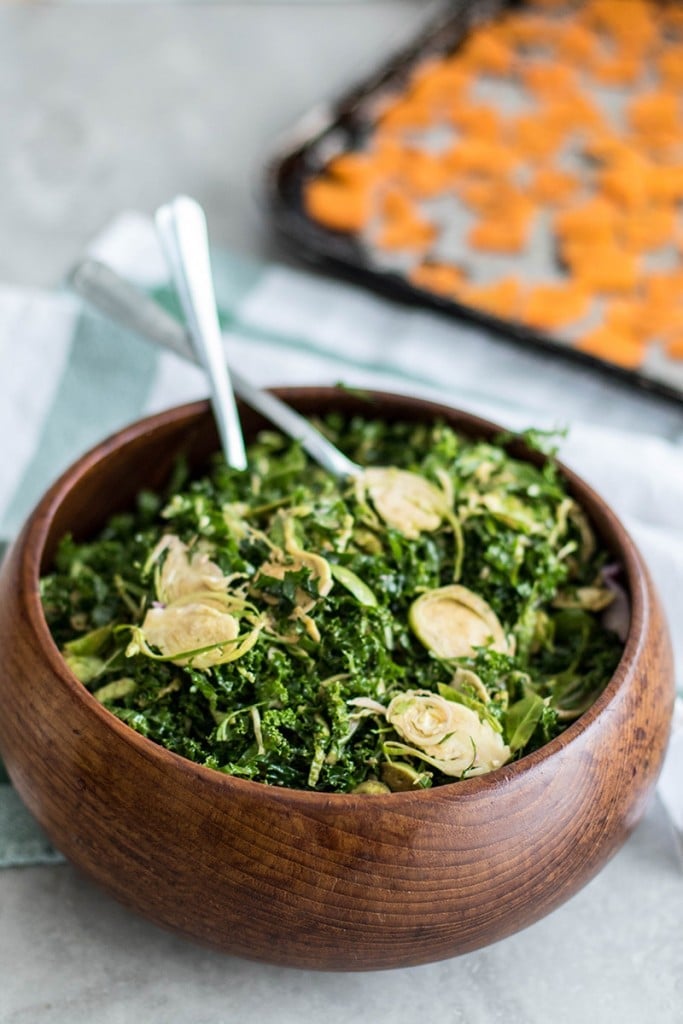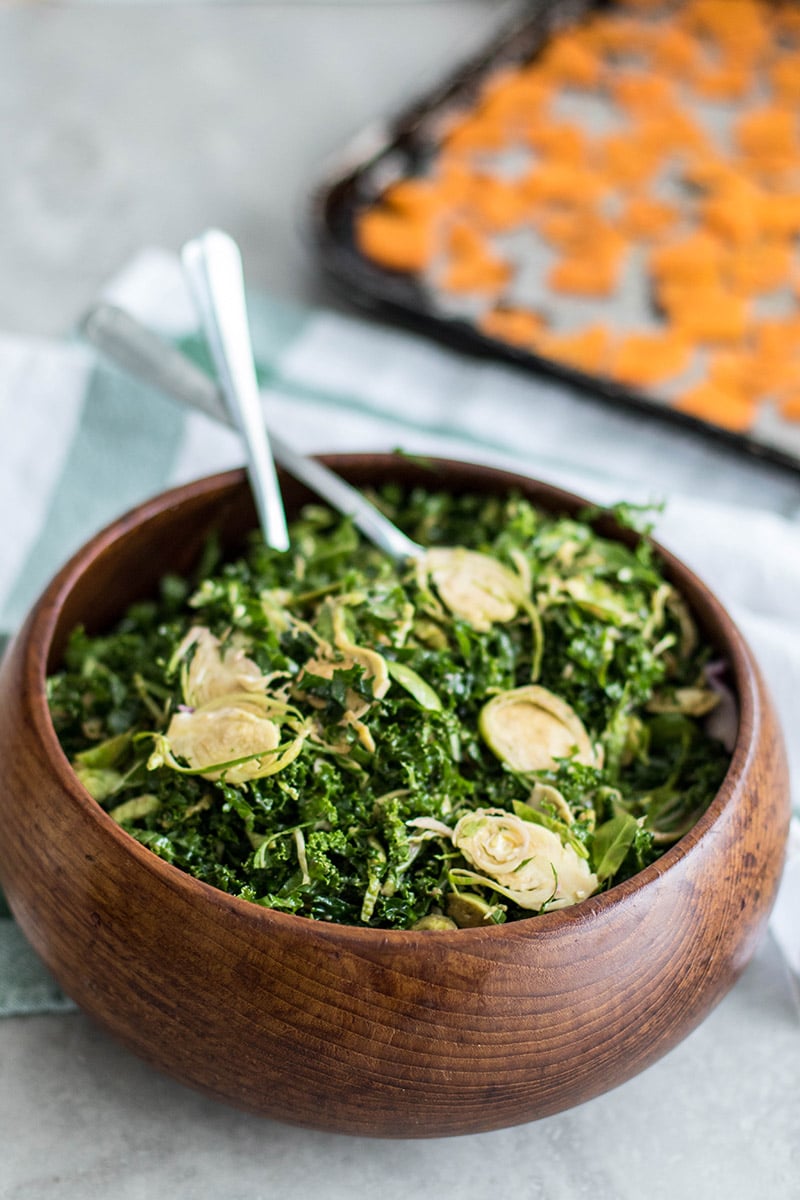 I made this salad last week needing a break from soups. I have been making soup after soup for months now, and I love them, but sometimes you just need some fresh greens.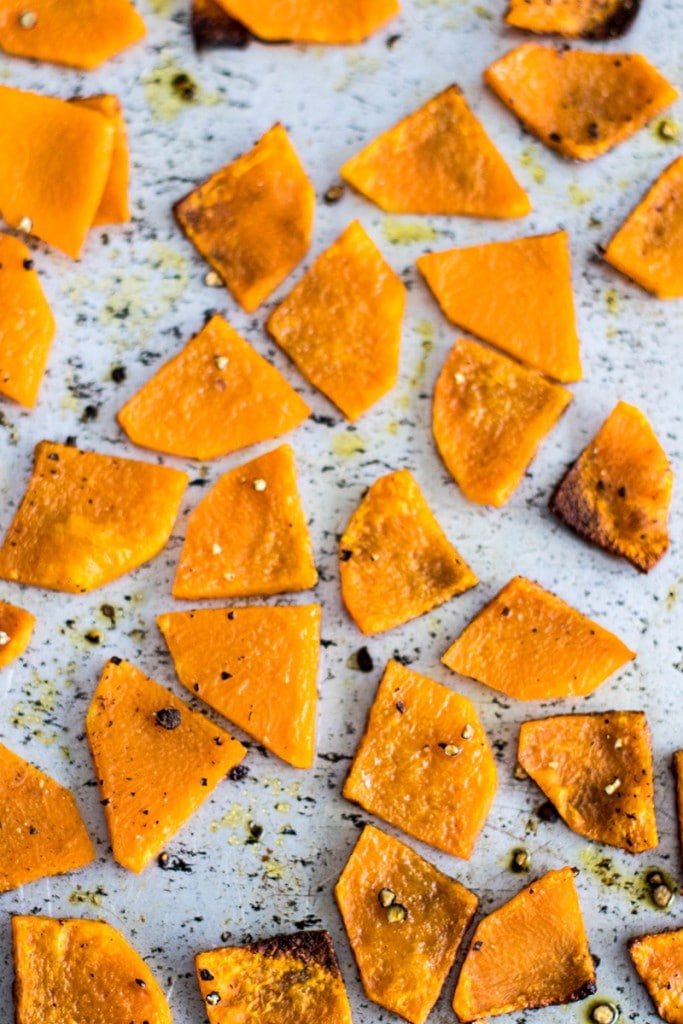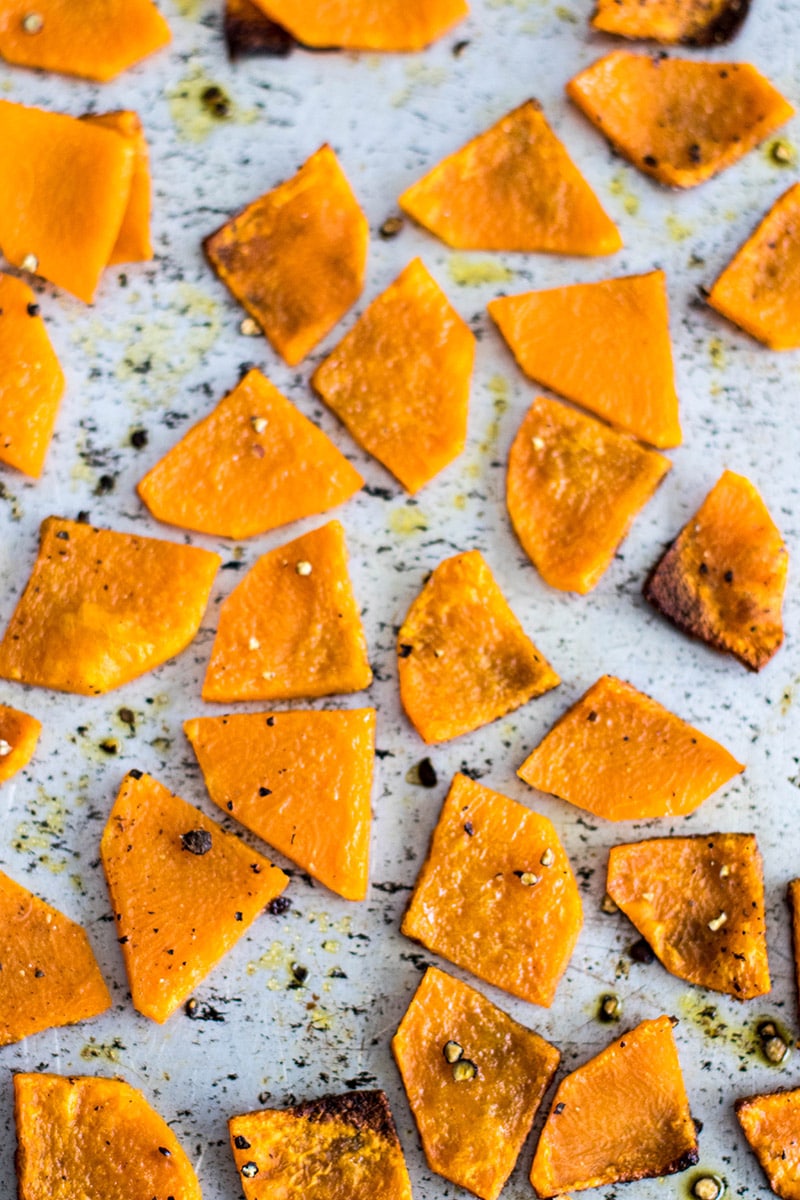 And I couldn't resist topping them with my favorite winter fruit- pomegranate. I always have one in the fridge because Xander absolutely loves it. I give him little bowls of it and it's like I've given him candy.
I roasted the butternut squash for this recipe cut in thin pieces. This is my favorite method for roasting squash for salads– thin slices let's the squash cook really well, get a few crunchy pieces around the edges, and makes it super sweet. Despite this salad having pomegranate and orange, it's really these roasted squash pieces that adds the real pop of sweetness.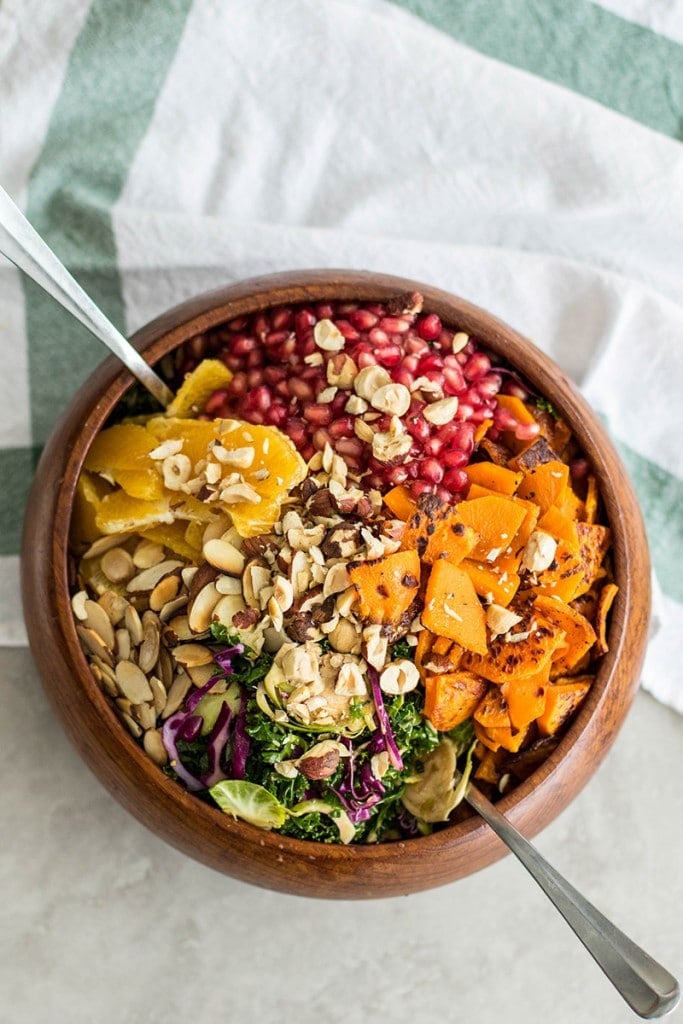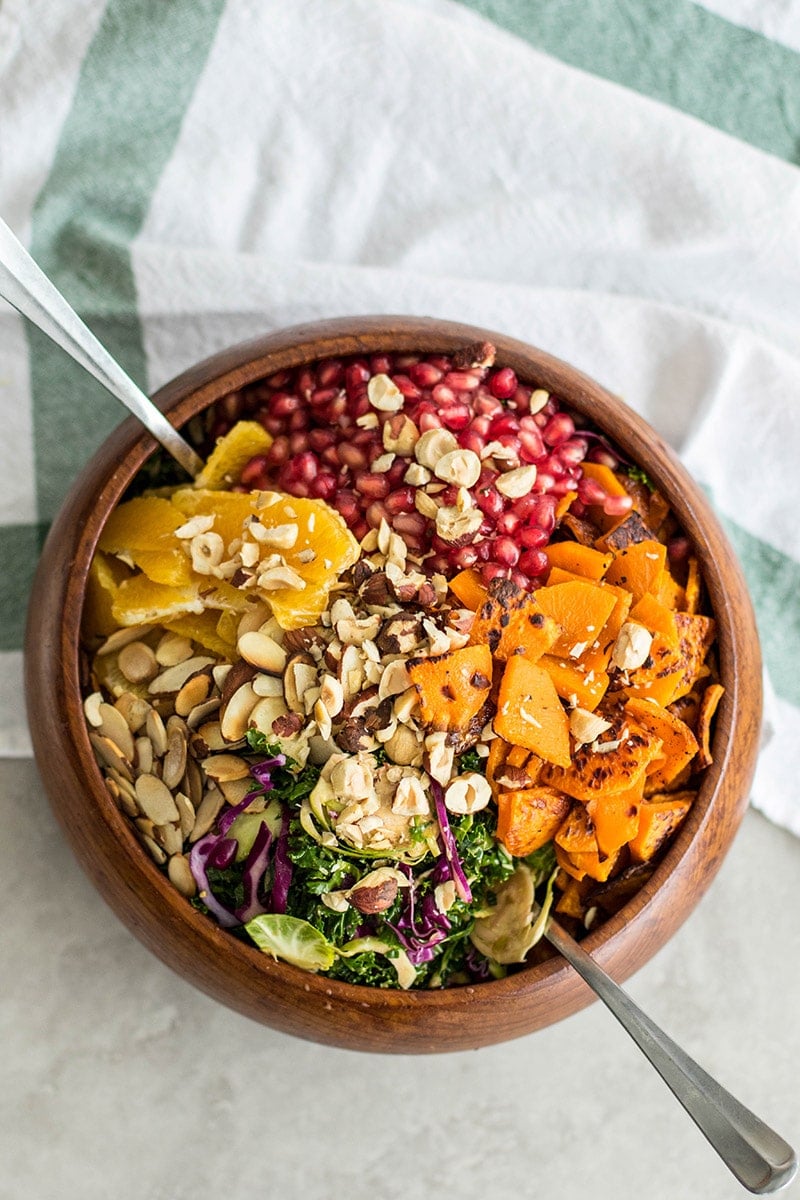 And nuts! I am nuts for nuts in salads. Forget cheese. I rarely put it on. If you do love cheese in salads, a feta or goat's cheese would be great with all these flavors — but I prefer the crunch of almonds and hazelnuts.
And because this salad is loaded with so many goodies, I kept the dressing super simple. Just olive oil, balsamic, and fruit juices. Have you read the label of store bought dressings recently? It's incredible how much sodium is added to a typical balsamic vinaigrette. Try this dressing, and you'll realize how absolutely unnecessary it is.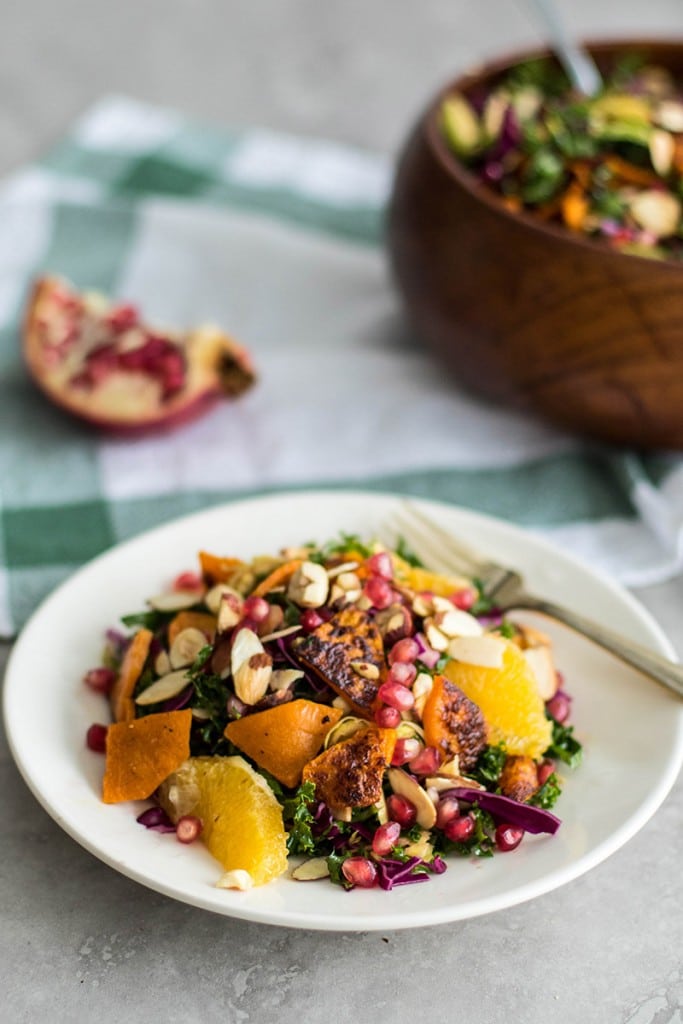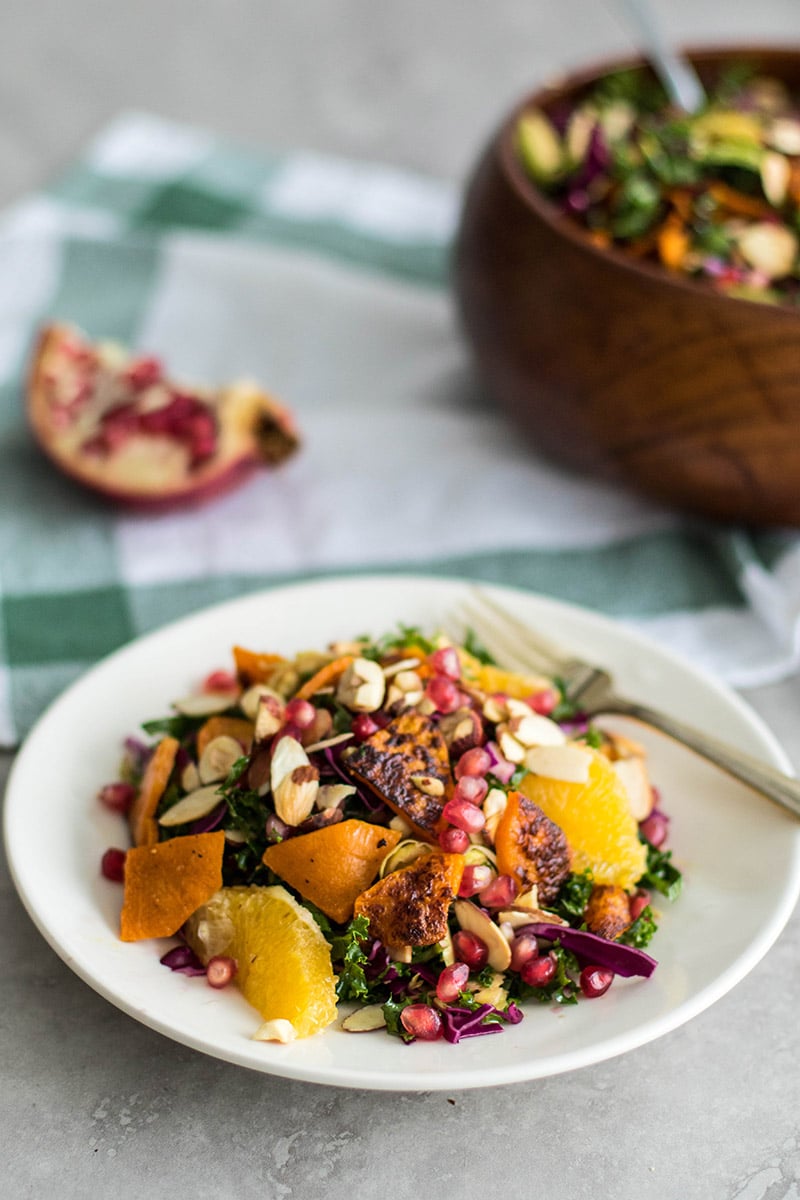 I'll be posting from Australia this time next week! I hope to take some great photos for you to post along with all the delicious recipes I have saved up.
Tips for this Vibrant Winter Kale Salad
Save time: Buy pre-cut butternut squash and pomegranate arils at Costco or Trader Joe's if you need to put this salad together quickly. Also, the Kale and Brussels Sprouts greens bag at Costco can be subbed for the kale, brussels sprouts and cabbage in this recipe.
Make it Ahead: This salad is best if made ahead! It's wonderful even the next day. I suggest making this 4-5 hours ahead, but the night ahead works well too! If you can, add the roasted butternut squash and nuts right before serving.
Michelle @ Vitamin Sunshine
Yields 8 servings
Vibrant Winter Kale Brussels Sprout Salad
This warm and fruity kale salad is the perfect winter salad. Full of greens, fruit and nuts. Makes a perfect side dish or even a light main dish.
30 minPrep Time
25 minCook Time
55 minTotal Time
Ingredients
1 bunch kale
10-12 brussels sprouts
2 cups red cabbage, shredded
1 butternut squash
1/2 tablespoon olive oil
sea salt & black pepper, to taste
1 cup pomegranate arils
1 large navel orange
1/2 cup sliced almonds, toasted
1/4 cup hazelnuts, toasted and chopped

Dressing

1/4 cup olive oil
1/4 cup balsamic vinegar
3 tablespoons lemon juice
3 tablespoons orange juice (I squeezed 2 clementines)
Instructions
Add all dressing ingredients to a blender or jar, and mix together well.
Destem kale, and then very thinly slice. Add to a salad bowl.
Use a mandolin or food processor to very thinly slice brussels sprouts, and add to the kale.
Pour dressing over kale and sprouts, and massage in to completely coat, and then cover the salad and allow to soak for 4-5 hours, or overnight.
Preheat oven to 450 degrees F.
Peel butternut, cut into quarters lengthwise, and then thinly slice squash. Add to a baking sheet, drizzle with olive oil, and lightly season with sea salt and black pepper.
Roast squash for 25 minutes.
Prepare pomegranate by removing arils (see a tip for doing this mess free ).
Prepare the orange by slicing the skin and pith off around the orange, then cutting out the segments.
Thinly slice red cabbage.
When ready to serve the salad, toss the red cabbage into the kale mixture, then top the salad with warm squash, pomegranate, oranges, and nuts.
7.8.1.2
54
https://sunkissedkitchen.com/vibrant-winter-kale-brussels-sprout-salad/
Michelle @ Vitamin Sunshine


Other Delicious Kale Salad Recipes:
I'd love to connect with you on social media! Find me on Facebook or Instagram where I post daily healthy eating and lifestyle inspiration.
This post contains affiliate links, which means that if you click on one of the product links, I'll receive a small percentage of any purchases made.