This post may contain affiliate links. Please see my full
Disclosure Policy
for details.
If you have an air fryer, here is a fool proof method for making the best, crispy Brussels Sprouts with Bacon. These have so much flavor and make the perfect side dish or breakfast!
Also try these simple Air Fryer Brussels Sprouts, an Air Fryer Baked Potato, or Air Fryer Turkey Meatballs!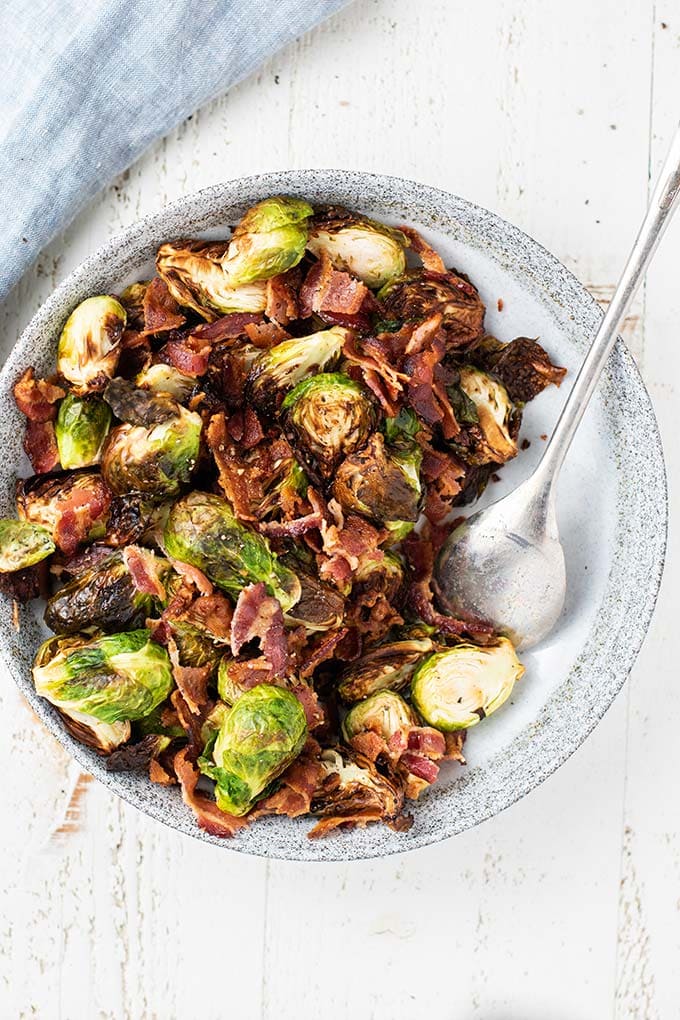 Why this Recipe Works
If you're one of the many people who bought an air fryer, but only think about using it when you buy frozen food that's typically deep fried (think french fries and mozzarella sticks), I have some great healthy recipes that use this fun kitchen gadget!
Oven roasted Brussels sprouts are amazing when they come out with crisp leaves, but depending on your oven, they may or may not have very much of a crunchy texture.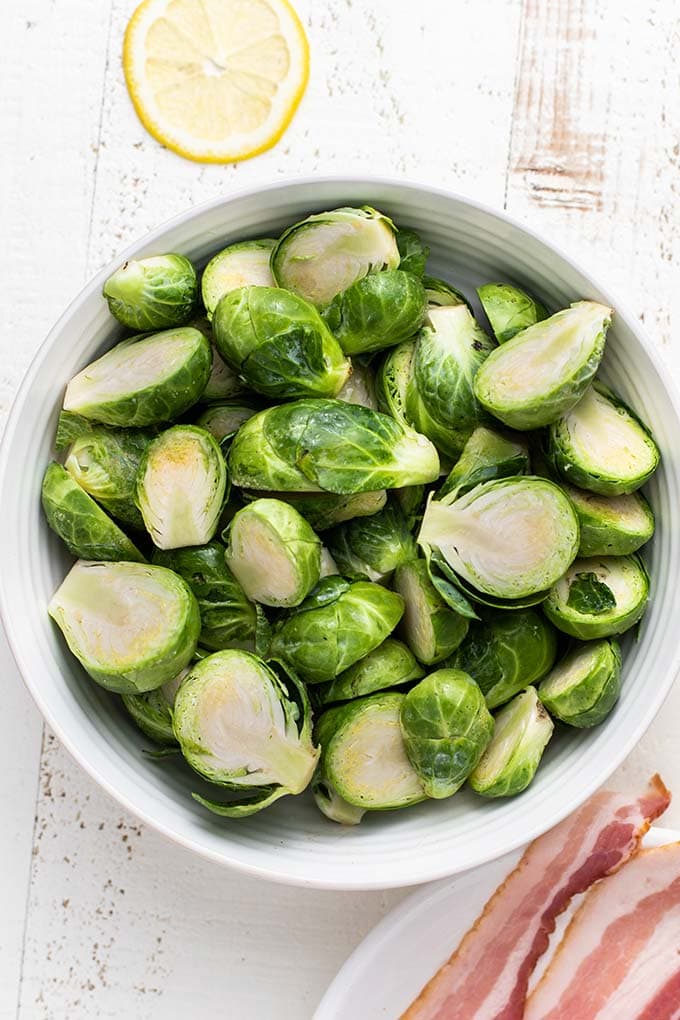 The air fryer is a super easy, food proof method for making sure you get LOTS of crispy leaves every single time.
You'll love this recipe because:
BACON. Need I say more? I will – because I used my favorite bacon from Jones Dairy Farm for this recipe, the Dry Aged Cherrywood Smoked Bacon. They naturally smoke their bacon over real cherrywood chips for a sweet, smoky flavor.
This side is super easy, meaning you can prepare it dish for breakfast (oh, yes!), or for a quick side for your weeknight meal.
It's PERFECT for holidays, where oven space is at a premium. Pull out the air fryer and have this Brussels Sprouts with Bacon dish ready to serve hot as you're sitting down for your special meal.
It's HEALTHY! Yes, even bacon is a part of a healthy diet when you buy high quality products. All of Jones Dairy Farm products are certified Gluten Free. They also have a No Sugar Hickory Smoked Bacon that is Certified Paleo.
You only need a few ingredients that you just might have on hand anyway — Brussels sprouts, Jones Dairy Farm Cherrywood Smoked Bacon, salt, avocado oil, and lemon juice.
If you'd rather roast your brussels sprouts in the oven, try this delicious Garlic Roasted Brussels Sprouts recipe.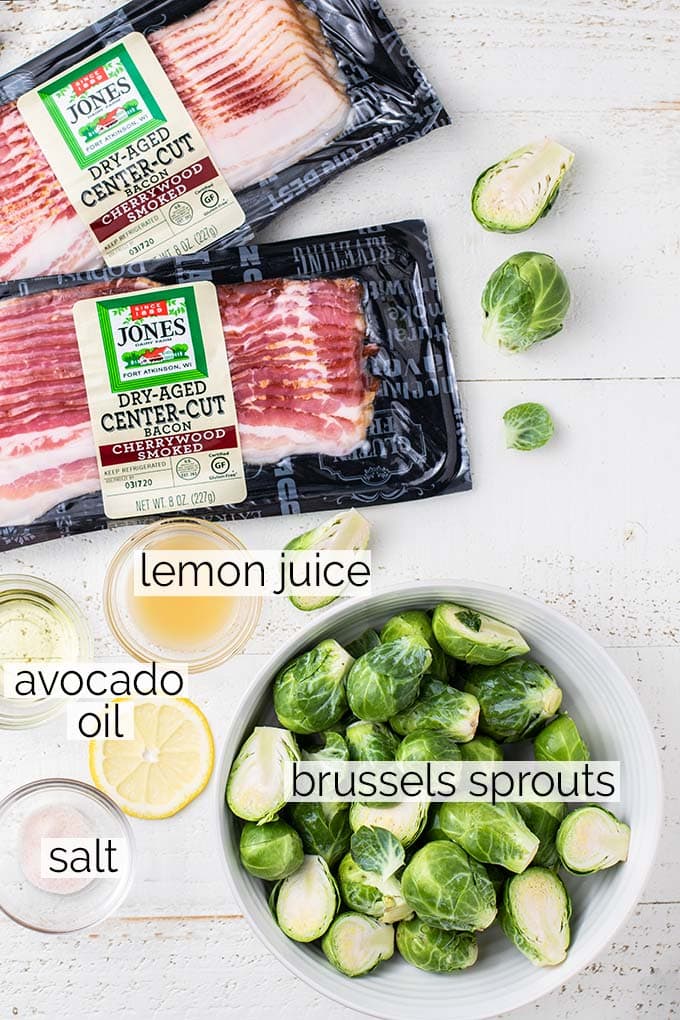 I adore Jones Dairy Farm products because of their commitment to providing healthy products. The ingredient lists are minimal — which is a very good thing when buying food in a package!
It's super convenient to have their bacon, sausage, and ham in the freezer, ready to go for adding protein to breakfasts or quick dinner recipes.
Hop on over to the Jones Dairy Farm website to find out more about their products and see where to buy them near you!
How to Make Bacon in an Air Fryer
I start making this dish by prepping the bacon. I cook the bacon half way before adding it to the Brussels sprouts to ensure it comes out crisp and perfect every time.
Step 1: Add a few slices to the bottom of your air fryer, and a few more to the top rack, and air fry the bacon on 390º for 5 minutes.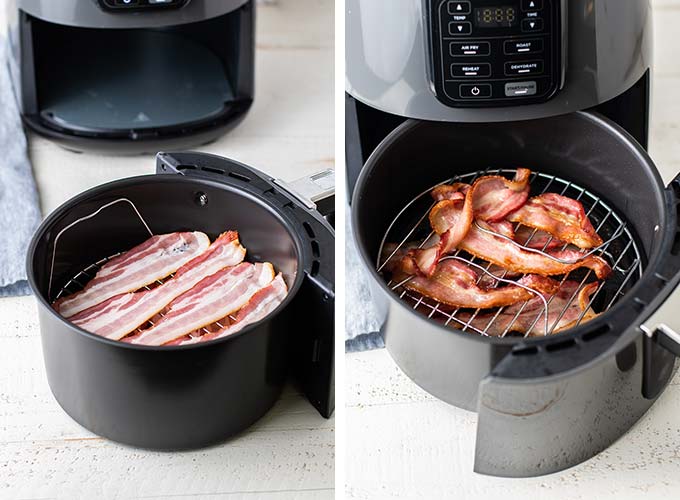 Step 2: Pull the bacon out, and roughly chop it. It should be half cooked at this point. This ensures it fully cooks and crisps up when added to the sprouts, and also that it has some fat left to add flavor to the sprouts as they are cooking.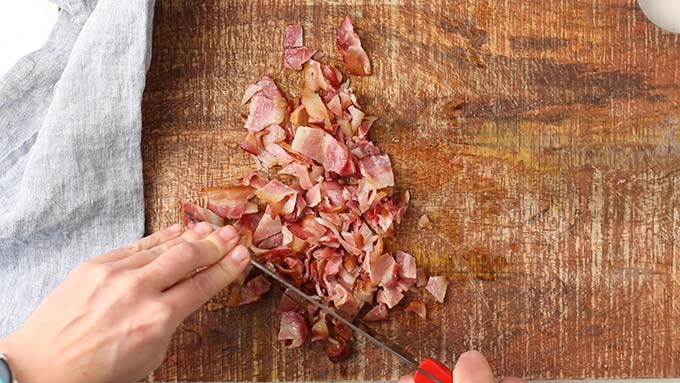 The Perfect Crisp Brussels Sprouts
While you're bacon is cooking, it's time to prep those Brussels! They are one of my favorite veggies of all time. I will eat them any way — shaved and raw (like in this Brussels Sprouts and Kale Salad), roasted, and even steamed and cold.
But this easy Air Fryer method is easily my new favorite!
Step 3: Trim the ends of the sprouts, and then halve them.
Step 4: Add them to a bowl, and then drizzle the Brussels sprouts with avocado oil, lemon juice and salt. Try to always use avocado oil rather than olive oil in an air fryer, because it has a higher smoke point.
Step 5: Air fry the Brussels sprouts on 375º for 8 minutes.
Step 6: Add the chopped bacon to the Brussels sprouts in the air fryer, and use a fork to mix it up a little. Return to the air fryer on 375º F for 5 additional minutes.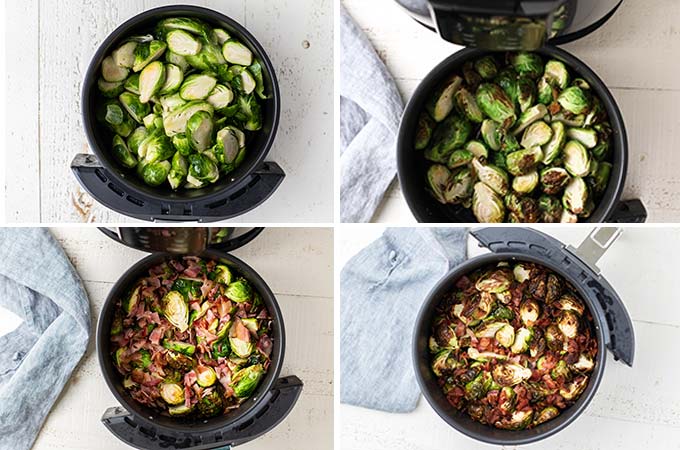 How to Serve Air Fryer Brussels Sprouts and Bacon
Breakfast: Absolutely! Just on it's own, this dish makes a wonderful breakfast. I took the leftovers from my recipe testing and just slid a serving back into the air fryer on 375º for 3 minutes, and had a perfect, healthy AM meal.
Dinner Side Dish: This is a great easy side dish to have along a main course. I recommend trying this along with my Roasted Cauliflower Soup, Baked Cod in Roasted Red Pepper Sauce, or these super easy (and delish!) Crispy Baked Chicken Thighs.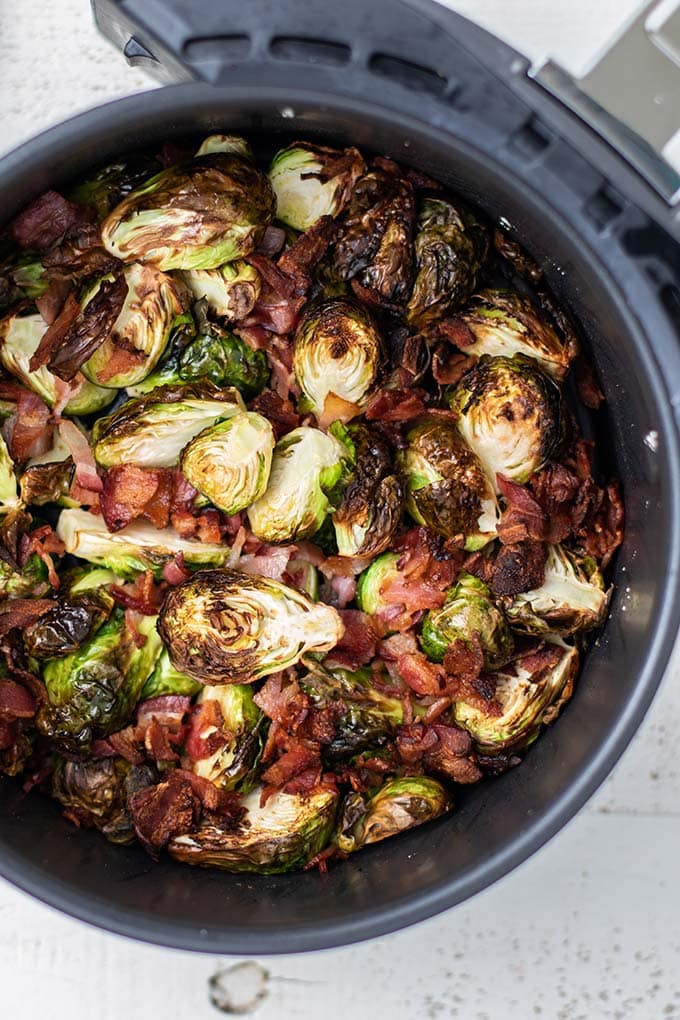 If you make this recipe, be sure to share it with me! Find me on Facebook or Instagram and be sure to tag #SunkissedKitchen @SunkissedKitch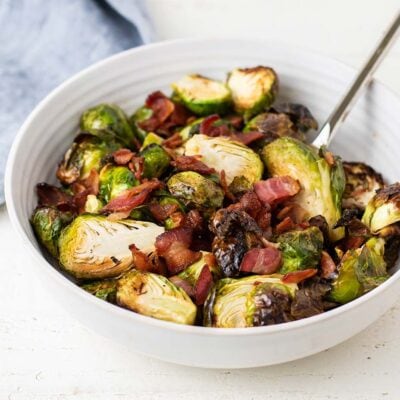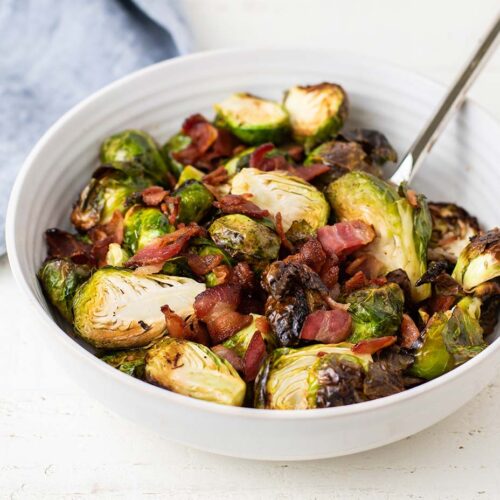 Air Fryer Brussels Sprouts with Bacon
If you have an air fryer, here is a fool proof method for making the best, crispy Brussels Sprouts with Bacon. These have so much flavor and make the perfect side dish or breakfast!
Print
Pin
Rate
Ingredients
1

pound

Brussels sprouts

1

tablespoon

avocado oil

1

tablespoon

lemon juice

1/2

teaspoon

sea salt

black pepper

to taste, optional
Instructions
Preheat the air fryer to 375º F for 3 minutes.

Add 4 strips of bacon the the Air Fryer, and then use a rack to add a second layer of 4 slices of bacon. Air fry the bacon for 5 minutes.

While the bacon is cooking, trim the ends of the sprouts, and cut each one in half. Add them to a bowl, and drizzle them with avocado oil, lemon juice, salt, and black pepper.

When the bacon is done, remove it from the air fryer, and add the Brussels sprouts to the air fryer. Air fry the Brussels sprouts for 8 minutes.

Chop the bacon roughly, and then add it to the Brussels sprouts. Use a fork to mix the bacon into the sprouts, and then return the mix to the air fryer for an additional 5 minutes.
Notes
*Using more than 1 pound of Brussels sprouts isn't recommended. They won't cook as well and some will be undercooked while others are burnt.
**Many recipes online recommend air frying Brussels sprouts on 390º, but I found this results in overly browned or burnt sprouts, which isn't a healthy way to consume vegetables.
***Adding the bacon half cooked into the Brussels sprouts allows some of the bacon grease to cook into the sprouts, adding extra flavor.
Nutrition
Calories:
176
kcal
|
Carbohydrates:
7
g
|
Protein:
6
g
|
Fat:
14
g
|
Saturated Fat:
4
g
|
Cholesterol:
19
mg
|
Sodium:
407
mg
|
Potassium:
352
mg
|
Fiber:
3
g
|
Sugar:
2
g
|
Vitamin A:
581
IU
|
Vitamin C:
65
mg
|
Calcium:
32
mg
|
Iron:
1
mg