This post may contain affiliate links. Please see my full
Disclosure Policy
for details.
The chicken meatballs are just about gone at my house– and I still have a lot of this Asian chicken meatball soup. I love them in this soup, but I also really love them in salad- and salads are much easier lunches for me.
This is the 3rd night in a row we are having "Health in a Bowl" for dinner. And no one is complaining.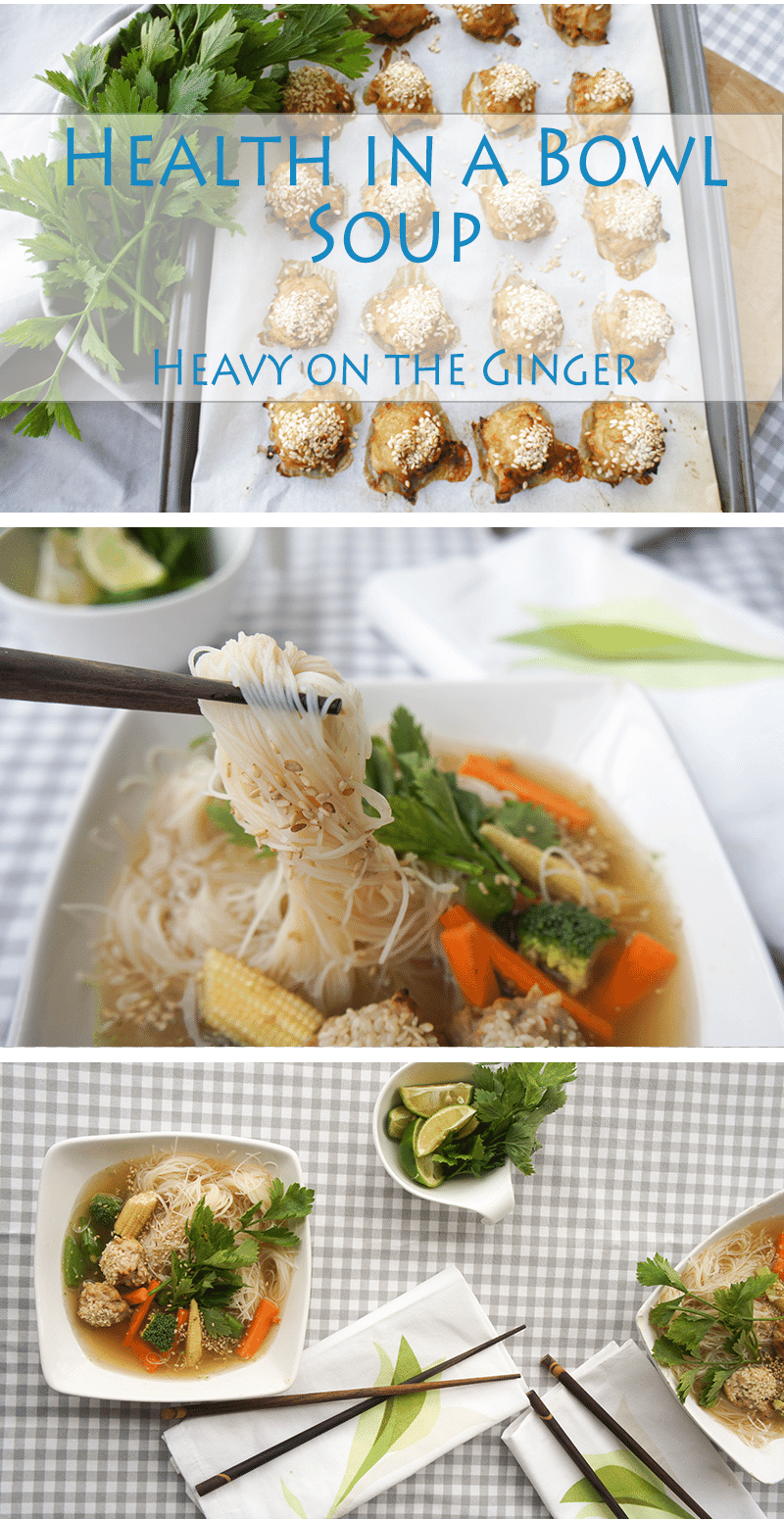 Alex aptly named this soup- because that is what it feels like. Pure health. Vibrant, light, fresh, and a great energy booster. He often travels around SE Asia to areas where local food is all that's available– and local food in Malaysia is a lot of fried noodles, fried rice, fried… just about everything. He comes home feeling sluggish, and tired from his travels. He often requests this soup when he comes back to help him feel "back on track" to health again. He has been away this week, so I thought I would surprise him with this– hands down his favorite thing I make. He was ecstatic to see me bring it out, and told me he thinks I have ruined his ability to eat unhealthy food out. He said he feels like his body rejects it.
I feel the same way when I try to eat cheap food out. I don't do it often, but once in a while when traveling, its hard to avoid. And my stomach always feels it almost instantly. The cheap, processed vegetable oils in large quantity do not digest well when your body is not used to it!
Although I make this often for Alex, I actually created the recipe for someone else I love very much. My girlfriend back in Portland used to come over to my house to "learn to cook." This involved her showing up with wine, and then drinking wine, chatting while I cooked dinner. One night when she was coming over, I wanted to make a soup with a ton of ginger. She and I share a love for ginger in copious quantities. I knew I wanted to try chicken meatballs, so I got on the internet to get inspired to make a really tasty broth. I found lots of recipes for Pho, which called for cinnamon, star anise, and cloves in the broth.
I ran down to Whole Foods, and put the broth on the stove, filled with a large ginger root, and a ton of spices. When she arrived, I opened the door, and she immediately was hit by the aroma. Seriously, if you don't know how to cook well, and are having people over, just make this broth. Forget the rest. Let is simmer on the stove, and the aroma is so heavenly, no one will care if dinner ever arrives. Okay, okay, maybe that's an exaggeration. People might be seriously disappointed to smell this, and then find out there wasn't anything to eat.
If you have a loved one sick, or just want to show someone you value their health, make them this soup.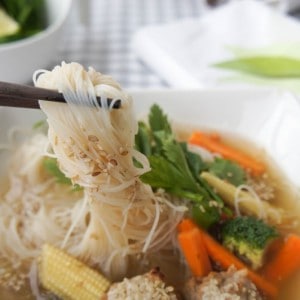 Health in a Bowl Soup
Chicken meatballs, rice noodles, and fresh vegetables in a flavorful, ginger packed broth. The spicy broth is reminiscent of pho.
Print
Pin
Rate
Ingredients
Asian Sesame Chicken Meatballs
Broth
1

teaspoon

sesame oil

1/2

cup

shallots

diced

1/2

cup

fresh ginger

grated or finely chopped

6

cloves

garlic

minced

15

cups

water

4

vegetable bouillon cubes

(I used Rapunzel)

3

tablespoons

soy sauce

2

tablespoons

rice wine vinegar

1

teaspoon

honey

15

whole cloves

8

star anise

6

whole cinnamon sticks

sriracha

(to taste, optional)
Soup
6

cups

fresh vegetables

chopped (I used baby corn, carrots, snap peas and broccoli)

1

package

rice vermicelli noodles

(soaked in hot water, with a bit of salt and soy sauce)

lime

to squeeze on top

cilantro

garnish

sesame seeds

garnish
Instructions
Add the sesame oil to a frying pan, and saute ginger, shallots, and garlic for about 10 minutes, until soft and fragrant. Add the water and the rest of the broth ingredients. If you have spice bags, tie up the cinnamon sticks, cloves, and star anise. If you don't, you'll have to fish out the spices when you dish it up, like I do. Bring to a boil, then simmer on medium-low for an hour.

While the soup simmers, chop the vegetables.

Pour hot water over the rice vermicelli noodles, and add a bit of salt and soy sauce to the water to season. Remove the noodles from the hot water after a few minutes-- it's better to undercook them, because they will continue to soften in the soup.

Add the vegetables to the soup broth, and continue simmering for an additional 5-10 minutes, depending on how soft you'd like the vegetables. Add a bit of sriracha to add heat, if desired.

Add rice noodles and sesame chicken meatballs to bowls, then cover in the soup. Garnish with fresh squeezes of lime, extra sriracha, cilantro, and sesame seeds.
Notes
If you don't have the time to make the meatballs, just add stir fried chicken. Heavily season the chicken. A lot of the soup's flavor comes from the spicy, seasoned meatballs.
Pho often has fish sauce in the broth. Feel free to use fish sauce in place (or in addition) to the soy sauce, if you like cooking with fish sauce. It will add a more authentic flavor to the broth.
For an even more healing soup, use fresh chicken stock. I have in the past, but usually I don't have the time to go through that process!
Nutrition
Calories:
255
kcal
|
Carbohydrates:
54
g
|
Protein:
8
g
|
Fat:
2
g
|
Saturated Fat:
1
g
|
Sodium:
878
mg
|
Potassium:
459
mg
|
Fiber:
9
g
|
Sugar:
1
g
|
Vitamin A:
9018
IU
|
Vitamin C:
20
mg
|
Calcium:
104
mg
|
Iron:
3
mg