This post may contain affiliate links. Please see my full
Disclosure Policy
for details.
A delicious citrus and rosemary marinated Baked Pork Tenderloin, perfect for a healthy weeknight dinner and special enough for a holiday meal. My Blood Orange Kale Salad is the perfect pairing for this hearty tenderloin recipe!
*This post is sponsored by Sunkist®. All thoughts and opinions are my own. Thanks for supporting the brands I love!
How to Cook Pork Tenderloin
As my diet has gradually switched to a lower carb, higher protein diet, I've been gravitating more towards meat dishes. This style of cooking is helping me feel more in control of my diet, and also helping me build muscle as I work my way back into racing shape.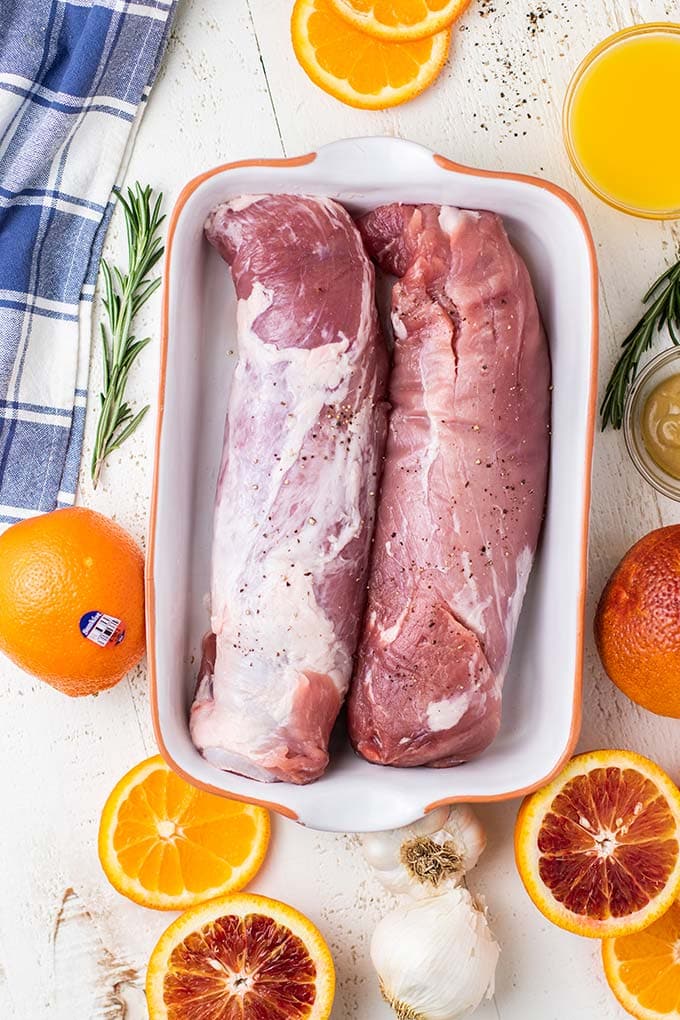 If you too try to eat a higher protein diet, finding easy recipes like this easy marinated Baked Pork Tenderloin will become one of your new favorites. It takes minutes to prepare, is made with all whole ingredients (no sweeteners!), and is flavor packed. Plus — baking is such a great cooking method if you're busy! Just set the timer and go get something else done.
Pork tenderloins can of course be cooked with a variety of methods: Instant Pot, sous vide, grilled, or even in a crock pot. My favorite method is to bake it.
Because tenderloins are thin and long, they bake quite quickly. Pork only needs to be baked to 140º F, and to keep it from over cooking, I pull it out of the oven at about 130º F. Just make sure you temp it before you serve to ensure that it's reached 140º F.
A perfectly baked tenderloin is slightly charred on the outside, and still a touch pink in the center.
If you don't want to turn on your oven, check out the instructions for this Stove Top Pork Tenderloin.
A Sunkissed Citrus-Rosemary Pork Tenderloin Marinade
Citrus is a natural companion to pork. It's bright and fresh flavor pairs well with garlic and rosemary, so it was natural that I centered this dish around this flavorful marinade.
Be sure to check out where Sunkist® citrus is available near you, and download these coupons to try these fun orange varieties.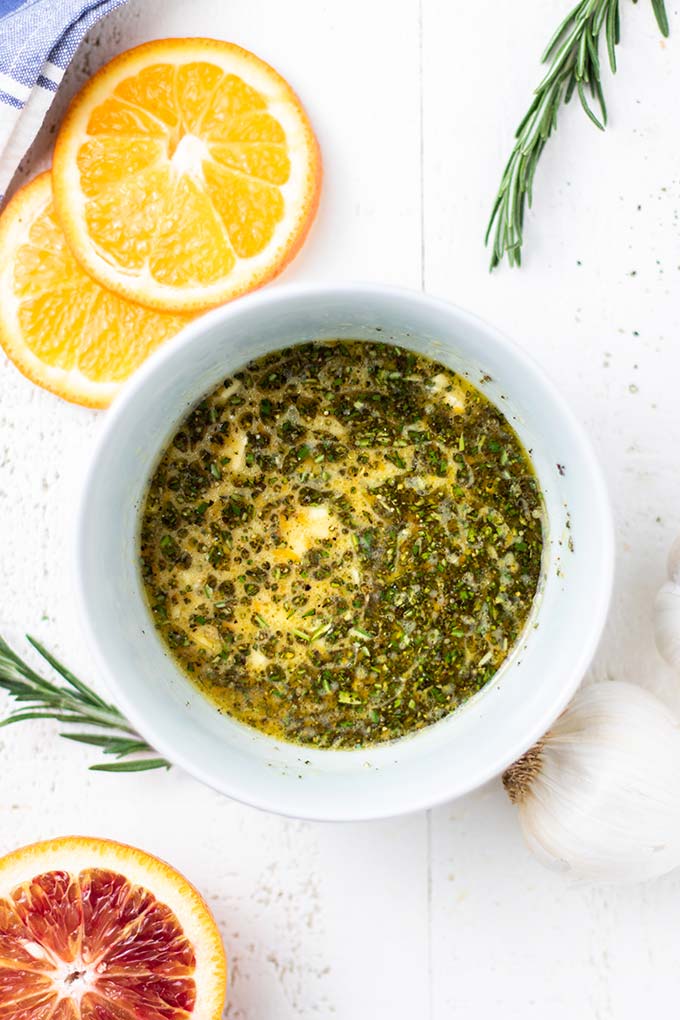 Ingredients for Pork Marinade
Sunkist® Minneola Tangerine juice
Lemon juice
Olive oil – avocado oil is a great sub
Rosemary
Garlic
Dijon mustard
Salt
Once the citrus is juiced, mix it together with the rest of the marinade ingredients, give it a quick whisk, and pour it over your pork tenderloins.
I've made this a few times, and found that the flavors are best absorbed if the pork is marinated for at least 12 hours. However, one night I baked it after just 1 hour of marinading, and the meat still had amazing flavor.
If you can plan ahead, give the pork more time to soak in the flavors. Otherwise, just baste the pork with the marinade and it will still be wonderful!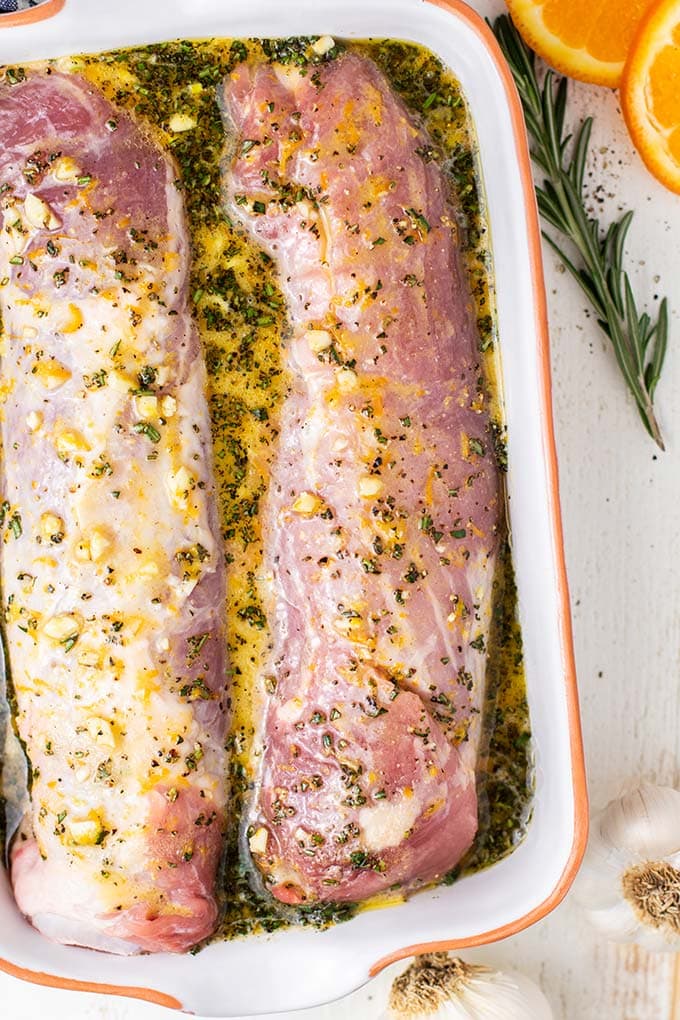 How to Serve Baked Pork Tenderloin
I've been enjoying this marinade so much, I paired it with even more citrus and served it with this perfect Kale Citrus Salad.
I love winter when citrus is at it's peak. It's a bite of sunshine and brightens up a meal.
I'm currently obsessed with Sunkist® Cara Cara, Blood Oranges, and Minneola Tangerines. All are stunningly beautiful, and bursting with sweet tart flavor.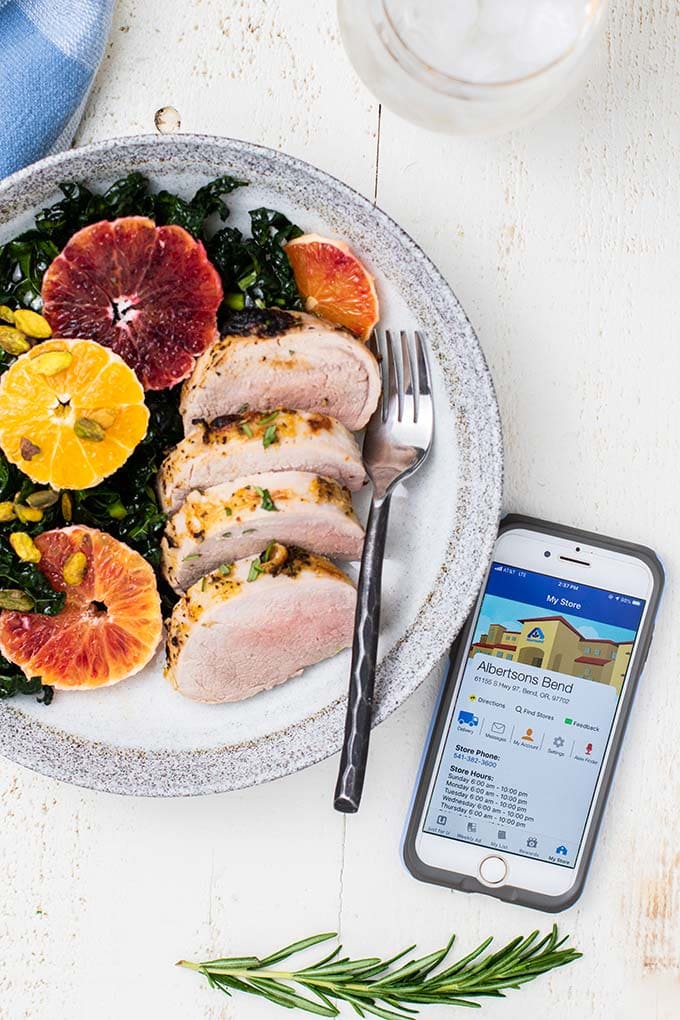 I've been buying them at Albertson's, a great place for a wide assortment of citrus fruit. We love this Baked Pork Tenderloin served with my Kale Citrus Salad, which has sliced Sunkist® Blood Oranges and Minneola Tangerines, and is massaged with an incredible tangerine vinaigrette. The two are a match made in heaven.
If you're not into the kale salad, be sure to slice some extra blood oranges and Minneola Tangerines to serve with the pork.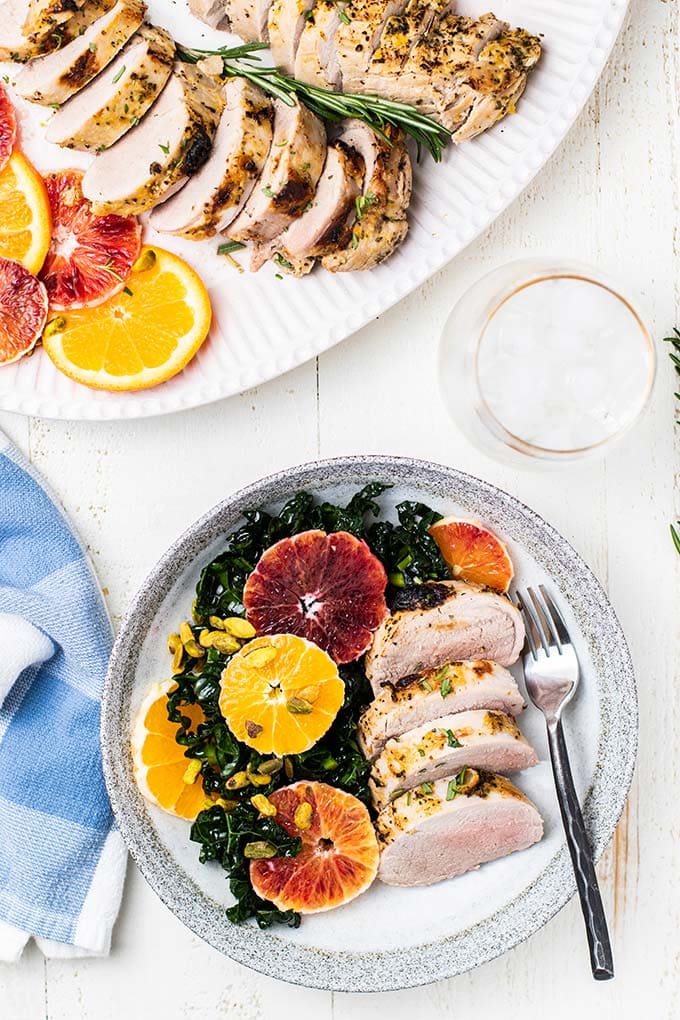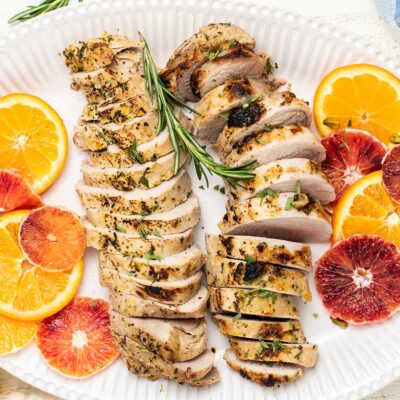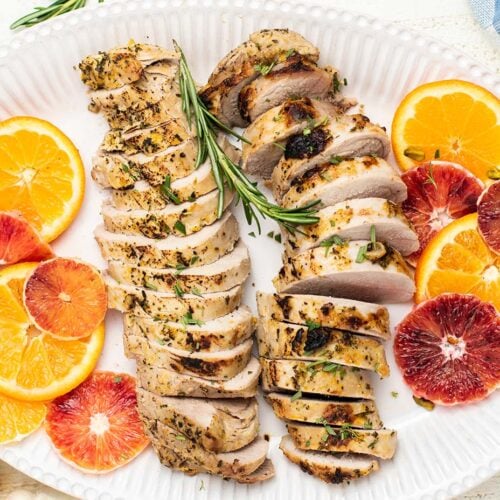 Sunkissed Baked Pork Tenderloin
A flavorful baked pork tenderloin, with a bright and fresh orange and rosemary marinade. Serve this delicious pork recipe with sliced blood oranges and tangerines, or this massaged Kale and Citrus Salad. When I bake pork tenderloins, I look for two that are very similar in weight and diameter, so that it is easier to cook both to the perfect doneness. If one is thinner than the other, it will overcook while the other is at the right temperature, because these thin pieces of pork cook rather quickly.
Print
Pin
Rate
Servings:
8
4 ounce servings
Ingredients
2

pounds

pork tenderloins

1/3

cup

tangerine juice

freshly squeezed

2

tablespoons

lemon juice

zest of 1 orange

2

tablespoons

olive oil

1

tablespoon

garlic

finely chopped

1

tablespoon

rosemary

fresh, finely chopped

1

tablespoon

sea salt

black pepper

to taste
Instructions
Add the pork tenderloins to a marinading container or large plastic bags.

In a medium sized bowl, add the rest of the ingredients to prepare the marinade. Whisk together, and then pour 2/3 of the marinade over the pork, reserving the rest for later.

Marinate the pork tenderloins in the refrigerator for at least 1 hour, up to overnight.

Preheat the oven to 450º F, and add marinated pork to a large baking dish, discarding excess marinade.

Use a meat thermometer and bake the pork to an internal temperature of 132º F for the pork to be slightly pink in the center. The pork will continue to cook after it's been pulled out of the oven and will reach 140º F. If you bake the pork to 140º, it will no longer be pink in the center after it's rested. The pork will take anywhere between 15-25 minutes to bake, depending on desired doneness and how thick they are.

Baste the tenderloins with the remaining marinade about half way through baking, and again about 5 minutes before removing the pork from the oven.

Allow pork to rest for 10 minutes, and then slice.
Nutrition
Calories:
175
kcal
|
Carbohydrates:
2
g
|
Protein:
24
g
|
Fat:
8
g
|
Saturated Fat:
2
g
|
Cholesterol:
74
mg
|
Sodium:
932
mg
|
Potassium:
464
mg
|
Fiber:
1
g
|
Sugar:
1
g
|
Vitamin A:
34
IU
|
Vitamin C:
5
mg
|
Calcium:
14
mg
|
Iron:
1
mg
Other Healthy Baked Pork Recipes