This post may contain affiliate links. Please see my full
Disclosure Policy
for details.
Try a Breakfast Smoothie with Oatmeal! This SunButter and Raspberry layered smoothie has oatmeal, and packs in the protein from Greek yogurt and optional protein powder.
Adore healthy smoothie recipes? Try this Blueberry Avocado Smoothie, or this Healthy Chocolate Chip Mint Smoothie!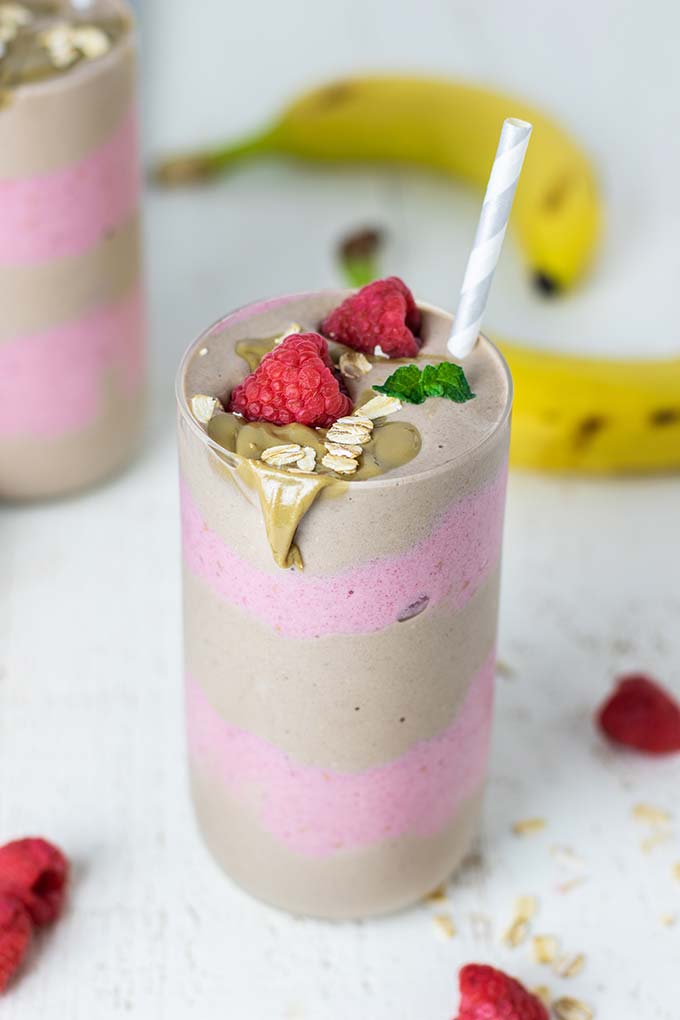 This post is sponsored by SunButter— makers of my favorite Sunflower Seed Butter. As a peanut allergy sufferer, I value companies like SunButter who create healthy products that are not only delicious, but SAFE! Thank you for supporting the brands that help keep Sunkissed Kitchen running at full speed.
A Healthy Breakfast Smoothie!
Smoothies are one of my very favorite things. So many incredible combinations, and they are a great way to sneak in extra fruits and veggies.
Often, I drink smoothies for snacks or dessert (Chocolate Chip Mint Smoothie, anyone?!). When I make them for breakfast, I make sure I'm including lots of protein.
Why You'll LOVE this Smoothie Recipe:
It's fun! Layers of SunButter and raspberry smoothies give this a "PB&J" feel, but it's much healthier and dare I say more delicious?!
Your kids will love this — and you'll rest assured knowing how much nutrition is packed in. Layering smoothies always gets my son excited.
You will love this – because it's high in protein and fiber, from the fruit, oatmeal, and Greek yogurt.
Even if you choose to mix it all together into 1 smoothie, rather than layering it, it's easy to make. I have 2 blenders so I just pull two out when I am making something like this. If you don't, just pour 1 of the smoothies into a large container and put it in the freezer while you make the other smoothie.
TOPPINGS! Always. I kept it simple in the photos here — just raspberries and a SunButter drizzle, but chocolate chips, nuts, or granola would all be fun here!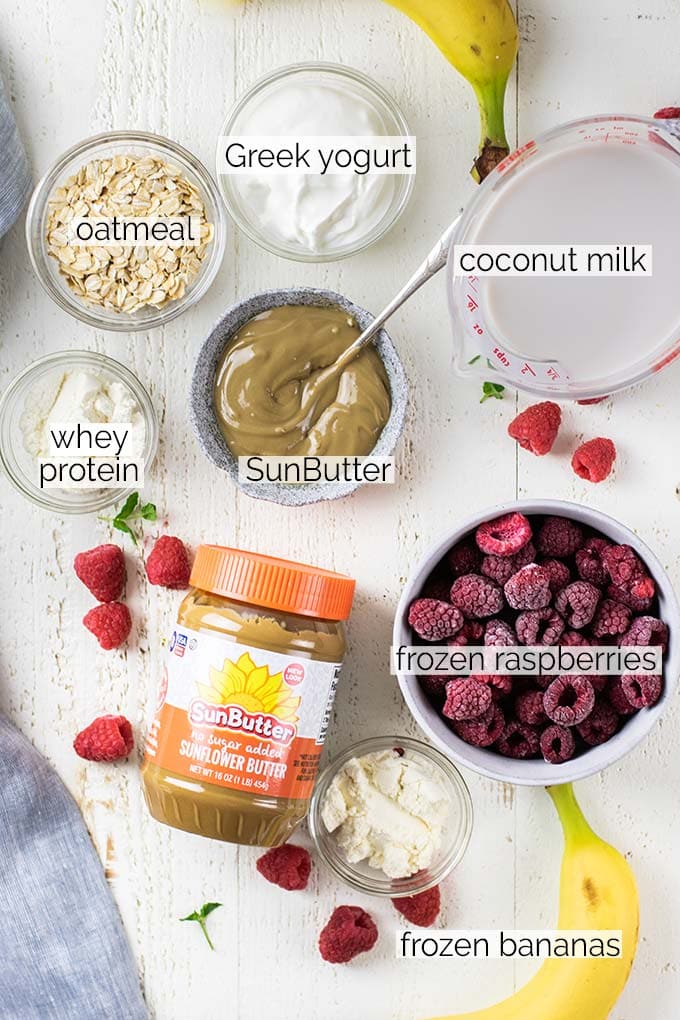 This SunButter and Raspberry Smoothie gets all the protein you need from:
SunButter No Sugar Added (buy the 6 pack – I promise you won't be sorry!)
Greek yogurt (I use full fat when I am using dairy products)
Whey protein powder (this is my favorite – gives smoothies the best texture!), but use whatever unflavored/unsweetened protein powder you love.
I adore SunButter No Sugar Added and ALWAYS have it in my fridge. It's delicious just off a spoon, but also is a great allergy-safe stand in for peanut butter or nut butters.
In addition to adding protein to this smoothie, it also adds satiating healthy fats to help keep you going until lunch time. Plus, sunflower seeds are high in fiber, zinc, folate and vitamin B6, meaning it's a great option for keeping you immune system running at full speed.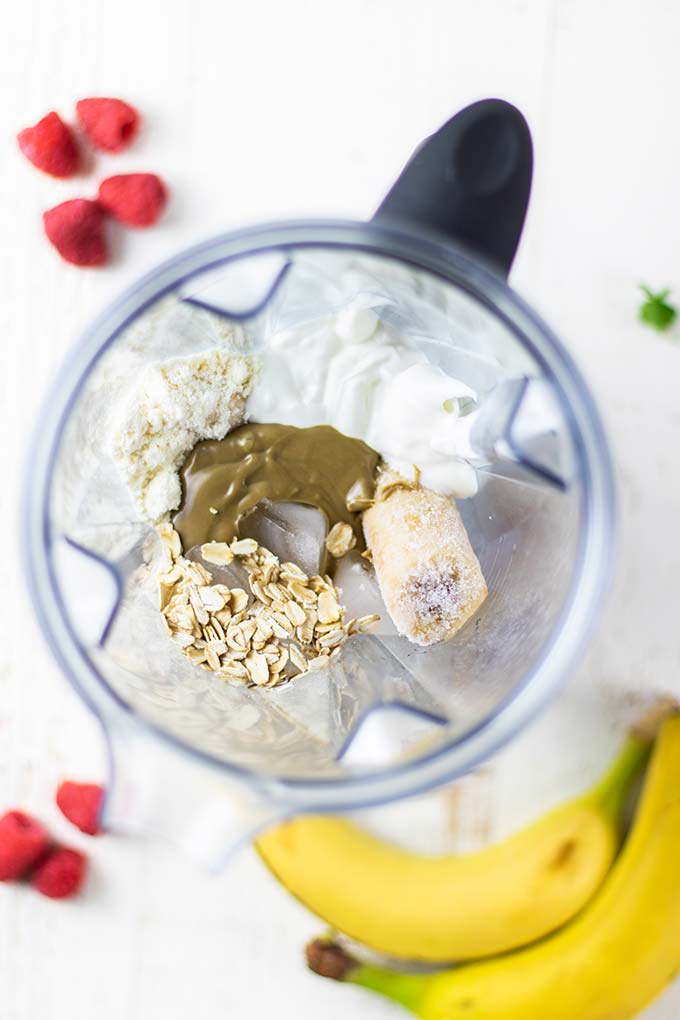 Other ingredients that make this recipe a healthy & filling breakfast:
Oatmeal (love the texture from this!)
Fruit – raspberries and bananas! Keep these smoothie staples in your freezer.
Non-dairy milk – while this smoothie isn't non-dairy, I do limit dairy products so I always have almond and coconut milks on hand. Oat or even dairy milk will work here! Use what makes you happy.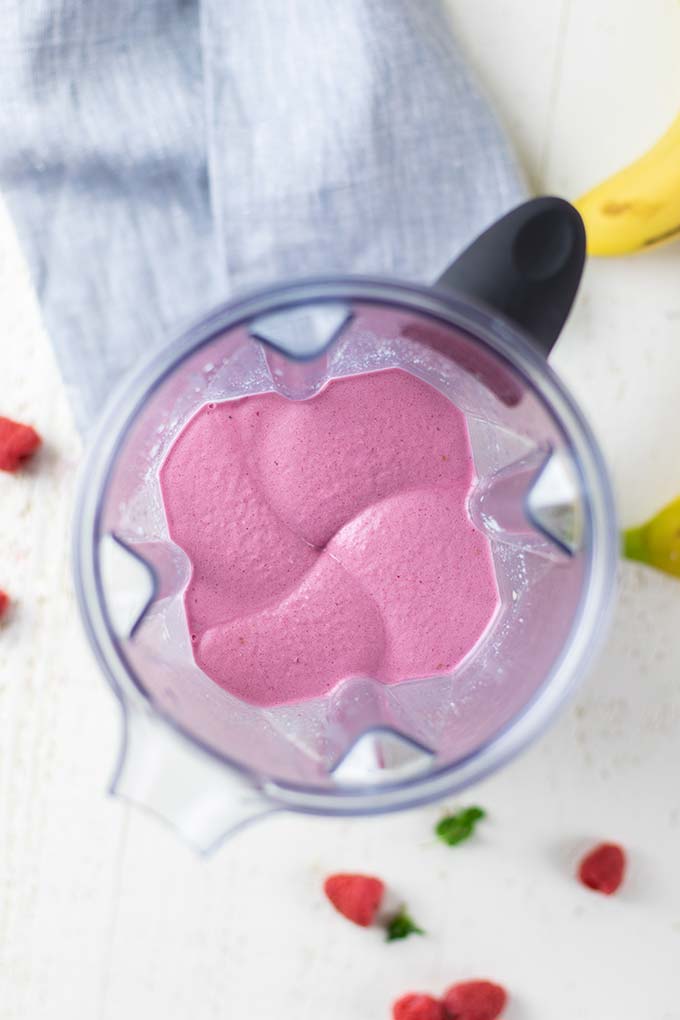 How to Layer Smoothies
We love layered smoothies for a fun presentation. I've done this before with my Pumpkin Pie Green Smoothie and my Strawberry Colada Green Smoothie.
Here are some tips to help you accomplish this fun smoothie idea!
If you have two blenders, you might as well pull them both out. You will end up cleaning two containers anyway, so it doesn't end up being more work.
If you only have 1 blender, use a pitcher or large storage container to store 1 of the smoothies in the freezer while you prepare the 2nd.
Make the smoothies slightly thicker in texture than you normally would, so you can create the layers without the smoothies mixing.
Use a spoon to flatten the layers between pouring each one, so that the layers are more even.
Choose your favorite toppings! Dark chocolate chips, granola, extra fruit, coconut, or chopped nuts are some healthy options.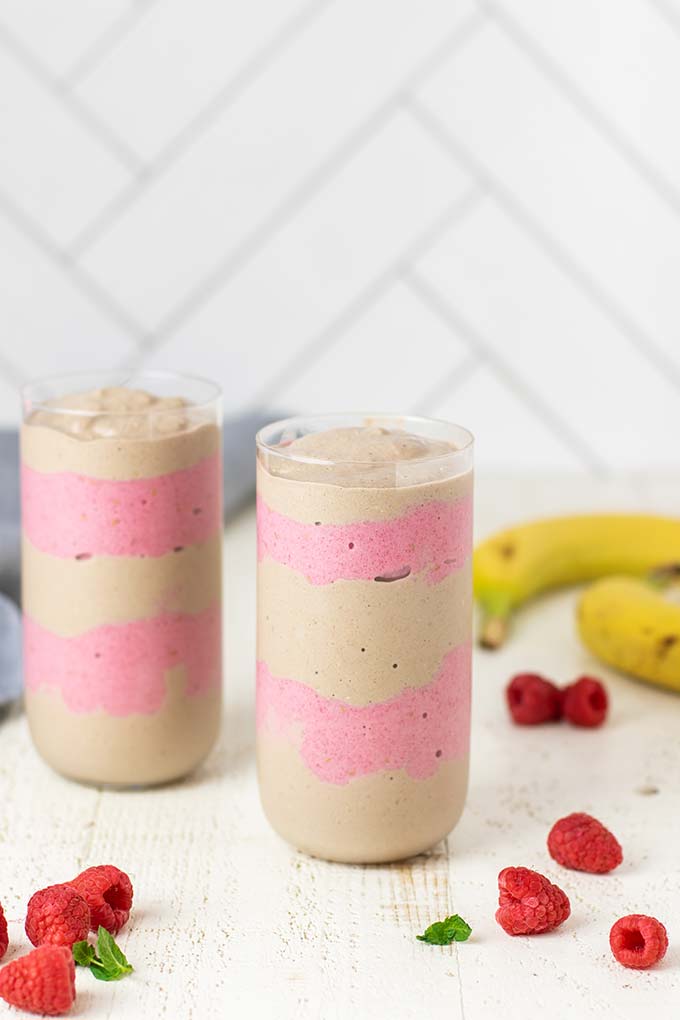 Other Healthy Breakfast Smoothie Recipes
If you make this recipe, be sure to share it with me! Find me on Facebook or Instagram and be sure to tag #SunkissedKitchen @SunkissedKitch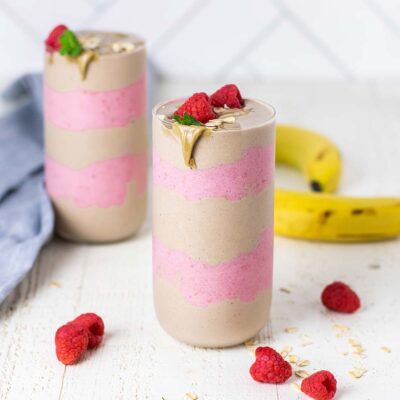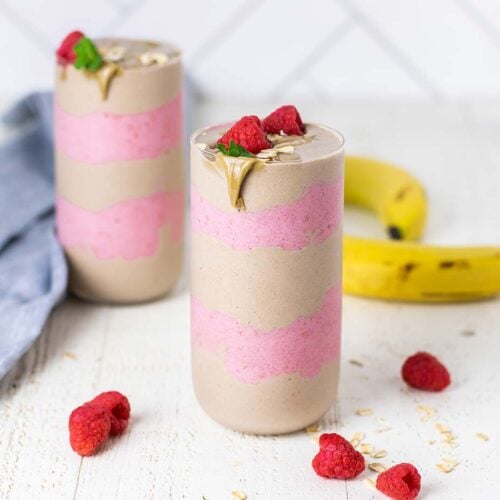 SunButter Raspberry Breakfast Smoothie
A healthy breakfast smoothie loaded with fiber, healthy fats, and protein, for plenty of staying power to get through the morning! This energizing combo is sure to delight your kids!
Print
Pin
Rate
Ingredients
SunButter Banana Smoothie
Raspberry Smoothie
1

banana

quartered and frozen

1/2

cup

coconut milk

or oat or almond

1

cup

raspberries

frozen

2

tablespoons

whey protein

for protein & better texture

ice

2-3 cubes, optional
Instructions
Start by making the SunButter smoothie. Add all ingredients into a blender, and process until very smooth. Thin with additional milk, if desired, but keep in mind that the smoothie needs to be fairly thick to layer.

Add the SunButter smoothie to a large container. Put the SunButter smoothie in the freezer while you rinse out the blender and prepare the make the raspberry smoothie.

Add all the raspberry smoothie ingredients to the blender, and process until very smooth.

Layer the SunButter and raspberry smoothies into several layers, split between 2 glasses.

Top smoothies with additional SunButter, fruit, chopped nuts, dark chocolate chips, or granola, if desired.
Notes
*The smoothies do not need to be layered. Feel free to add all ingredients into the blender together.
**Smoothies need to be fairly thick in order to make layers. Use a spoon between each layer to "smooth" over the top before pouring the next layer on.
Nutrition
Calories:
605
kcal
|
Carbohydrates:
62
g
|
Protein:
34
g
|
Fat:
30
g
|
Saturated Fat:
18
g
|
Polyunsaturated Fat:
1
g
|
Monounsaturated Fat:
1
g
|
Cholesterol:
48
mg
|
Sodium:
147
mg
|
Potassium:
1062
mg
|
Fiber:
9
g
|
Sugar:
27
g
|
Vitamin A:
217
IU
|
Vitamin C:
32
mg
|
Calcium:
255
mg
|
Iron:
7
mg