This post may contain affiliate links. Please see my full
Disclosure Policy
for details.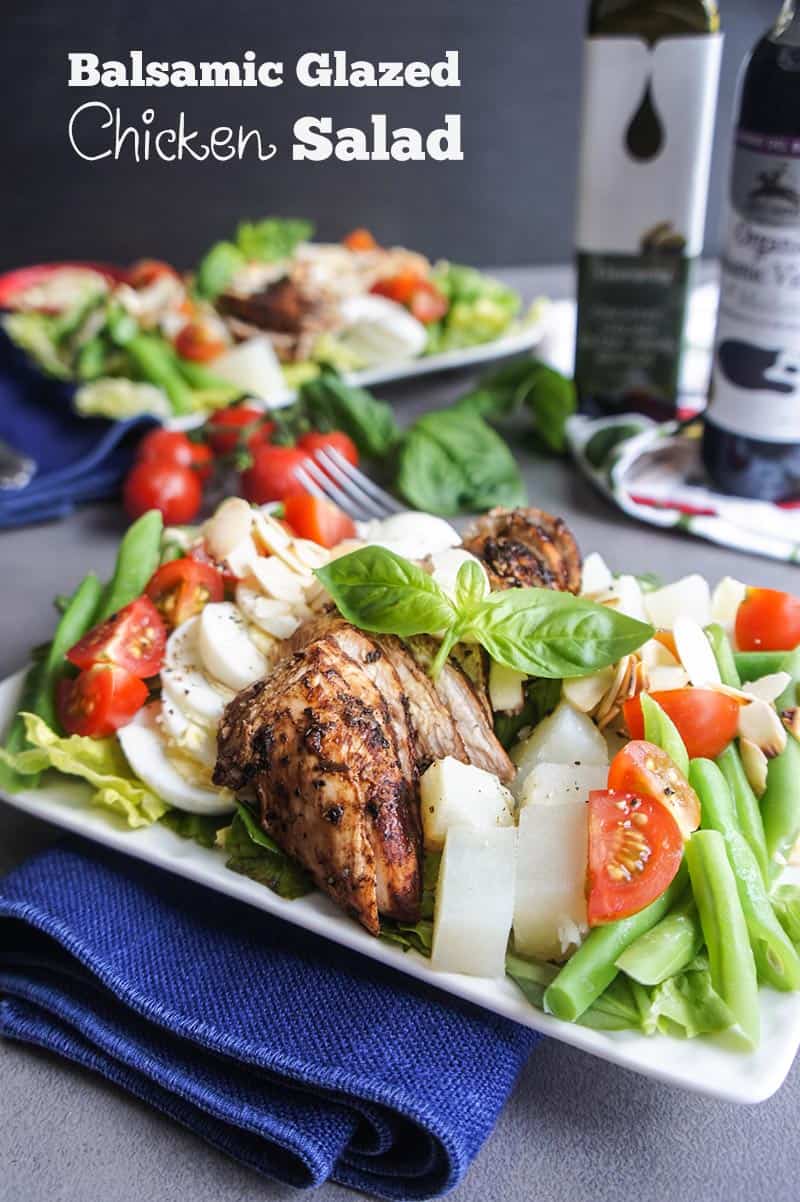 This salad came together so perfectly last weekend, I had to make it again for work lunches. Packed with protein and a hefty dose of fiber, it's guaranteed to keep you full through the afternoon.
I started glazing chicken in balsamic vinegar a few years back while we were staying up in Thailand. We spend a week every summer in a villa in Phuket, and while we do our share of eating out, we love making simple meals in the villa and eating on the back patio together. In tourist areas, the prices of grocery items are jacked up, so to save a bit of cash on our trip, I take a few easy items with us in my suitcase– a bottle of olive oil, balsamic vinegar, a few spices, some cans of tuna, nuts — and of course, some homemade cookies to snack on. Food in Thailand is cheap, but with my food allergies, and the Thai's love of peanuts and tamarind, I can only eat out while we are at the resort.
Plus, eating out for a week straight leaves me feeling sluggish and tired — homemade meals are always the best way to ensure healthy ingredients and healthy preparation.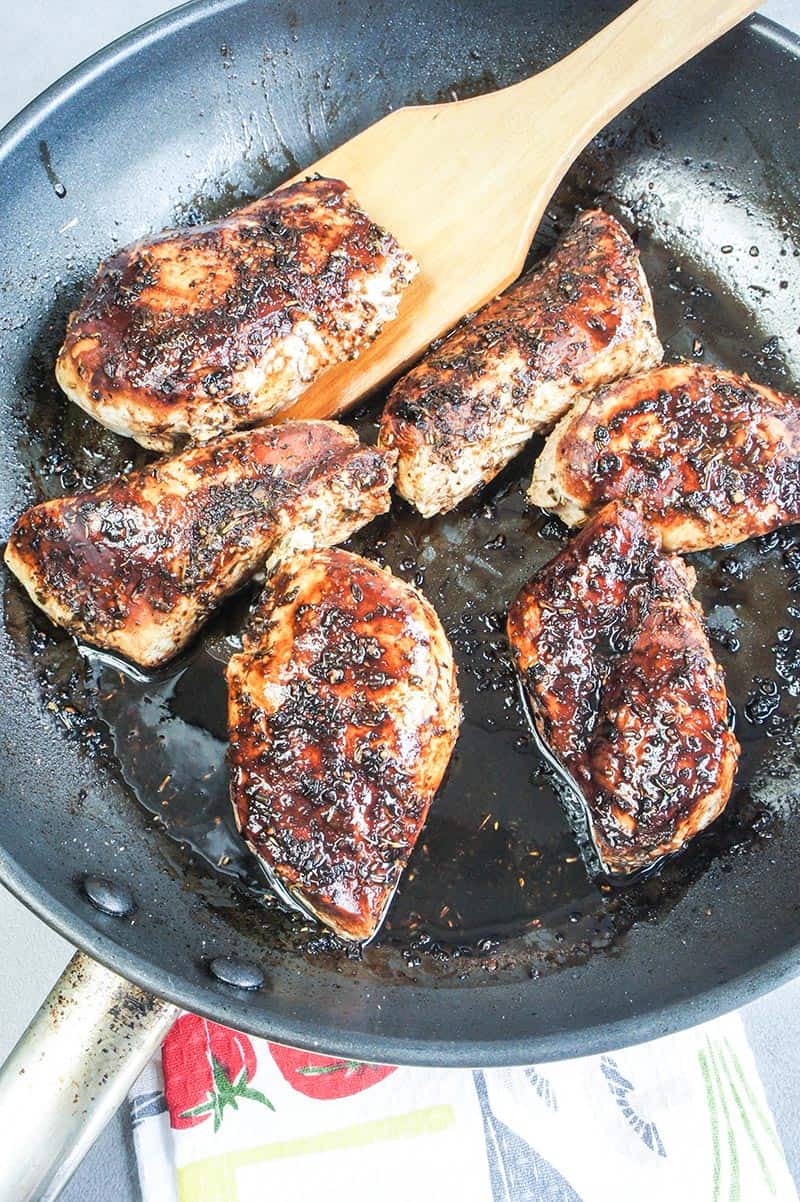 The balsamic glazed chicken turned out so much better than I imagined. The vinegar cooks down as the chicken sears, and turns into a sticky sweet sauce. It may look a bit burnt when it's finished, but the blackened coating on the chicken is actually just a sticky sweet mess of vinegar.
When I slice the chicken, I add the pieces back into the pan, and stir them around to soak up a bit of the extra vinegar reduction. So wonderful.
If you're not in the mood for salad, but just need a simple healthy chicken recipe, try this balsamic glaze.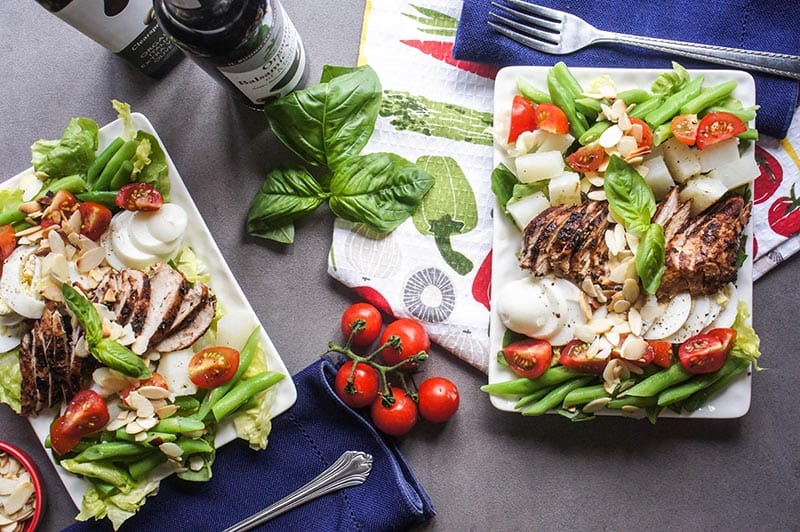 I prepared the hard boiled eggs, boiled potatoes, and blanched green beans in the morning, and had them ready at lunch time when I cooked the chicken. It's always hot here, so a chilled salad fit the bill. All the the salad ingredients served hot on top of the lettuce would be equally good if you're craving the goodness of salad, but also need a warm meal.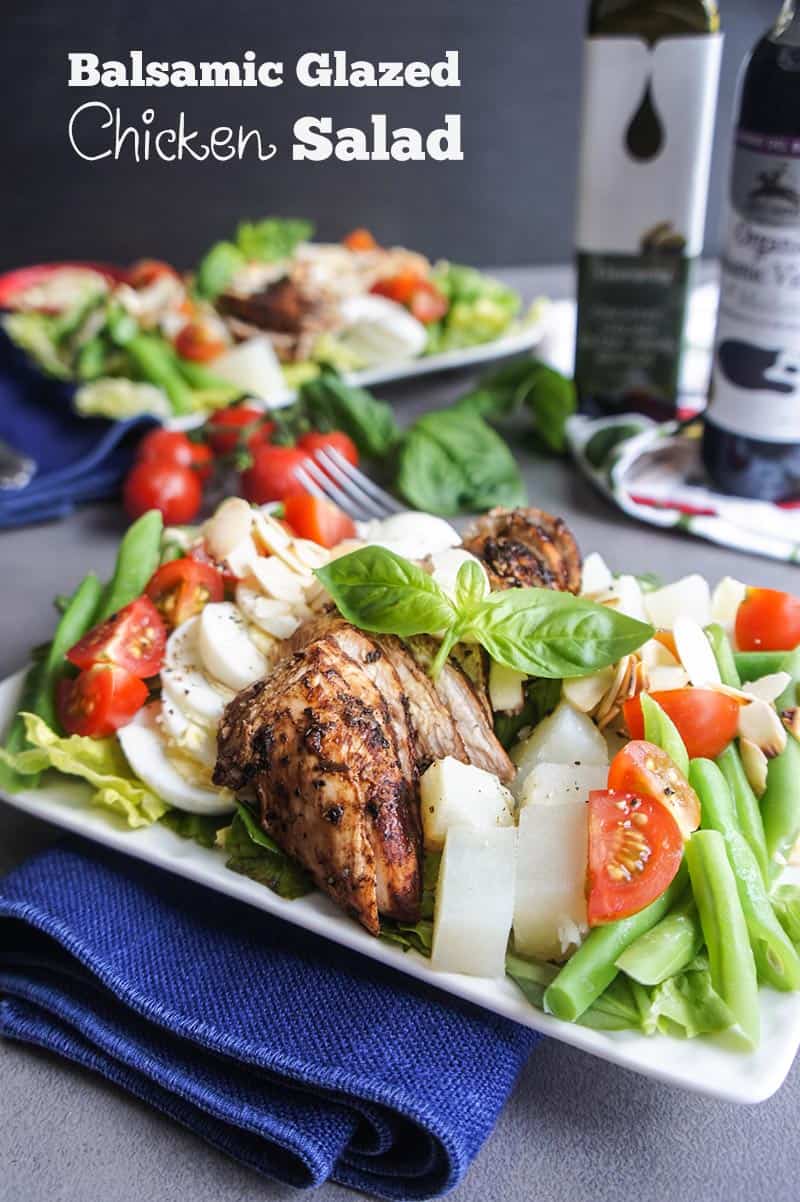 Balsamic Glazed Chicken Salad
Chicken seared in a sticky, sweet balsamic vinegar adds a ton of flavor to this salad. Full of protein and fiber, it's sure to keep you full all afternoon.

Print
Rate
Ingredients
1

teaspoon

olive oil

1

large

chicken breast

(6 ounces)

1/4

cup

balsamic vinegar

1/2

teaspoon

italian seasoning

sea salt and black pepper

to taste

4

cups

romaine lettuce

chopped

4

large

fresh basil leaves

2

hard boiled eggs

1

medium

potato

2/3

cup

fresh green beans

1/2

cup

cherry tomatoes

quartered

1/4

cup

almonds

sliced or slivered

olive oil

to taste

balsamic vinegar

to taste

sea salt and fresh black pepper

to taste
Instructions
To prepare the salad ingredients, hard boil two eggs. Boil the potato until it's tender when pierced with a fork, but not overcooked. Blanch green beans by placing them in a sauce pan with ½ inch boiling water and placing the lid on for 2-3 minutes, then adding the green beans to an ice bath to cool quickly. These ingredients can be served over the salad hot or chilled.

Toast the sliced or slivered almonds by placing them in a small frying pan, and toasting over medium low heat. Stir the almonds every minute or so to keep from burning. Remove from heat when the almonds are evenly brown.

In a frying pan, add 1 teaspoon of olive oil, and heat over medium high heat. Cut the chicken breast in 2 pieces, and add them to the pan. Season the chicken with sea salt, black pepper, and italian seasoning.

Cook the chicken on medium high heat until the bottom side is browned, then flip the chicken. Season the other side with sea salt, black pepper, and italian seasoning.

Reduce the cooking heat to medium (or just shy of medium), and add ¼ cup balsamic vinegar. Let the chicken cook for 10 minutes, until the chicken is about cooked through. Flip, and cook on the other side until the chicken is fully cooked, and the vinegar has formed a thick, sticky sauce.

Flip the chicken a few times to coat the chicken with as much vinegar glaze as possible.

While the chicken is cooking, chop the romaine lettuce, and tear the basil leaves and mix into the lettuce. Add the lettuce to plates, and arrange the chopped boiled potato, blanched green beans, hard boiled egg, and cherry tomatoes on top. Dress the salads with olive oil, balsamic vinegar, and sea salt and black pepper, to taste.

Slice the glazed chicken, and add to the salads.

Top the salads with the toasted almonds.
Notes
*I cooked extra chicken, and used ¾ cup of balsamic vinegar in the photo above. I used the left over chicken for sandwiches, and added it to other salads.
Nutrition
Calories:
427
kcal
|
Carbohydrates:
30
g
|
Protein:
38
g
|
Fat:
17
g
|
Saturated Fat:
3
g
|
Cholesterol:
259
mg
|
Sodium:
225
mg
|
Potassium:
1443
mg
|
Fiber:
8
g
|
Sugar:
9
g
|
Vitamin A:
8959
IU
|
Vitamin C:
30
mg
|
Calcium:
159
mg
|
Iron:
7
mg