This post may contain affiliate links. Please see my full
Disclosure Policy
for details.
If you've never cooked a Beef Tenderloin Roast, you'll be surprised and how quick and easy this beef tenderloin recipe is! Switch up your holiday dinners this year with a decadent whole beef tenderloin roast, coated in a rich rosemary garlic butter. This roast is best if you start it the day before you bake it, so plan ahead for the best results!
Other holiday main dish inspiration – try this Garlic Butter Prime Rib, or a Dry Brined Turkey!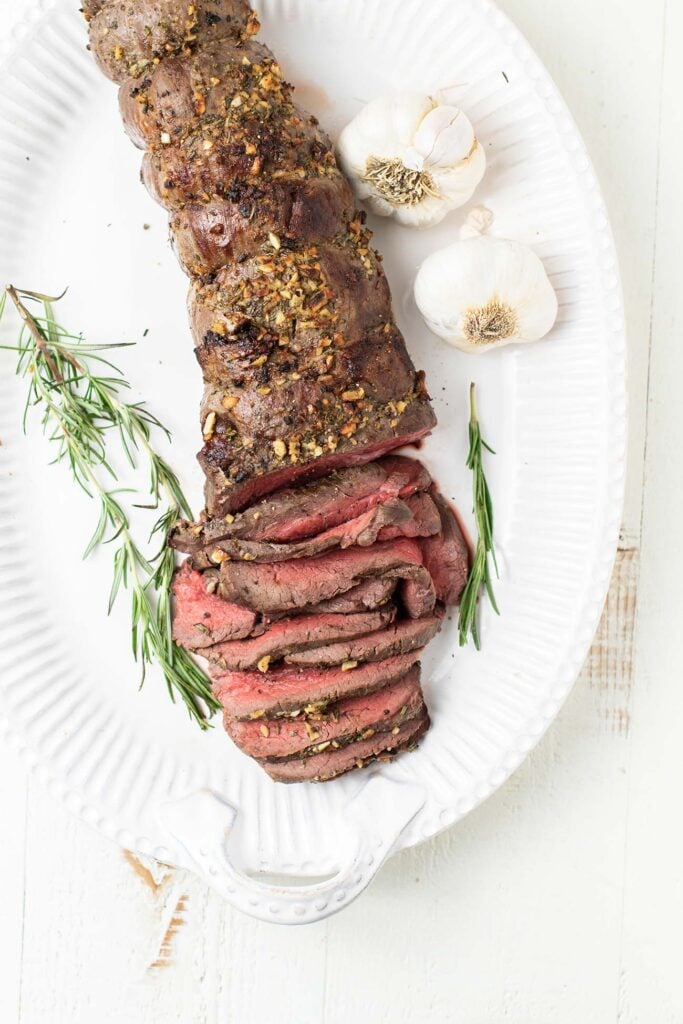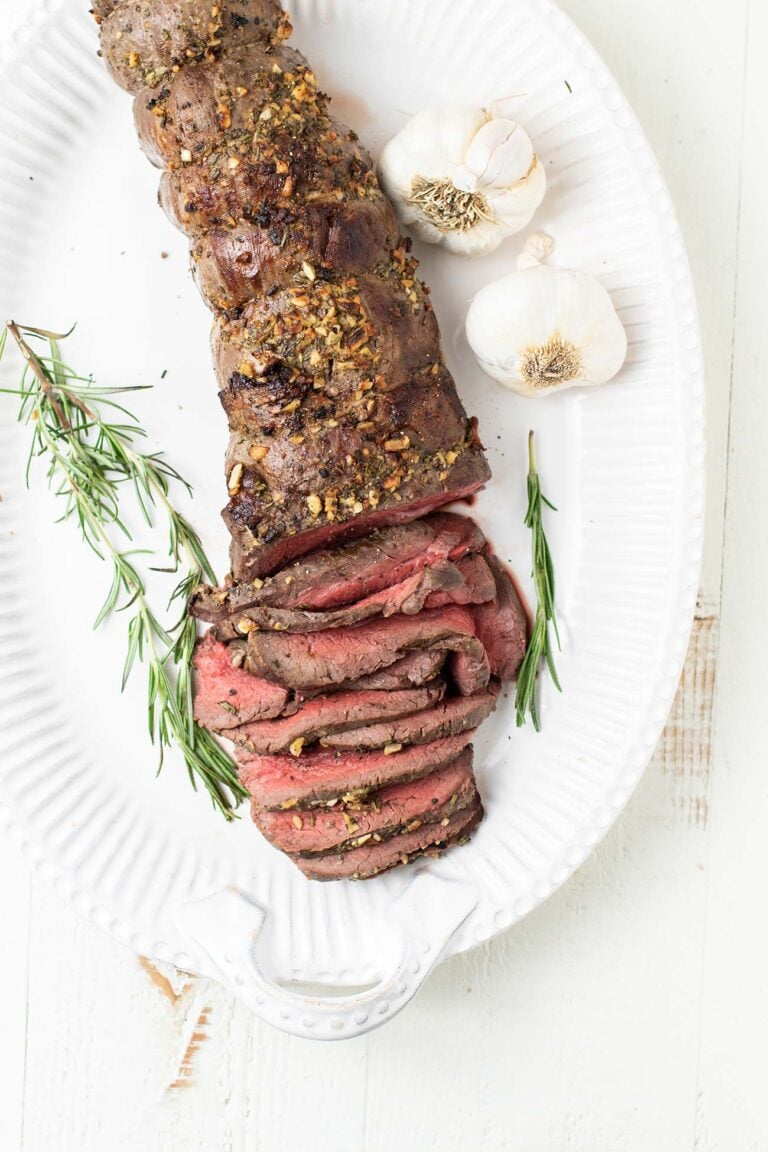 *Today I'm partnering with Sharp Home USA ~ Sharp creates quality home appliances that make life easier!
A Classic Beef Roast, Baked to Perfection
If turkey always comes to mind for the holidays, this Beef Tenderloin Roast, smeared with a rosemary garlic butter compound, might just change your mind.
There will always be a special place in my heart for turkey, but the ease and decadence of this beef roast will cause it to appear on more and more of my holiday tables.
A good beef tenderloin doesn't take much to transform it into a masterpiece. This beautiful roast is coated in a rosemary garlic butter compound prior to being baked, and comes out with the perfect crust, and flavorful, tender interior.
You might also love this Garlic Butter Prime Rib tutorial if you prefer serving beef at holiday events.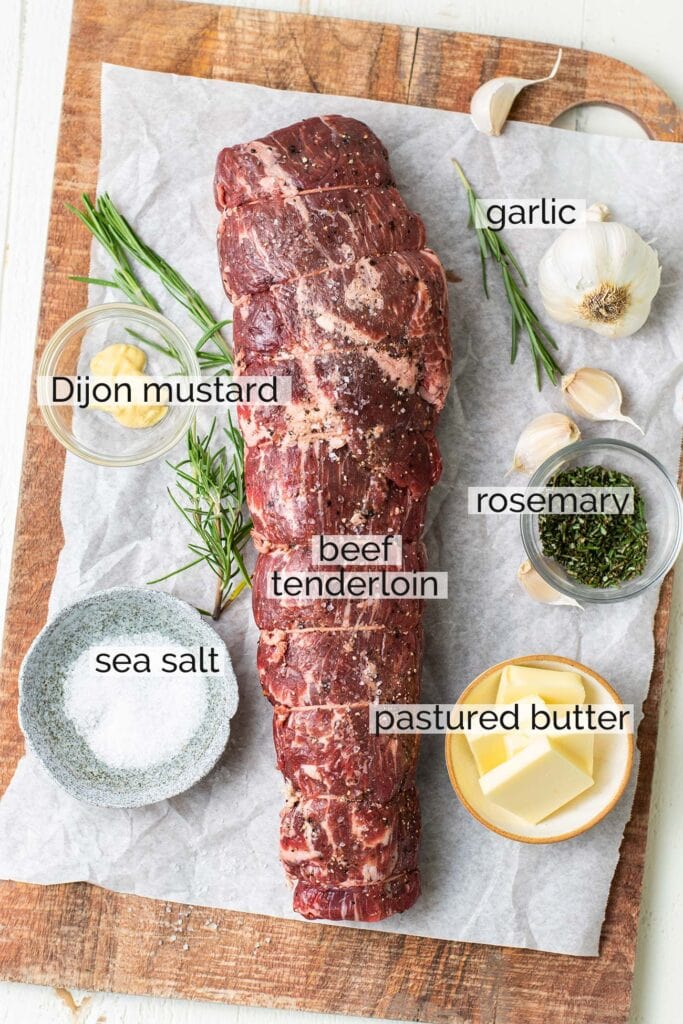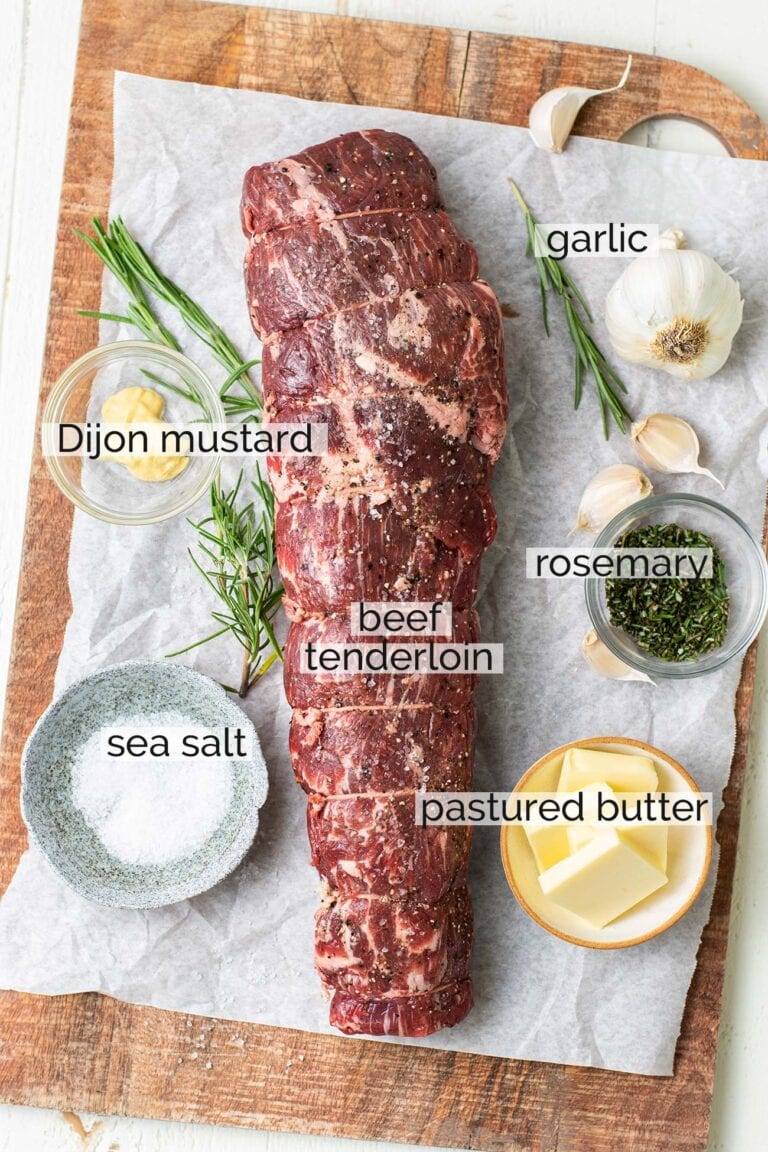 I love buying roasts that are thinner on one end, because you end up with a roast that's medium well on one side, and medium rare on the other. It's truly easy to please everyone at your holiday table with this recipe.
Christmas or Thanksgiving Dinner made Easier!
I can't wait to cook our holiday dinners this year, primarily because I now have 3 luxury Sharp ovens that will make serving everything hot out of the oven a breeze.
This Tenderloin Roast is made in my Sharp SuperSteam+ Built-in Wall Oven. This oven is such a masterpiece, I barely use my standard oven anymore.
It uses a combination of superheated steam and convection to grill, roast, or bake meats, keeping them moist inside and producing the best browning on the outside. It has quickly become my favorite appliance in the kitchen. I have so much flexibility to create dynamic and flavorful dishes that have restaurant-quality results.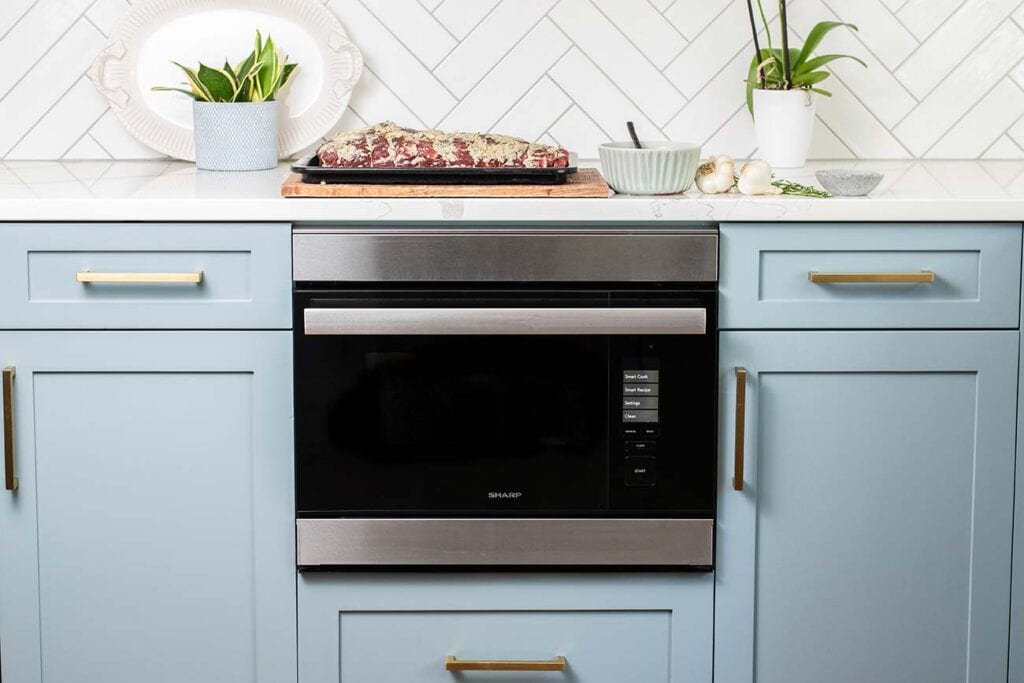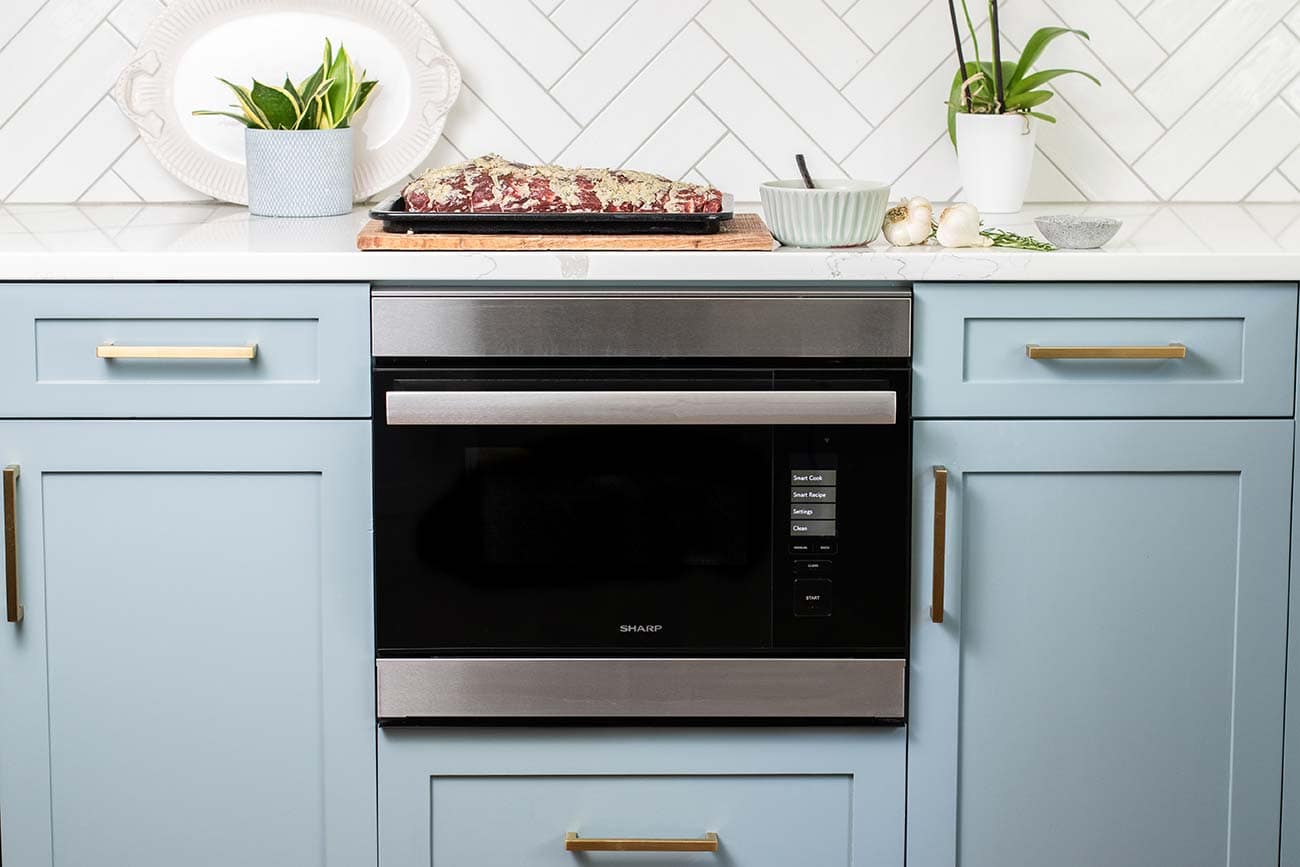 Not to mention, the oven is incredible for baking breads. Its Steam/Bake setting has a special Bread mode that makes the crust of homemade breads taste like they came from a bakery. Xander has loved me making him homemade soft pretzels and of course, lots of homemade pizza crusts.
If you think a steam oven would make a great addition to your kitchen, hop on over to Sharp's website to learn more about this incredible appliance.
How to Bake a Beef Tenderloin Roast
Step 1: If your roast isn't already tied, use kitchen twine to wrap up the roast. This allows it to cook more evenly. Some people also fold the thin end in to the center to even out the bake time so the roast is more evenly cooked. I actually like that one end will end up more well done, and the other more rare, because people generally have different preferences on how they'd like their beef cooked.
Next, season the roast generously with salt and pepper. If you started a day before you need to cook the roast, place the seasoned roast on a serving platter, and refrigerate it uncovered overnight. This will help the roast have the best flavor and produce a better crust on the meat when baked.
Step 2: This beef tenderloin recipe is magical because of a simple compound butter. Add the ingredients, including fresh rosemary, Dijon mustard, and LOTS of garlic to softened butter and mix to combine. Keep the butter at room temperature for easy spreading.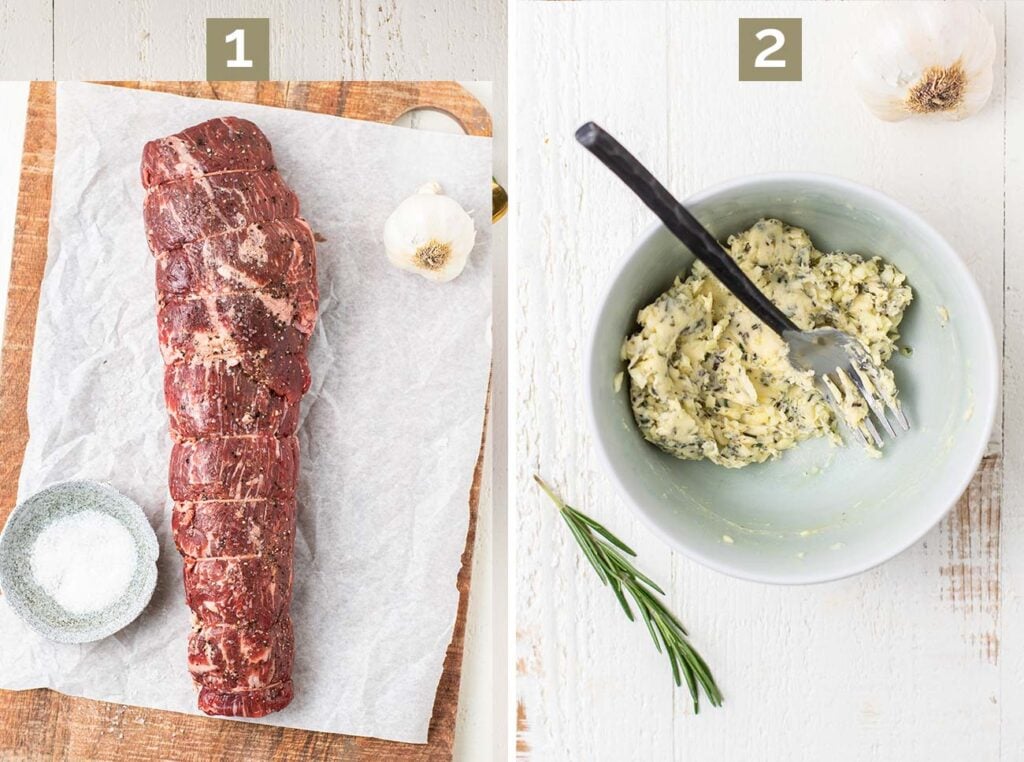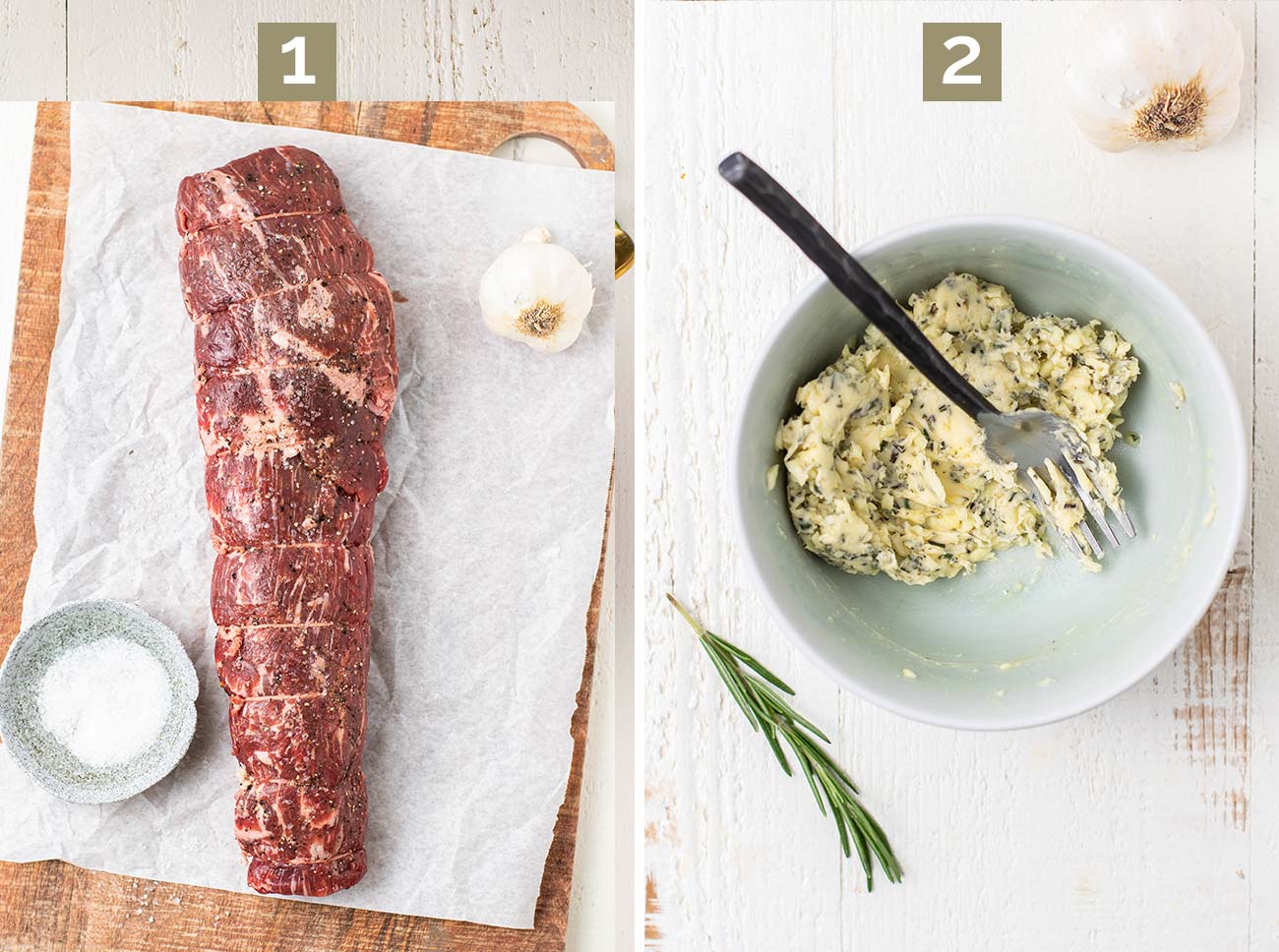 Step 3: When ready to cook your beef tenderloin roast, evenly coat the roast in the softened compound butter. Place the roast on a baking tray.
Step 4: Bake the roast for about 15 minutes, flip it, and continue baking it for 10 minutes or longer. Use a meat thermometer, and remove the roast when it's about 5 degrees lower than your desired temperature.
Rare: 120-125º F
Medium Rare: 130-135º F
Medium: 140-145º F
Medium Well: 150-155º F
Well: 160-165º F
If your roast is thicker on one end than the other, like the one shown in the photos, be sure to take the temperature of the thickest part of the roast. The other end will be more well done.
I like to stop my roasts at about 127º F, knowing that after it rests is will be about 132-135ºF for a perfect medium rare roast.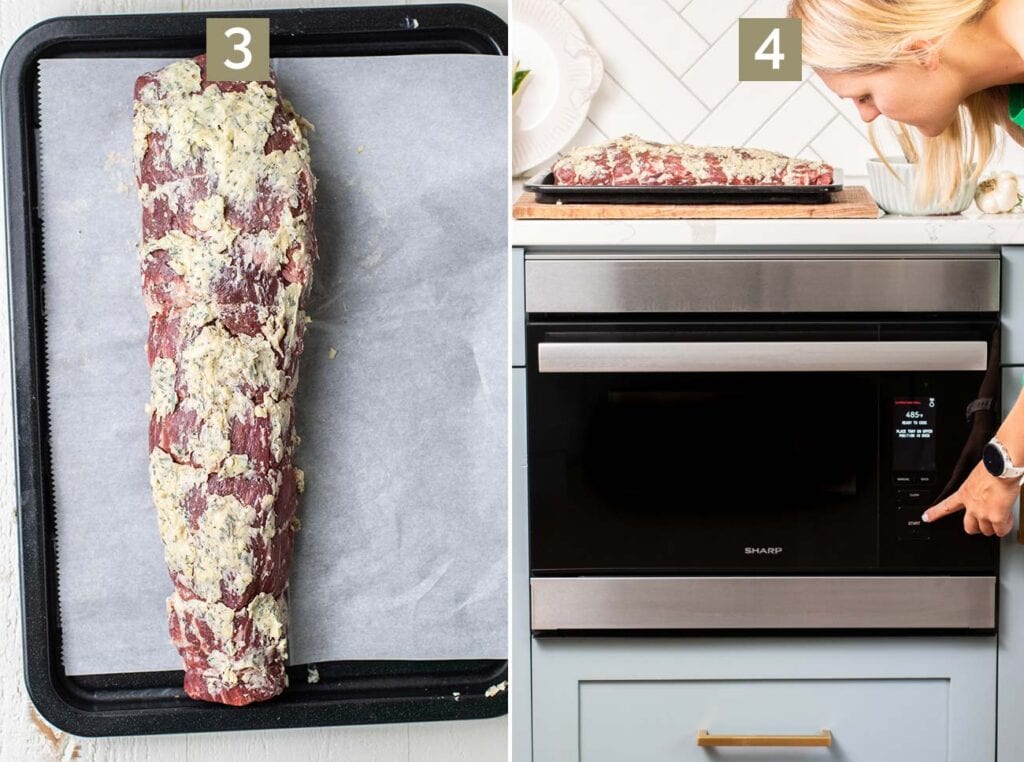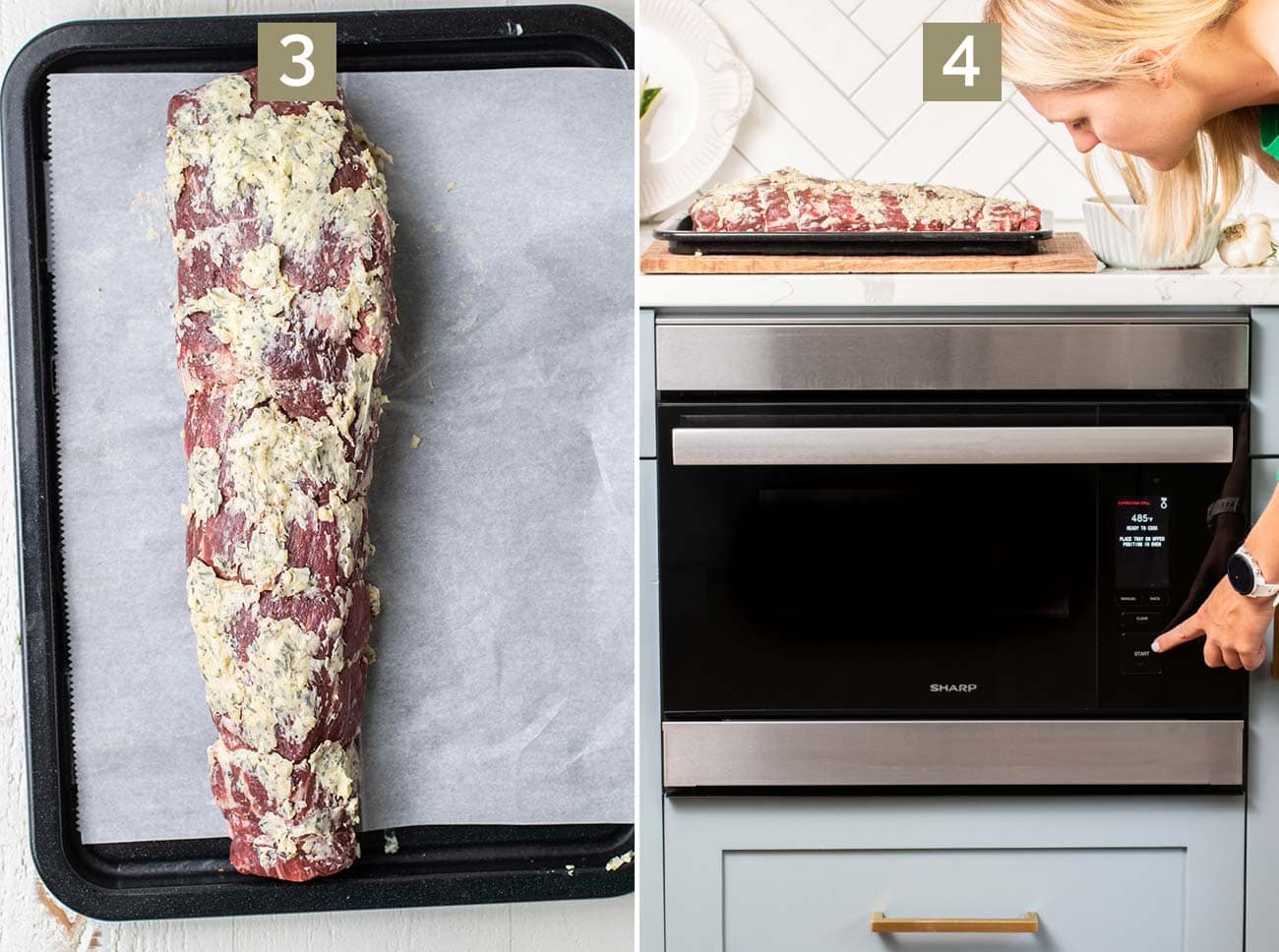 Step 5: After the roast has finished baking, allow it to rest about 10 minutes. Some cooks like to cover the roast with foil to keep in the moisture and heat while the roast rests. I don't find that's necessary, especially when baking a roast in the Sharp SuperSteam+ Built-in Wall Oven.
Step 6: I love to very thinly slice the beef. Some people prefer slices that are about 1/2 inch thick. Choose the best option based on your preference or how you'd like the presentation to look.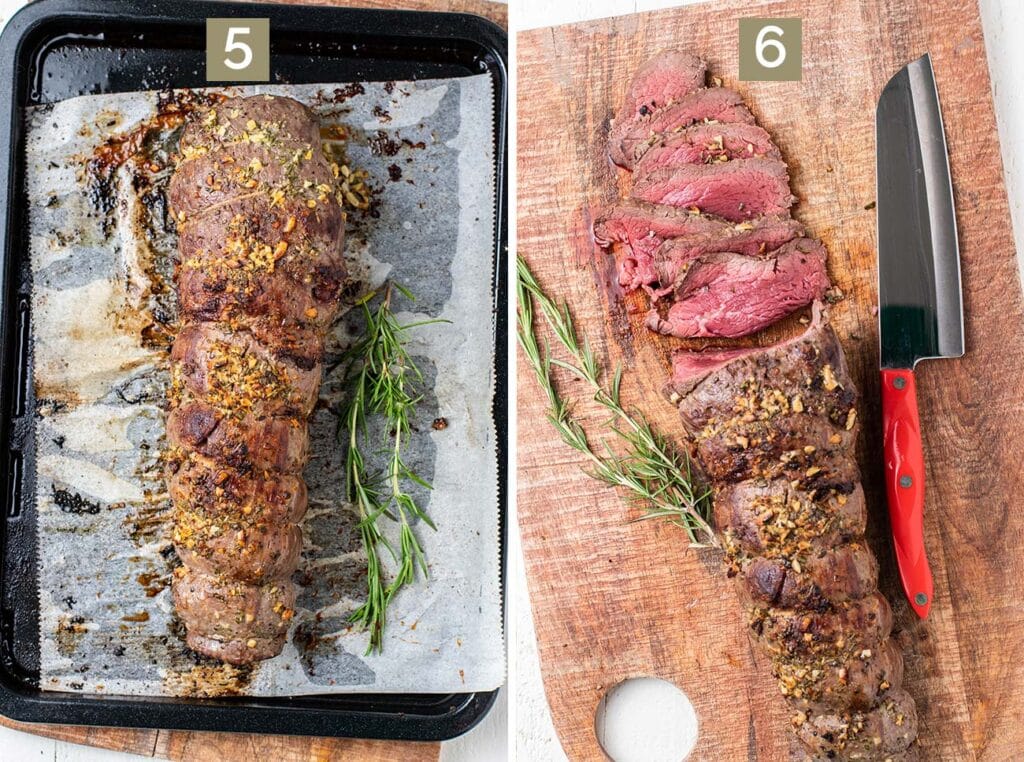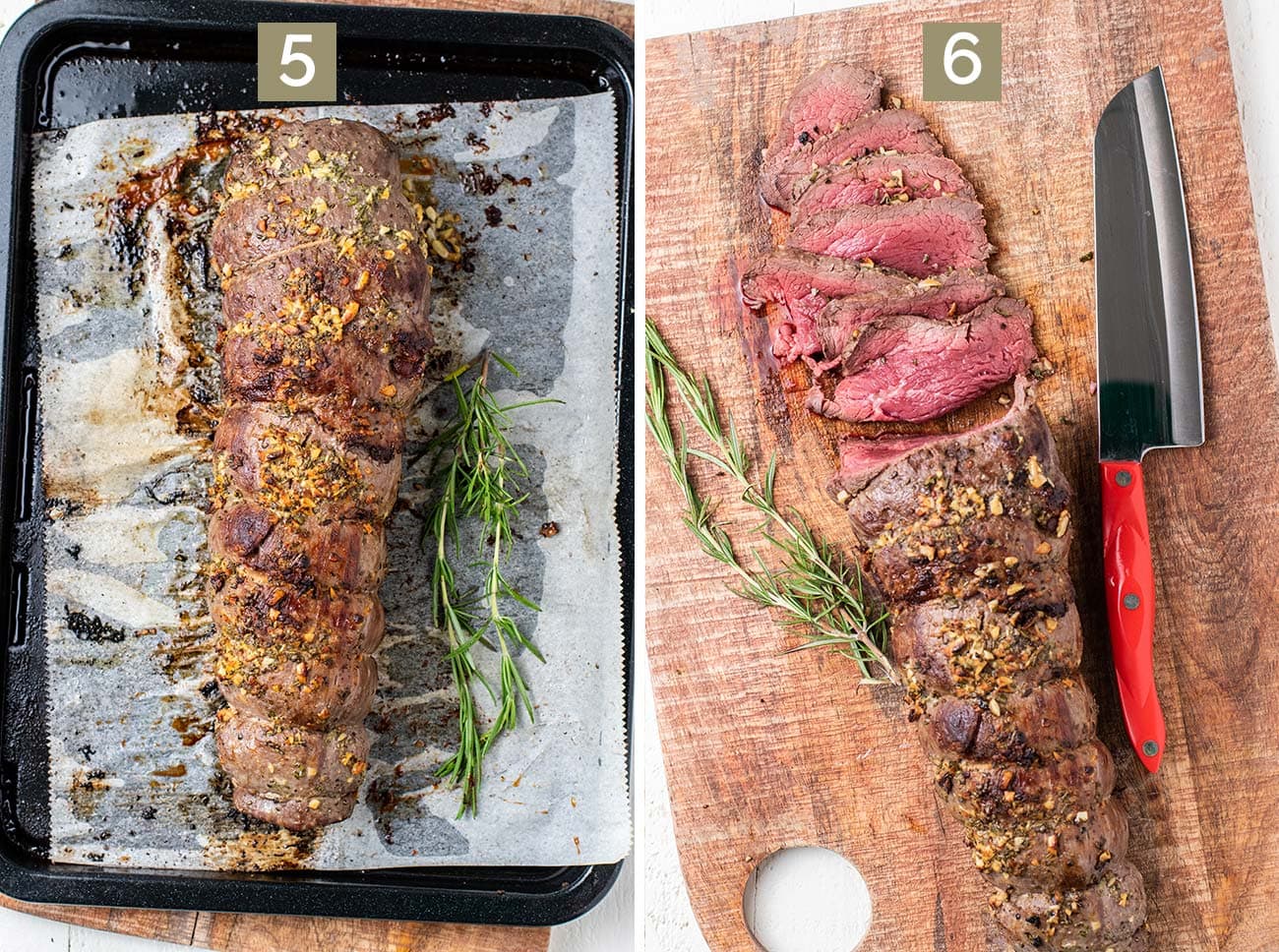 Tips for the Best Chateaubriand
The crust on this roast is so flavorful, I don't find a need to serve it with a sauce. Popular sauces on Beef Tenderloin Roasts are peppercorn sauce and Horseradish Sauces.
Buy quality meat. I recommend looking for a grass-fed roast, knowing it will be the most nutritious and also the best option if you're concerned about the environmental impact of the meat you purchase and consume.
Plan 1 day ahead. This beef tenderloin recipe is best if allowed to sit uncovered, seasoned with salt and pepper, overnight. If you don't have time for this, try to allow it to sit with the salt and pepper for at least an hour.
Side Dishes to Serve with a Beef Tenderloin Roast: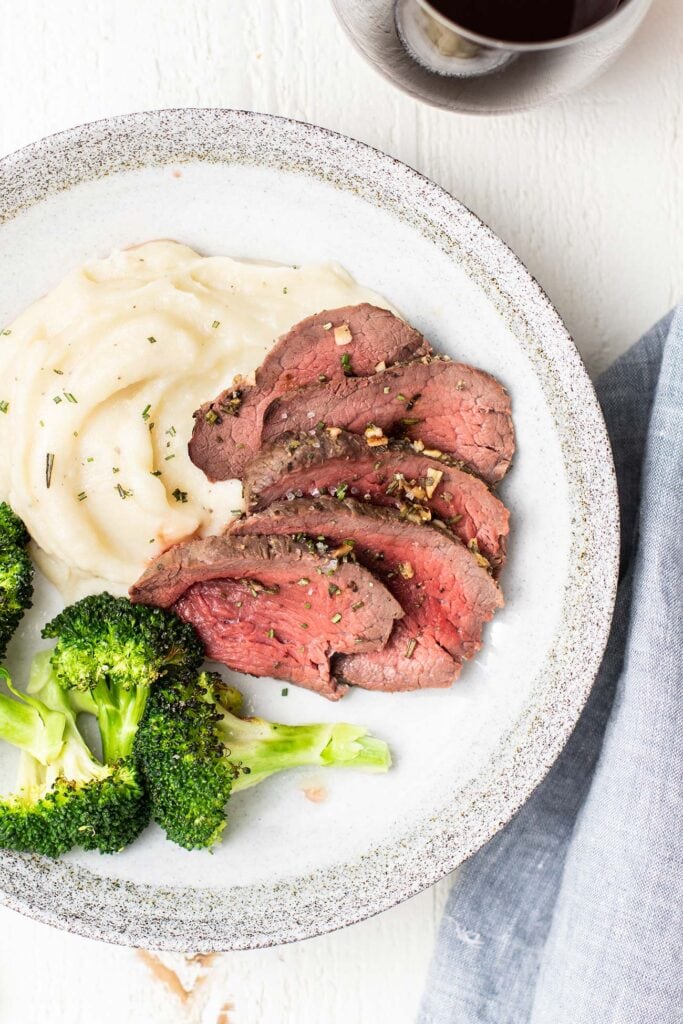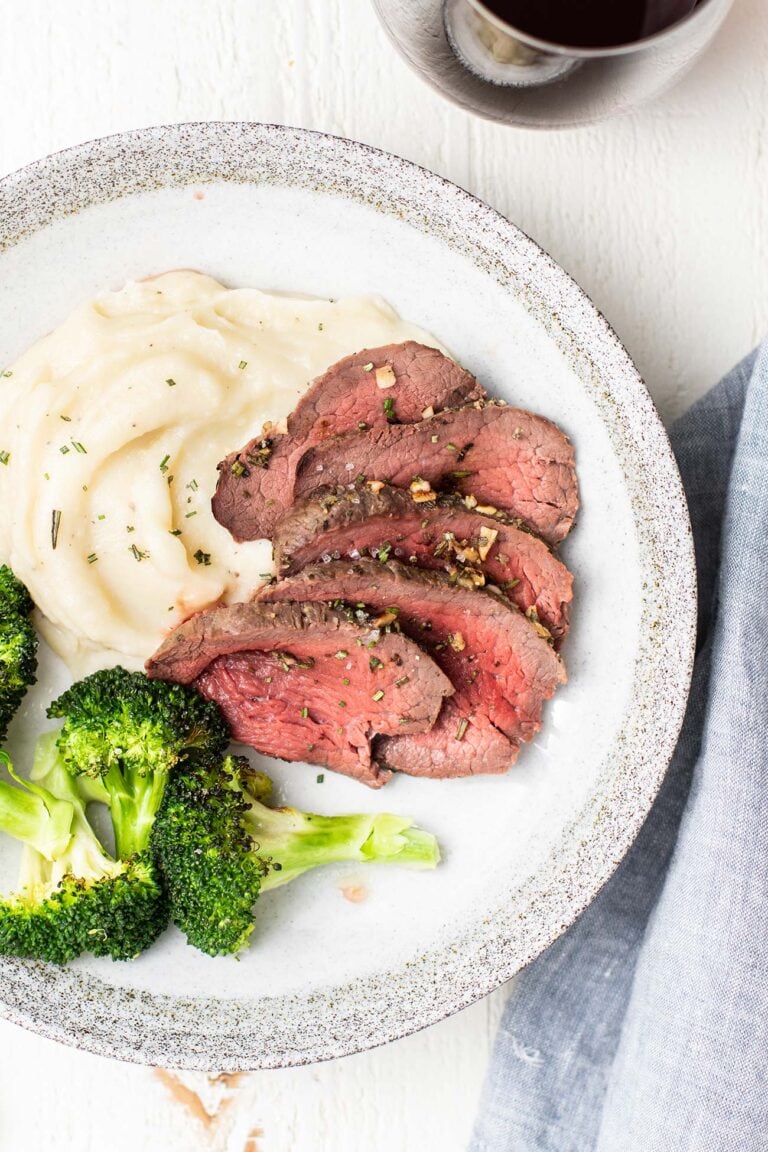 If you make this recipe, be sure to share it with me! Find me on Facebook or Instagram and be sure to tag #SunkissedKitchen @SunkissedKitch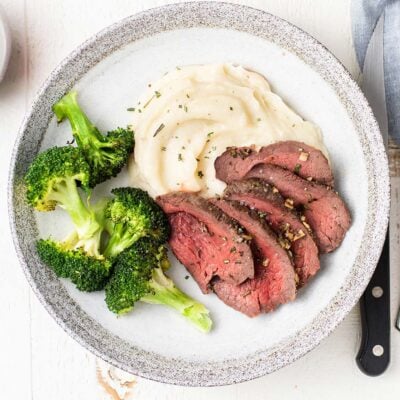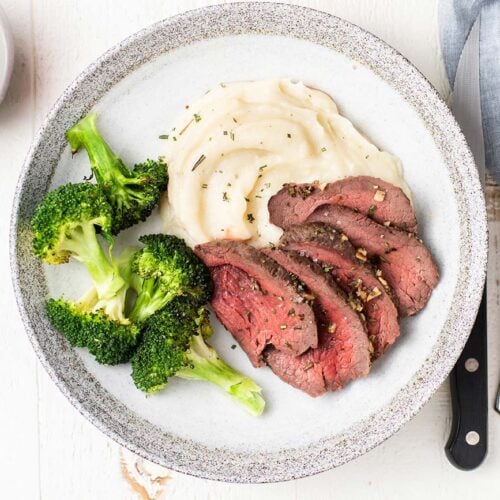 Beef Tenderloin Roast
You might just swap your holiday turkey for this decadent beef tenderloin roast once you've tried it! A flavorful garlic and rosemary butter gives this tender meat so much flavor! Serve this with roasted broccoli, mashed potatoes, or a simple green salad, and let the tenderloin be the star of the show. We recommend starting your roast the day before. A sea salt and pepper rub the day before ensures the best crust around your roast.
Print
Pin
Rate
Ingredients
3

pound

beef tenderloin roast

1

teaspoon

sea salt

black pepper

to taste

4

tablespoons

butter

salted

4

cloves

garlic

minced

1

tablespoon

rosemary

chopped

1

teaspoon

dijon mustard
Instructions
Tie the tenderloin roast with kitchen twine. This is done by spacing individual pieces of twine out every 2-3 inches along the roast.

Season the roast with salt and pepper. Leave it uncovered in the refrigerator overnight.

Preheat the Sharp SuperSteam+ Built-In Wall Oven to Steam/Roast at 450º F for 15 minutes.

In a small bowl, add softened butter, rosemary, garlic, and dijon. Mix the ingredients together well.

Coat the roast in the butter mixture.

Roast the beef for 15 minutes, and then flip it over and select "more time" and add 10 minutes. At the end of the 10 minutes, use a meat thermometer to check the internal temperature of the roast, using the chart below for desired doneness. Continue cooking the roast for 5-10 minutes at a time until it reaches the right temperature.

Allow the meat to rest for 10 minutes before slicing it.
Notes
Internal Temperature Guide:
Rare – 115°F – 120°F
Medium Rare – 120°F – 125°F
Medium – 130°F – 135°F
Serve this roast with roasted broccoli. Coat 2 pounds of broccoli in 1 tablespoon of olive oil, and season to taste with salt and pepper. While the roast is resting, put the tray of broccoli in the oven and select "additional time," and cook it for 7 minutes.
Standard Oven Instructions:
Preheat oven to broil. Place the roast in the oven on the center rack, and allow the roast to cook for 10 minutes, or until the top of the roast has begun to brown. Flip the roast, and continue cooking it on the other side for about the same time..
Reduce the oven temperature to bake at 450º F and bake until preferred doneness is reached using an oven thermometer.
Nutrition
Calories:
346
kcal
|
Carbohydrates:
1
g
|
Protein:
21
g
|
Fat:
29
g
|
Saturated Fat:
13
g
|
Cholesterol:
89
mg
|
Sodium:
288
mg
|
Potassium:
349
mg
|
Fiber:
1
g
|
Sugar:
1
g
|
Vitamin A:
122
IU
|
Vitamin C:
1
mg
|
Calcium:
13
mg
|
Iron:
3
mg