These Black Bean Butternut Breakfast Burrito Collard Wraps are a truly nutritious (and fun!) option. I used roasted butternut squash, but to save time, you can sub any leftover roasted vegetables or even shredded carrot.
I wrote last week about my aim to add more breakfast recipes to my archives. Here is proof that I am coming through on that goal!
We've had lots of these wraps for breakfast lately, with all sorts of fillings. We've used mashed leftover sweet potato, chicken sausage, and all sorts of leftover veggies, along with avocado (always!) and scrambled eggs.
It's the perfect way to have a low carb breakfast and get your greens in, but it totally does the trick for me when I'm craving something more substantial for breakfast.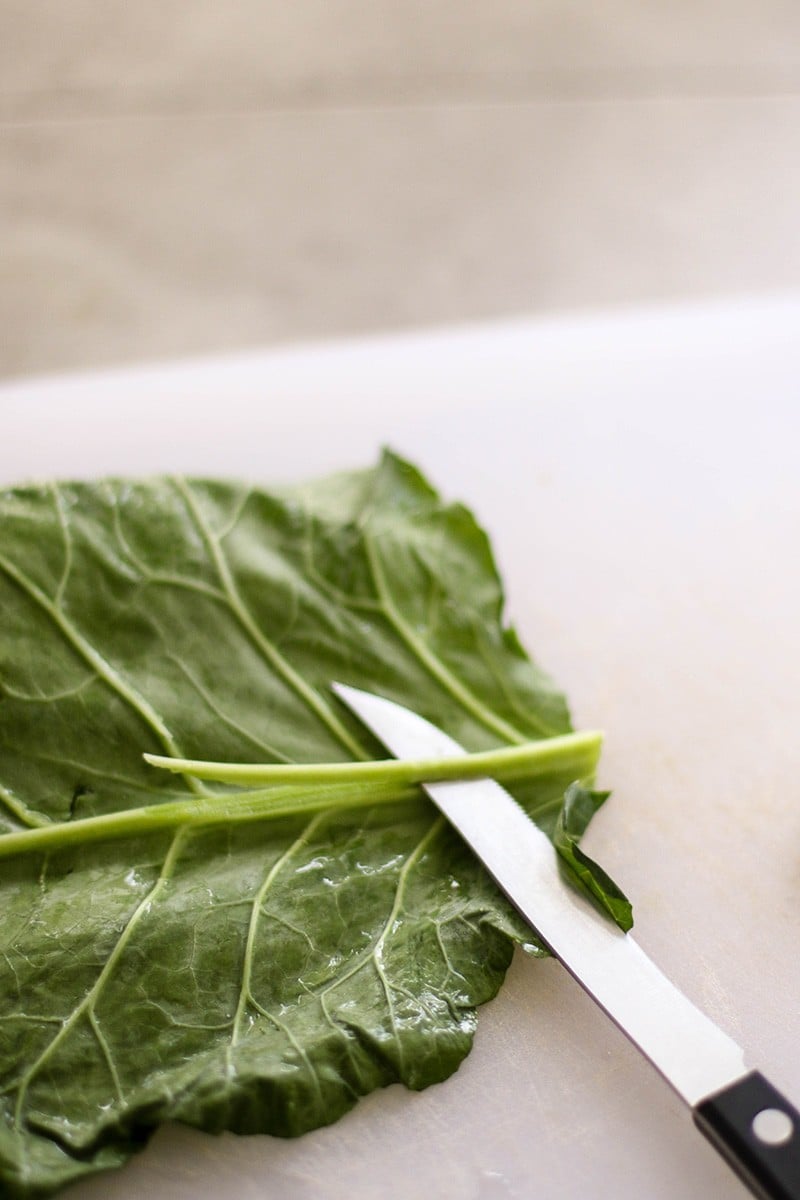 If you haven't made a collard wrap before, they really couldn't be more simple! A tip for making the greens a bit more pliable, so they wrap without tearing, is to soak them in warm, almost hot, water for about 10 minutes. Adding a bit of vinegar helps, and also ensures your greens are well washed.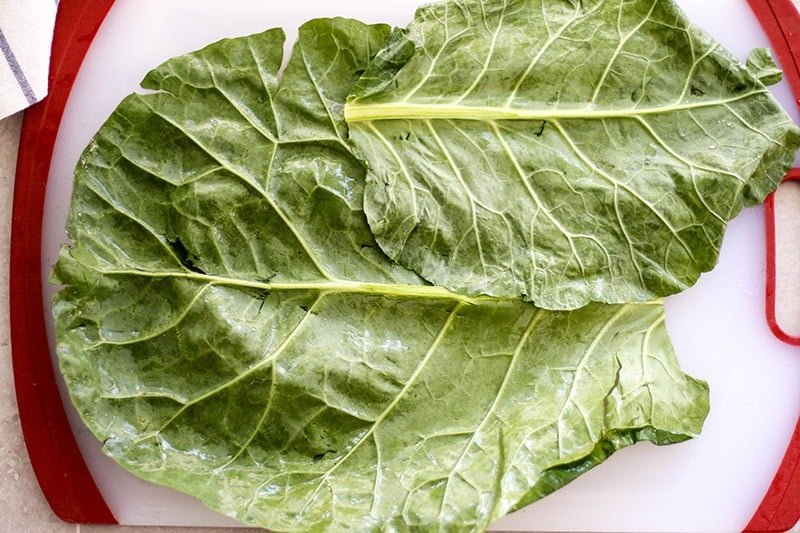 I use two leaves, but if you have extra large leaves, you can get away with one. When I buy collards, I always end up with some really large and some really small leaves, so I use a large and a small together in each wrap. Then my "burritos" are solidly wrapped in a nice layer of green-health-boosting-goodness.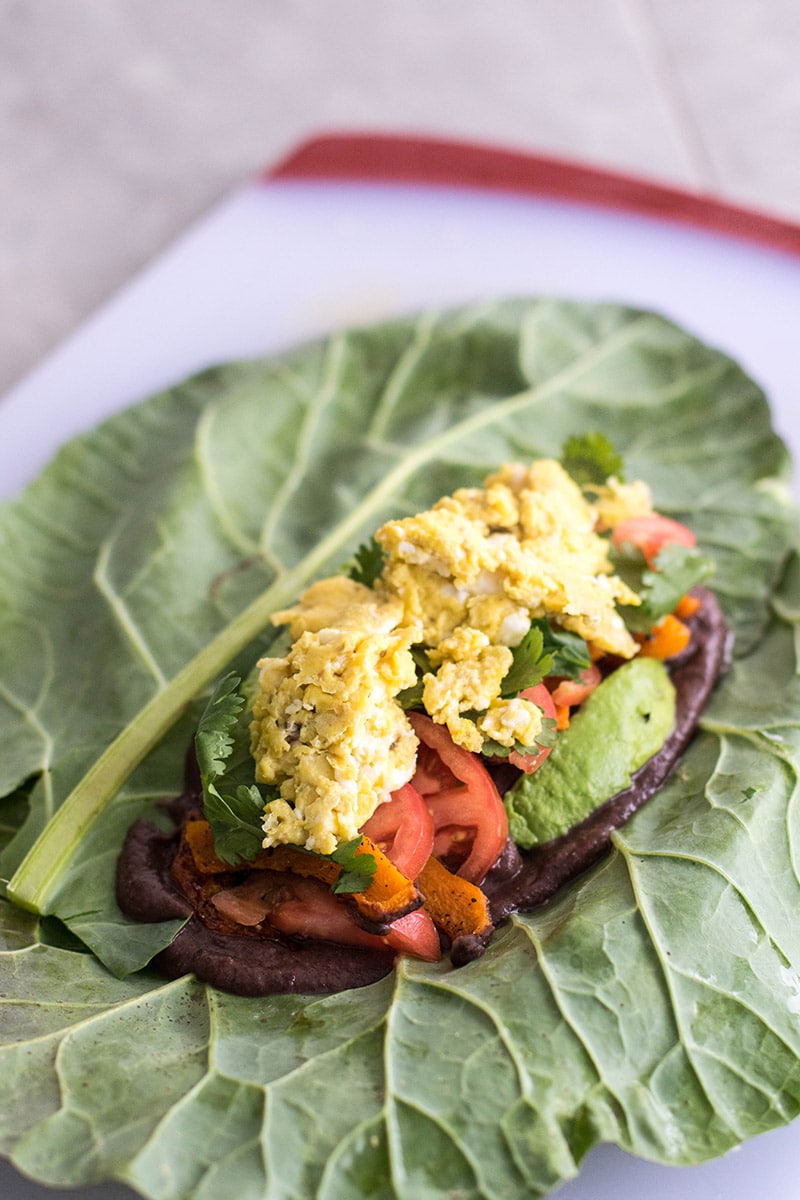 I've been meaning to use these wraps to make chicken burritos as well. Really, anything you'd put in a wrap or tortilla can go in these babies. I like to use something creamy, like mashed avocado, hummus, beans, or even mashed sweet potatoes, as the base to help hold it all together, then pile protein and extra veggies on top.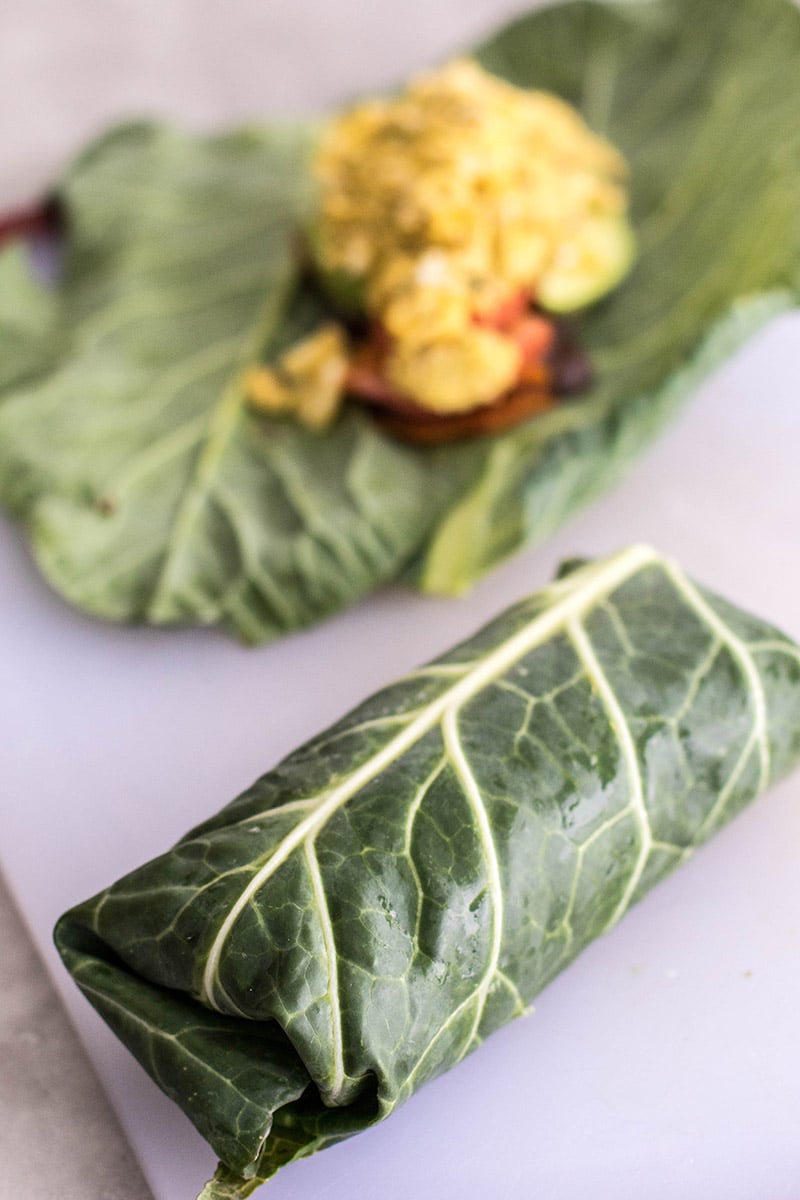 I like adding lots of cilantro, hot sauce, and a squeeze of lime into mine.
What other toppings do you add to your breakfast burritos?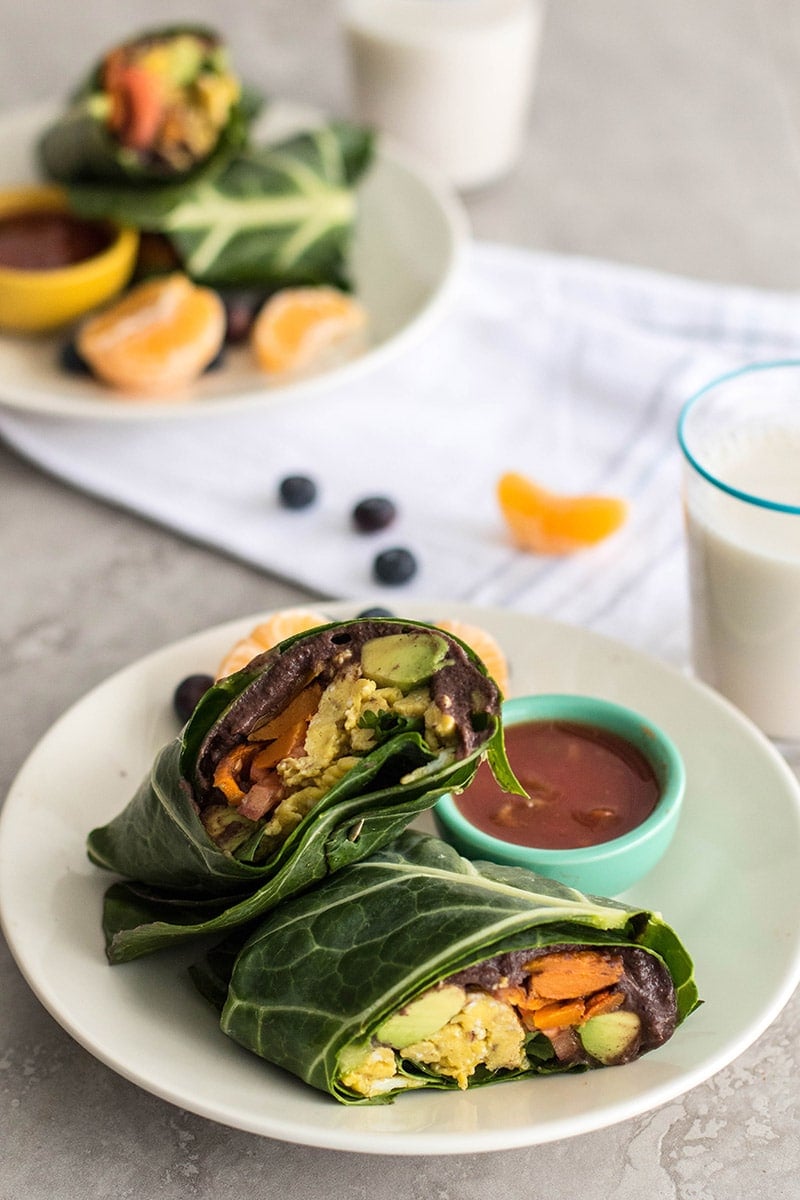 Tips for Butternut Black Bean Collard Wrap Breakfast Burritos
I roasted butternut squash for this recipe because I had half of a squash leftover after making this ahhh–may–zzing salad, but I typically wouldn't go through the effort to roast squash for breakfast (I would have, pre-baby!). You can sub any other roasted veggies you have leftover, or even shredded carrot or extra tomato and avocado.
Make it Vegan: Sub a tofu scramble or extra beans in this wrap to make it vegan.
Make it Paleo/Whole30: These wraps are perfect for a paleo diet. Since black beans aren't Paleo, mash the avocado to use as the creamy base, and skip the black beans. You can also use mashed sweet potato (with a squeeze of lime and a dash or cumin) in place of the beans.
Michelle @ Vitamin Sunshine
Yields 2 wraps
Black Bean Butternut Breakfast Burrito Collard Wraps
These breakfast burritos make a substantial breakfast, but replace carbs with dark leafy greens. The fillings here are totally customizable! If you don't have time to bake the squash, sub with any leftover roasted veggies, or add in extra raw veggies.
12 minPrep Time
25 minCook Time
37 minTotal Time
Ingredients
4 collard leaves
1 tablespoon olive oil
1/4 butternut squash
sea salt and black pepper
4 eggs, scrambled
1/2 cup black bean sauce (recipe below)
1 tomato, diced
1/2 avocado
cilantro, hot sauce, lime (optional, granishes)
salsa, for serving

Black Bean Sauce (makes enough for 4 wraps)

1 can black beans, rinsed and drained
1/2 cup salsa
1 teaspoon cumin
sea salt, to taste (optional)
Instructions
Preheat oven to 450 degrees F.
Chop butternut squash in thin slices, then put on a baking sheet and drizzle with olive oil, then season with sea salt and black pepper. Bake squash for 25 minutes.
Start by soaking collard leaves in warm (almost hot) water for 10 minutes.
Prepare black bean sauce by combining all ingredients in a blender, and blending until smooth, stopping to scrape the sides as necessary.
Scramble eggs and season with sea salt and pepper.
When collard greens have been soaked, trim the stem from the bottom, and then trim off the top of the stem on the bottom side of the leaf (as in photos above).
Lay a large and a smaller leaf together, tops facing opposite directions (as in photos above).
In the center of the leaves, add 1/4 cup of the black bean sauce, then top with butternut squash, tomatoes, avocados, scrambled eggs, and additional toppings like hot sauce, a squeeze of lime, or cilantro.
Start by folding the top and bottom sides of the leaves down over the filling, and then rolling the sides like a burrito.
Cut in a diagonal, and serve with salsa.
7.8.1.2
57
https://sunkissedkitchen.com/black-bean-butternut-breakfast-burrito-collard-wraps/
Michelle @ Vitamin Sunshine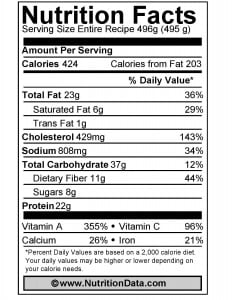 Nutritional data for Collard Wrap Breakfast Burritos and images courtesy of www.NutritionData.com.
Other Healthy Breakfast Recipes:
I'd love to connect with you on social media! Find me on Facebook or Instagram where I post daily healthy eating and lifestyle inspiration.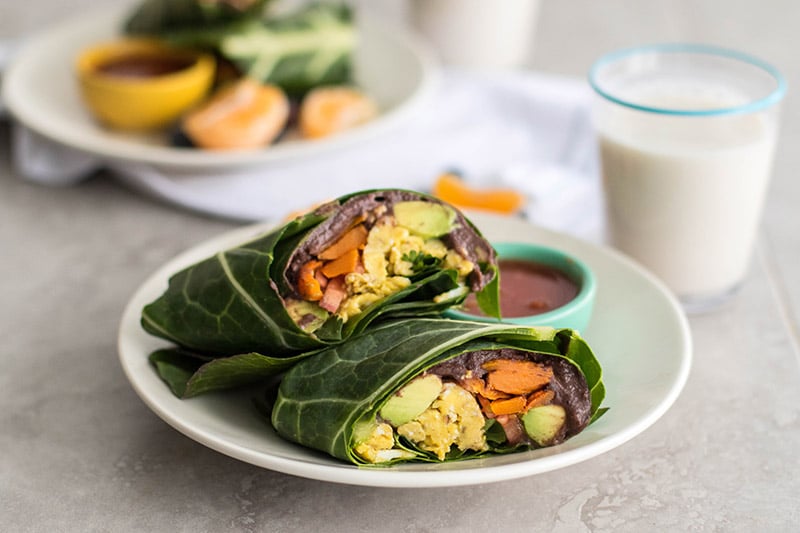 This post contains affiliate links, which means that if you click on one of the product links, I'll receive a small percentage of any purchases made.