This post may contain affiliate links. Please see my full
Disclosure Policy
for details.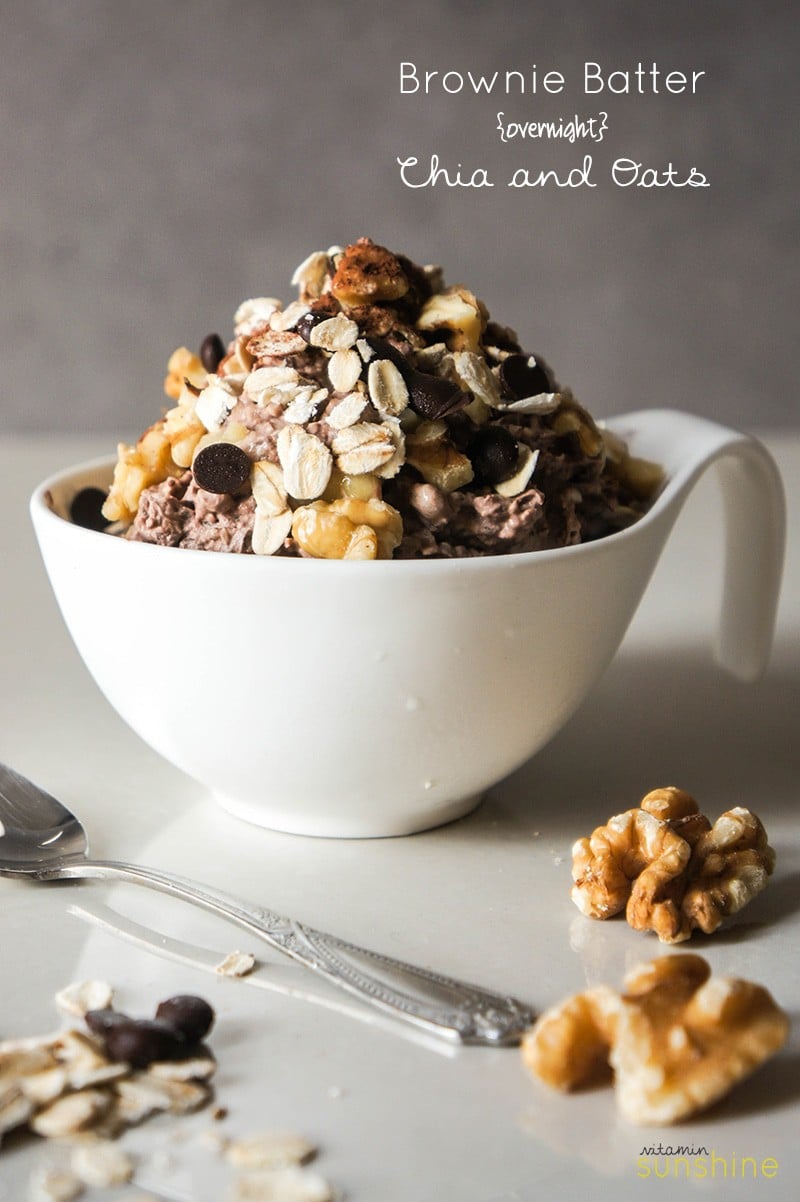 A while back, I posted these Cookie Dough Overnight Chia & Oats. It's so simple, it's barely a recipe. I even thought twice about posting it. I'm glad I did, because of lot of people out there have enjoyed it! It was my most popular recipe for a while, until the Metabolism Booster Smoothie crushed the stats on all other posts combined.
What did I learn from that? You like simple. And indulgent. But healthy.
Great, me too.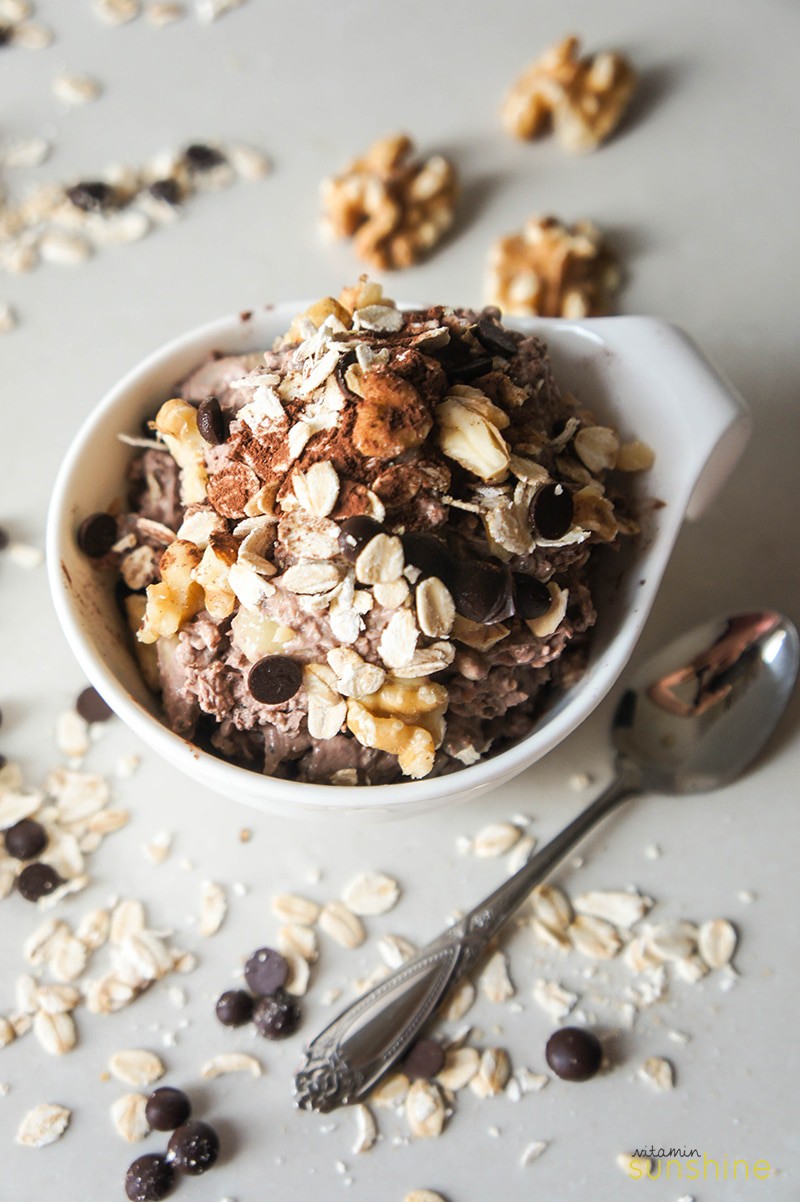 I do like to get creative in the kitchen, and have no problem with recipes that require a food processor, my juicer, and 3 pans. But I don't cook like that all of the time. When I'm working 5 days a week, meals are not like that. I will cook like that on the weekend, and hope it lasts for several lunches and dinners throughout the week. Then, it's on to simple meals like roast chicken and vegetables, bean and grain salads, and when Alex isn't home, yogurt for dinner.
These yogurt "sundaes" actually didn't originate on my breakfast menu. Alex loves dessert. He is from a family who ate dessert every night, and although we don't, he likes to. Usually it's fruit and yogurt, or some cookies. Occasionally I'll bust out the frozen bananas and chocolate chips, especially if I've had a long workout prior to dinner. I remember one night when Alex and I were out to eat, and after looking at the dessert menu, he asked me if I would make him a chocolate chip mint smoothie when we got home instead. That's right. Spinach for dessert. Awesome.
But it's totally breakfast worthy. Oats for some healthy carbs to get your brain running in the morning, a boost of fiber and omega 3s from the chia seed, yogurt, bananas and walnuts. Sounds like breakfast to me.
I know what you're thinking. What about the chocolate? Like I've said before, chocolate is health food. Where I draw the line is added sugar. And this Brownie Batter Overnight Chia and Oats is free of added sugars, besides the tiny amount in the dark chocolate.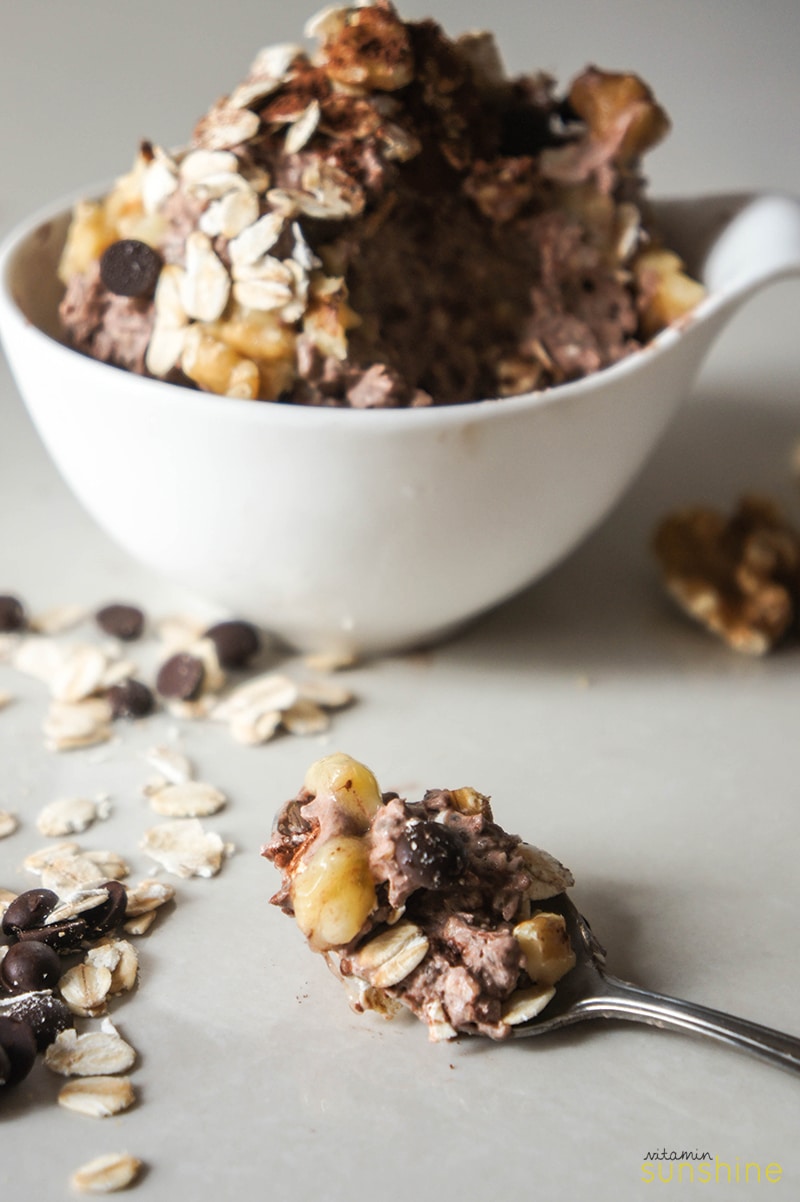 5 Reasons to Eat Chocolate for Breakfast
Chocolate is high in flavanols (catechins and epicatechins), the same antioxidants found in green tea and red wine. These compounds protect the heart from an unhealthy build up of cholesterol in the arteries.
It keeps you cool, calm, and collected! Okay, maybe not everyone, but it does help lower blood pressure, also thanks to the flavanols.
It has a small jolt of caffeine. It's always nice to get a little boost in the morning, and since the caffeine content is lower in dark chocolate than in coffee, it doesn't leave you feeling jittery.
It's high in iron. Often women feel tired because of low iron stores. Gram for gram, dark chocolate has 3 times more iron than spinach! Probably why we crave chocolate during that time of the month, ladies.
It makes us smile– swoon– happy– caused by a burst of oxytocin released when you eat dark chocolate. Oxytocin is also released when you cuddle someone you love.
Now, there's a big different between chocolate flavored candy, and chocolate. Milk chocolate is candy, not chocolate. It is mostly sugar and milk, with very low levels of actual chocolate. I use 85% dark chocolate (or 70%, if 85% isn't available), not only because it tastes amazing, but also because I like to know I am getting lots of the good stuff, without very much sugar.
Using a high quality cocoa powder (like I used in these Brownie Batter Overnight Chia and Oats), is another great way to eat chocolate sans sugar at breakfast. I also add cocoa powder to smoothies, and even add it to coffee. My recipe for Caramel Mocha Iced Coffee Concentrate is another healthy, no processed sugar recipe that's healthy enough to enjoy in the morning. But I also just add a teaspoon of cocoa powder to hot coffee (with a splash of almond or coconut milk)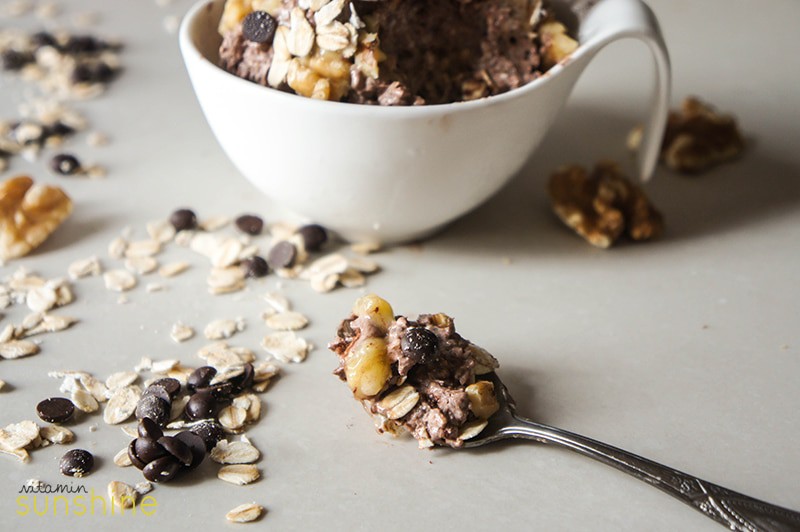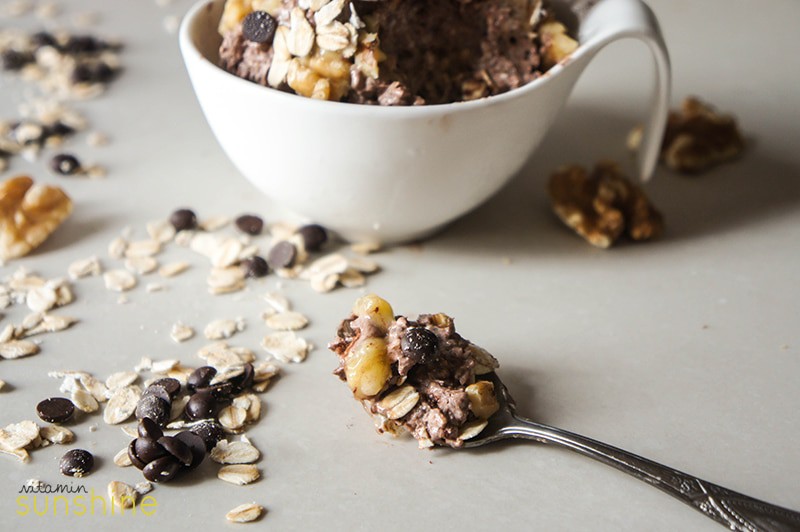 Brownie Batter Chia & Oats
A thick chocolately yogurt delicious enough to be dessert, but healthy enough to keep it in the breakfast category.
Print
Pin
Rate
Ingredients
1/2

cup

plain yogurt

or Greek yogurt

3

tablespoons

oatmeal

1

tablespoon

chia seeds

1/2

tablespoon

cocoa powder

natural

1/2

teaspoon

vanilla extract

sea salt

pinch

1/2

banana

frozen, sliced

1

tablespoon

walnuts

chopped

1

teaspoon

dark chocolate

chopped
Instructions
The night (or at least 1 hour) before, mix together the yogurt, oatmeal, chia seeds, cocoa powder, vanilla and sea salt. Sir well, and refrigerate.

Right before serving, add sliced frozen banana and stir in. Top with walnuts and chocolate chips.
Nutrition
Calories:
323
kcal
|
Carbohydrates:
35
g
|
Protein:
10
g
|
Fat:
18
g
|
Saturated Fat:
5
g
|
Cholesterol:
16
mg
|
Sodium:
63
mg
|
Potassium:
568
mg
|
Fiber:
8
g
|
Sugar:
15
g
|
Vitamin A:
121
IU
|
Vitamin C:
5
mg
|
Calcium:
224
mg
|
Iron:
3
mg
5 Ways to Enjoy Chocolate for Breakfast
Chocolate Zucchini Protein Oatmeal Cups, by iFOODreal.
"The Elvis" Toast, by Ohsheglows
Chocolate Cookie Breakfast Cereal, by Family Fresh Cooking
Tiramisu Pancakes, by Chocolate Covered Katie
Dreamy Mint Chocolate Chip Smoothie, by Vitamin Sunshine
---
Sources
Brain in Love, Brain HQ