This Dreamy Chocolate Chip Mint Smoothie is like having a milkshake for breakfast! We've been making these for years, and I've never been able to top this combination. This recipe is has been the #1 traffic driver to my site for over 3 years- try it, and you'll see why!
This recipe was originally posted in March of 2014, and then again after I'd improved my photography in July of 2014, the first year I was blogging. I've been making a very intentional effort to improve my photography since quitting my job to blog full time, and I will be rephotographing and retesting the recipes of the most popular and my family's favorite recipes from the blog.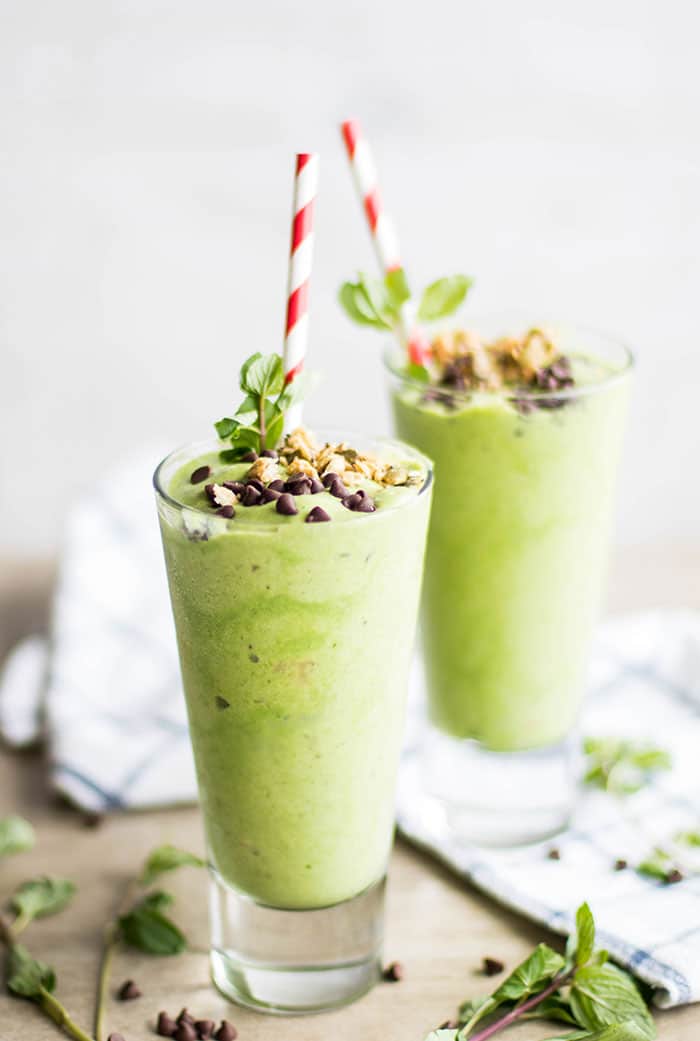 Some things are perfect as they are, but many more things are works in progress.
This recipe– perfect as it was originally written back in 2014. The photos? You tell me.
Recently, I met a friend who is a professional photographer for coffee. We were discussing my photography, and areas I could improve in. I made a comment about this smoothie– how the original photo (the first below) was still the most popular thing I had every put on Pinterest, and I thought the photo was terrible. I explained how I had retaken the photos after I'd learned a little more about food photography, and how the bad photo still for some reason was more popular.
She pointed out that in fact, the first photo was better. Why?
We decided: Emotion ♥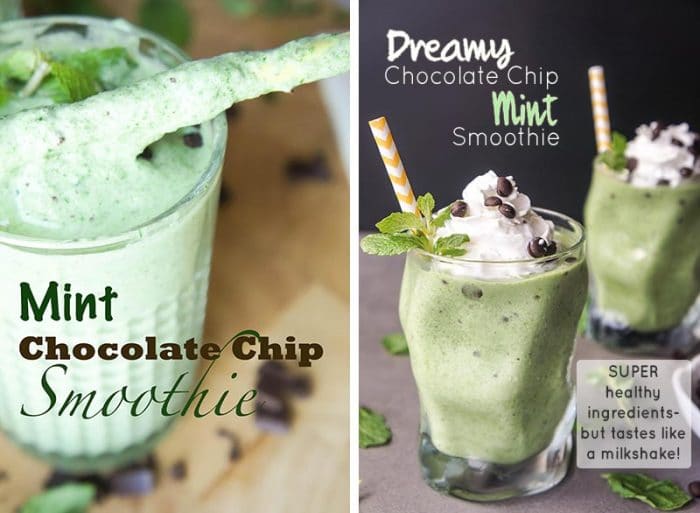 A great food photo isn't about every little morsel being in the exact right place, or the most perfect recipe, or the most cheese (although cheese DOES help).
What we are drawn to, probably without even knowing it, is food that helps us imagine we are there. When we can see something human in the photo, or a utensil ready for us to pick up.
Maybe some condensation on a glass that makes us think of an icy beverage on a cool day.
Or how about a soft-serve consistency smoothie being poured from the blender into the glass?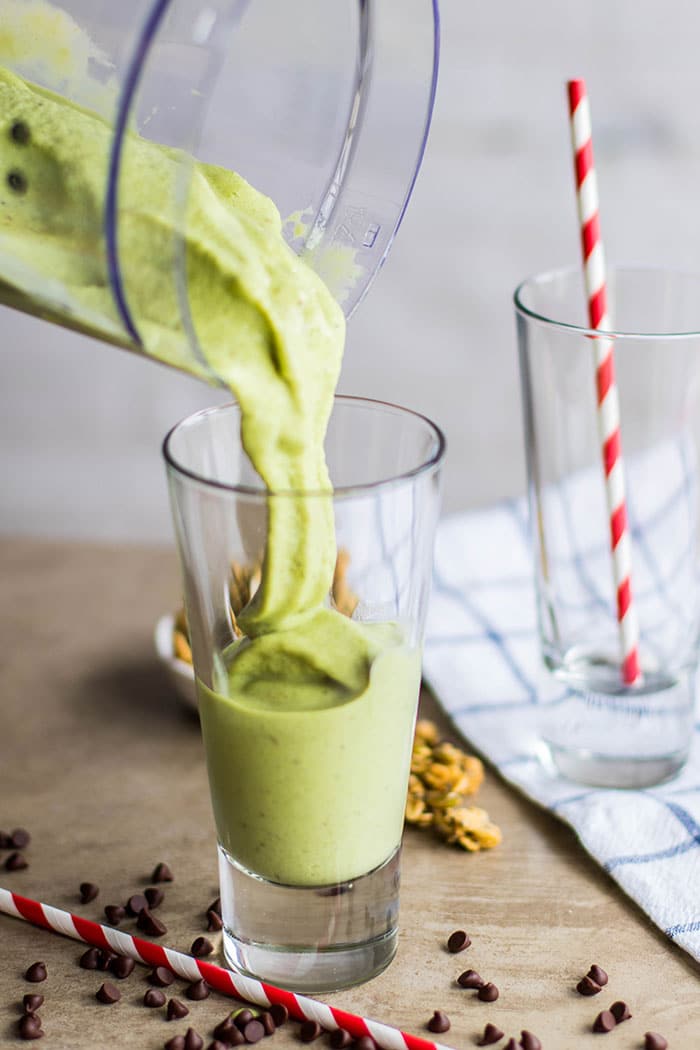 Let's do that again. One for me, one for you.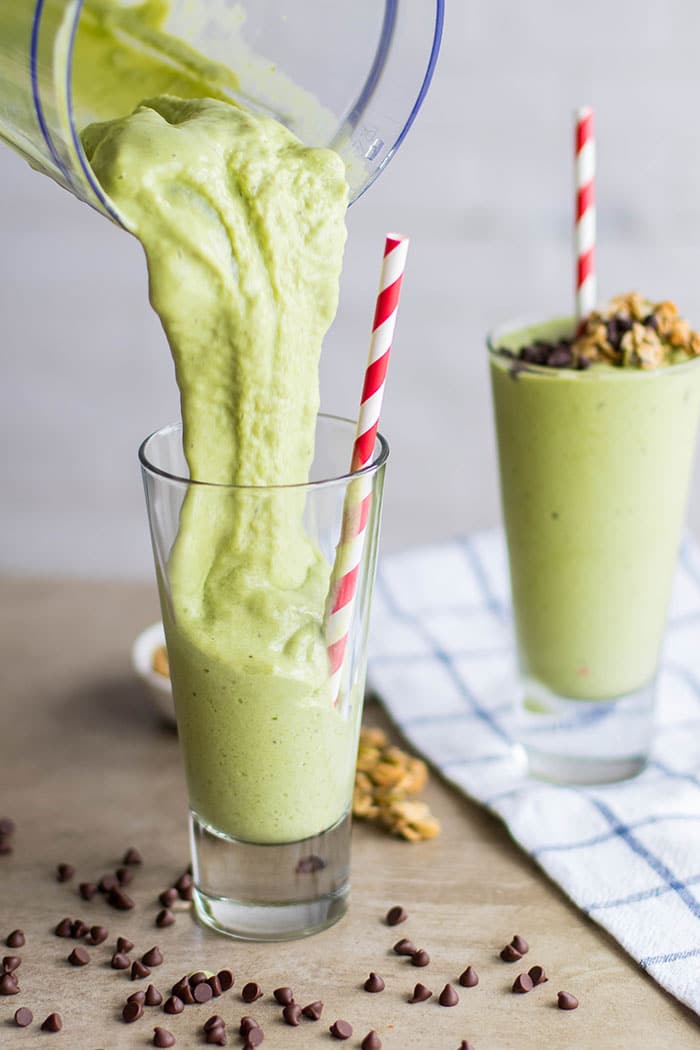 These photos are much better at helping you imagine just how AMAZING this smoothie is.
I knew after that coffee chat I needed to slow down. So often, I am rushing through, trying to get multiple things done at once rather than focusing on each task.
It's time to stop and smell the roses. Or eat ALL the smoothie bowls. If you're looking for a tasty smoothie, you can also try my Dragon Fruit Smoothie Bowl, or my Whole Fruit Orange Julius — both very healthy and popular recipes.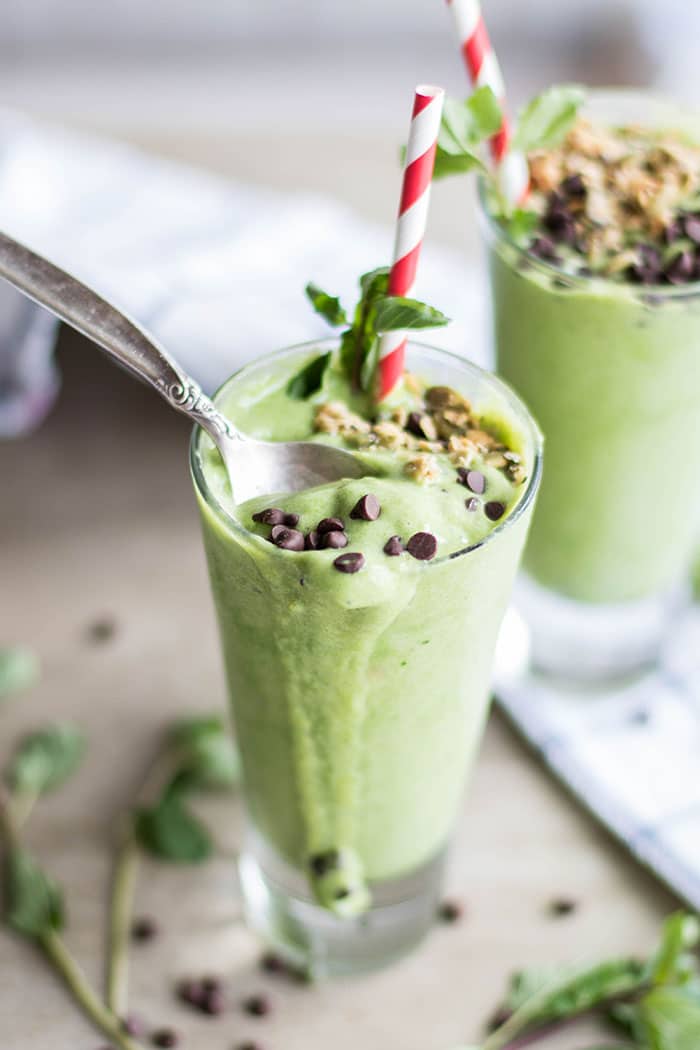 I had photos ready to post for 4 weeks out that morning, and— delete. delete. delete. I trashed the ones that just didn't make the cut.
Now I am focusing on 1 shoot a day, and really thinking about what I can do to improve.
There are other areas of my life I should do this with. It's been a really important lesson. I needed to slow down to really get to where I wanted to be faster.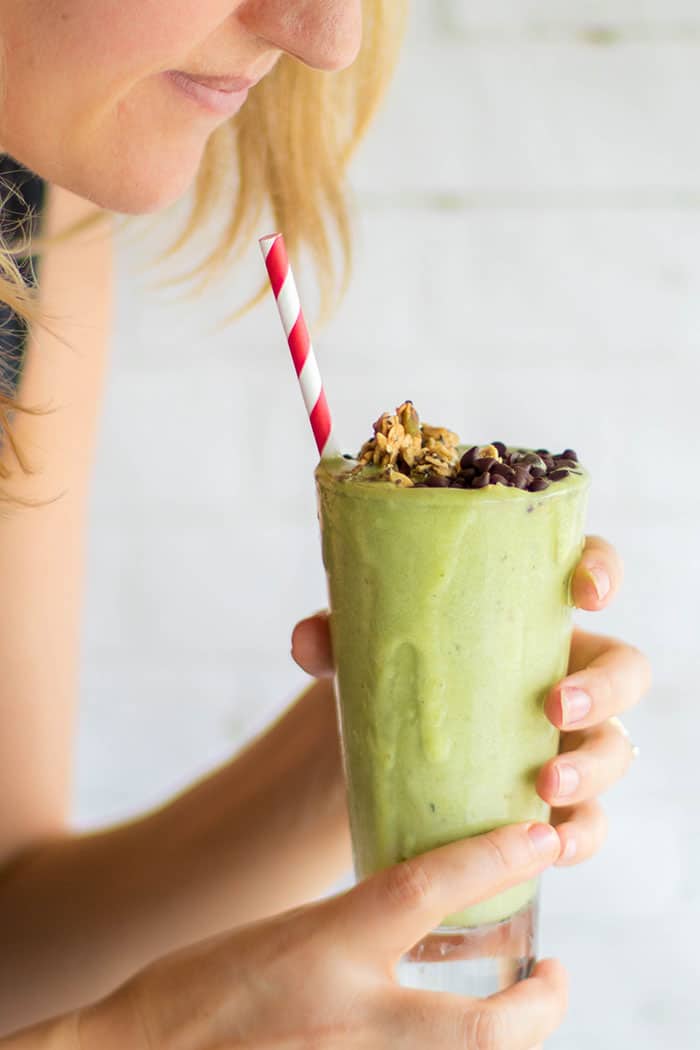 It will be really interesting to see if in a few years time, I am back to photographing this recipe again.
Tips for Dreamy Chocolate Chip Mint Smoothie
If you came here for the recipe, and not for ramblings on my journey as a food blogger, here are the tips! This smoothie should be thick. The chocolate chips you blend up should be suspended in a soft-serve consistency shake. I do this by making sure all my ingredients are really frozen, and resisting adding too much liquid. Add a little at a time if your blender needs it. I typically make this in my Vitamix, but this week I made it in a cheap, run of the mill blender and look– perfect! No fancy blender required.
I make my green smoothies with ice-cube sized frozen spinach cubes. If you can't buy those (or don't want to), you can make your own by adding 1 cup of water, and as much fresh spinach as you can to your blender. Process until the spinach is broken up, then freeze in an ice cube tray. Once the cubes are frozen, put in a sealed freezer bag, and then add to smoothies. For this recipe, use these cubes in place of both the ice and the spinach cubes.
I love BioChem Whey Protein Isolate. I buy the natural/unflavored one. It has a great flavor, and adds "fluff" to smoothies– I add it even when I don't need extra protein (just a tablespoon really helps) because it makes the texture so much creamier. I highly recommend trying it! Plus, it's grass fed dairy.
Make it Dairy Free / Vegan: Substitute coconut or soy yogurt, and your favorite unflavored or vanilla protein powder. Everyone can find a way to enjoy this Chocolate Chip Mint Smoothie.
For the Family: I love giving my toddler smoothies, and this Chocolate Chip Mint Smoothie is his favorite. It's so easy to pack them with nutritious ingredients, and make them taste like a treat. This is a great one if your child doesn't want a green smoothie, because mint is supposed to be green! And they are most likely familiar with mint ice cream, and this matches the color.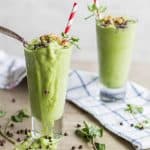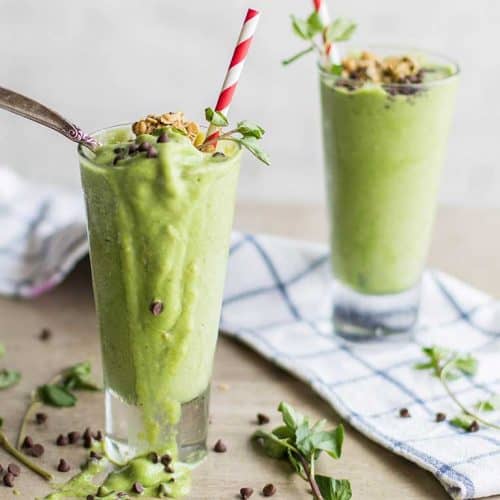 Print
Chocolate Chip Mint Smoothie
An ultra dreamy chocolate chip mint smoothie-- the sweetness and richness of the coconut milk allows the base of this smoothie to be mostly spinach, while still being very indulgent! A healthy green smoothie that tastes like a milkshake.
Servings
2
small or 1 large
Ingredients
1/2

cup

coconut milk

full fat, canned

1/2

cup

plain yogurt

or plain greek yogurt

2

bananas

chopped and frozen

4

cups

spinach

or use 10 frozen spinach cubes, see notes

6

ice cubes

20

grams

natural whey protein

1

teaspoon

vanilla

1

teaspoon

peppermint extract

not peppermint oil - if using oil, start with much less

2

tablespoons

85% dark chocolate

chopped, or sub dark chocolate chips

1/4-1/2

cup

water

optional, if needed
Instructions
Add the liquid ingredients first, followed by the rest of the smoothie ingredients, leaving out the chocolate chips. Process until very smooth and creamy, and the spinach is fully incorporated.

Add the chocolate, and pulse 5-6 times until the chocolate is broken up, but still in chunks.

Top with more chocolate chips, and enjoy while it's thick.
Notes
*I like to use frozen spinach in my green smoothies because it's convenient to have on hand. I buy it frozen in ice cubed sized chunks, and use 10 of them in this smoothie. Using fresh spinach is fine. **Peppermint extracts vary greatly. The first one I tried was a pure peppermint, and it was way too strong. Right now I am using Queen's, an Australian brand. If you haven't used peppermint extract before, start out with a small amount, and add more to taste. ***If you're used to sweet things, you might want to add 1-2 teaspoons of honey to this smoothie. I don't think it needs it.
Nutrition
Calories:
279
kcal
|
Carbohydrates:
34
g
|
Protein:
6
g
|
Fat:
14
g
|
Saturated Fat:
12
g
|
Cholesterol:
7
mg
|
Sodium:
88
mg
|
Potassium:
976
mg
|
Fiber:
4
g
|
Sugar:
18
g
|
Vitamin A:
115.3
%
|
Vitamin C:
33.6
%
|
Calcium:
15
%
|
Iron:
21.1
%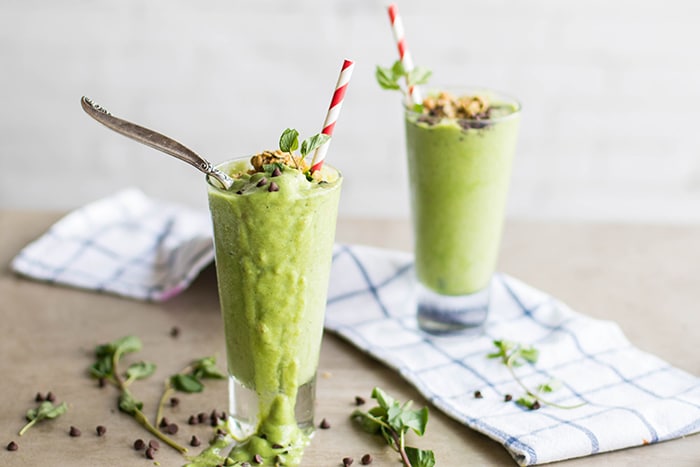 Other Smoothies that Taste Better than Dessert:
I'd love to connect with you on social media! Find me on Facebook or Instagram where I post daily healthy eating and lifestyle inspiration.
This post contains affiliate links, which means that if you click on one of the product links, I'll receive a small percentage of any purchases made.