This post may contain affiliate links. Please see my full
Disclosure Policy
for details.
Coconut flour mug cakes are so quick to make, and are a healthy way to satisfy a craving for dessert! Make a single serving or a double to share. I'm sharing a recipe for coffee cake coconut flour mug cakes today, but so many variations can be made!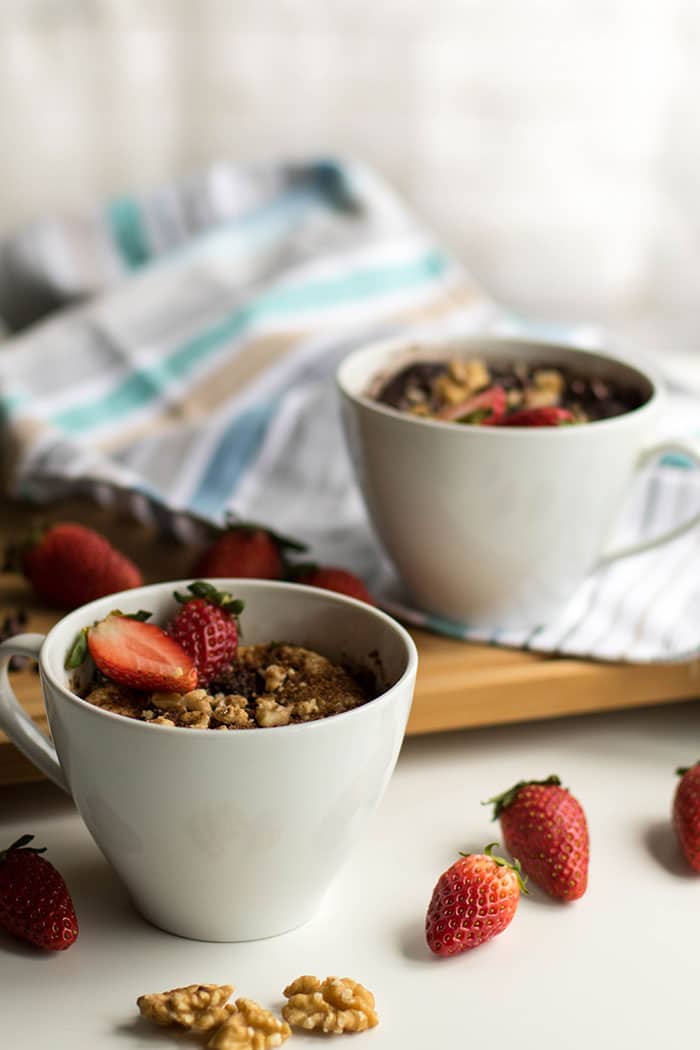 You know how much I love coconut. It's something I always have in my freezer, and an ingredient that finds its way into so many of my recipes.
One of the gluten free flours I recommend is coconut flour, even though I don't have a lot of recipes using it on my site. The reason why? It's a tricky flour to work with! Perfecting recipes made with coconut flour takes time, patience, and lots of ingredients that will potentially be wasted in the numerous trials it takes.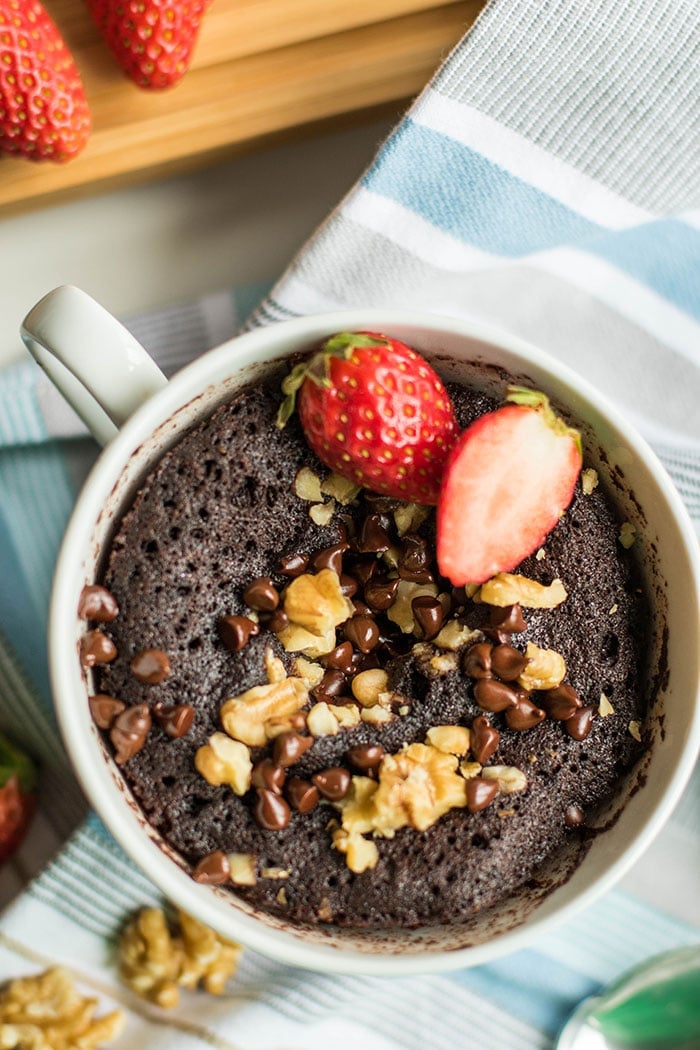 Coconut flour is a byproduct of producing coconut milk. The milk is expressed from the coconut meat, leaving the coconut fibers behind. Those fibers are dried and ground into a powdery flour.
Because a lot of the fats are removed in this process, coconut flour is surprisingly low in calories, and high in fiber and protein. The fats that remain are mainly medium chain fatty acids, which have been attributed to boosting metabolism.
Coconut flour is incredibly absorbent, which is why it's difficult to work with. Measurements need to be precise, and it's a little counter intuitive because you need very little to yield results similar to using grain or nut flours. A recipe for 10 cupcakes probably only  needs 1/4 cup of coconut flour (I thought it was a typo the first time I tried a recipe!).
I love coconut flour for cakes, because if it's a good recipe, the result tastes like a cake made with plain white flour. I've made coconut flour cupcakes for years for birthday parties, and people are in disbelief when I tell them they are gluten free.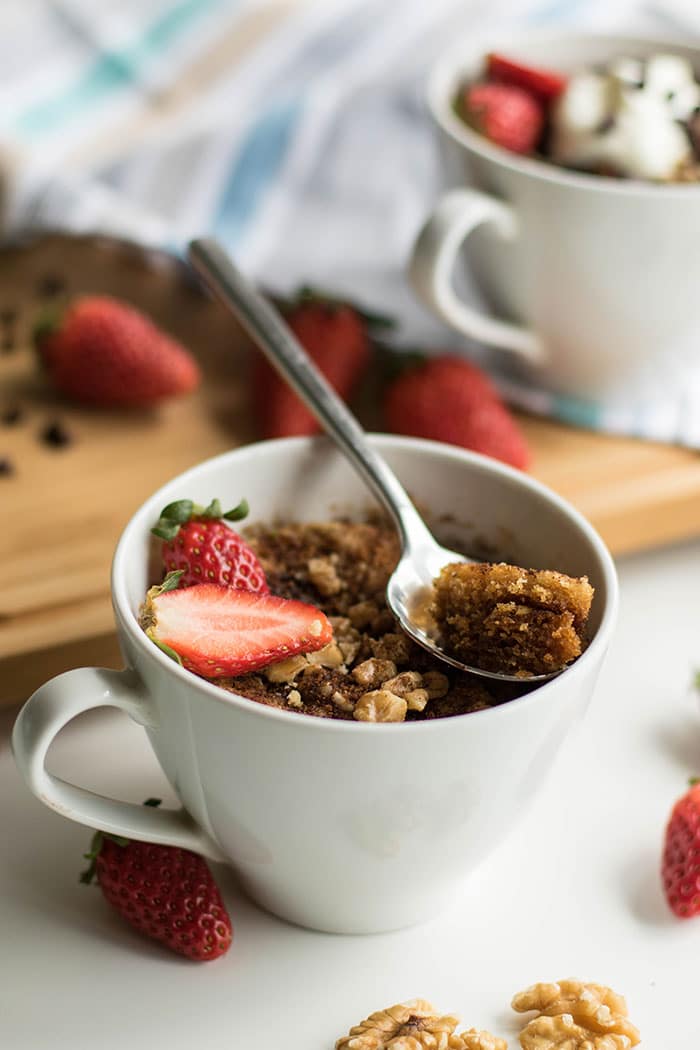 When Regina from Leelalicious asked if I would participate in her eBook launch, I knew it was something I wanted in on. If you've never seen her blog— do stop by! She and I use so many of the same ingredients, and definitely share a passion for healthy, fresh, flavorful recipes.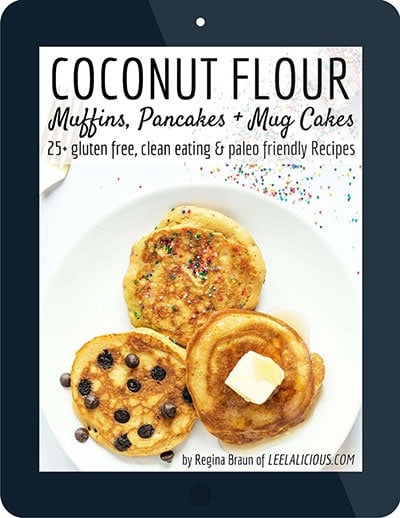 Her eBook is full of great recipes for pancakes, muffins, and mug cakes (she has 6 variations of the coconut flour mug cakes!). I've tried 3 of the recipes from her book (the pumpkin muffins, the chocolate mug cake, and the coffee cake mug cake), and the texture of her recipes is spot on. To make it even better, all of her ingredients are clean, simple, and gluten free.
Her book also includes a recipe for "muffin and pancake mix", which is a blend of coconut flour and other additions, which you can use in any of her muffin or pancake recipes — so if you're a fan, you can mix up a big batch, and then make her recipes quickly. I mixed up a batch last night after getting such good reviews on her pumpkin muffins. We will certainly be making more of those.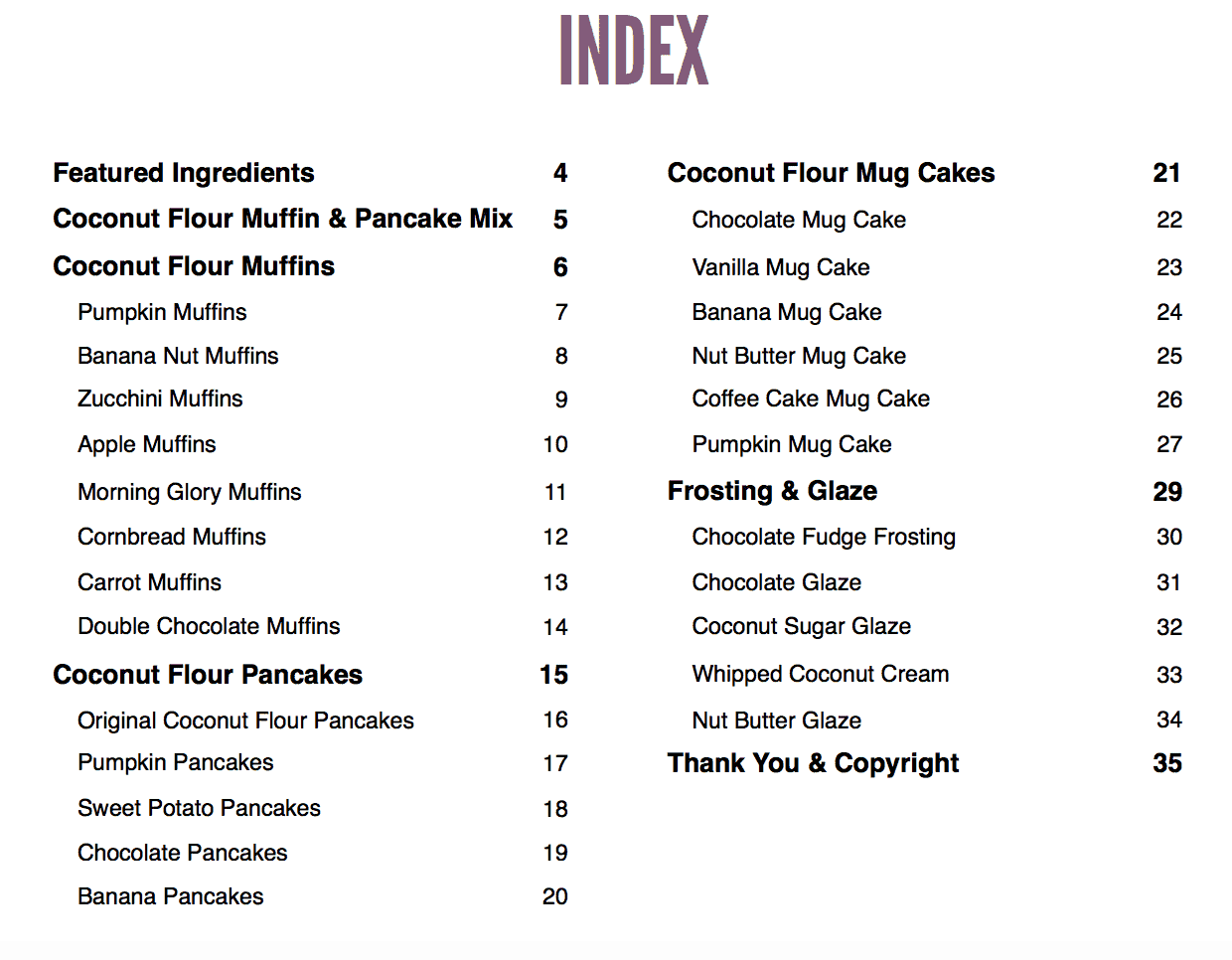 To see just how easy her recipes are, she has 3 videos posted here, along with more information about the recipes you'll find in this book.
I am sharing her recipe for the Coffee Cake Mug Cake, because I have always wanted to do a mug cake recipe for my blog, but never have! I've actually never even made a mug cake before this past week. I really didn't think cooking something in the microwave could give such good results.
Her Coffee Cake Mug Cake is amazing. It can be put together in less than 5 minutes, and has the perfect cake texture. I'm making another one today and am going to try to add some berries into the batter.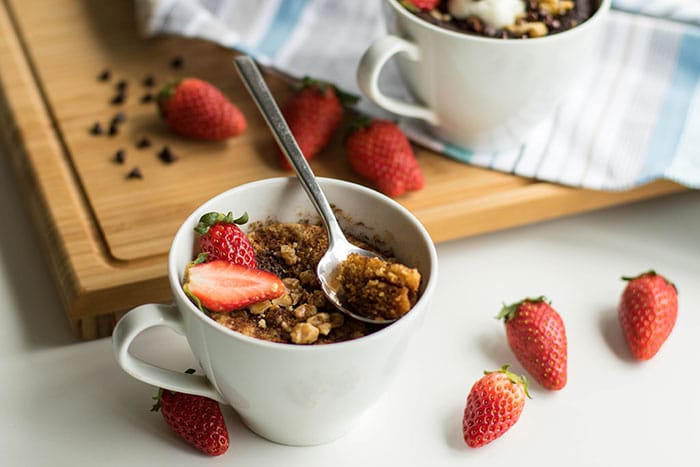 If you try these coffee cake coconut flour mug cakes, make sure to let Regina know! You can reach Regina on Twitter, Facebook and Instagram.
Giveaway Time!
Enter to win a copy of the the Coconut Flour: Pancakes, Muffins and Mug Cakes eBook. To make the giveaway even better, there is also a Blendtec Blender and some coconut products from Better Body Foods up for grabs!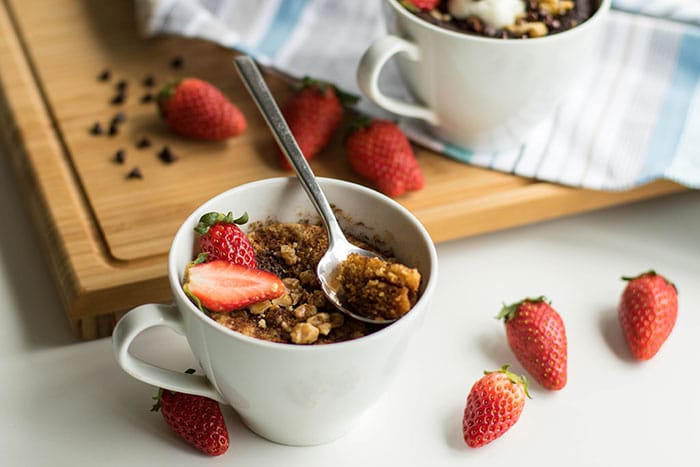 Coffee Cake Mug Cakes
This gluten free mug cake is made from coconut flour, and can be put together and baked in under 5 minutes! Coconut flour is tricky to work with, but this recipe yields the perfect textured cake. Recipe reprinted with permission from Coconut Flour: Pancakes, Muffins and Mug Cakes by Regina Braun of Leelalicious.
Print
Rate
Ingredients
2

tablespoons

coconut flour

1/4

teaspoon

baking soda

pinch

sea salt

1

egg

2

tablespoons

maple syrup

1

tablespoon

coconut milk

or sub almond milk

1/2

teaspoon

vanilla
Streusel Topping
1

tablespoon

coconut sugar

1

teaspoon

coconut oil

1/2

teaspoon

cinnamon

1

tablespoon

walnuts

chopped (Michelle's addition)
Instructions
In a small bowl, combine the streusel ingredients and set aside.

In another small bowl, whisk together coconut flour, baking soda, and salt.

Add egg, coconut oil, maple syrup, coconut milk and vanilla extract, and mix thoroughly to combine. (Michelle's note: coconut flour can clump, especially if you keep it in the freezer. Either sift coconut flour prior to using, or just stir vigorously to break the clumps as the coconut flour absorbs the liquid in the batter. You can't over mix coconut flour recipes!)

Divide half of the batter between two small tea cups and sprinkle with half of the streusel mixture.

Fill in the remaining batter and top with the rest of the streusel.

Microwave each cup separately for about 1 1/2 minutes. Start checking at about 1 minute.

Let sit for a couple of minutes before eating.
Notes
Regina recommends splitting this cake into 2 small mugs for a small portioned treat. I chose to put the whole recipe in 1 mug and found it a good portion for a special treat. Choose either option!
Nutrition
Calories:
408
kcal
|
Carbohydrates:
48
g
|
Protein:
9
g
|
Fat:
19
g
|
Saturated Fat:
10
g
|
Cholesterol:
163
mg
|
Sodium:
396
mg
|
Potassium:
194
mg
|
Fiber:
6
g
|
Sugar:
33
g
|
Vitamin A:
240
IU
|
Calcium:
68
mg
|
Iron:
1.9
mg
Other Coconut Flour Recipes:
I'd love to connect with you on social media! Find me on Facebook or Instagram where I post daily healthy eating and lifestyle inspiration.
This post contains affiliate links, which means that if you click on one of the product links, I'll receive a small percentage of any purchases made.