This post may contain affiliate links. Please see my full
Disclosure Policy
for details.
This Clean Eating Guide to Gluten Free Baking Flours will explain which flours are the most nutritious, and why baking at home is the best way to ensure you're getting clean ingredients.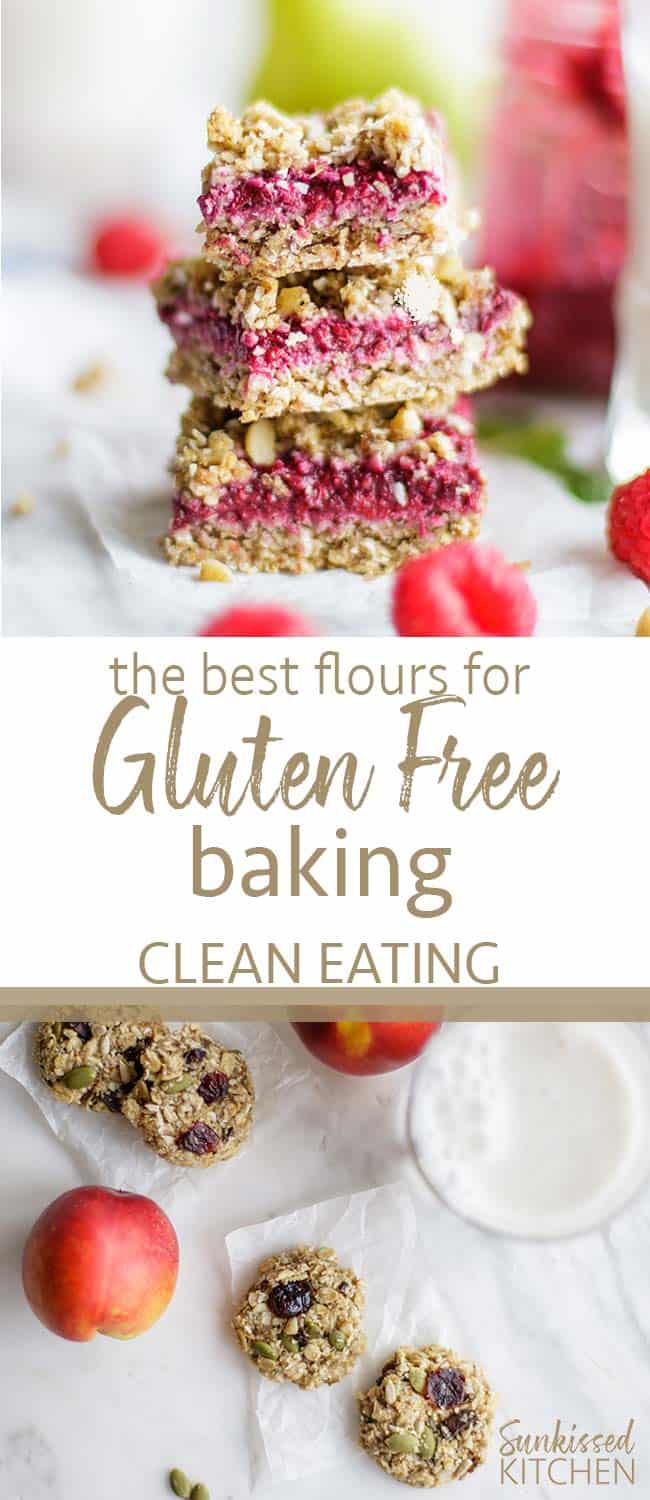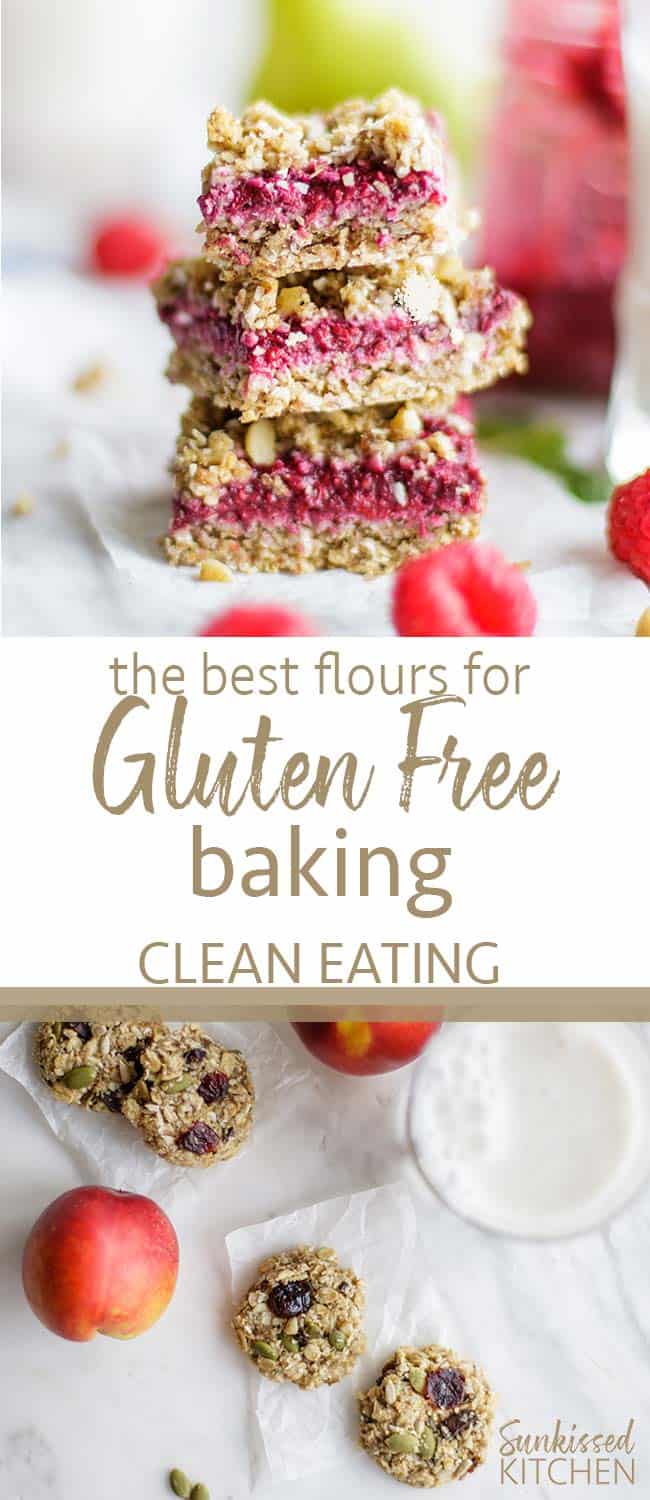 I promote gluten free baking for everyone, not just those intolerant to gluten or wheat.
If done right, it's just healthier (and still delicious)!
The wheat we eat today is not the same as wheat as recent as 60 years ago. Today, wheat is cultivated mostly from 1 variety, dwarf wheat, which has been found to be 30% less nutrient dense than ancient varieties.
Plus, relying too heavily on 1 food, which is really easy to do following a standard American diet (wheat toast, wheat bread for a sandwich, pasta, you get the idea) deprives your body of the range of nutrients it needs.
Eating a variety of whole grains (not stripped of protein, healthy fats and fiber, like plain wheat flour is) and nuts is best.
Years ago, I never baked. I knew it wasn't healthy for me, and also knew that if I did make a batch of cookies, I would end up picking at them, eat too many, and end up with a stomach ache from all the sugar and processed ingredients.
Now, I bake all the time. We always have healthy cookies in the freezer, and I also love to make homemade quickbreads and muffins, protein and granola bars, and cakes.
Why Not Store Bought Gluten Free Items?
Fillers! Generally, most store bought gluten free items are filled with starches and gums, and are less healthy than sticking to wheat products.
Exchanging processed wheat baked goods for gluten free goods filled with different processed ingredients isn't exactly helpful.
In addition, most traditionally prepared baked goods are packed with processed sugars. My desserts are made with the smallest amount of sweetener possible (I test and triple test!), and I use natural sources, like honey, dates, coconut sugar, and molasses.
To help you get started, here is a list of my favorite gluten free baking ingredients, and ideas to use them!
I love oat flour and use it the most frequently. It's high in fiber, and the beta glucan has been found to lower cholesterol, help prevent diabetes, and also improve gut health.
Also, it can be used as a sub for part of the wheat flour in a recipe on a 1-1 ratio, and oat flour is lower
in calories, and higher in fiber and protein. One cup of wheat flour has 450 calories, and 1 cup of oat flour has less than 300.
I generally blend oat flour with other flours, like almond, buckwheat, and millet.
I use both home-milled oat flour (oatmeal blended until a flour forms in a food processor or blender), and store bought, and the two yeild different results in baked goods. Some of my recipes recommend home-milled (more texture, great for cookies), and store-bought (more traditional baked good texture, great for pancakes and cakes).
There's no need to buy gluten free flours and oatmeal if you are not celiac or gluten intolerant. The amount of gluten in these products is very low, and these products are more expensive than naturally gluten free oats (oats are contaminated with gluten in processing).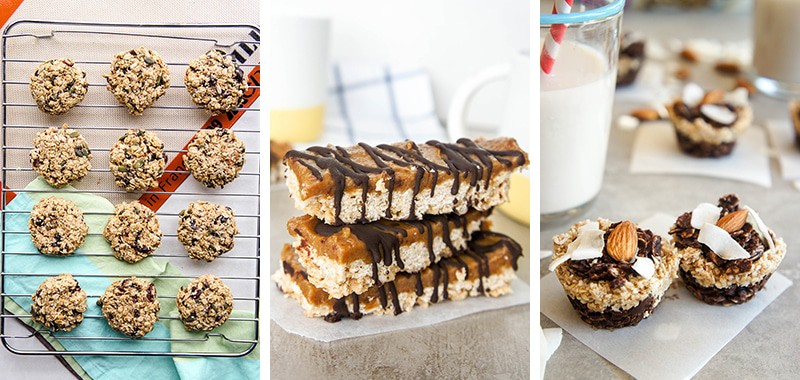 Try these recipes with oat flour:
Almond flour is a relatively new, but wildly popular flour for gluten free and paleo baking. Nuts are higher in calorie, but significantly higher in nutrient density than grains.


One cup of white wheat flour has about 450 calories, compared to 580 in almond flour.
However, almond flour is naturally sweet, and when using it, less oil is required.
Almonds also are packed with calcium, iron, and tons of Vitamin E, as well as almost twice the protein than the same amount of all purpose flour.
I like using almond flour mixed with oat, buckwheat and millet flours, but occasionally use it all on it's own. It's one of the only gluten free flours I feel makes a good substitute 100% for wheat flour.
It is a bit on the pricy side- I feel it's well worth it. Plus, you can now buy high quality almond flour at Costco for a fraction of what you pay at a normal grocery store. Also, in a pinch, you can buy blanched almonds and grind them in your food processor. I've done this when Whole Foods had bags of blanched almonds on sale, because the almond flour in bulk at WF is crazy expensive.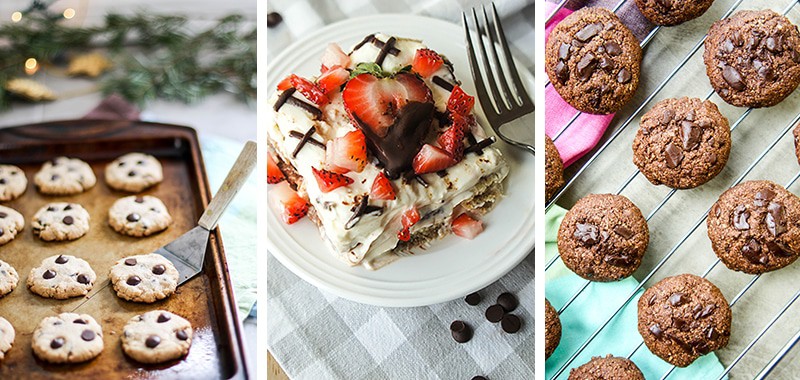 Try these recipes using Almond Flour:
I love buckwheat flour, but recommend using it combined with other softer flours. Buckwheat is not actually a grain, but a fruit seed (classified a pseudo-grain, like quinoa). It's naturally gluten free, high in protein, and very high in fiber.

Buckwheat is great for stabilizing blood sugar (meaning your baked goods won't give you a sugar crash!), and for preventing and reversing diabetes. This is a "grain" so nutrient dense, it's comparable to the density of fruits and veggies.
I have never had luck with store bought buckwheat flour. It's very finely milled, and it usually made from toasted buckwheat, which has a very strong flavor. Any time I've tried to use it, I've ended up with very crumbly baked goods.
Making your own buckwheat flour is very easy. Simply buy raw groats (sometimes you can buy them in bulk at Whole Foods-type stores, but are easily available on Amazon), add them to a blender (any blender will do, they are soft!), and grind until a flour is formed and there are no groats left. I find I have the best luck of blending a smooth flour when I grind a small amount at a time, like 1 – 1 1/2 cups.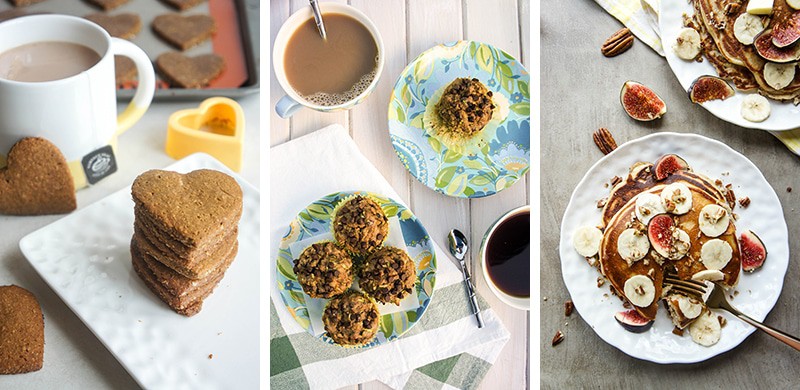 Recipes using Buckwheat Flour:
Coconut flour is popular in grain free baking. This is a tricky flour to work with, and I am certainly not an expert. I love it for making cakes and cupcakes- if done right, the texture is almost identical to white flour treats. I have plans for developing more coconut flour recipes on my own, but for now, I rely on the grain free baking expert, Elana's Pantry.


It's a highly absorbent flour, so cannot be used to replace other flours in recipes. I really recommend finding trusted recipes when experimenting with this flour, as it is not easy to work with, and the majority of coconut flour recipes I have tried (other than from Elana's Pantry- all of hers work) have failed. (You use far less of this flour than other types, so it is not a typo when you see a recipe calling for 1/4 cup of this flour!).
Coconut is high in fiber and protein, and low in carbs. We always think of coconut as being so high in calories, but the flour is roughly equivalent in calories cup-for-cup to white flour, so don't be afraid to try it!
Also, the fats in coconut are medium chain fatty acids, which more and more researchers are concluding are actual beneficial to our metabolisms, and help our bodies burn and use fat quicker.
The only recipe on my blog using coconut flour is this Mexican Chocolate Tiramisu (It uses homemade, grain-free lady fingers), and it's a great recipe. I recommend it – this coconut flour recipe won't fail!
Recipes using Coconut Flour:
Arrowroot is one of my favorite gluten free cooking secrets. It's similar in texture to cornstarch, and can be used as a 1-1 substitute in just about every recipe.


It's also great at adding firmness and binding gluten free baking flours- especially crumbly ones, like buckwheat and millet.
I recommend skipping store bought (or even online recipes) that use a lot of starches or gums, and personally, I won't use xantham gum, or starches like corn starch, in my recipes. I cook at home so I can enjoy treats, and get the health benefits from using clean, nutrient dense ingredients, so I am certainly not going to use these things just for the sake of a better texture.
Arrowroot is an exception. It is made through a natural process, no chemicals involved. It is a root, and to make the flour, the root is soaked in hot water, peeled, and the tubers are then mashed, separating the starch from the fibers. The result is a silky thickening powder, rich in B vitamins, copper, iron, and zinc, as well as other nutrients.
Throw out your corn starch– which, unless you purchase organic, is GMO. Plus, corn starch is made with harsh chemicals, and is nearly devoid of nutrients. Much better to stick with healthier gluten free baking flours.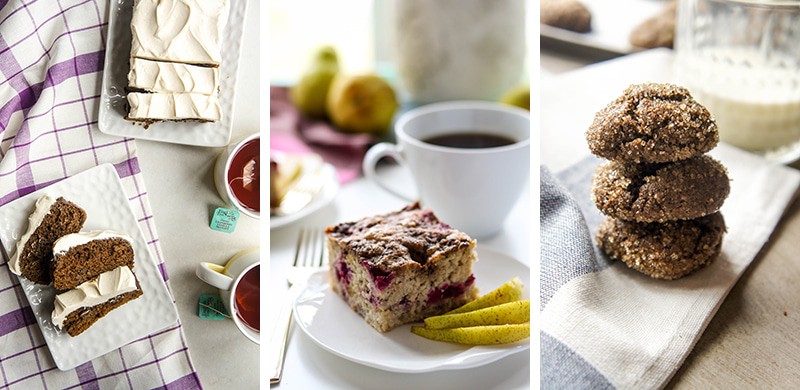 Recipes to Try With Arrowroot:
Other Gluten Free Flours
Almond, oat, buckwheat and arrowroot are flours most often used in my recipes.


I also use millet flour, and really should use it more often. It's best blended with other softer flours, and really benefits from some arrowroot in the recipe. I use millet flour in my Gluten Free Gingerbread Loaf.
Tapioca flour is another one on the gluten free baking scene. It's actually very similar to arrowroot (some arrowroot is actually made from cassava, that plant tapioca flour is made from), but arrowroot is easier to digest. I don't see a good reason to switch from arrowroot to tapioca, and when a recipe calls for tapioca, I sub arrowroot.
And if you really want to get crazy and try something new, there is always plantain flour (I would LOVE to get my hands on some of this), and cricket flour (uh, no thanks!).
This post contains affiliate links, which means that if you click on one of the product links, I'll receive a small percentage of any purchases made.