This post may contain affiliate links. Please see my full
Disclosure Policy
for details.
There are tons of Clean Eating Baking Add Ins that add both flavor and nutrition to baked goods, so your treats don't have to rely on processed sugars. My favorites are listed below, along with recipes that use the different ingredients.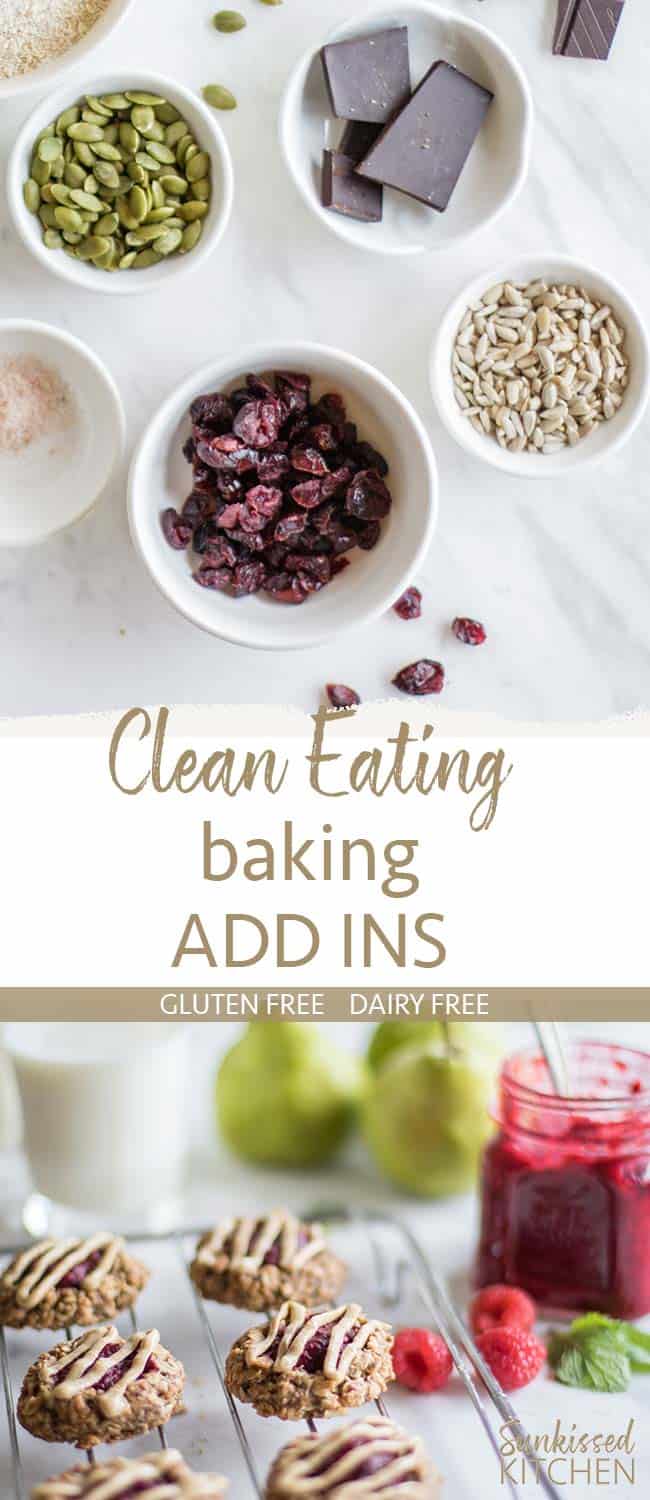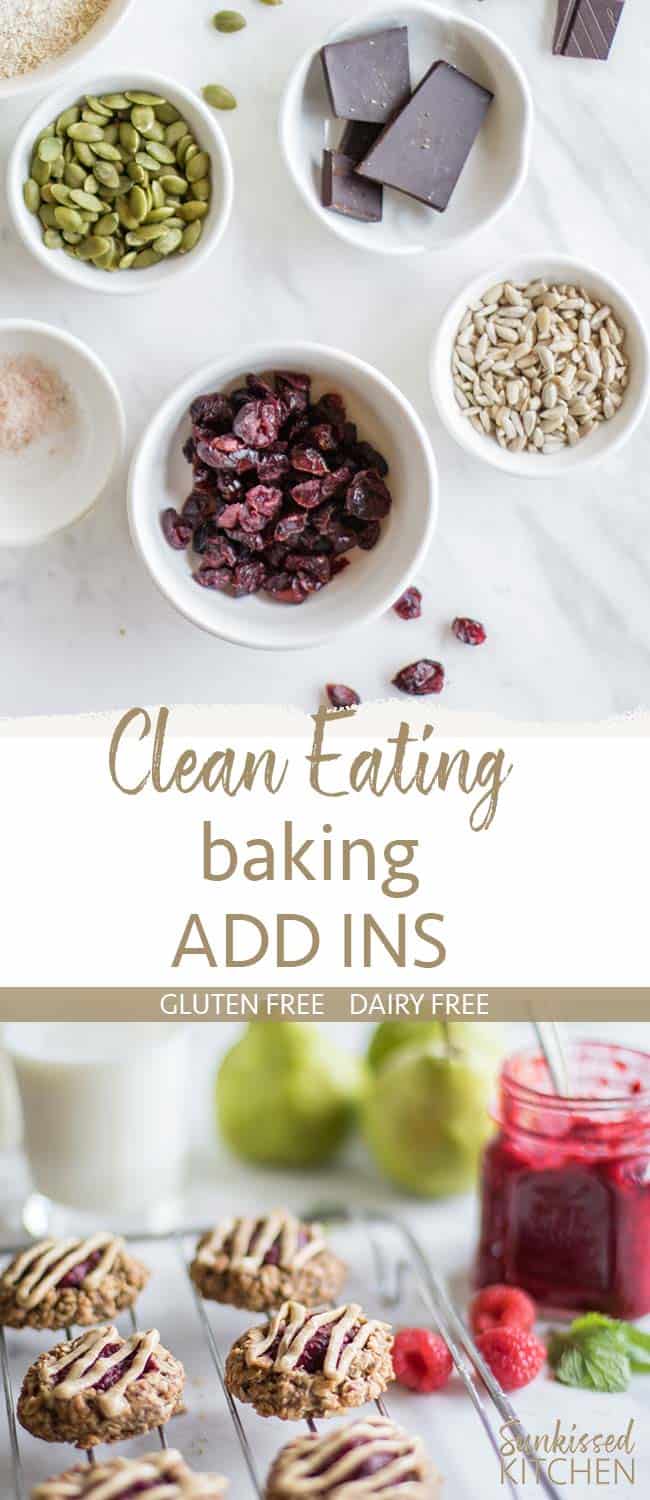 In case you missed them, this is the 3rd post in a series on clean eating baking essentials. Make sure to check out my posts on Clean Eating Gluten Free Baking Flours, and Clean Eating Sweeteners, to see all my favorite ingredients.
Baked items can be a nutritional disaster, but using healthy ingredients and a little creativity to combine them, you can create nutrient dense, high protein, high fiber, and low sugar snacks and desserts.
Since I refuse to live without sweet treats in my life, this is what I've done.
The truth is, desserts can be packed with nutrition, especially with the addition of fruit, nuts, and dark chocolate. Here are some items that I love to use in my healthy desserts.
First and foremost, my favorite clean eating add in is dark chocolate. Chocolate desserts are always
the most popular. I really believe that dark chocolate belongs in everyone's diet! I have given it to my son since he was 10 months, and don't mind at all if he gets small amounts with breakfast or his snacks (I don't give it to him after dinner though- he's still tiny so even the small amount of sugar and caffeine can disrupt his sleep).
When I say dark chocolate, I'm not talking about Hersheys Special Dark (45% cocoa content) or semi sweet chocolate chips (35% cocoa content). Dark chocolate with a 70% or high cocoa content is where you'll really get the most nutritional bang for your buck (and the least amount of sugar).
I could go into detail about all the benefits of dark chocolate, but they are so wide ranging I don't know where to start! Basically, dark chocolate improves your overall health, boosts your mood, and people who eat dark chocolate regularly weigh less than those who don't. Plus, it tastes amazing!
My favorite dark chocolate products to buy are Enjoy Life Dark Chocolate Morsels (70%) (which I buy in a 5 lb. bag through Amazon because they are crazy expensive if you buy the small bags), and 85% dark chocolate bars that I chop up.
Recipes to try with Dark Chocolate:
Dried Fruit
I use raisins, apricots, cranberries and tart cherries the most in my baking. Dried fruit has similar nutrient contents to its fresh counterparts. It tends to get a bad rap because it's "high in sugar," but that's only because many people overeat dried fruit because it's easier to eat quickly than fresh fruit.
Dried fruit adds a great pop of sweetness to treats. Make sure to read ingredient labels closely to make
sure you aren't buying dried fruit with sulfur or added sugar.

Cherries are difficult to find without sugar. You can buy unsweetened bing cherries on Amazon, and because there is no added sugar, they still have a tart zing to them.
Cranberries aren't very good when they aren't sweetened, but you can buy them naturally sweetened with apple juice.
Recipes to try with Dried Fruit: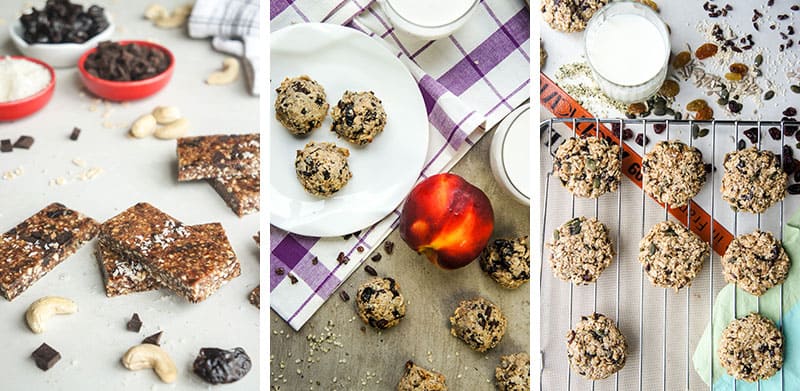 Fresh Fruits and Veggies
I often use fresh fruit and veggies in my baking.
Of course there are the popular carrot cake and zucchini bread items, but I also love to use spinach, sweet potato, and avocado, and fresh fruit as beautiful, natural decorations.
Healthy dessert and sweets making is all about changing things up — instead of what's "normal," try new things and you might be surprised!
Recipes to try with Fresh Fruit and Veggies: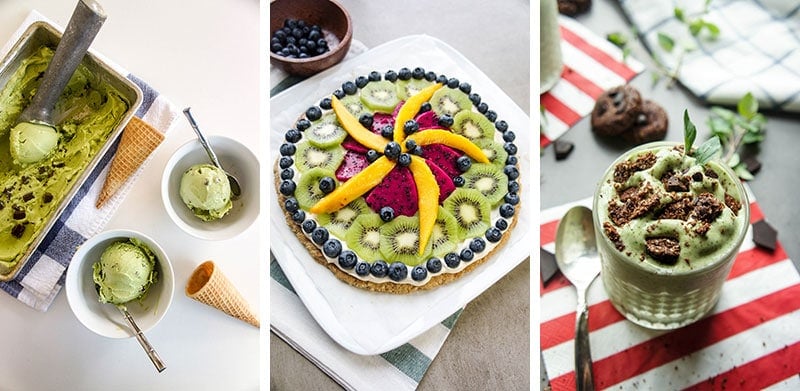 Not only do nuts and seeds add great texture to baked goods and treats, but they also add a ton of nutrition.


My favorites that I always have stocked in my kitchen are almonds, walnuts, pecans, pistachios, cashews, pumpkin seeds, sesame seeds, sunflower seeds, hemp seeds, chia seeds, flax seeds, almond butter, sunflower butter and tahini.
All of these options are loaded with vitamin E and healthy fats. They add flavor and help add baked goods stick together. They are also great toppings for salads, oatmeal and yogurt.
Recipes to try with Nuts, Seeds and Nut/Seed Butters: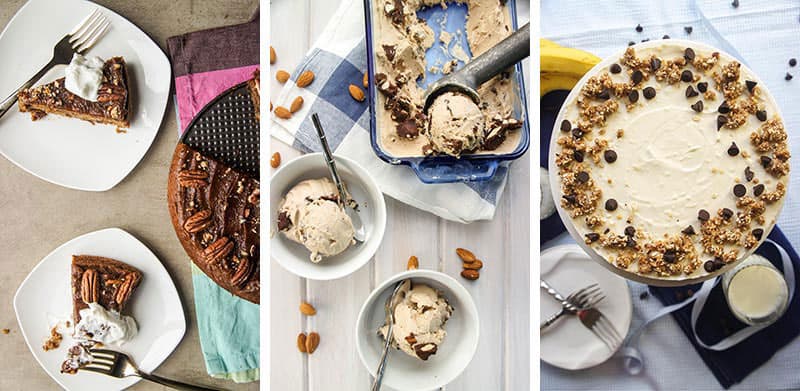 Yes, chocolate is on this list twice 🙂 I love chocolate, and I eat it in some form daily.


I use natural cocoa for so many different things. I actually put it in my coffee (unsweetened) every morning. Natural cocoa powder is low in calories, high in protein and fiber, and full of antioxidants. A cocoa bean is similar to a coffee bean, so there is really no reason it can't be drunk like coffee (there are actually gourmet coffee/chocolate shops that serve brewed cocoa beans rather than coffee).
Natural cocoa powder is different from raw cocoa and dutch processed cocoa. Natural cocoa is made when nibs are processed to separate the cocoa solids from the cocoa butter. Raw cocoa is simply ground cocoa beans, so the cocoa butter is still there, meaning it isn't as strong in flavor. Dutch processed cocoa is washed with a solution to lower it's acidity. The only reason I am telling you all of this is so you understand they are different, and will react/taste different in baked goods.
I only use natural cocoa powder and very occasionally raw cocoa powder. None of my recipes call for Dutch processed.
Recipes to try with Natural Cocoa Powder: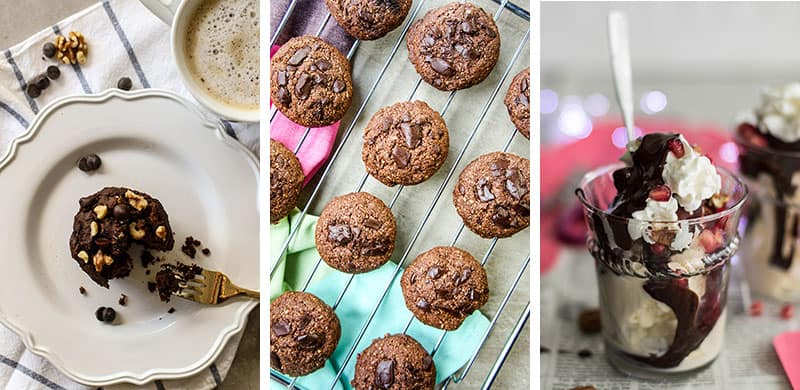 I am constantly thankful that coconut is no longer deemed unhealthy (those crazy low-fat 90s).


Shredded, unsweetened coconut is great for adding a bit of tropical flavor and great texture.
I sprinkle unsweetened coconut on my yogurt, on fruit, and use it in cookies and granola bars.
Recipes to try with Coconut: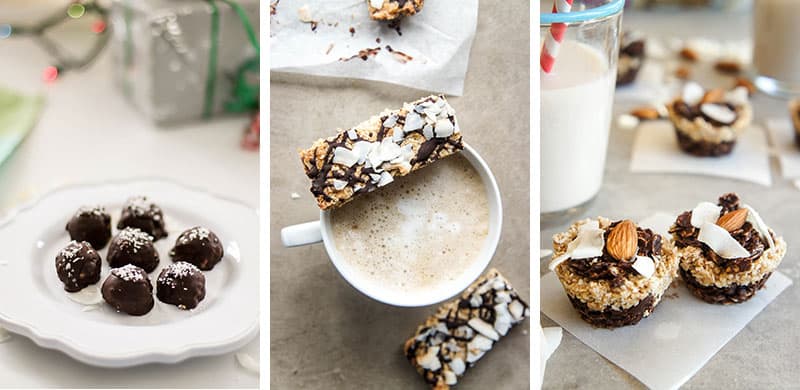 Using Brown Rice Crisp Cereal is actually a new discovery in my kitchen. Yes, of course I grew up making rice crispy treats, but it wasn't until a few months ago that I started experimenting with using this in healthy treats.


It's a total game changer! It gives some baked goods that fun crispy texture that makes rice crispy treats so addictive.
I've also found that make a great gluten free sub for bread crumbs. Although this post is about baking sweets, I'm including a link below the the Creamy Macaroni and Cheese recipe where I use this cereal as a crunchy topping.
It can be tricky to find in stores. It's generally with other gluten free products, not the normal cereal aisle. You can also order it from Amazon.
Recipes to try with Brown Rice Crisp Cereal: