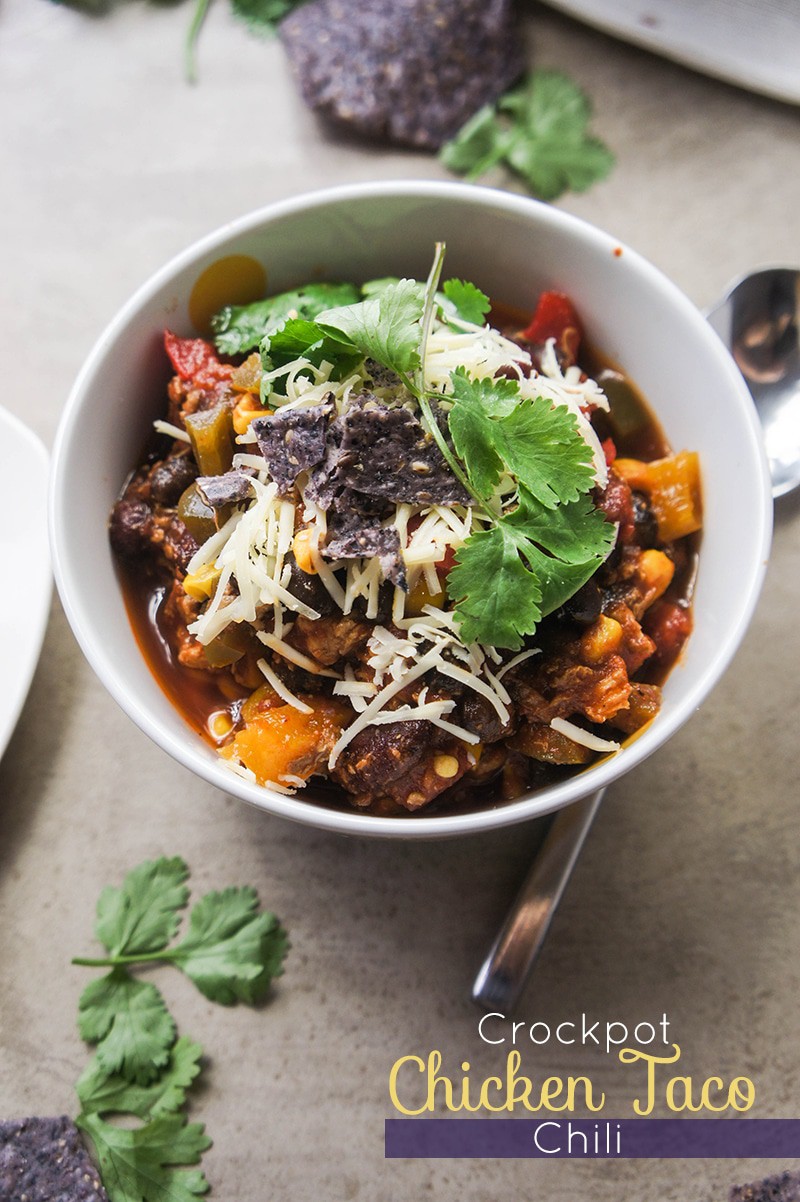 Mastering the crockpot takes a bit of practice. One thing I learned from the crockpot queen over at SkinnyTaste is to not use onions. After I learned this rule, my crockpot creations became much, much better. Although I normally use onions in all soups and chilis, you won't miss them at all in this thick, spicy, crockpot chicken taco chili.
The whole allure of crockpot cooking is to have a hot meal ready when you come home from work. I don't know about you- but browning meat to prepare the night's dinner isn't on the top of my to-do list at 6'oclock in the morning. I get up early enough to accomplish such tasks, but I'd rather get caught up on my favorite blogs and have a cup of coffee before rushing in to the day. Sometimes I'll make crockpot meals and skip the browning stage– and a hot meal, ready when you get home from work, somehow will make you forget it lacks a certain depth of flavor.
For this recipe, I did brown the meat. I made it on the weekend, but if I make it for a weekday meal, I'll simply brown the meat and add in the tomatoes and spices, and then leave it in the fridge until it's time to start cooking.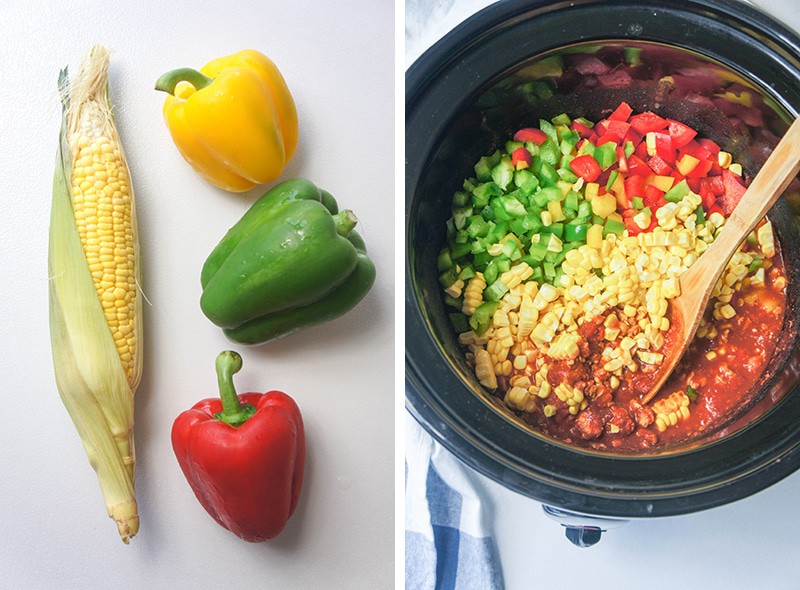 I just signed up for The SITs Girls blog mentoring program. They have set up a forum, and are helping experienced bloggers connect with less experienced bloggers.
Since I started Vitamin Sunshine, I have been anxious to turn it in to everything I know it can be. I have been very impatient, watching it grow slowly, and watching my work on it get better, bit by bit, as I learn how to do the thousand things you need to be good at to actually run a blog.
It takes time. It takes constant attention. It takes building networks, and learning from other bloggers, to get the word out there.
And although I think I am capable of doing all I want to do with this site, time is always the limiting factor.
So- to the other bloggers out there, what are the most important lessons you've learned along the way? What advice can you offer to newer bloggers who want to improve and develop more professional looking (and operating) blogs?
I'd really like to add more lifestyle posts, but posting beautiful photos of the food that I make comes so much more naturally. When I am tired from work, I don't have a problem writing all about the wonderful dinner I made last week. #Secondnature
I do lose a bit of creativity when I get tired, and find it harder to <–stretch–> out of my comfort zone.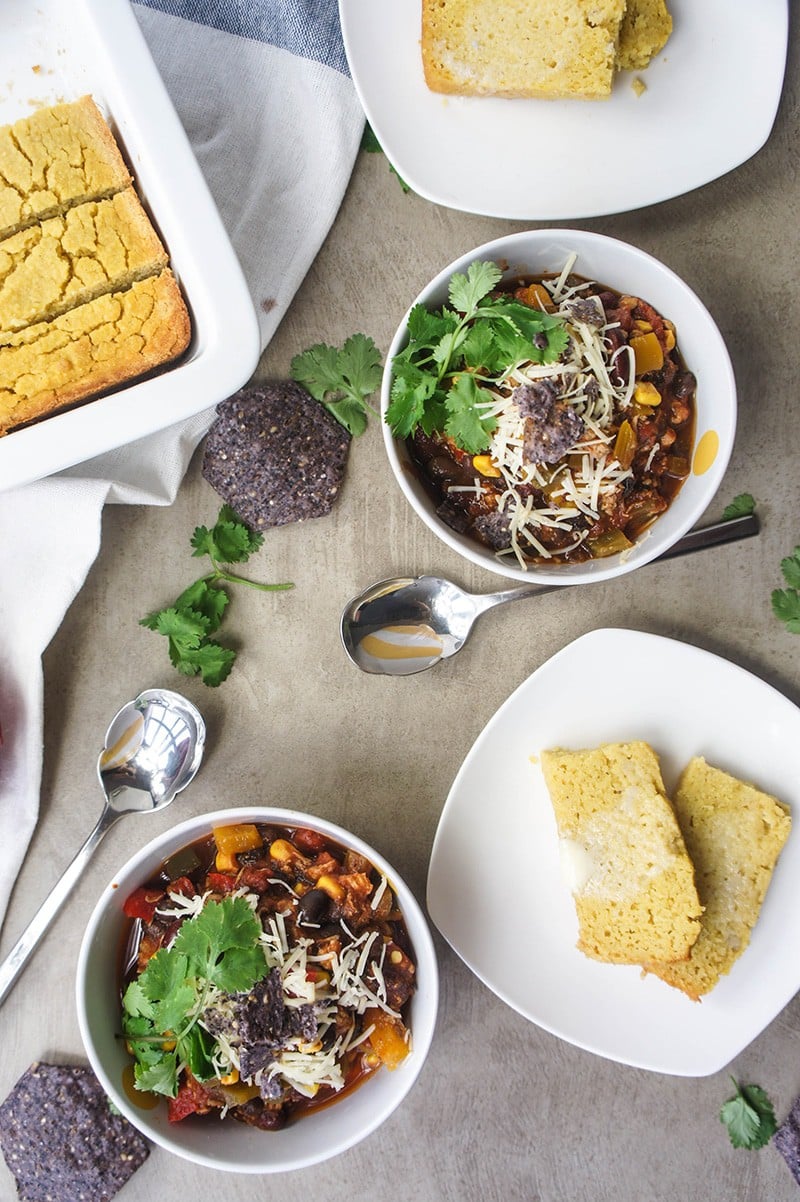 The cornbread in the photos turned out amazing. My first attempt at gluten free corn bread. The flavor and moistness was spot on. However, I only had masa harina on hand (finely ground corn flour, used for tortillas), so it was missing that famous cornbread grittiness. Once I try it again with a coarser corn meal, I'll be sure to post the recipe. <– and hopefully in time to share my grandma's INCREDIBLE corn bread stuffing recipe for Thanksgiving!

Crockpot Chicken Taco Chili
Ingredients
2 teaspoons olive oil
1½ pounds chicken breasts, minced in food processor (or ground chicken)
½ teaspoon sea salt
2-14 ounce cans diced tomatoes
1-6 ounce can tomato paste
2 teaspoons vegetable bouillon
1½ tablespoons chili powder
1 tablespoon cumin
2 teaspoons sweet paprika
1 teaspoon oregano
1 teaspoon natural molasses sugar
½ teaspoon coriander
3 bell peppers (I used 1 orange, 1 red, 1 green)
1 ear of corn, kernels removed
1-14 ounce can black beans, rinsed and drained
1-14 ounce can kidney beans, rinsed and drained
sea salt, to taste
cilantro, (to garnish, optional)
cheddar cheese, (to garnish, optional)
tortilla chips, (to garnish, optional)
Instructions
Mince chicken breasts in a food processor, or start with store bought ground chicken.
Add olive oil to a frying pan, and brown chicken over medium high heat. Season with ½ teaspoon sea salt. If cooking in crock pot right away, it's not necessary to cook the chicken all the way.
In a crockpot, add the canned tomatoes, tomato paste, and all the spices, vegetable bouillon, and brown sugar. Add the browned chicken, and mix ingredients together.
Cook on low for up to 4 hours, or on high for 2 hours.
Add chopped bell peppers, corn, and beans about halfway through cooking.
Garnish with cilantro, chips, cheese, or hot sauce.
Notes
I like to add vegetables towards the end of crock pot cooking to prevent them from becoming overly mushy. It's hard to overcook chicken and tomatoes, but peppers and corn can easily be ruined.

Other Chili Recipes to Warm up to: