This post may contain affiliate links. Please see my full
Disclosure Policy
for details.
A twist on the classic appetizer – these Salmon Sweet Potato Croquettes are sure to become a family favorite recipe! This healthy appetizer is baked, not fried, and perfect to serve as an appetizer or as a main course along with salad. Learn how to make croquettes without deep frying.
*Today I'm partnering with Sharp Home USA ~ Sharp creates quality home appliances that make life easier! I've been using the Superheated Steam Countertop Oven for the past few months, and can't wait to share how it makes cooking healthy meals easier. Thanks for supporting me and the brands I work with. I only share this space with the very best ~ and that's a promise.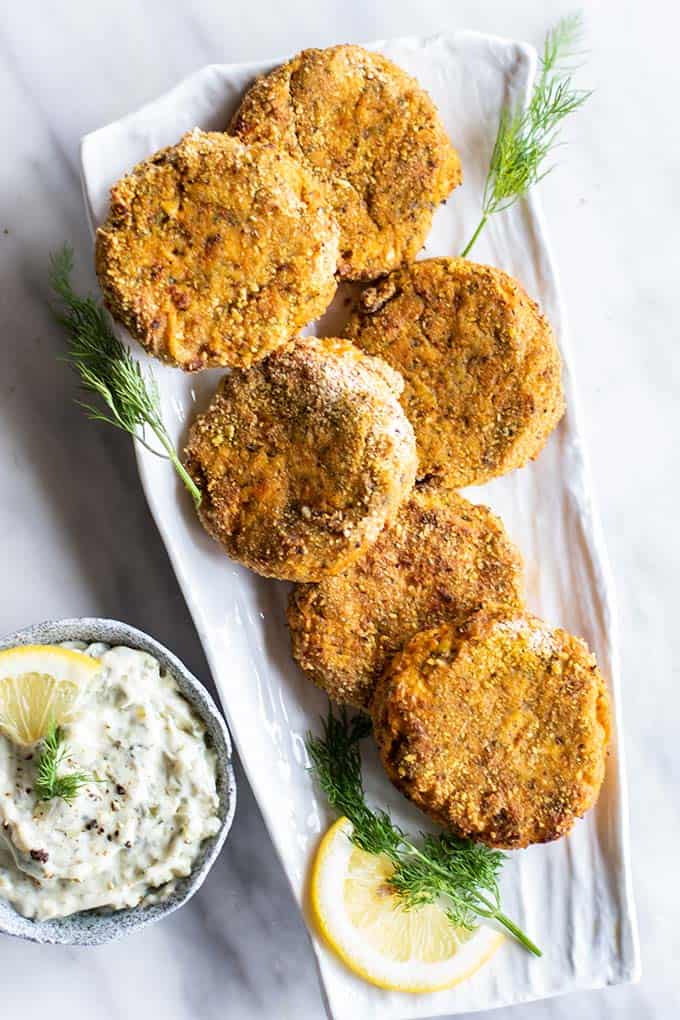 What are Croquettes?
In my family, we don't make fancy appetizers for Thanksgiving. While delicious, our entire Thanksgiving meal isn't really "gourmet." We stick to the basics — sautéed veggies, roasted sweet potatoes, turkey, and of course, mashed potatoes.
Wanting to elevate our Thanksgiving dinner this year, I started brainstorming healthy and delicious appetizers that would appeal to everyone, be easy to make, and add an elegant touch to our day.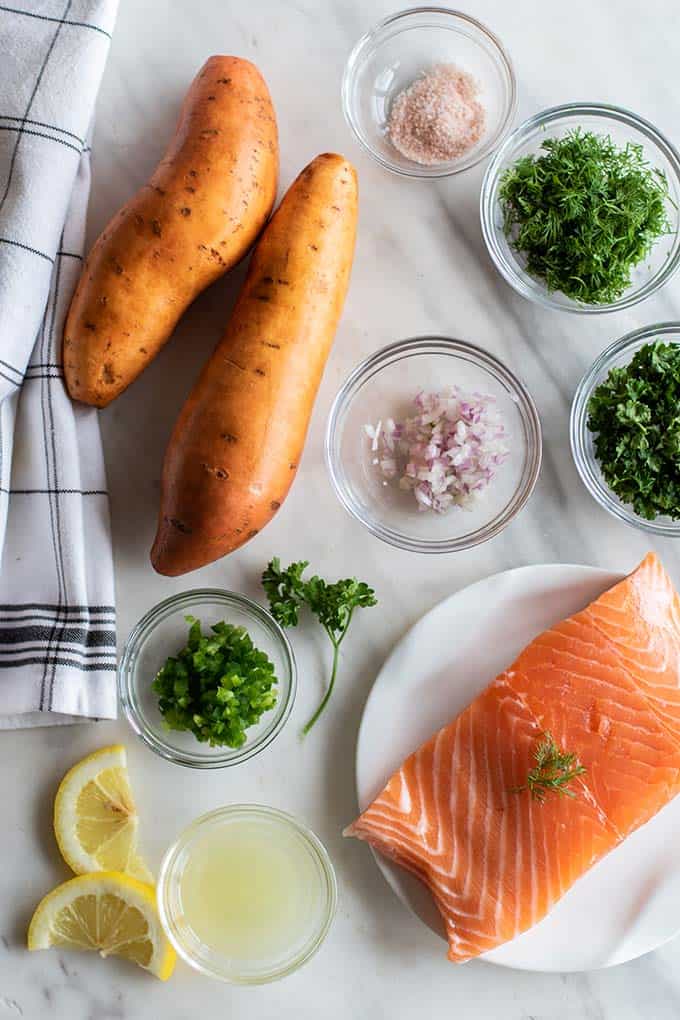 Croquettes are a classic dish served around the world. They can be made with a variety of fillings, from potato to seafood. Traditionally coated in breadcrumbs and deep fried, they are served as appetizers in some parts of the world, some places are a snack, and as a main course in others.
I decided I wanted mine to be "in between." Rather than just potatoes or seafood, I combined roasted sweet potatoes and salmon — a very good choice!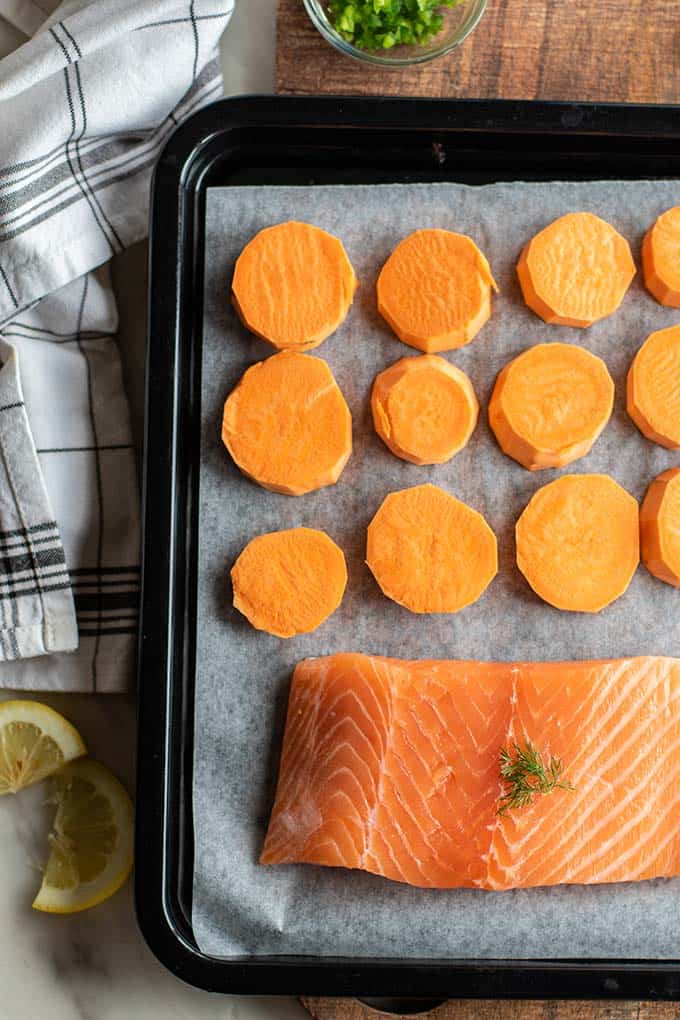 These are beyond delicious. I've made them 3 times in the past 2 weeks, and we just can't get enough.
I have made these in larger "patties," but if serving at a large gathering, consider making twice as many that are half the size.
Baked, Not Fried!
The last thing you want to do when you're having people over is deep fry! It's messy, and you're making appetizers one or two at a time.
This baked croquette recipe turns out golden brown and with a nice crunch, no frying necessary.
I've been making these in my Sharp Superheated Steam Countertop Oven. It's perfect for making appetizers – no need to turn on a big oven for 1 tray!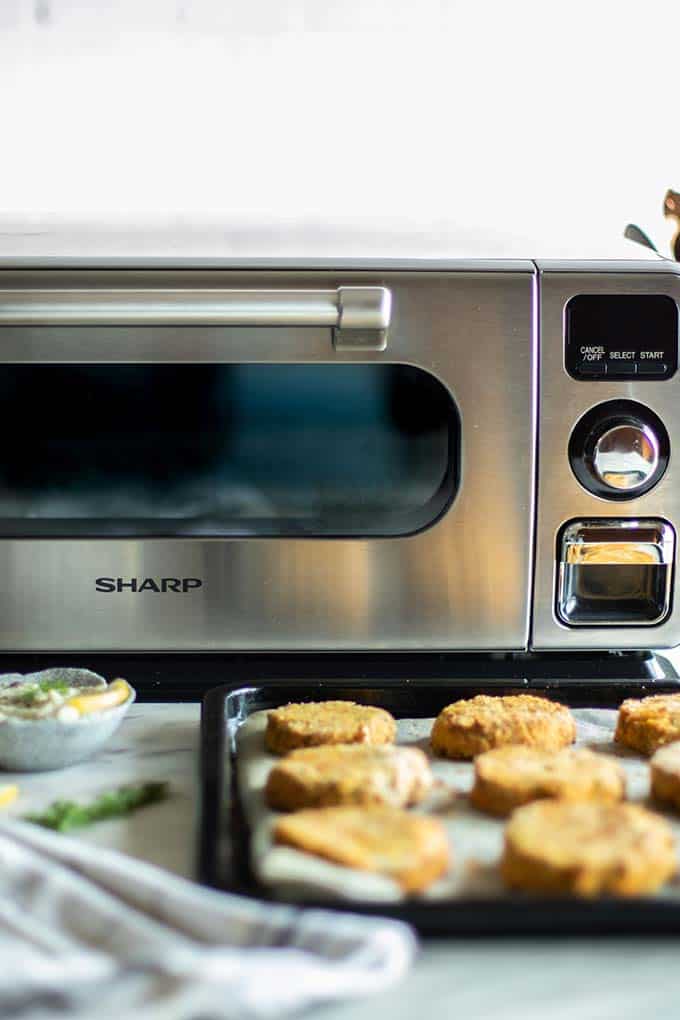 It uses a combination of steam and convection, meaning food comes out still moist, but also browns. I found that these brown the best if cooked using the Broil/Grill function on a high heat.
Having this little oven means that on the holidays, I actually can serve hot appetizers. While the turkey is baking away, I can simply put a tray of these into my Sharp Superheated Steam Countertop Oven.
How to Make Croquettes with Sweet Potatoes and Salmon
This recipe is easy to make and sure to be a favorite!
Start by peeling and slicing sweet potatoes, and roasting along with a fillet of salmon.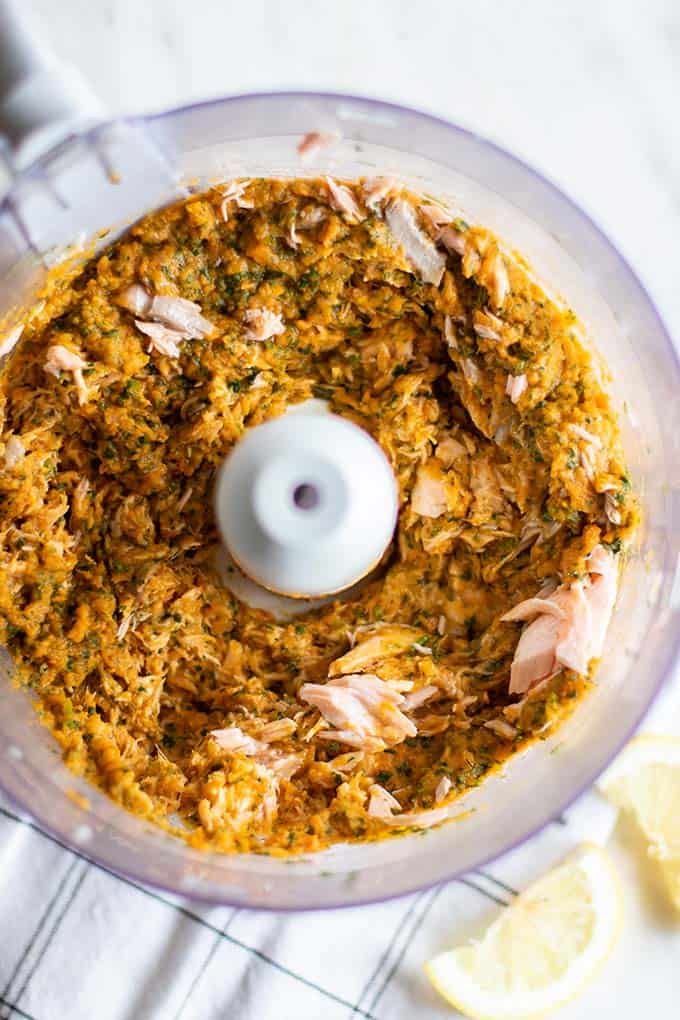 When those are roasted, add them to a food processor along with:
Some finely minced onion, to add a savory touch.
Minced jalapeno, for a little kick of heat – a great contrast to the sweet!
Lemon juice, to balance the sweetness of the potato
Lots 'o chopped herbs — I used parsley and dill.
A bit of sea salt – always!
Coat these with an egg dip and gluten free breadcrumbs.
Rather than buying gluten free breadcrumbs, make a healthier, cleaner version at home.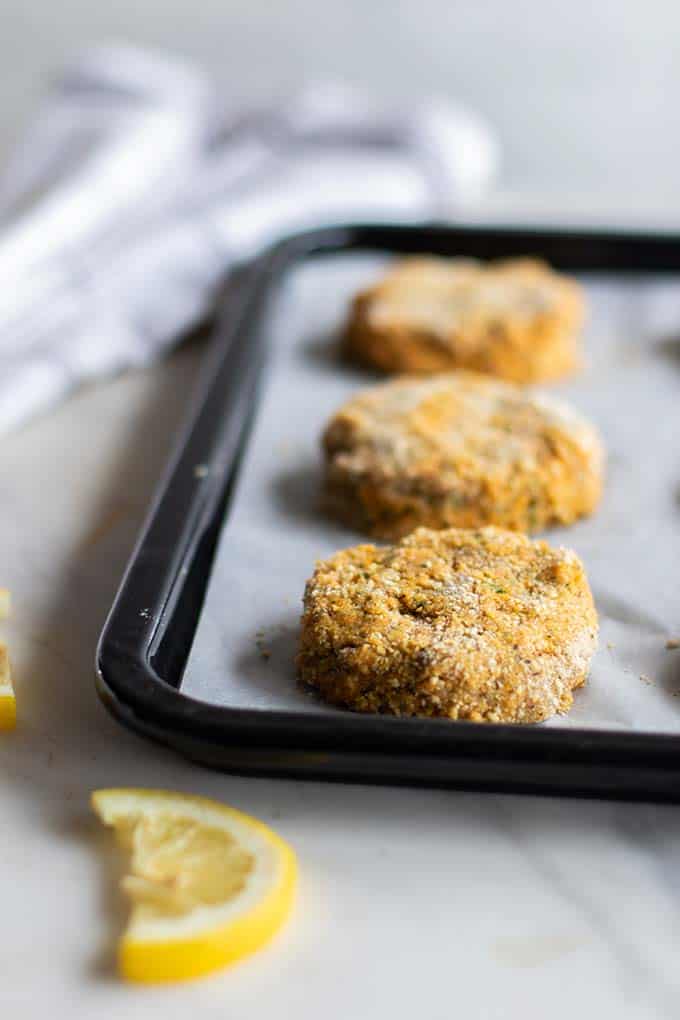 Options for gluten free breadcrumbs:
Salted brown rice crackers, processed in a blender into a coarse flour (this is what I've used – it gets so crunchy!).
A 50/50 combo of almond flour and processed brown rice crisp, seasoned with a few pinches of sea salt.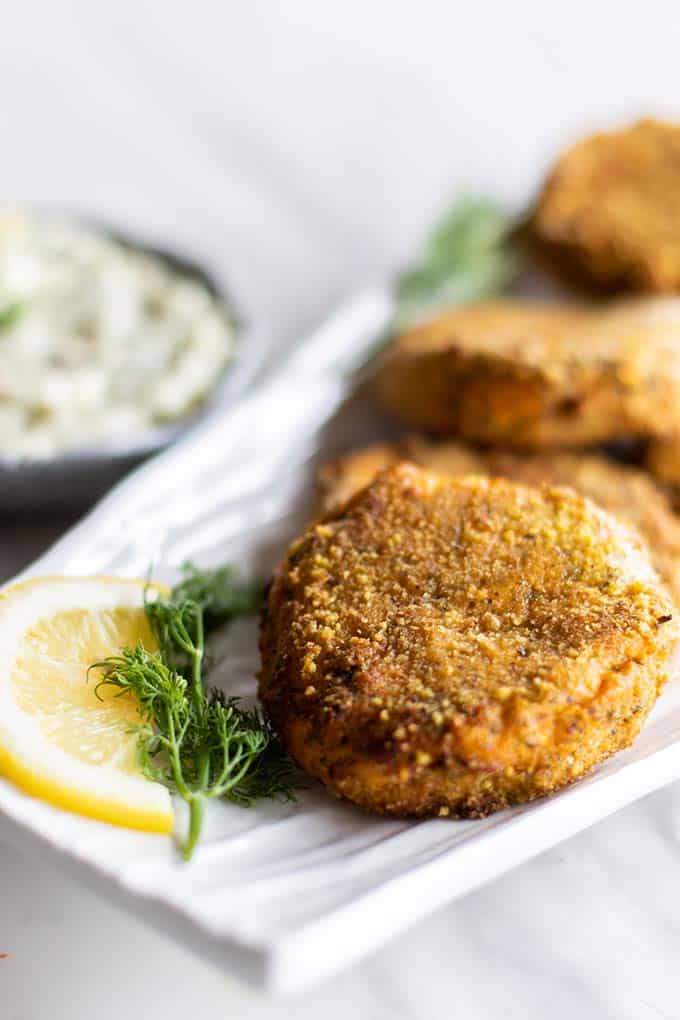 Once they are coated, simply bake, and serve with your favorite dipping sauce!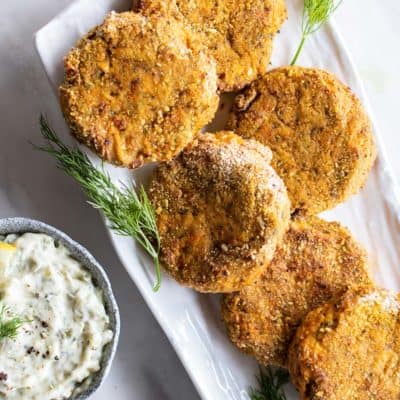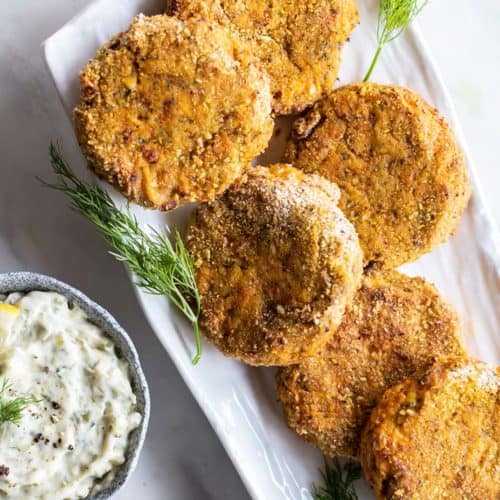 Salmon Sweet Potato Croquettes
A delicious appetizer for your holiday gathering -- sweet potato and salmon croquettes. This healthier baked croquette is easier to make and serve to a crowd! These make a delicious lunch or dinner alongside a salad.
Print
Rate
Ingredients
1

pound

sweet potatoes

1 1/2

pounds

salmon fillets

1/3

cup

parsley

chopped

2

tablespoon

fresh dill

chopped

2

tablespoons

lemon juice

1

tablespoon

onion

finely minced

1-2

tablespoons

jalapeno

finely minced, depending on heat

3/4

teaspoons

sea salt

1

egg

1 1/2

cups

gluten free breadcrumbs*
Instructions
Peel and slice sweet potatoes, and add to a baking tray along with salmon fillet.

In the Sharp Superheated Steam Countertop Oven, bake at 425 for 20 minutes. In a conventional oven, bake at 425 for 30 minutes.

Once the potatoes and salmon are baked, add the sweet potatoes, herbs, lemon juice, onion, jalapeno and sea salt to a food processor, and process until the potato is broken up.

Add the baked salmon, and pulse until the salmon is mixed in, but still in chunks. Don't overprocess.

Whisk an egg in a bowl, and add breadcrumbs to a second bowl.

Form 1/4 cup sized patties. The mixture is soft and a bit sticky, but form them delicately. The mixture is easier to form into patties if it's chilled.

Dip each patty into the egg, and then coat in breadcrumbs.

Bake croquettes in the Sharp Superheated Steam Countertop Oven on Broil/Grill on 425 for 12 minutes, and then flip and continue baking for another 4 minutes. In a conventional oven, bake on 425 for 15 minutes, and then flip and continue baking another 6 minutes.
Other Healthy Appetizer Recipes:
I'd love to connect with you on social media! Find me on Facebook or Instagram where I post daily healthy eating and lifestyle inspiration.
This Sweet Potato Salmon Croquette recipe post may contain affiliate links, meaning if you make a purchase, I will receive part of the sale as a comission. This helps me continue to bring you lots of fresh and inspired recipes!