This post may contain affiliate links. Please see my full
Disclosure Policy
for details.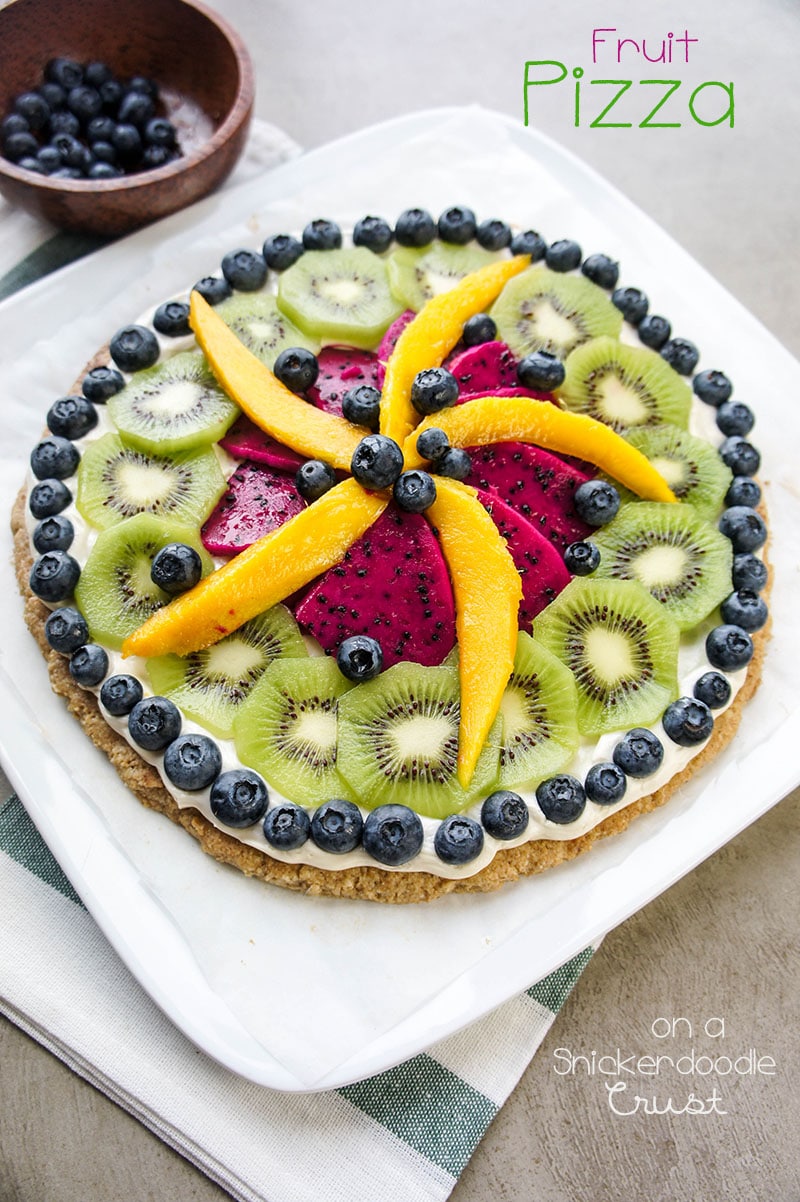 The week before the 4th of July was a bit hectic over here– we've had contractors in our house making space for our family's new addition. They've redone one of our bathrooms, added lots of storage cabinets, added ceiling fans, painted the whole house… the list goes on. We wanted to make sure after the baby arrives, we can relax and know things are organized, safe, and that we have a bit of room to grow in this condo.
So, I didn't get around to making a fabulous red, white, and blue dessert, or salad, or anything. In fact, on the 4th, we were out in the city eating Chinese grilled fish. Not very American!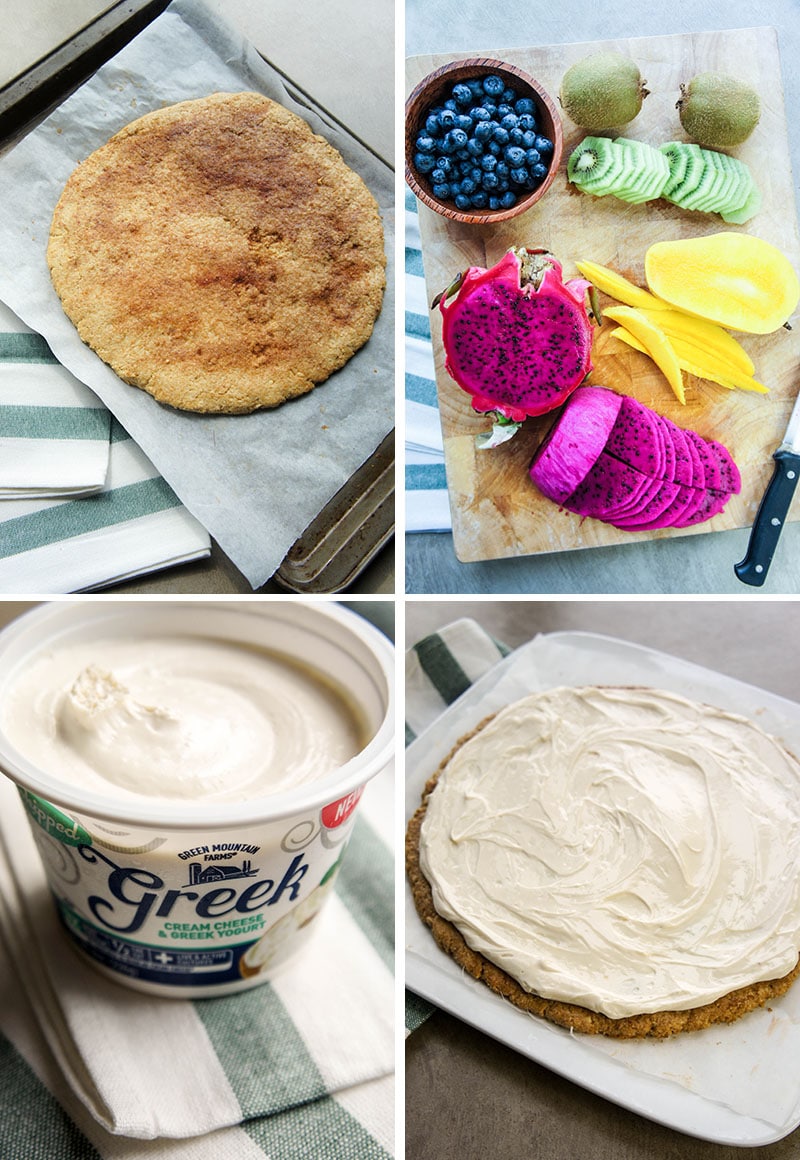 I did, however, manage to put together a fruit pizza, inspired by all the great ones I saw on Pinterest, with blueberries and strawberries. It turned out so good, I knew I had to recreate one for the blog.
I used the dough for my Gluten Free Snickerdoodles, and it made a fantastic "sugar-cookie-ish" base. To keep it low in sugar, I used lightly sweetened cream cheese as the "frosting." Then, piled on the fruit!
Alex wasn't sad about me having to make a 2nd 🙂 This time around, I thought I would give it a more local-tropical flair, and bought a beautiful red dragon fruit— stunning, huh?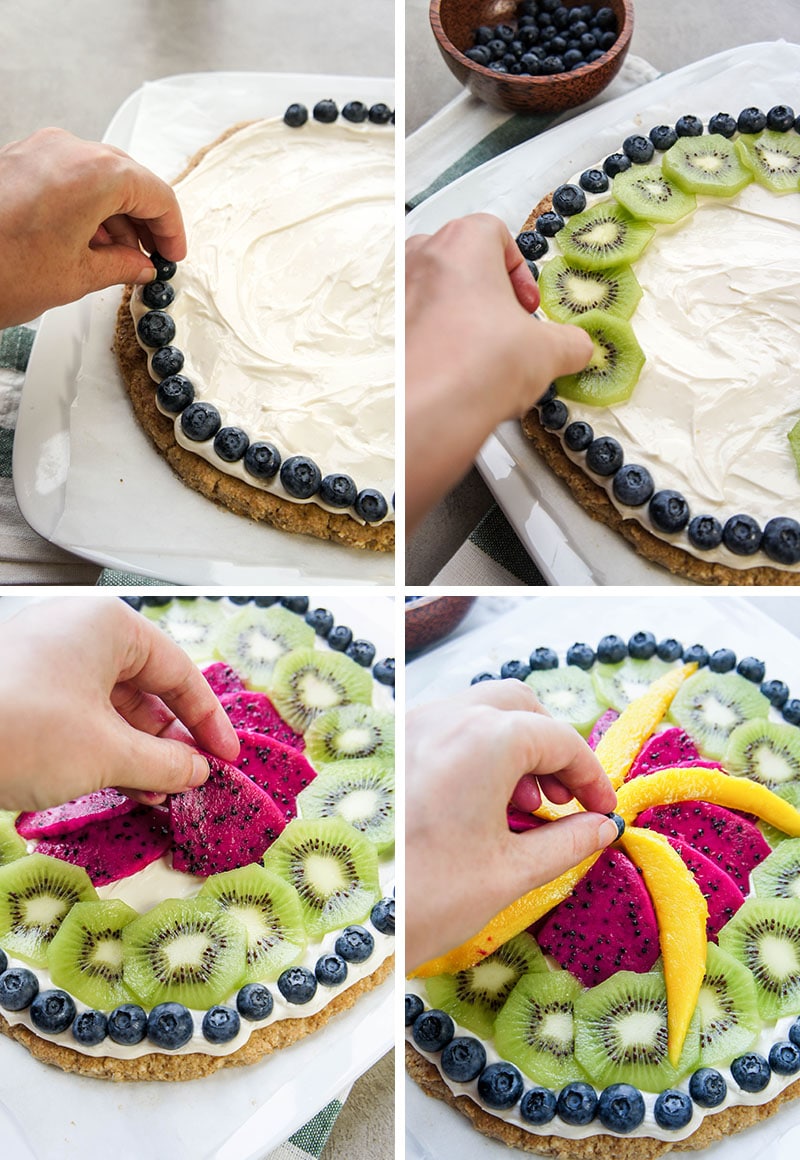 While putting this together, I couldn't help but imagine the day when I'll have tiny hands helping me put the fruit on! Kids would love to help put one of these together, a chance to be artistic AND create a healthy YUMMY dessert! It might not end up so symmetrical, but I don't think anyone would mind.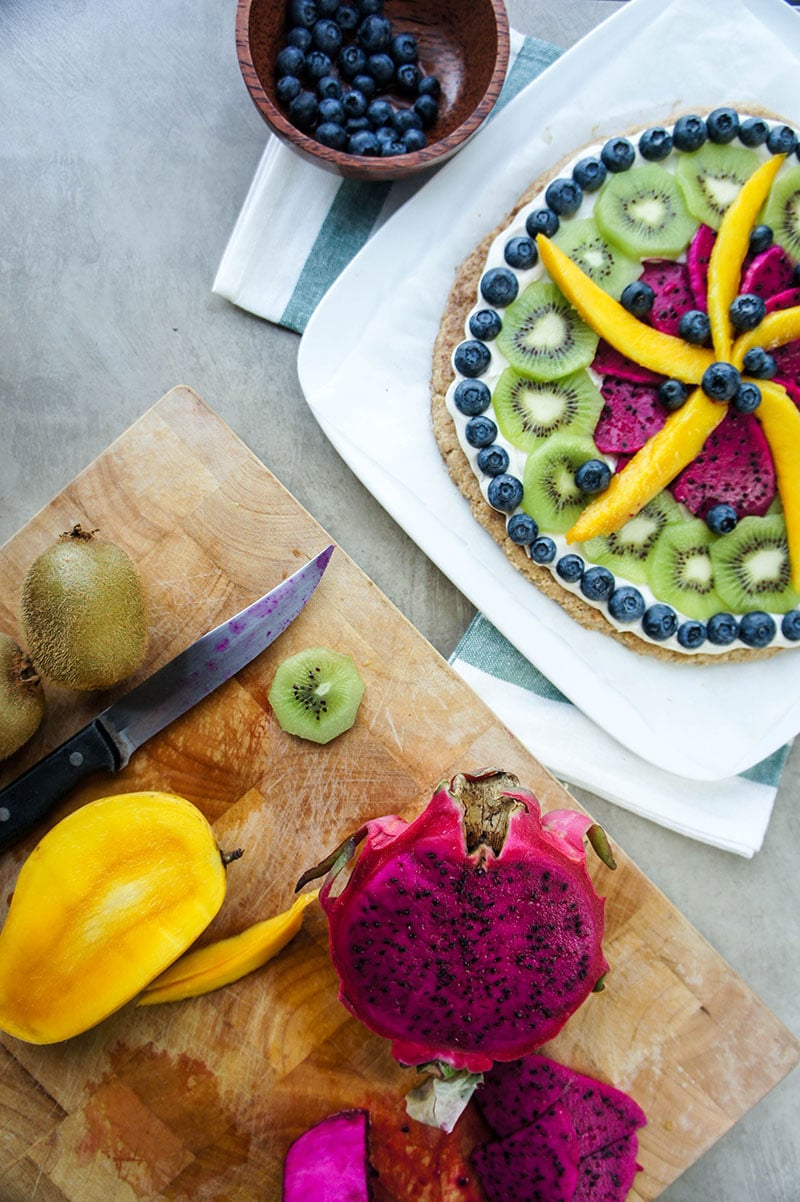 This is a great way to use up summer fruit– berries, cherries– whatever is local and in season for you. Choose a variety of colors, and the outcome will be beautiful guaranteed. In fact, it would be beautiful just piled with cherries– or just piled with blueberries– Yum, a cherry pizza would be delicious.
That won't be happening in Kuala Lumpur. I saw bags of bing cherries from Washington state at our grocery store the other day– $20 for a 1.5 lb. bag! And I almost bought them. If I had known they would be as good as they are back home, I would have been more tempted– but I have bought blueberries, cherries, raspberries from home before, and guess what? They taste like they've traveled 8,000 miles!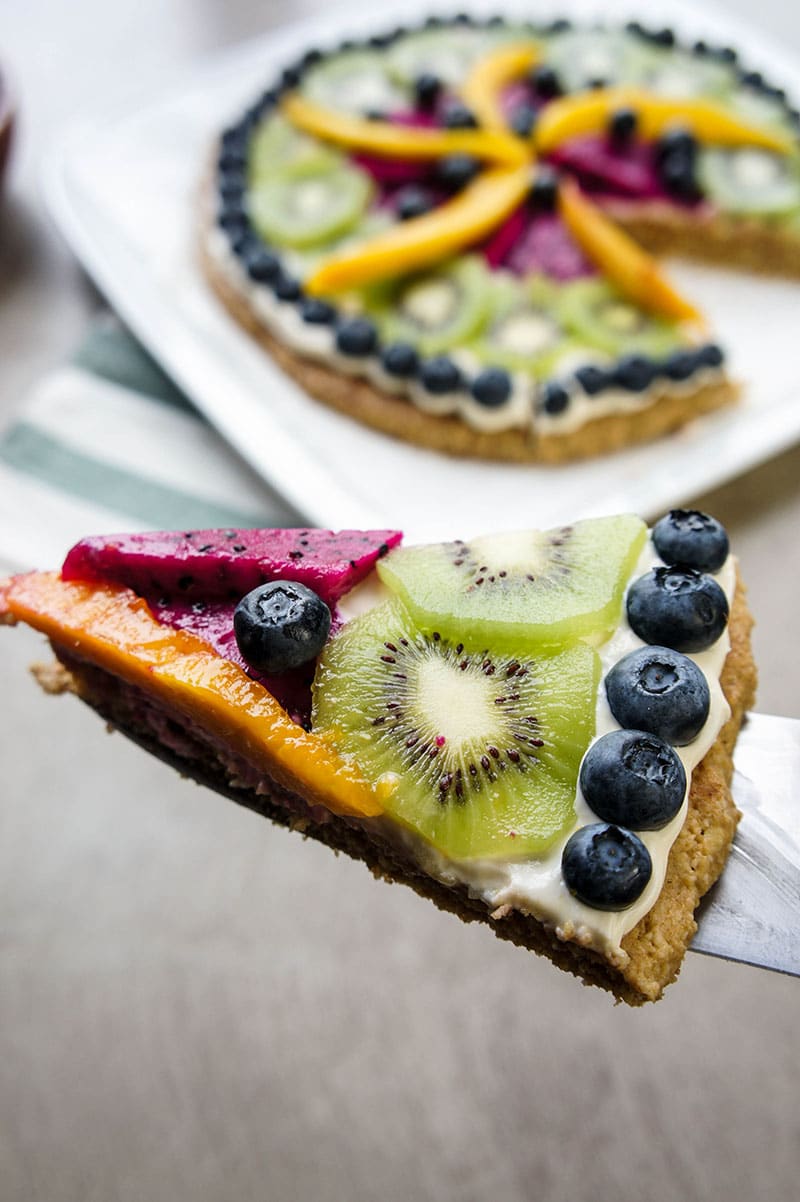 This "pizza" slices up beautifully– just leave the crust in the fridge to fully cool before topping. Alex thinks it's even better after it's been around for a few days because the crust softens.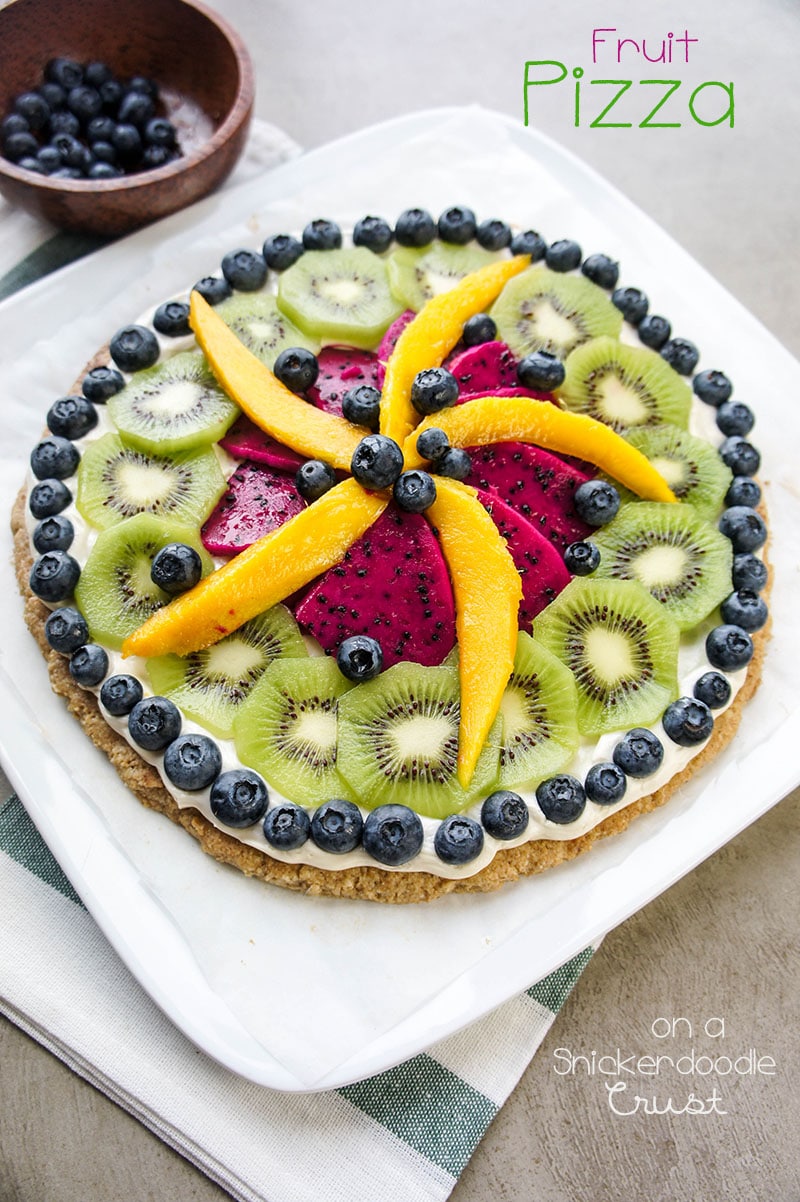 Fruit Pizza on a Snickerdoodle Crust
A stunning summer dessert, made a bit healthier with my low sugar Gluten Free Snickerdoodlerecipe as the base, and layered with a high protein "frosting" and lots of seasonal fruit!
Print
Pin
Rate
Ingredients
Cookie Base
batch

Gluten Free Snickerdoodle

dough
"Frosting"
1

container

whipped cream cheese

2

tablespoons

honey

1

teaspoon

vanilla extract
Toppings (sub any seasonal fruit)
1/4

large

dragon fruit

quartered and thinly sliced

2

kiwi

thinly sliced

3/4

cup

blueberries

1/2

mango

sliced
Instructions
After making the Snickerdoodle dough, place it in the fridge to chill for 20 minutes.

Preheat oven to 350 degrees F.

Add honey and vanilla to the whipped cream cheese, and stir to combine. If subbing a non-whipped cream cheese, put in the food processor and whip in the honey and vanilla for about 1-2 minutes, until the mixture is very smooth (when I do this, I let the cream cheese warm up to room temperature first).

Allow the cream cheese frosting to cool in the fridge while the cookie is baking.

Once the dough has cooled, it will be easier to work with. Create a ball, and then flatten the ball onto parchment in a circle. My circle was about 10 inches in diameter. Use wet hands, or a wet rolling pin, to roll out evenly, and even out the edges.

Bake for 14-16 minutes. Turn off the oven, but leave the cookie in the oven for about 15 more minutes. This will allow the cookie to become a bit crispier, and will help it hold up to the toppings better.

Allow the cookie base to completely cool in the refrigerator or freezer. When ready to top, frost it with the cream cheese mixture, and layer the fruit on in any design you'd like.

The cookie base will cut the cleanest/nicest when the "pizza" is cold.

Store refrigerated for up to 5 days (the fruit will begin to look sad after 3 days!).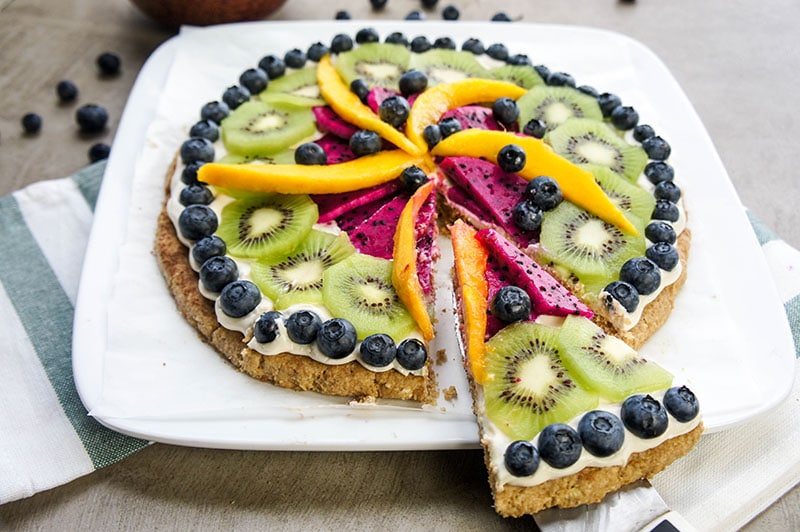 Other Beautiful Fruit Pizzas:
This post was shared on: