This post may contain affiliate links. Please see my full
Disclosure Policy
for details.
The BEST Gluten Free Biscotti Recipe — studded with sweet-tart dried cherries and toasty hazelnuts. These crunchy Italian cookies are the perfect companion to coffee or tea, and make wonderful holiday gifts. Keep a batch in your freezer for guests over the holidays.
This post is sponsored by Fruit Bliss— a company committed to bringing healthy snack options to our kitchens. I only work with brands whose products I genuinely love. Thank you for supporting the brands that help keep Sunkissed Kitchen running!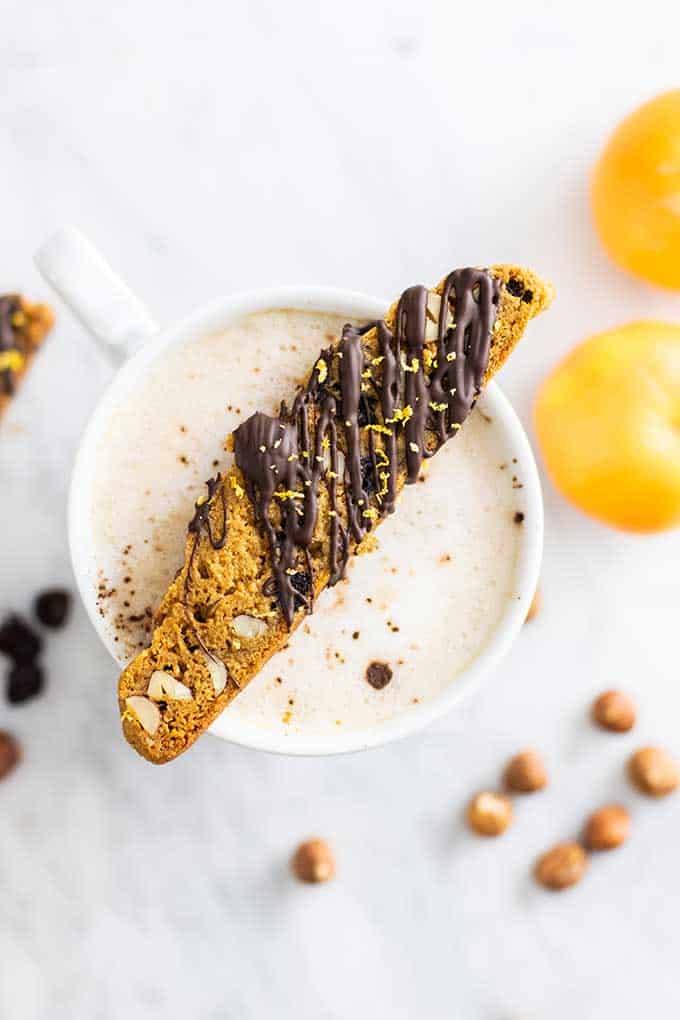 I was lucky to have a close family growing up. My grandparents lived down the street, and when my parents were working, my brother and I could easily walk down to their house for meals or to do activities with them.
Biscotti was one of the things we made together during the holiday season. This gluten free version is loaded with tart cherries and big chunks of hazelnuts, and then drizzled with dark chocolate and orange zest, just like my grandma made it.
The BEST Biscotti Recipe Ever!
This healthy biscotti is loaded with seasonal flavors. Much more complex than a typical cookie, you'll taste:
Chewy, sweet & tart cherries (!!)
Toasty hazelnuts
Cinnamon & Ginger
Dark rich chocolate
A zing of orange zest
Lightly & perfectly sweetened with honey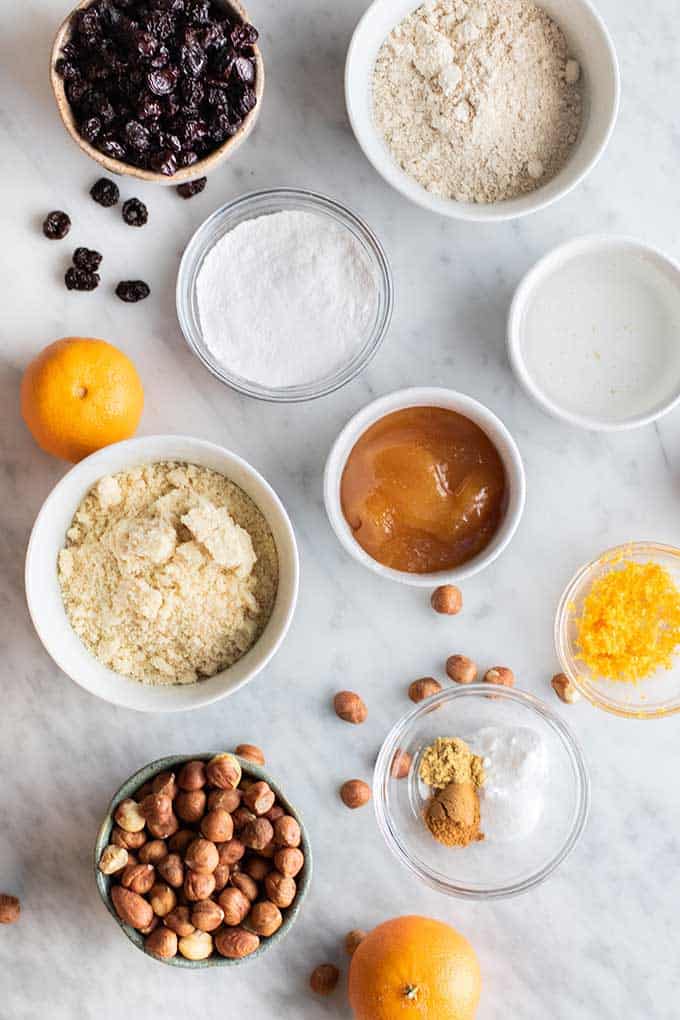 A while ago, I discovered Fruit Bliss organic dried fruits. I was drawn to the company because I am always looking for dried fruit without added sugar — it's harder to find than you would think!
Fruit Bliss is committed to bringing wholesome snacks with simple ingredients. The organic dried fruits are perfect for baking, adding to salads, or snacking on plain.
All products are organic and non-GMO, two big pluses, especially with cherries, which are one of the "dirty dozen" and should be bought organic whenever possible.
The dried cherries are incredible if you love tart and chewy like me. I add them to trail mixes for the best on-the-go snack.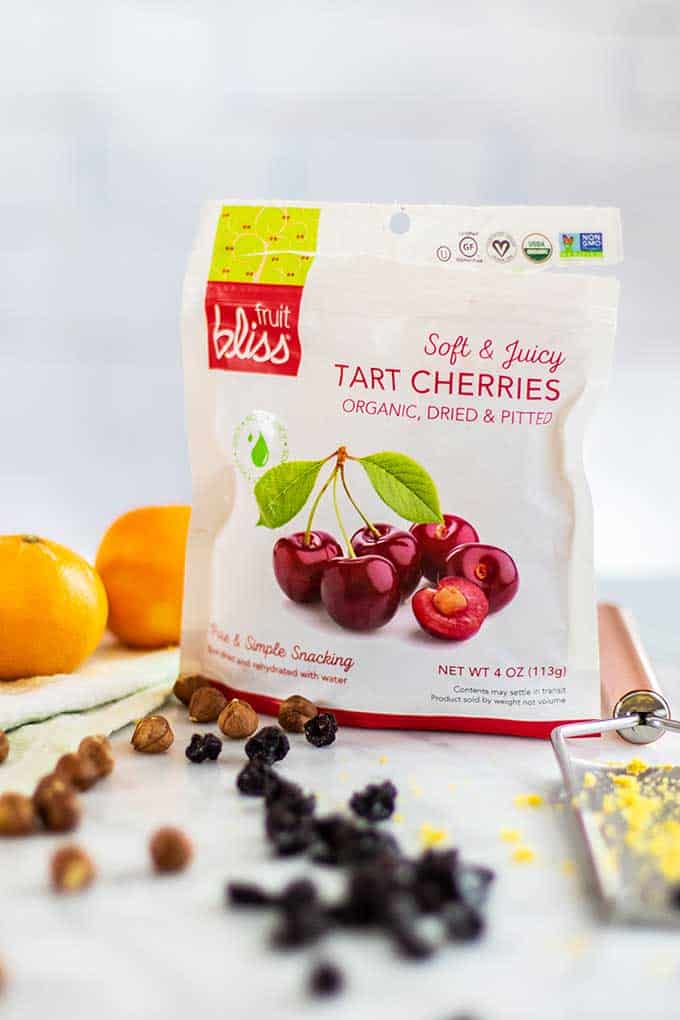 How to Make Biscotti
The first step to making biscotti is to mix together the dry ingredients, and then mix together the wet ingredients. Once those are combined separately, add the wet mixture to the dry, and stir to combine. Add the cherries and roughly chopped hazelnuts and fold in.
Since this biscotti is made with healthier whole grain oat and almond flours, and only lightly sweetened with honey, it requires some chilling to keep it shaped well.
Once the dough is chilled, shape it into a log to bake, similar in size to this photo.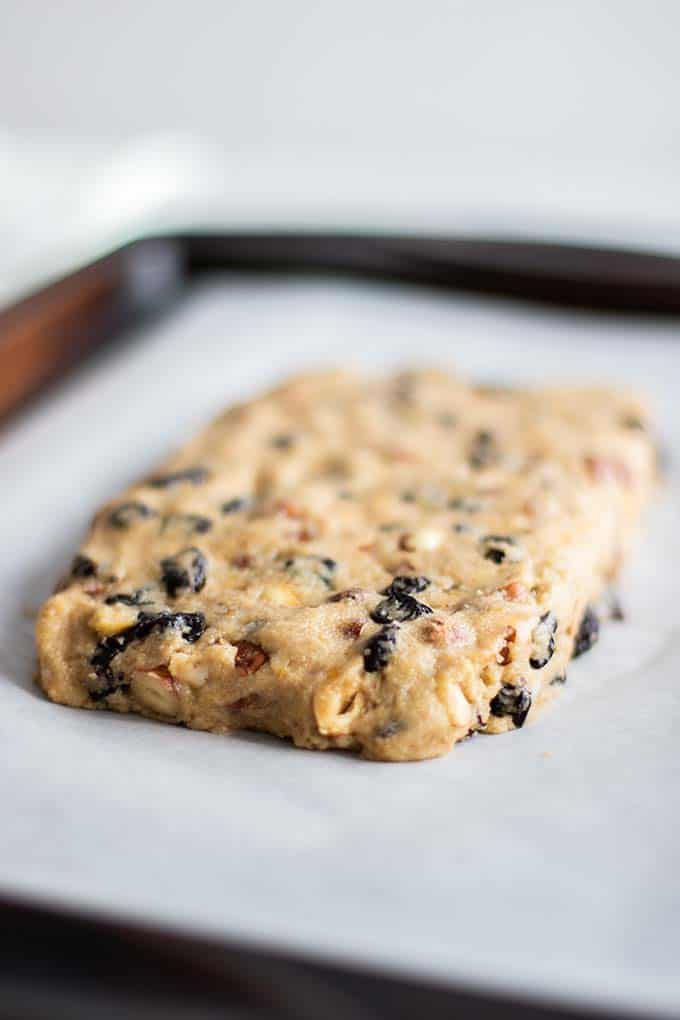 Once the loaf is baked, make sure it fully cools before slicing. I allow it to cool, and then freeze it for an hour, so that my slices are as clean as possible.
Slice the loaf into long, thin slices, about 1/2-3/4 inch thick. The thinner they are, the more they will crisp up.
Bake the sliced cookies for another 18 minutes, and then here's a trick for getting really crisp biscotti: open up the oven to allow the heat to escape for about a minute, and then put the biscotti back in the warm oven and let it sit in there for 10-20 minutes. The continued warm air will crisp it up beautifully without over browning or burning the cookies.
The best part?! (Besides the tart chewy cherries, of course) — The dark chocolate drizzle! For additional flavor, I grated some orange zest on top and allowed that to stick to the chocolate as it cooled and hardened.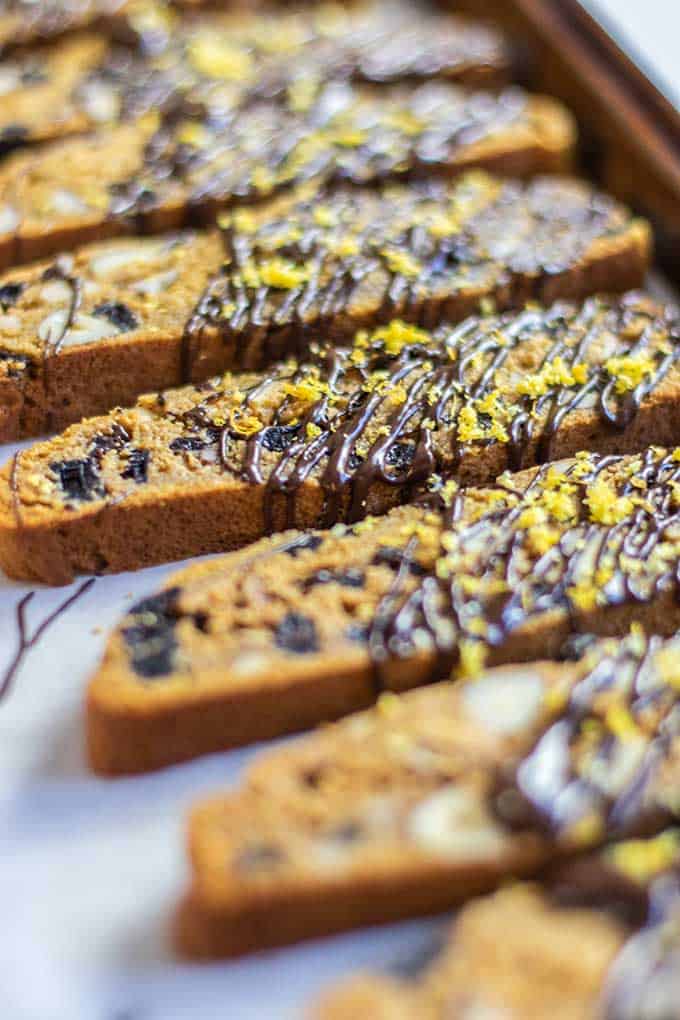 Tips for the Best Gluten Free Biscotti
The key to a lot of gluten free recipes is patience, and accuracy. Gluten free recipes are not as forgiving as those made with plain flour and sugar. I've been making these over the past couple of weeks, and have narrowed down on some tips to produce the perfect lightly golden brown, crunchy biscotti.
Biscotti is a classic Italian twice baked cookie. The cookie dough is first baked into a "log," and then thinly sliced, laid back out on a baking tray and baked a second time. This crisps up the slices and turns it in to a sweet and crispy cookie, perfect for dipping into mugs of coffee and tea.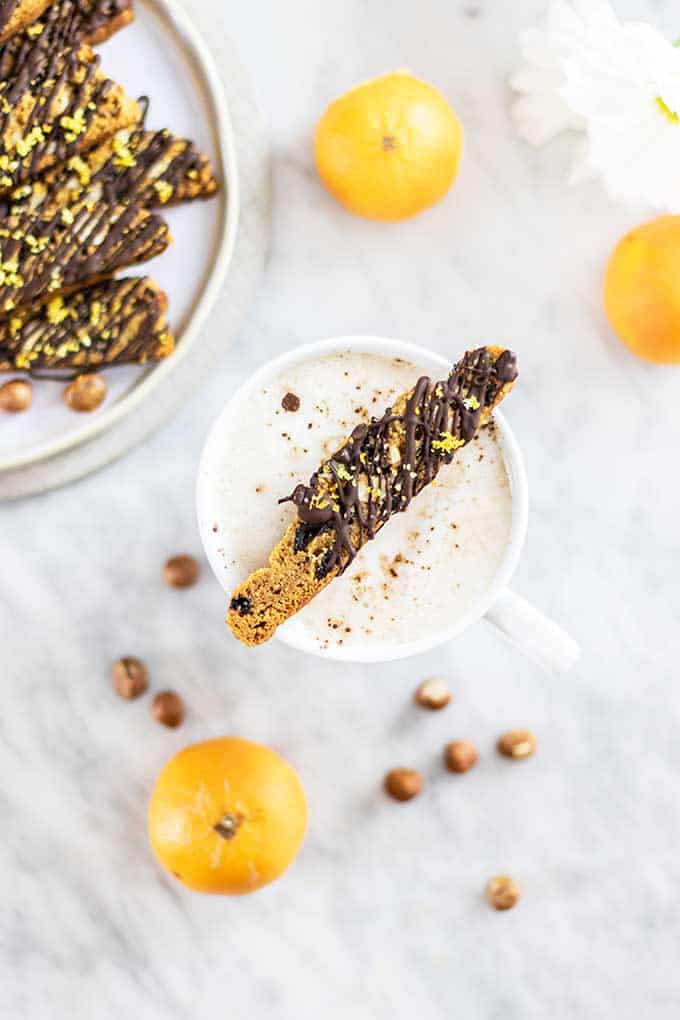 Often, biscotti is then drizzled or dipped into chocolate. I also added lots of freshly grated orange zest for even more seasonal flavor.
To ensure your biscotti turns out perfect, follow these important steps!
Chill the dough prior to shaping in a log. I have made this without chilling it, and while it will bake up fine, it spreads out too thinly, and then also over browns. Almond flour over browns/burns a lot faster than wheat flour.
Again — freeze the baked loaf before slicing. Gluten free baked goods are very crumbly while hot. Allowing it to fully cool will help it slice into cleaner slices. I let it cool for about 30 minutes on the baking sheet, and then put it in the freezer for another hour before I cut my slices.
After baking the slices, open the oven to allow heat to escape for about a minute, and then put the biscotti back into the oven and allow it to stay in there and fully crisp, for about 10-15 minutes. Leaving it in there too long will make the biscotti over brown, but it will still taste good. If you'd like to have a chewier cookie rather than a crisp cookie, you can take it out of the oven or even reduce the baking time by a couple of minutes.
Allow the biscotti to cool completely before drizzling or dipping into chocolate.
Store refrigerated for up to 3 weeks, or frozen for longer. I like to keep healthy baked goods in the freezer and just pull out as needed, to ensure they are always the freshest possible!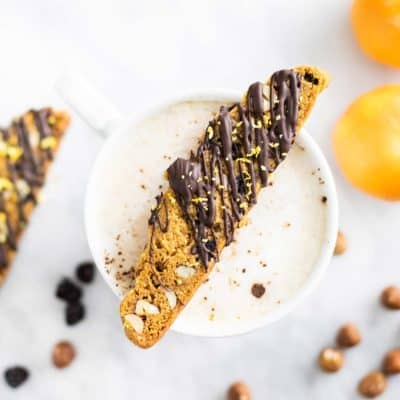 Gluten Free Biscotti with Tart Cherries and Hazelnuts
A gluten free biscotti loaded with chewy sweet-tart cherries, toasty hazelnuts, and tons of seasonal spice. Make these your own by using a different nut. Fruit Bliss also sells delicious dried figs -- chopped, they would make a delicious alternative to the cherries here!
Print
Rate
Ingredients
Wet Ingredients
1

egg

5

tablespoons

honey

3

tablespoons

coconut oil

melted

1 1/2

tablespoons

orange zest

1/2

teaspoon

almond extract
Dry Ingredients
1

cup

almond flour

blanched

1/2

cup

oat flour

3

tablespoons

arrowroot

1

teaspoon

baking soda

1/2

teaspoon

sea salt

1/2

teaspoon

cinnamon

1/4-1/2

teaspoon

ginger

to taste (some ground ginger is very strong)

1/2

cup

hazelnuts

roughly chopped
Instructions
In a large mixing bowl, combine all dry ingredients, except the cherries and hazelnuts, and stir together. In a smaller bowl, mix together the wet ingredients, and stir together.

Add the wet ingredients to the dry ingredients, and stir until just combined.

Add the cherries and roughly chopped hazelnuts (I chop them almost just in half, so the chunks show up in the slices of biscotti), and fold in.

Chill the dough for 1 hour. This step is important for preventing the almond flour from over browning, and keeping the dough for spreading out too much during baking.

Preheat oven to 340 degrees F. A slightly lower baking temperature than typical is important to keep the almond flour from over browning.

Take the chilled dough, and on a lined baking tray, form into a log about 1 1/2 inches high and 6 inches across.

Bake the cookie log for 20 minutes. Once baked, allow to cool for about 20 minutes, and then freeze for about an hour before slicing.

Preheat the oven to 190 degrees F.

Take the chilled or frozen loaf, and slice into thin slices. If you'd like crunchier biscotti, try to cut about 18 slices (3/4 an inch), or if you'd like a chewier biscotti, as few as 13-14 slices.

Bake biscotti slices for 18 minutes. Open the oven door for about a minute after it finishes baking to allow the heat to escape, and then leave the biscotti in the oven for an additional 10 minutes to crisp up completely.

Once the biscotti has cooled, drizzle it or dip it into melted dark chocolate and then grate orange zest over the top before the chocolate hardens.

For best results, store biscotti in the fridge for up to 3 weeks, or the freezer wrapped tightly for up to 3 months.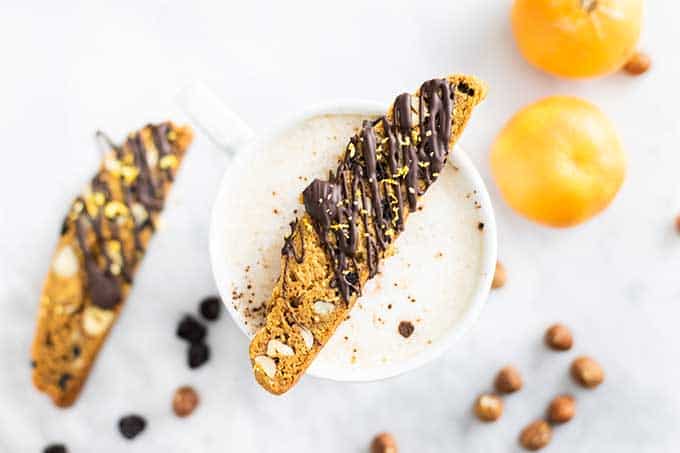 Other Christmas Cookie Recipes:
I'd love to connect with you on social media! Find me on Facebook or Instagram where I post daily healthy eating and lifestyle inspiration.
This easy almond biscotti recipe post may contain affiliate links, meaning if you make a purchase, I will receive part of the sale as a commission. This helps me continue to bring you lots of fresh and inspired recipes!