This post may contain affiliate links. Please see my full
Disclosure Policy
for details.
Traveling this summer? This list of healthy airplane snacks will get you to your destination with a full belly, even blood sugar, and even help you battle jet lag! I travel half way around the globe with my toddler a couple times a year, so taking the time to pack healthy travel food is so important.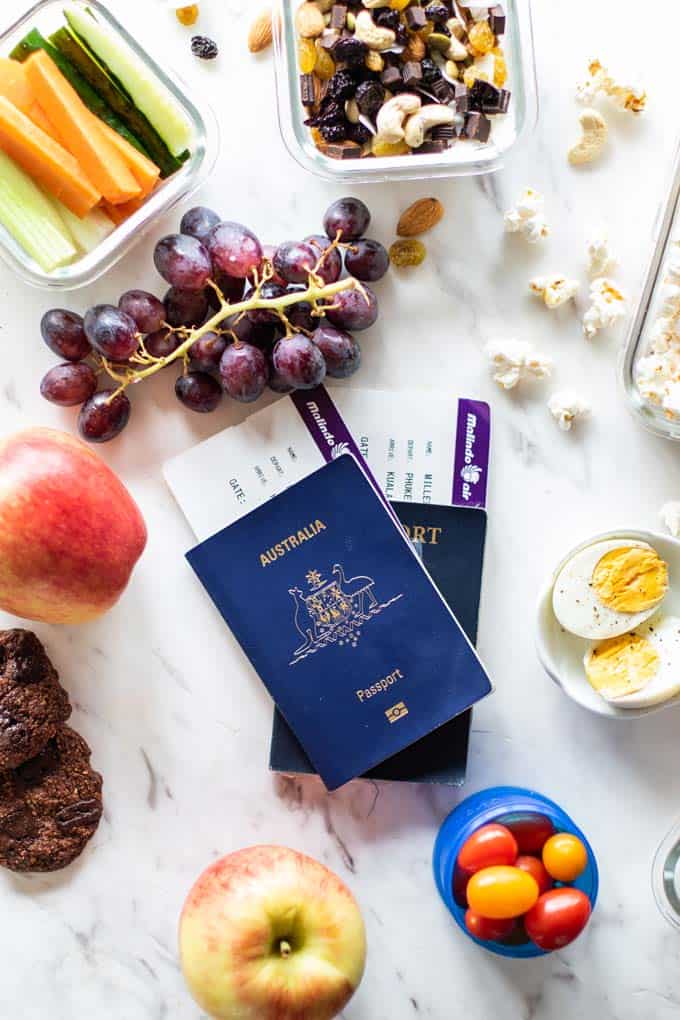 Healthy Travel Food
Traveling is stressful on the body. When flying, we have two options: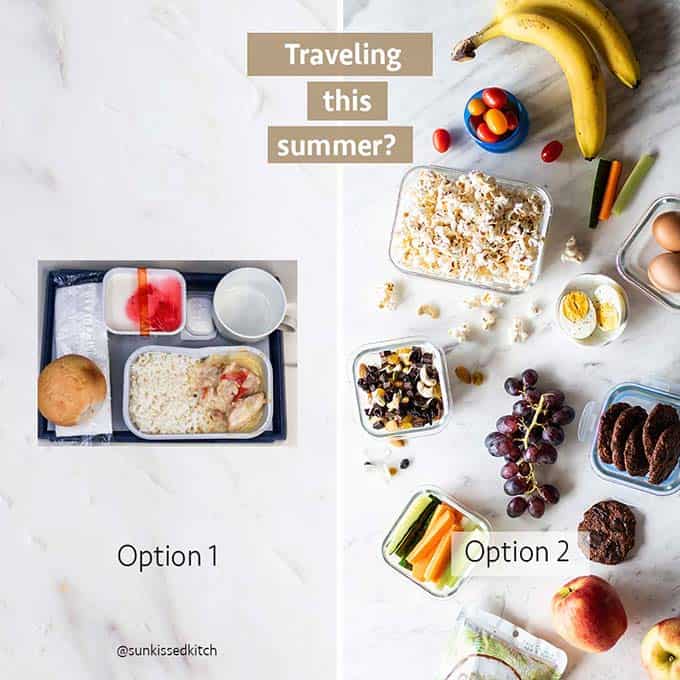 Option 1: Eat carb-heavy airplane meals, and junk food snacks including chips, candy, nuts cooked in vegetable oils, and other processed foods bought from fast food restaurants and convenience stores.
Option 2: Spend 30 minutes the night before traveling to prepare healthy snacks that are rich in nutrients and fiber, free of refined carbs and preservatives, and low in sugar.
The first will make the trek even more stressful on the body. A variety of healthy snacks, as presented in option 2, actually has health properties than can lessen the toll travel takes on the body!
What Snacks to Take on a Plane?
Popcorn
I love to make this on the stove with a bit of coconut oil, and then add sea salt and Italian seasoning. You can also just air pop it in a glass container in the microwave, and then spray with coconut oil, and sprinkle with salt and cinnamon. If you want to get really wild, mix up some of my Everything Bagel Popcorn.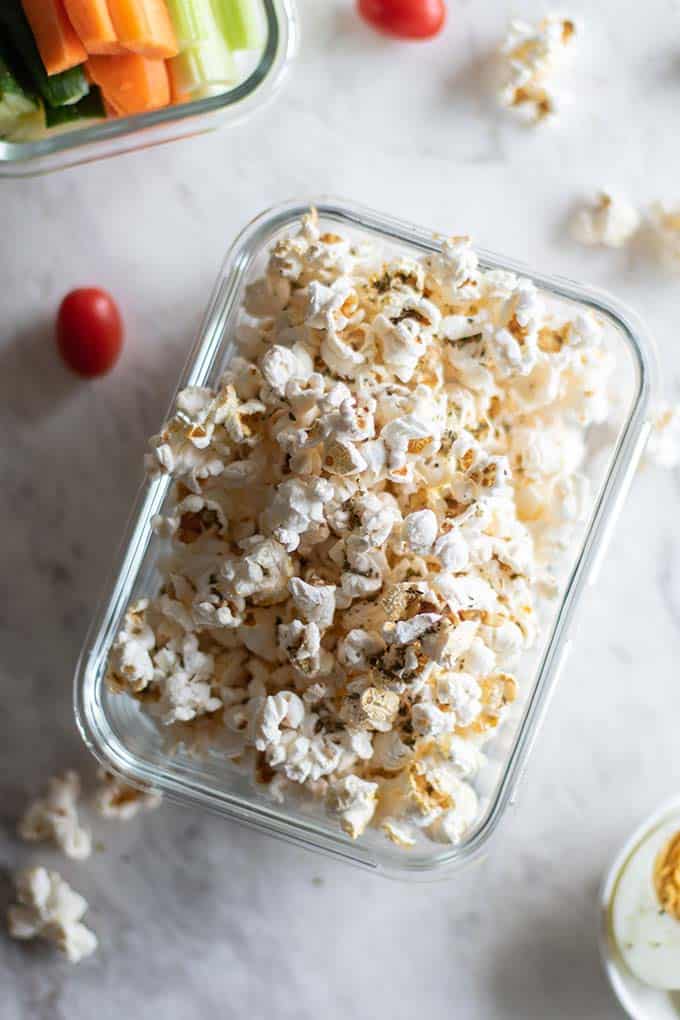 Veggies & Dip
Airplane travel includes a lot of waiting time. And what do to with that waiting time? Often, we snack! Best to keep some low calorie, water dense snacks on hand! I love to pack dips, like the tahini dill dressing from this salad. You can't pack liquid dips like this — unless you're traveling with kids, and then the rules are waived! A work-around for this is to actually add the dip to your food, so you can pack the veggies with the dip in a jar and it's fine. It's just not fine to be in a container on it's own.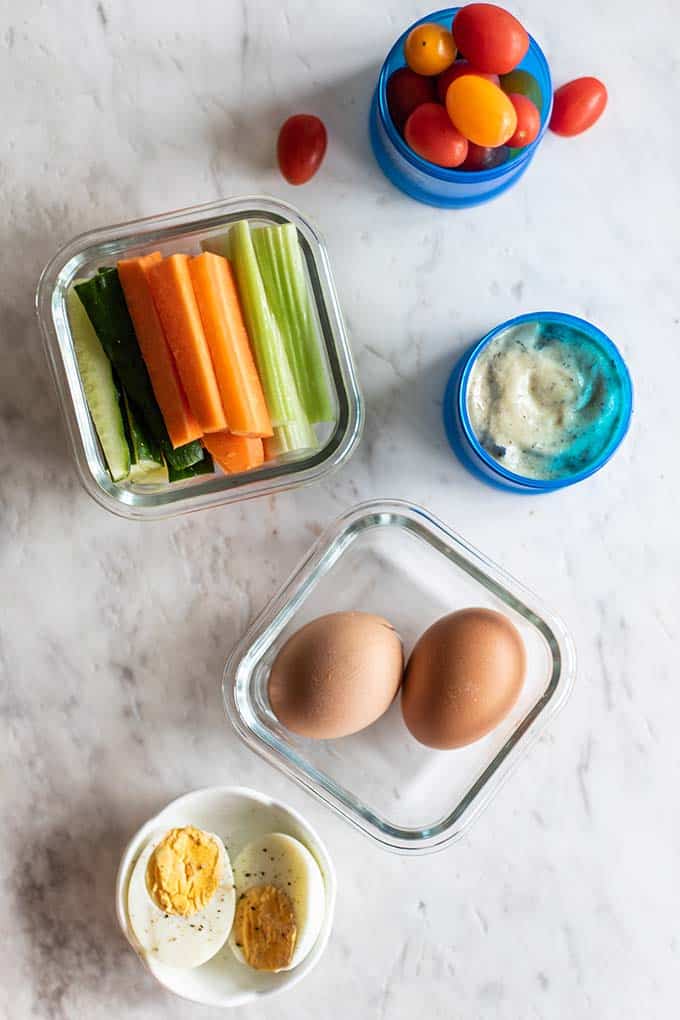 Hard Boiled Eggs
It's hard to bring protein rich snacks on the plane that don't also have sugar (like protein bars), but hard boiled eggs travel well at least for the first 4-5 hours. We usually have these for breakfast or morning snack during the first part of the trip, and then switch to protein bars after they are gone.
Fruit
Lots of fruits travel well. I love apples because they can make the whole 24 hour journey and still taste great. I usually save the apples, and we eat the easier-damaged fruit like bananas and grapes earlier on. Oranges, kiwis packed with little spoons, and berries also often make it on our journeys.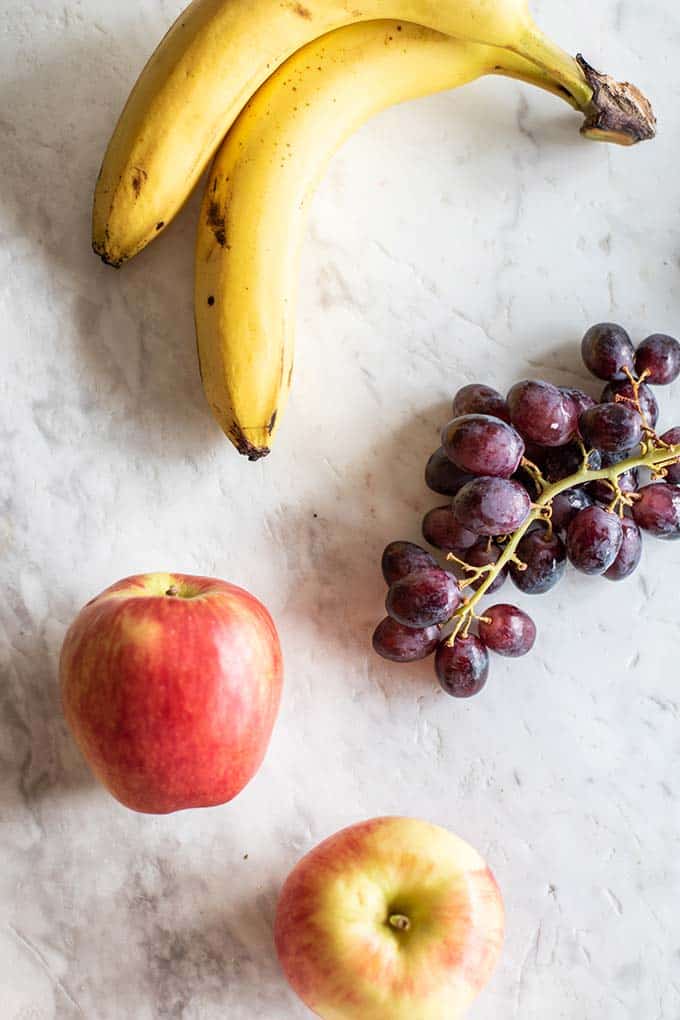 Nuts, Dried Fruit, or Trail Mix
One of the best portable airplane snacks snacks ever. Trail mix makes it the long haul, and has belly-filling fiber and healthy fats. I use raw nuts, dried fruit, coconut flakes, and chunks of dark chocolate, for the best treat ever on a plane. This with an apple or carrot sticks is usually my "dinner" later on in our trips, since I pass on the airplane meals!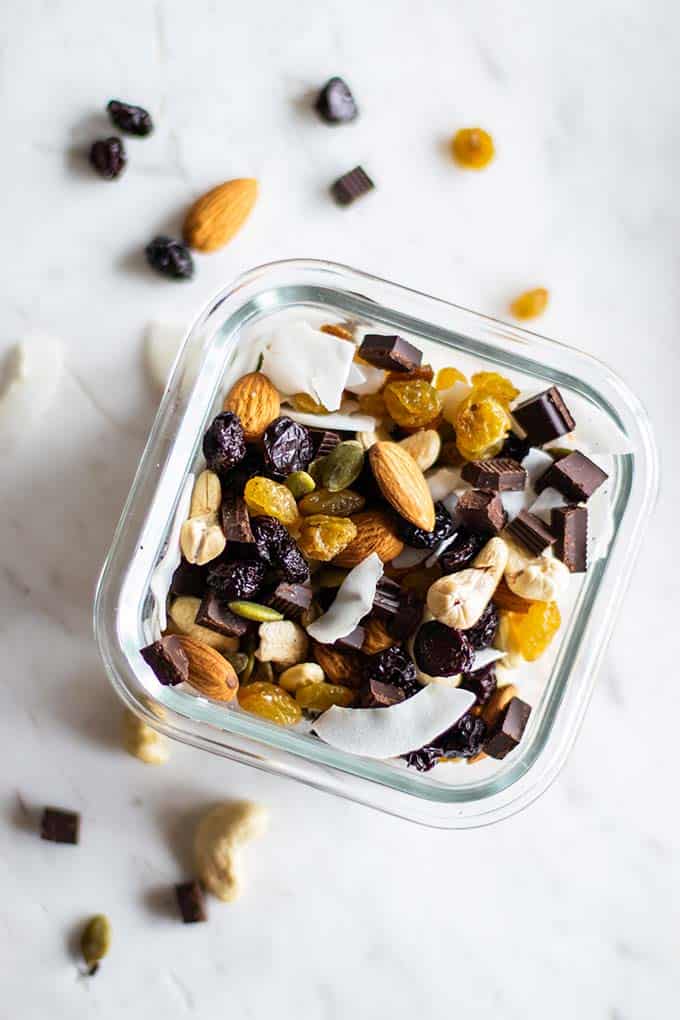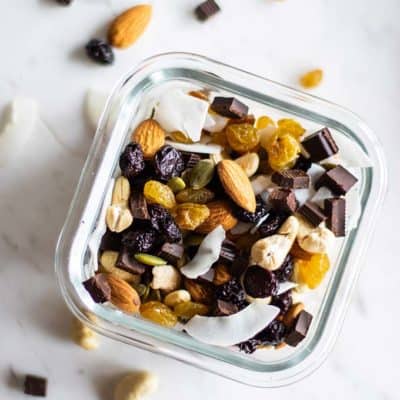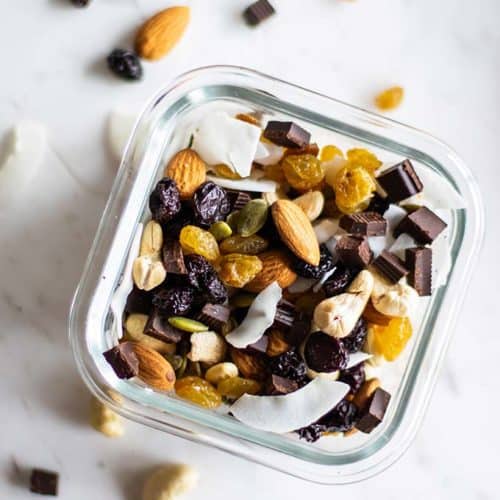 Easy Travel Trail Mix
Trail mix is one of the best things to take on an airplane. This mix is formulated for long-haul plane travel, where you'll need the boost of fiber, protein and healthy fats, to stay energized and full. This mix also contains dried tart cherries, a natural source of melatonin, known to help combat jet lag.
Print
Rate
Ingredients
1/2

cup

almonds

1/2

cup

cashews

1/2

cup

coconut flakes

1/2

cup

dried tart cherries

no-sugar added, if possible

1/4

cup

dark chocolate chips or chunks

1/4

cup

pumpkin seeds
Instructions
All all ingredients to a travel-safe container. Keep in a cool area to prevent the chocolate from melting.
Notes
Other options: whole grain cereal, raisins, dried apricots, walnuts, freeze dried peas.
Nutrition
Calories:
142
kcal
|
Carbohydrates:
5
g
|
Protein:
4
g
|
Fat:
12
g
|
Saturated Fat:
4
g
|
Sodium:
3
mg
|
Potassium:
161
mg
|
Fiber:
2
g
|
Sugar:
1
g
|
Calcium:
28
mg
|
Iron:
1.2
mg
If you can find them, include dried tart cherries in your trail mix. Cherries are a natural source of melatonin, and can help lessen the effects of jet lag. The recommendation is to eat a handful of these on your journey (or several, if it's a long haul flight!), and then to eat another handful before going to bed each night until you feel you've adjusted to the new time zone. All cherries have melatonin, but dried tart cherries have the most concentrated levels. Look for a brand that doesn't contain added sugars.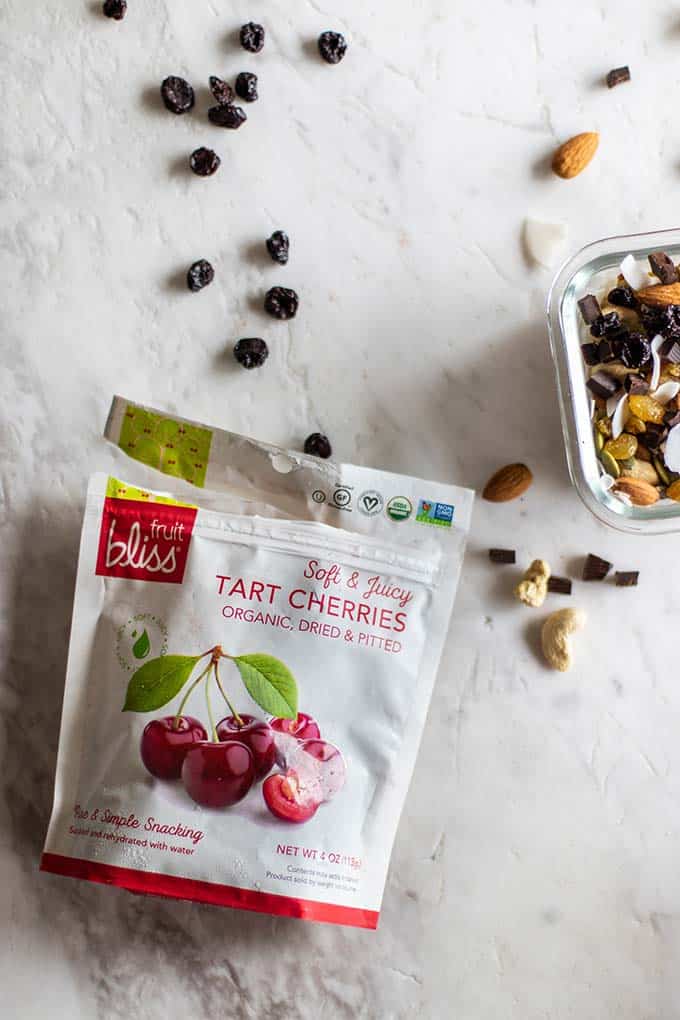 Homemade Treats that Pack well for Airplane Snacks
We also love bringing homemade cookies, protein bars, and even pancakes or waffles. If you plan ahead, the suggested snacks below make great travel snacks. The rest of the items on this list are relatively no-prep, so taking the time to make one special treat, especially for longer flights, will make the trip so much better, plus lessen the urge to stop and buy your kids M&Ms at the convenience store!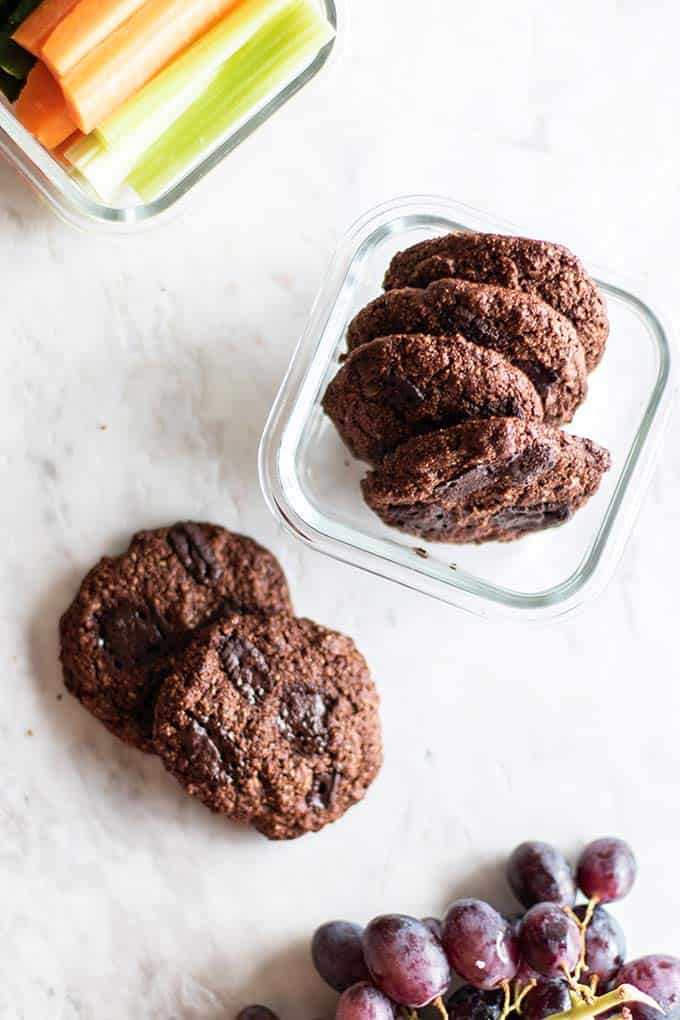 I'd love to connect with you on social media! Find me on Facebook or Instagram where I post daily healthy eating and lifestyle inspiration.
This Healthy Airplane Snacks post contains affiliate links. This means if you make a purchase, I will receive a small protein of the sale as a commission. This helps me keep Sunkissed Kitchen up and running!