This post may contain affiliate links. Please see my full
Disclosure Policy
for details.
A healthy Grilled Moroccan Chicken recipe is the perfect summer dinner! We love this healthy grilled chicken recipe for adding to salads or serving alongside roasted veggies. The marinade keeps the chicken incredible moist and infuses the best flavors!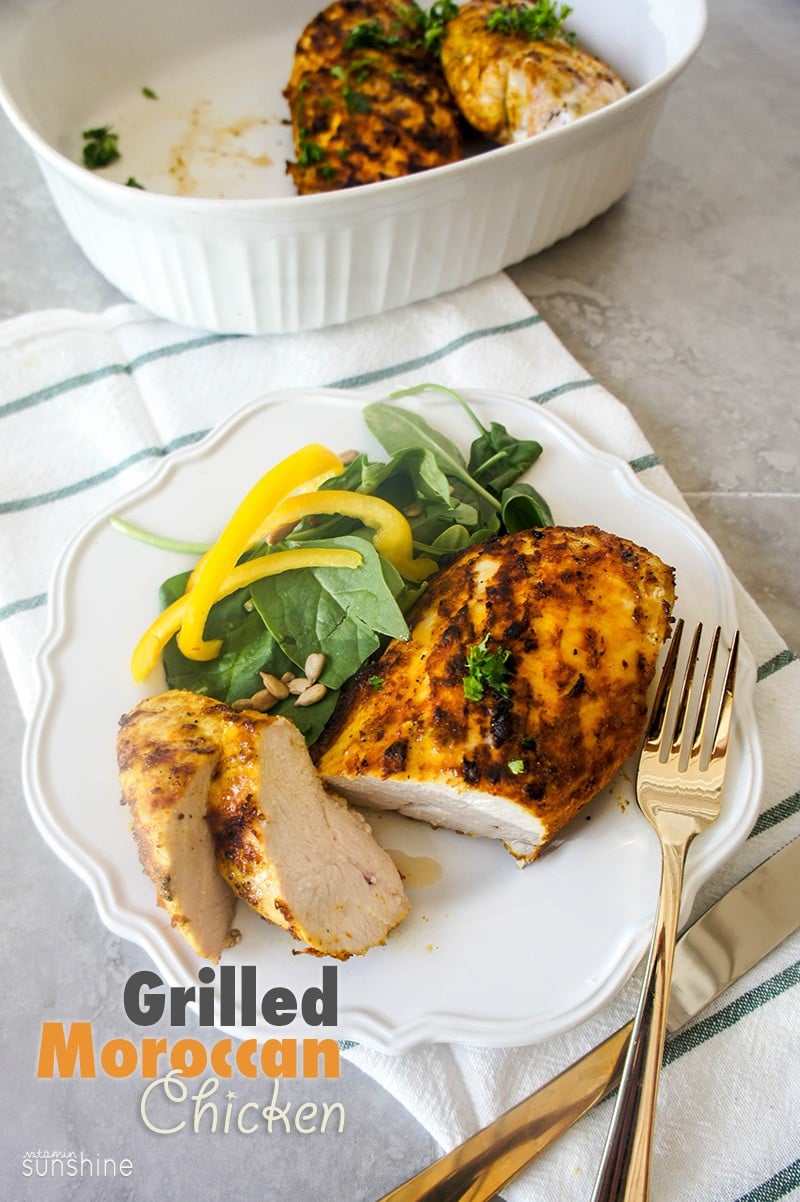 We are really loving the Oregon summer! The predictably warm weather in Malaysia can get. . . boring. Having cool mornings and evenings, and even the occasional cool day in August keeps things interesting!
We've had days we've huddled inside and made warming summer soups, and days we've played all day in the backyard grilling up dishes like this chicken.
Summer recipes should be easy! And bonus if they can be grilled – because who wants to heat up the house?
We always double this grilled Moroccan chicken. The marinade takes minutes to put together, and the result is chicken that grills up super moist, that is the perfect addition to salads or just eaten alongside veggies.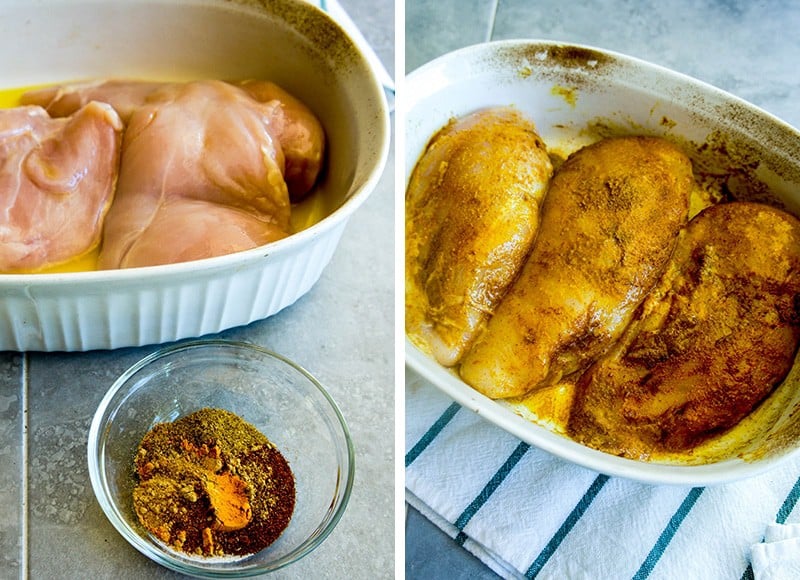 Anti Inflammatory Spices
Why should we care about inflammation? Inflammation is the cause of many chronic illnesses, such as arthritis, heart disease, Alzheimer's, and even cancer. The typical American diet is inflammatory (processed grains, saturated and trans fats, sugars).
There are many ways to reduce inflammation in the body, including eating more fiber, less sugar, and more Omega-3 fatty acids.
A tasty way to dress up those veggies and fish? Adding spices with anti-inflammatory properties.
Ginger and Turmeric are 2 out of the top 4 anti inflammatory spices. Cinnamon and cayenne are two others that top this list of health-enhancing spices.
Meat, including chicken, is naturally inflammatory. Instead of going vegan, a more moderate approach to protect your health is to mitigate the inflammation with heavy doses of healing spices!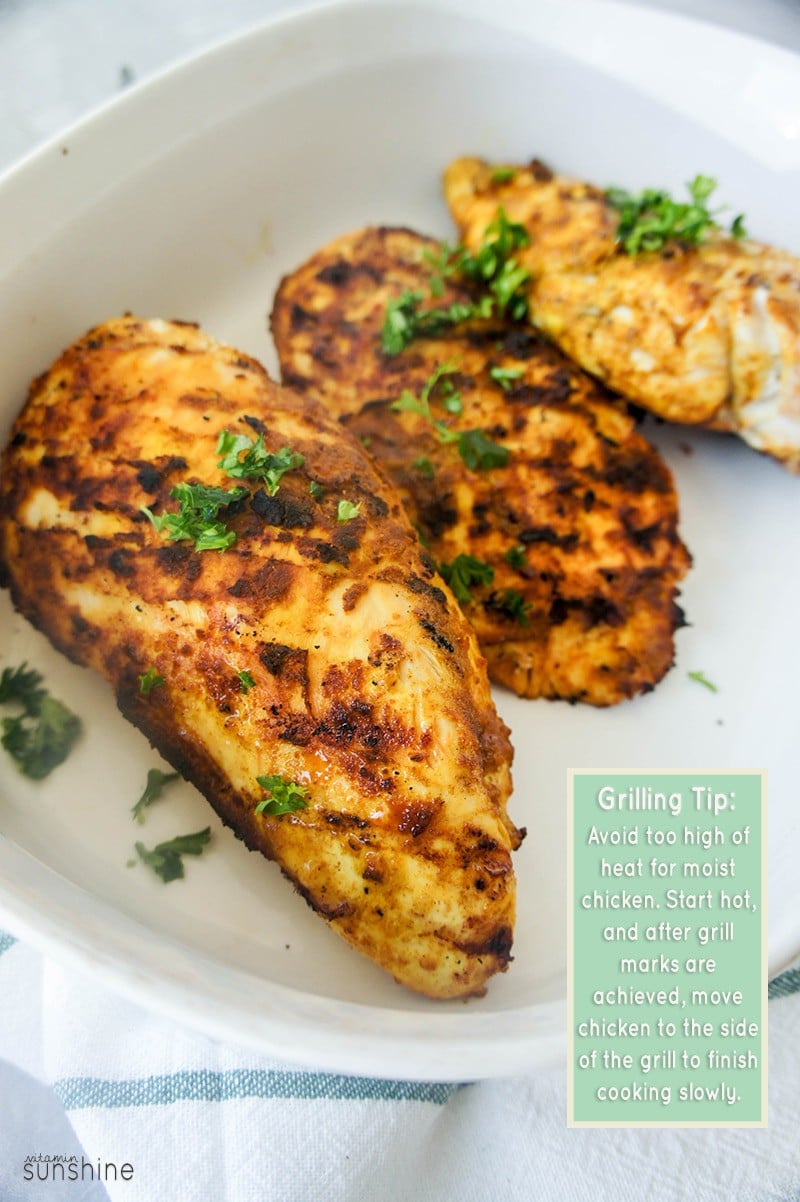 Tips for Grilled Moroccan Chicken
The marinade is no fuss- if you only have 15 minutes to let it sit, it will help! However, the longer the better. I usually aim for 2-3 hours, but overnight is better.
Using a marinade makes it much easier to keep chicken moist. However, cooking on too high of a heat will end up turning your chicken into jerky regardless of how you've prepped it! I start my chicken over the hottest part of the grill (usually the center), and after the bottom side has nice grill marks, I move it to the edge away from the high heat, and continue to grill slowly until chicken is cooked through.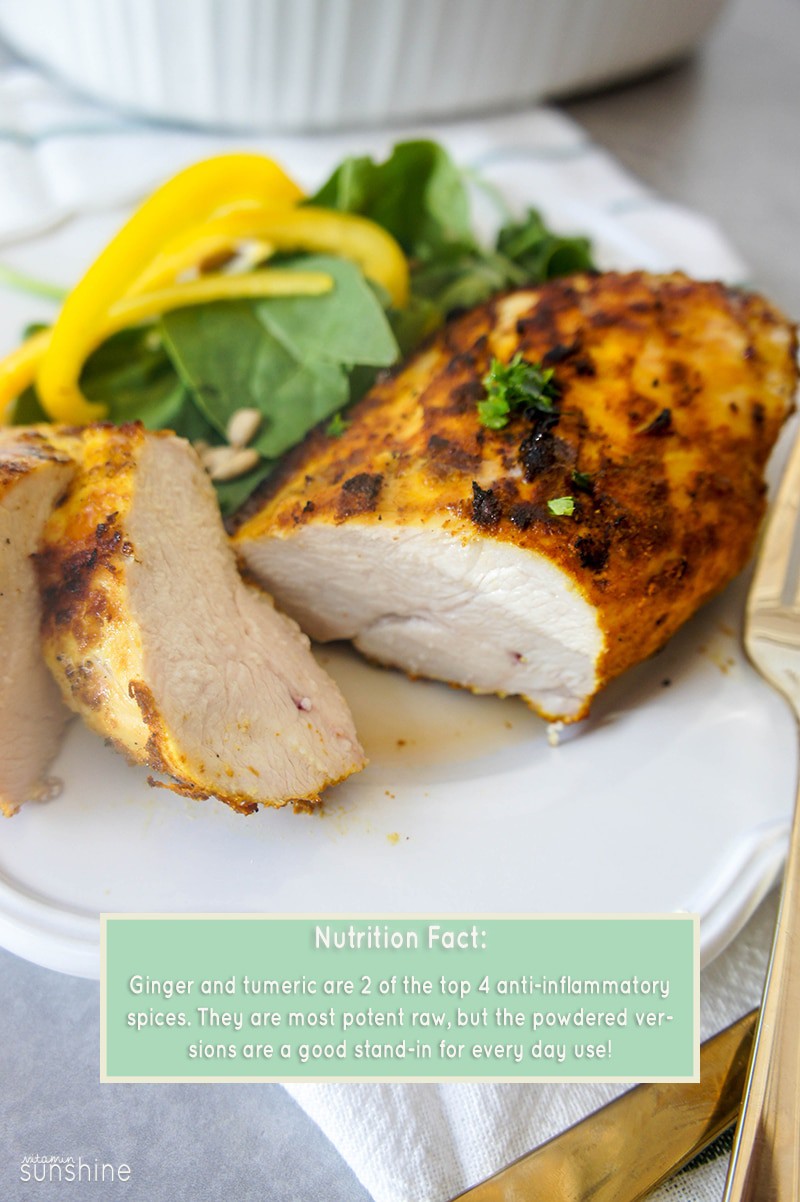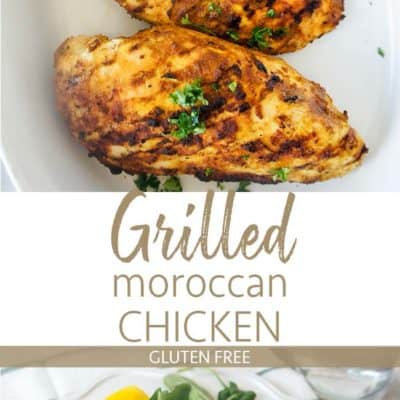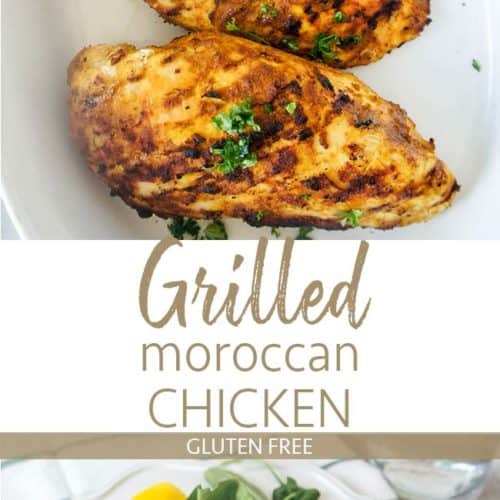 Grilled Moroccan Chicken
This super flavorful and moist chicken is full of anti-inflammatory spices. It's a perfect match for the BBQ. I also have pan fried this chicken with great results.
Print
Rate
Ingredients
1 1/2

pounds

chicken breasts

2

tablespoons

lemon juice

1

tablespoon

olive oil

2

teaspoons

cumin

1

teaspoon

cinnamon

1

teaspoon

paprika

3/4

teaspoon

sea salt

1/2

teaspoon

ginger

1/2

teaspoon

turmeric

1/8

teaspoon

coriander

1/8

teaspoon

cayenne

optional, to taste
Instructions
In a covered dish, drizzle olive oil and lemon juice over chicken.

In a small bowl, mix together spices and salt. Evening coat chicken in spices.

Refrigerate and marinate for 2 hours to overnight.

Heat up the BBQ grill to a medium-hot temperature. Add chicken, and leave on about 5 minutes, or until grill marks have been made.

Move chicken away from the heat, and continue to cook on a lower heat for 15-25 minutes, occasionally flipping the chicken, until chicken is cooked through.

Remove from heat, and allow to settle for 5 minutes before cutting or serving.
Nutrition
Calories:
234
kcal
|
Carbohydrates:
1
g
|
Protein:
36
g
|
Fat:
8
g
|
Saturated Fat:
1
g
|
Cholesterol:
108
mg
|
Sodium:
635
mg
|
Potassium:
658
mg
|
Vitamin A:
335
IU
|
Vitamin C:
5
mg
|
Calcium:
23
mg
|
Iron:
1.5
mg

More Spiced-Up Chicken Recipes