This post may contain affiliate links. Please see my full
Disclosure Policy
for details.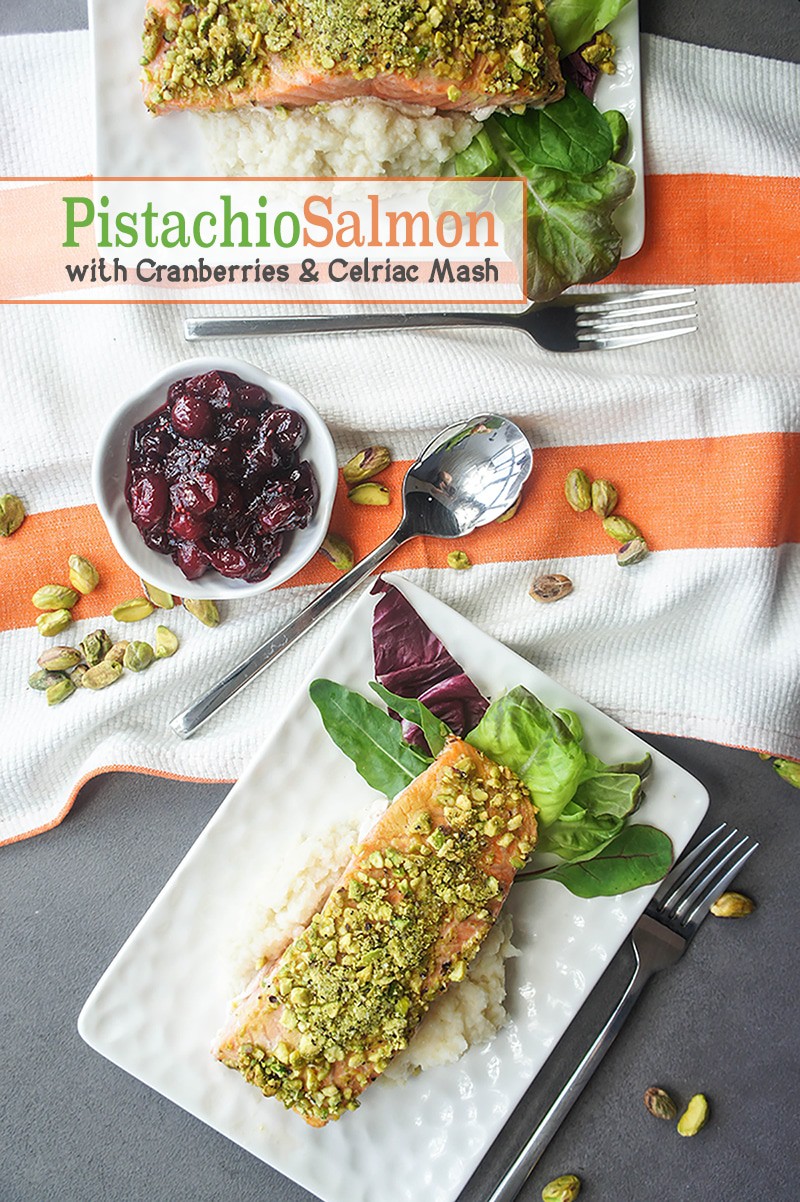 Salmon is a favorite meal around here. It's quick, easy, delicious, and super nutritious. Generally, salmon is a midweek meal, because it's absolutely delicious sprinkled with salt, pepper, and dill, wrapped in a piece of foil, and baked for 25 minutes. Serve with a simple salad, baked potato, or some roasted veggies, and done. Dinner served. Easy peasy.
Lately I've been dressing up our salmon a bit, just for fun. The Salmon in Watercress Sauce is a huge hit with both of us (and can also be prepared pretty quickly, with the right ingredients on hand), and now this sweet nut crusted, Pistachio Salmon– topped with cranberry sauce, because they are too good to reserve for meals on just 1 or 2 days a year.
I'd be ecstatic if there was a way to order high quality, wild fish here in Malaysia. I recently read about Sizzlefish, and really wanted to try it. While they aren't going to deliver it across the Pacific for me, I did order some for my mom who was recently recovering from surgery. I decided fish > flowers when it comes to healing. She loved it, and was impressed with how fresh it tasted. I'm excited to try it out myself when I'm back in the States this Christmas.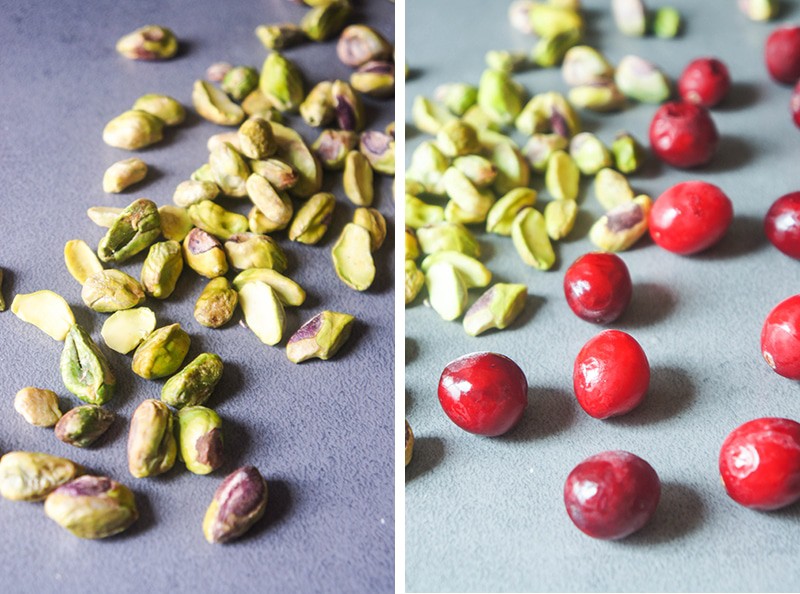 If you read my blog regularly, you know I like to use a variety of vegetables as substitutes for starches– not because I think white potatoes are bad for you, and not because I don't think pasta in moderation is just fine. I love using cauliflower as rice or as a mash (and even though I haven't put it on the blog yet, I love cauliflower pizza crust!), I've used sweet potatoes as a quiche crust, and one of my favorite soup recipes uses a vegetable to form a creamy base.
Why do I do this?:
It often lowers the calories/carbs of a meal, and makes it a lighter option.
Getting a variety of produce, rather than just the "typicals," is important to me.
So, introducing a vegetable I have plans to use in a few more recipes– Mr. Celriac. If you haven't tried celriac before (also called celery root), it's a root vegetable similar to a turnip, but unfortunately, a little less appealing to the eye. It has half the calories and carbs of a white potato, but makes a mash eerily similar to potatoes. It has a celery flavor, but in a very, very good way.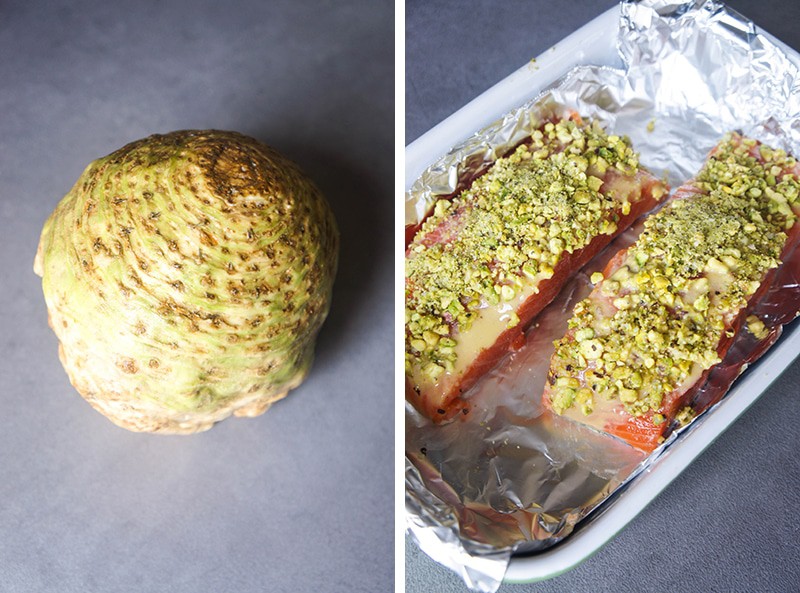 This dish really benefited from a lighter side, since the salmon is rich, the nuts are rich, and even the cranberry sauce adds a bit of decadence.
These pictures were taken from my first trial. While it was delicious, nuts as coarsely ground as pictured will result in a less crunchy topping. More finely ground nuts will bake up crunchier.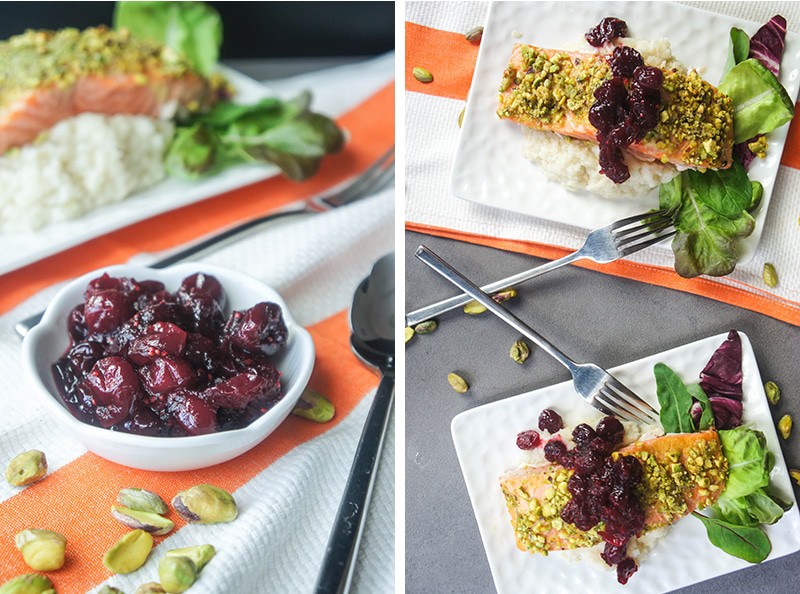 This cranberry sauce is making me really look forward to Thanksgiving.
Have you made plans yet? Are you planning what dishes to create yet?
Planning the dishes I want to serve comes before actually planning when/where/ and who will be involved in the actual day. I know for sure these are going to make an appearance on my table this year.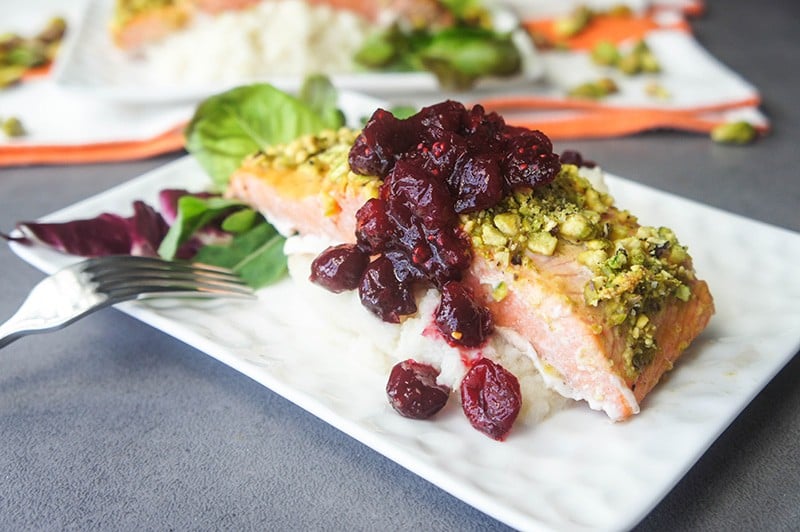 Pistachio Salmon with Cranberry Sauce and Celriac Mash
A baked salmon dish, with a slightly crunchy pistachio crust, served with cranberry sauce and mashed celriac. A festive, healthy dinner to get you in the mood for the holidays!
Print
Rate
Ingredients
Salmon
2-3

ounce

salmon filets

1

teaspoon

honey

1

teaspoon

dijon

1/4

cup

pistachios

1/4

teaspoon

olive oil

sea salt and black pepper

to taste
Cranberry Sauce
1/2

cup

cranberries

1/2

cup

water

3

tablespoons

honey

(this will make a tart sauce - more if you like it sweeter)
Celriac Mash
1

large celriac

(celery root)

1/2

tablespoon

butter

1/4

cup

plain unsweetened almond milk

(or milk or choice)

sea salt and black pepper

to taste
Instructions
Salmon
Preheat oven to 425 degrees f.

Add pistachios to a blender, and blend until ground into a fine flour. The photos are taken with a coarser grind, which will result in a less crunchy topping. A finer grind will bake up crisper.

Mix pistachio flour with sea salt and pepper, to taste, and then mix in ½ teaspoon olive oil.

In a small dish, mix the honey and dijon.

In a baking dish, brush the honey-dijon mixture on the salmon. Dip the top of each salmon fillet in the pistachio mixture and coat well.

Bake for 20-25 minutes, until salmon is cooked through.

Increase oven temperature to low broil, and place salmon near the broiler. Continue to cook for another 3-5 minutes, watching carefully to keep nuts from burning.
Cranberry Sauce
Add fresh or frozen cranberries, water, and honey to a sauce pan. Bring to a boil over medium high heat, and boil for 3-4 minutes, until cranberries have popped. Remove from heat and allow to cool.
Celriac Mash
Peel and chop the celriac into large chunks.

Add the celriac to a pot with boiling water, and boil for 12-15 minutes, until the chunks are soft all the way through. It will not fall apart as easily as potatoes.

Drain, and add the cooked celriac to a food processor bowl. Add butter, milk, and salt and pepper. Process for 3-4 minutes. It will take longer for the celriac to form a mash than potatoes, but will eventually smooth out. Celriac doesn't get as smooth as potatoes, but will be thick and creamy.
Nutrition
Calories:
417
kcal
|
Carbohydrates:
66
g
|
Protein:
14
g
|
Fat:
14
g
|
Saturated Fat:
3
g
|
Cholesterol:
23
mg
|
Sodium:
437
mg
|
Potassium:
1293
mg
|
Fiber:
9
g
|
Sugar:
36
g
|
Vitamin A:
151
IU
|
Vitamin C:
30
mg
|
Calcium:
193
mg
|
Iron:
3
mg