This post may contain affiliate links. Please see my full
Disclosure Policy
for details.
This healthy chocolate frosting recipe has a deep chocolately fudge flavor. It's low in sugar and fat, and is super thick and rich. This healthy frosting recipe is vegan, and is easily made a paleo chocolate frosting by subbing honey for the date syrup. No powdered sugar!
This Healthy Chocolate Frosting Recipe post contains affiliate links, which means that if you click on one of the product links, I'll receive a small percentage of any purchases made.
Sweet Potato Frosting
Awhile back, I made a healthy chocolate cake for a friend. When it came time to decorate it, I pulled out a bag of powdered sugar I had begrudgingly bought for the occasion.
I wanted the cake to look nice, and my previous attempts at a low sugar frosting always turned out too thin to pipe or use in a layer cake.
Thinking back to the gooey sweet baked sweet potatoes my grandma makes for Thanksgiving, I realized they would make a perfect frosting base.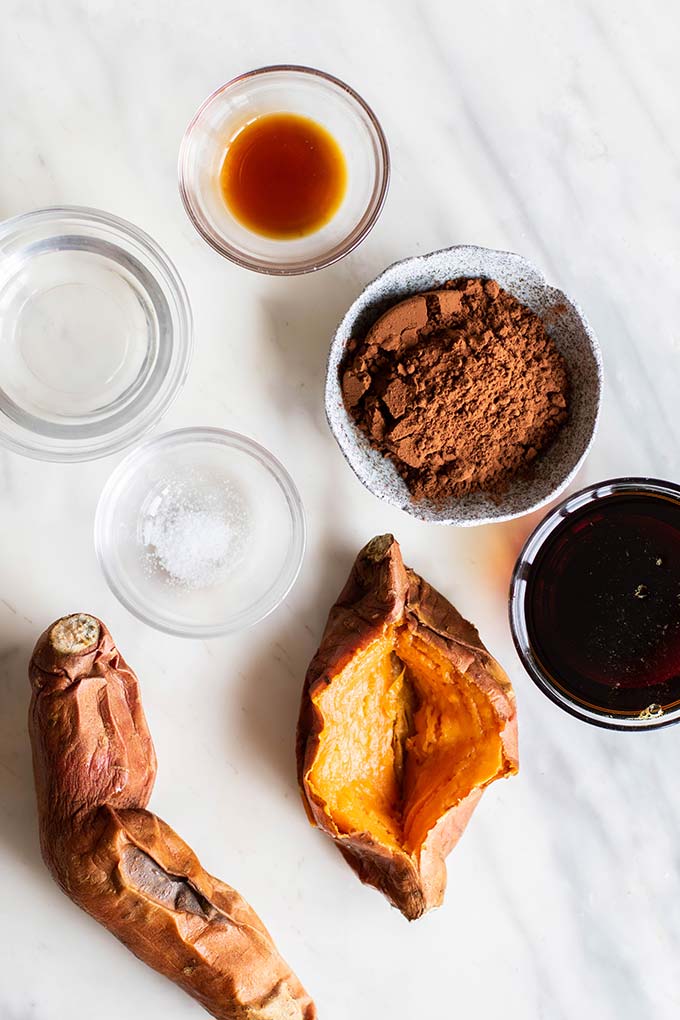 Ingredients for Healthy Chocolate Frosting
Sweet potatoes, roasted until very soft and creamy. Read this on how to bake a sweet potato if needed.
Coconut oil, melted
Date syrup – I like this low glycemic index sweetener and use it often. It's a great alternative to honey. I also testing this recipe with whole dates. Whole dates work, and their are instructions on how to use them in the recipe card, but the frosting is more fiberous (still tastes wonderful!)/
High quality cocoa powder
Salt & vanilla
We make this sweet potato frosting often now. My husband loves the leftovers — he scoops it into his bowl of yogurt and fruit for dessert! I have even served this to my toddler (who of course wouldn't know the difference) and his friends, and kids love the stuff!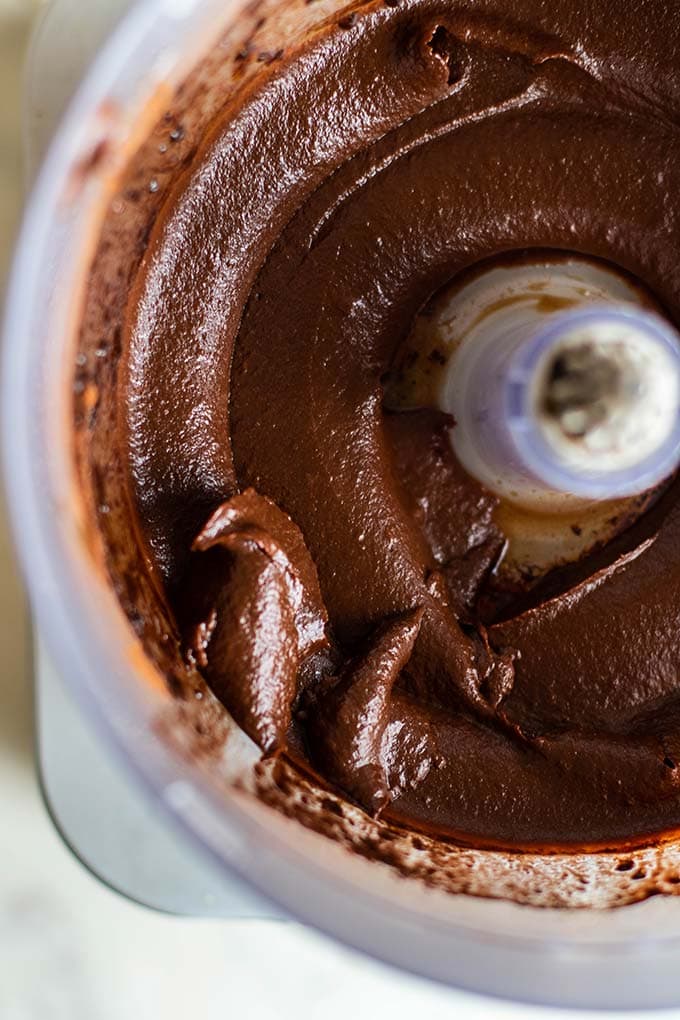 How to Make Healthy Frosting
To achieve the best textured and flavored sweet potato frosting, be sure to roast sweet potatoes well.
I bake mine at 425 degrees F for 1 – 1 1/2 hours. You'll want to see the skin sinking in and the potato becoming more concentrated inside.
If you use sweet potatoes that haven't been properly roasted, the frosting will turn out more fibrous and will have a sweet potato flavor.
Quick Tip: When I'm in a hurry, I microwave the sweet potato for 3-4 minutes, and then bake it for 30-40 minutes.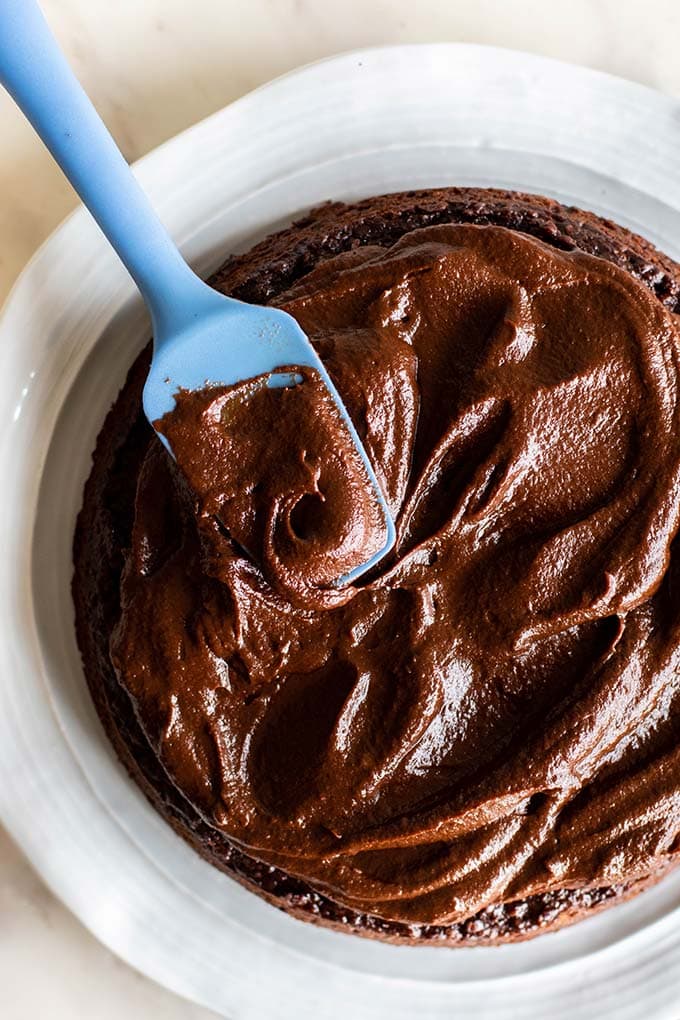 Steps for Making this Healthy Chocolate Frosting
Add roasted sweet potato, cocoa powder, coconut oil, date syrup, salt and vanilla to a food processor bowl. Process until the mixture is very smooth.
Add extra sweet potato if the mixture is too thin, or extra coconut oil and date syrup if the texture is too thick.
The frosting is very spreadable at room temperature, and becomes thicker and fudgy when refrigerated. If you'd like to make it ahead of time, be sure to allow it to come back to room temperature before spreading it.
Below you see a thick layer of this frosting on a slice of my chocolate quinoa cake! A great pairing.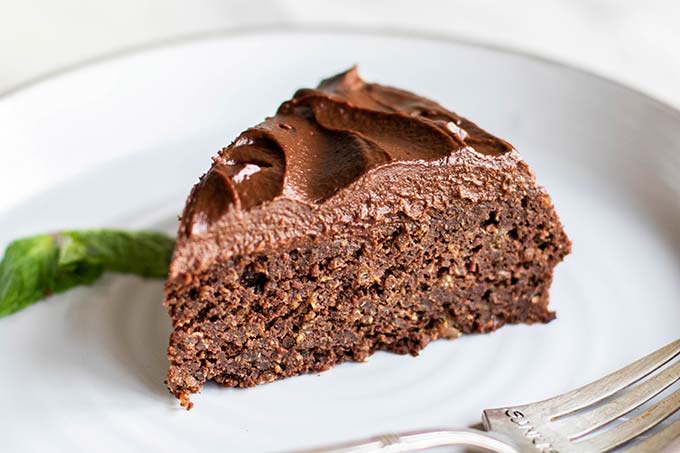 Vegan or Paleo Chocolate Frosting
This healthy chocolate frosting recipe works well in many diets.
Make it Vegan: This healthy frosting recipe is vegan as written.
Make it Paleo: This is the perfect frosting recipe if you follow a paleo diet, or if you just like to choose foods with a higher nutritional content. I have made this healthy chocolate frosting recipe using soaked dates, and it tastes great — it doesn't look quite as smooth, and if you eat it off the spoon, it's more fibrous than making it with date syrup or honey. On a cupcake, you really can't tell the difference though.
Save time: I like to throw my sweet potatoes in the microwave for 4 minutes before baking them. I have never tried making them 100% in the microwave, because I like how creamy they get in the oven.
Make it Ahead: This frosting holds well in the refrigerator for up to a week. If making it with coconut oil, it will need to warm up to room temperature and be stirred well before using it to frost cupcakes. I've also made this with grapeseed oil, and the texture stays soft, so there isn't a need to let it warm up prior to using it.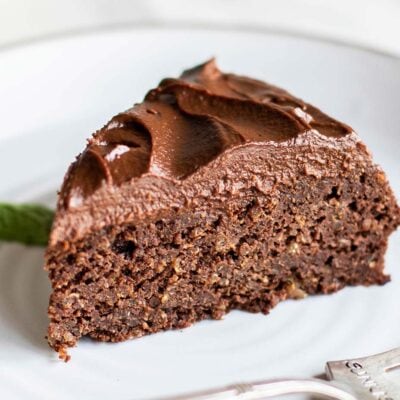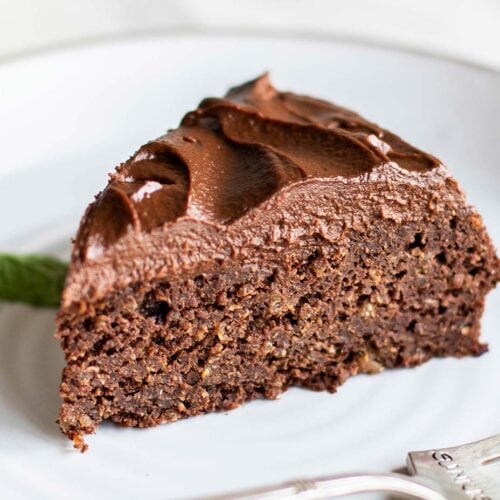 Healthy Chocolate Frosting Recipe
This sweet potato frosting blew my expectations out of the water! If made with the right proportions, no one will detect the potato! If yours turns out a tad "potatoey" (mine has on ocassion), simply add 1 more tablespoon each of cocoa powder, coconut oil, and date syrup. This frosting is easily made vegan or paleo.
Print
Pin
Rate
Ingredients
3/4

cup

sweet potato

roasted and peeled, mashed

1/4

cup

natural cocoa powder

6

tablespoons

date syrup

or sub honey (or 5 ounces of soaked dates*)

1/4

cup

coconut oil

or sub grapeseed oil**

1

teaspoon

vanilla

sub a scraped vanilla bean for paleo

1/4

teaspoon

sea salt
Instructions
Be sure your sweet potatoes are fully roasted and very soft. The skin should easily press in or be sagging around your potato. If your potatoes aren't roasted very soft, your frosting will not turn out as smooth and will have more of a sweet potato flavor.

Add the roasted sweet potato and cocoa powder into a food processor. Process to combine (it will ball up, and that's okay).

Add the date syrup (or honey), coconut oil (or grapeseed oil), vanilla and sea salt. Process again for 1-2 minutes, until the mixture is very smooth and glossy.

If using coconut oil, it's best to pipe or spread the frosting while it's still room temperature. If using grapeseed oil, the frosting stays soft and spreadable even after being refrigerated.
Notes
* Honey and date syrup yield similar results. I prefer date syrup because there is no honey flavor in the frosting. I have also tested this recipe using whole dates. If using dates, soak them in hot water first, and then add when you would add the liquid sweetener. It will take longer to process, but the result should still be a creamy and spreadable frosting. This option yields a frosting that tastes a bit fibrous, but is still delicious on baked goods.
**I have made this both with coconut oil and grapeseed oil. I love the coconut flavor. If choosing coconut oil, the frosting will become slightly hard (more like a firm fudge) when refrigerated. If using grapeseed oil, the consistency will be the same at room temperature, and it will stay soft after being refrigerated. The grapeseed oil also has no flavor, if you don't like coconut or prefer not to have that flavor in your frosting.
Nutrition
Calories:
99
kcal
|
Carbohydrates:
13
g
|
Fat:
5
g
|
Saturated Fat:
4
g
|
Sodium:
64
mg
|
Potassium:
72
mg
|
Fiber:
1
g
|
Sugar:
10
g
|
Vitamin A:
1415
IU
|
Vitamin C:
0.2
mg
|
Calcium:
6
mg
|
Iron:
0.4
mg
Other Heathy Frosting Recipe:
I'd love to connect with you on social media! Find me on Facebook or Instagram where I post daily healthy eating and lifestyle inspiration.