This post may contain affiliate links. Please see my full
Disclosure Policy
for details.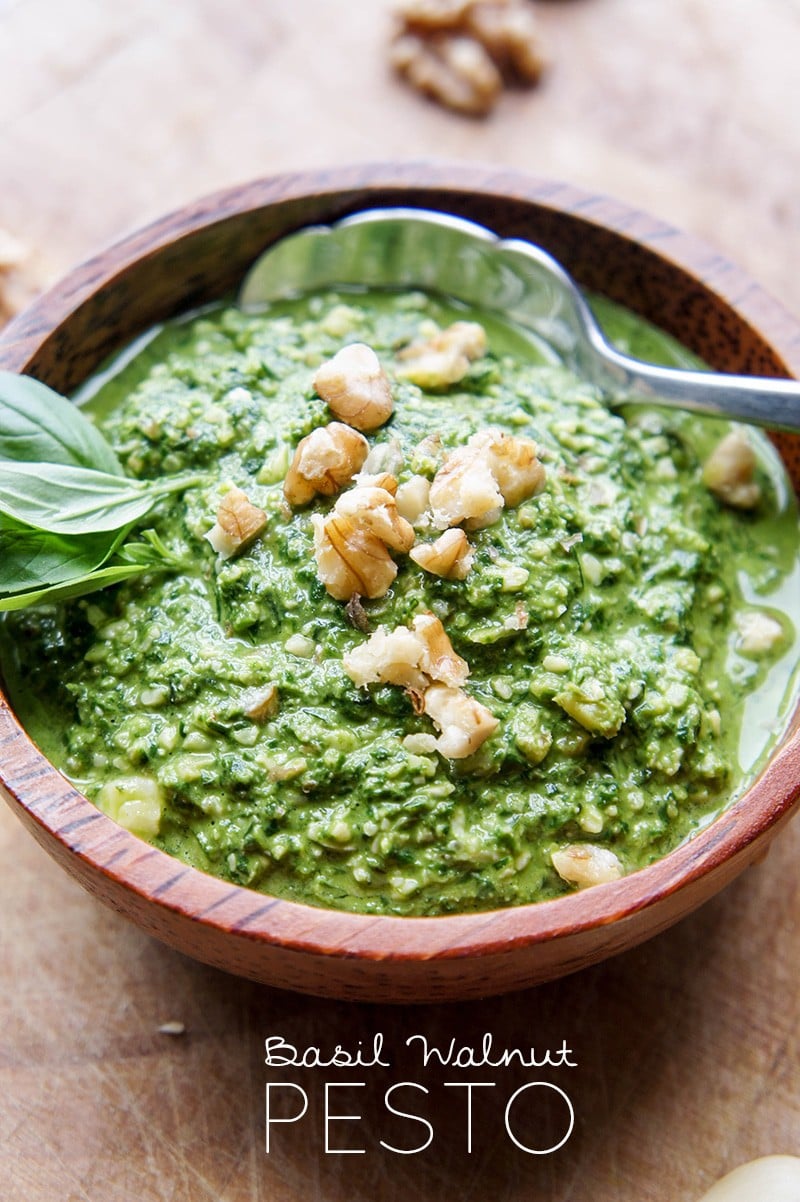 I have an amazing recipe to share with you– or, I did. That was until 9-months pregnant me left the kitchen for a few minutes to rest while preparing it the other day, and came back to this in the kitchen: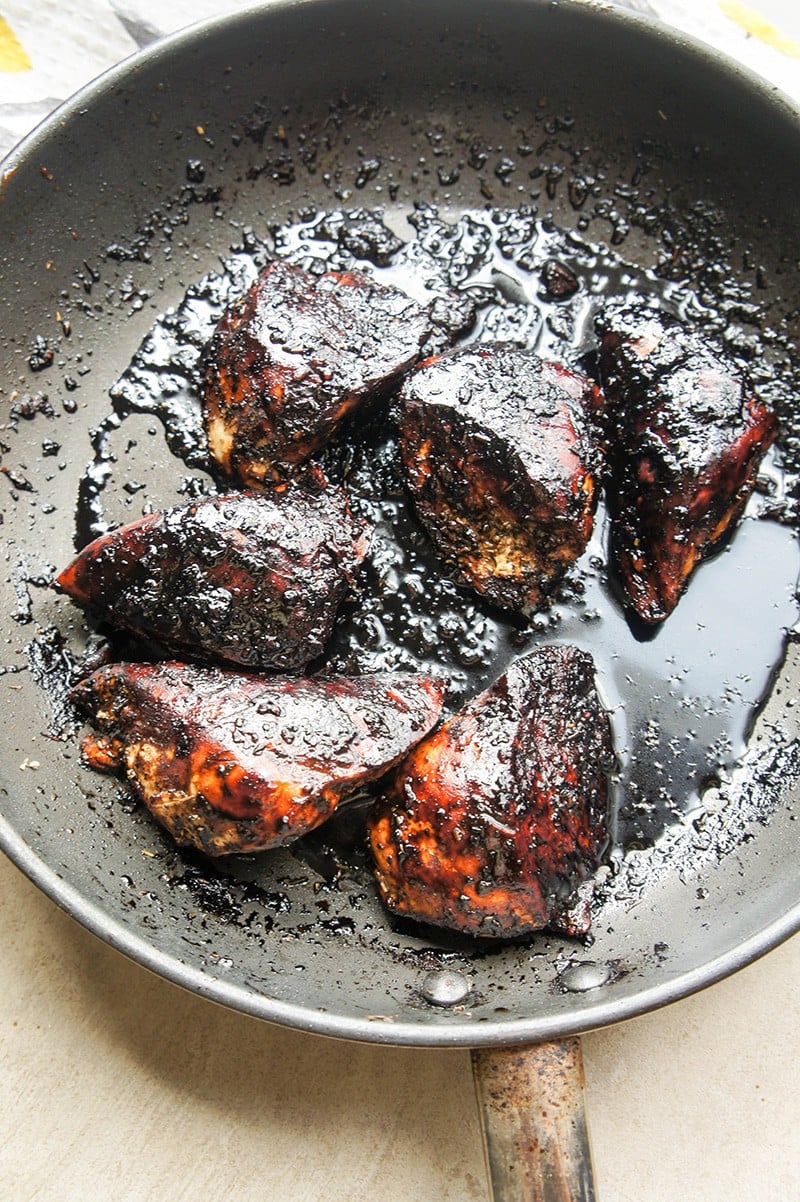 And then 9-months pregnant me decided maybe if I just washed the chicken off a bit, added a bit more balsamic, and cooked it a bit longer, all would be fine.
All was not fine. I thought maybe in the photos you wouldn't be able to tell the difference between charcoal and a beautiful, glossy, balsamic glaze. You could tell. Yup.
And then, 9-months pregnant me didn't want to go to the grocery store all weekend. Which actually turned out to be a good thing. I made several meals this weekend by scrounging in the pantry and cleaning out the produce drawer– one was a white bean chili, which I already have a similar recipe for on the blog.
The other was a wonderful concoction I am going to remake later this week to share with you– it was topped with this basil pesto. They turned out to be 2 of our favorite dinners in a while, and I had fun stretching myself with the available produce and pantry items I had on hand.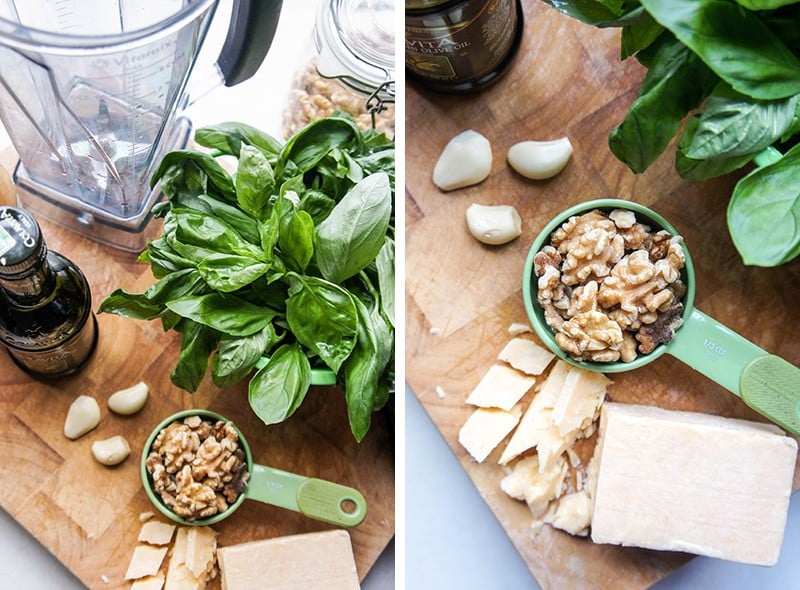 The basil in my produce drawer was actually meant for a different recipe, one that I never got around to making last week. I could blame it on pregnancy, but honestly, it's all the contractors that have been in my house! There were days last week where there were 8 workers throughout my house — it's only a condo! One day, there were workers in all 3 bathrooms, and I had to run down to the pool several times to use the bathroom.
Thank goodness it's almost done. And thank goodness for Hari Raya, the end of Ramadan, which meant a 4 day weekend for the workers, and some time for me to relax in the house without a mess and loud noise.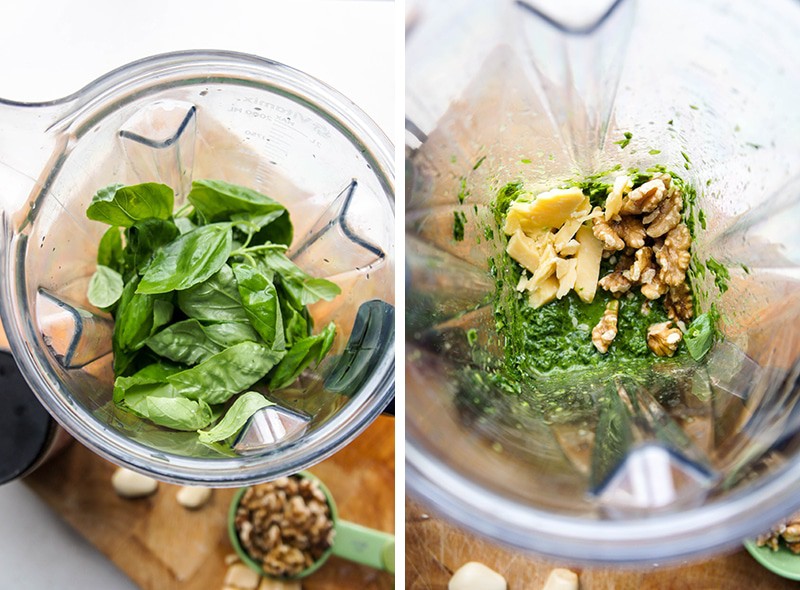 Pesto is one of those must-do summer things. I don't have basil plants here in Malaysia– I have killed every green thing I have tried to grow on my patio. City-condo living is just not conducive to gardening (imagine that). But I know lots of you have gardens overflowing with herbs right now, and basil plants can grow so quickly in the summertime!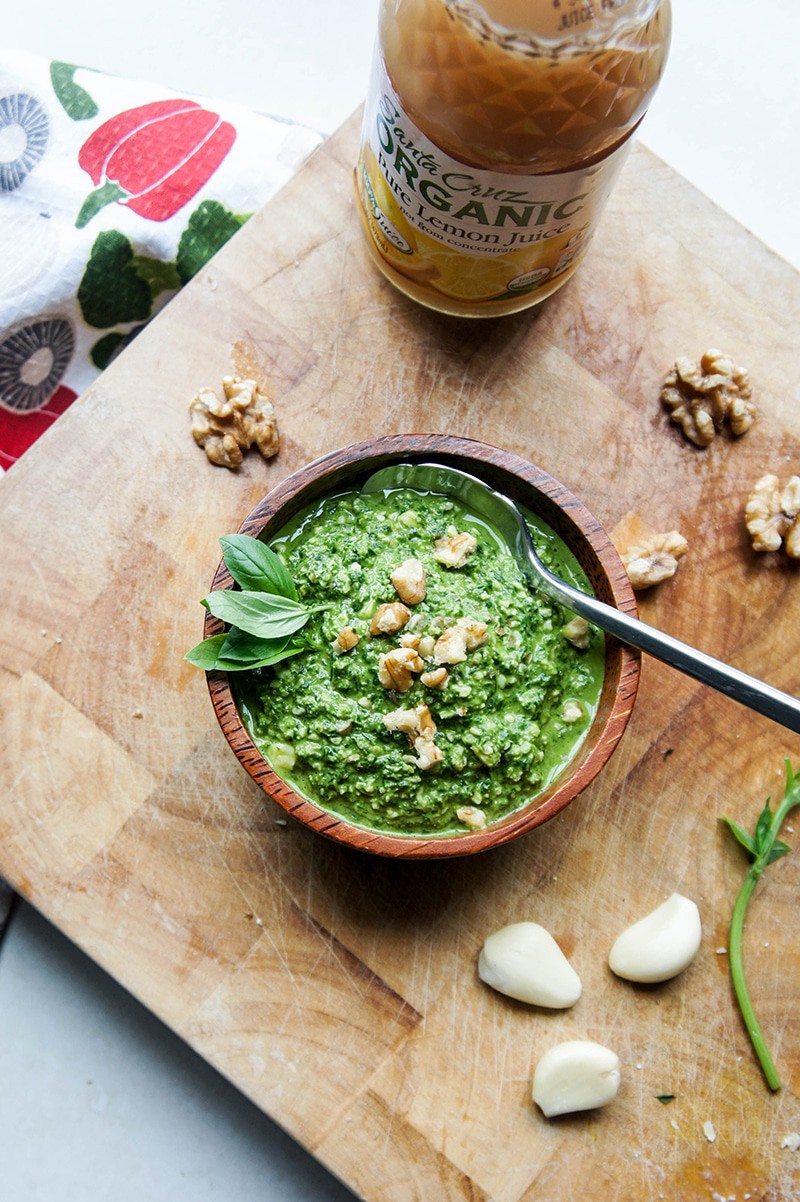 So, trim back the basil plant, throw in some nuts, parmesan, garlic, a touch of sea salt, and lots of lemon, and suddenly your dinner turns gourmet– even if it really was an empty-the-pantry meal.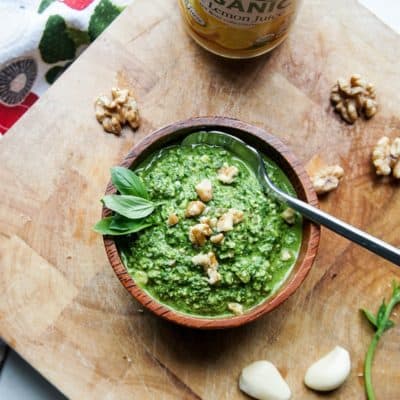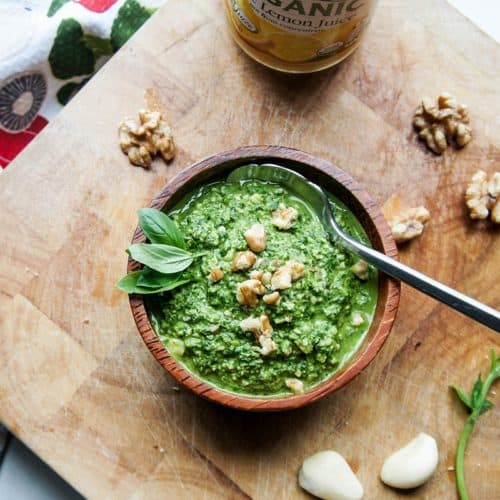 Lightened Up Basil Walnut Pesto
A vibrant, summery traditional basil pesto, made with walnuts. Comes together in 5 minutes and will put a touch of gourmet into any meal.
Print
Rate
Ingredients
4

cups

basil

fresh, loosely packed

2 1/2

tablespoons

lemon juice

2

tablespoons

olive oil

2

tablespoons

water

1/4

cup

parmesan cheese

1/4

cup

walnuts

1-2

cloves garlic

minced

sea salt & fresh ground black pepper

to taste, I used less than 1/8 teaspoon sea salt
Instructions
Wash the basil and remove the leaves from the stems.

Add basil to the blender, and blend using a tamper stick until the leaves are broken up. If using a standard blender, push the leaves down several times and start again.

Once the leaves are broken up, add lemon juice, olive oil, and water. Blend until the basil and liquids become a paste.

Add the parmesan, walnuts, and minced garlic. Start by adding a pinch of sea salt and a few turns of black pepper. Once it's blended, taste, and adjust seasonings to taste.

Use as a dip, spread, or topping for a variety of foods.
Nutrition
Calories:
36
kcal
|
Carbohydrates:
1
g
|
Protein:
1
g
|
Fat:
3
g
|
Saturated Fat:
1
g
|
Cholesterol:
1
mg
|
Sodium:
25
mg
|
Potassium:
28
mg
|
Fiber:
1
g
|
Sugar:
1
g
|
Vitamin A:
329
IU
|
Vitamin C:
2
mg
|
Calcium:
31
mg
|
Iron:
1
mg