This post may contain affiliate links. Please see my full
Disclosure Policy
for details.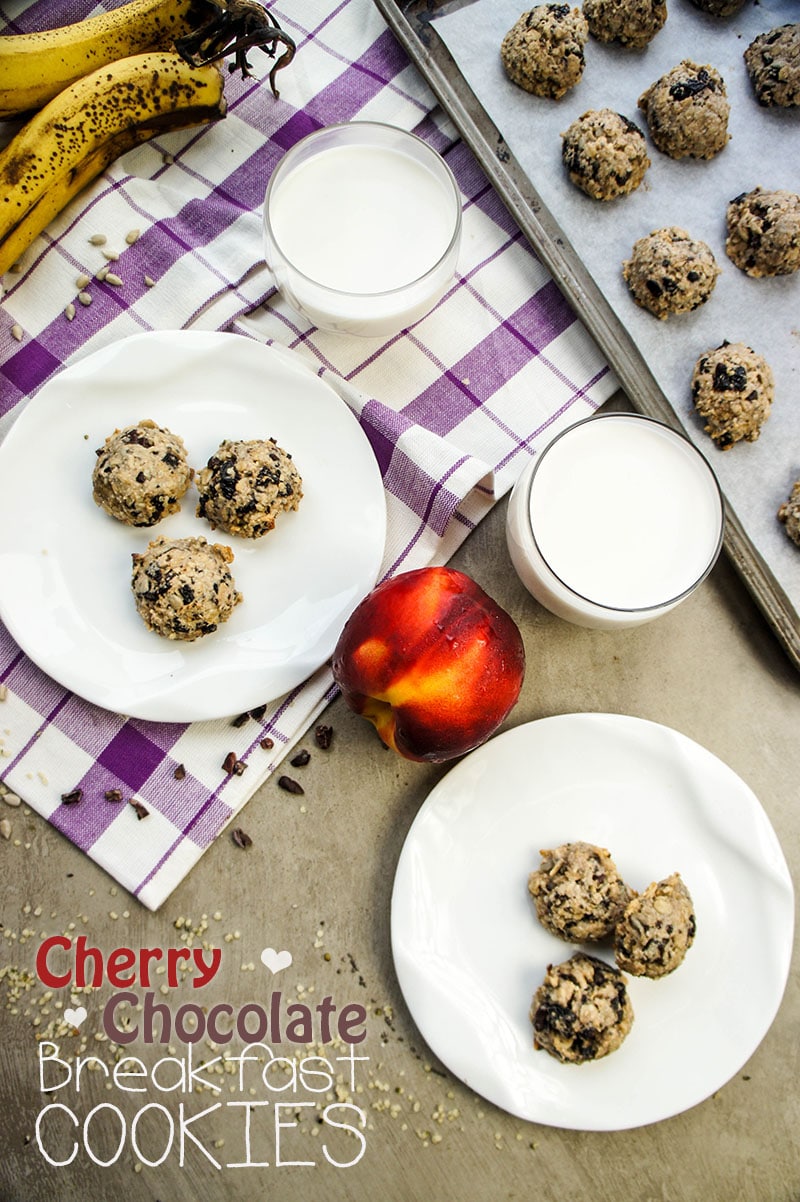 Convenience. Yes, that's what I'm looking for right now. Pregnancy hunger is like nothing else, and I've heard breast feeding requires just as much energy!
I know that after our little one is born in August, I'll need healthy snacks on hand to keep myself going through sleep deprived hazes. I am stocking my freezer now! Over the weekend, I made two batches of Chocolate Covered Raisin Oatmeal Cookies, and I've now got 3 batches of these babies stashed in there as well.
What? You think I should be stocking up on something OTHER than cookies? Okay, okay. Do you have any suggestions?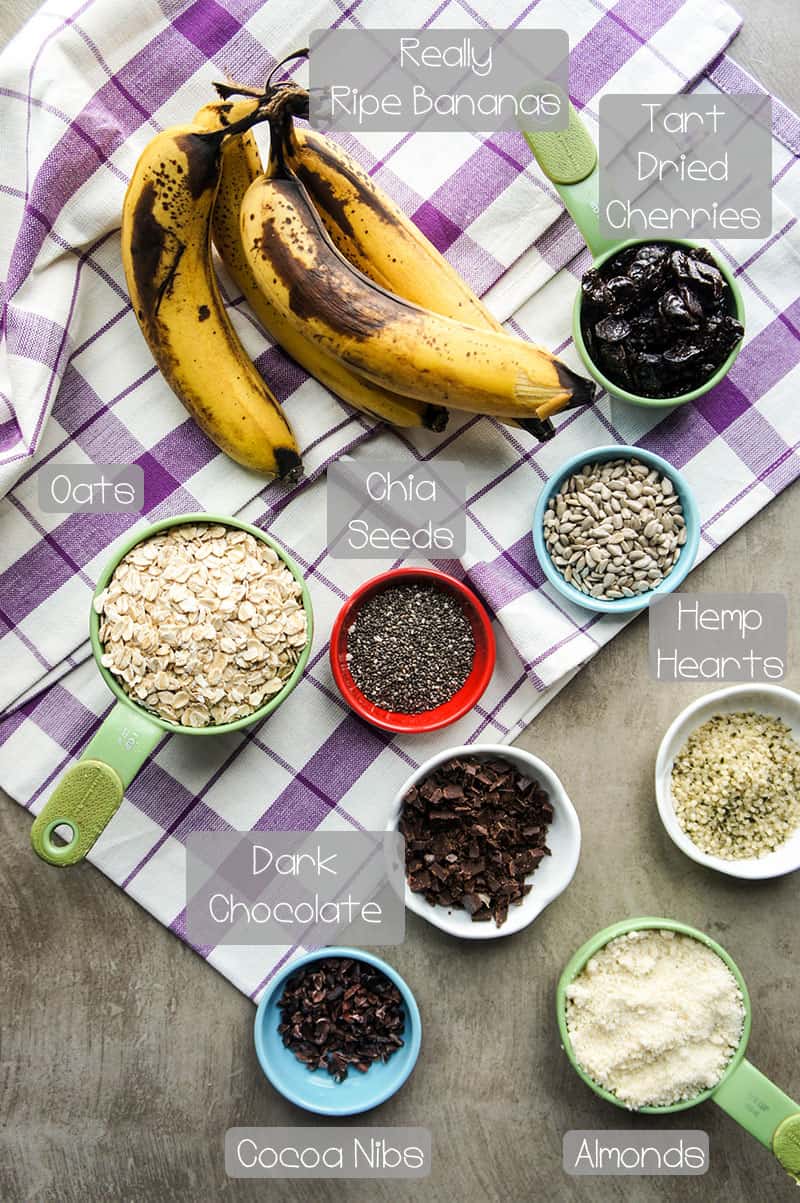 Looking at those super ripe bananas on my counter yesterday, I knew something had to be done. Either Caramelized Banana Bread, Banana Chocolate Chip Muffins, or Breakfast Cookies. (<– My original "Breakfast Cookie" recipe has recently blown up on Pinterest– which cracks me up. When I posted that recipe, I was just learning how to use my camera on manual, and the photos are very blurry!)
I decided I needed a new spin on the Breakfast Cookies, 1). Because they're delicious., 2). Because I wanted to add some SUPERFOOD ingredients for SUPERWOMAN strength in the coming months., and 3). Because I've fallen in love with tart dried cherries.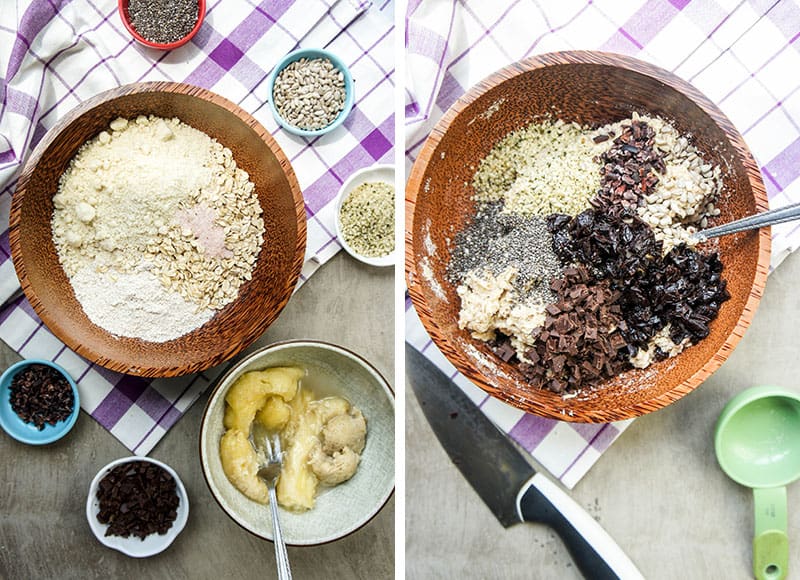 Superfood Ingredients
Other than the typical healthy breakfast ingredients, including oats, almonds, and bananas, I also added:
Hemp hearts are a great source of Omega 3 fatty acids, which are essential for brain development in a growing fetus. In addition, they are a complete protein source, meaning they have all essential amino acids. Among the numerous health claims, hemp hearts have been shown to reduce inflammation, which in turn boosts immunity.
Another great sources of plant protein, chia seeds also contain high amounts of Omega 3s, and 11 grams of fiber! Another reason to eat more chia? Calcium. A 140 calorie serving of chia seeds delivers 14% of a woman's RDA of calcium– and as a lactose intolerant mother-to-be, I need all the calcium I can get!
Think all the benefits of dark chocolate, and multiply them. Cocoa nibs are the source of all the health benefits of dark chocolate (read my post on 5 Reasons to Eat Chocolate for Breakfast if you want more information!). Chocolately flavor, a yummy crunch, and no extra sugar, with a huge antioxidant punch (more than green tea!).
Recently, I read in Self Magazine that sunflower seeds are "The One Ingredient You Should Add to Your Breakfast Every Day." This claim is due to the seed's great flavor and crunch, but also its high fiber, Vitamin E, and magnesium content. Another reason to love these little guys? Bang for your buck– if hemp hearts, chia seeds and cocoa nibs stretch your grocery budget, sunflower seeds are a great way to add nutrition.
I've shared this little secret before– to keep my cookies uniform in size, and also help with portion control, I use measuring spoons to scoop out cookie dough. Sometimes, a half tablespoon, and for these, I used a tablespoon.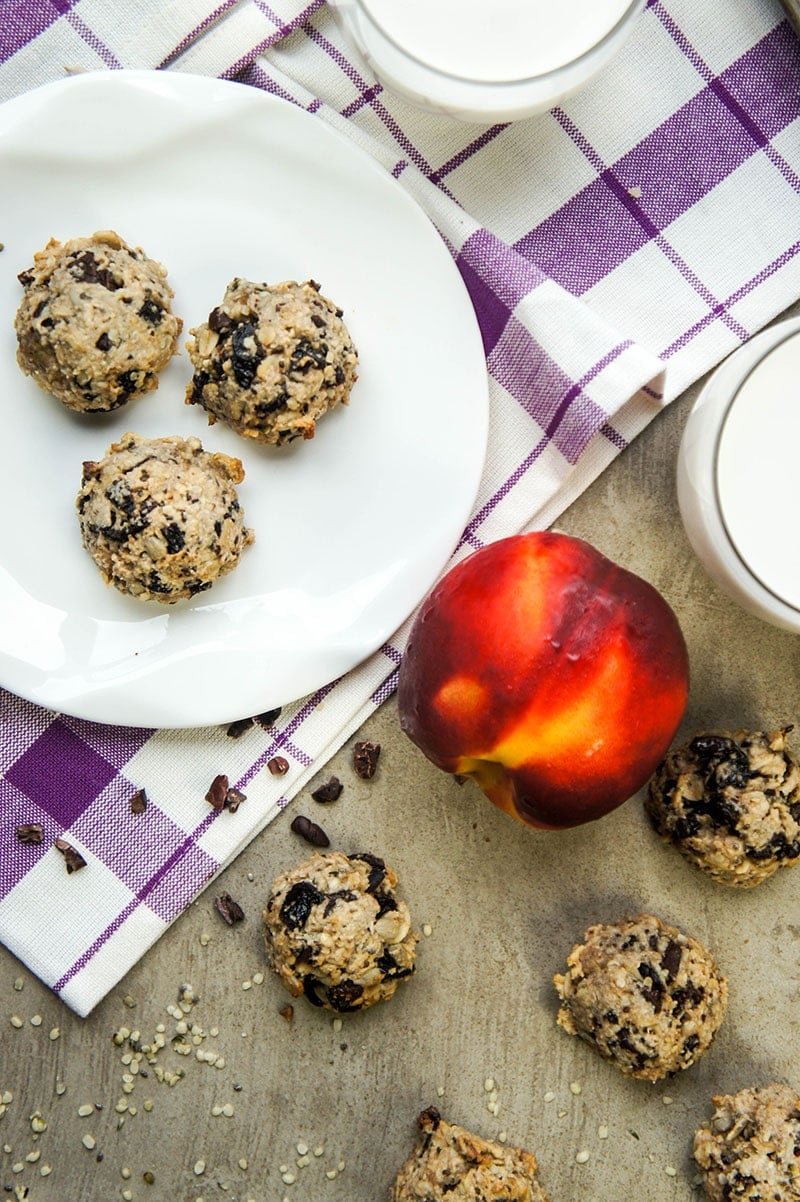 These cookies are crunchy on the outside, and soft and chewy inside. They are sweet, but natural sweet– bananas are the main source, and the cherries and dark chocolate add more sweetness. The cherries I used did have added sugar, but here in Malaysia, I am lucky to find them at all! If I could buy unsweetened tart cherries, I would.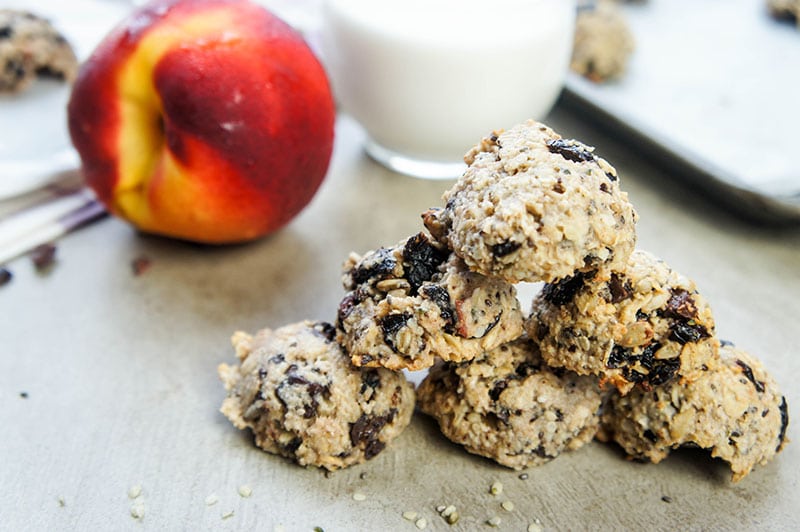 Cherry Chocolate Breakfast Cookies (GF, VG)
These breakfast cookies are made with wholesome ingredients- oats, dried cherries, almonds-- and enhanced with some superfood ingredients for an extra nutritional punch in the morning.
Print
Rate
Ingredients
Dry
1

cup

whole oats

1/2

cup

oat flour

grind whole oats in a blender or food processor

1/2

cup

almond flour or meal

grind whole or blanched almonds in a food processor or blender

1/2

teaspoon

sea salt
Mix-Ins
1/3

cup

dried tart cherries

3

tablespoons

dark chocolate

chopped, 85% keeps them very low sugar

2

tablespoons

hemp hearts

2

tablespoons

sunflower seeds

1

tablespoon

chia seeds

1

tablespoon

cocoa nibs
Instructions
Preheat oven to 350 degrees f.

In a mixing bowl, mix together all the dry ingredients.

In a smaller bowl, mash the very ripe bananas. Add the coconut oil and nut butter of choice.

Add the wet mixture, along with all the mix-ins, to the bowl, and stir until all the ingredients are just combined, without over mixing.

The dough will be very sticky. I use a wet tablespoon to scoop out rounded mounds. Flatten with a wet hand for a more traditional cookie shape- I opted to keep these rounded this time.

Store in the fridge or freezer for quick and easy breakfasts or healthy snacks.
Notes
*Nutrition facts are an estimate. The nutrition calculator I use did not have cocoa nibs (I substituted raw cocao powder) or hemp hearts (I substituted chia seeds), so I made substitutions with very close nutritional profiles.
**Other nutrition facts-- 3 cookies have 10% of the RDA of calcium and iron.
Nutrition
Calories:
84
kcal
|
Carbohydrates:
7
g
|
Protein:
3
g
|
Fat:
5
g
|
Saturated Fat:
2
g
|
Cholesterol:
1
mg
|
Sodium:
48
mg
|
Potassium:
50
mg
|
Fiber:
2
g
|
Sugar:
1
g
|
Vitamin A:
64
IU
|
Calcium:
20
mg
|
Iron:
1
mg
A few of these, combined with a glass of almond milk and a piece of fruit, make a great on-the-go breakfast. They also make a great "pregnancy hunger is killing me and I can't wait until 12 for lunch" tide-me-over snack.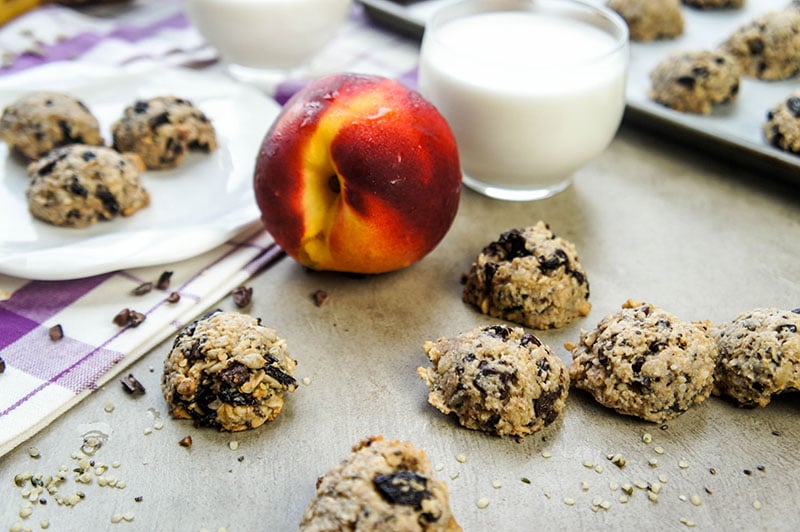 Other (Quick!) Superfood Breakfasts:
---
Sources
Lose Weight and Heal Inflammation with Hemp Hearts, Chatelaine
11 Proven Health Benefits of Chia, by Authority Nutrition
Cocoa Nibs, Nutrition Data
Cocoa Nibs Nutrition Information, Livestrong