This post may contain affiliate links. Please see my full
Disclosure Policy
for details.
Creamy Overnight Oats with Greek yogurt and Chia Seeds make a delicious, super easy make-ahead breakfast. We love to top ours with nut butter, fresh fruit, and coconut. Learn how to make overnight oats with yogurt to meal prep for quick breakfasts.
Looking for delicious breakfast recipes? Also try Chia Pudding and Chocolate Baked Oatmeal.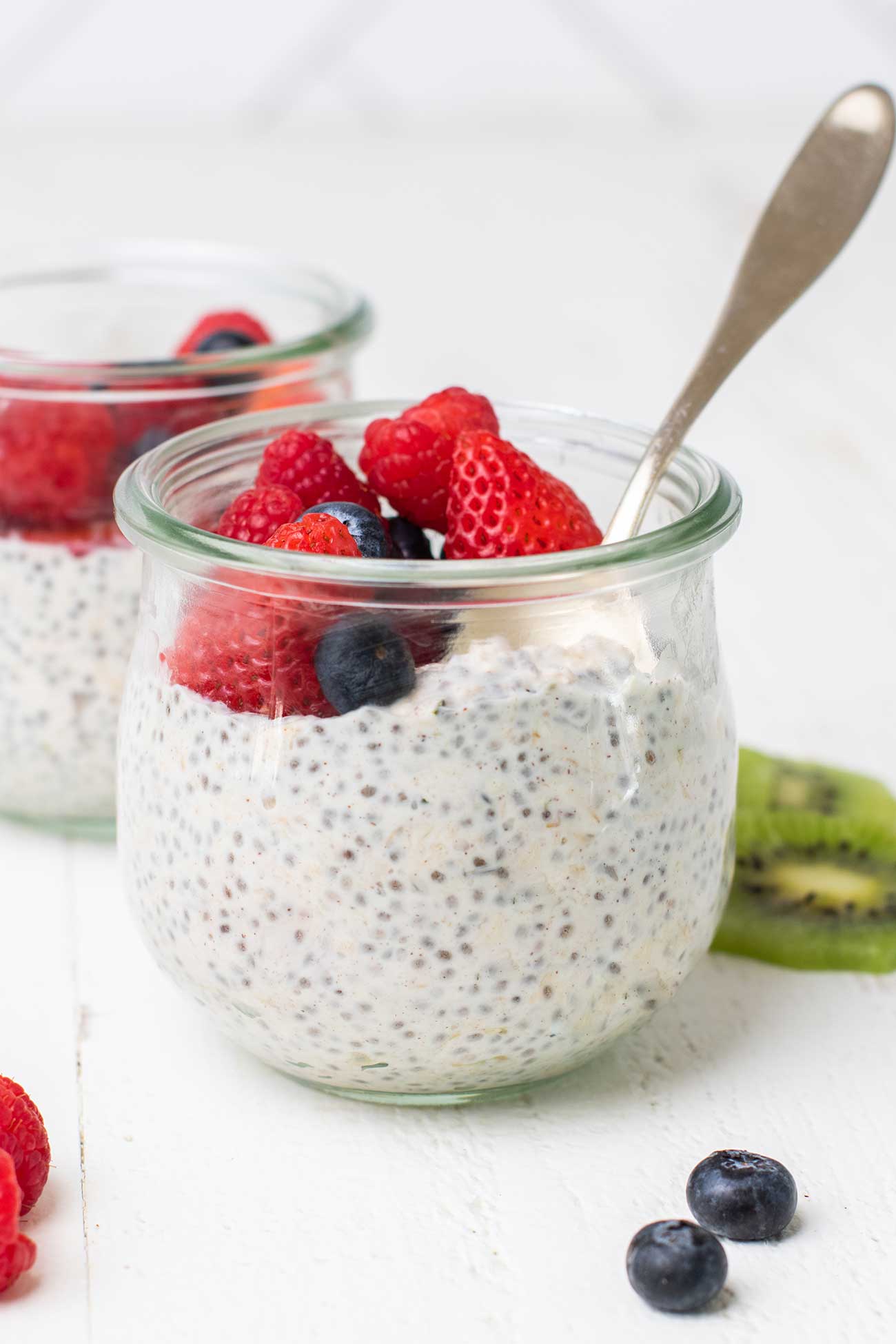 *This post is sponsored by SunButter, a sunflower seed spread perfect for allergy-safe baking and cooking! Thanks for supporting the brands that keep Sunkissed Kitchen running.
Meal Prep these High Protein Overnight Oats
Oatmeal fans will love this high protein and high fiber variation! The classic overnight oats recipe, typically made with sweetener, milk, and fruit, can leave you hungry.
Greek yogurt is a great source of protein, and chia seeds add a hefty dose of fiber. Together, the combination makes a powerful breakfast combo.
The variations for overnight oats with yogurt are endless. I suggest leaving your oats plain, as written in the recipe, and then adding sweeteners and toppings to serve!
Get creative! I know you'll love using this recipe as a springboard for creating your own perfect breakfast.
If you struggle to eat a balanced and healthy breakfast, this recipe takes minutes to whisk together, and then is ready to go for mornings to come.
What You'll Need
Oatmeal (I love these sprouted gluten free oats)
Greek Yogurt (I choose full fat – check the label to ensure no added sugar!)
Chia Seeds
Unsweetened Milk of Choice (almond, cashew, coconut, or oat)
Cinnamon (adds a sweet flavor without sugar)
Sea Salt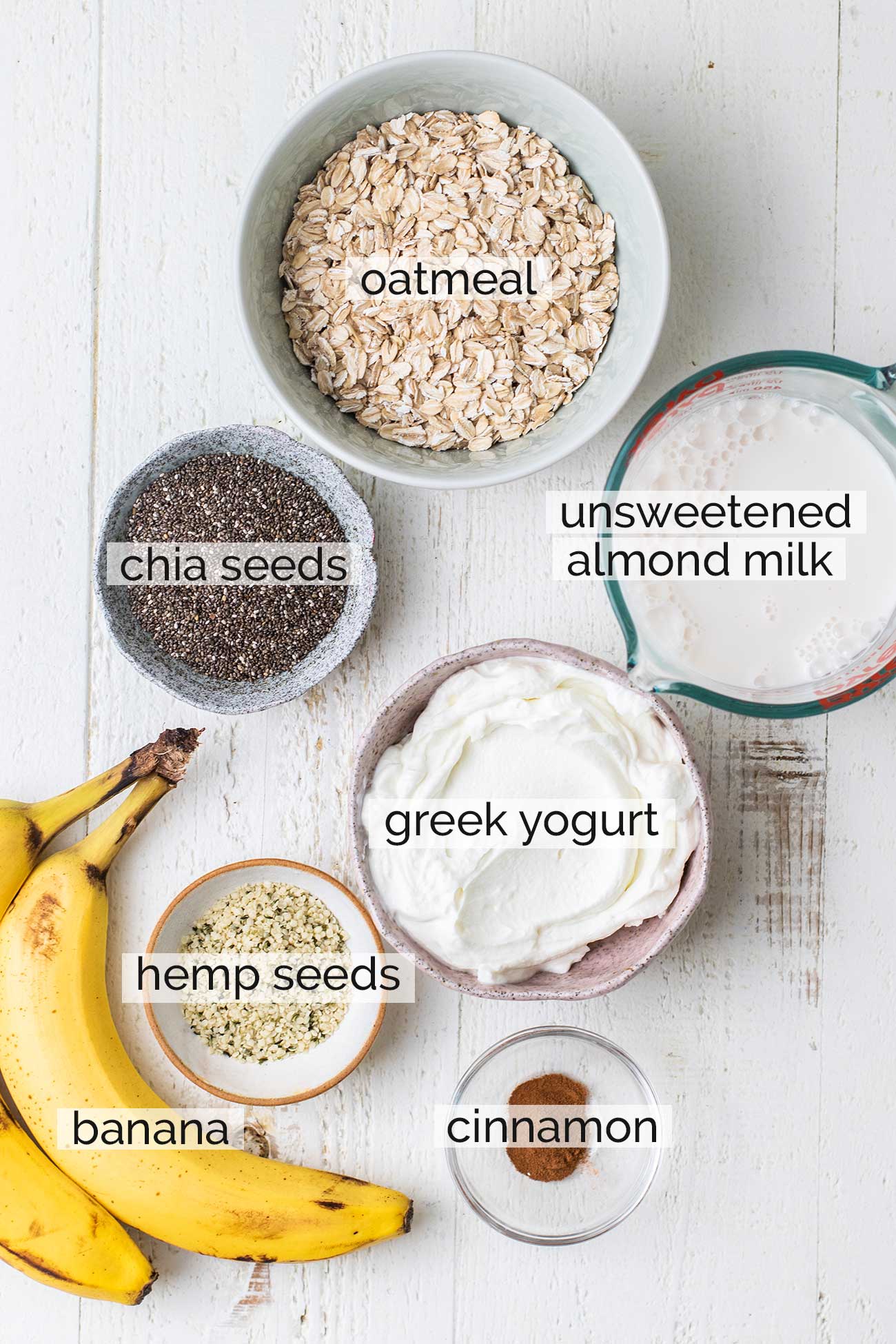 Topping Suggestions
Nut or Seed Butter (my favorite is

How to Make Overnight Oats

Step 1: In a large mixing bowl, combine all ingredients.

Step 2: Whisk ingredients together well. Allow the oats and chia seeds to absorb liquid for about 10 minutes, and then whisk again prior to storing in the refrigerator overnight.

Feel free to keep these in the large (covered) mixing bowl, or add to individual containers.

Meal Prep Overnight Oats with Yogurt

This easy overnight oats with Greek yogurt takes about 5 minutes to prepare, and easily stores for 4-5 days for quick, grab-and-go breakfasts.

Store individual servings of overnight oats in meal prep containers with toppings for grab and go options!

You can also store in jars. I like to leave room on top to just add my toppings directly in when I am ready to enjoy them.

SunButter sunflower seed butter is one of my favorite toppings. I use it in this delicious Chocolate Smoothie, and on top of chia pudding as well.

Hop on over to SunButter's website to see where it's sold near you!

FAQ & Storing Overnight Oats

How to Store Overnight Oats

Overnight oats need to soak for at least 3 hours prior to eating. This allows the oats and chia seeds to absorb the moisture from the milk and yogurt, and creates a thickened bowl of oatmeal.

Store in the refrigerator in an air tight container for up to 5 days.

Why Add Chia Seeds and Cinnamon to Overnight Oats with Yogurt?

Chia Seeds: Such a wonderful way to incorporate more chia into your diet! These little powerhouses are also high in fiber (2 tablespoons has nearly half your daily fiber requirement!), but they are also packed with Omega 3s, protein, and Vitamin E. Chia seeds improve skin, protect your heart, boost your metabolism, and protect against cancer. They are absorbent little guys, soaking up 10 times their weight in water, meaning they will help fill your stomach and provide satiety.

Cinnamon: This spice is such a great flavor booster, and is good to incorporate into your daily diet. It contains fiber, calcium, iron, and Vitamin K, and is known to reduce risk of diabetes and protect your heart. I love sprinkling it in coffee, but also use it liberally in baked goods, on yogurt, and breakfasts like these overnight oats.

Make Vegan Overnight Oats

This recipe is easily made vegan by using a plant based yogurt and a plant based milk.

Increase the Protein

As written, each serving of overnight oats with greek yogurt contains 16 grams of protein.

If you like to start out your day with closer to 30 grams (I do!):

Add a scoop of collagen protein (20 grams)
Add your favorite protein powder of choice (10-20 grams)
Serve with 2 hard boiled eggs (14 grams)
Top with sunflower seed or almond butter (7 grams in 2 tablespoons)

Easy Oatmeal Breakfast Recipes:

If you make this recipe, be sure to share it with me! Find me on Facebook or Instagram and be sure to tag #SunkissedKitchen @SunkissedKitch

Overnight Oats with Greek Yogurt

Meal prep this easy, healthy, delicious breakfast option! Overnight oats gets an overhaul with high protein Greek yogurt and high fiber chia seeds. Top each container with whatever toppings you love and keep it fresh all week long.

Print Pin Rate

Ingredients

1

cup

oatmeal

rolled oats, not quick

4

tablespoons

chia seeds

2

tablespoons

hemp seeds

1

cup

Greek yogurt

1 1/2-2

cups

unsweetened almond milk

or other milk of choice

1

teaspoon

cinnamon

optional

Topping Suggestions

Berries

Bananas

Nuts

Seeds

Dark Chocolate

shaved

Instructions

Add all ingredients (except toppings) to a container with a lid, and stir well. Begin with 1 1/2 cups of almond milk, and add additional cup if necessary (different brands of chia seeds can absorb different amounts of liquids).

Leave in the refrigerator for at least an hour or overnight.

Top with fresh fruit, nut butters, coconut, dark chocolate, or nuts and seeds. We love mangoes, banana, peaches, berries, chocolate chips, walnuts and coconut the best!

Store for up to a week in the refrigerator.

Notes

How to Store Overnight Oats

Overnight oats need to soak for at least 3 hours prior to eating. This allows the oats and chia seeds to absorb the moisture from the milk and yogurt, and creates a thickened bowl of oatmeal.

Store in the refrigerator in an air tight container for up to 5 days.

Why Add Chia Seeds and Cinnamon to Overnight Oats with Yogurt?

Chia Seeds: Such a wonderful way to incorporate more chia into your diet! These little powerhouses are also high in fiber (2 tablespoons has nearly half your daily fiber requirement!), but they are also packed with Omega 3s, protein, and Vitamin E. Chia seeds improve skin, protect your heart, boost your metabolism, and protect against cancer. They are absorbent little guys, soaking up 10 times their weight in water, meaning they will help fill your stomach and provide satiety.

Cinnamon: This spice is such a great flavor booster, and is good to incorporate into your daily diet. It contains fiber, calcium, iron, and Vitamin K, and is known to reduce risk of diabetes and protect your heart. I love sprinkling it in coffee, but also use it liberally in baked goods, on yogurt, and breakfasts like these overnight oats.

Make Vegan Overnight Oats

This recipe is easily made vegan by using a plant based yogurt and a plant based milk.

Increase the Protein

As written, each serving of overnight oats with greek yogurt contains 16 grams of protein.

If you like to start out your day with closer to 30 grams (I do!):

Add a scoop of collagen protein (20 grams)
Add your favorite protein powder of choice (10-20 grams)
Serve with 2 hard boiled eggs (14 grams)
Top with sunflower seed or almond butter (7 grams in 2 tablespoons)

Nutrition

Calories:

251

kcal

|

Carbohydrates:

20

g

|

Protein:

16

g

|

Fat:

12

g

|

Saturated Fat:

1

g

|

Polyunsaturated Fat:

9

g

|

Monounsaturated Fat:

2

g

|

Trans Fat:

0.03

g

|

Cholesterol:

3

mg

|

Sodium:

192

mg

|

Potassium:

217

mg

|

Fiber:

8

g

|

Sugar:

3

g

|

Vitamin A:

65

IU

|

Vitamin C:

0.3

mg

|

Calcium:

353

mg

|

Iron:

3

mg