Creamy Overnight Oats with Chia Seeds make a delicious, super easy make-ahead breakfast. We love to top ours with nut butter, fresh fruit, and coconut.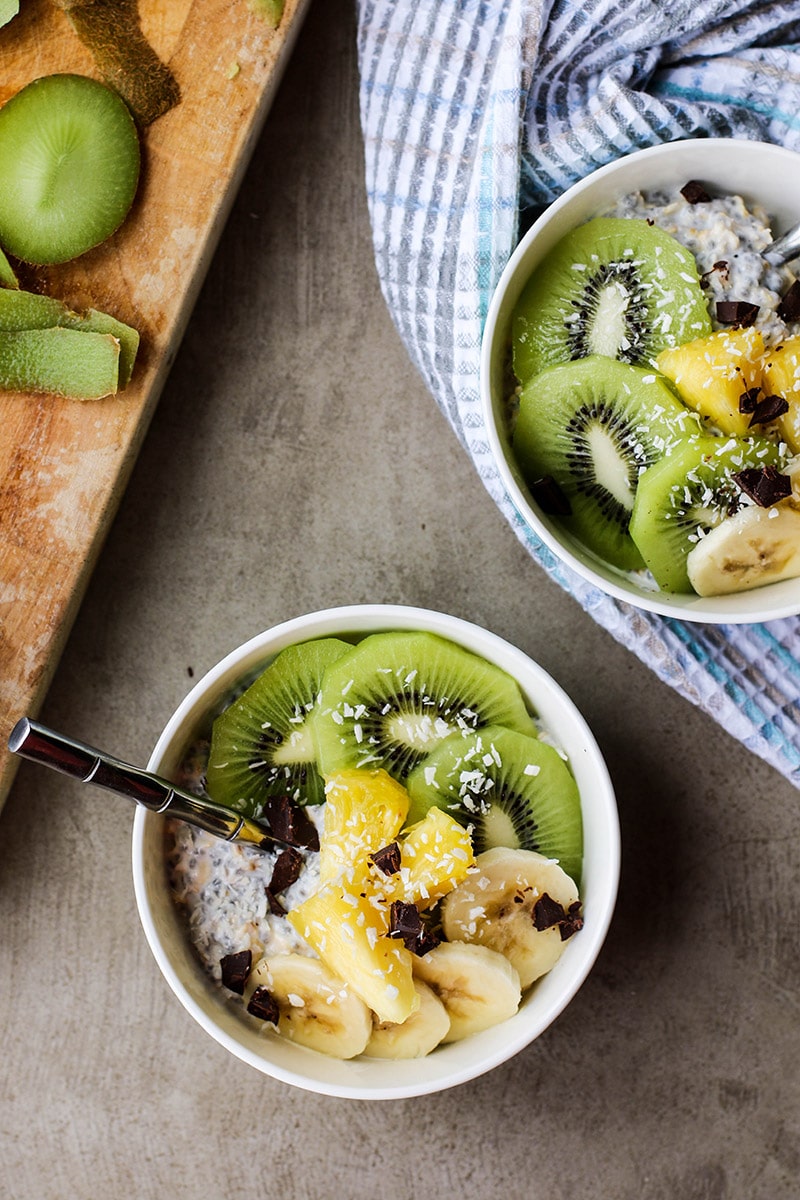 Breakfast is the most important meal of the day, which is why I've been working to amp up my breakfast archives! (Oatmeal Waffles, or Collard Wrap Breakfast Burritos, anyone?).
Why is breakfast so important? If you're like me, you just don't feel awake and energized until you've had something to eat (along with COFFEE!), but it's also necessary for waking up your metabolism after fasting throughout the night. And most of us will overeat later in the morning if we haven't had breakfast, which sets us up for poor food choices throughout the day.
One of the most popular recipes on my blog is my Spinach and Caramelized Onion Frittata with a Sweet Potato Crust (and boy does that need to be made in my kitchen, stat!), but really– how many of us have over an hour to prepare breakfast? This recipe is more of a brunch/special occasion type of recipe. We've also had it for dinner a few times.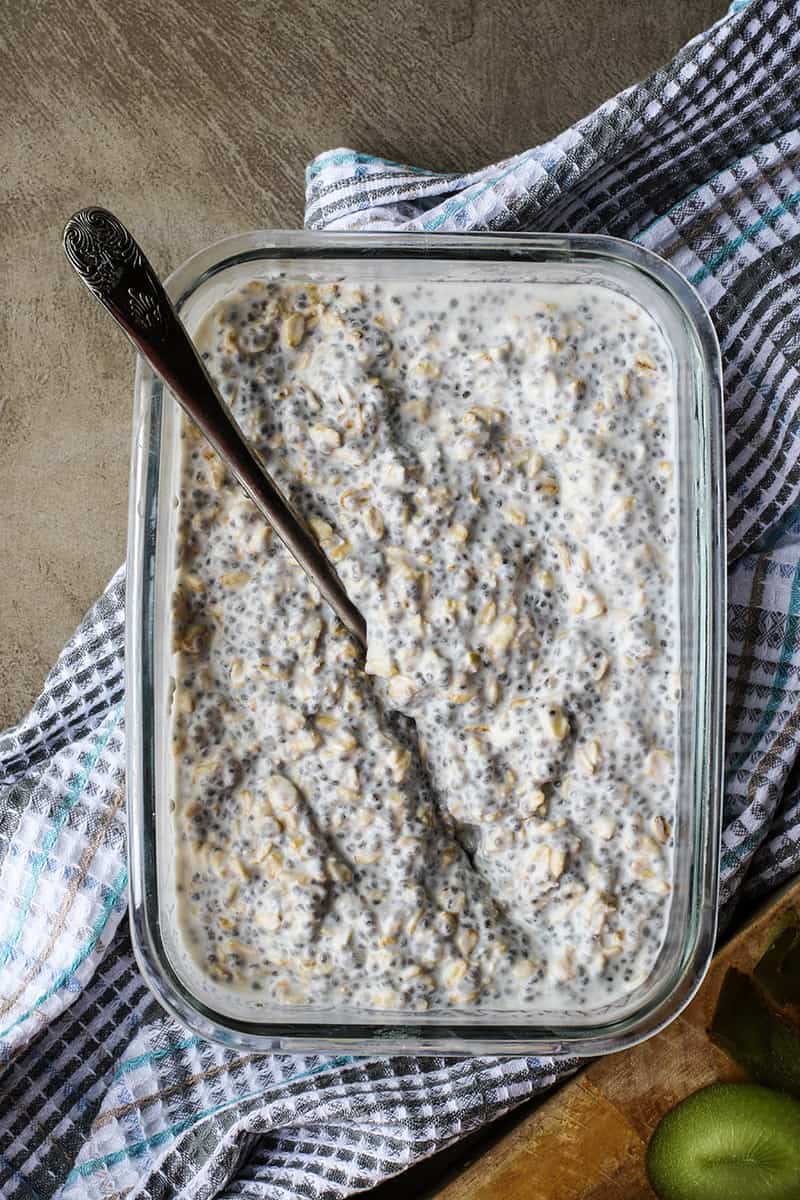 This Overnight Oats recipe has become the staple breakfast for my son and I the past month. I've made it many times in the past (check out my Cookie Dough Overnight Chia and Oats, and my Brownie Batter Chia and Oats), but this is the first time I've made it in a large batch, just pure and simple, and then added toppings each morning.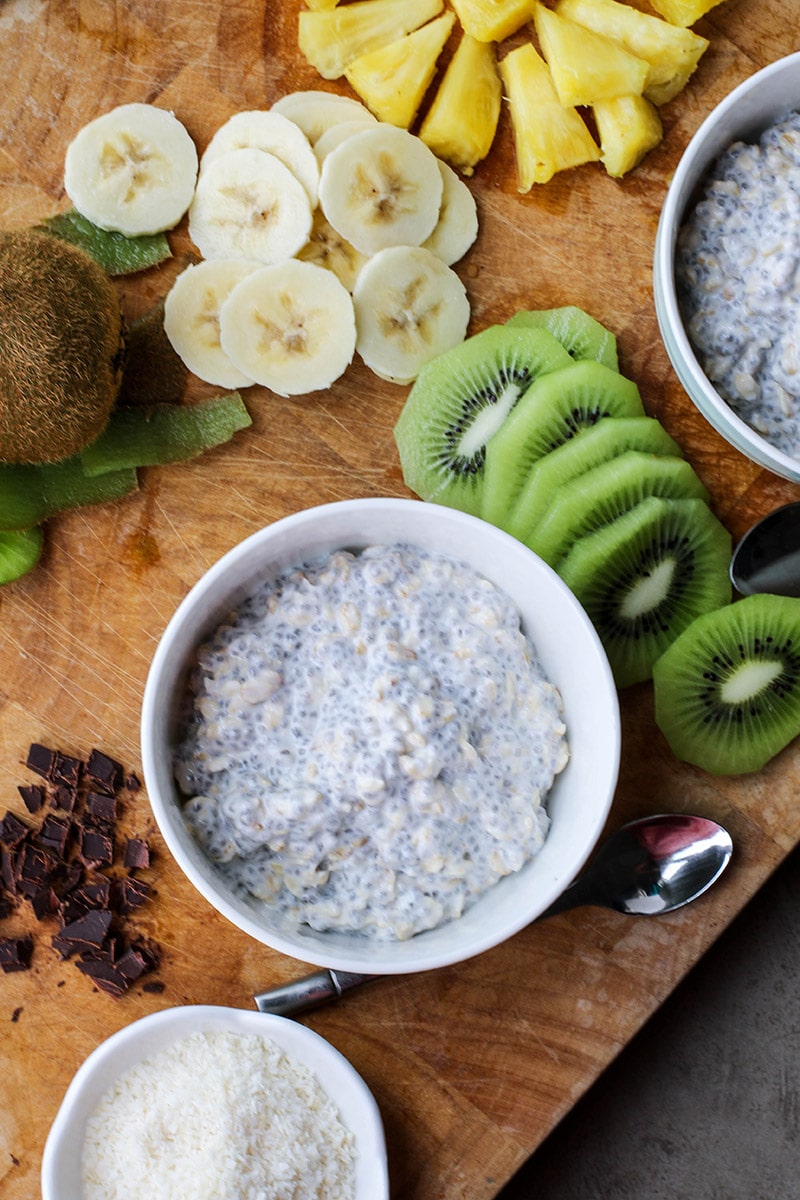 This recipe takes less than 5 minutes to put together, sits overnight (or actually, it only needs an hour), and then is ready for 3-4 breakfasts. It's fine for a week after making it, so if you tend to just have the same breakfasts all week, then double the recipe as a part of your Sunday meal prep!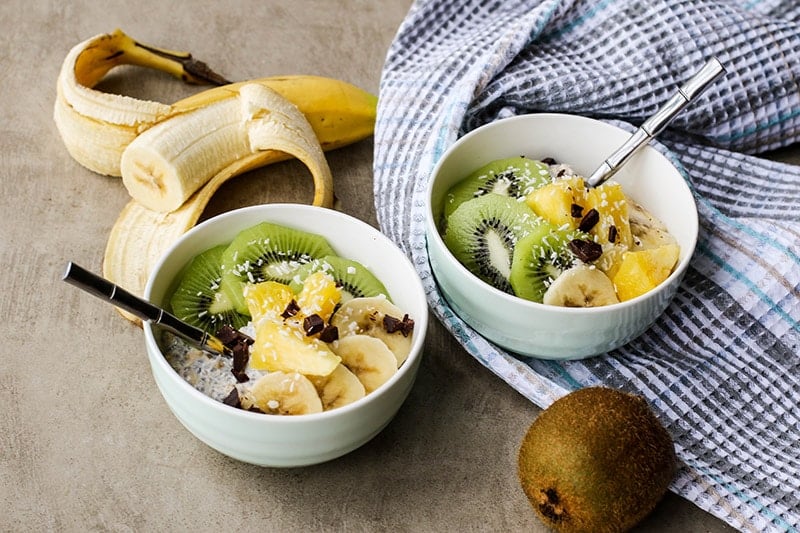 Plus- you're starting your day of right. This recipe boasts so many health benefits.
Oatmeal: Oats are fiber packed, meaning you get that much closer to your recommended 25-30 grams a day (most adults only average 15 grams!). Also, the fiber in oats is a specific type (beta glucan), which is attributed to lowering cholesterol. Oats have also been attributed to improving heart health, boosting immunity, lowering blood pressure, and reducing the risk of diabetes. Plenty of reasons to keep this ingredient in your daily meal rotation. (I use oats for waffles, pancakes, cookies, and even chocolately treats).
Chia Seeds: Such a wonderful way to incorporate more chia into your diet! These little powerhouses are also high in fiber (2 tablespoons has nearly half your daily fiber requirement!), but they are also packed with Omega 3s, protein, and Vitamin E. Chia seeds improve skin, protect your heart, boost your metabolism, and protect against cancer. They are absorbent little guys, soaking up 10 times their weight in water, meaning they will help fill your stomach and provide satiety.
Cinnamon: This spice is such a great flavor booster, and is good to incorporate into your daily diet. It contains fiber, calcium, iron, and Vitamin K, and is known to reduce risk of diabetes and protect your heart. I love sprinkling it in coffee, but also use it liberally in baked goods, on yogurt, and breakfasts like these overnight oats.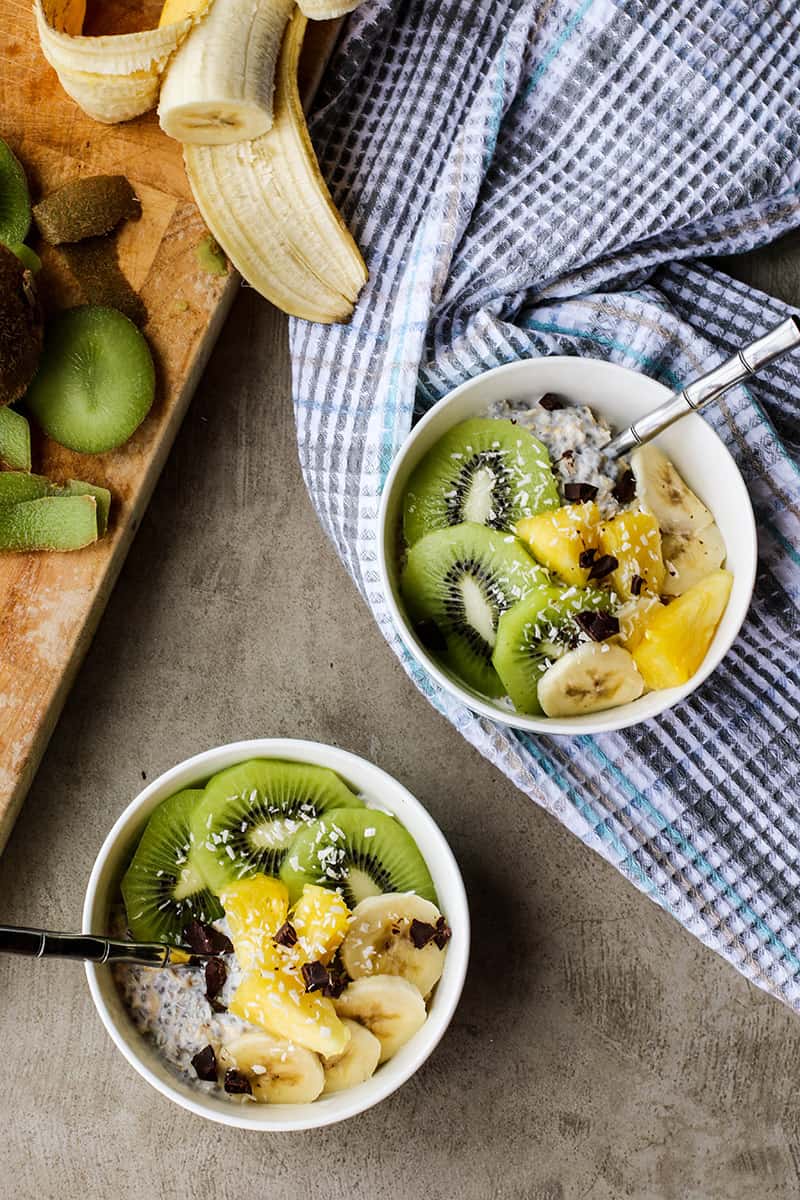 Tips for Overnight Oats
I use almond milk in addition to yogurt because I am lactose intolerant. Any regular milk or plant based milk will work here! Use unsweetened to keep your breakfast free of added sugars.
Make is Gluten Free: If necessary, be sure to buy certified gluten free oatmeal.
Make it Vegan/Dairy Free: Use soy or coconut yogurt in this recipe.
Increase the Protein: Use nonfat or full fat greek yogurt in this recipe to up the protein. Regular milk is also higher in protein than almond milk.
For the Family: Xander eats this with regular oats now, but when he younger, I made this for him with instant oats.
Michelle @ Vitamin Sunshine
Yields 3-4 breakfasts
Overnight Oats with Chia Seeds
Breakfast just got really easy, really healthy, and really delicious! Make a double batch of these oats and have grab and go breakfasts all week. Top with fresh fruit, nut butter, nuts and seeds, coconut or even dark chocolate.
5 minPrep Time
5 minTotal Time
Ingredients
1 cup oats
4 tablespoons chia seeds
1 cup plain yogurt (sub coconut yogurt if necessary)
1 1/2-2 cups unsweetened almond milk
1 teaspoon cinnamon
toppings (fresh fruit, nut butter, coconut, dark chocolate, dried fruit, nuts and seeds)
Instructions
Add all ingredients (except toppings) to a container with a lid, and stir well. Begin with 1 1/2 cups of almond milk, and add additional cup if necessary (different brands of chia seeds can absorb different amounts of liquids).
Leave in the refrigerator for at least an hour or overnight.
Top with fresh fruit, nut butters, coconut, dark chocolate, or nuts and seeds. We love mangoes, banana, peaches, berries, chocolate chips, walnuts and coconut the best!
Store for up to a week in the refrigerator.
Notes
*Nutrition facts are for 1/4 of recipe, and does not include toppings.
7.8.1.2
59
https://sunkissedkitchen.com/overnight-oats/
Michelle @ Vitamin Sunshine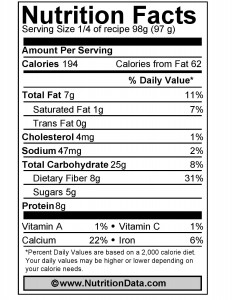 Nutritional data for Overnight Oats and images courtesy of www.NutritionData.com.
Other Super Easy Breakfast Recipes:
I'd love to connect with you on social media! Find me on Facebook or Instagram where I post daily healthy eating and lifestyle inspiration.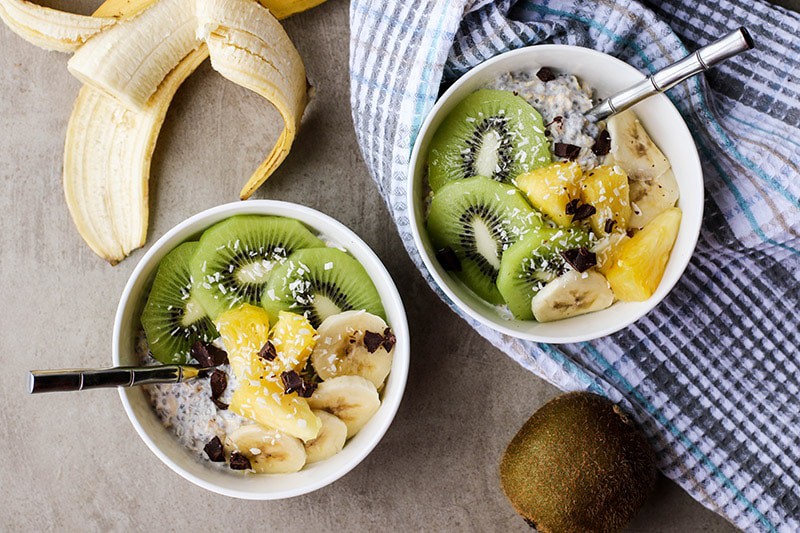 This post contains affiliate links, which means that if you click on one of the product links, I'll receive a small percentage of any purchases made. Thanks for supporting my blog and allowing me to continue to bring you these recipes!