This post may contain affiliate links. Please see my full
Disclosure Policy
for details.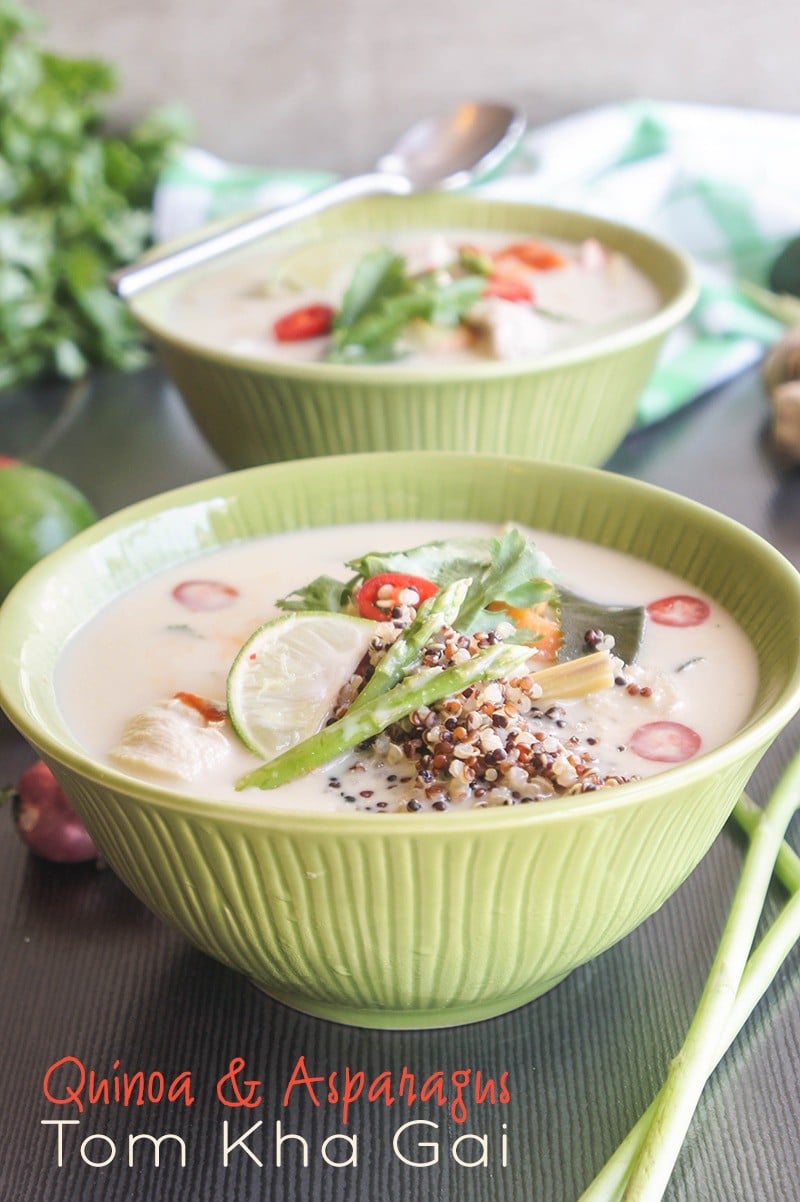 Thai is one of my favorite cuisines. I love the lighter sauces (than say, compared to Chinese), and the bright flavors of lemongrass, ginger, and fresh herbs. Tom Kha Gai is one of my favorite Thai dishes– and although not very traditional, this Quinoa Asparagus Tom Kha Gai might now be my favorite version.
In my travels, I've come to the conclusion that I typically prefer Americanized ethnic food. I'm sorry, but Mazatlan has nothing on Chipotle. And don't even get me started on Chinese food.
So on my first trip to Thailand, I was delighted to find that Thai food in it's homeland is very similar to restaurants in America– actually, it's even better, because the ingredients are fresher. So excited, that I threw caution to the wind, and although I typically stick to packaged nuts, fresh fruits, and eggs while traveling (especially when restaurant staff can't speak English and I can't communicate my life threatening allergies), I dove in and ordered all my favorites.
Not so smart in a country whose cuisine abounds in peanuts and tamarind.
Really, really not smart. And "not smart" is the nice way of saying it.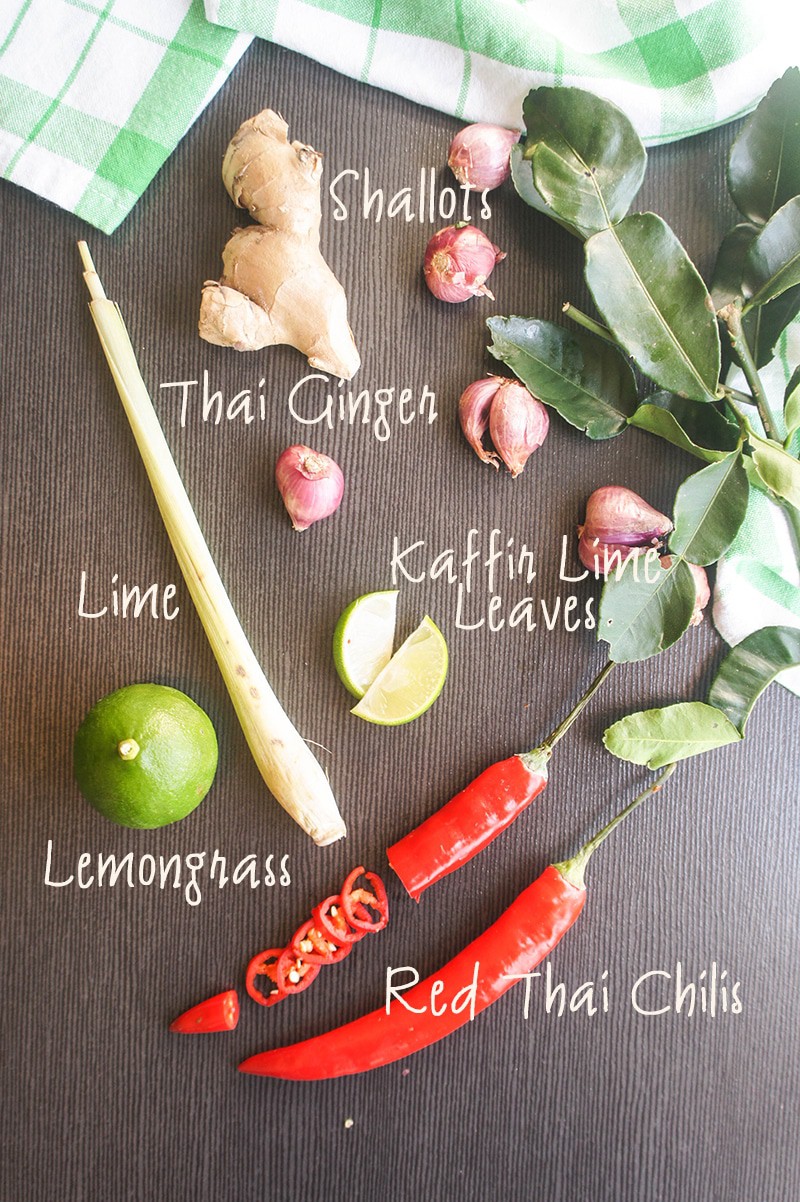 On a tiny island (Koh Tao– still my favorite destination in Thailand), with only a tiny medical center "hut" that closed at 5 PM, I found myself spending the night — well, I'll spare you the details, but it was a pretty terrible (and hello! wasted!) night. And I felt fortunate being sick (over and over again) was all it was, because my allergies can get much, much scarier than that.
I'd love to say I learned my lesson and I've 100% abstained from eating out while traveling in similar situations. No, I had to learn that lesson a few more times– but that's a whole other story!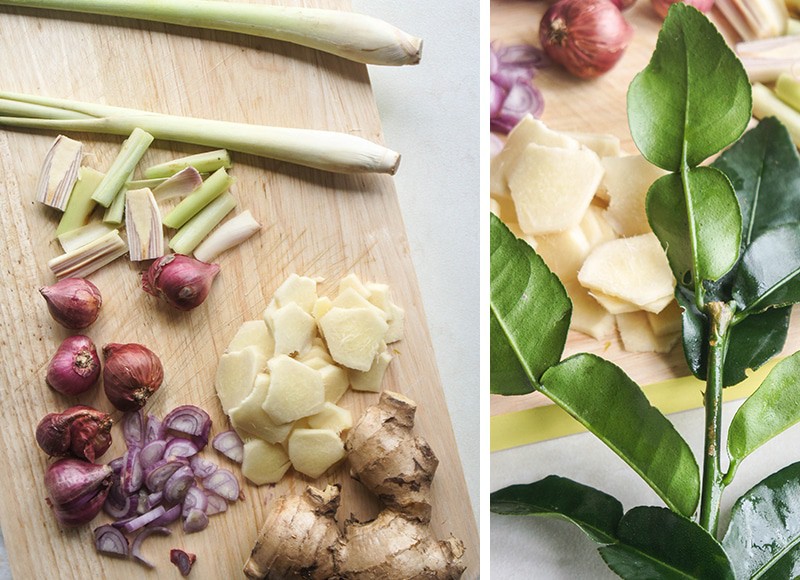 Here in Malaysia, I can't go pick up Chipotle, or Whole Foods hot bar, or even buy Amy's frozen dinners for hectic weeks. And I certainly can't run down to the Mamak and grab some local food.
But one thing I can do– order homemade Thai food from a lovely Thai woman my coworker is married to. Every week she sends out an order form, and prepares meals (and delivers them!) to my work for lunch or at the end of the day to take home for dinner. And because I know her, and she speaks English well, I trust she will prepare my meals free of my allergens.
The favors are amazing. And don't even get me started on what it costs. Let's just say that you can't buy a Big Mac Value meal for what we pay for dinner, and we always have lunch for the next day too.
There certainly are perks to living in one of the best food cultures in Asia. Even if I can't partake in 99% of it!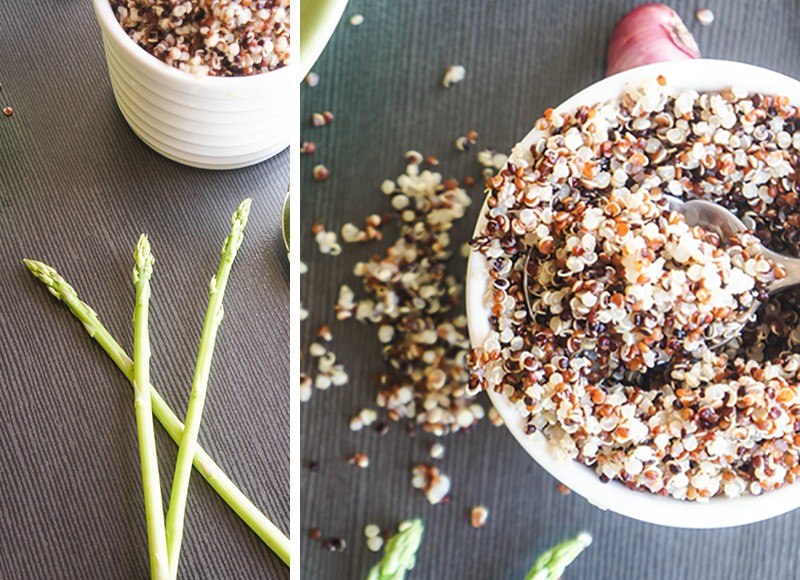 Alex and I both love her Tom Kha Gai, and it's a dish we always order when eating (at a resort, where we know it's safe!) in Thailand. I've been trying to make it at home this past year, and finally nailed it the past couple of times. The one thing we don't like about it? After finishing it, the bowl is still half full of the "bits" that aren't edible– leaves and twigs, the super flavorful kind.
I added some non-traditional veggies to this, and prepared the other ingredients so they could easily be eaten along with the soup, rather than just used for flavoring. The only thing that's left in the bowl is lemongrass, and I don't mind chewing on the bits leftover!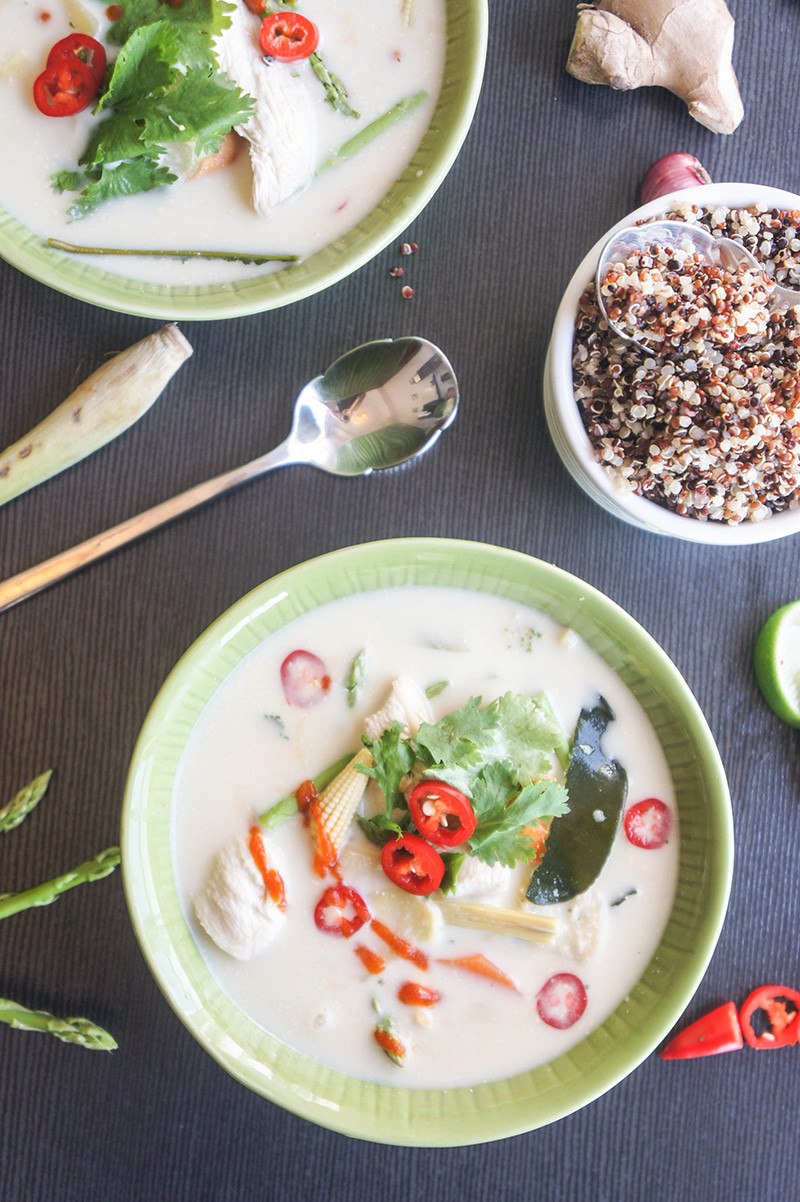 Tom Kha Gai is typically served with rice. I actually would have served this with rice, but opening my cupboard, I had about 12 other grains, and no rice. It's not something we prepare often– we really prefer millet and quinoa. The quinoa blew me away– the subtle nutty flavor was such a good combination with the creamy coconut base. I will always serve it this way now!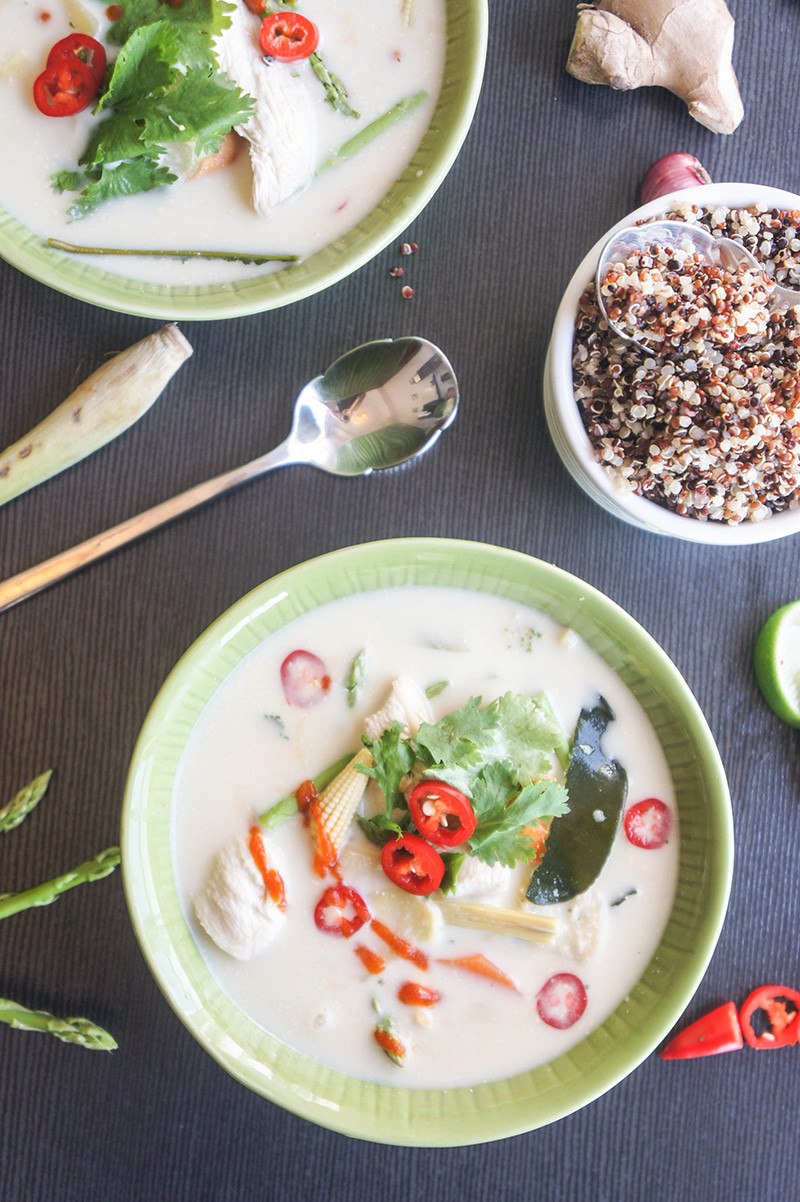 Quinoa Asparagus Tom Kha Gai (Thai Coconut Milk Soup)
Tom Kha Gai means "soup coconut chicken" in Thai. This boasts traditional Thai flavors, but with lots of vegetables rather than mushrooms. If you like mushrooms, add them in! I've found asparagus, cabbage, and green beans are really good in this soup. If you don't use the bouillon I recommend, or sub a vegetable broth, you will probably need to add a bit more sea salt to make up for the flavor. Feel free to use fish sauce to flavor as well, although I prefer not to. If possible, make this soup the day before serving. We enjoy it on the first day, but all the flavors really develop after it sits a while.
Print
Rate
Ingredients
2

teaspoons

sesame oil

1/2

cup

ginger

(or galangal) root, peeled and very finely sliced

1/2

cup

Thai shallots

(or other), roughly sliced or diced

3

stalks

lemongrass

(cut in 1 inch sections)

5

cups

water

+ 1 1/2 tablespoons vegetable bouillon (I use Rapunzel)

or substitute 5 cups vegetable bouillon

2

chicken breast

very thinly sliced

1

large carrot

(thinly sliced)

1

cup

baby corn

(sliced into smaller pieces)

2

cups

asparagus

(cut into 1 inch pieces)

2

cups

coconut milk

(canned, full fat -- roughly 1 15-ounce can)

4

kaffir lime leaves

torn

1-2

red Thai chilis

thinly sliced

2

teaspoons

sriracha

(mildly spicy -- or less, for less spicy soup)

sea salt

(to taste)

lime wedges

to garnish

cilantro

to garnish

1

cup

quinoa

cooked to package directions
Instructions
After peeling, very thinly slice the ginger. This helps the flavor come out, and also allows the ginger to become soft so it can be eaten along with the soup. The shallots need peeled, and can be roughly sliced or diced. To prepare the lemongrass, cut it into 1 inch sections, and "smash" it with the side of a knife to start releasing the oils.

Add ginger, lemongrass, and shallots to a large soup pot along with sesame oil. Saute over medium heat for about 5 minutes to start releasing the flavors.

Add water and vegetable bouillon. Gently boil (medium to medium high) for about 20 minutes. Do not replace water that is lost. Wait until the soup is finished, and then decide if it needs more water.

Add the thinly sliced chicken breast, and allow it to begin poaching in the broth.

Next, add carrots, baby corn, asparagus, red chilis, torn kaffir lime leaves, coconut milk, and sriracha.

At this point, taste the broth. If it seems too rich, add water ½ cup at a time. If it needs more flavor, add sea salt or extra bouillon. A squeeze of lime adds more flavor as well.

The chicken won't have a lot of flavor right after the soup is cooked. It will soak in the flavors of the ginger, lemongrass, and coconut milk as it sits. If you can make this soup early in the day, or even the day before, it tastes the best. We usually don't wait that long, but really look forward to eating the leftovers the next day knowing how much more flavorful it will be!

Garnish with extra lime wedges and cilantro, and extra sriracha, if needed.

Serve with quinoa to add to bowls.
Notes
For Paleo option, leave out quinoa.
For vegan option, substitute tofu for chicken, or simply leave the chicken out and serve with extra quinoa.
Nutrition
Calories:
418
kcal
|
Carbohydrates:
35
g
|
Protein:
24
g
|
Fat:
22
g
|
Saturated Fat:
15
g
|
Cholesterol:
48
mg
|
Sodium:
154
mg
|
Potassium:
905
mg
|
Fiber:
4
g
|
Sugar:
3
g
|
Vitamin A:
2168
IU
|
Vitamin C:
10
mg
|
Calcium:
56
mg
|
Iron:
6
mg
Other Thai Inspired Dishes: