This post may contain affiliate links. Please see my full
Disclosure Policy
for details.
A summery Salmon Patties recipe made with grated zucchini, jalapeño and cilantro. These zesty Whole30 Salmon Patties are perfect served with a sweet and spicy Mango Salsa.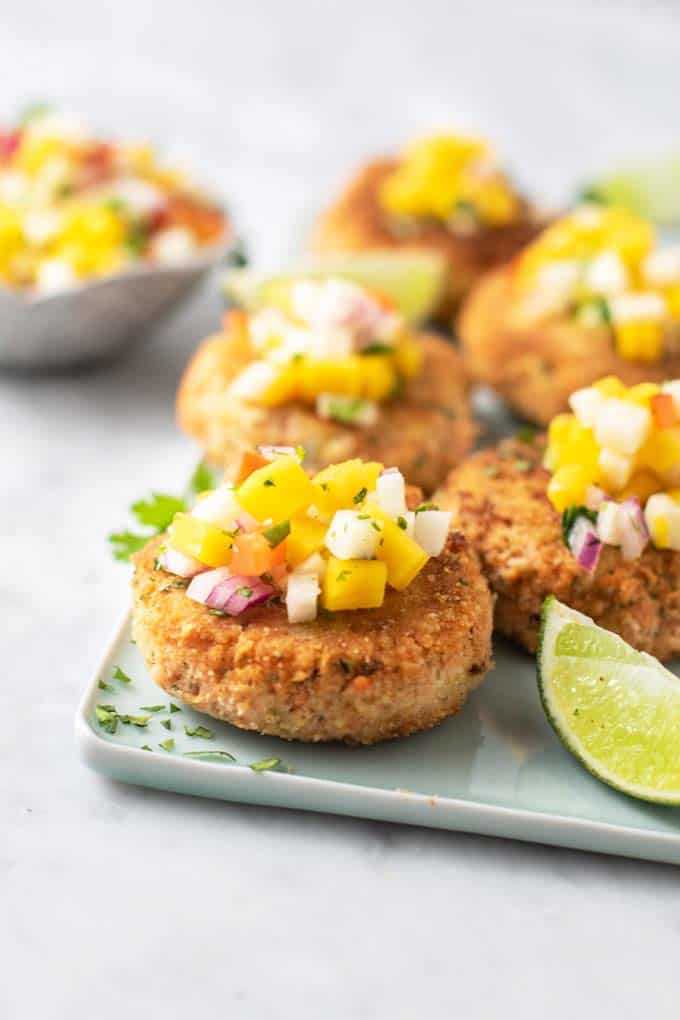 We are a salmon loving house. Often it's prepared super simply, like in this Foil Wrapped Salmon packets recipe.
Last fall, I started making these Sweet Potato Salmon Croquettes (Be still, my heart <3 ). Perfection! If you love salmon and sweet potatoes, this recipe is a must!
I wanted to make a spin on those, but with a summery twist. Loading them up with shredded zucchini and topping them with a bright, zesty, sweet mango salsa was the perfect solution!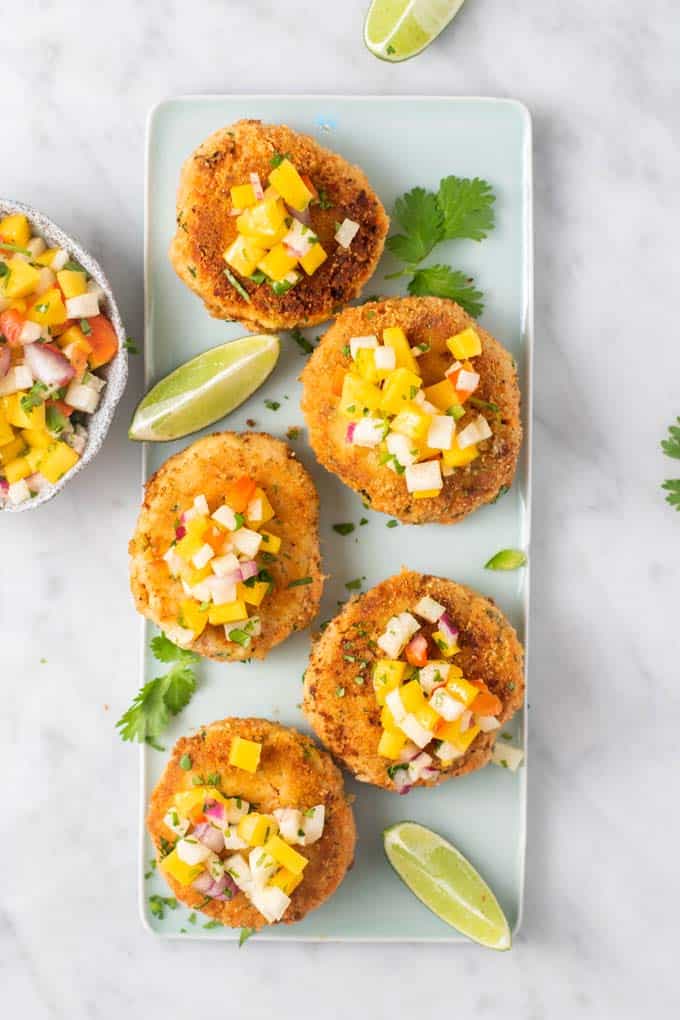 You'll love these Salmon Patties because:
They are a great way to use up leftover salmon. We grilled salmon one night, and repurposed the leftovers to make delicious salmon patties the next. If you aren't a huge fan of leftovers (like me!), this recipe will revive it!
Zucchini Salmon Patties are a high protein, low carb recipe that celebrates summer's best.
These make a wonderful summer dinner all on their own. Serve with a light salad or some cauliflower rice.
-OR- they make an elegant appetizer! Stun your guests with this beautiful and bright combo. These freeze well after cooked, and easily reheat. Add to a sheet pan in the oven at 425º F (for about 15 minutes, depending on if they've fully thawed).
How to Make Zucchini Salmon Patties
If you have leftover baked (or grilled) salmon, you're off to a head start with this recipe.
Otherwise, bake the salmon wrapped in foil at 425º F for about 18 minutes. It's best to slightly undercook the salmon for this recipe because later the salmon is cooked a second time.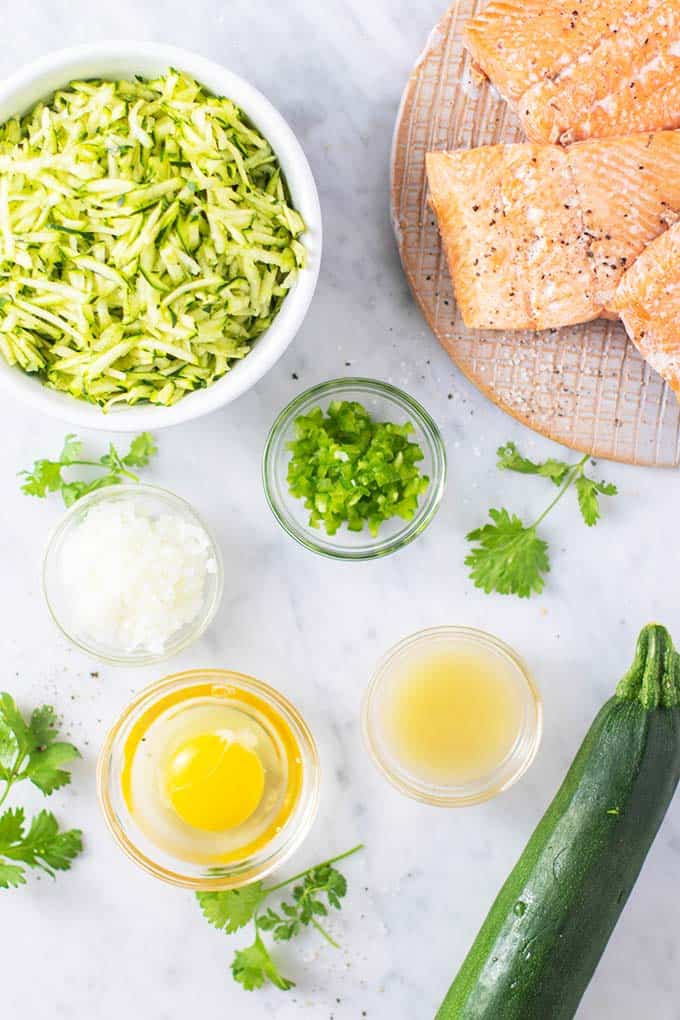 This summery salmon recipe includes:
Shredded zucchini (is your garden, or your neighbor's, overflowing yet?)
Jalapeño, for just a touch of heat.
Onion and cilantro, for fresh flavor.
Lime juice
Egg, to hold it all together.
Almond flour, to lightly coat and crisp the outsides.
Once the ingredients are prepped, it's as easy as:
Add all the ingredients to a food processor, and give it a few pulses.
Form patties, and then lightly coat them with almond flour.
Fry in a little olive oil to crisp up the outsides and heat them through.
Serve on their own with a squeeze of lemon or lime juice, or with a tartar sauce — or better yet, with my mango salsa.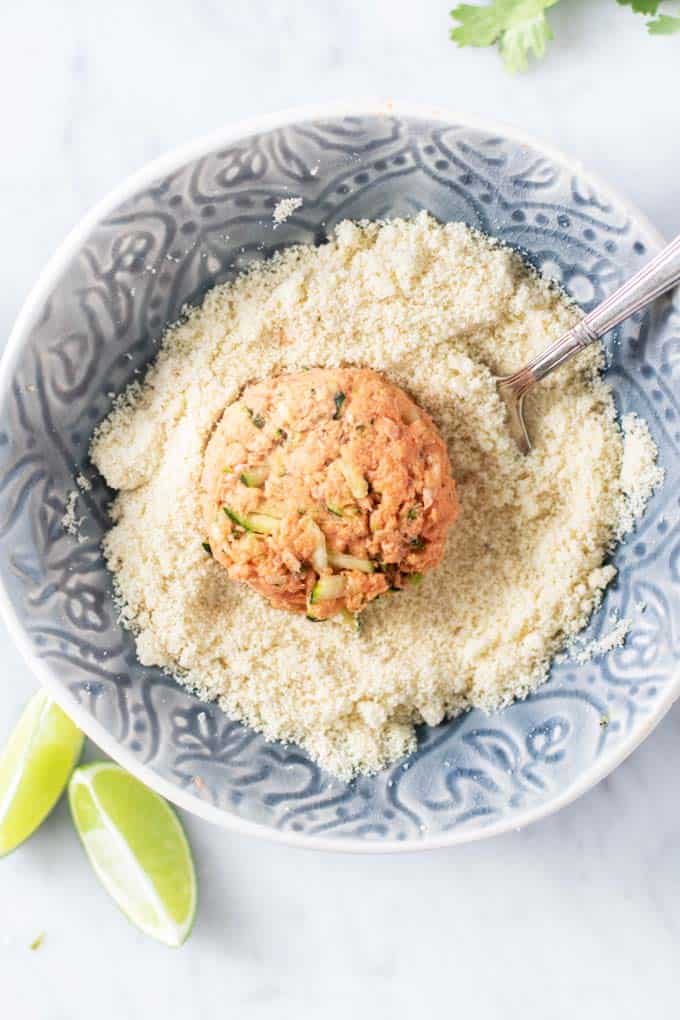 Easy Salmon Patties
If you're grilling a lot this summer, chances are you'll have leftover fish at some point! That is actually how this recipe came about.
After a family dinner, I had lots of salmon leftover, and I am not huge on leftovers! I wanted to use the salmon (yikes, it's expensive!), but to really enjoy the meal, it needed a makeover.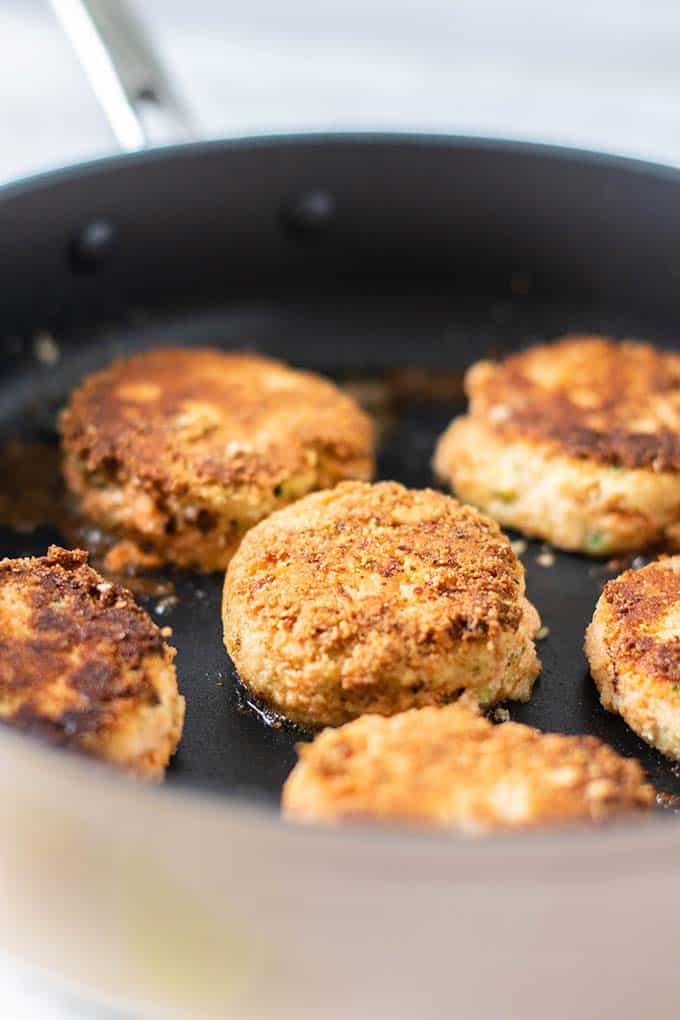 It doesn't take a lot of ingredients to make salmon patties. I used ingredients on hand- zucchini, cilantro, onions and jalapeño. If you're missing one of these ingredients, try subbing some fresh herbs, chopped spinach, or even riced broccoli.
We took these to the next level by topping them with a mango salsa. This combination is incredible and is a new go-to for summer parties.
Gluten Free & Whole30 Salmon Recipe
This recipe is kept gluten free and Whole30 approved by using almond flour as the coating.
In this salmon patty recipe, I used crushed brown rice crackers. The brown rice crackers are also a great choice for this recipe if you don't need it to be grain free or Whole30. Rice crackers crisp up and create a more crunchy exterior for the salmon patties.
I chose to lightly pan fry the salmon patties this time.
If you'd prefer baked salmon patties:
Preheat oven to 425ºF
Prepared salmon patties as instructed in the recipe below, but instead of adding them to a hot frying pan, add them to a lined baking tray (I like to use parchment, but an alternative option is to heavily spray a baking sheet with olive oil).
Lightly spray salmon patties with olive oil or avocado oil spray.
Bake for 15 minutes, flip over, and bake for another 6-8 minutes, until golden brown on both sides.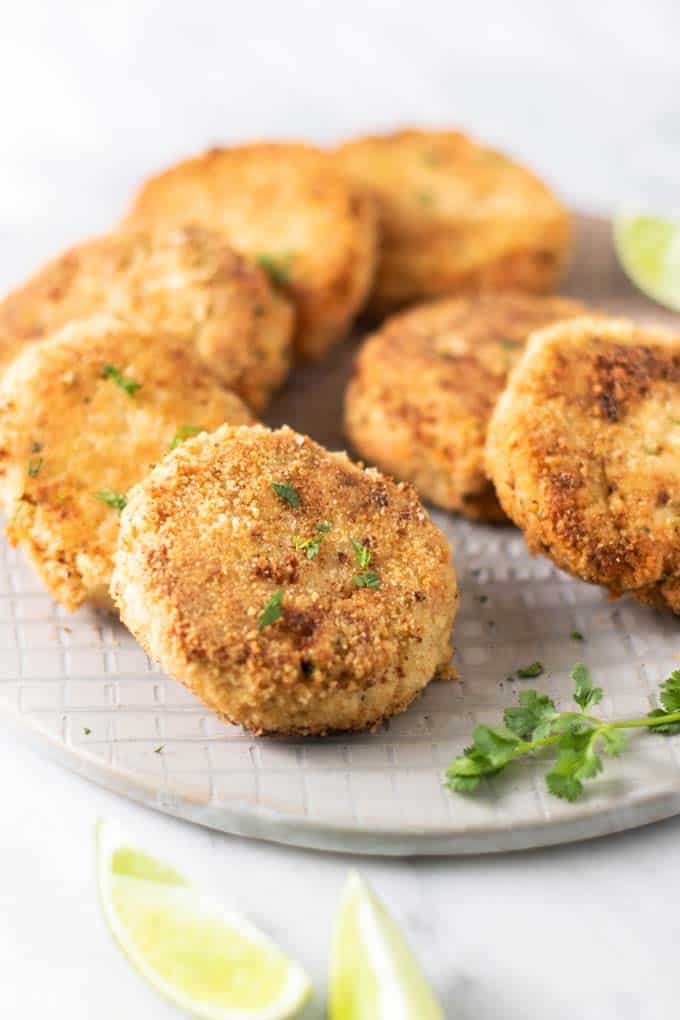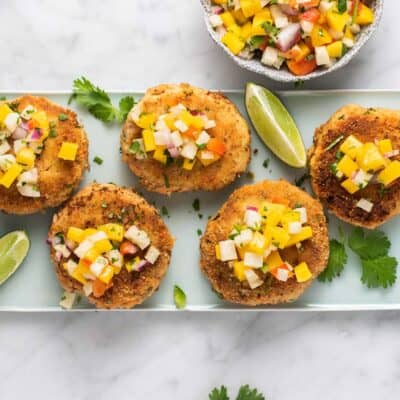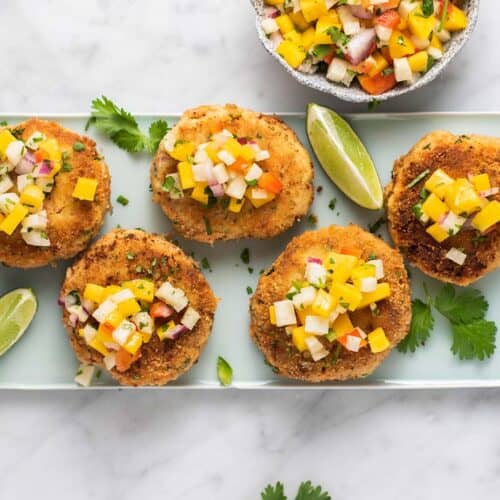 Zucchini Salmon Patties
A delicious and summery salmon patty recipe made light. Serve these as a meal with a salad, or make them small to serve as an appetizer. I like to lightly pan fry these, but directions for baking are included below! Top these with your favorite fish sauce, or try my mango salsa for a fun twist.
Print
Pin
Rate
Ingredients
1 1/2

pounds

salmon

cooked*

2

cups

zucchini

shredded

2

eggs

1/4

cup

cilantro

chopped

2

tablespoons

onion

minced finely

2

tablespoons

jalapeno

minced finely (or to taste)

3

tablespoons

lime juice

2

teaspoon

salt

3/4

cup

almond flour

olive oil

for frying (about 1/4 cup)
Instructions
Add salmon, zucchini, eggs, onion, jalapeños, cilantro, lime juice and salt to a food processor. Pulse until the mixture is combined but there is still some texture in the salmon and vegetables.

Add almond flour to a bowl.

Heat oil in a large skillet over medium high heat. Once the oil is hot, move to the next step.

Use 1/4 cup to scoop salmon mixture, and form patties with hands. If you'd like to make appetizer sized salmon patties, use a heaping tablespoon and follow the same instructions.

Coat the patties on both sides with almond flour, and then add to the hot pan. Adjust the heat if they are browning too quickly or too slowly. They should take about 5 minutes per side to turn golden.

Remove patties from pan, and add to a plate lined with a paper towel.

Serve hot, or store refrigerated up to 3 days or frozen up to 1 month.

To reheat, allow frozen salmon patties to thaw, and then bake at 425º F for 15 minutes to crisp up again.
Notes
*I typically make these salmon patties with leftover salmon. If you don't have leftover salmon to use, wrap salmon in foil, and bake at 425º F for 18-20 minutes. The salmon should be cooked medium to medium well. Under baking the salmon will keep the patties from drying out when fried or baked.
**Nutrition facts do not include oil for frying.
Nutrition
Calories:
91
kcal
|
Carbohydrates:
2
g
|
Protein:
9
g
|
Fat:
5
g
|
Saturated Fat:
1
g
|
Cholesterol:
39
mg
|
Sodium:
154
mg
|
Potassium:
232
mg
|
Fiber:
1
g
|
Sugar:
1
g
|
Vitamin A:
100
IU
|
Vitamin C:
5.1
mg
|
Calcium:
19
mg
|
Iron:
0.6
mg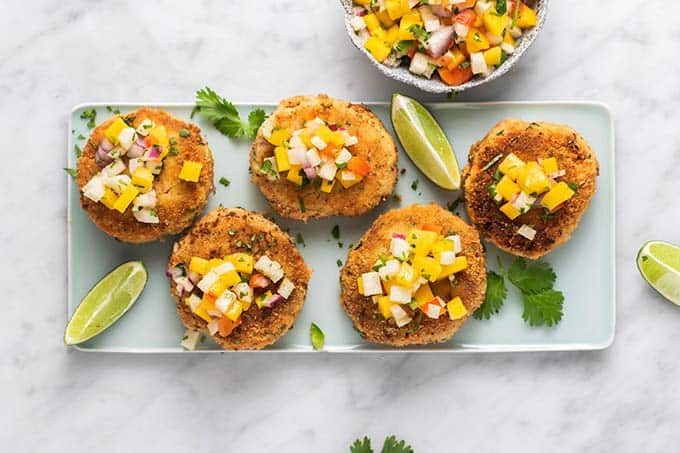 Other Salmon Recipes:
I'd love to connect with you on social media! Find me on Facebook or Instagram where I post daily healthy eating and lifestyle inspiration.
This salmon patties post may contain affiliate links, meaning if you make a purchase, I will receive part of the sale as a commission. This helps me continue to bring you lots of fresh and inspired recipes!