This post may contain affiliate links. Please see my full
Disclosure Policy
for details.
I'm excited to share with you today a blog I found recently– the Omnivore's Cookbook. Maggie Zhu, blogger and recipe developer, is a Chinese food extraordinaire, although she posts all types of Asian inspired recipes, and some Western dishes as well. I'm blown away by her jaw-dropping photos, step-by-step instructions, and drool-worthy Asian dishes. I also love Maggie's recipes because she finds ways to lighten them up, add veggies, and still manages to keep them looking and tasting authentic.
You really need to check out her recipes for Tomato Noodle Soup and General Tso's Chicken. Both inspire me to bring out the Asian ingredients.
Maggie currently lives in Beijing, but is engaged and will be moving to thes States soon to begin married life. I am very curious to see how her recipes change with the different ingredients she has available to her after the move. For today, here is a recipe she's prepared for all the veggie lovers out there.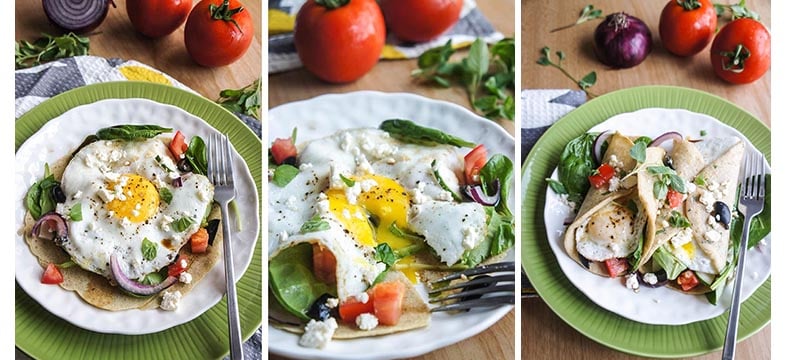 But wait- first, proof that I, too, have been cooking this week. I posted a recipe over on Healthy Recipe Ecstasy this week for Buckwheat Crepes with Greek Salad & Egg. Be sure to check out the recipe, and stay for a bit and check out Michelle's beautiful blog (perhaps some Baked Dill and Onion Potato Chips with Goat Cheese Dipping Sauce, or some Sweet Potato Apple Soup with Browned Sage Butter— yum!).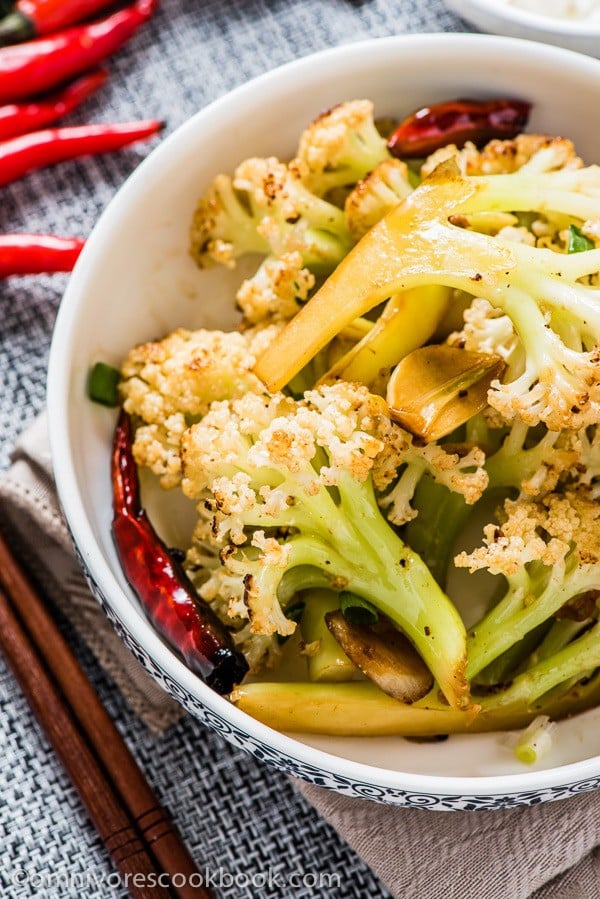 Today, I want to introduce a quick and easy vegan stir fried cauliflower dish that creates a great texture, just like oven-roasted. It uses a pungent, savory, and slightly sweet sauce to bring out the greatness of the cauliflower. In addition to this recipe, I also want to teach you a simple Chinese cooking skill that can help you create very flavorful vegetable dishes in less than 30 minutes, with just a few ingredients.
How do you create a nicely charred vegetable, yet maintain a tender texture, by stir frying?
The key word here is "dry fry" (干煸, gan bian). It's a Chinese cooking term that means to "fry" the vegetable with a little oil until charred and cooked through. Please don't be intimidated by the word "fry". The truth is, cooking with this method requires the same amount of oil that a normal stir fried dish does. The key is to roast the vegetables at a temperature lower than that used for normal stir-frying, and to cook the veggies for relatively long time, so they will lose some of their moisture, resulting in a crispy surface.
After the vegetables are roasted, they are then cooked with several pungent spices – fresh ginger, garlic, dried chili pepper, and Sichuan peppercorn – and soy sauce to generate a super flavorful dish.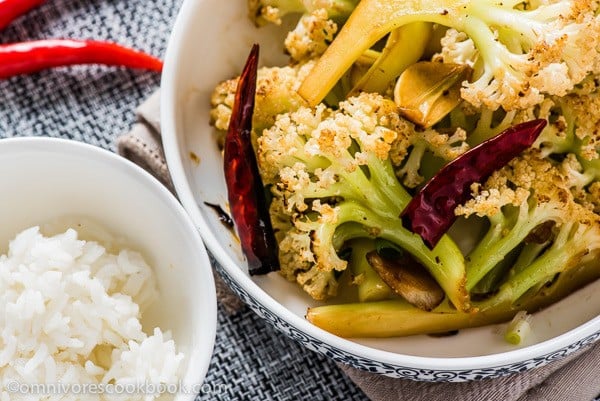 If you've never heard of Sichuan peppercorn, it's an essential spice in Sichuan cuisine that creates a numbing flavor. It is one of the best ways to infuse oil with a nice aroma, so the finished dish will have a more complex flavor, rather than simply being spicy. If you don't have any Sichuan peppercorns, you could skip them. But I recommend you give it a try, because it will transform a good dish into a great one.
In most Chinese dry fried dishes, there is usually a small amount of meat added to enhance the flavor, like in this green bean dish. However, I found the vegetarian version to be just as delicious. In addition to cauliflower, you can also use this recipe to cook other vegetables – including green beans, bell peppers, potatoes, celery, and bamboo shoots.
By the way, although I used a wok in this recipe, you can replace it with a normal skillet (preferably a nonstick skillet). Be careful, though – you should pick a large skillet that can hold all the ingredients. For a less spicy dish, you can reduce the dried chili peppers to 2 or 3. If you don't break the chili peppers apart, the finished dish won't taste very spicy at all.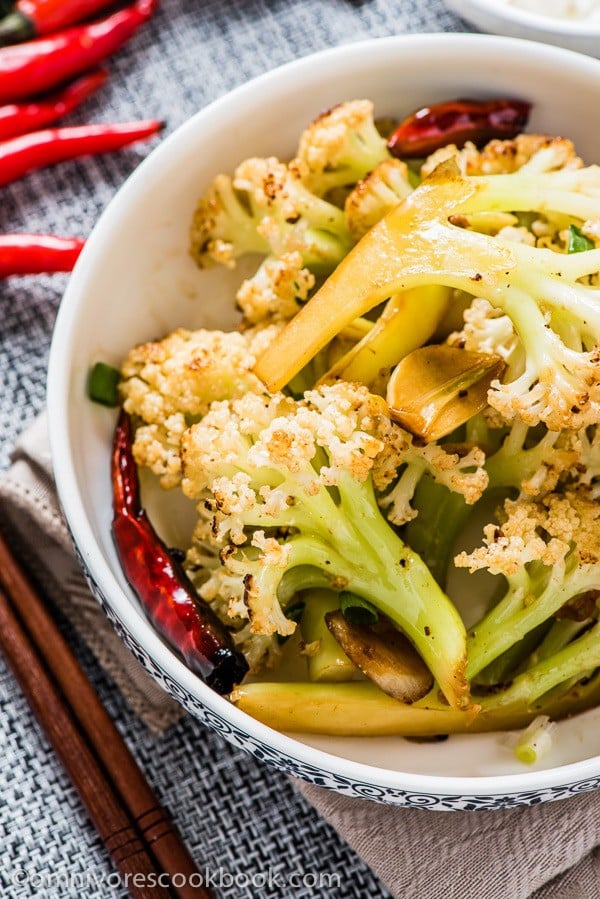 Szechuan Style Stir-Fried Cauliflower
Visit Omnivore's Cookbook for more great Asian recipes. This spicy cauliflower dish is great for veggie lovers-- and combines great Chinese flavors with a little (or a lot) of spice!
Print
Rate
Ingredients
1

head

cauliflower

small (400 grams/14 ounces)

1 1/2

tablespoons

peanut oil

or vegetable oil

1

teaspoon

whole Sichuan peppercorn

4

cloves

garlic

sliced

1

large

piece ginger

sliced into strips

5

dried chili peppers

1

tablespoon

light soy sauce

1

teaspoon

sugar

1/4

teaspoon

salt
Instructions
Cut cauliflower into bite-sized florets and rinse with tap water. Drain and set aside.

Heat 1 tablespoon of oil in a wok over medium high heat until hot. Add cauliflower. Stir and cook until the cauliflower is charred on the surface and almost cooked through, about 4 minutes. If the wok gets too hot, turn to medium heat. You should hear a vibrant sizzling during the cooking, but without burning the cauliflower. Transfer cauliflower to a plate.

Add the remaining ½ tablespoon of oil into the same wok and turn to low heat. Add Sichuan peppercorn. Stir and cook until fragrant and the peppercorn turns dark brown, about 1 minute. Scoop out peppercorns and discard them.

Add the remaining ½ tablespoon of oil into the same wok and turn to low heat. Add Sichuan peppercorn. Stir and cook until fragrant and the peppercorn turns dark brown, about 1 minute. Scoop out peppercorns and discard them.

Add garlic, ginger, and dried chili peppers into the wok (for extra spiciness, break the chili peppers apart by hand before adding them). Stir a few times until fragrant.

Add cauliflower back into wok and turn to medium high heat (or high heat for electric stove). Swirl in light soy sauce and sprinkle the sugar and salt over the cauliflower. Stir to mix well, for about 30 seconds. Turn to lowest heat. Taste the cauliflower (be careful, it's hot) and adjust the seasoning as needed, by adding a bit more salt, and mix well again.

Transfer to a plate and serve warm as a side dish.
Nutrition
Calories:
100
kcal
|
Carbohydrates:
11
g
|
Protein:
4
g
|
Fat:
6
g
|
Saturated Fat:
1
g
|
Sodium:
441
mg
|
Potassium:
478
mg
|
Fiber:
3
g
|
Sugar:
4
g
|
Vitamin A:
166
IU
|
Vitamin C:
70
mg
|
Calcium:
42
mg
|
Iron:
1
mg
I hope you enjoy the recipe, and happy cooking!