This post may contain affiliate links. Please see my full
Disclosure Policy
for details.
I'm ringing in the New Year with Thai Ginger Fried Rice.
We're a month into the new year, and now celebrating Lunar New Year. The multicultural holidays are one of the things that make living in Malaysia so exciting. The population here is about 65% Malay (Muslim), 15% Chinese, 10% Indian, and 10% "other". Muslim, Hindu, and Chinese holidays are observed, in addition to Christmas and Malaysian national holidays like Independence Day and The King's Birthday. There are 14 public holidays celebrated federally, and even more observed by individual states.
I've had a four day weekend for Chinese New Year and Federal Day. To celebrate these days off, I like to experiment in the kitchen and create festive meals. One of the best ones recently? Thai ginger fried rice, lightened up by using cauliflower instead of rice, and lightly stir frying it in sesame oil. Not really fried rice at all, but similarly fun to eat. By adding a few extra scrambled eggs, this side dish becomes main course worthy, and makes a great lunch (the leftovers are even good cold!).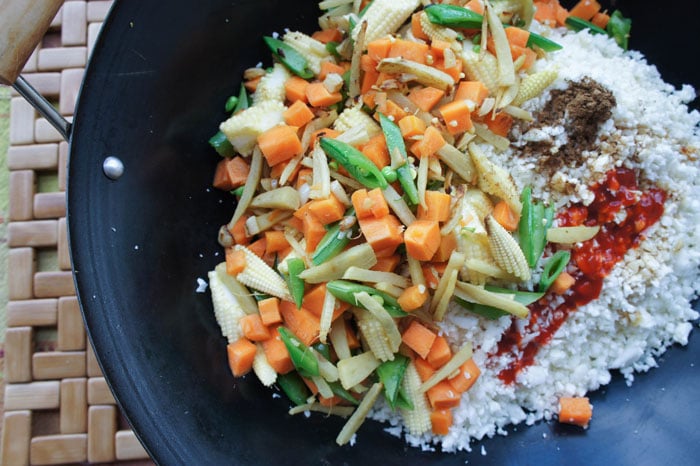 The first time I made this, after he had demolished a bowl and asked for a second, I asked Alex if he could tell I hadn't made it with rice. He said he couldn't tell- and guessed I had made it with millet, "or one of those other grains you play with." Nope! The secret here is nutrient dense cauliflower. A wonder vegetable, I tell you. After I became hooked on cauliflower pizza crusts (still trying to find the perfect recipe for this with either little or no cheese- but I think the cheese is what holds it together so well!), I realized how versatile this white, mild flavored vegetable is.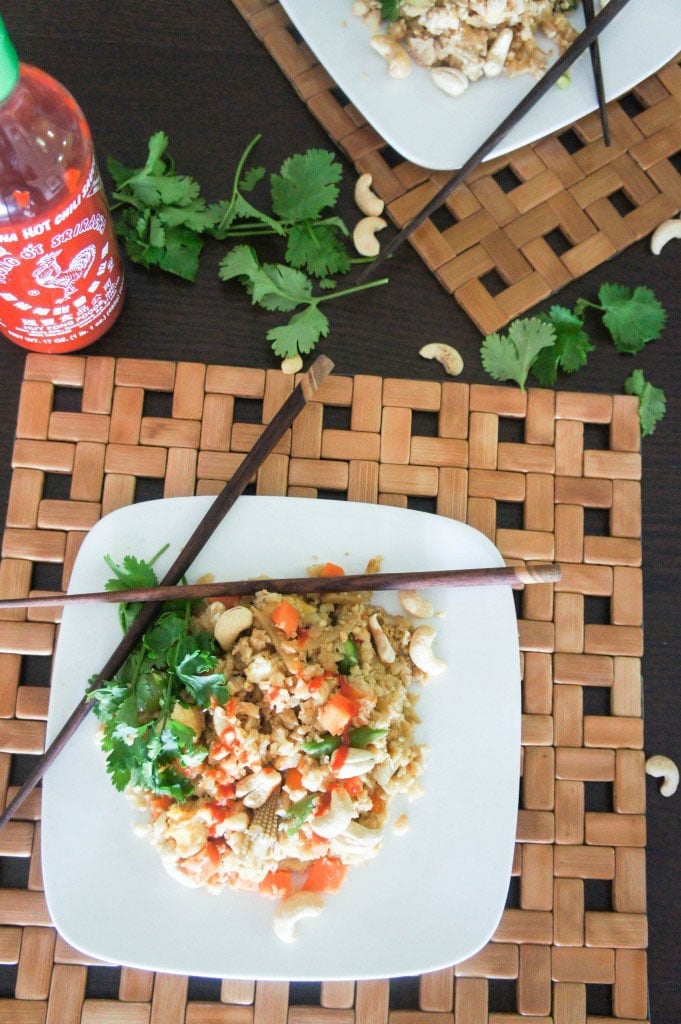 I love Thai pineapple fried rice, so I thought I'd throw a couple chunks of pineapple, and some crunchy roasted cashews on top.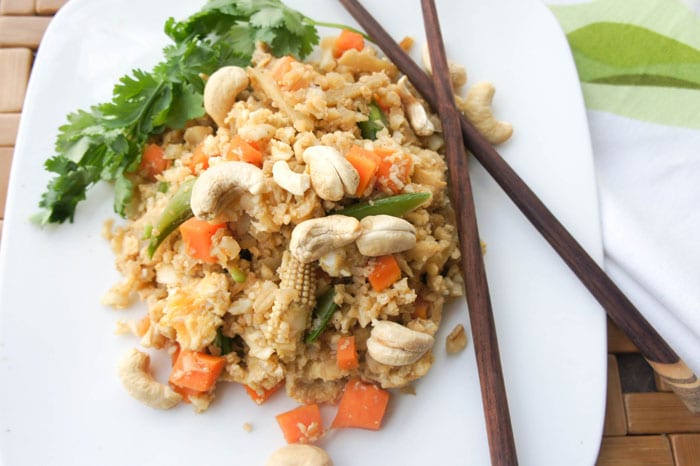 And I couldn't forget the sriracha. When I first moved to Malaysia, I thought for sure I'd be able to find my beloved "rooster sauce." But, SE Asians love their sweet sauces. I found nothing but rows upon rows of sugary chili sauces, even the ones imported from Thailand. Eventually, I did some digging, and found out the spicy stuff in the green tipped bottle comes from California- not Thailand! So, because of my hot sauce addiction, sriracha was added to the list of things I have to bring back in my suitcase on trips home.
Try this out on Mike. Shhh. Don't tell him it's cauliflower. Let him try to guess what's in this Thai ginger fried rice.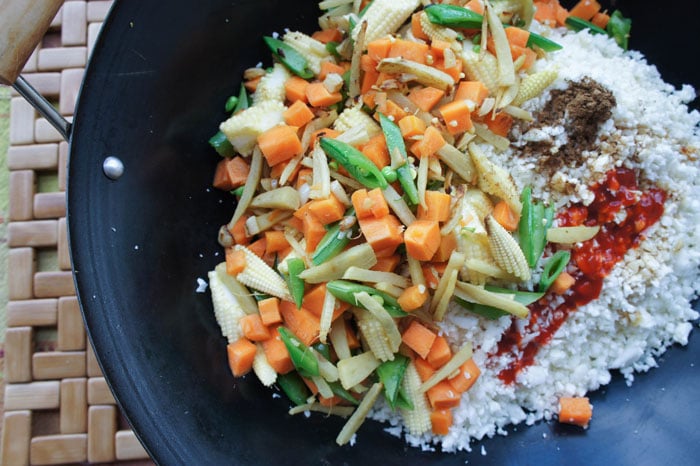 Thai Ginger "Fried Rice"
A "fried-rice" impostor good enough to win over the critics. Pungent stir-fried ginger and garlic are added, along with a healthy does of stir fry vegetables. Add more eggs, chicken, or shrimp to increase the protein to make this a complete meal.
Print
Rate
Ingredients
1

medium

head of cauliflower

1

cup

carrots

1

cup

snap peas

1

cup

baby corn

1

cup

fresh or canned pineapple

(chunks)

2

eggs

1/4

cup

fresh ginger root

1/4

cup

fresh garlic

2-3

tablespoons

soy sauce

1

tablespoon

sesame oil

1

tablespoon

rice wine vinegar

Sriracha Chili Sauce

(to taste, optional)

cashews

(garnish, optional)

cilantro

(garnish, optional)
Instructions
Chop up the head of cauliflower into florets, then add to the food processor with the chopping blade. Process until cauliflower is broken up into rice-sized pieces. Only fill the food processor ½ full, and process in batches.

Prepare the vegetables and pineapple by chopping them into bite-sized pieces.

In a large frying pan, lightly scramble the eggs, cooking them about half way. Set them aside in a dish.

Mince or finely slice the garlic and ginger. Add ½ tablespoon of sesame oil to the frying pan, and saute over medium low heat for 5-10 minutes, until soft.

Turn the heat up to medium-high, and add the remaining ½ tablespoon of sesame oil, and the chopped stir-fry vegetables and pineapple to the pan. Continue to cook until vegetables are tender. Then, add the "riced" cauliflower, and mix well. Continue to stir and cook until cauliflower is soft. Stir in the eggs, and allow to fully cook into the mixture.

Add soy sauce, rice wine vinegar, and Sriracha. Adjust the soy sauce and Sriracha to taste.

Garnish with fresh chopped cilantro and toasted cashews-- optional, but highly recommended!
Nutrition
Calories:
226
kcal
|
Carbohydrates:
35
g
|
Protein:
10
g
|
Fat:
7
g
|
Saturated Fat:
1
g
|
Cholesterol:
82
mg
|
Sodium:
604
mg
|
Potassium:
871
mg
|
Fiber:
7
g
|
Sugar:
13
g
|
Vitamin A:
5919
IU
|
Vitamin C:
112
mg
|
Calcium:
86
mg
|
Iron:
2
mg
Not exactly a Chinese version of fried rice, but Chinese New Year is huge across Asia. Popular celebratory foods vary from country to country. Pineapple tarts are huge among Chinese Malaysians, but a mainland Chinese person would tell you they aren't a Chinese New Year food at all!
Here's to a prosperous year of the horse!
xxx Michelle