This post may contain affiliate links. Please see my full
Disclosure Policy
for details.
This Vegetarian Enchilada Casserole is so easy to put together, and freezes well for healthy, quick dinners. This is stuffed with black beans, corn, peppers and onions, and is a meal that the whole family will enjoy. After you've had dinner, you'll be so glad you have a 2nd of these in the freezer for another night!
This post is sponsored by Sharp Home USA — a brand that brings high quality appliances to our kitchens to make life a little bit easier! I only work with brands whose products I genuinely love. Thank you for supporting the brands that help keep Sunkissed Kitchen running at full speed.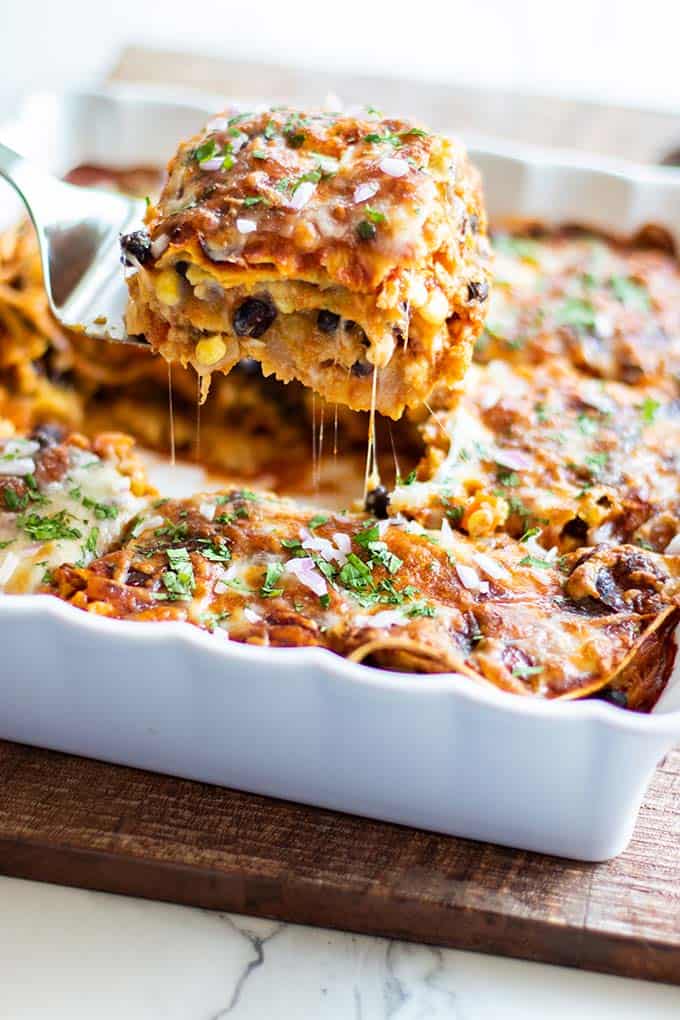 Make Ahead Vegetarian Meals to Freeze
I adore South of the border flavors, and combine with that the ease of putting together this casserole, and you've hit dinner gold.
This recipe is one that I make often, with variations, but this classic mix of peppers, onions, black beans and corn is my favorite combination. So much wonderful veggie goodness, but they are also all things that freeze so well.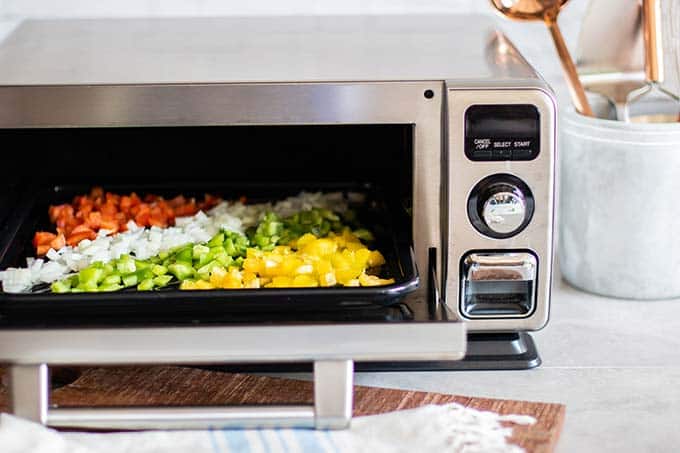 You could go super simple with this, and just use the beans and throw in some frozen corn. With that option, you could have this ready to go in no time.
Another option is to totally do it up with extra veggies — broccoli, cauliflower, spinach or chunks of butternut squash are all wonderful in enchiladas.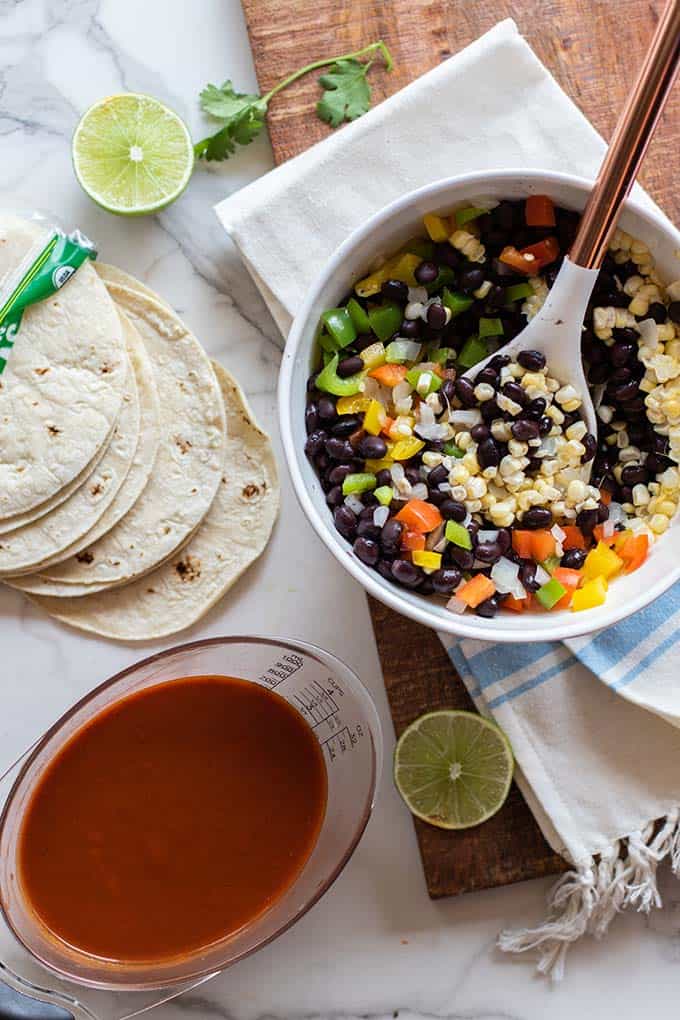 I use my homemade enchilada sauce in this recipe. It makes a large batch (more than you'll need for this recipe!), so you can also freeze the extra and use it later on down the road.
Freezing Tips
You have several options when preparing this meal.
One, as I've done in these photos, use a really large pan, and make a giant casserole. This is enough for several meals. I like to take slices of it and freeze them individually, and when I am ready to enjoy one, I just have to pop it in my Sharp Superheated Steam Countertop Oven, set it on the Reheat function, and it goes from frozen to tasting fresh as fast as I can prepare a side salad.
The second option is to make 2 small casseroles that will easily feed a family of 4. Dinner is ready for the night, and you have a second to freeze. My family asks for this casserole often, so believe me, you'll be so happy on a busy weeknight to be able to pull the 2nd out of the freezer and have a dinner that just needs a little time to reheat!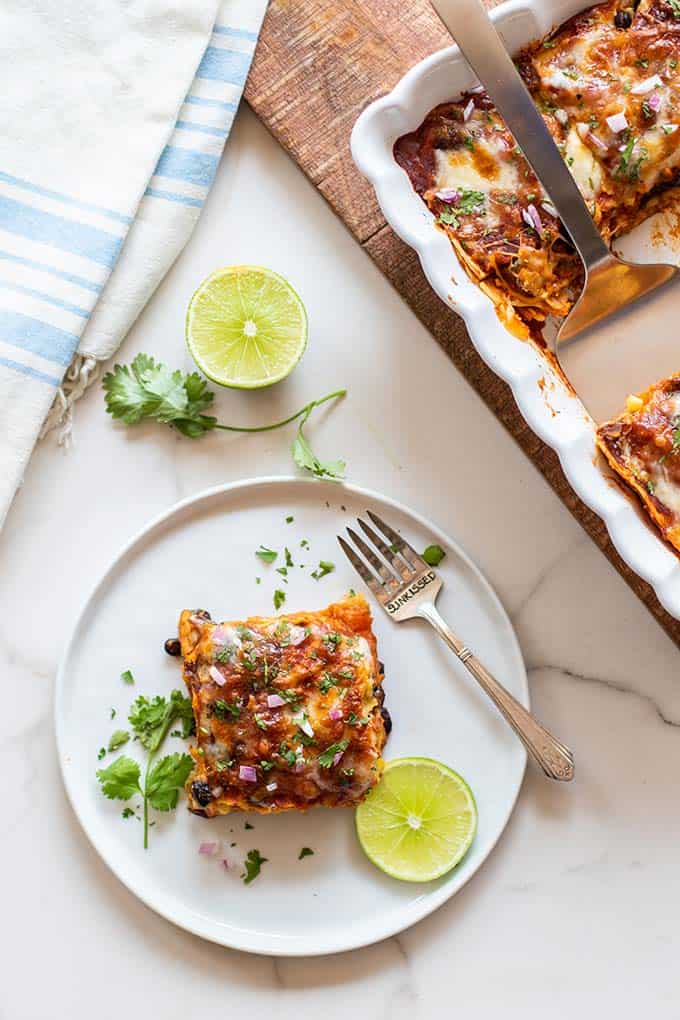 I use 2 8×8 pans when I do it this way, and one goes into my Sharp Superheated Steam Countertop Oven to bake, and the second gets wrapped in foil and then put in a freezer bag to stay fresh in the freezer for up to 3 months (however, it's typically only a couple of days before we pull it out! Maybe I should make 4 at a time.).
Besides cooking 1/3 faster in my Sharp Superheated Steam Countertop Oven, it also makes reheating things a dream! The steam keeps everything moist, all while browning and crisping (do you see the gorgeous crunchy bits on this casserole?). There's no need to defrost or plan ahead to prepare the 2nd casserole — it will take 7-10 minutes longer to bake if you're starting from frozen, but that's no big deal at all!
If you'll be baking in a standard oven, I recommend pulling your casserole out to defrost 1-2 hours prior to baking. Then, bake as usual.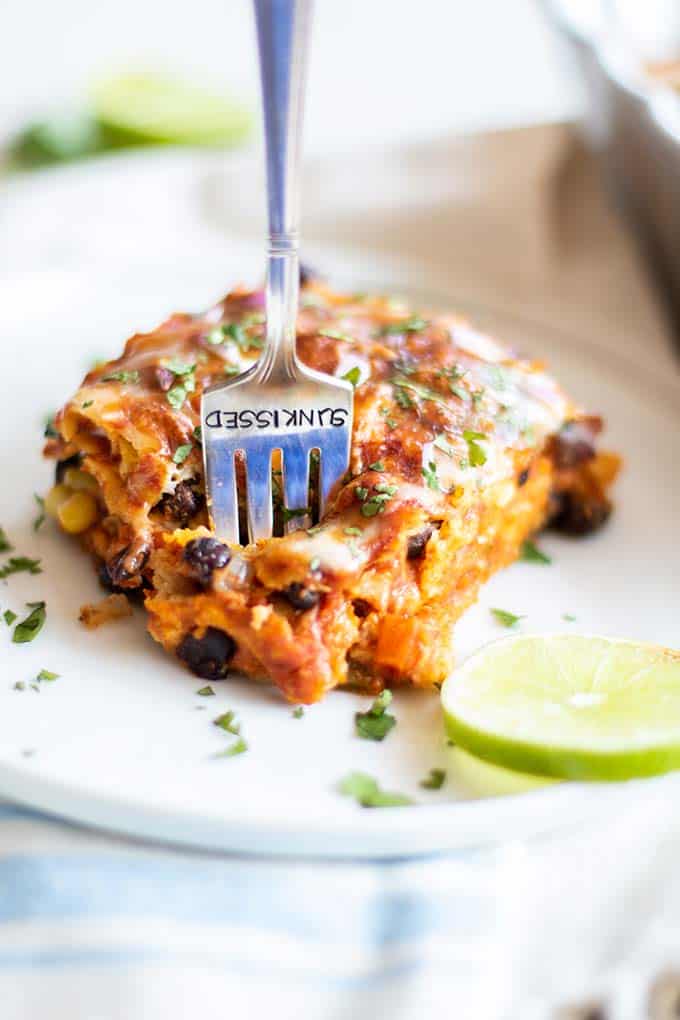 Tips for Vegetarian Enchilada Casserole
Switch it Up: I use corn tortillas in this recipe, but flour would work as a substitute. Also, customize the veggies to suit your taste or to use up what you have in the refrigerator. Spinach works well, and broccoli chopped fine would also be great. If your kids are finicky about vegetables, chopped zucchini or cauliflower also blend into the sauce and cheese and could be a great way to sneak in a few more.
Make it Gluten Free: Corn tortillas are gluten free, unless you buy the "soft" corn tortillas, which have wheat flour.
Save time: Buy frozen corn, and use veggies that don't need to be sautéed first. Really finely chopped broccoli or cauliflower, or spinach, mixed with frozen corn would be fine without pre cooking.
Make it Ahead: See instructions above for freezing this casserole. It is also fine to keep it in the refrigerator for 2-3 days before baking, if preferred.
Increase the Protein: Using leftover or rotisserie chicken is a great way to add protein to this meal if you don't want to keep it vegetarian.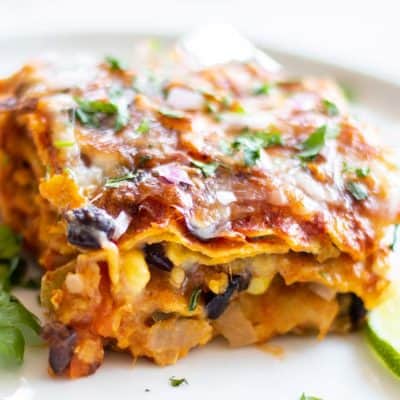 Vegetarian Enchilada Casserole
These healthy, vegetarian enchiladas are a delicious meal the whole family will enjoy. The recipe is big, and will make enough for 2-3 meals for a family of 4. Either make a really large casserole (enough for 8!), or assemble 2 in 8x8 pans and freeze one for later.
Print
Rate
Ingredients
4

cups

enchilada sauce

(1/2 recipe of my homemade enchilada sauce)

12

corn tortillas

1

tbsp

olive oil

2

onions

medium

1/2

tsp

sea salt

2

bell peppers

(I used 1 green, 1 yellow)

2

ears

corn

(sub 2 cups frozen corn)

1

can

black beans

15 ounce

3

cups

cheddar cheese

shredded

cilantro

(optional, to garnish)
Instructions
In a bowl, add chopped onions and peppers. Drizzle with olive oil and season with sea salt.


Using the Sharp Superheated Steam Countertop Oven, add peppers and onions to the broiling tray, and bake at 425 degrees F for 15 minutes. If not using a steam oven, the onions and veggies can be sauteed in a frying pan for 5-7 minutes.

When the veggies are roasted, put them back in the bowl, and add the black beans and corn. Mix to combine.

In an 11x11 pan, add 1/4 cup enchilada sauce to the bottom, and then add the first layer of tortillas. If you do not have a pan this size, you can split this recipe into 2 8x8 pans. If splitting into 2 pans, you'll need to cut some of the tortillas, and possibly use a few extra to make the layers.

On top of the tortillas, add a layer of the black bean and veggie mixture. Top with cheese, and then add about 1/2 cup more enchilada sauce (or more if you'd like!).

Repeat until there are 4 layers of tortillas, and 3 layers of veggies, black beans and cheese.

On top of the final layer of tortillas, add 1/4 cup sauce and the rest of the cheese.

Bake uncovered at 425 for 25 minutes in the Sharp Superheated Steam Countertop Oven. If using a conventional oven, preheat oven to 425, and wrap the casserole in foil. Bake for 30 minutes, uncover, and bake for an additional 5-10 minutes to brown the cheese.

There should be a little leftover enchilada sauce. Drizzle on top, or serve on the side if you like. You can also be more generous with the sauce while making your casserole and use the whole amount.
Notes
*If preparing 2 casseroles, freeze the 2nd unbaked. When ready to bake it, you can put it directly into the Sharp Superheated Steam Countertop Oven, and add 10 minutes to the total baking time. If baking in a regular oven, defrost for 1-2 hours prior to baking.
Nutrition
Calories:
338
kcal
|
Carbohydrates:
35
g
|
Protein:
16
g
|
Fat:
15
g
|
Saturated Fat:
8
g
|
Cholesterol:
39
mg
|
Sodium:
1305
mg
|
Potassium:
291
mg
|
Fiber:
7
g
|
Sugar:
9
g
|
Vitamin A:
1915
IU
|
Vitamin C:
37.7
mg
|
Calcium:
315
mg
|
Iron:
2.1
mg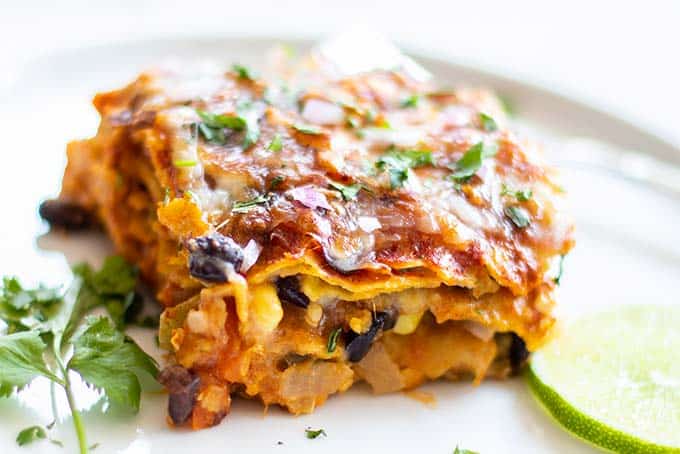 Other Vegetarian Freezer Meals:
I'd love to connect with you on social media! Find me on Facebook or Instagram where I post daily healthy eating and lifestyle inspiration.
If you make this Vegetarian Enchilada Casserole, snap a photo and share it with me by using the hashtag #SunkissedKitch.
This post contains affiliate links, which means that if you click on one of the product links, I'll receive a small percentage of any purchases made.