This post may contain affiliate links. Please see my full
Disclosure Policy
for details.
Another stormy day in Kuala Lumpur.
Living in Portland, OR, I certainly didn't appreciate rain storms. Spring rain meant bone chilling breezes and day long gloomy skies.
Here, storms are welcomed. We had an unusually dry few months this spring, which left the city water reservoirs alarming low, which led to city wide water rationing for over a month. No, "If it's mellow, it's yellow. If it's brown, flush it down." No PSAs, asking city residents to conserve water and be responsible. Heck, car washes continued to run, while the water at my school was on for two days, off for two days, leaving the school without water in the bathrooms for half a week (believe me! We wished it was only the "yellow" mellowing in those bathrooms!). #whatthehellKL?
But the storms are back, full force this afternoon. I love afternoon yoga classes when there's a storm outside. My studio has long flowy white curtains, and the windows are always open during classes. Usually that means afternoon classes are very warm (no AC!). But today, the storm was right overhead, thunder cracking and completely covering up the instructor's voice, and a glorious cool breeze whipped the curtains.
Walking home, I was completely drenched. Tropics or not, I was chilled– perfect excuse to make comfort food!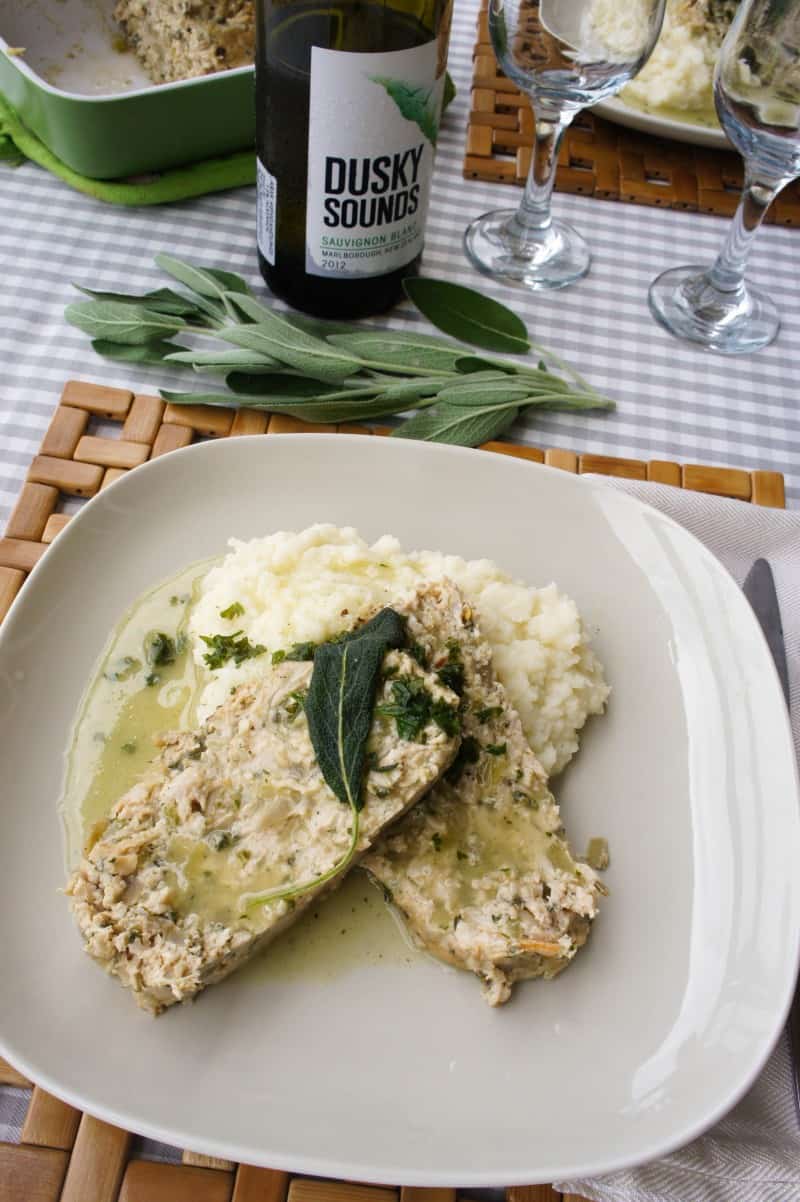 The first time I made this, it was good. But it was missing something.
The second time I made it, I added dijon mustard. It was way more than good. It was perfect. Perfect for a chilly spring day, even though technically it's never spring here.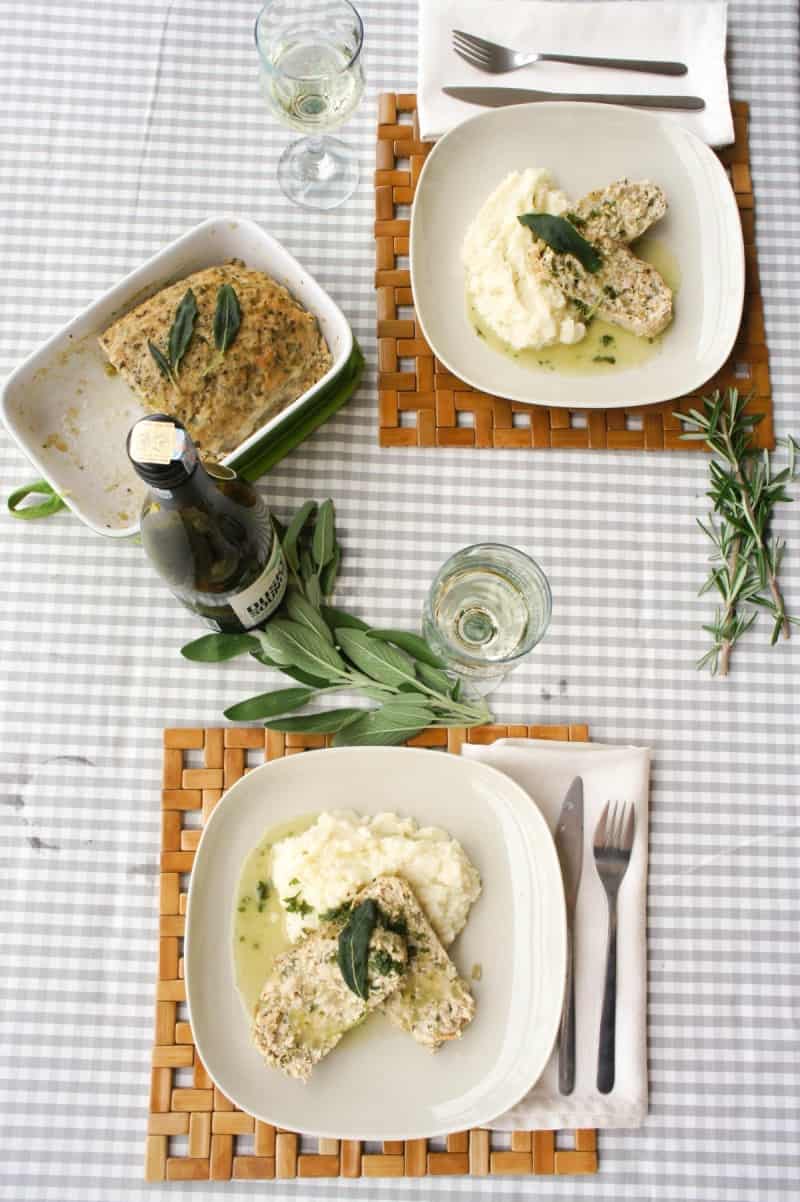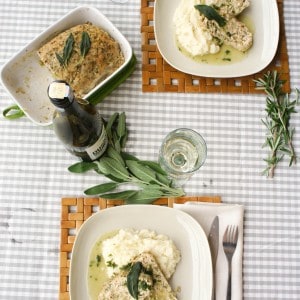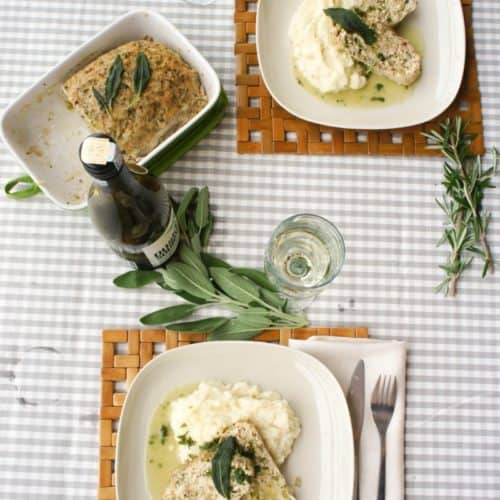 Apple Sage Chicken Meatloaf + Mashed Cauliflower
A flavorful spiced chicken meatloaf, kept lean by using chicken breasts. The sauteed apples and vegetables keep it very moist!
Print
Rate
Ingredients
1/2

tablespoon

olive oil

1

cup

onion

minced

4

cloves

garlic

minced

1

cup

celery

finely chopped

1

cup

tart apple

finely chopped (1 medium, I use pink lady)

1

tablespoon

fresh sage

chopped (plus leaves for garnish)

1/2

tablespoon

fresh rosemary

chopped

1 1/2

teaspoons

sea salt

1

teaspoon

cracked black pepper

1/2

teaspoon

fennel seed

(highly recommended)

1/4

teaspoon

cayenne pepper

2

pounds

chicken breasts

2

tablespoons

dijon mustard

divided

2

apples

juiced

4

stalks

celery

juiced

1

tablespoon

arrowroot starch

1 1/2

cups

vegetable or chicken stock

2

heads

cauliflower

(1 cauliflower will serve 3)

1

tablespoon

butter

salt and pepper

to taste
Instructions
Add olive oil to a frying pan, and cook onions, garlic, apples, and celery over medium low heat until all are soft and translucent. Add fresh sage, rosemary, salt, pepper, fennel seed, and cayenne pepper, and mix well into vegetable mixture.

In a food processor, mince the chicken breasts. Once the breasts are completely minced, add the vegetable and spice mixture, and pulse to combine well.

Add the mixture into a small casserole dish. Shape the mixture into a loaf, leaving space around the edges for broth.

Juice the apples and celery in a juicer. If you don't want to use a juicer, or don't have one, substitute apple juice. Pour the apple and celery juice over the top, filling the edges of the pan. Add fresh herbs to the juices if you'd like.

Cover tightly in foil, and bake at 400 f for 40 minutes.

Steam the cauliflower on medium high heat for 10-15 minutes. The cauliflower needs to be very soft in order to become really smooth. Once the cauliflower is steamed, drain very well, then add to a food processor. Process for 2-3 minutes, add butter, salt, and pepper, and pulse to combine.

After the meatloaf has cooked for 40 minutes, uncover, and spoon the juices over the top. Pour extra juices into a small saucepan. Continue baking uncovered at 425 f for another 20 minutes.

While the meatloaf continues to bake, make the gravy. Into the juices, add 1 tablespoon dijon and the vegetable or chicken stock. Stir the arrowroot powder into ¼ water in a small cup. Once the broth mixture is boiling, add the arrowroot, stirring as it incorporates. Turn to low, and allow to thicken for about 2-3 minutes, then remove from heat.
I may just be cooking for 2, but I love to make dishes like this on the weekend that leave a ton of leftovers. The spices intensify, and this is even better the next day, as is the case for so many heavily spiced dishes. If you don't have all the ingredients on hand, feel free to make substitutions. However, the sage, mustard, and fennel seed are what really create the unique flavor of this meatloaf.