This post may contain affiliate links. Please see my full
Disclosure Policy
for details.
While in Chiang Mai, I spent a day in Old Town, also known as "The Walled City." Built in the 1200s, the small city was enclosed by a wall with a moat circling the area. Remains of the original wall still exist, and the moat is operational, a lazy canal with park areas along it.
March and April are not the best months to visit Thailand! Chiang Mai is in the highlands, and a place people in SE Asia retreat to for cool weather. We did not get to experience that! With temperatures over 40 degrees celsius (that's over 100 degree fahrenheit!), it was sweltering. The sun was intense, and we spent most of the day dodging in and out of restaurants and spas, ordering frozen drinks, and enjoying US $6-hour-long foot massages (that's right! There's an "s" on massage,  meaning massage PLURAL!). Ahh. . . Thailand.
The first place we jumped into to escape the torrid sun? The Blue Diamond, known for its relaxed tree shaded garden eating area.
Very bohemian, in the very best ways. The Blue Diamond had a good selection of organic spices, dried fruits, nuts, teas, and beauty products for sale. The real heart of this place is the incredible healthy menu. They had a wide selection of breakfast options, but we zeroed in on the avocado salads (with half of a huge avocado on them!), and. . . ice cold smoothies! My friend had an avocado-banana smoothie, and I opted for watermelon, strawberry, and banana.
Did you notice the sign? "Nothing Makes Sense Before Coffee." — My kind of place!
The rest of Old Town was set up for travelers. Lots of inexpensive, but charming and clean, guest houses, adorable cafes and restaurants, open air bars, and local boutiques. There had to have been yoga studios as well for as many pairs of yoga pants we saw hanging out to dry.
Let's see. . . 120 Baht. . . equals roughly 12 Malaysian Ringgit. . . which equals roughly USD $4! Yes, for a dormitory, but we also saw guesthouses offering private rooms with bathrooms for 350 Baht (roughly USD $12).
Somewhere along the line, we ended up in a coffee shop–
Nope. No Croque Monsieurs on this day.
Iced Banana Coffee… hit. the. spot. We saw lots of iced drinks, fresh squeezed juices, and smoothies. I loved the variety of healthy ingredients we saw at restaurants. At the coffee shop (I can't remember it's name!), they had milk and milk alternatives. We had our banana coffee made with coconut milk. Good enough to need to recreate at home– on a hot day– when I could relax by the pool and drink it.
Of course, I had to add a bit of green. Couldn't help myself. Zucchini is a great option when you don't want your drink to turn out bright green. It also doesn't add flavor to smoothies or juices (it's easily overpowered), so it's a great option if you're trying to hide the greens from a green-smoothie newbie.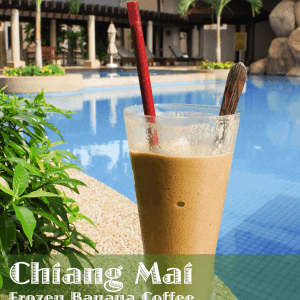 Chiang Mai Frozen Banana Coffee
A cool, frothy coffee frappe, naturally sweetened with bananas and creamy coconut milk.
Print
Rate
Ingredients
1/2

cup

strong brewed coffee

(cooled - or 2 shots of espresso, and 1/4 cup almond milk)

1/4

cup

coconut milk

1

banana

(frozen)

1

cup

ice

1

cup

zucchini

(frozen)
Instructions
Add all ingredients, liquids first, to a blender. Blend until very smooth.
Nutrition
Calories:
239
kcal
|
Carbohydrates:
32
g
|
Protein:
4
g
|
Fat:
13
g
|
Saturated Fat:
11
g
|
Sodium:
22
mg
|
Potassium:
928
mg
|
Fiber:
4
g
|
Sugar:
18
g
|
Vitamin A:
324
IU
|
Vitamin C:
32
mg
|
Calcium:
30
mg
|
Iron:
3
mg