This post may contain affiliate links. Please see my full
Disclosure Policy
for details.
A delicious Butternut Squash Baked Spaghetti casserole, made with spiralized butternut squash instead of pasta. This healthy butternut casserole is filled with a veggie and sausage sauce and layered with cheese.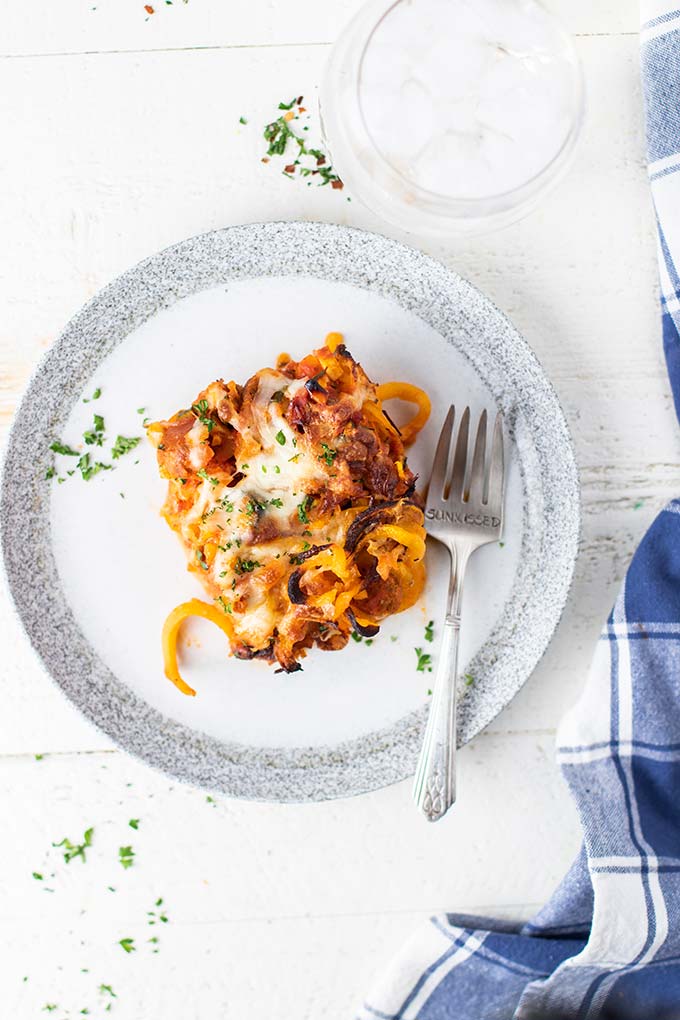 A Delicious Butternut Squash Casserole
My spiralizer is one of my most "worth it" kitchen investments. With as often as I use it, I paid pennies per use.
I use it nearly daily in the summer, when I am making spiralized cucumber or zoodle salads.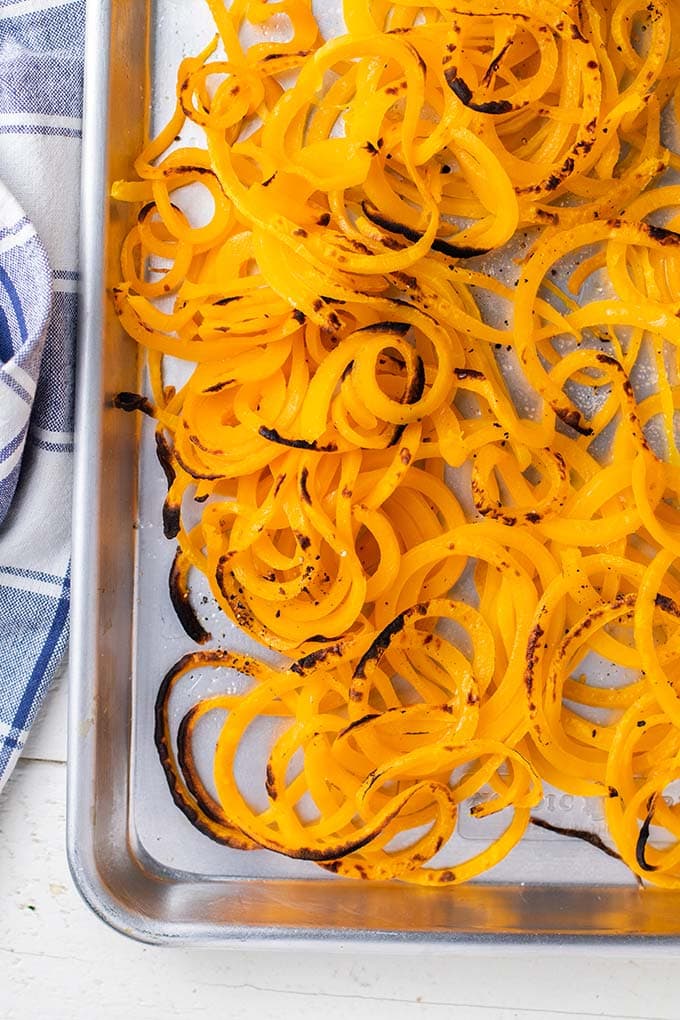 In the winter, I make hot zoodles and butternut squash noodles. Pushing a squash through a spiralizer isn't the easiest task, but it's so worth it! Read more on how to make these delicious veggie noodles here.
The baked butternut squash noodles in this casserole give it a fun texture, and a lot of roasted sweetness. I like to bake the noodles until they are a little browned, and then I save some noodles to place around the edges of the casserole so they brown and crisp while baking. The crispy bits are always the best part, right?
Ingredients in Baked Butternut Spaghetti
Butternut Squash – I use just the end that's solid (cut the seed part off), so I use 2 small squashes or 1 large squash, and then save the ends for another night to roast.
Olive oil
Onions
Bell peppers (I use orange)
Tomato basil sauce – be sure to check the label and buy a sugar free option.
Zucchini
Olives
Cheese – I used mozzarella and parmesan for extra cheesy flavor! This is optional and the casserole is Whole30 without the cheese.
If healthier, cheesy casseroles are your thing, definitely check out my Lightened Up Chicken Cordon Bleu Casserole as well.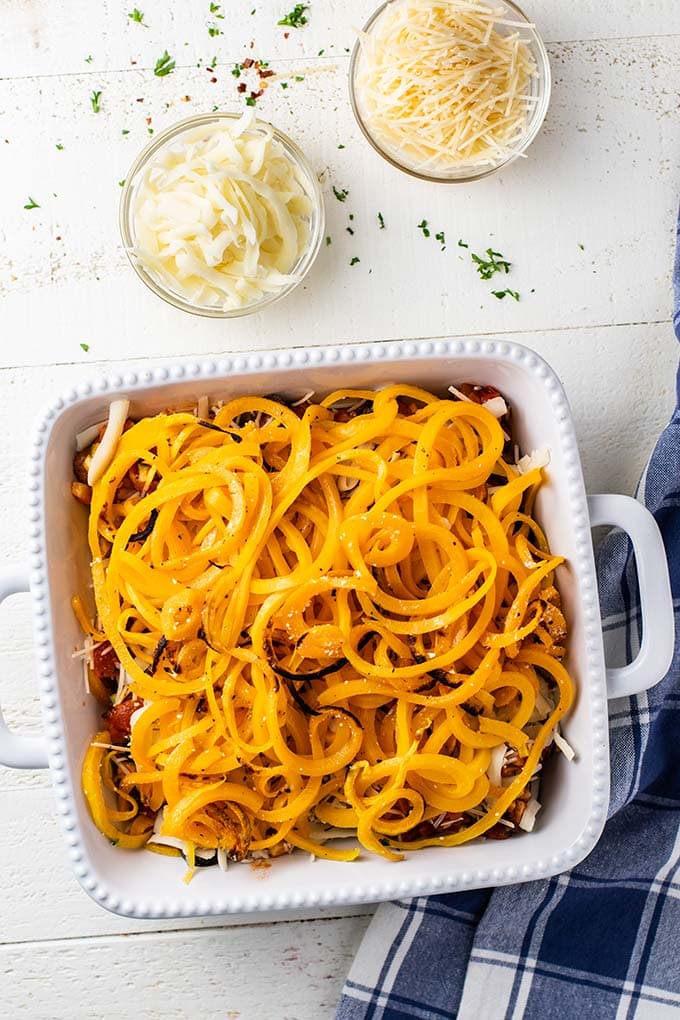 How to Make a Butternut Spaghetti Casserole
First, make the butternut noodles by cutting the solid end off a butternut squash (or two small squashes), and peeling it. Put it in a spiralizer, and make long curly squash noodles. Spray the noodles with avocado oil spray and toss to coat. Bake the noodles for 15 minutes, until just starting to brown.
Prepare a rich and delicious sausage and veggie sauce next. Saute the onions and peppers, add a marinara sauce, and then load it up with zucchini, olives, and sausage.
Layer a casserole dish with butternut squash noodles, sausage and veggie sauce, and cheese. There is enough space to put 2 layers of each in, ending with a nice cheesy topping.
Bake the casserole 35-40 minutes, and serve hot.
Sausage and Veggie Spaghetti Sauce
This casserole is loaded with veggies, and has great flavor and protein from Jones Dairy Farm All Natural No Antibiotics Ever Golden Brown Chicken Sausage.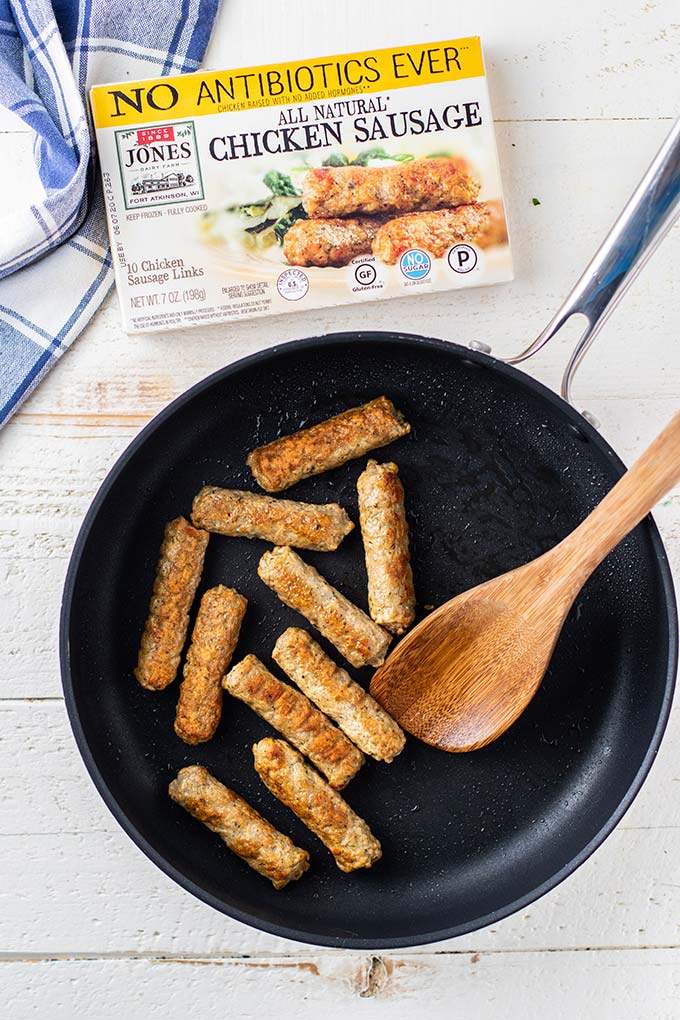 You know I am a fan of Jones Dairy Farm — I always have their products in my freezer. Often, it is just frying up some bacon or all natural sausage along with our breakfasts, but I also love using the bacon and sausage for our protein at dinners. The products are just so convenient to have on hand.
The No Antibiotics Ever Golden Brown line are among my favorites. This line of all natural sausage contains no sugar, and is Certified Paleo and gluten free. They have amazing flavor, and are precooked so all I have to do is brown them and then toss them in to whatever I am making. This month, it's been all about rich tomato sauces, like this healthy sausage and veggie sauce.
Check out the Jones Dairy Farm website for more details about their products and a store locator!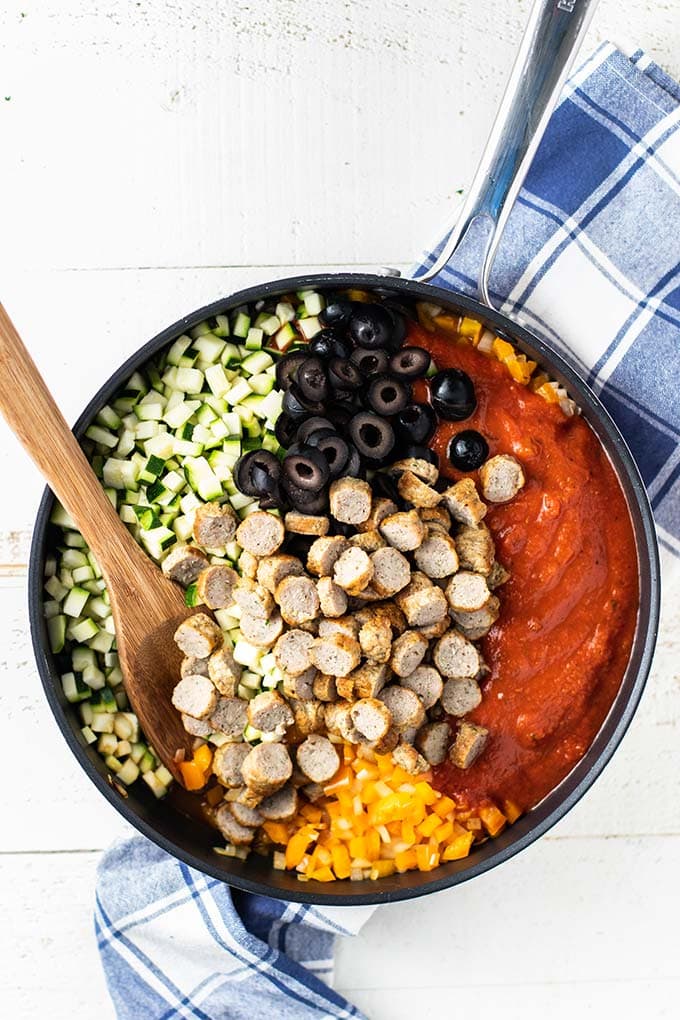 Layer a Baked Spaghetti Casserole
After preparing the butternut squash noodles and the sausage and veggie sauce, you can either just top the "noodles" with the sauce, or go all out and make this a fun casserole the whole family will dive in to. I vote casserole!
This casserole is easily made dairy free and Whole30 (the all natural sausage is sugar free and compliant!) by omitting the cheese — but if you don't have those restrictions, add in the cheese! It really makes this a fun dinner. Plus, the cheese lightly browns and the noodles get a little crispy on top, making this irresistible!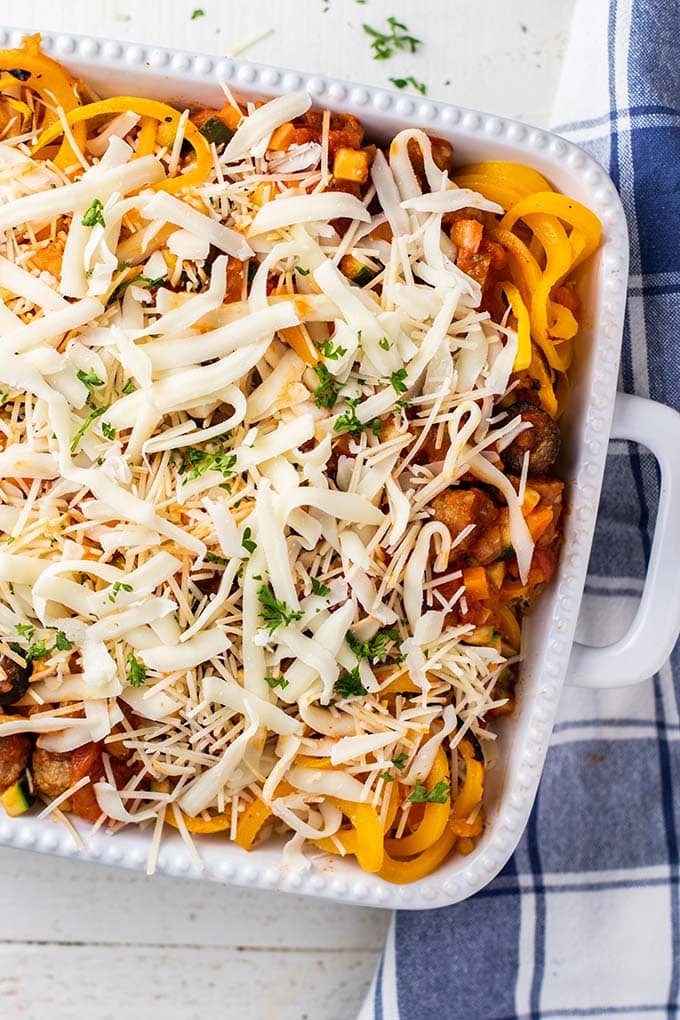 Variations for Butternut Spaghetti Casserole
Save Time: Skip the casserole, and just layer the sauce over the butternut squash noodles. Another option is to buy prepared butternut noodles, which are becoming more and more available!
Lower the Carbs: If you've been slashing the carbs, you can lower the carb count of this dish by swapping in zucchini noodles in place of the butternut squash. Don't cook the zucchini noodles before using them in the casserole.
Other Butternut Squash Recipes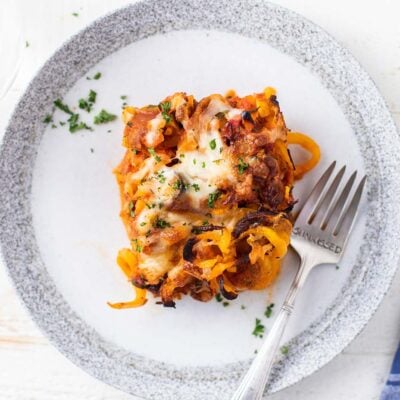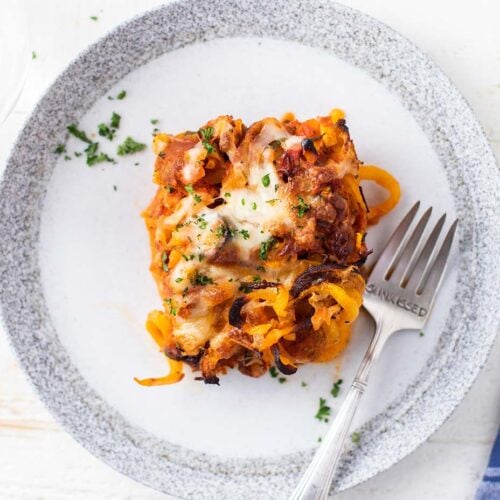 Butternut Turkey Baked "Spaghetti" (Grain Free)
This warming and healthy fall meal is a favorite at our house! I made this "spaghetti" for my niece and nephew who are picky eaters, and both of them cleared their plates. The butternut noodles are a fun switch from pasta, are naturally gluten free, and make this casserole sweet and irresistible.
Print
Pin
Rate
Ingredients
Butternut Noodles
1/2

butternut squash

large, the solid end (or 2 small squashes)

1/2

tablespoon

olive oil

sea salt and black pepper

to taste
Turkey Spaghetti Sauce
1/2

tablespoon

olive oil

1

cup

onion

chopped

2

bell peppers

1 used 1 green, 1 red, chopped

7

ounces

Jones Dairy Farm All Natural No Antibiotics Ever Golden Brown Chicken Sausages

1

25 ounce

tomato basil sauce

diced

2

cups

zucchini

chopped, 1 medium zucchini

1

15 ounce

can black olives

sliced

1

cup

mozzarella cheese

shredded

1

cup

parmesan cheese

shredded

1/2

cup

parsley

chopped finely, optional, garnish
Instructions
Preheat oven to 425 degrees Fahrenheit.

Spiralize butternut squash with the larger noodle blade. (I recommend the OXO Sprializer ).

Place "noodles" on a large cookie sheet, drizzle with olive oil, and lightly season with sea salt and pepper.

Use your hands to spread the oil around the noodles. Bake for 15 minutes, until softened but still slightly underdone.

While the noodles are baking, prepare spaghetti sauce.

Brown sausage in a skillet for about 10 minutes over medium high heat, then remove from pan and slice.

In the same skillet, add olive oil and minced onion. Saute for 5-10 minutes over medium-high heat, until onions are translucent.

Add bell peppers, and continue to cook for another 5 minutes.

Add the tomato basil sauce, olives, and zucchini, and continue to simmer for 10 minutes. Remove from heat and set aside. Resist the urge to "thin" out the sauce- you will want it really thick so you can "slice" the casserole.

In a large baking dish (I used an rounded rectangular 10 x 8 inch baking pan, and this recipe perfectly fills it), begin by layering in 1/2 of the butternut noodles.


On top of the noodles, layer 1/2 of the sausage sauce, followed by 1/2 of the cheese.

Add 1 more layer of noodles, sauce, and cheese.

If baking the dish right away, bake it in the still heated oven for 30 minutes, covered (until the sauce is bubbling). Uncover the dish, and lightly brown the cheese, 5-10 additional minutes.

The dish can also be made ahead and baked up to a day later. If the dish has full cooled prior to baking, preheat oven to 425 degrees Fahrenheit, and bake for 45-55 minutes covered (until sauce is bubbling). Remove the cover, and brown the cheese for an additional 5-10 minutes.


Garnish with parsley, and allow to "set" for 10-15 minutes if you want the slices to come out nicely. When it's very hot, the slices won't hold as well.
Nutrition
Calories:
268
kcal
|
Carbohydrates:
16
g
|
Protein:
17
g
|
Fat:
16
g
|
Saturated Fat:
7
g
|
Cholesterol:
49
mg
|
Sodium:
737
mg
|
Potassium:
508
mg
|
Fiber:
3
g
|
Sugar:
6
g
|
Vitamin A:
8763
IU
|
Vitamin C:
80
mg
|
Calcium:
344
mg
|
Iron:
2
mg